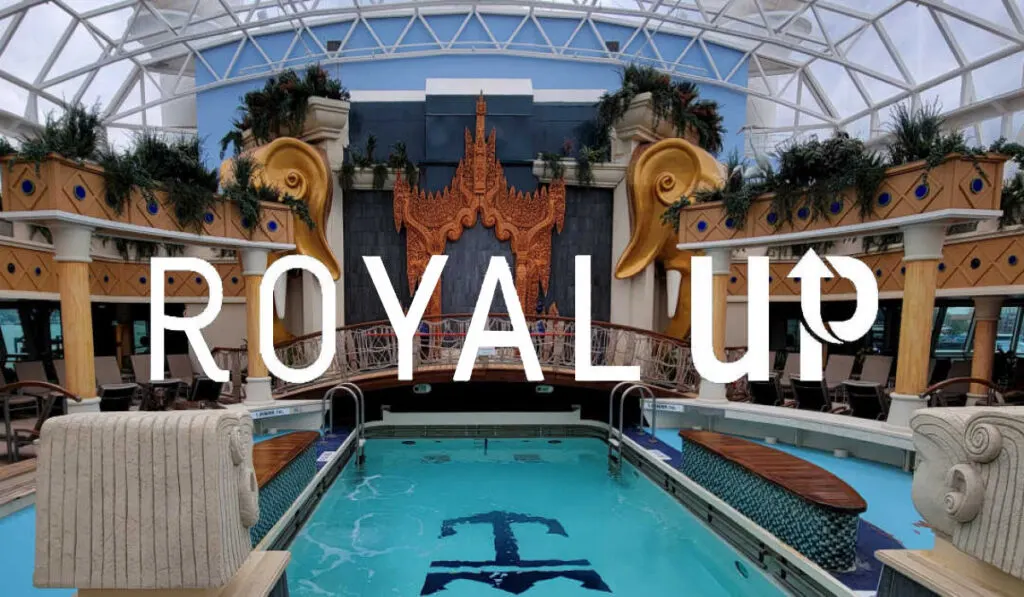 It used to be that once you gained a high level of status in a cruise line's loyalty program, there were more chances of a stateroom upgrade.
However, cruise lines have joined the ranks of airline companies vying to pull more money from your wallet through "bidding wars." Recently, Royal Caribbean invited me to upgrade through a bidding system called "RoyalUp."
When flying with WestJet, we often get an email inviting one of us to bid for a business class seat. We first became familiar with bidding for a better cruise ship stateroom when sailing from Vancouver to Hawaii on a honeymoon cruise.
While the idea sounds enticing, almost like gambling in a casino, the bidding process has pros and cons.
How Does Cruise Bidding Work?
Cruise lines don't want to sail with empty staterooms. Many, like Royal Caribbean, have moved away from giving complimentary upgrades. It's tough to fill that giant "Royal Suite" or the "Royal Loft Suite."
Instead, cruise lines entice booked passengers to pay a little extra for a larger stateroom. Select passengers receive an email inviting them to bid.
I'm not sure why certain passengers get the email, and others don't. But I know you must opt-in for that cruise line's marketing program. We received our invitation to bid 26 days before our Alaska cruise on the Serenade of the Seas, but initially, my daughter did not.
I am a member of Royal Caribbean's Crown and Anchor loyalty program, but this was my daughter's first cruise on RCL. Interestingly, there was no deadline to place a bid, but their website stated they would accept submissions up to 2 days before sailing.
About a week after, we were invited to bid, I also received an invitation to try to upgrade my daughter's cabin too.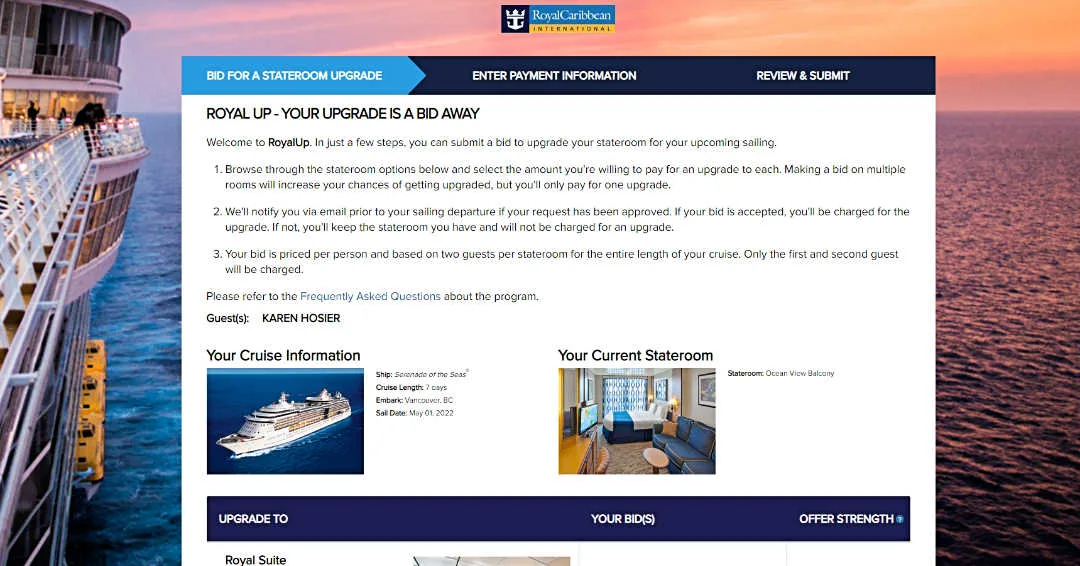 Typically, cruisers can bid on staterooms that are a few categories higher than the one they've booked. So, those booked in an interior stateroom can bid on outside or balcony cabins.
Those in suites can try for a larger suite, etc. The whole process is like playing musical chairs, with guests moving from one room to another and someone else bidding on their initial stateroom.
Be warned that you'll feel spoiled if you snag a larger stateroom. After that experience, you may find it hard to go back to the cabin you usually book. It's a great marketing strategy by cruise lines.
Can You Bid On Multiple Cabins?
On our Serenade of the Seas Alaska cruise, I booked two guaranteed balcony staterooms for my husband, Brian, and I, and my daughter and partner. One month before our cruise, Royal Caribbean assigned our cabins on deck 9.
While we didn't have adjoining staterooms, our cabins were only a few doors away, and we were happy with their location.
A few days later, I received an email inviting me to bid on an upgrade. Royal Caribbean calls its program "RoyalUp."
The category of cabins included a Royal Suite, Owner's Suite (2-bedroom), Owner's Suite (1-bedroom), Grand Suite, Junior Suite, Ocean View Suite, or a slightly larger balcony cabin.
Royal Caribbean suggested I bid on multiple rooms to increase my chances of an upgrade. Even if I had the highest bid on several categories, I'd only win one.
I still remember the thrill of receiving my first invitation to "MoveUp" with Celebrity. We bid on two staterooms, submitting more than the minimum required but not winning either.
When we received the same offer with Royal Caribbean, I think the novelty of bidding on an upgrade had worn off, and we were on the fence about placing a bid.
Since we had two staterooms close together, a newly assigned cabin probably would be on another deck.
Should you place a bid, the wait to know if you're successful varies. Some passengers hear in a few days, while RCL notifies others within a few days of sailing.
The cruise line will charge the credit card used to book the initial cruise if you're successful. In some cases, passengers notice a charge on their credit card and receive the "congratulations" email a few days later.
Cruise bidding pricing is based on double occupancy, whether one, two, or more are sharing.
Chances Of Winning The Royal Caribbean RoyalUp?
Post-pandemic, cruise ships are sailing with lower capacity. With a higher number of empty staterooms, your chances increase for an upgrade, depending on the room category.
If you've selected your stateroom and like its location, the idea of a cruise ship upgrade might not be so enticing. However, if you want to play the game of chance, you could score a much larger space without breaking the bank.
While you can use some strategy to know where to bid, it's mostly about luck. When placing a bid, you can only pick a room category and not know its location.
However, if you're bidding on a higher suite class, I suggest making a "dummy booking" on the cruise line's website to locate the unsold cabins.
I used this strategy to learn there was only one Junior Suite left on our cruise. Also, I discovered there were no Royal Suites, Owner's Suites, or Grand Suites available.
Since we weren't willing to put in a high bid, we felt the chances of winning the upgrade were low. We opted to keep our current stateroom since we had two balcony cabins on the same deck, closely together.
Later, we were invited to bid on an upgrade on a Quantum-class cruise. However, when reviewing the available Ovation of the Seas staterooms, there were only spacious balcony cabins.
Since we had a balcony, upgrading to a slightly larger balcony and smaller interior space made no sense.
Which Cruise Lines Offer Upgrade Bidding?
While Royal Caribbean calls its program the "RoyalUp," other lines have similar programs.
Celebrity Cruises MoveUp allows eligible reservations to bid on an upgrade 30 days before their departure.
Azamara's upgrade program gives guests a chance to elevate their cruising experience.
Norwegian's Upgrade Advantage Program allows select guests to bid on staterooms up to two categories higher than the one booked.
On September 6, 2022, Princess Cruises joined the ranks of bidding wars with their "Princess Upgrade."
While each line gives their program a different name, they basically follow the same rules.
Should I Bid?
Before you place a bid, decide if you're happy with your chosen cabin. If you suffer from seasickness and have a mid-ship location, you might want to stay put. Families with connecting staterooms aren't likely to get those in an upgrade.
If you're traveling with more than two in a room, your upgrade may only accommodate two. Bear in mind that suites tend to be located at the aft or bow of the ship, and while some cruisers love the aft, they aren't for everyone.
Ultimately, the cruise ship's idea of an upgrade may not adhere to your thoughts of a better cabin. If you bid and are successful, you can't change your mind. You have to live with whatever room the cruise line assigns to you.
Royal Caribbean's RoyalUp Bidding Process
When I looked at the process to bid on a Royal Caribbean upgrade, they used a slide bar as a bidding tool. The bar moves by specific increments to prevent bids of odd amounts.
Depending on your offer, a dial at the side goes from red to green. The dial tells you your bid is "weak if you bid the minimum."
As you bid closer to the maximum amount, the dial goes green, indicating a stronger bid. Obviously, the cruise lines want you to bid in the "green," which is closer to the book price.
While I had a balcony stateroom, Royal Caribbean suggested minimum bids as listed below.
| | | |
| --- | --- | --- |
| Stateroom Category | Minimum Bid in USD | Maximum Bid in USD |
| Royal Suite | 490 | 6,500 |
| Owner's Suite (2-bedroom) | 365 | 5,850 |
| Owner's Suite (1-bedroom) | 265 | 1,560 |
| Grand Suite | 150 | 3,250 |
| Junior Suite | 100 | 2,600 |
| Ocean View Suite (no balcony) | 60 | 455 |
| Spacious Balcony | 50 | 455 |
We weren't interested in having a large suite or a room without a balcony. The difference between our balcony and the "spacious" balcony is a mere 20 sq. feet……….hardly noticeable, in my opinion.
More recently, on our Hawaiian cruise, we were invited to bid again. While we already had a balcony cabin, the minimum price to bid on a spacious balcony was USD 210 pp, which seems outrageous for the same-sized stateroom and a slightly bigger balcony.
The only stateroom we considered was the Junior suite. At 293 sq. feet, it mirrored the mini-suite we enjoyed a few weeks early on the Majestic Princess.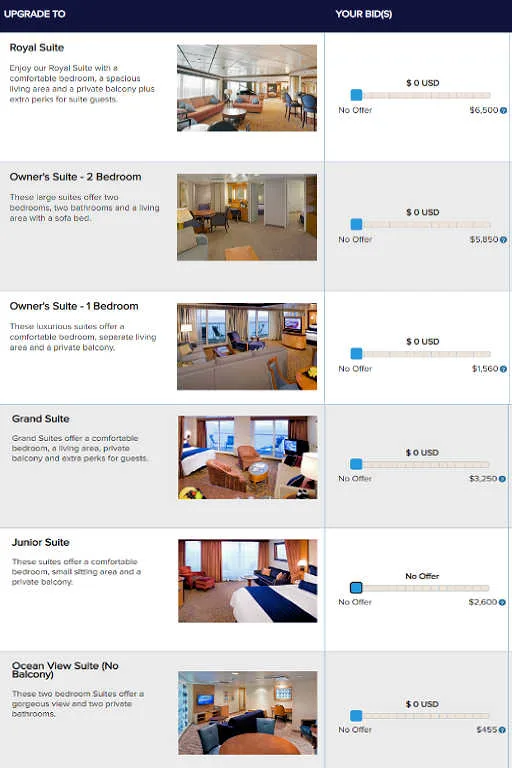 Looking on Royal Caribbean's website, the difference in price between my balcony cabin and a Junior Suite was USD 600 per person. While I could have bid the minimum of USD 100, I was unlikely to win.
Browsing the forums on Cruise Critics, winning bids generally fell in the middle. So, I'd need to bid in the USD 300 range to win, especially since there was one available stateroom.
Interestingly, I experimented with a USD 310 bid, and they classed it as too weak. The dial only indicated a strong bid at USD 2350.
Since I could book that stateroom for USD 1154, a bid of USD 2350 would have meant, I'd pay almost triple the listed price since bids are in addition to money already paid.
If you submit a bid and you change your mind, you can cancel it as long as the cruise line hasn't accepted it. There have been cases of guests scoring upgrades for the minimum amount.
However, these were in the outside or balcony staterooms which are much more plentiful.
The Pros And Cons Of Upgrading
Some staterooms come with added benefits like complimentary drinks, a dedicated dining room, a butler, and priority boarding. If you're successful at winning a Celebrity Cruises Aqua Class cabin, you'll enjoy dinner in "Blu" and free access to the spa's thermal suite.
When cruising with NCL, you may gain a thermal spa pass. If you're traveling with more than two in the room, you only pay the upgrade difference for two people.
However, if your cruise line gives double loyalty points for their suites, anyone winning an upgrade in that category won't get those extra points.
You should also know that your cruise line will charge a higher per-day gratuity fee as you move from a balcony to suite class.
The downside to bidding is not knowing the location of the stateroom. If you win an upgrade and don't like the room or its location, there's no going back.
Your cruise line would have assigned your original room to someone else in the bidding war.
The Successful Bids
Reading forums, I have read some accepted bids were relatively low.
CastawayCruiser upgraded from an Oceanview to an Aft Balcony on the Norwegian Escape for CAD 100.
KatieNiesen, sailing on the Norwegian Encore, upgraded from a regular balcony (BF) to a Club Balcony Suite for just USD 25.
Cruiseandgamble won an upgrade bid of USD 100 from an interior station to a balcony cabin.
NewJersyPat was sailing an 11-day cruise on the Celebrity Summit. She upgraded from a Veranda Guarantee to an Aqua Class Suite for USD 245.
Also, I have read others bidding the maximum amounts, which was still lower than the advertised price. Overall, it seemed Celebrity Cruises' passengers paid a higher premium to upgrade than lines like Norwegian.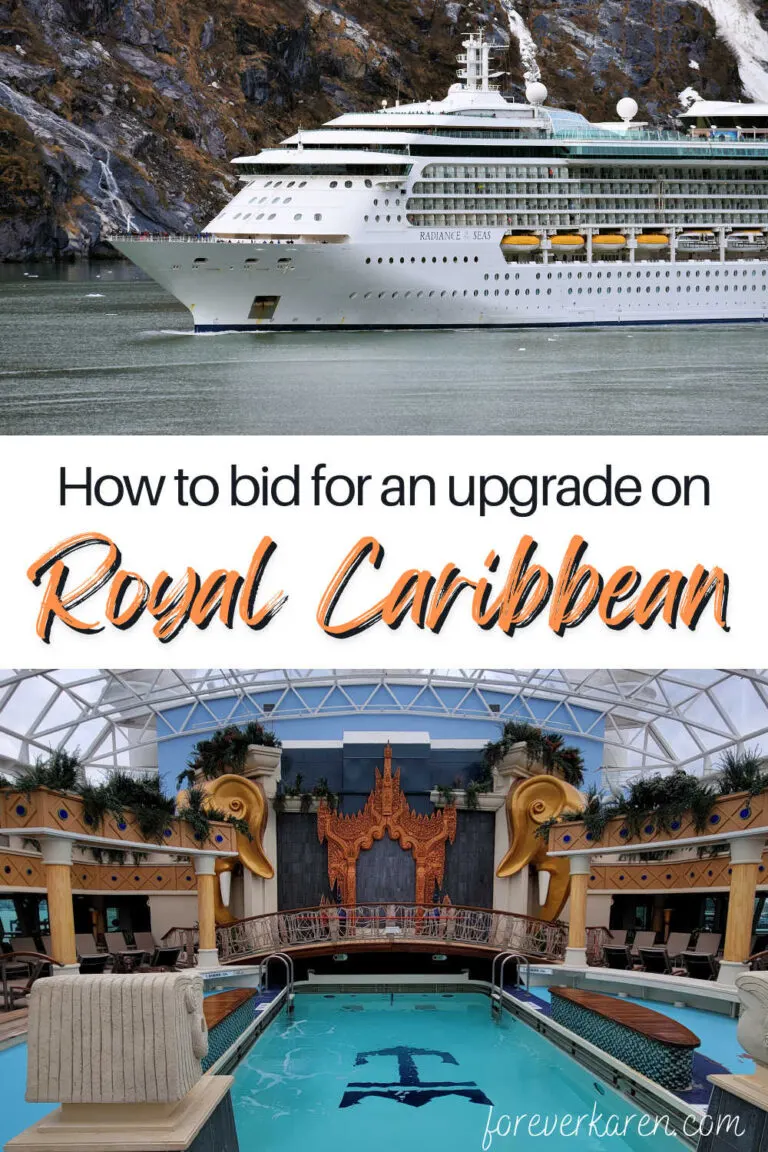 Since our Serenade of the Seas cruise, we were invited to upgrade our cabin on our Quantum Alaska cruise.
We played the bidding game by booking an inside stateroom in hopes we could upgrade. It was an experiment of sorts for this blog.
When we received the email to bid, they were having a "sale" or discounted price to bid on a balcony. It was interesting to see it was more expensive to bid on an obstructed balcony than one without an obstruction.
Maybe that's an indication that they had many empty balcony staterooms without obstructions. The minimum amount to bid was USD 85 pp, and we bid USD 100.
We also bid on another category. After I submitted the bid, I couldn't cancel or change my bid on the balcony, but could on the other category. When browsing the web, many people said it was an indication, I was successful with my bid.
Sure enough, several weeks went by and I got the email that we got upgraded to a balcony on the Quantum for an extra USD 100.
Final Thoughts On Bidding For An Upgrade
Cruise cabin bidding can be scary and exciting, all at the same time. While there's some strategy in determining what staterooms are available, it's mostly luck if you win.
Ultimately, it comes down to whether you're willing to pay more for a better stateroom but less than the original listing price.
While not all cruise lines participate in the bid for an upgrade process, others, like MSC, offer upgrades to select passengers for a set fee.
Interestingly, I learned some lines offer cruise bidding, then lower the price of unsold cabins on their website. When reviewing my booked cruise, I found this to be true. So, I contacted RCL and requested the difference back in onboard credit.
While I chose not to participate in Royal Caribbean's RoyalUp the first time, I was thrilled to get upgraded on my Quantum of the Seas Alaska cruise.
Happy travels ~ Karen