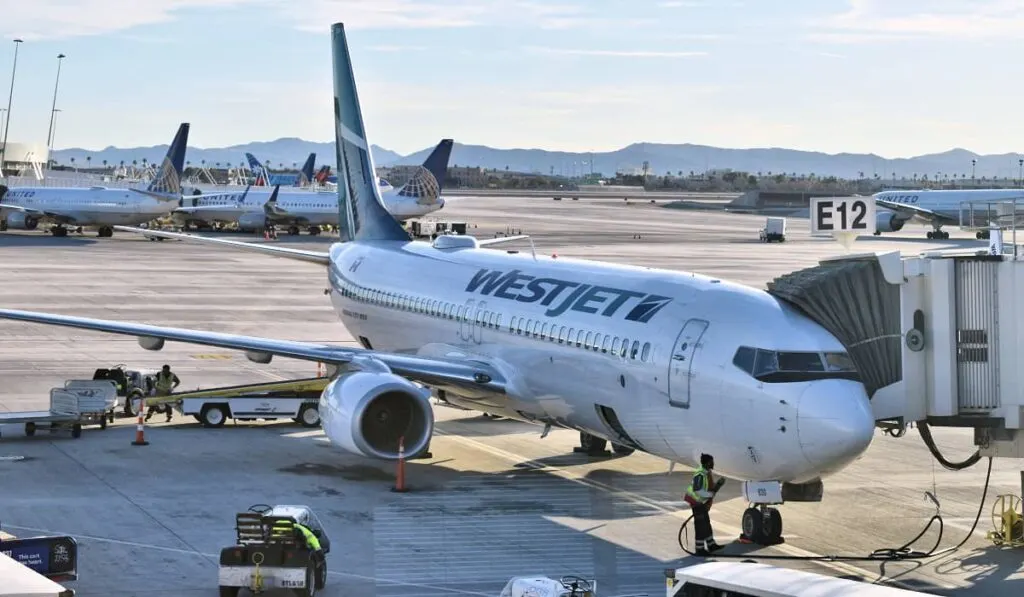 WestJet Airlines is Canada's second-largest air service and the 9th largest airline in North America. I have traveled on WestJet airlines many times, so I thought it's time to share my experience. This WestJet review is from a recent flight from Vancouver to Las Vegas.
WestJet Canada also owns Swoop Airlines as an ultra-low-cost carrier based in Canada. I recently experienced Swoop while visiting my brother in Toronto.
WestJet is a growing airline that offers international flights to London Gatwick in England, Hawaii, Puerto Vallarta, and other Mexican cities.
Karen has taken numerous WestJet flights to Hawaii since they offer non-stop service. In fact, her favorite repositioning cruise is one from Vancouver to Hawaii. After a few extra days in Oahu, she flies back on WestJet.
For those visiting Canada from Australia, Europe, or Asia, WestJet provides a consistent service to see different provinces.
WestJet Rewards
My review of flying with WestJet would not be complete without examining the WestJet Mastercard benefits in conjunction with flying their airline.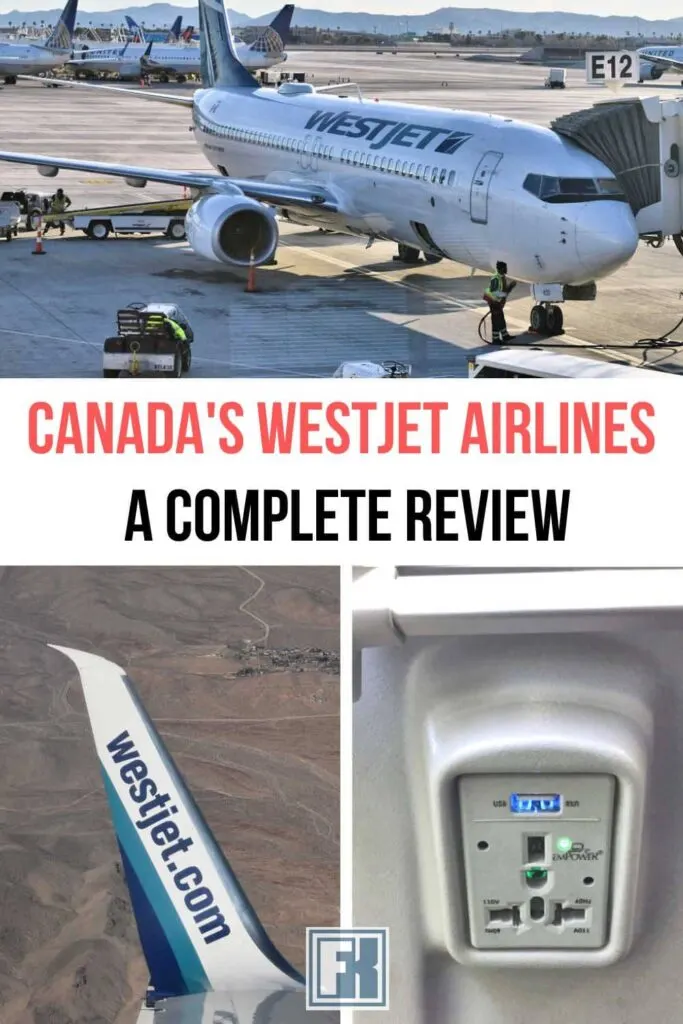 One of the reasons I tend to choose WestJet is because we use the WestJet World Elite Mastercard with the Royal Bank of Canada (RBC).
My WestJet card has an annual fee of CAD 119, as of this writing. In comparison to the basic WestJet card with an annual fee of CAD 39, the Elite card earns WestJet dollars more quickly.
With the card, we earn WestJet dollars every month with our credit card purchases. I think this is an excellent program if you live in Canada.
We decided to go with the World Elite version of the card (with a higher annual fee) because of the expanded Companion Voucher features (see below).
Their MasterCard program is similar to other U.S. credit cards with air miles or rewards. With various promotions and just buying everything on my card, I have earned close to 3,000 WestJet dollars in the past couple of years.
I use my credit card dollars to purchase flights or WestJet vacations. There are no restrictions, and you can fly anywhere WestJet flies, anytime, with no blackout periods. It's a good deal. As well as airline tickets, you can use the points to purchase vacation packages.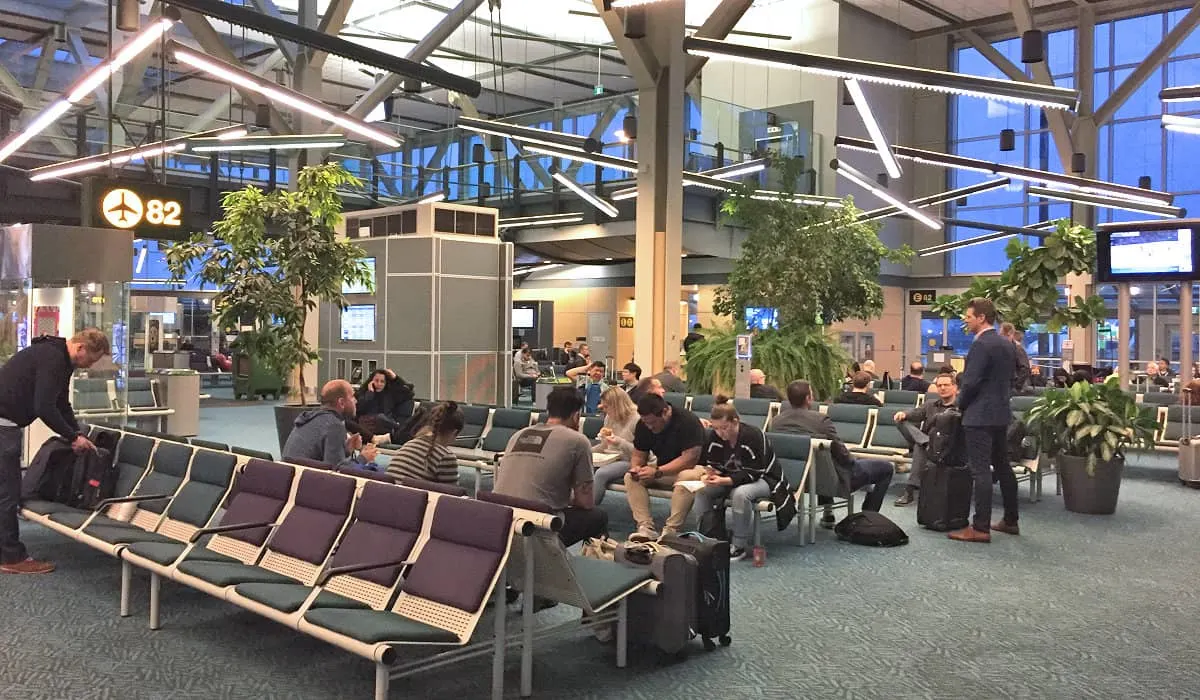 Another advantage of the WestJet card is the annual Companion Voucher fares. This program enables me to get a reduced fare, once per year, for my wife, Karen.
The first time, she accompanied me on a short Toronto business trip. While I was in conference, Karen had 3-days to enjoy Toronto. This time, Karen and her mother came with me to Las Vegas on another business trip. Using the Voucher fare twice has saved us money.
WestJet's Companion Voucher
Here's how the Voucher fares work. I can purchase one companion ticket per year with my WestJet flight. This is the cost of a companion ticket:
| | |
| --- | --- |
| CAD 119 | Round-trip travel in Canada and the continental U.S. |
| CAD 399 | Round-trip travel to/from the rest of the WestJet network (including long-haul flights to England) |
Note that you still have to pay the additional fees charged beyond the base fare. On our recent flight to Las Vegas, I was shocked by all the extra fees added to our ticket.
In addition to the CAD 119 fare for Karen, I had to pay CAD 124.02 as part of nine different fees as follows:
CAD 12.10 AIR TRAVELLERS SECURITY CHARGE
CAD 5.56 GOODS AND SERVICES TAX
CAD 20.00 AIRPORT IMPROVEMENT FEE
CAD 49.50 TRANSPORTATION TAX – INTERNATIONAL
CAD 7.84 CUSTOMS USER FEE
CAD 9.31 IMMIGRATION USER FEE
CAD 5.27 APHIS USER FEE
CAD 7.45 SEPTEMBER 11TH SECURITY FEE
CAD 5.99 PASSENGER FACILITY CHARGE
The total cost for my economy class flight was CAD 417.27 (including fees), so I saved about CAD 200 on the fare for Karen. If you do not use the Companion Voucher each year, you lose it, so I try to use them to get the savings.
Using a companion voucher isn't always cheaper so compare the pricing. We had planned to book flights from Vancouver to London, but when we factored in the fees, it was cheaper to go with another airlines. Additionally, we couldn't get direct flights both ways.
While there are lots of credit cards with loyalty programs, since I'm Canadian, the WestJet RBC World Elite Mastercard works well for us. Depending on where you live and who you fly with, it may not be the card for you.
If you want to get more info on the WestJet MasterCard benefits, go to WestJet Rewards.
WestJet Baggage Allowance
Like most airlines, WestJet charges a fee for checked luggage. The allowance is 23 kg or 50 lbs. However, another WestJet Mastercard benefit is one free piece of baggage.
While most travelers are flying with only carry-on luggage to save on baggage fees, we are each allowed one piece of checked luggage for free.
In fact, the Elite Mastercard allows one free piece for myself and up to eight others traveling with me on the same booking. So, even though we could have taken three bags, we took two and I saved $160 in fees (2 bags at $80, each way).
On a recent flight to Los Angeles, the WestJet website encountered a glitch and wanted us to pay for our luggage. It took a call to have this corrected. While it was a first for us, we learned it's a common problem with their system.
Before the Flight
Karen and I were traveling with her Mum (who was visiting from England). So, in total, there was a total of three bookings for our round-trip flights to Las Vegas.
When booking with WestJet dollars, it is usually better to speak with an agent rather than just booking online via the WestJet site. I found it challenging to book online when using multiple credit cards or requesting other changes.
One interesting thing, WestJet offered Karen's Mum a "bid on a seat class upgrade." However, WestJet did not offer Karen and I the same option.
I assume it was because Karen's Mum had never flown with this Canadian airline before, and this was some sort of "New Customer promotion."
The trouble was, the minimum bid was CAD 150, which seemed like a waste of money just to sit a few rows closer to the front of the plane. I'll pass on business class, thank you!
The idea of "bidding on upgrades" is something we have encountered before with cruise lines to get you to upgrade to a better cabin.
In my view, I am more likely to bid CAD 200 on a cruise cabin upgrade for seven days than paying CAD 200 more for a better seat on a short-haul flight. The value just is not there.
The WestJet check-in process for our outgoing flight from Vancouver International Airport to the United States was quick and uneventful.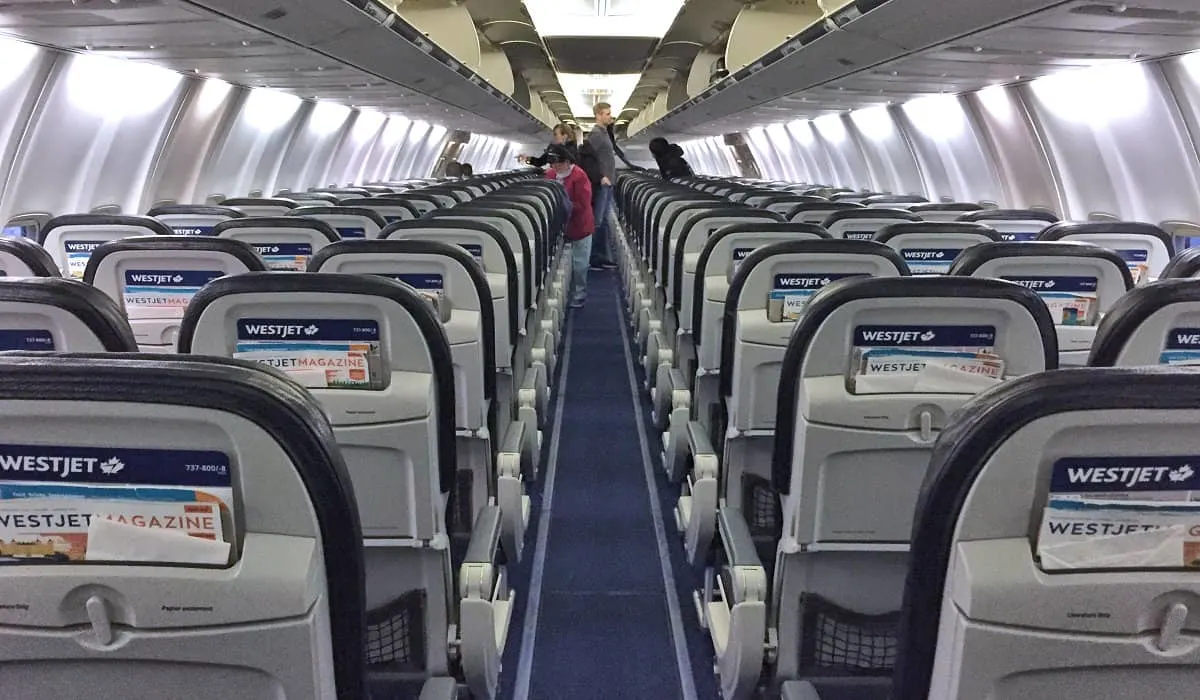 After Boarding
Too Much Carry-On Luggage
Increasingly, more passengers are bringing just carry-on luggage because they are trying to avoid paying for checked bags. This flight was no different.
There were multiple announcements during pre-boarding, and after we had boarded, cabin crew asked passengers to consider checking their carry-on luggage for free.
The overhead bins were all packed, so late arriving passengers had no choice but to check their carry-on luggage. Fortunately, for us, our carry-on bags were small and fit comfortably under our seats, so we were not the problem.
Also, with our WestJet RBC MasterCard, we get one free checked luggage each (a nice perk!), so we had already checked our bags. The WestJet MasterCard saved us CAD 80 (CAD 40 for each checked bag), for the two bags we took to Vegas.
Random Secondary Screening? Really?
At the point, we were just a few minutes away from having the plane be pushed back from the gate, one poor passenger was somehow selected for "Random Secondary Screening." I found this odd, and the passenger clearly did not know why he was selected.
An announcement came from the pilot after 15 minutes, but it was a full half-hour before this passenger was allowed to reboard the plane. What seemed like an on-time departure had now turned into a 30-minute delay. Arghh!
With today's obsession with security procedures, we could only assume that this passenger had been targeted and this was not a "random" event causing a 30-minute delay.
WestJet Seats
We flew on a WestJet 737-800, which is a Boeing plane. Our seats were 16A, B, and C, which were mid-plane over the wing.
We pre-booked our seats at the cost of CAD 24 per person, each way. We were thankful we paid for our seat selections as both flights were completely full.
The WestJet seats were comfortable, but none of us is tall, so we don't usually have a problem with most commercial flight seats.
However, there was one passenger who was likely 6'5" or more, and the stewards were trying to find a better spot for this poor guy. If you're extremely tall, your best option is to upgrade to business class for the extra legroom.
Karen is an avid photographer and always loves to shoot photos out of the window. I quickly realized that rows 11-18 did not provide good visibility because all you can see is a giant wing. I noted this for the next time we book.
No Built-in Screens
Another thing I noticed is that on many flights, the seats don't have a built-in video screen. I used to think that this was a disadvantage, but I have since changed my mind because most passengers now travel with their own screens (e.g., phones, i-Pads, tablets, etc.).
To take advantage of most passengers having their own screen, WestJet now has WestJet Connect on most flights. See later in this review for more info on their inflight entertainment.
Power Connections
At first, I couldn't find where to plug in my phone and thought in addition to not having a screen; I would also be running out of battery by mid-flight! Darn! However, my wife, Karen, quickly pointed out where the power connections were.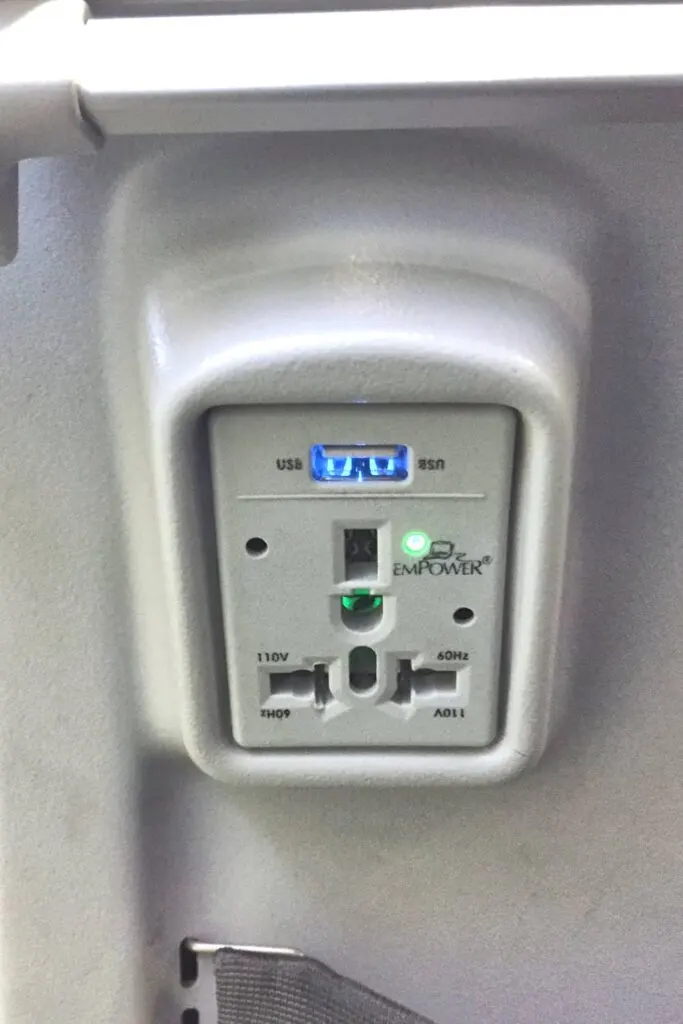 I felt like a typical guy that always asks, "Honey, do you know where my car keys are?" Lol. In my defense, when you are sitting in the seat, it is not easy to see the power connections on the lower back of the seat in front of you. I had assumed they would be in the armrests.
During our WestJet Flight
After taking off, an "interesting" announcement stated that the front two washrooms were not to be used by non-premium passengers unless there was a waiting line for the rear restrooms.
We were also asked to "stand behind the curtain" if we were in line to use the front washrooms.
As you might have guests, most passengers were "too polite" to crash the front section of the plane. At times, the wait for the rear washrooms was 15 minutes, while the front toilets remained empty. Hilarious!
Looking back, I could have paid the extra CAD 200 or so to get a shorter wait for the washrooms. I am just kidding.
WestJet Connect
Launched in 2015, WestJet Connect is the inflight entertainment system that gives your smartphone, tablet, or laptop access to complimentary entertainment and flight information.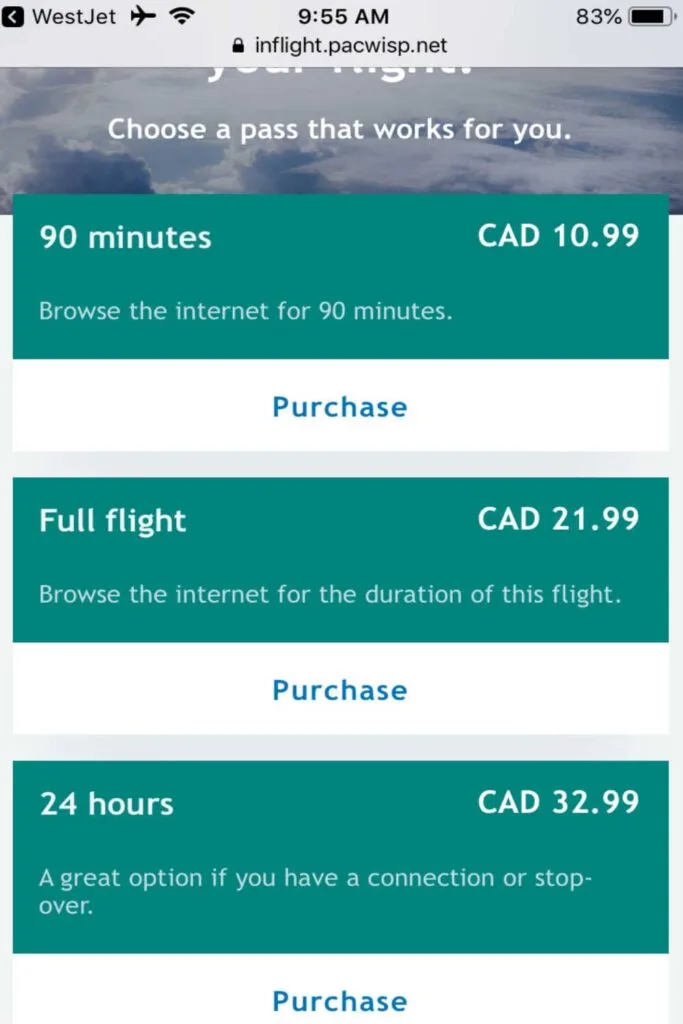 You should download the WestJet app before boarding. Once on the plane, you can subscribe to in-flight Wi-Fi through the service. Here is my WestJet review of their entertainment service.
There is a good selection of movies and TV shows to meet everyone's tastes. I was also impressed that they even had all the episodes of Season-8 of Game of Thrones.
I had just paid CAD 50 for the DVDs before Christmas, about a month before my flight. Impressive! Although even if I had not already watched GoT, I would have needed to fly a long-haul flight to view an entire season.
I signed up for the Wi-Fi service on the flight to Vegas and got the 90-minute package for CAD 10.99. After some challenges getting it to work, I was checking email and doing other web browsing.
Like most paid-for airline Wi-Fi services, you cannot use it to stream media such as Netflix or YouTube. No surprises there. The download speed was .18 to .68 Mbps (poor) with an upload speed of 2-4 Mbps (good).
WestJet's Onboard Menu
I am old enough to remember the "old days" when before my flight, I would think, "I wonder what kind of meal service we'll receive on the plane?" Those days seem like a distant memory compared to today, where no real food is provided.
On a discount carrier such as Swoop Airline, it's an extra cost for everything….. even water!
WestJet currently offers various pay-for food options depending on the length of the flight. I find it somewhat odd that the better food, or all the hot meals, is only available on trips of over 4 hours. So, if you're on a long haul flight, you can expect a meal.
Since we had an under three hour flight from Vancouver to Las Vegas, we had a minimal choice of food for purchase.
For the 4-hour flights, you could get such delicacies as pizza, butter chicken, or a southwest chicken wrap. Okay! For our brief "economy" flight, we were restricted to KitKat chocolate bars, Pringles potato chips, or beef jerky. Hahaha. And they call that food?
Unexpected Flight Delays
As mentioned earlier, we were delayed by 30 minutes on our flight from Vancouver to Las Vegas. Ironically, WestJet has one of the best on-time ratings, so this delay is not typical. However, the return trip from Vegas to Vancouver was even worse!
"Attention Passengers… I am Sorry to Announce That Your Flight Will Be Delayed"
We arrived at McCarran Airport the recommended 2+ hours before our departure of 12:35 pm so that there wouldn't be any rushing. Mistakenly I had assumed the flight would be departing on time.
We browsed the departures monitor to check our WestJet flight status and were happy to see it was on time! Great, I thought. However, it was getting closer to our departure, and we saw the plane was not at the gate. Not a good sign.
The first notice was an email that our 12:35 flight encountered a one hour delay to 13:35. What! No! Immediately our mood changed from optimism and looking forward to getting home to frustration.
We had heard that Vancouver was getting some snow, so maybe that was the delay? No problem; they will just need to clear the runway, and then the plane will take off? It's only an hour delay. If only we were so lucky!
WestJet Passengers Rights
WestJet recently launched a new Passenger Rights program in response to complaints and an inquiry by the Canadian Transportation Authority (CTA). Through the program, if WestJet flights are delayed, there is specific compensation available to passengers.
A short while later, I received another email indicating that the flight was now delayed until 15:49! What?! How long does it take to clear the runway?
As a result of the delay, I asked the gate personnel if they would be offering food vouchers due to the flight delay. He indicated that since the delay was due to weather, I would not be eligible for a food voucher.
Ironically, the email stated that the cause of the delay was "Unscheduled Maintenance."
Needless to say, our frustration grew, and we still did not see a plane at the gate. What made it worse was the Departures monitor continued to show the flight as on-time and leaving at 12:35.
A little later, another email from WestJet announcing that the plane would be arriving at 16:04! Initially, we would have already been back at home by this time, so the passengers in the terminal were very frustrated by the news.
Flight With No Food
In the end, the plane landed about 15:50 and arrived at the gate at about 4 pm. The crew attempted to get the flight turned around as quickly as possible to minimize the delay.
However, as they started the boarding process, there was an announcement that the plane had "No Food." They quickly issued each of us a USD 30 voucher to buy snacks or drinks.
The result is there was a mad rush across the hall to the Hudson store, with 50 people looking to stock up on chips, water, and pop! I felt sorry for the two cashiers working there because, in a matter of 5 minutes, they had a line of customers going down the terminal.
Luckily for us, we were early in the queue and bought our snacks quickly using the vouchers.
Onboard, frustrations grew again as we could not use the WestJet Connect entertainment system. Surrounding passengers also had the same problem.
We restarted our devices as suggested by the flight attendants but to no avail. The flight attendant tried restarting the WestJet Connect, but we continued to have the loading icon no matter how long we waited, and nothing would load.
So, our long awaiting flight was made longer by not having in-flight entertainment.
Final Thoughts On Flying WestJet
We landed in Vancouver over four hours late and were thankful we did not need to catch a connecting flight. Being late caused the next flight to be off schedule.
Surprisingly, there was no snow on the ground, so we don't know the real reason for the long delay.
In the end, after delays both ways, and the adventures that came with it, my WestJet review rates WestJet as 7.5 (out of 10).
The flight and crew members were professional, the plane was comfortable, and thanks to my WestJet Rewards program, we didn't pay much out of pocket for our flights.
We continue to fly WestJet because it generally have good experience and we like the free checked bag and companion voucher.
And we recommend them as the Best Airline in Canada. I hope you have a chance to fly with WestJet and look forward to hearing about your experience.