Puerto Vallarta is the perfect vacation destination with turquoise waters, a warm climate, and fabulous sandy beaches. Located on the Pacific Coast, this charming town offers non-stop things to do, both day and night.
With the Pacific Ocean on one side and the Sierra Madre Mountains on the other, travelers can tour the old town or enjoy day trips into the hills.
It's easy to while away the day lounging on Playa de Los Muertos Beach, listening to the sounds of the waves. Whenever you need a break from the sun, enjoy an authentic Mexican beer or snack from one of the many local eateries.
Whether you fly to Mexico to escape the winter weather, attend a wedding, or want to vegetate, consider staying in the romantic zone, a trendy area near the old town. Puerto Vallarta has some great hotels, and staying here puts you closer to the action.
Here, they offer Puerto Vallarta food tours, day trips to Las Caletas Beach, or walking tours to see street art. One of the great things about Mexico is that everything is budget-friendly.
1. Learn To Make Chocolate
If you're a chocoholic (like me), stop by ChocoMuseo in downtown Puerto Vallarta. This little chocolate shop & museum is just off the Malecon and easy to find. While there, take a Bean to Bar workshop, where you learn everything about cacao and chocolate making.
Alternatively, many other classes satisfy the chocolate lover's delight. These include a truffle workshop, Mole Poblano workshop, and a whole experience chocolate workshop.
This little shop also offers a free museum where you can see and feel a cacao pod. You'll also learn the history of cacao and the chocolate-making process.
But the best part, of course, is the sampling of their chocolate products. Their chocolate Mole sauce is heavenly, so pick up a few jars as gifts. While I couldn't sample most things since I'm lactose intolerant, what I could try, tasted fantastic.
My little visit to ChocoMuseo netted me Mole chocolate sauce, a bottle of chocolate dressing, and a few bags of chocolate-covered dried mangoes.
2. Walk The Malecon
Since the Puerto Vallarta weather is always perfect, don't miss your chance to walk the Malecon. El Malecon is a lovely boardwalk offering ocean views on one side and patio restaurants on the other.
A large selection of sculptures decorates the meandering walkway in the El Centro area.
However, the most famous statue is four stone arches called Los Arcos. As you admire the views of Banderas Bay, you might also witness some local entertainers.
My favorite, The Rotunda of the Sea, depicts weird creatures blended into whimsical chairs.
Entertainers include human statues, rock balancers, sandcastle builders, and native dancers. Commonly seen in tourist places like Las Vegas and Hollywood, the human statues I witnessed in Puerta Vallarta were unique.
Picture two guys sat at a table playing chess, but they looked like sand sculptures. I couldn't help but think how uncomfortable that glued-on sand must have felt on their skin all day.
They invited my husband, Brian, to sit with them, and they poured him a drink. I cracked up laughing when sand poured out of the bottle. Here is Brian with his chess buddies.
Remember, it's hot in Mexico, so carry sunscreen and apply it often. We also like to travel with our collapsible water bottles, which we fill with safe drinking water from our cruise ship.
3. See The Dance Of The Fliers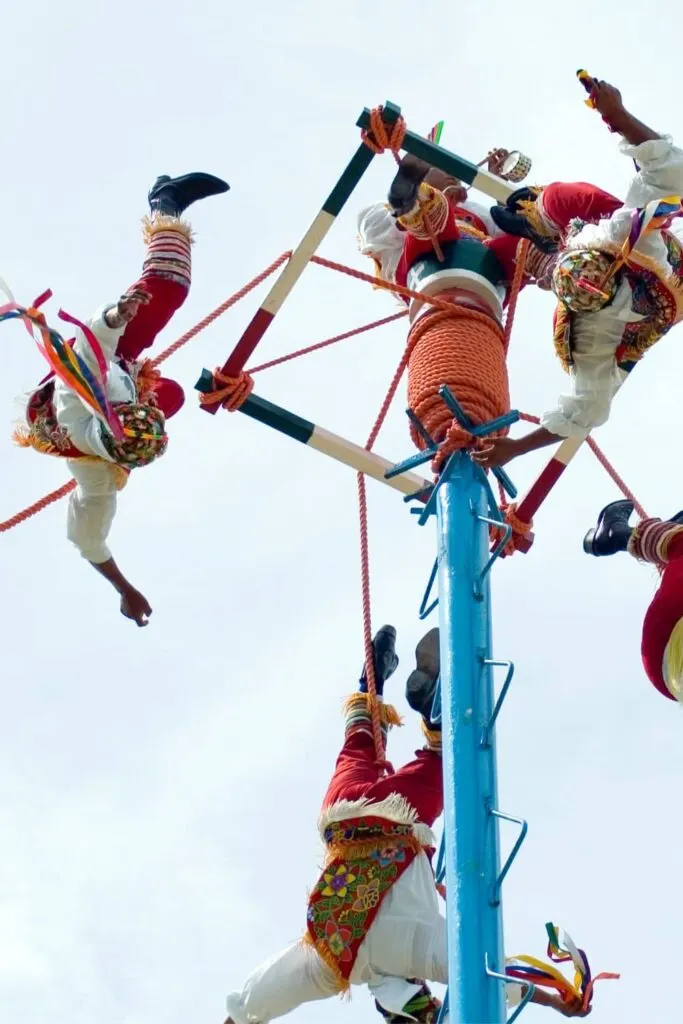 Watching a performance of the volador "fliers" is incredible. The Dance of the Flier – La Danza del Volador is a ceremony performed by four men hanging upside-down by ropes on a pole.
They spin and uncoil the lines to the sounds of a flute and drum played by a fifth person on the ground. Descending the 150-foot pole is slow and graceful. With Banderas Bay as a backdrop, the ceremony is breathtaking.
Each day, the locals perform this ceremony to pray for rain to nourish the grounds. It was a tremendous treat to watch this age-old tradition. Today, the traditional ceremony is performed for tips from tourists.
4. Walk To Mirador Cerro de la Cruz Lookout
If you're looking for fantastic aerial views of Puerto Vallarta, consider the walk to the top of the Mirador Cerro de La Cruz. At the peak, an observation tower provides 360° panoramic views of the Sierra Madre mountains and the Bay of Banderas.
If you're not traveling by cruise ship, a sunrise or sunset stroll is doubly impressive. Depending on your fitness level and route, it takes 15-40 minutes to reach the top of Mirador Cerro de la Cruz.
The walk consists of a steep hill with lots of stairs. Like the El Faro Lighthouse hike in Mazatlán, it's best to plan to walk in the early morning, when the temperatures are a bit more bearable.
5. Take A Puerto Vallarta Segway Tour
In downtown Puerto Vallarta, see the sites on a Segway tour. I decided to try a Segway excursion since it was on my bucket list. Debbie, a transplant from Alberta, Canada, operates Wheeling Vallarta Segway Tours.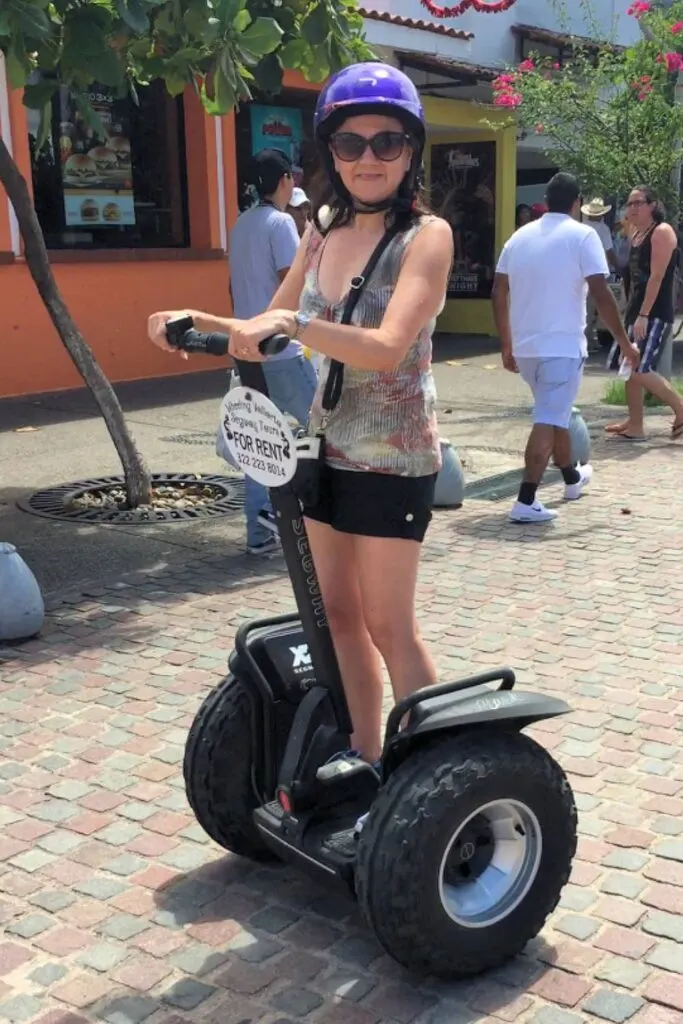 Once fitted with a helmet, it was surprisingly easy to ride a Segway. Our guide, Jose, had a wealth of knowledge about the area.
On our 2-hour tour, we traveled along through the old town, crossed Cuale River Island, passed the Olas Altas farmer's market, and turned around at the Los Muertos Pier. We visited a chocolate factory on the return trip and stopped to taste some tequila.
The ship docks near the Marina Vallarta if you're cruising the Mexican Riviera. You'll need a taxi to get to old Vallarta. A segway tour is the perfect Puerta Vallarta excursion because you can see a lot of the city quickly. Plus, it's cooler to ride than to walk in the scorching sunshine.
6. Attend The Rhythms Of The Night
Similar to a Hawaiian luau, the Rhythms of the Night evening show entertains guests with an explosion of sights and sounds. Event-goers take a boat to Las Caletas, where an open-air amphitheater provides a magical setting deep in the rainforest.
You'll enjoy a fantastic feast under the night's sky as you anticipate the evening's event. The show consists of dancers in traditional costumes, fire juggling, and deaf-defying acrobats. While the tickets aren't cheap, you're attending an experience, not just a show. If you want to attend, Vallarta Adventures sell tickets.
7. Visit Our Lady Of Guadalupe
The church of Our Lady Guadalupe is called "one of the most endearing" structures in the city. If you plan to visit Puerto Vallarta, you must see this iconic church that dominates the city's skyline. As you approach the church, you'll notice its tower, topped by a wrought-iron crown held by angels.
Although the foundations of the church began in 1903, the "Crowning glory" on the top of the tower happened decades later, in 1965. The original crown was designed and sculpted by José Esteban Ramirez Guareño. But over time, that crown suffered damage due to weather and erosion.

So, in 1981 a replacement was erected. Later, in 1995, the second crown fell off due to an earthquake and was unrepairable. The current crown viewed today is the work of the famous artist Carlos Terres.
While some might admire this beautiful church from the Malecon, do take time to admire its architecture. If you can manage a trip, mid-afternoon is best when not many people are there. Be sure to go inside "la Parroquia de Nuestra Señora de Guadalupe" as known by the residents.
8. Visit A Tequila Factory
If you are new to tequila, take a day trip to Chico's Paradise in the Sierra Madre foothills. While the tour has many stops, it also visits a tequila factory where you'll learn more about this fantastic liquor.
Visitors learn about the process of growing, pulping, and cooking the agave to extract the juice. You'll have the opportunity to taste the tequila from the distilling vat.
Of course, no tour of a tequila factory is complete without sampling. We learned how to drink tequila without feeling the burn, and after seven samples, most left with quite a buzz.
9. Shop At Isla del Rio Cuale
If you're looking for a bargain souvenir, head straight to the market at River Cuale. Getting to Isla del Rio Cuale requires walking across the shaky footbridge over a river! The tropical jungle atmosphere is low-key and provides excellent shelter from the sun.
Tourists can find authentic Mexican handmade goods at reasonable prices at the market. Bargain with the locals if the price is more than you want to pay. After all, it is Mexico, and the locals expect it.
10. Have A Fish Pedicure
Having a fish pedicure is a novelty and relaxing experience. Also, it might be one of the craziest things to do in Puerto Vallarta. While the idea of fish eating the dead skin off your feet might gross some people out, I wanted to give it a try.
I found a vendor right near the Malecon next to a Senor Frogs. The cost was under USD 20, and the pedicure treatment lasted about 20 minutes. Here is Brian enjoying his first fish pedicure. From his smile, you'd never know he fears fish.
Before entering the tank, the attendant washes your feet. During the "fish pedicure," the Garra rufa fish nibble at your feet. It does not hurt in any way; it actually tickles.
It's important to note the health concerns of having a fish pedicure because the same water is used for each procedure.
In the United States and Canada, most places have now banned the use of this treatment. However, if you're not squeamish or too concerned, give a fish pedicure a try. It's been more than 10 years since my pedicure, and I did not catch any infections, and I still have all my toes, lol.
11. Zip Lining
Zip lining is a barrel of laughs, whether you're young at heart, a first-timer, or a seasoned thrill-seeker. You'll enjoy zip lining in the Sierra Madre while savoring the views of Banderas Bay. This exciting activity is one of the fun things to do in Puerto Vallarta.
If you're an adrenaline junkie (like myself), I highly recommend Extreme Zip Line Adventure for a fun-packed canopy experience. This adventure park features nine zip lines that carry you through the tropical canopy with spectacular views of Puerto Vallarta.
Thrill-seekers will love the "Superman," one of Mexico's longest zip lines. At Extreme Zip Line Adventure, safety is of utmost importance. The instructors are knowledgeable, put you at ease, and show you how to use the double-safety wire zip lines.
I'm a dare-devil at heart, so I hung upside down the first time I zip-lined. I have to say, it was a disorientating experience, lol.
12. Take A Day Trip To Islas Marietas National Park
Marietas Islands (Islas Marietas) are a group of picturesque islands formed by volcanoes. Large species of seabirds, including Blue Footed Boobies, inhabit the islands, and travelers can see dolphins, tropical fish, and manta rays in the waters.
As a UNESCO reserve, visitors cannot step foot on the land, but they can observe from a boat. When the tide is low, a hidden beach called Playa del Amor appears in a crater. Vallarta Adventures offers tours to this pristine area at a reasonable price.
13. Go Whale Watching
Puerto Vallarta offers whale-watching tours in the winter months. Between December to March, whales gather along Baja Mexico to give birth. While thousands of humpback whales flock to Banderas Bay each winter, you could see grey whales too.
It doesn't require a day trip. Most tours last two to three hours and are roughly half the price of similar whale-watching tours in Alaska. Morning tours are best when the waters are the calmest.
On a previous trip, we enjoyed a tour to see whales in Cabo, and it didn't disappoint. We witnessed continual breaching and whales slapping the water with their fins for over an hour.
Some tour operators have a hydrophone, allowing guests to listen to the whale communicating underwater.
14. Visit Mismaloya
Mismaloya Beach put Puerto Vallarta on the map many years ago, not for its beautiful beach but for the movie stars who visited there. Richard Burton was filming John Huston's "Night of the Living Iguana" accompanied by his love interest, Elizabeth Taylor.
Their love blossomed in Puerto Vallarta, and Burton purchased a home for Taylor called Casa Kimberley. Today, tourists can stay at Casa Kimberley, now a luxury hotel. Guests can choose from the simple Flora Suite to the luxury Elizabeth Taylor Suite, a 2,500 sq. foot peaceful sanctuary.
Across the street, Burton owned his own home, and he connected the two by building an arched bridge. If you visit Mismaloya, you can see both the lover's bridge and Elizabeth's Taylor former residence.
Across the water from Mismaloya Beach, Los Arcos de Mismaloya's granite rock formations stand prominent in the ocean. Nearby, consider a visit to the Vallarta Zoo, where you have the opportunity to see local and exotic animals.
15. Tour San Sebastian
Nestled in the Sierra Madre, the 1605 town of San Sebastian oozes old-world charm. Discover its history as a silver mining town, marvel at its colonial architecture, and wander its cobblestone streets. A day trip includes visiting a tequila factory, watching a silversmith demonstration, and stopping at local museums.
Wear sunscreen and comfortable walking shoes as the tour lasts eight hours. Before visiting an organic coffee farm, you'll enjoy a traditional meal in a Mexican hacienda.
16. Take A Hop-On Hop-Off Bus Tour
If you're limited on time, consider taking a hop-on hop-off bus tour from downtown Puerto Vallarta. Depending on your preference, the tour can last for as little as a few hours or all day.
As the name suggests, you jump off at a point of interest. Popular stops include Mismaloya, Playa de los Muertos, Puerto Magico, Playa Las Gemelas, and Church of Our Lady of Guadalupe.
The buses operate from 10 am until 9 pm, and the route has about 20 stops. A bus ticket lasts the whole day, regardless of how many stops you get off.
17. Visit San Pancho
Located an hour south of Puerto Vallarta along the coast, San Pancho is a quaint town in Riviera Nayarit. The town oozes a Bohemian vibe and has a laid-back feel. It's far less touristy, and if you stay here, you'll understand the sense of community.
In San Pancho, a marine turtle nursery aims to protect Olive Ridley and Leatherback turtles as their numbers have declined. You could watch a magnificent turtle release if you visit from July to December.
San Pancho Beach has some serious waves and isn't suitable for swimming. However, if you're into surfing, head over to the beach to ride some big waves.
18. Hang Out In Zona Romantica
Zona Romantica, also known as the romantic zone, is a popular city area that offers a little of everything. The diverse neighborhood is eclectic and vibrant, from the LGBT bars and drag queen shows to the intimate patio bars.
It's the most walkable area in the city. Visitors can choose from the best patio restaurants in Puerto Vallarta to one-dollar tacos. The beaches are great for swimming, and from the modern pier, tour operators sell water-based excursions.
Steps from the beach are grocery stores, galleries, and coffee shops. The romantic zone is forever evolving. New highrises offering ocean views add a modern element to the traditional stucco red roof buildings.
Los Muertos Beach offers a popular hangout and the most visited beach in Puerto Vallarta. While crowded, it's a great place to people-watch, drink beer, and go parasailing.
19. Be A Pirate For A Day
Ahoy, ye mateys! Are you ready for some pirate fun? Consider a pirate ship tour if you're looking to do something out of the ordinary in Puerto Vallarta. You'll board an authentic-looking pirate ship and sail out into the ocean for some squash-buckling fun.
Pirate recruits can choose from day and evening trips. The tours include a buffet, drinks, and plenty of pirate fun.
20. Go Parasailing
If you have no fear of heights, grab a few friends and take to the skies on a parasailing tour. Parasailing is fun and an inexpensive activity in Mexico. Parasailing tours don't require a reservation. Expect to pay USD 40 to 45 for a single ride.
I've gone parasailing several times on my own and enjoyed a duo parasailing excursion in Cabo San Lucas with my husband, Brian. The romantic zone, south of River Cuale, is a popular place to parasail. While the time spent in the sky isn't long (maybe 15 minutes), it's enough to savor the views of the Pacific coast below.
If you are traveling to Mexico by cruise ship, you should be aware that Puerto Vallarta is in a different time zone to Cabo San Lucas and Mazatlan. Sometimes cruise ships change their clocks one day and back the next.
It's important to know the time in port and when you need to return to the ship.
Happy travels ~ Karen