We decided to take a group tour with our Cruise Critic group during our last Mexican cruise along the Pacific coast. A member recommended a 5-hour excursion to Chico's Paradise in Puerto Vallarta, which included photo stops along the way.
We gathered a group of 20 cruise passengers and filled two air-conditioned vans. Having visited Puerto Vallarta before, my husband, Brian, and I liked the idea of exploring beyond the tourist zone.
This tour, through My Tours Vallarta fit the bill and took us to areas we would not have ventured to on our own. The vans were waiting for us at the cruise port, so we didn't have to go far to start our day.
We traveled in the second van with Raul as our driver. His English was fantastic, and I loved his sense of humor. He told us a lot about Puerto Vallarta and joked there would be a test at the end.
He explained there are three crucial things to remember about Puerto Vallarta: it's the safest city, the friendliest city, and the cleanest city.
After spending the day driving on cobblestone streets, I joked I learned the fourth thing; Puerto Vallarta has the worse roads!
Conchas Chinas
South of Puerto Vallarta, we make our first stop at Conchas Chinas, an affluent neighborhood on the hillside. The cobblestone streets were narrow, with cars parked on each side.
I was amazed the van could fit through some of the confined spaces. At this stop, local merchants sold hats, carved wooden goods, bags, and jewelry.
Raul had no connection to these people, and there was no obligation to purchase.
We walked down the road a short way to a viewing platform. This picture stop allowed for photos of Banderas Bay, the largest bay in Mexico.
Many believe Banderas Bay developed from a volcano because it's so deep that state-of-the-art equipment can't measure its depth.
El Set Restaurant
Just a few minutes down the hill, we join 200 Highway, a smooth road giving us a break from the bumpy cobblestone streets. We passed the area where the 1960s movie "The Night of the Iguana" was filmed.
It was this Richard Burton film that put Puerto Vallarta on the map. Then we stop at El Set, a rustic roadside Mexican restaurant with lovely patio views.
Above the restaurant area, a viewing platform in need of renovation offers stunning views of Banderas Bay. Supposedly, cooks prepared meals here to feed the film crew of the 1964 Richard Burton movie.
After the completion of the film, the establishment became a restaurant. Today, camera and film equipment remain at the entrance and upstairs as a reminder of its Hollywood connection.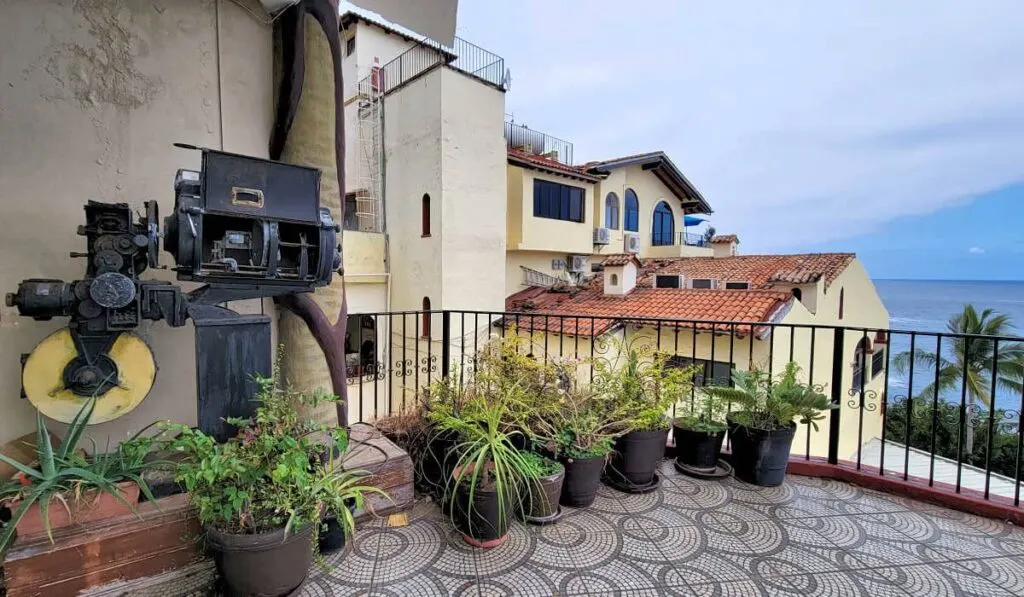 Further up the highway, we drive through the area where Richard Burton and Elizabeth Taylor lived. Today, vacationers can stay in their former home called Casa Kimberley, which was converted into a luxury hotel.
Playa Estacas
Before arriving at Chico's Paradise, we made one last stop to see Playa Estacas. Las Estacas is a beautiful 1250-foot stretch of beach fronted by the Hyatt Ziva.
Supposedly, this area is excellent for swimming and snorkeling. However, the day we arrived, the waters were rough and not the ideal conditions for being in the ocean.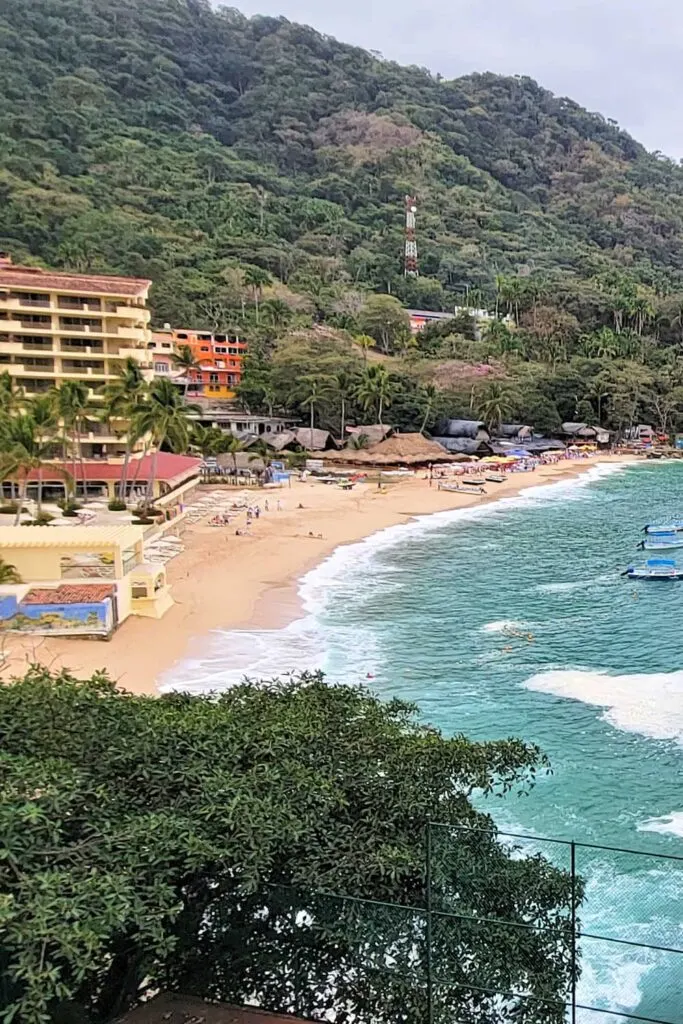 At this stop, two aggressive locals with a giant iguana approached us and proceeded to put the iguana on our shoulders. Afterward, he demanded payment of USD 5.
Some, like my husband, walked away quickly and were concerned the iguanas could carry salmonella. While trying to take some photos of the scenery, the man placed a giant iguana on my shoulders and a smaller green one on my head.
Some group members took pictures of me, and the locals moved the iguanas to someone else. The man demanded I pay USD 5. While I wasn't opposed to paying him, I was unhappy about his aggressive approach.
I paid him because I know it's tough for some to make a living in Mexico. Afterward, I asked to hold the iguana since we hadn't captured a photo.
On previous trips, locals had offered for us to take pictures with an iguana or a chameleon if we donated. So, beware; Puerto Vallarta may have the friendliest people, but it also has the most aggressive peddlers.
From here, 200 Highway continued along the coast to a small fishing village called Boca de Tomatlan.
Then the road heads inland through the Sierra Madre Mountains. It wasn't long before we reached Chico's Paradise for our lunch stop.
Chico's Paradise In Puerto Vallarta
Chico's Paradise exudes so much charm, built on granite boulders overlooking the Tuito River. While I've seen pictures of its lush jungle surroundings and water rushing, the river ran low during our visit.
The restaurant had lots of outdoor seating, all with amazing views. The Chico's Paradise menu consisted of appetizers, soups, seafood dishes, "from the grill," and desserts.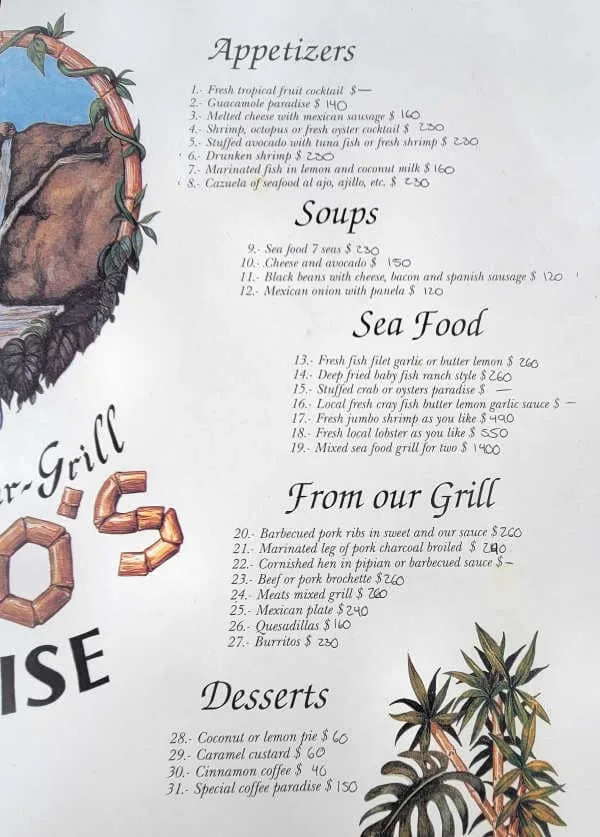 CLICK to print the Chico's Paradise menu
I explained to Raul I had some food allergies, which he explained to the waiter in Spanish. They suggested I order the Stuffed Avocado with Fresh Shrimp. Although it was an appetizer, it was the perfect lunch size for me.
Brian ordered the Drunken Shrimp appetizer, which was cooked in tequila, and the Mexican Plate entrée. We shared a Margarita, which was really strong. At USD 47 for lunch before the tip, we found it a bit pricey for Mexico.
Our waiter gave us corn chips and Pico de Gallo before our meals arrived. The seafood was fresh, and the food was fantastic. However, the entrees were large, and Brian struggled to eat all his food.
We found the pricing relatively high at Chico's compared to other places we had eaten, but I assumed we were paying for location.
We enjoyed chatting with our fellow cruise mates and hearing about their cruising adventures. Coming from Canada, where we had snow the week before, it was lovely to sit out on a warm patio and enjoy an authentic Mexican meal.
The Cliff Diver
Some Puerto Vallarta visitors come to Chico's Paradise to see the cliff diver. The young man climbed the rocks during our lunch to perform some diving acts for tips.
We had watched cliff divers in Mazatlan, but the diver needed to leap 20 feet over the rocks into a small pool at Chico's. I watched the first jump but couldn't watch him do the next one blindfolded.
Chico's Paradise has a ziplining course, but no one in our group participated in the activity, probably because we were too busy eating and drinking Margaritas.
After lunch, 16 got back into the vans for a tequila factory tour. Some who had done the tour before opted to stay behind to have another Margarita.
The drive to the factory was an eye-opener. We drove on dirt roads to a village filled with shanty homes. I guess this is real Mexico.
Dogs, cats, horses, and burrows stood beside and on the roads. Although the dogs had no collars, Raul explained they weren't strays. He said they wander the streets by day but go home at night for food.
The Tequila Distillery Tour
The Doña Chanita distillery is in a remote area of Puerto Vallarta. Here, we learned the process of cooking and fermenting the agave juice to produce tequila.
The size of the harvested pinas surprised me. The average ripe pina weighs 32 kg or 70 lbs., but some species can produce pinas of over 200 lbs.
A group of old pinas lay on the ground next to the sampling table at the distillery. To me, they looked like giant pine cones or pineapples. Once harvested, pinas are split and put into a horno or traditional oven for cooking.
During the cooking process, the sap converts to fermented sugar. Then, the workers crush the baked pinas to release the nectars.
Yeast is added to produce tequila. Tequila is naturally clear; the color comes from the barrels or added ingredients.
While I'm not a drinker, the tequila tasting was a blast. Our distillery tour guide joked he was a professional alcoholic. He explained the process of smelling the tequila and how to drink the alcohol without feeling the burn.
We were all given a small tasting cup, and the tasting began. He started with the clear tequila and instructed us to ask for a small sample if we didn't want a cup full.
Many forgot or wanted a large sample, so he filled their cups to the brim. We had to drink our tequila together, and some forgot and drank their sample before he finished filling the 16 cups. So, they got another refill. A good tactic if you like tequila!
As you could guess, some got quite drunk seven or more shots later, especially considering they had drinks at Chico's. Since I get drunk on half a glass of wine, I tried three small samples.
Even then, I felt the buzz. After the tequila tasting, the guide invited anyone to come up and drink more. Obviously, the tequila was available for purchase.
I asked our "professional alcoholic" how many tours he gave per day. "Six," he said. With seven samples and six tours a day, I could understand how he gained his work title.
We headed back to Chico's from the distillery to pick up the rest of the group.
Retail Therapy
On our way back to the cruise terminal, Raul asked if we wanted to shop and walk along the Malecon. With a unanimous yes, he let us out at one end and said he'd meet us at the other end a few blocks away.
Aware of our time, we hurried through every store along the way that sold tequila and vanilla extract. Since we had been to Puerto Vallarta before, we were in search of a dark chocolate tequila that contained no milk.
We also wanted pure vanilla extract that didn't have an alcohol base. We had no luck finding either but later found vanilla in Mazatlan and chocolate tequila in Cabo San Lucas after a whale-watching tour.
Along the way, we stopped to get some pictures of the cool statues that grace the Malecon. I was surprised I got a picture of the colorful Puerto Vallarta sign without any tourists.
We were the first to arrive back at our pickup point. After 18 people showed up, some started to panic that we would be late for our ship.
However, Puerto Vallarta was in a different time zone from our cruise ship. Once everyone gathered, we headed back to the cruise terminal with lots of time before departure.
Final Thoughts
Based on its poorly marked signage and Puerto Vallarta location, Chico's Paradise isn't a place you'd want to drive to on your own. I'd recommend a taxi or area tour that includes a stop there.
Our excursion with Raul was fantastic, and although it was supposed to take five hours, it took seven hours. At USD 40 per person, a seven-hour tour in Mexico is considered a bargain.
We enjoyed the company of our fellow cruisers, got to see authentic Puerto Vallarta, and enjoyed great Mexican food.
Happy travels ~ Karen