If you're planning a trip to Hawaii and looking for the best places to see turtles on Oahu, you're in for a treat. The island of Oahu offers a unique experience to see sea turtles in their natural habitat.
Whether you're snorkeling, scuba diving, or lounging on the beach, turtles are commonly sighted. These gentle creatures, locally known as "honu," hold cultural significance for Hawaiians.
When observing, remember to keep a respectful distance. Touching or feeding them is illegal and harmful. These magnificent animals add to Oahu's rich marine biodiversity.
I know many travelers love turtles, and this post will help you in your search. Fortunately, you can find sea turtles on most of the Hawaiian Islands. However, if you arrive in Hawaii by plane or cruise ship, you will likely be in Honolulu, Oahu.
You can snorkel with turtles on Oahu or find them randomly on their favorite beaches. If you want to feed Hawaiian Green Sea Turtles, I'll let you know the best place to do that. That was one of the highlights when I visited Hawaii recently.
Turtles In Hawaii
There are several types of sea turtles in Oahu. The Hawaiian Green Sea Turtle and Hawksbill Sea Turtle are the most common around the Hawaiian archipelago.
Other turtles, such as Leatherback, Loggerhead, Ridley, and Flatback, are also occasionally seen. However, they are much less frequently observed near the coastal Hawaiian waters.
The Green Sea Turtles are frequently found along beaches or just offshore. But it is best to know which beaches they frequent before traveling there.
Note that Hawaiian Green Turtles are an endangered species and protected under Hawaiian State Law.
Where To See Turtles In Oahu
The combination of beautiful Hawaiian beaches and warm Pacific water make this island of Hawaii an ideal habitat for sea turtles.
So, if you want to know where to see turtles on Oahu, the following are some of the most popular places for viewing.
Kuilima Cove
Location: Near Kawela Bay, North Shore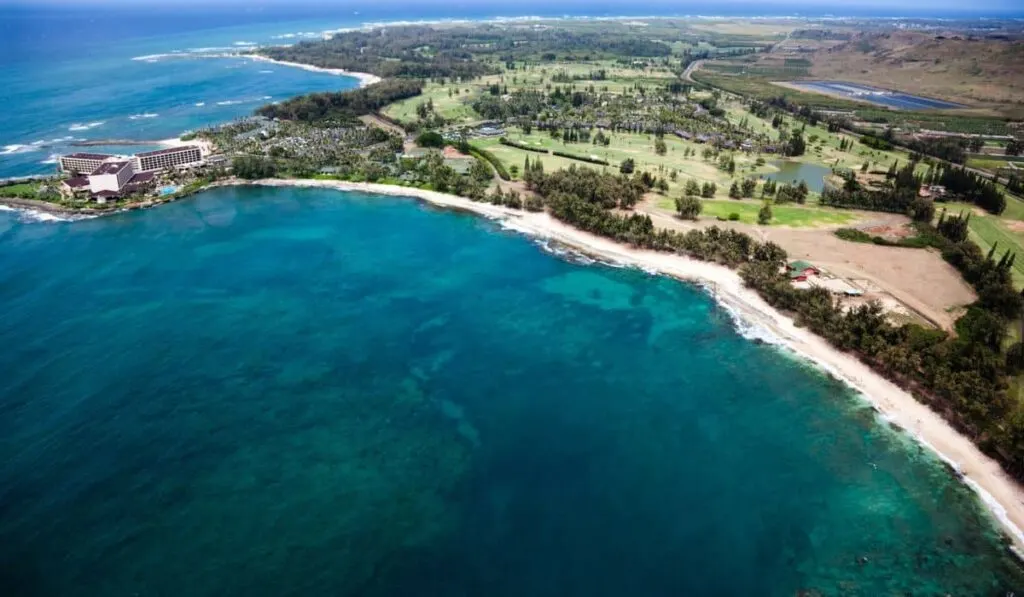 Turtle Bay, or Kuilima Cove on Oahu's north shore, is known for its rock formations, green sea turtle sightings, and more. Some days you can also spot a threatened species, the Hawaiian monk seal, if you're lucky.
The area is not suitable for swimming because of the rock formations. However, the beach is sandy and ideal for walking or hiking. The beach is approximately 5 miles (8 km) in length.
For those who prefer to escape the crowds of Waikiki Beach, the Turtle Bay Resort provides luxury accommodations on the North Shore. Staying there allows for more chances of seeing turtles.
Laniakea Beach
Location: Near Haleiwa, North Shore
This beach on the north shore of Oahu is a popular area for turtle watching in the wild. The beach is also known as Turtle Beach Oahu or Honolulu Turtle Beach.
Turtles sometimes leave the water and make their way onto the beach. Once on the sand, they park themselves and enjoy the hot Hawaiian sun.
On my first trip to Hawaii, we drove to this north shore beach and had the joy of seeing large green turtles on the sand and many more in the water.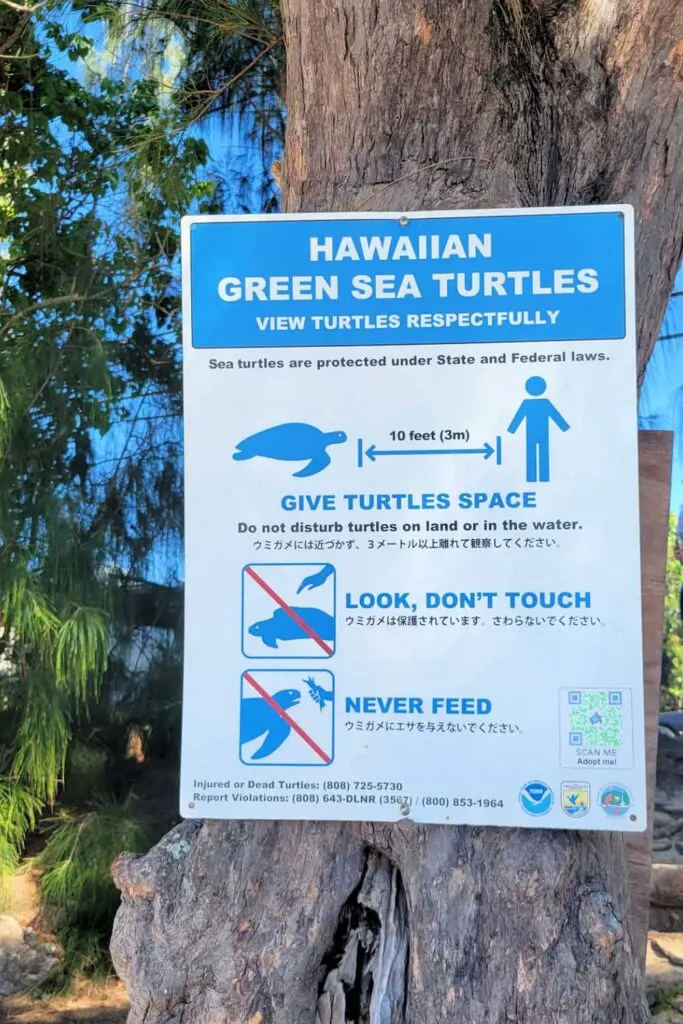 There was a great volunteer organization there that day. They work to classify and protect all sea turtles in Hawaii. Their website shows the turtles and information they know about them. You can meet the Honu here.
A red rope helps to encourage tourists and visitors to maintain a 10 ft (3m) distance from the turtle. On the trees, signage reminds visitors to keep their distance.
A sign near the turtle showed the details that were known. It was named "Maka Nui," weighed 65 lbs (29 kg), and was approximately 10-15 years old. Its species was Chelonia mydas (Green turtle), but the gender was unknown.
The largest of the turtles is an adult female called "Mana." They estimate she's 65 years of age and weighs over 300 lbs. Seeing these gentle giants up close is an unforgettable experience.
Parking has been improved at the beach. A parking lot has been created to accommodate more cars since it's such a busy beach. Also, there is now a proper crosswalk to make the walk across the street safer.
Best Time To See Turtles At Laniakea Beach
Turtles often come to the beach in the late morning to early afternoon. Since this is a busy time, finding parking may be problematic.
Alternatively, you have a good chance of seeing them in the late afternoon to early evening. At this time of day, the parking lot is less busy.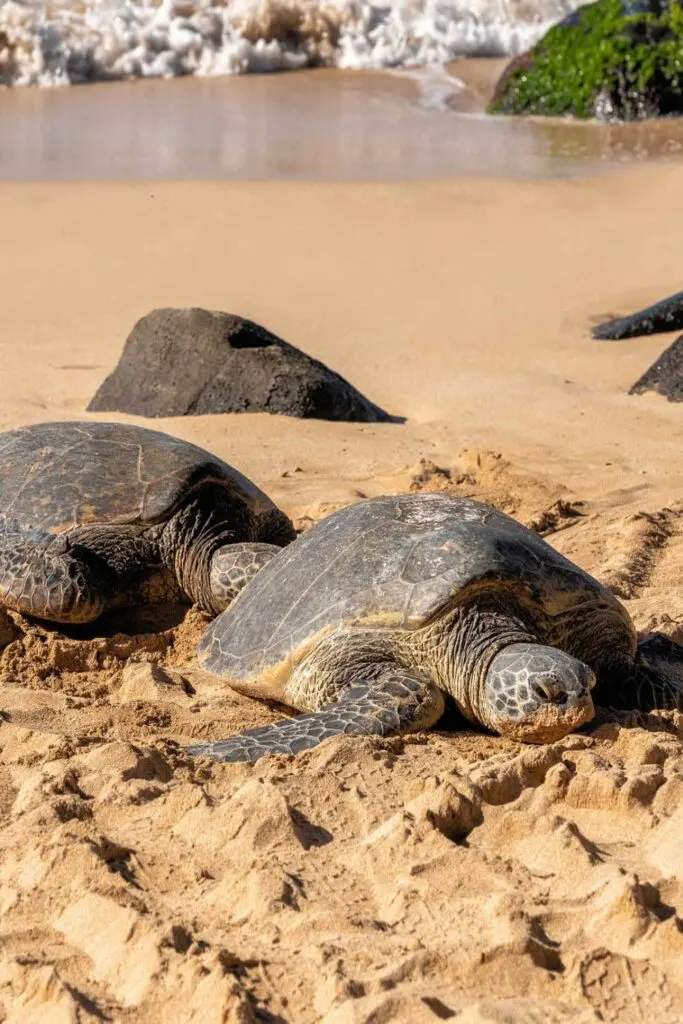 However, on my second trip to Hawaii, the volunteers told us they had not seen a turtle for a few days. Since the surf was rough, the water churned up the kelp and algae on the sea floor. With plenty of access to food, the turtles stayed out in the deep water.
So, if you want to see turtles in Oahu, it's best to try a day with calmer waters. If you're limited for time on Oahu and want to see these creatures, I recommend headed to Turtle Beach north shore, for the best chance of viewing.
Haleiwa Beach Park
Location: 62-449 Kamehameha Hwy, Haleiwa
Located near Laniakea Beach, Haleiwa Beach Park provides another excellent viewing spot. The Old Haleiwa town has some great food trucks, quaint boutique stores, and a laid-back vibe.
While it's often challenging to get a parking spot, the beach has picnic tables, a basketball court, and, if you're lucky, turtles!
Nearby, you can rent paddleboards, kayaks, and canoes if you want to get out on the water.
Turtle Town
Snorkeling with turtles is an excellent way to observe these gentle creatures. The best way to do this is to arrange a snorkeling tour through a local tour company or snorkel off one of Oahu's beaches.
There's a popular area frequently by turtles called "turtle town." While you can swim near these magnificent creatures, you are forbidden to approach, harass or touch them.
If it's your first time in Hawaii, you should know that the islands have banned the use of specific sunscreens. So, before you arrive, purchase reef-safe sunscreen that does not contain octinoxate and oxybenzone.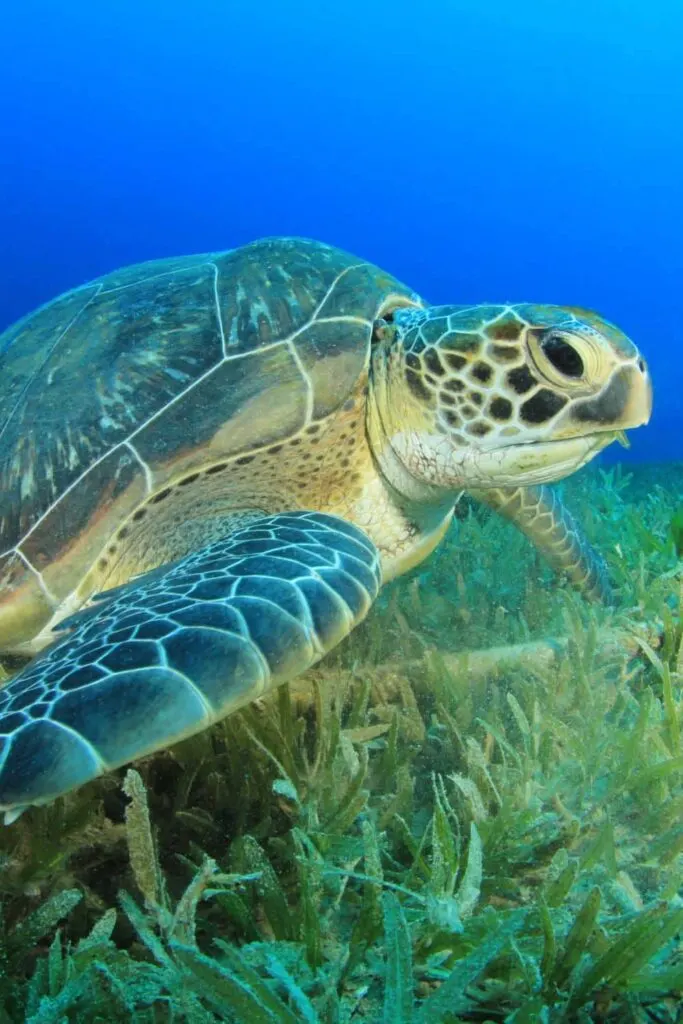 'Snorkel With Turtles Hawaii' offers tours throughout the year. The cost is less than USD 100 per person for a 2.5-hour tour. You can book through their website.
Alternatively, if you purchase the Go City Oahu Card, you have the option to take a Waikiki Turtle Canyon Cruise and Snorkeling excursion.
Hanauma Bay
Location: 7455 Kalanianaole Hwy, Honolulu | Open: Wed to Sun, 6:45 am to 4 pm, with last entrance at 1:45 pm
The first time Karen and I cruised to Hawaii, we snorkeled briefly in Hanauma Bay. It was my first time snorkeling, and even though I didn't see turtles, fish and sea life were abundant.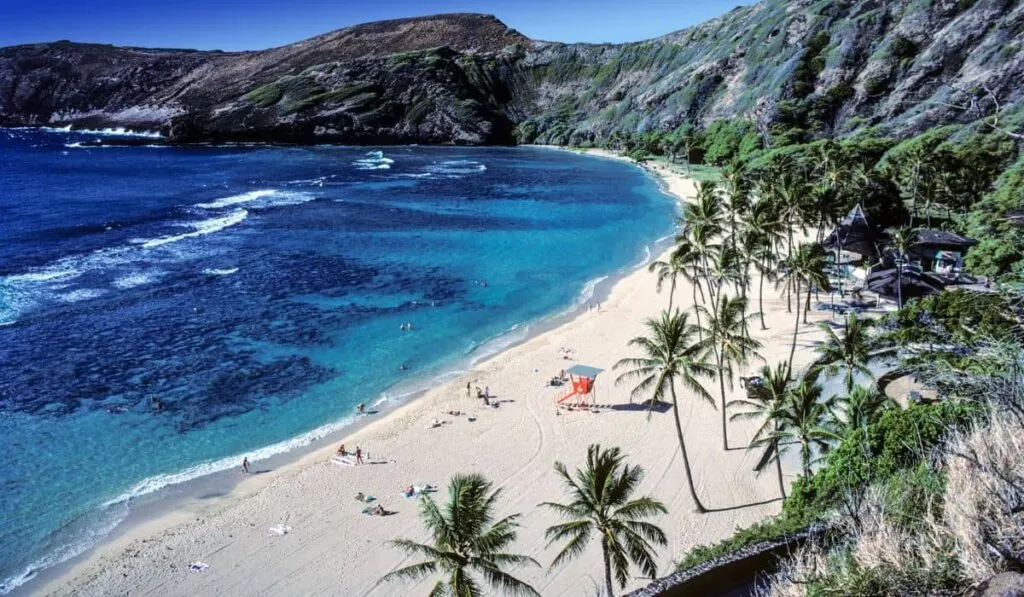 Snorkel trips to Hanauma Bay is very popular with tourists and locals alike. For most travelers to Oahu, Hanauma Bay is a 'Must-See' destination.
The cost is USD 25 per person to enter Hanauma Bay, but kids 12 and under are FREE. Parking is available for an additional USD 3.
In previous years, you could enter the park by showing up. However, the park recently launched a pilot reservation program to manage the demand for visitation.
Now you need to make a reservation through the Parks and Recreation website. However, if you arrive before 9 am, you can enter without a reservation.
The registration slots fill up quickly, so book ahead early. Note the park allows reservations for only two days beyond today. It's frustrating because you cannot ensure you will get a timeslot due to the high demand.
Sea Scooters And Turtles
Location: Kewalo Harbor Pier B, Honolulu
Another way to see Hawaiian Sea Turtles in the wild is with the help of a sea scooter. Sea scooters are underwater battery-powered propeller devices that will increase your speed in the water. However, you will need to surface to breathe.
'Yolo Hawaii' is located in Honolulu and offers sea scooter tours. They also offer other tours, including snorkeling with turtles. Check their website to book.
Alternatively, you can take a submarine scooter tour. Similar to sea scooters, these devices give you extra speed. But they also provide oxygen so you can remain underwater.
Sea Life Park Hawaii
Location: 41-202 Kalanianaole Hwy, Honolulu | Open: Daily, 10 am to 4 pm, with last entrance at 1:45 pm
Sea Life Park is a great place to see and feed sea turtles. During our visit, getting to feed these fantastic sea creatures was the highlight of my trip.
You can purchase a small cup of broccoli and celery in the gift store for a few dollars. Turtles like this food, and it was fascinating to feed them so close.
I would throw a small broccoli floret in the pond, and at least two or three Green Sea Turtles would quickly move in to eat it. It was thrilling to be within 3 feet (1m) of the turtles.
It was nice to know I had something in common with sea turtles……we both love broccoli!
The National Oceanic and Atmospheric Agency (NOAA) recommends you remain 50 m from sea turtles in the wild. Being this close and having the turtles come to me as I fed them was a privilege.
The staff at Sea Life Park prepare a fixed amount of turtle food daily. Once visitors purchase all the food, there is no more available. They do this to ensure the turtles are not overfed.
If you are ever in Oahu, make the trip to Sea Life Park. Feeding these majestic creatures up close will be something you will never forget. Plus, you'll see an endangered monk seal too!
Kahe Point Beach Park (Electric Beach)
Location: 92-301 Farrington Hwy, Kapolei | Open: Daily, 6 am to 10 pm
If you stay at the Aulani Disney Resort and Spa, it's a 5-minute drive to the next turtle viewing point. Kahe Point Beach Park, also known as Electric Beach, is next to an electric power plant, hence the name.
Since the power plant emits warm water, the area attracts tropical fish, eels, dolphins, and sea turtles. While the beach is small, the waters are crystal clear.
This snorkeling spot isn't recommended for beginners, and it's advisable to check the surf conditions before driving there.
Makua Beach (Tunnels Beach)
Due to its secluded location on Oahu's west side, Makua Beach rarely sees tourists. However, if you drive, you'll be treated to a quiet beach void of crowds.
With a backdrop of the Waianae Mountain Range, the beach is an ideal spot for watching a sunset.
However, during the day, you may see dolphins, sea turtles, and distant humpback whales (in the winter months).
Volunteers Helping To Protect Turtles
Hawaii is a haven for many unique and exotic types of sea life. Thankfully there are volunteer organizations dedicated to their protection.
During our last trip to Oahu, we spoke with one of the Malama Na Honu volunteers during our stop at Laniakea Beach. This wonderful agency has a simple mission:
To protect the Hawaiian sea turtles through education, public awareness, and conservation, all in the Spirit of Aloha.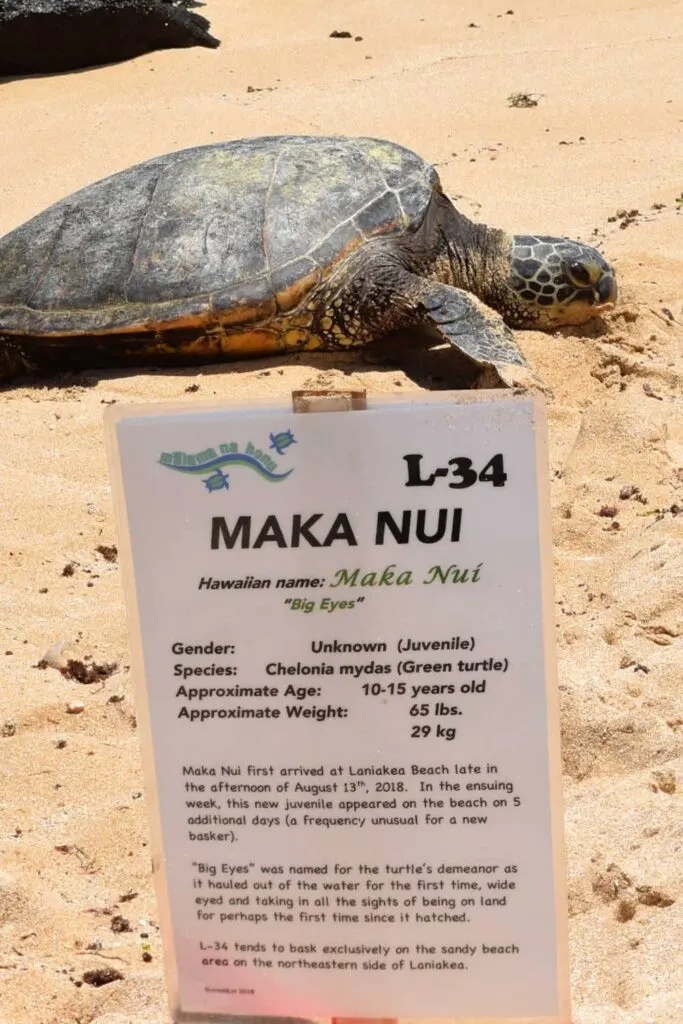 The organization has volunteers stationed most days at popular turtle-viewing beaches. When a turtle crawls out of the water, the volunteers immediately place a red rope in the sand, keeping onlookers at a safe distance.
The roped-off area marks a 10-foot (3 m) barrier around the turtle, following the NOAA recommendations. In addition, they will place identification placards near the turtle to help educate any human spectators.
This educational process reduces the chance of humans trying to bother the turtles while they are resting.
Thank goodness for organizations such as Malama Na Honu. They work tirelessly to protect Hawaiian Sea Turtles so they can be enjoyed for future generations.
Best Places To See Turtles On Oahu Conclusion
Prior to my cruises to Hawaii, I was aware of sea turtles but never really appreciated them. There are many wonderful places throughout the world to see and enjoy them.
However, Hawaii is a special place because of its location in the warm Pacific Ocean. If you are flying or cruising to Hawaii as we have, check out these incredible creatures in their natural habitat.
Also, Sea Life Park is a special place that provides a sanctuary for those turtles that would not survive in the wild.
When you see turtles in Hawaii, always be one of those visitors who respect these endangered species. Observe the 10-foot distance if you see one on the beach. You can still get a fantastic photo.
Happy travels and turtle-watching ~ Brian