When staying in Waikiki, Oahu, there is no better place to snorkel than Hanauma Bay. A crescent-shaped cove formed from the center of a volcanic crater, it oozes with natural beauty.
I've been to Oahu four times during a Hawaiian repositioning cruise, and I always find time to snorkel in the famous bay. Should you add this excursion to your itinerary, here are some Hanauma Bay snorkeling tips to maximize your adventure.
Hanauma Bay is a protected marine life conservation area that's monitored very closely. During my first visit, the coral seemed mostly dead, and the experience left me somewhat disappointed.
However, allowing only a limited number of people a day and educating those travelers on how to preserve the coral has added new life to the aquatic underworld.
During my last snorkeling excursion, the pristine waters in this popular Oahu snorkeling spot were teeming with fish, and I even got to see the famous Humuhumunukunukuapuaa fish.
Part of this has to do with the pandemic when the area was closed to tourist. It allowed the waters to flourish with marine life.
Hanauma Bay Parking Tips
Hanauma Bay has become so popular that it now requires a time slot reservation to visit. Their pilot program aims to cap the number of visitors to 1,400 per day.
So, before you head out for your anticipated swim, make sure you have a Hanauma Bay reservation. Time slots begin at 7 am and no entry is permitted at 1.30 pm.
Should you drive, take the H1 Highway, which turns into Kalanianaole Highway. The turnoff to Hanauma Bay is clearly marked. The best Hanauma Bay snorkeling tip is to arrive early in the morning before it gets too hot.
Prepare to arrive before opening as the large parking lot fills up fast. There is a USD 3.00 fee to park. Do note, while the lot looks large, it has 300 parking spaces which fill up by 9 am.
Even if you have a reservation to visit Hanauma Bay, the parking is on a first come, first served basis.
When parking your vehicle, leave nothing behind as parking lots are a high theft area in Hawaii.
What If Hanauma Bay Parking Is Full?
If the Hanauma Bay parking lot is full and you've driven around for a while, there's another option. Just across the Kalanianaole Highway is the Koko Head District Park. Visitors park there to hike the Koko Head Trail.
While it takes a few minutes to walk back to Hanauma Bay, at least you won't need to reschedule your snorkeling excursion to another day. Plus, you don't need to pay for parking.
Without a vehicle, they are other options for getting to Hanauma Bay. Firstly, the Go City Card includes admission to Hanauma Bay.
Brian and I purchased the passes at Costco before our Hawaiian vacation, and it was money well spent. As well as admission, the card provided transportation to and from the bay, plus snorkeling gear.
In the past, shuttles, buses, and taxis offered service to Hanauma Bay. Under the new pilot program, these services are no longer allowed. Visitors may only arrive by private vehicle, Lyft, or Uber.
Getting a Lyft or Uber from Waikiki will set you back about USD 40.00 each way and is not the most economical option.
Hanauma Bay Snorkeling Hours And Pricing
Hanauma Bay is open every day except Mondays, Tuesdays, Christmas Day, and New Year's Day. Its opening times are from 6:45 am to 4 pm.
However, if renting snorkel gear on-site, the rental center closes earlier than the park time.
There is a mandatory entry fee of USD 25 to enter the park, but kids 12 and under are free. Active Oahu military and locals with proper state ID can also get in for free. While this isn't a free Oahu activity, it's certainly worth the visit.
Getting Down To The Bay
While the parking lot is high on a hill, it's a steep slope to the bay. It's a picturesque view of the crescent-shaped bay from the hilltop, which formed inside a volcanic cone.
There are two options for getting from the upper level to the snorkeling area. Firstly, by walking or secondly, using the tram service. Brian and I are active, so we chose to walk up and down the hill.
We enjoyed the picturesque views and the opportunity to snap some candid photos. For those less agile, a complimentary shuttle service transports swimmers up and down the steep hill.
Before we could snorkel in Oahu's famous bay, we had to watch a short 9-minute video on reef safety and ways to preserve the marine environment.
It's important to note; it's against the law to harass marine wildlife, step on the coral reef, or touch the fish.
Hanauma Bay Snorkeling Tips For Renting Equipment
A small kiosk at the beach offers snorkeling fins and masks for rent, but a driver's license is required as a deposit. Standard snorkeling sets cost USD 20.00 and premium sets are twice the price. Prescription masks are also available to rent.
It's vital to know the kiosk closes earlier than the park. Should you not return your equipment on time, you will be without your license when leaving the park.
Planning your trip to Oahu?
🏠 Find your perfect Oahu accommodation on Booking.com
🚘 A rental car gives you the freedom to explore the whole island. Hire a car on Rentalcars.com
A tip to save money at Hanauma Bay: Since the Hanauma Bay rentals are expensive, more affordable options are available at places like Snorkel Bob's in Waikiki.
Their prices are hard to beat, and equipment is rentable by the hour, day, and weekly rates. ABC Stores also sell inexpensive gear should you be vacationing on Oahu for an extended stay.
Should you have your own equipment, this must-do excursion in Oahu. By having snorkel equipment before entering the park, you can remain in the calm waters until closing.
Since it's hot in Hawaii and since Hanauma Bay nature preserve offers little shade, be sure to use a reef-safe sunscreen.
Locker rentals are also available for valuables. It costs USD 10.00 for a small one and USD 12.00 for a larger one. Washrooms are accessible for changing as well as an outdoor shower.
There is no place to buy food or refreshments at the bay, but there is a small shop near the entrance at the top of the hill. So, purchase your snacks before heading to the beach.
Alternatively, bring your drinks and snacks in a small cooler or cooler bag for the beach duration.
What To Bring
Money for fees, locker, tram, etc
Reef safe sunscreen
Bathing suit
Rashguard t-shirt to wear over a bathing suit
Towel
Sun hat
Sunshade (optional)
Drinks and snacks
GoPro
My Hanauma Bay Snorkeling Experience
A sign at the beach clearly shows the sandy spots between the reefs and marks the area where there are rip tides. Lifeguards are on hand to warn swimmers of jellyfish and when the currents pick up.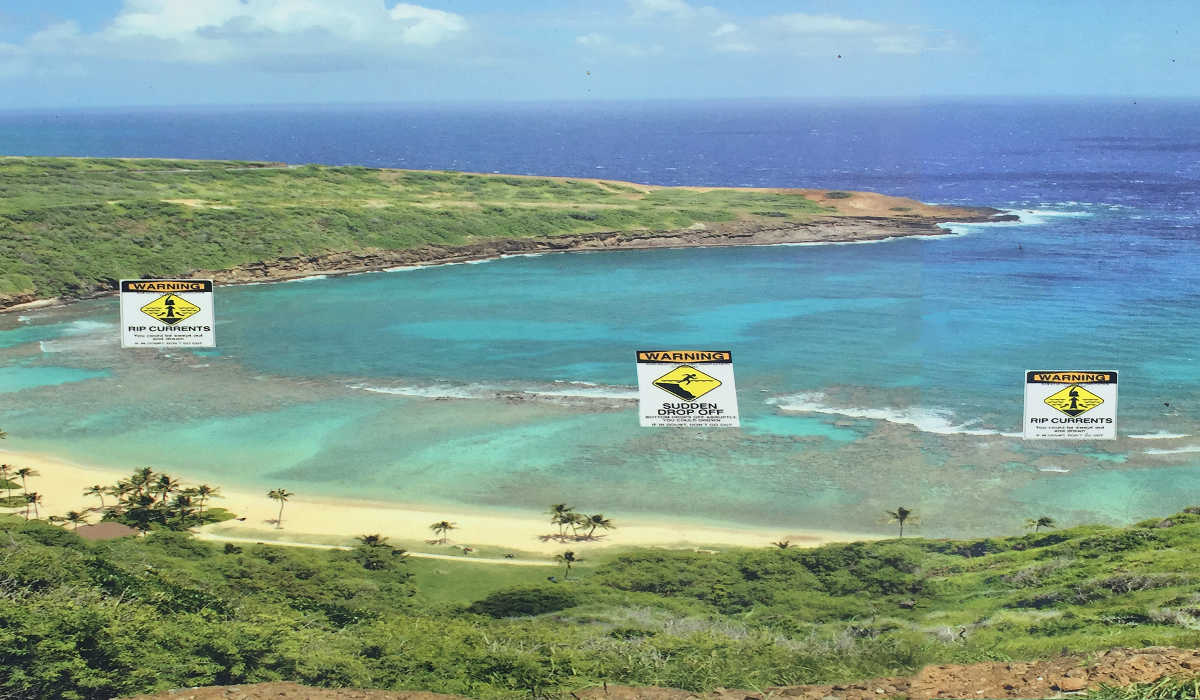 If it's your first time snorkeling or you're a novice swimmer, stay in the shallow water near the reef. Experienced snorkelers can head out into deeper snorkeling spots.
So, with my GoPro in hand, I headed into the warm waters to snorkel. If you're not a strong swimmer, it's best to snorkel over the sandy area bordering the reef.
Heading out into deeper waters, I was amazed at the number of tropical fish, especially as the bay was crowded. The warm water was crystal clear but cloudier closer to shore.
Having been to Hanauma Bay several times, I knew the current gets stronger at certain times of the day. I had to lift my head out of the water numerous times to stay aware of where I was in relation to the shoreline.
While I didn't snorkel long during my last visit, Hanauma Bay was plentiful with many species of fish. I even spotted countless numbers of the Humuhumunukunukuapuaa fish and trumpet fish.
While my husband, Brian, was afraid of fish and had not snorkeled in decades, he thoroughly enjoyed the outing. He felt that Hanauma Bay snorkeling was perfect for beginner snorkelers and families.
You can see turtles in this Oahu Bay, along with reef sharks, although we didn't spot any. Should you spot any Hawaiian green sea turtles, it's important to stay a safe distance.
During your snorkel, pay attention to the coral reefs that come close to the water's surface. It's vital to stay away from these areas to prevent injury.
There are limited areas protected by trees on the beach, and these shaded spots are snagged up quickly. Without shade, I didn't spend much time on the beach area because the sun was unbearable.
If you're visiting with small children, early morning provides the best time to visit, to avoid the midday sun.
While Hanauma Bay is a bustling spot amongst tourists, do not pass on the opportunity to snorkel there. Whether you're cruising around the Hawaiian Islands or vacationing on Oahu for a week, this excursion is an absolute must.
Hanauma Bay Snorkeling Tips Conclusion
While there are lots of places to snorkel in Oahu, a day trip to Hanauma Bay guarantees tropical fish sightings, You'll see many different species of fish without traveling too far from Waikiki.
With these Hanauma Bay tips, you now know the best time to visit, options on parking and how to save money on your rental equipment.
To ensure a safe visit, stay away from the rip tides and areas of strong currents. Have you snorkeled at Hanauma Bay? How was your experience?
Happy travels ~ Karen