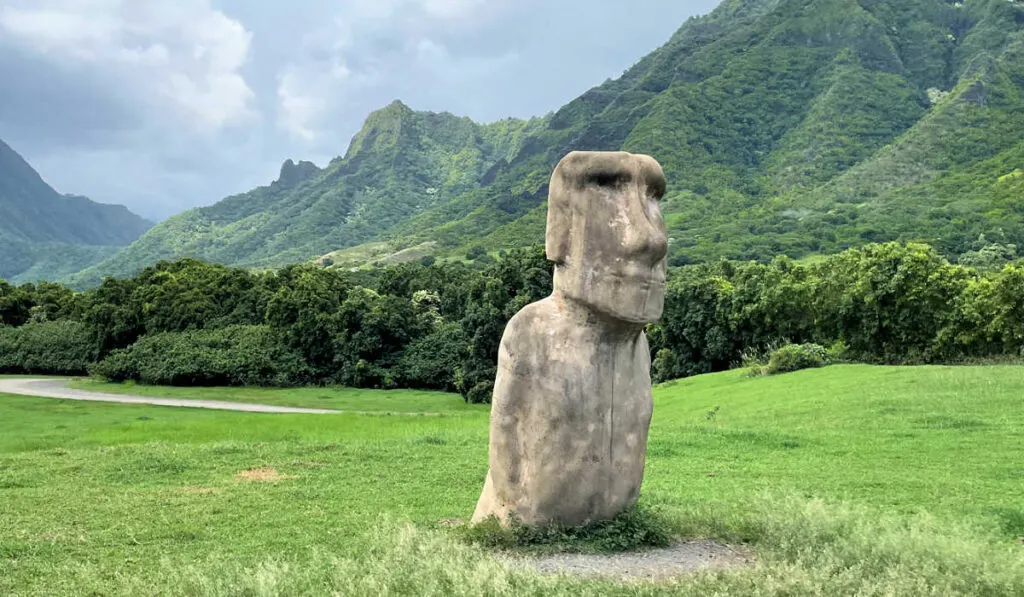 Oahu, the destination that's never going to get old. If you're heading to the Hawaiian Islands and looking for an Oahu 7-day itinerary, this one allows you to explore the best places on the island.
Oahu is a pretty gorgeous place; its stunning waves of ultramarine and turquoise hues are quite the lookers, and the island boasts other bounties of nature too.
Now, a lot goes into an Oahu itinerary, but this one will satisfy thrill-seekers, cultural enthusiasts, and beach questers.
If you're looking for an Oahu guide that stretches a week and covers all the touristy and ignored places, you've come to the right place.
You'll reduce travel time and maximize your tropical adventure by dividing all the must-sees into regions.
Where To Stay In Oahu?
Stay and base yourself in Waikiki for most days, but you're welcome to spend your nights in other areas too.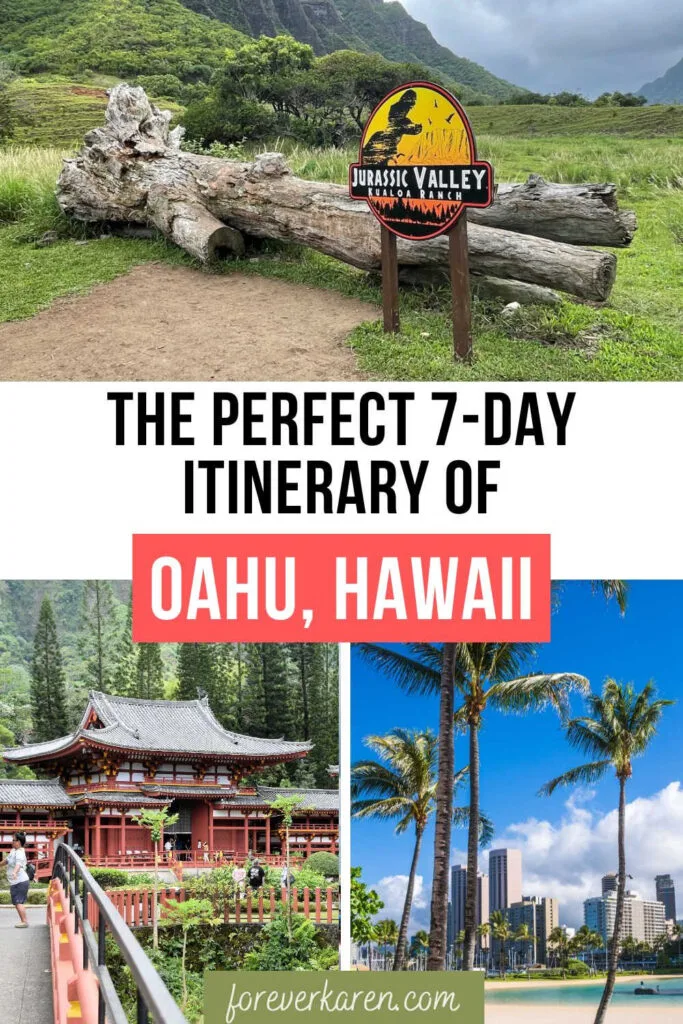 Just from the sheer volume of hotels and resorts, Waikiki provides a great place to base yourself for island exploration. In Waikiki, there's a hotel for every budget.
Some choose a high-end resort with beach views, while others want something clean and more reasonable.
If you're looking for the best budget-friendly hotel in Waikiki, I recommend nothing but the White Sands Hotel. It's pretty affordable, has recently renovated its rooms, and you're within walking distance of restaurants, bars, shopping, and transit.
Alternatively, the Coconut Waikiki provides a quiet spot near the canal but is a very short walk from the action. Their suites are reasonable and come with a small kitchenette.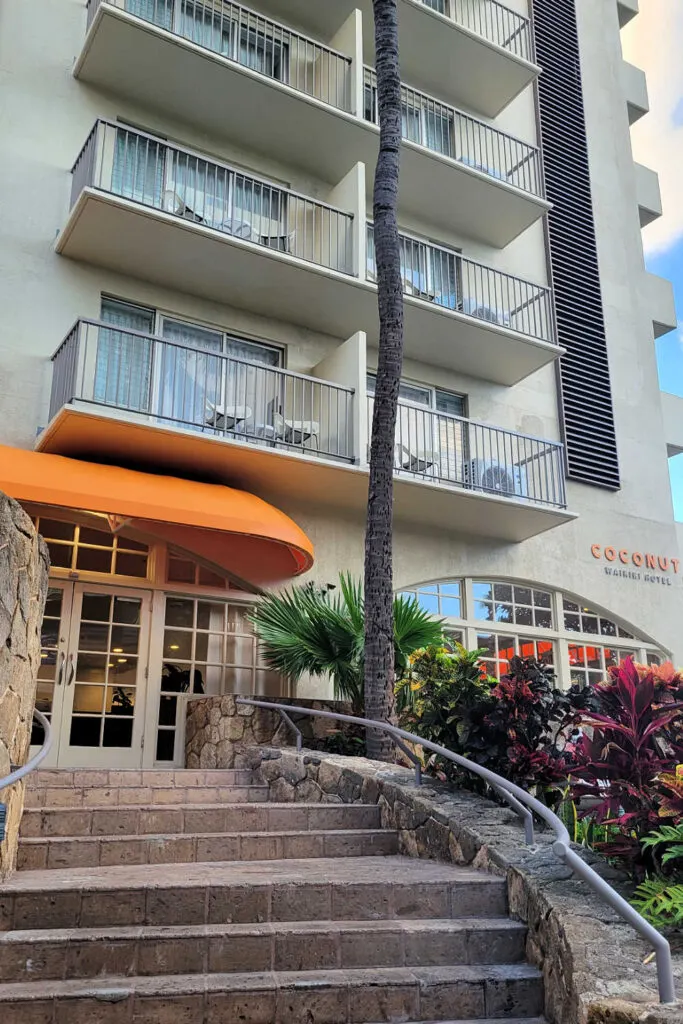 Alternatively, if you prefer a little luxury and want to be steps from the turquoise water, you can't go wrong with the Moana Surfrider. Its colonial design, porch with rocking chairs, and superb customer service make it a premium hotel.
Day One: Honolulu & Waikiki
Obviously, you can't have Oahu without Honolulu and Waikiki, so we'll be heading there first.
Getting around Honolulu is a piece of cake because you have a reliable bus service. The bus goes around most Honolulu spots and costs less than USD 3 each way, or USD 5.50 for a day pass.
However, to cover more ground, take a road trip, and get to destinations quickly, a rental car is the way to go. Car rentals are plentiful at Daniel K. Inouye International Airport and reasonably priced.
By having wheels, you can set your own schedule, do a scenic drive, and not be tied to a bus route and timetable. Booking online before your trip can save you more money than getting a car on arrival day.
Bear in mind hotels in Waikiki charge a parking and valet fee. So, shop around, and you could score a hotel with the perks of free parking.
Here's what you'll do on the first day:
Diamond Head Hike
To combat that jet lag, travel to Diamond Head State Monument, a popular volcanic crater overlooking Waikiki. The hike to Diamond Head can be a little tough and demands much more attention, so I only suggest it to daredevils and adventurists.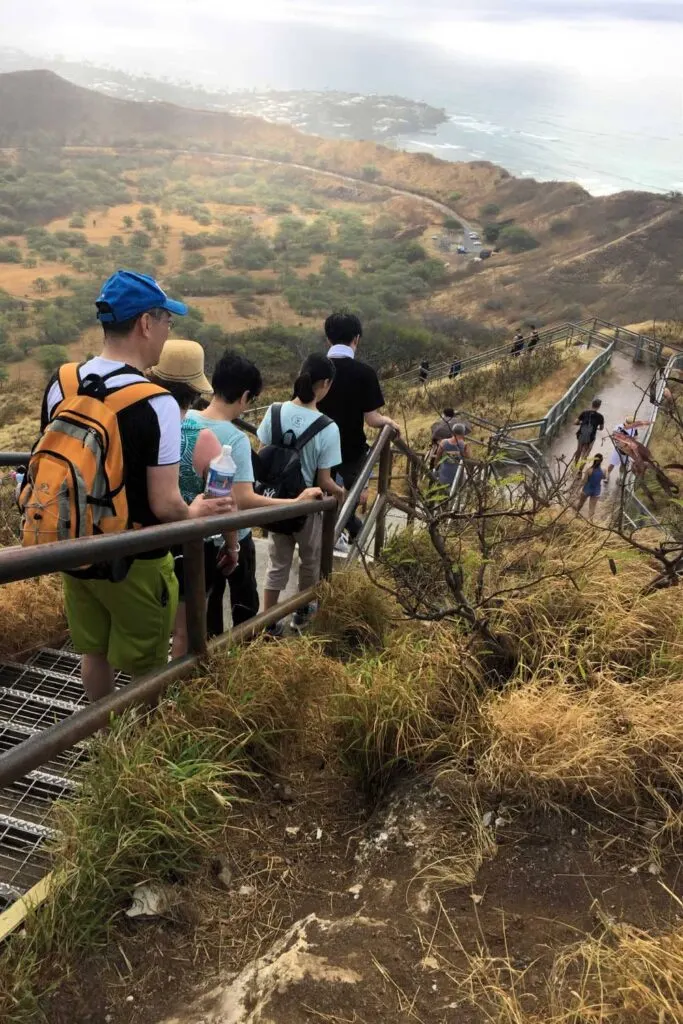 To access Diamond Head, you'll need a reservation through the government's website. If you're driving instead of taking transit, you need to reserve a spot in the parking lot also.
Allow 90 minutes to complete the roundtrip adventure, even with lots of stops for photos. The heat and humidity will give you the incentive to complete this hike in a timely manner.
You'll want to forego the flip-flops on this hike for something sensible instead. The trail to the top has no shade, so wear a hat, use sunscreen, and stay hydrated. To combat the heat, I suggest an early start.
At the peak, you'll enjoy amazing views of Waikiki, tour a bunker, and take a victory selfie.
If you're not one to hike, you're welcome to spend the day exploring the base of the volcanic cone; it's pretty mesmerizing to spot tropical birds, flora, and fauna while you're there.
Hanauma Bay
From Diamond Head, head east on Kalaniana'ole Hwy for a short drive to Hanauma Bay. Again, you will need a reservation to visit.
Hanauma Bay is a sheltered cove created by a volcanic cone. In 1967, it was declared a protected conservation area, and marine life is carefully monitored.
The sheltered bay is a must for snorkeling. You can bring your own snorkel gear, get rentals at the beach, or pick up the equipment at Snorkel Bobs, which offers the best prices.
You'll enjoy crystal-clear waters to see numerous tropical species while snorkeling at Hanauma Bay. If you're lucky, you may even see a turtle.
The nature preserve has lots of reefs close to the beach. So, those new to snorkeling can see schools of fish in a mere few feet of water. Bring a GoPro to capture the underwater world digitally.
Kahanamoku Beach
After your snorkeling adventure, move to Kahanamoku Beach, a calm, secluded, and cozy point. Kahanamoku overlooks a small lagoon with golden white sands and stark blue waves.
For any introvert, relaxing and swimming in the lagoon away from the tourist crowd is perfect.
Waikiki Beach
Orchids offer a romantic setting with waterfront views if you're in the mood for seafood. Orchids have an a la carte menu or a buffet.
The buffet is pretty impressive, but the a la carte items are superb. The food is often adorned with fresh orchids and beautifully presented. While pricy, the meals are worth every penny.
After dinner, you won't be able to resist walking on Waikiki Beach. Waikiki Beach is a trendy tourist point, but it buzzes with live music and activity during the evening.
There are lots of beachside patio restaurants that ooze with an electric atmosphere. Why not grab a Mai Tai while enjoying the electricity of Waikiki Beach? It's a favorite place amongst first-timers.
Nearby, stores remain open until late. So, if you want to do some shopping or enjoy a stroll on the torch-lit street, it's the ideal way to finish your day.
Day Two: North Shore
Oahu's North shore is quite the match for a naturalist; this scenic shore expands a stunning distance and gives you amazing views of Mother Nature. If you're hoping to have a calming and nature-connecting experience, the North Shore is your best bet.
Most come to the North Shore for the wave action. Depending on the season, experienced surfers can catch some big waves. Even if you're not a surfer, it's a popular place to watch.
Tour companies offer shark cage snorkels for the daredevils if you're game. If you like the serene vibe of the Northern area, the Turtle Bay Resort provides luxury rooms with stunning ocean views. It's a great alternative to staying in Waikiki for your whole seven days.
There's a lot to do on the North Shore, but let's go over what you'll love:
Haleiwa
Start your morning by exploring Haleiwa, a north shore town filled with charm and character. Here, you can browse the food trucks, enjoy shopping in eclectic boutiques, and check out the surf shops.
Haleiwa is known for its food trucks. While Giovanni's Shrimp Truck might be the most well-known, check out the other options.
If you want to try a classic Hawaiian item, you can't go wrong with Mike's Huli Chicken, Haleiwa Bowls, or Aloha Shrimp.
Laniakea Beach
Before arriving at Waimea valley, make a quick stop at Laniakea Beach. While parking is challenging, there's a small dirt lot on the right.
First-time visitors often want to see Hawaiian Green Sea Turtles in their natural environment, so Laniakea Beach is a good option.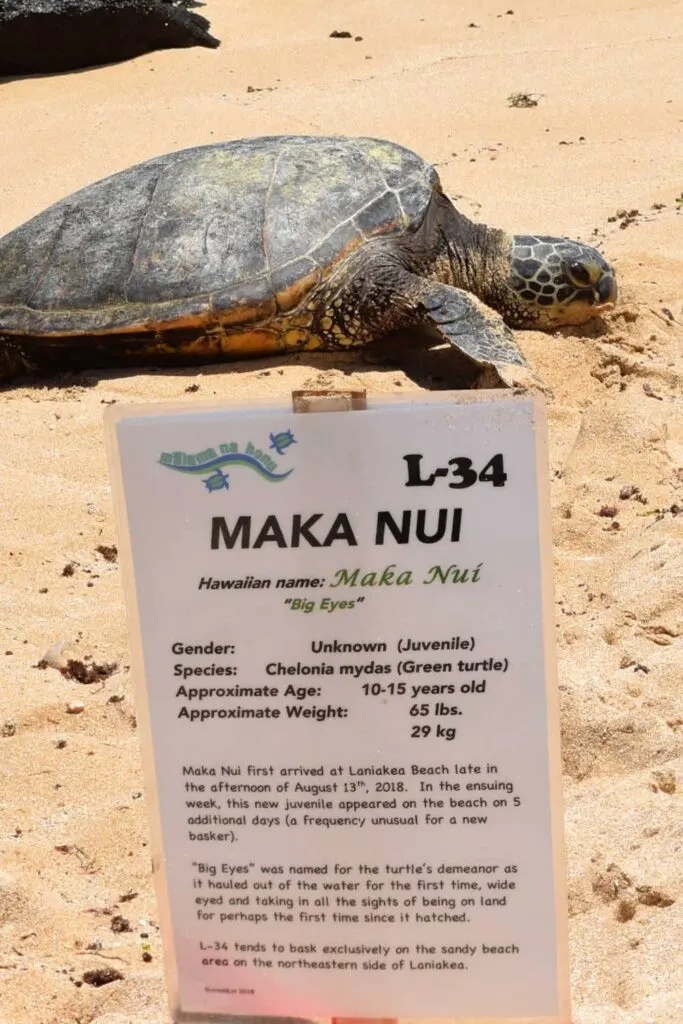 Many make the mistake of thinking Turtle Bay is the spot. While the name confuses visitors, Laniakea Beach is the best place to see turtles in Oahu.
Often volunteers will man the beach to keep tourists at a distance. They are a wealth of information on Hawaiian turtles and can answer all your questions, including the turtle's name.
Botanical Garden In Waimea Valley
You'll then visit Waimea Valley, a stunning scenic natural park that boasts high cliffs and even waterfalls. The Botanical Gardens trail is pretty popular, but a few lesser-known off-the-beaten-path routes follow it.
Over 5,000 plant species adorn the route, and it's a horticultural paradise. The collection features tropical flowers, endangered species, and fruiting varieties.
Hike along this trail and make your way to a waterfall swimming hole.
Waimea Falls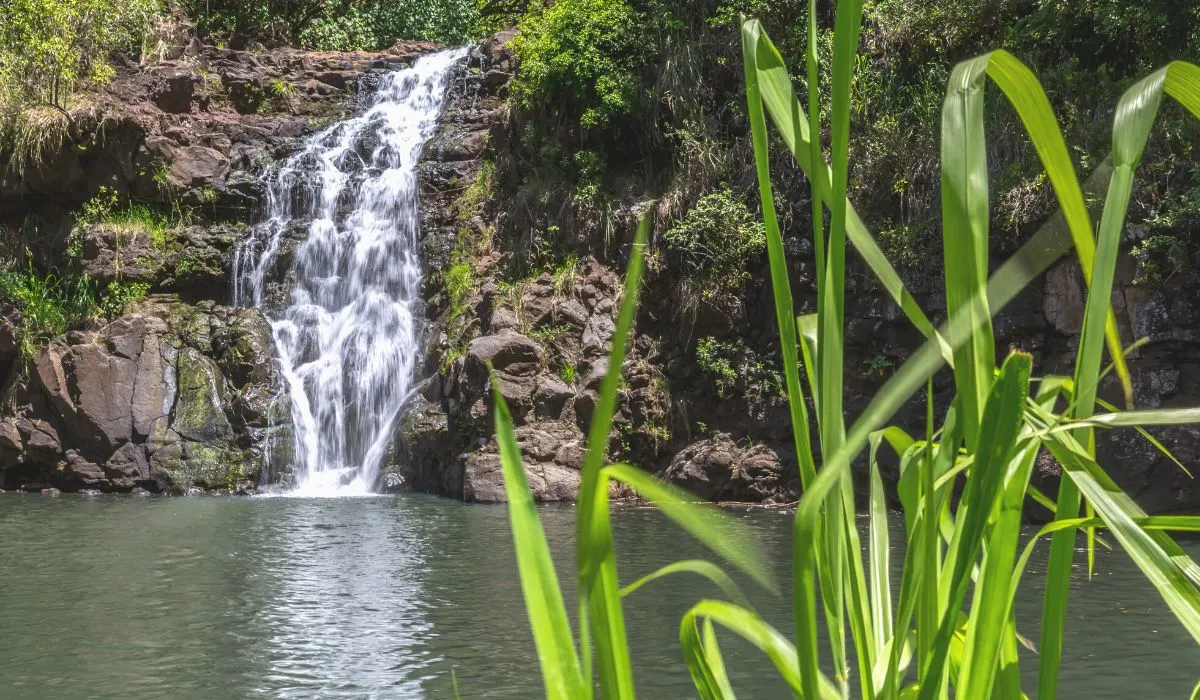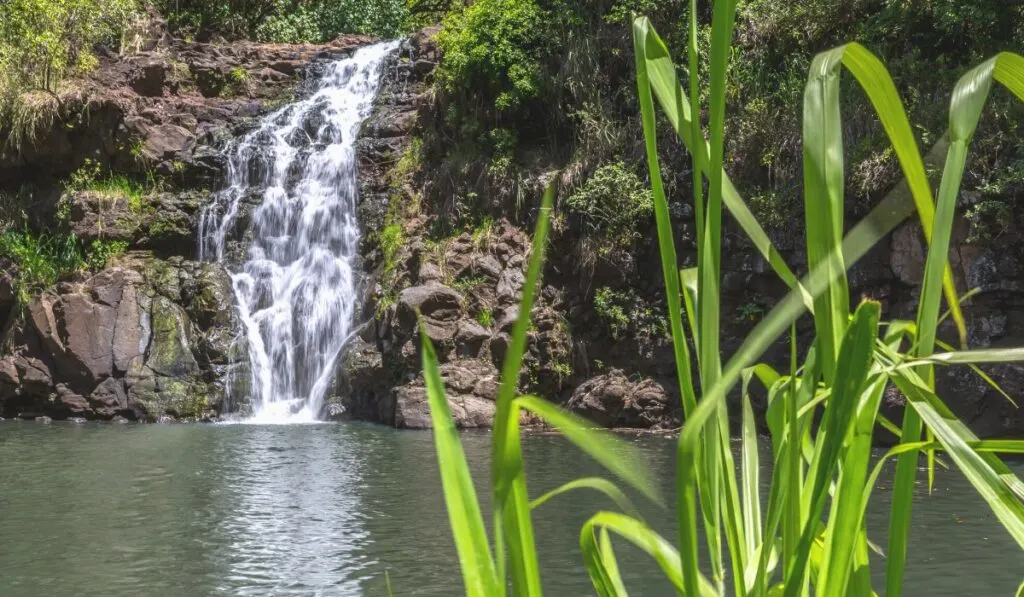 There's something quite alluring about a picnic at Waimea Falls, and that's precisely what you'll be doing. I suggest packing a lot of street food and spreading out a picnic blanket because it's a great spot to do it.
The cool beads of water that sprinkle across your face are also quite the relief on a hot summer's day! You can swim at the falls, dependent upon its daily flow.
Sharks Cove Snorkeling
Don't worry; snorkeling at Shark's Cove is quite safe. Shark's Cove is a beautiful little point on Pupukea Beach on the North Shore.
It's lesser known for its waves crashing on the sand and much more popular for the breathtaking marine life underwater.
Of course, it's still a hot spot for tame reef sharks, so I suggest getting a good snorkeling guide with you.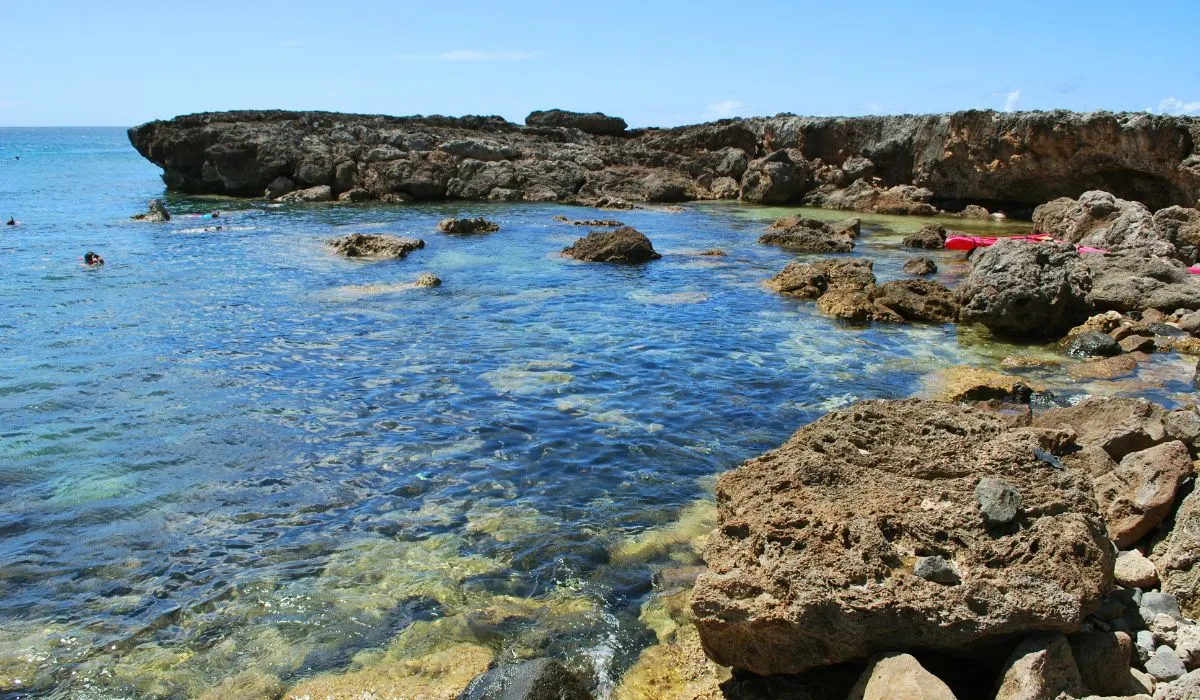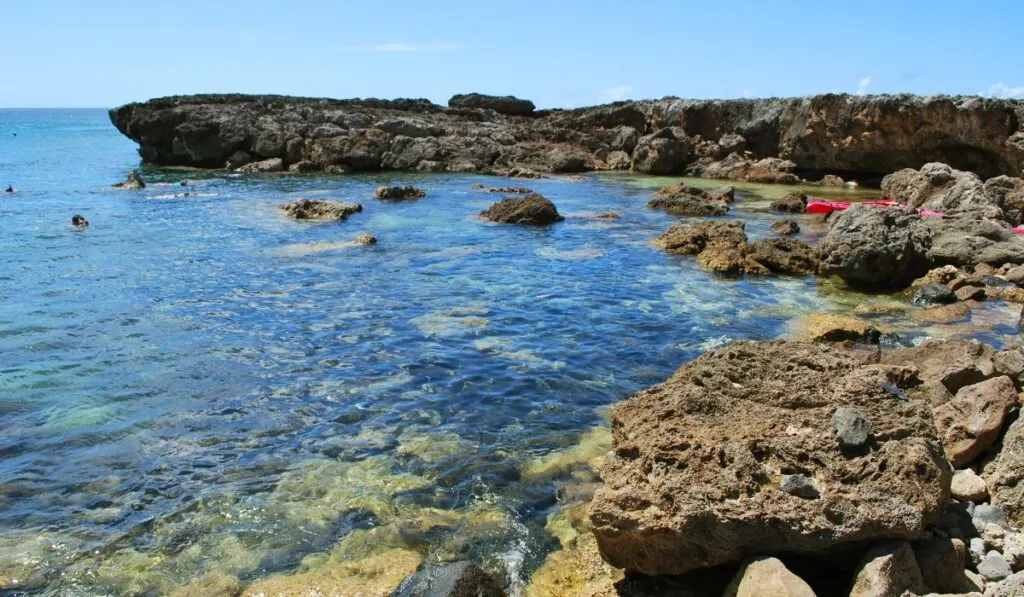 When you're done meeting the beautiful sea creatures, it will almost be evening, so you can head back to your hotel or grab dinner on the North Shore.
For a more casual meal, Mayas Tapas & Wine in Haleiwa provides tasty food that won't break the bank. Its tapas items are perfect for sharing, and why not wash it down with its handmade coconut guava soda?
Day Three: Central Oahu
Central Oahu is relatively close to Honolulu but may only be on a few itineraries because it doesn't hold the baby blue waves or the golden sand.
However, it's worth a visit due to what it offers. Let's take a look.
A Cultural Walk
The best Oahu itinerary includes some history and culture, and this one is no different. So, start your morning at one of Oahu's historic sites.
Top picks are the Bishop Museum or Iolani Palace. The Bishop Museum digs deep into the Hawaiian and Polynesian cultures. By learning Hawaiian history, you'll appreciate the Island of Oahu much more.
The Bishop Museum includes artifacts and information on volcanoes, plant life, and creatures native to the islands. Learning about the priceless items is part of the history lesson.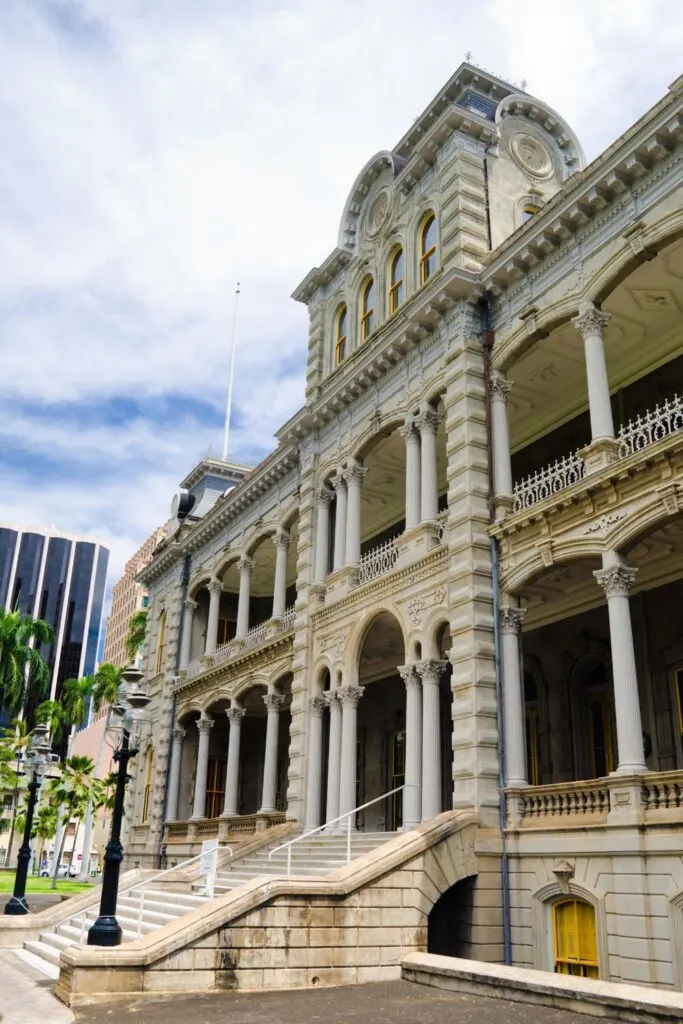 Alternatively, touring Iolani Palace explains the end of the Hawaiian monarchy. The Palace is beautifully adorned with genuine items from the royal family, and the tour includes the throne room.
The garments (some reproduced) are especially eye-catching. The dress with peacock feathers in the throne room is a masterpiece in design.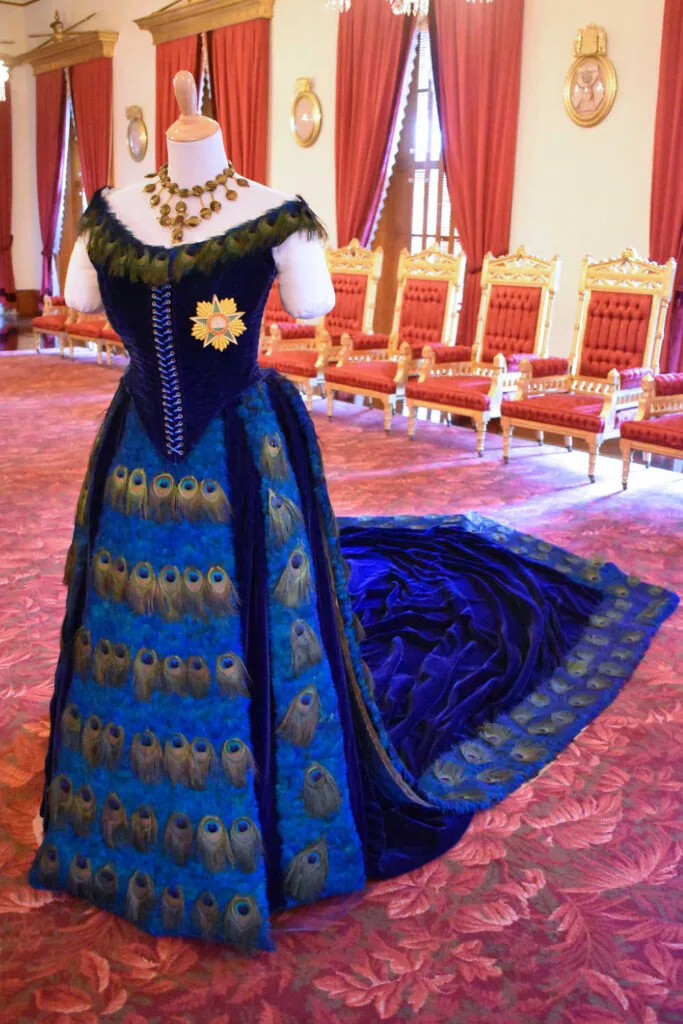 Upstairs, you'll see the imprisonment room where Queen Liliuokalani was held captive. Today, the small room displays a crazy quilt handmade by the queen during her imprisonment.
Green World Coffee Farm
What's better than a cup of coffee in the morning to wake you up? Coffee prepared fresh as soon as it is picked from the farm.
The Green World Coffee Farm is the perfect place to pick up a cup of coffee and excursion. The delicious tour lets you see the coffee beans turn into a delightful frothy beverage.
Afterward, you can buy their coffee at the gift shop because it makes the best Hawaiian gift item for family and friends.
Dole Pineapple Plantation
Another stunning farm that won't ever get old is the Dole Plantation. This tourist attraction is a hit with visitors because of the environment; seeing rows of pineapples, getting a tour of the plantation farm, and having a Dole Whip!
If you've grown up with tinned fruit from Dole, seeing where it's produced is captivating and one of the fun things to do on Oahu.
While the Dole Plantation focuses on pineapples, it has a lovely plantation garden where visitors can enjoy a self-guided tour. However, the Pineapple Express might be the highlight of a visit.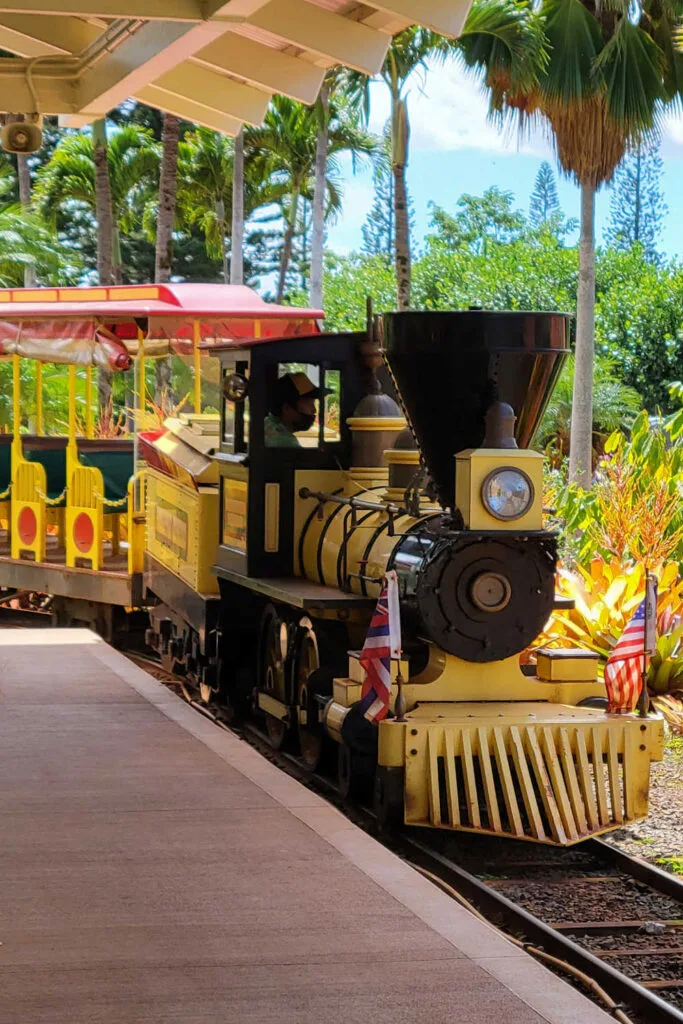 As the name suggests, the Pineapple Express is a train tour that runs through the farm on a 20-minute journey.
During the ride, the commentary explains the crop cultivation (more than just pineapples), what's grown on the farm, and how the farm came to be.
Did you know it takes two to three years to grow a single pineapple? Even more mind-boggling is the fact that a plant produces only ONE fruit.
If it's not too hot, consider meandering through its maze. While most mazes in Europe are made of yew or boxwood trees, this Hawaiian maze was grown from Hibiscus plants.
Head inside for the world-famous Dole Whip to cool off from the heat. Be warned; this stuff is quite addictive!
After your dessert, it's time for dinner, so head back to Waikiki to try a new venue. If you're looking for something Hawaiian, try the fish tacos at Hula Grill Waikiki.
Alternatively, Duke's Waikiki offers a patio restaurant with a lively atmosphere.
Day Four: Kailua
I know what you're thinking, who would spend an entire day at one destination? But don't let Kailua's simple nature bore you; this beach town holds much more elegance and entertainment than you'd expect. This area also offers some of Oahu's best beaches.
Halfway through your seven-day Oahu itinerary, it's time for a rest. So, the area of Kailua is the best way to chill. If you're energized to try something more adventurous, I've provided an alternative.
Here are some incredible places you can visit:
Manoa Falls
The Manoa Falls hike provides a refreshing trek just outside of Honolulu. Walking to the beautiful waterfall will give you the perfect energy boost needed for the rest of the day and get you in Zen with nature.
While the hike isn't long, it has some steep inclines, so wear footwear appropriate for the trek. If you're not up for the moderate trail, use the Pali Highway to get to your next stop, Kailua Beach.
If you want to see one of the best views in Oahu, stop at the Pali Lookout, where the scenic landscape will leave you breathless.
Kailua Beach
Spend most of the morning at Kailua Beach. The waves at Kailua are perfect for beginner surfing so that you can give the morning a tremendously energetic start.
Surf as much as you want, and when the crowd begins to thicken, you can dry yourself off at the beach and lay on the sand.
There are a few beach restaurants nearby, so you can grab a fish taco or a classic surf 'n' turf to fill you up before heading to your next destination.
Lanikai Beach
Quite close to Kailua Beach, Lanikai Beach is another option for sandy beaches. It's a trendy place in an expensive neighborhood, and once there, you'll understand the hype.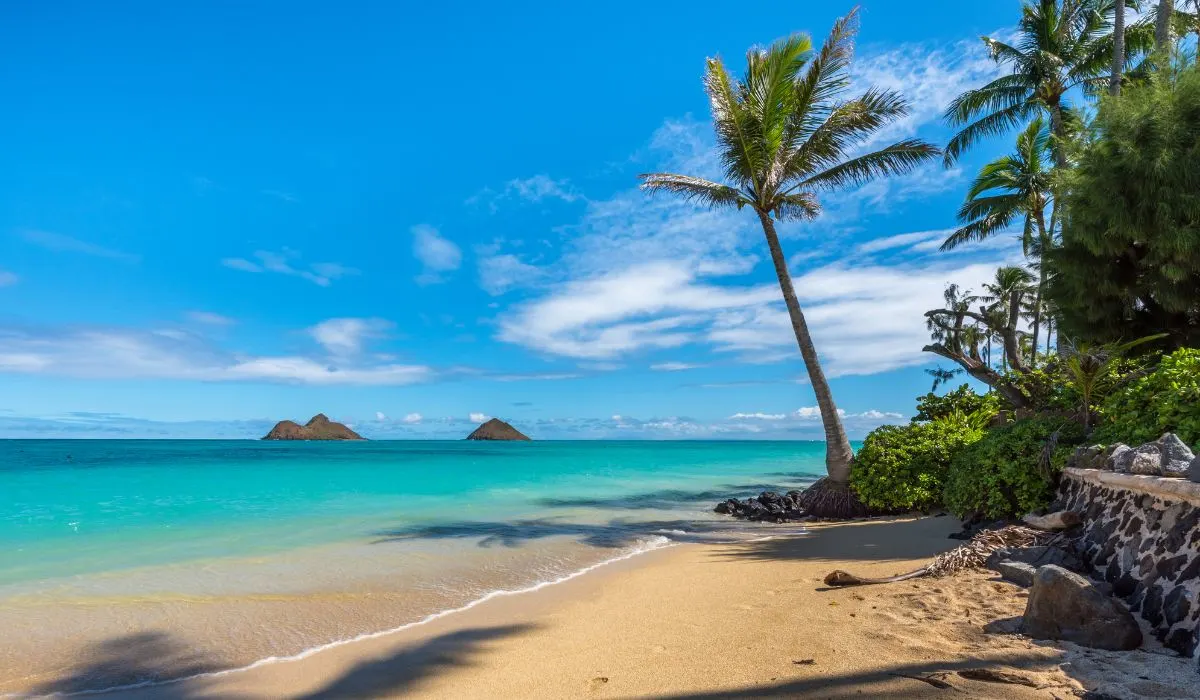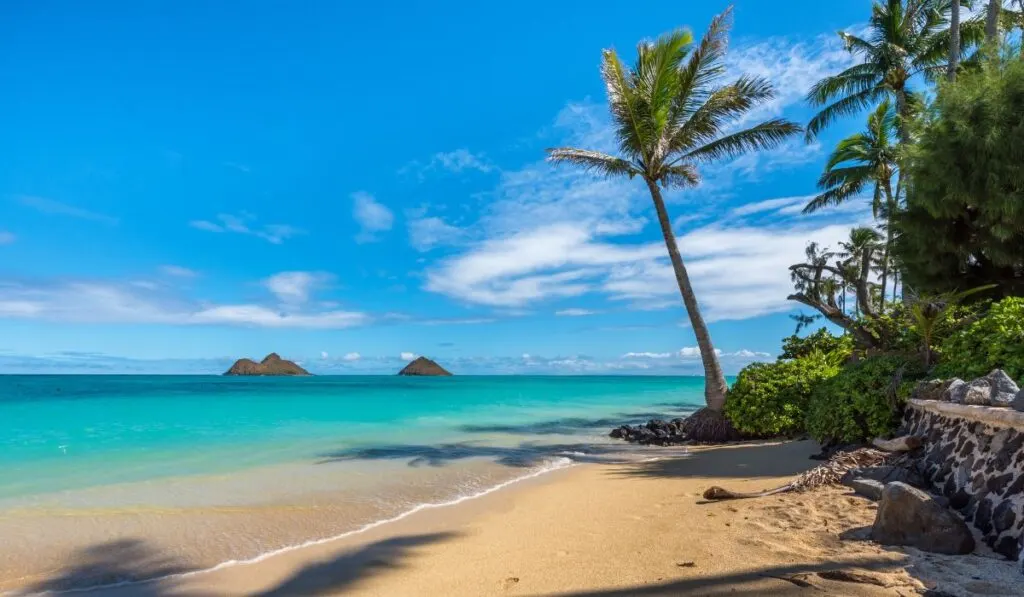 Its dark brown sand, calming waves, and abundance of palm trees make shade quite the place to relax. This isn't a spot for snorkeling because, with no real offshore reef system, there aren't many fish.
So, I suggest spending the day making sandcastles and swimming. If you're planning on staying late, you can watch a breathtaking sunset.
Go Kayaking
One activity that never disappoints at Lanikai or Kailua Beach is kayaking. If you're an active adventure seeker and you need a little bit of thrill and control over your exploration, all you'll need to do is book a kayak and float out to the ocean.
Lanikai Pillbox Hike
If you're adventurous and prefer an active Hawaii itinerary, skip the beach and head to the hills instead. This hike is a little challenging and not suitable for beginners.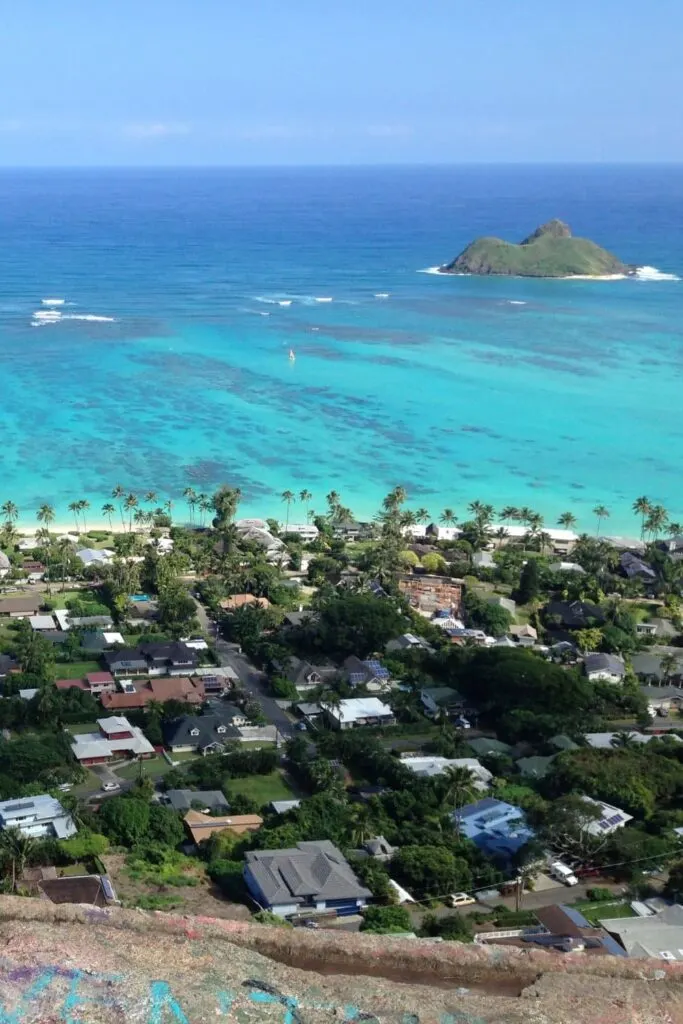 The Lanikai Pillbox Hike or Kaiwa Ridge Trail offers spectacular views of the Lanikai, Kailua, and Mokulua Islands.
Expect to spend one hour to complete the roundtrip trek, depending on how long you linger at the top. Due to steep sections, you'll need sturdy shoes and plenty of water to hydrate in the heat.
Most hikers go as far as the first two pillboxes (although there are three overall), but you can walk as far as you choose.
Oahu has many military pillboxes, so if you hike to Koko Crater, Diamond Head, or Makapuu, you will encounter similar structures.
The Lanikai pillboxes were used as observation stations eighty years ago. Today, these abandoned structures are adorned with graffiti, contrasting the surrounding landscape.
Like Haleakala National Park on Maui, this hike attracts tourists to experience its sunrise. If you choose to hike before dawn, you'll need a flashlight or light source to light the way.
After you've worked up an appetite, I recommend authentic Thai food at Siam Square (408 Lewers Street). Don't judge its food by its cozy look.
The portions are large, the meals are super tasty, and the service is fast. The curries are excellent, and the drunken noodles are the best!
Day Five: Windward Coast
On day five, you'll be heading back in the morning toward the Windward Coast.
Luckily, Windward is quite close to Lanikai, so if you skip your hotel and sleep at an Airbnb or hotel there, you won't have to travel too far.
Guided Kualoa Ranch Tour
Are you a fan of Jurassic Park? Head over to Kualoa Ranch, a family-owned generational ranch and a filming location of one of the most famous Hollywood movies.
Here, you can get a guided tour that delves into the Polynesian culture, the ranch's history, and how this picturesque ranch starred in Jurassic Park, Kong Skull Island, Lost, and 50 First Dates.
Kualoa Ranch has thousands of acres, set against the majestic Ko'olau Mountains. At the ranch, you can choose from a variety of tours, from family-friendly Secret Island Beach to adrenaline-packing Jurassic Valley Ziplining.
Every tour is terrific, with staff dedicated to giving you a fantastic experience. Tours start as early as 8 am, and most excursions run 90 minutes to 2 hours.
So, if you've chosen to horseback ride or do an e-bike excursion, an earlier time will shield you from the midday sun.
If you've purchased the Go City pass, many of the 90-minute tours are included. If you can't decide, opt to take two adventures back-to-back. Since your next venue doesn't open until 12:30 pm, you have plenty of time.
Polynesian Cultural Center
From Kualoa Ranch, travel north on the Kamehameha Hwy for 11.5 miles. By visiting the Cultural Center featuring Polynesian Islands, you'll see Hawaiian culture come to life.
This is another venue that's included in the Go City (formerly Go Oahu Card). We purchased this pass and included a full review, including how much money we saved.
Outside the center, the Hukilau Marketplace allows you to shop for Hawaiian souvenirs. So, whether you want island shirts, pineapple merchandise, or handmade jewelry, you'll find it all here.
The marketplace has food options too. Here, you can savor shave ice, a poke bowl, tropical fruits, or try something new, like poi.
The Polynesian Cultural Center (which opens at 12:30 pm) offers a distinctive and inspiring look into Hawaii's history and Polynesian traditions.
By touring six island regions, you'll sample their food, see a Maori warrior dance, leave bamboo weaving, and discover what makes each island special.
Throughout the day, there are cultural presentations to immerse yourself in the Aloha spirit. Between the islands, you can take canoe tours on the river.
To extend your experience, consider purchasing a Lu'ua Package, which includes an authentic Hawaiian Lu'ua. The choices for dinner are endless, with imu pork (cooking in an underground oven), Huli chicken, Kalua pork, and pan-fried fish.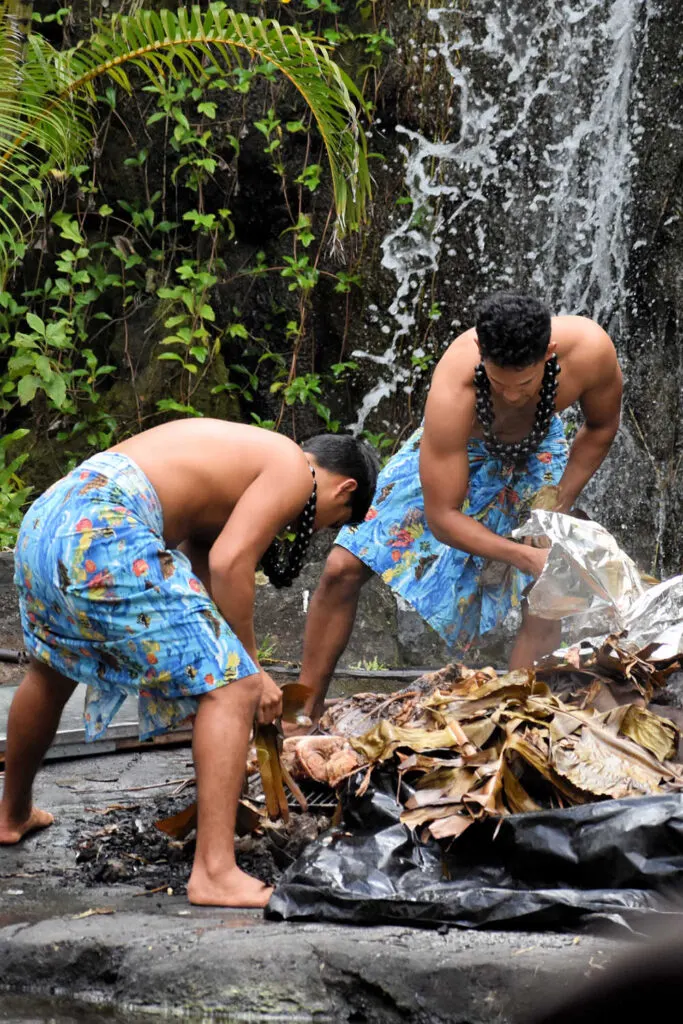 If you've purchased tickets for the Ha: Breath of Fire show, you'll be mesmerized by the costumes, songs, and dance of a spell-binging performance.
With a humbling story, cultural drumming, and fire-throwing, you'll be sitting on the edge of your seat. Definitely worth a trip!
Day Six: Pearl Harbor
Head to Pearl Harbor for a rawer Cultural experience, to learn about the fateful day of Sunday, December 7, 1941.
You cannot go to Oahu and not see the iconic USS Arizona Memorial, Battleship Missouri, Aviation Museum, and the USS Bowfin Submarine Museum and Park.
Since the venue has little parking, plan to arrive early to secure a spot or take public transportation. The Pacific Fleet Submarine Museum and Arizona Memorial open as early as 7 am.
Arizona Memorial
Expect to spend all day at Pearl Harbor. While it's tough to see it all, don't miss the USS Arizona Memorial, which is the most popular thing to do there.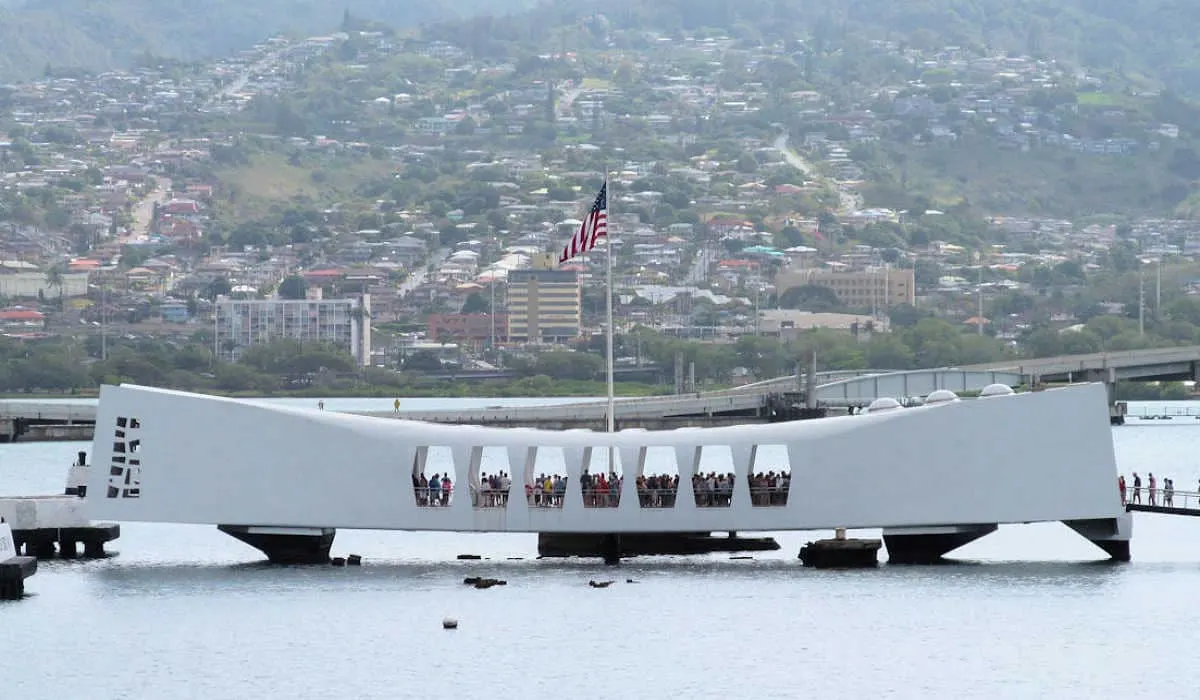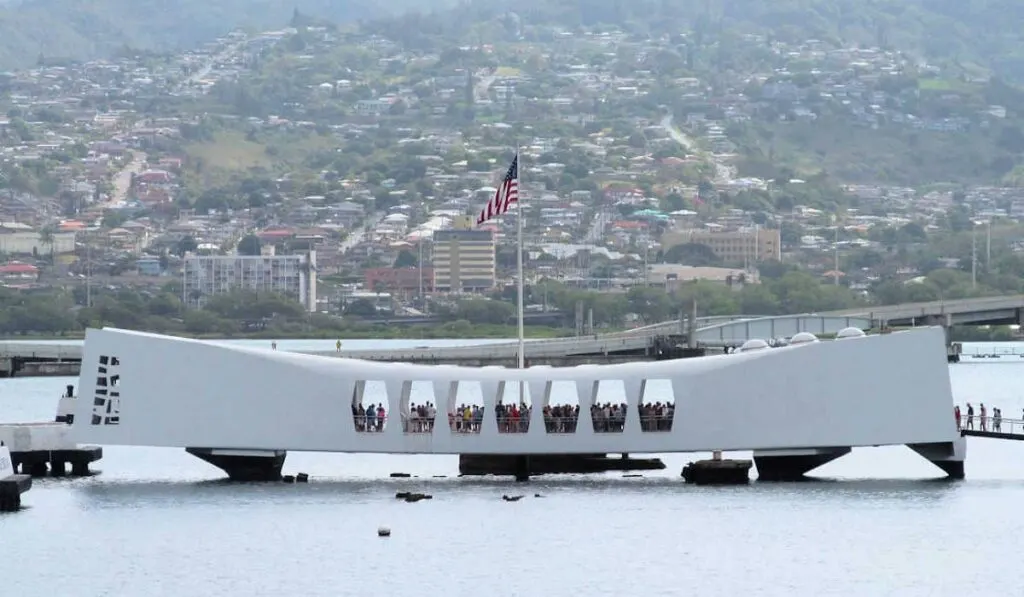 The memorial has a painful history since it was bombed by the Japanese during the attack on Pearl Harbor and around 1100 sailors and marines succumbed to death.
This place marks the resting spot of those who lost their lives. The tour to the memorial runs every 15 minutes, and you can get here quickly by boat.
To take the complimentary tour, you'll first see a video, which includes actual footage from the iconic December 1941 event.
The memorial sits over the sunken wreckage of Arizona. Below the water, the ship entombs those who lost their lives. Above the water, you can still see the smokestack.
On the memorial, look into the water. Oil still leaks from the wreckage below. The oil is often referred to as the "tears of Arizona."
USS Battleship Missouri
You'll take a bus through the active military base from the Pearl Harbor welcome area to see the battleship. This massive vessel has an ant's nest of hallways and staircases to access its interior rooms.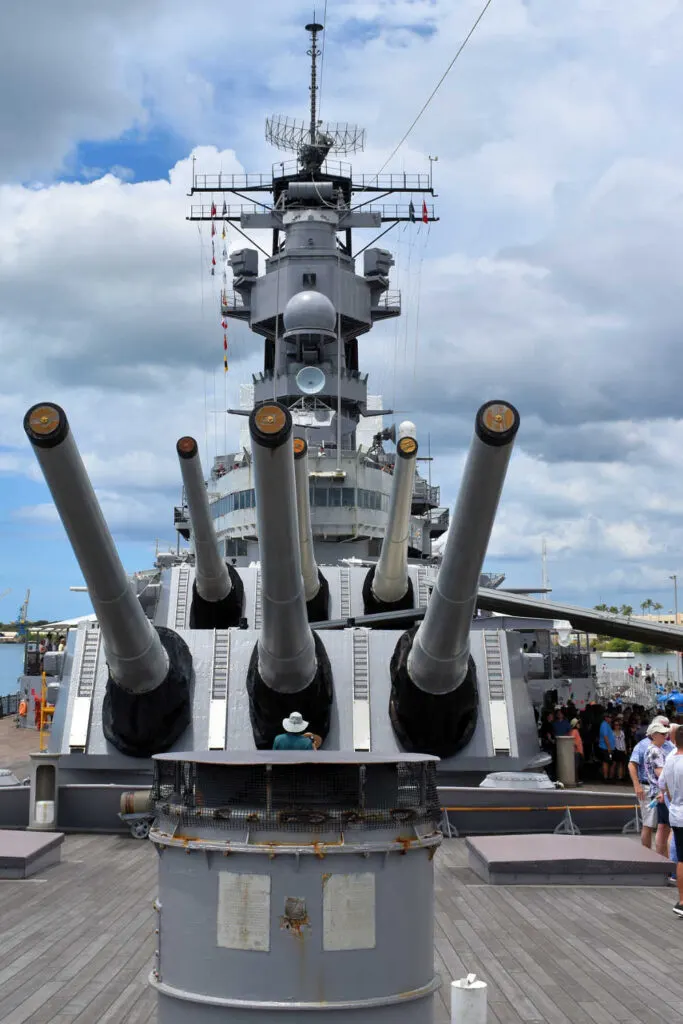 You can opt for a self-guided tour or explore with a group. Either way, it's included in your ticket price.
Be sure to see the spot on the upper deck, which marks the surrender of the Japanese and the end of World War II.
Below the deck, you can explore the officer's rooms, see the bunks nicknamed "coffin racks," and browse the engine rooms. Outside, the giant forward guns could fire shells up to a distance of 24 miles.
USS Bowfin Submarine
Contrasting the battleship's colossal space, the submarine crew lived in cramped quarters. In fact, their sleeping bunks were over the torpedoes! Imagine that?
The Bowfin would have had 80 crew working around the clock to keep the submarine operational.
Tour the Pearl Harbor Aviation Museum and Pacific Fleet Submarine Museum if time allows. The Aviation Museum has a dozen restored aircraft, documenting their action.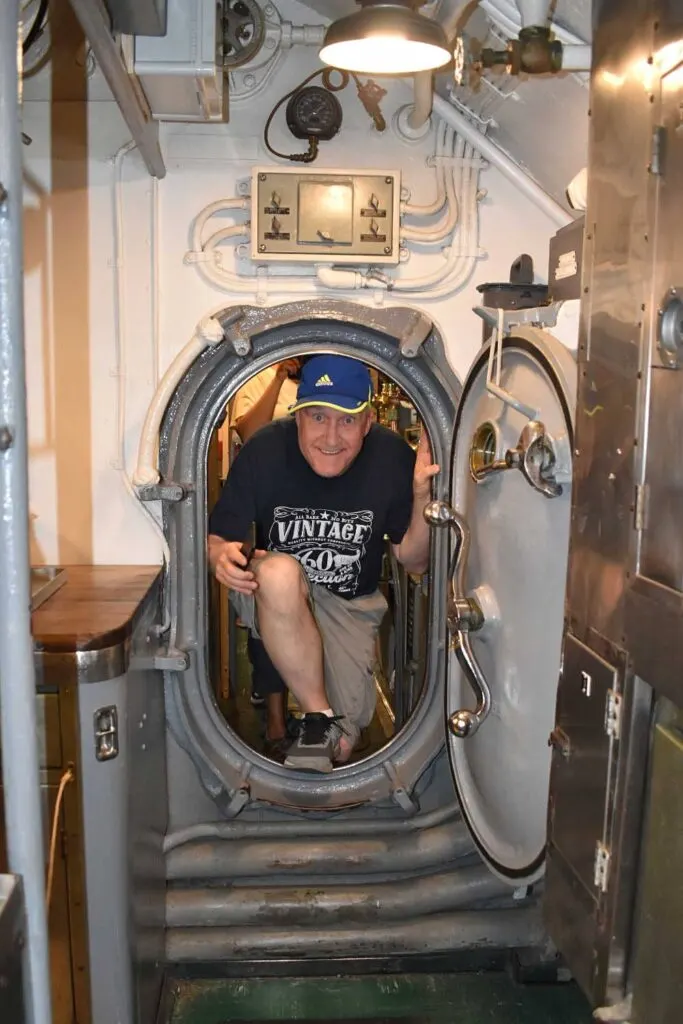 Next to the Bowfin Submarine, you can learn about the US Navy's submarines in a small museum.
It's shocking to learn about the short life expectancies of their previous subs and the number of crews who lost their lives operating these vessels.
National Memorial Cemetery of the Pacific
Since Pearl Harbor closes at 5 pm, make a quick stop at Punchbowl Crater before returning to Waikiki for dinner.
Here, the National Memorial Cemetery of the Pacific provides a peaceful resting place for those who served the United States.
Amongst the 25,000 graves are some, who perished at Pearl Harbor. A central staircase leads to a humbling memorial and mosaics marking previous conflicts around the world.
You can enjoy panoramic views across Honolulu, Diamond Head Crater, and the Pacific Ocean at the edge of the Punchbowl Crater.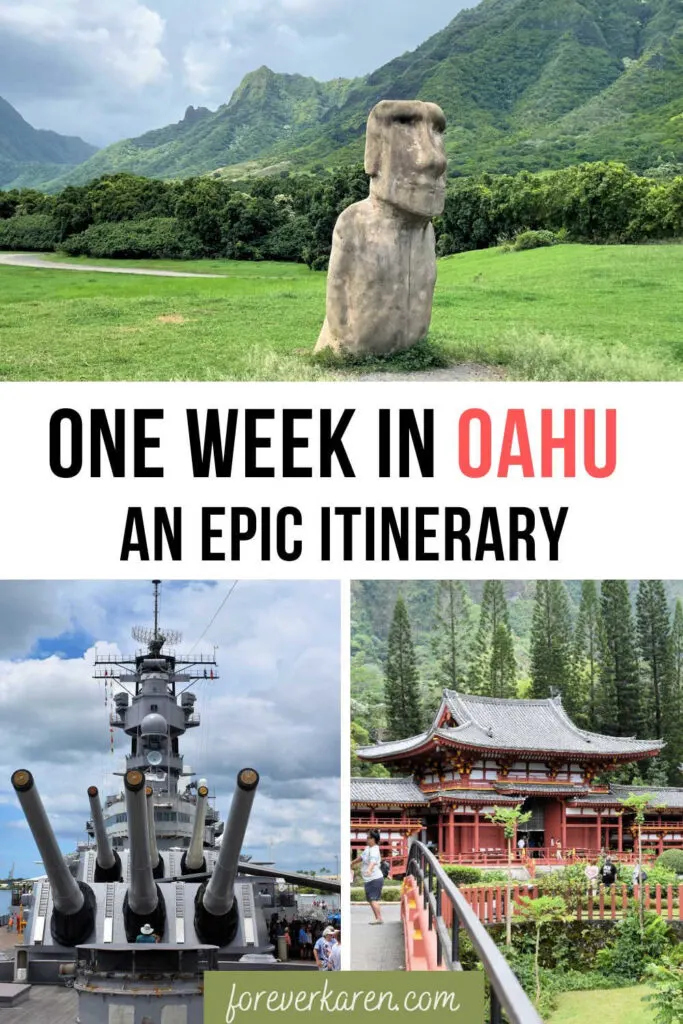 Tonight's pick for dinner is Tommy Bahamas. Get a table on the rooftop deck where you can watch the sun go down and see the city twinkle as lights illuminate.
Tommy Bahamas has quite a few gluten-free options for those with food allergies.
Day Seven: Sea Life Park
On the last day of your Oahu itinerary, I've added a couple of stops to wind down your 7-day vacation. Since your first stop doesn't open until 10 am, you'll have a chance to sleep in.
Head out on the Kalaniana'ole Hwy to Sea Life Park. Along the way, you can stop at Lana'i Lookout and Halona Blowhole Lookout.
Sea Life Park
Oahu's Sea Life Park is unlike most aquarium venues because it doesn't have dozens of indoor fish tanks. Instead, it has exhibits with larger mammals such as dolphins, sharks, turtles, and stingrays.
The Hawaiian Green Sea Turtle enclosure allows you to get really close to turtles. In the nearby gift shop, you can purchase a souvenir cup with turtle food (broccoli and celery) to feed the turtles.
The park also has a turtle breeding colony, the only one of its kind in the United States. Since its conception in the 1970s, it has released over 16,000 hatchlings into the ocean.
The dolphin show is fantastic. You'll watch as these intelligent creatures interact with their trainers. If getting in the pool with dolphins is high on your bucket list, you have that option too.
The park has one Hawaiian Monk Seal, a critically endangered species. It also has three penguins.
While you might think a hot place like Hawaii isn't the best environment for penguins, these come from South America, where it's much warmer.
Byodo-In Temple
End your time in Oahu at a spiritual place. It's a 40-minute drive to a Temple in the Valley of the Temples Memorial Park.
Set against the Ko'olau Mountains, Byodo-In Temple is a half-size replica of a temple in Japan bearing the same name.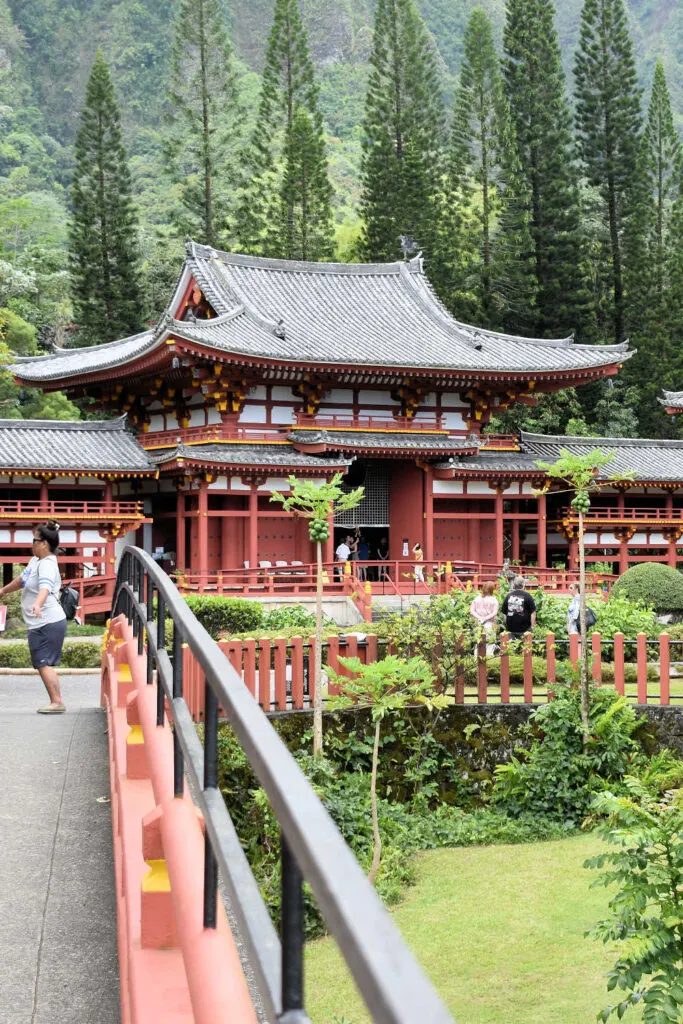 The Buddhist temple is not a practicing temple. However, you'll need to remove your shoes to enter. Inside, a giant Amida Buddha sits on a lotus leaf.
Outside, the reflecting pond is home to a large school of Japanese Koi. You can buy koi food in the hut if you want to feed them.
If you have a late-night flight, you should head to the airport and eat there. Otherwise, grab something easy along the way.
Is A 7-Day Oahu Itinerary Enough?
One week in Oahu lets you see all the highlights from different island areas. While this Oahu 7-day itinerary is busy, and you'll leave tired, it's a good feeling.
Overall, Oahu is the most popular island in the Hawaiian archipelago. But consider returning to see Maui, the Big Island, or one of the other tropical isles. Some people spend 7-days on Oahu, then island hop to another for an additional week.
After 7 days, you'll realize Hawaii exudes a beauty that goes beyond its landscapes. It's a place that will touch your heart and double your memories.