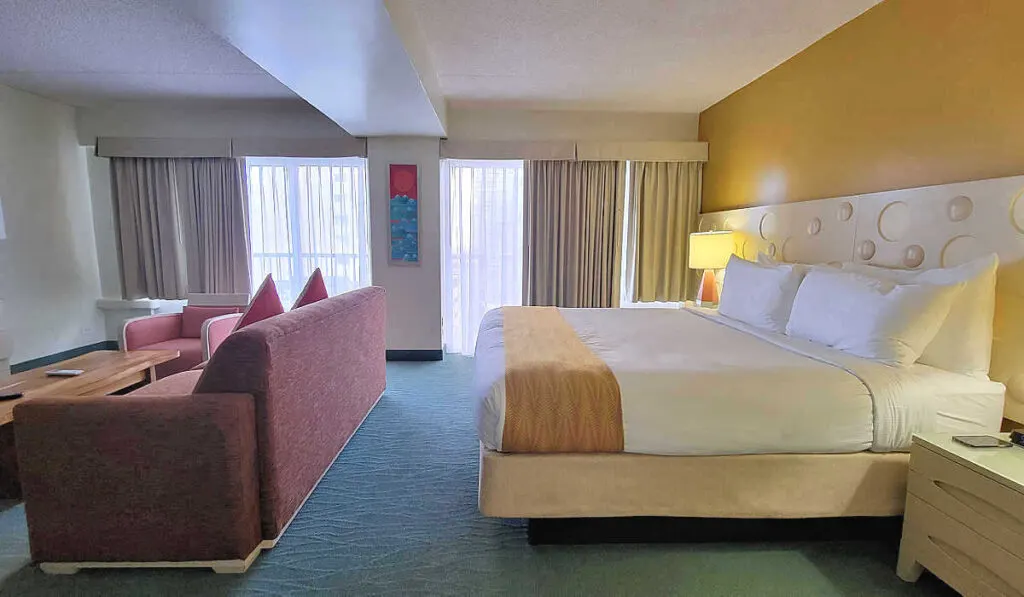 If it's your first time in Hawaii, you may be overwhelmed by the number of hotels and resorts in the Waikiki area. However, if you're looking for budget-friendly accommodation within walking distance of Waikiki Beach, the Coconut Waikiki Hotel delivers.
Hotels in the downtown area vary significantly in price, with the ones on the beach with ocean views commanding top pricing. All hotels and resorts charge an additional fee for parking, although you could get complimentary parking depending on the type of room you booked.
We only had three days in Oahu and weren't planning to spend any time on the beach. But we wanted access to restaurants, a quiet location, free WiFi, and easy access to Honolulu International Airport.
We knew it was expensive to stay in Waikiki, so we looked at other options. But we found the rest of the island was just as costly, and the small towns had no fine dining, only fast food.
Reasons We Chose The Coconut Waikiki
Having stayed in Waikiki multiple times, we wanted a clean room not too far from restaurants. Located at 450 Lewers Street, the hotel is easy to reach off Kalakaua Avenue. This hotel might not be next to the beach, but being close to the Ala Wai Canal, it provided a quiet place to sleep.
On foot, it's 10 minutes to access Waikiki Beach, 7 minutes to the International Market Place, and 6 minutes to the Royal Hawaiian Center. Even with children, the walk is doable.
With our booking through Expedia, we got triple points and the perk of complimentary valet parking which saved us USD 40 per day. The valet staff were friendly and quickly retrieved our rental when we requested it.
If you drive, there is only the option for valet parking. Alternatively, you could try to find parking on the street, which is next to impossible. Take my advice, and pay for valet parking which gives out in and out privileges.
On our previous trip, we stayed at another hotel a few blocks away, which advertised it had parking. However, when we arrived, we had to park at its sister's hotel underground, two blocks away. It wasn't very convenient!
When staying at Coconut Waikiki, guests can choose from a city or a mountain view room. The room type will also determine what amenities you'll enjoy.
Effortless Check-In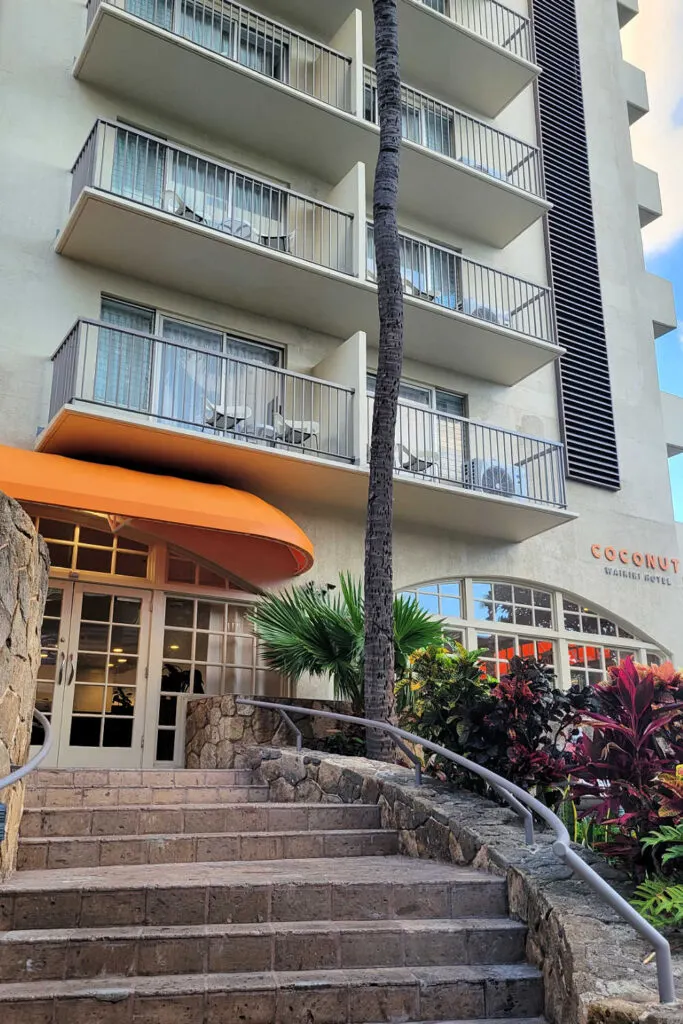 Coconut Waikiki Hotel guests can check in at 3 pm. Since we were arriving on the Ovation of the Seas cruise ship at 7 am, we picked up a rental car at the airport and spent our day exploring the North Shore and the Dole Pineapple Plantation.
Arriving at the hotel at 4 pm, we noticed the ramp to the front door was small and could only accommodate three cars. But we could leave our rental car on the driveway until we were ready to collect our luggage.
The lobby was spacious and clean, and the friendly staff completed our check-in quickly.
While we booked a standard room with a King bed and city view, we were pleasantly surprised we got upgraded to an Executive Suite.
The Executive Suite
The suite is enormous and would make an excellent option for a family or travel companions of more than two. According to its online website, it measures 497 sq. feet.
The room felt a bit Art Deco with shades of yellow, pink, and green. The room had one king bed, a large sofa, a small kitchenette, and a desk/dining area. For a large room, we found it strange that they supplied one chair for the dining table.
There were plugs on both sides of the bed to charge our electronic devices. It had the usual TV, safe, iron, and ironing board.
We were pleasantly surprised to find two bathrooms, one full-sized and a powder room with a sliding door. Being an older hotel, the decor was dated but clean and maintained. The bathrooms had complimentary toiletries, a nice body lotion, and a hair dryer.
You could convert the sofa to a bed if you traveled with more than two. Since the room was huge and the couch was positioned between the flatscreen TV and the bed, we couldn't watch TV in bed because it was too far away.
The air conditioning kept the room at a comfortable temperature. However, it was hung over the TV. We found we had to turn it off when we wanted to watch TV because of the fan.
The suite had two balconies, one off the bedroom area and the other off the living room. We could enjoy views of the city, canal, and mountain from our balcony. We could watch the stars in the evening and see the city's twinkling lights.
What We Liked About The Room
We found the bed comfy during our stay and enjoyed the fantastic pillows. We call ourselves pillow snobs because we like firm pillows, and they're often too soft everywhere we stay. However, their pillows had just the right amount of firmness.
The TV had a good selection of channels. Although we weren't in our room long enough to watch anything, the choice of media might be a bonus for families with young children.
One of the best features was the kitchenette. It had the standard coffee maker and mini-fridge but also contained a microwave, kettle, and dishes.
We are tea drinkers, and while you can run water through a coffee maker to make tea, it often has that coffee aftertaste. So, having a kettle was a big plus for us.
The mini-fridge allowed us to buy fresh fruit and food and keep it refrigerated. If you purchase a fresh lei, the refrigerator will extend its lifespan.
We found the room very peaceful and never heard any neighbors (if we had any). The AC was quiet when we slept and didn't disturb us.
The cleaning staff were very efficient and did an excellent job of refreshing our room each day.
Coconut Waikiki Hotel Amenities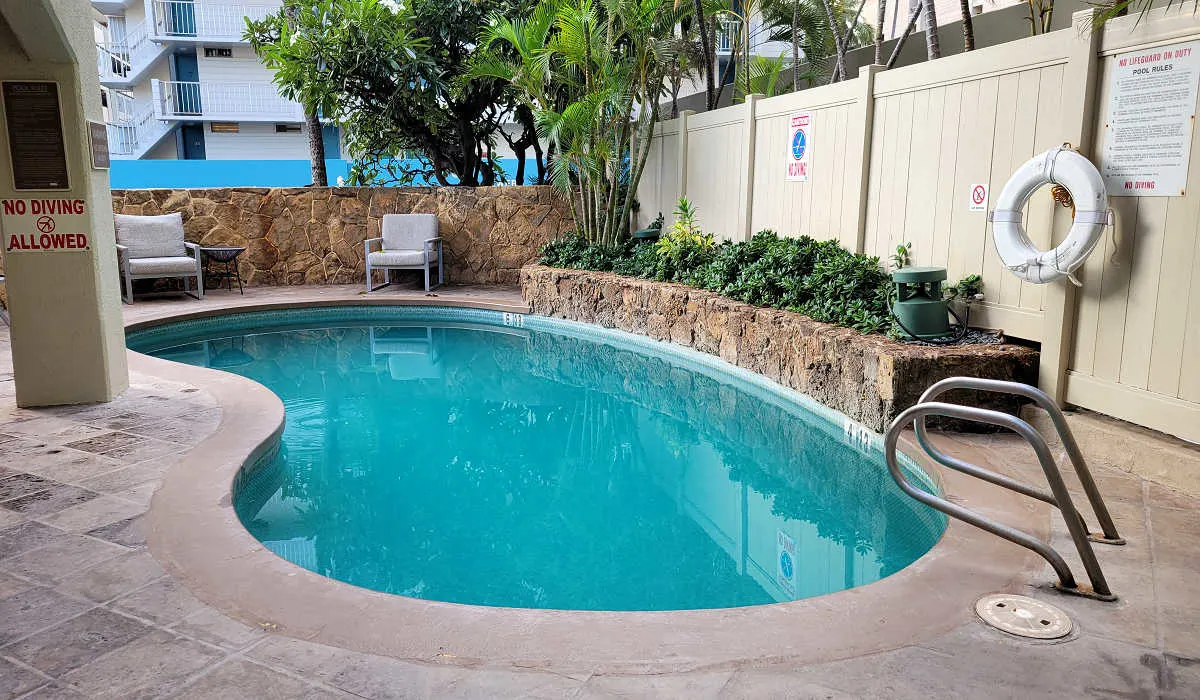 Adjacent to the lobby, the hotel has a small outdoor pool with loungers and umbrellas. There is no lifeguard on duty when using the pool. The hotel supplies complimentary beach towels, and you can drop them in a hamper in the lobby afterward.
Outside, there are tables and chairs, a BBQ area, and shade to relax. During our stay, I never saw anyone use it.
The hotel offers complimentary WiFi, which we found fast, with no dead zones in the hotel.
In the main lobby, a lounge area offers ample seating to watch TV and a selection of board games for use. A great bonus if you're experiencing a Hawaiian tropical storm and stuck inside.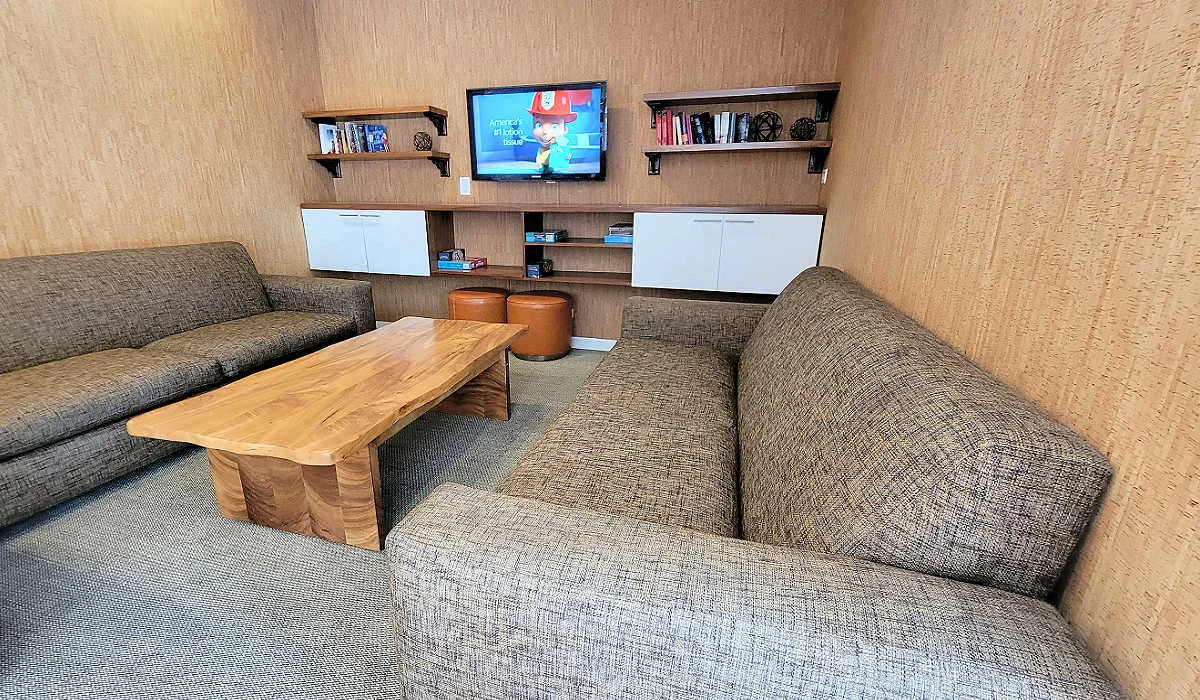 However, complimentary umbrellas are available in the lobby if you venture out in the rain.
Adjacent to the lobby lounge, complimentary coffee and a selection of teas was provided for hotel guests. A water cooler allowed us to refill our water bottles daily, which we enjoyed.
A nearby vending machine had all your favorite snacks.
Other amenities included a fitness center, a coin-operated laundrette, and a business area. The huge table in the lobby is ideal for a business meeting, gathering with a large group, or working on a laptop.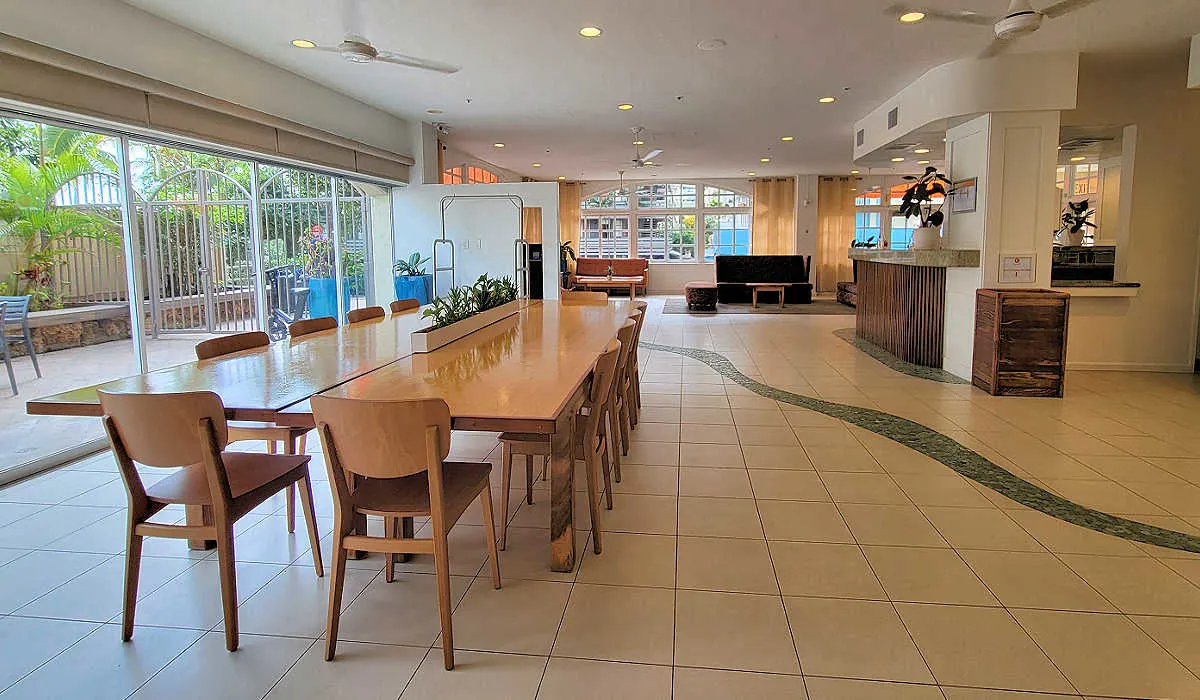 Can You Walk To Waikiki Beach?
We tend to be active vacationers and don't spend any time lounging on a beach. However, if you want to walk to Waikiki Beach, it will take a leisurely 10 to 11-minutes.
From the Coconut Waikiki Hotel, it's an easy walk to many restaurants. One night, we ate at Tommy Bahamas on Beach Walk, a mere 7-minute walk away. You can find the Hard Rock Cafe and Steak Farm along this street.
We found a fantastic Thai restaurant called Siam Square, a few blocks away. This quaint restaurant offered fast service and delicious food, and its prices were low compared to other restaurants in Waikiki.
Beach Walk is accessed by Kalakaua Ave, which features shops such as Prada Honolulu, Louis Vuitton, the Oakley Store, and the Diesel Store.
Kalakaua Ave has a large mall, the Royal Hawaiian Shopping Center, which is a great place to browse and grab some Hawaiian souvenirs. On Kalakaua Ave, you can catch a bus or trolley if you don't rent a car.
The Pros And The Cons
Overall, we were pleased with our stay at the Coconut Waikiki. Our room was quiet and spacious, and we could easily access shopping and restaurants downtown.
We scored a great price for a stay in September, and our reservation came with complimentary parking. When browsing hotel choices, you want to factor in the cost of parking, taxes, and resort fee. Resort fees are mandatory whether you use the amenities or not.
We would have preferred a complimentary breakfast or the option to buy one. However, this hotel does not have an in-house restaurant. However, it was nice to have a water fountain and coffee/tea station in the lobby.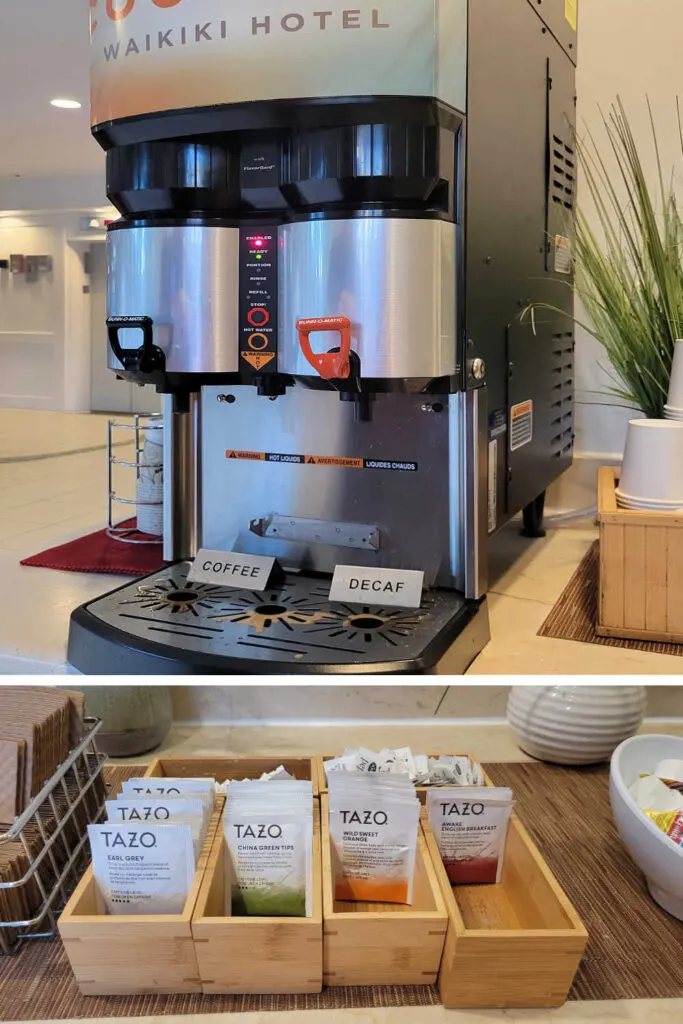 We enjoyed the valet parking, and the staff quickly retrieved our rental. The hotel's location made it easy to access top attractions like Pearl Harbor, Hanauma Bay, and Iolani Palace. After snorkeling at Hanauma Bay, we could return to our hotel for a shower because of its proximity.
If you're traveling with a family, upgrade to a suite, then you'll have a mini-fridge, microwave, and small kitchenette. Having breakfast or lunch in your room can reduce expenses, even when paying slightly more for a larger space. You'll also enjoy having two bathrooms.
I noticed on the floor plan that there was only one executive suite per floor. So, book ahead if you really want one.
If you want to walk out onto the beach, this isn't the hotel for you. Bear in mind if you're closer to Waikiki Beach and the main restaurant/shopping area, you may experience more noise.
We wouldn't hesitate to book a room at the Coconut Waikiki Hotel again on our next adventure to Oahu.