North America's west coast residents often vacation in Hawaii due to its proximity to home. While some choose to fly and stay in beachside hotels, I prefer a Vancouver to Hawaii cruise which I combine with a 3-day Oahu itinerary.
With the option of island hopping, some only stay on Oahu for three days, to enable time to explore other isles.
So, here are three different itineraries for spending 3 days in Oahu for families, the adventurous, and those seeking a cultural experience. Feel free to mix up the activities to find an itinerary that works for you.
With a cinematic coastline and perfect year-round temperatures, Oahu allows visitors to do as little or as much as they want. If your idea of relaxing means a comfy lounger and a Mai Tai, Waikiki Beach has you covered.
For the adventurous, take to the hills on day hikes to see Diamond Head Crater, Koko Head, Lanikai Pillbox, or Makapu'u Lighthouse.
Although not the biggest Hawaiian island, Oahu offers something for everyone, with its designer shopping malls, snorkeling excursions, and culinary experiences to satisfy the pickiest of eaters.
3 Days Of Cultural Experiences In Oahu
Nothing says Hawaii like a Hawaiian lei greeting. If you're arriving by plane, feel the warmth of the Aloha spirit with a classic orchid lei greeting.
Also, some luxury hotels like the Four Seasons Resort at Ko Olina and Kahala Hotel and Resort offer complimentary lei greetings at arrival.
Spending three days in Oahu offers a plethora of opportunities to immerse in both natural beauty and cultural richness. This Hawaiian isle, often dubbed "The Gathering Place", is a melting pot of Pacific cultures.
It is adorned with some of the world's most iconic beaches, breathtaking landscapes, and historical landmarks. For a first-time visit to Hawaii, immerse yourself in Hawaii's rich history by visiting the following cultural attractions.
Day One
Start your day by visiting the historic Pearl Harbor. Advance ticket purchases are not required. However, it's best to arrive early (before 9 am) as parking fills up fast. Opening hours are 7 am to 5 pm daily.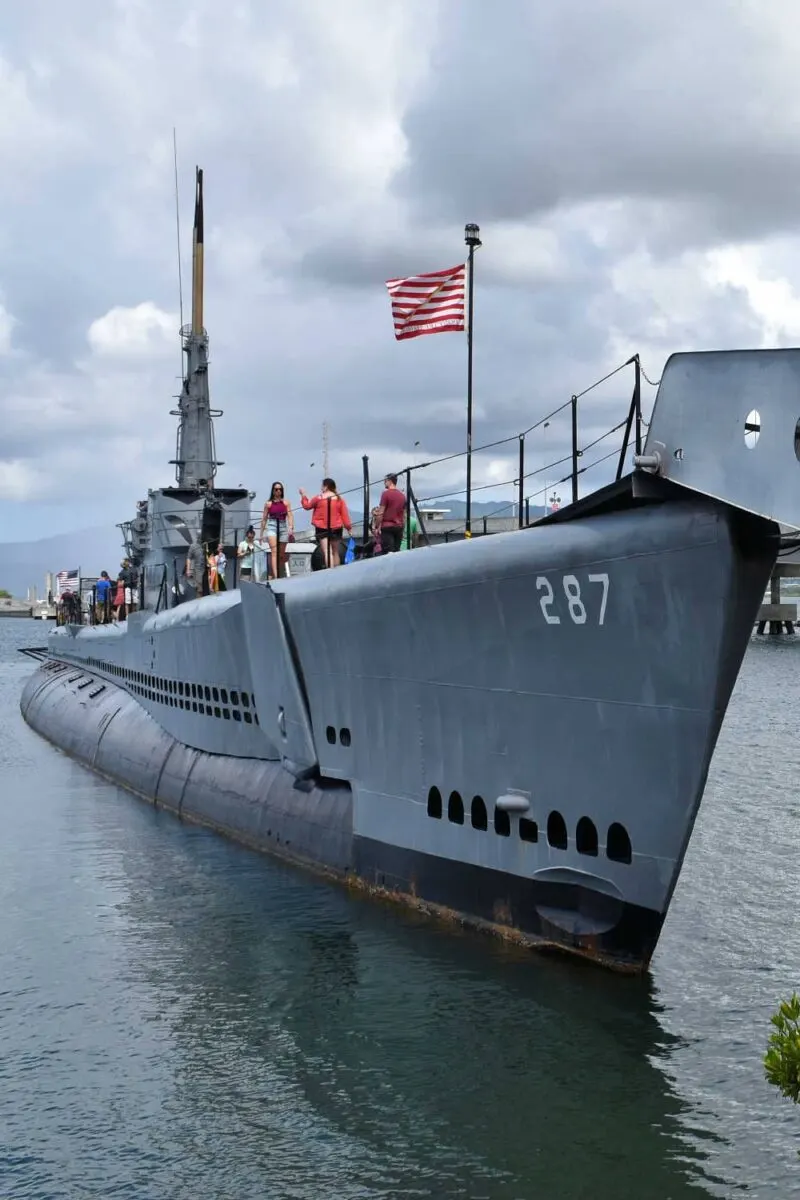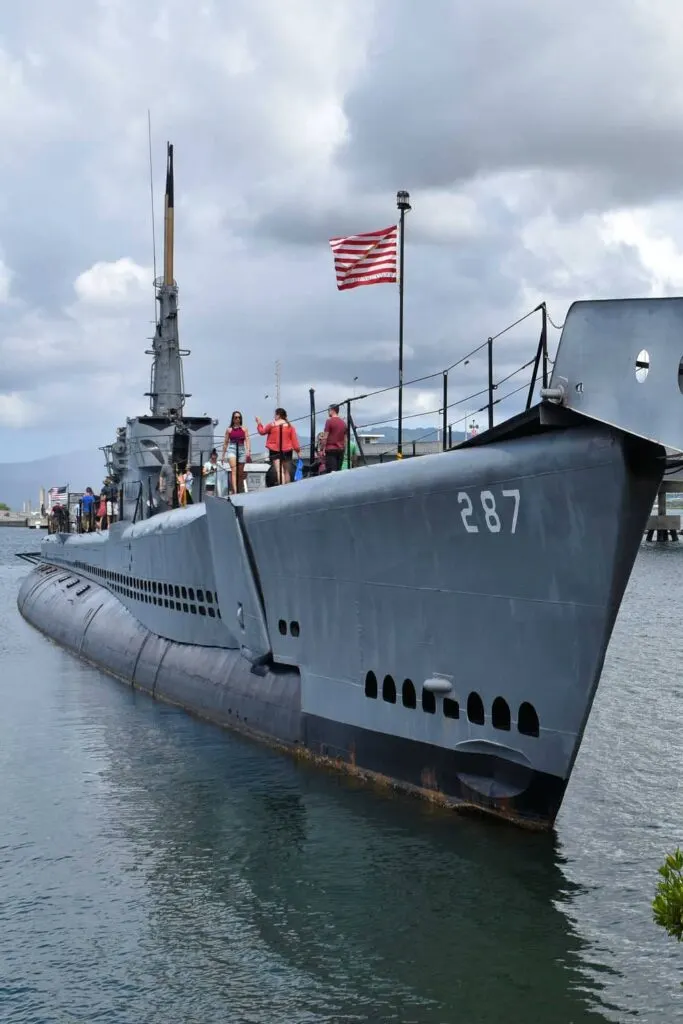 Visitors can see parts of Pearl Harbor or see it all. Touring the USS Bowfin Submarine, USS Arizona Memorial, USS Missouri battleship, and the aviation museum takes all day.
While touring the USS Arizona Memorial is free, the other attractions charge a nominal fee. If you've purchased a Go Oahu Card, your card includes admission and audio headsets when touring certain areas.
From Pearl Harbor, it's a 24-minute drive to Punchbowl Crater to see the National Cemetery of the Pacific.
With its picturesque tree-lined approach, the pristine cemetery overlooks Honolulu and provides a serene resting place for over 25,000 veterans, including some who perished at Pearl Harbor.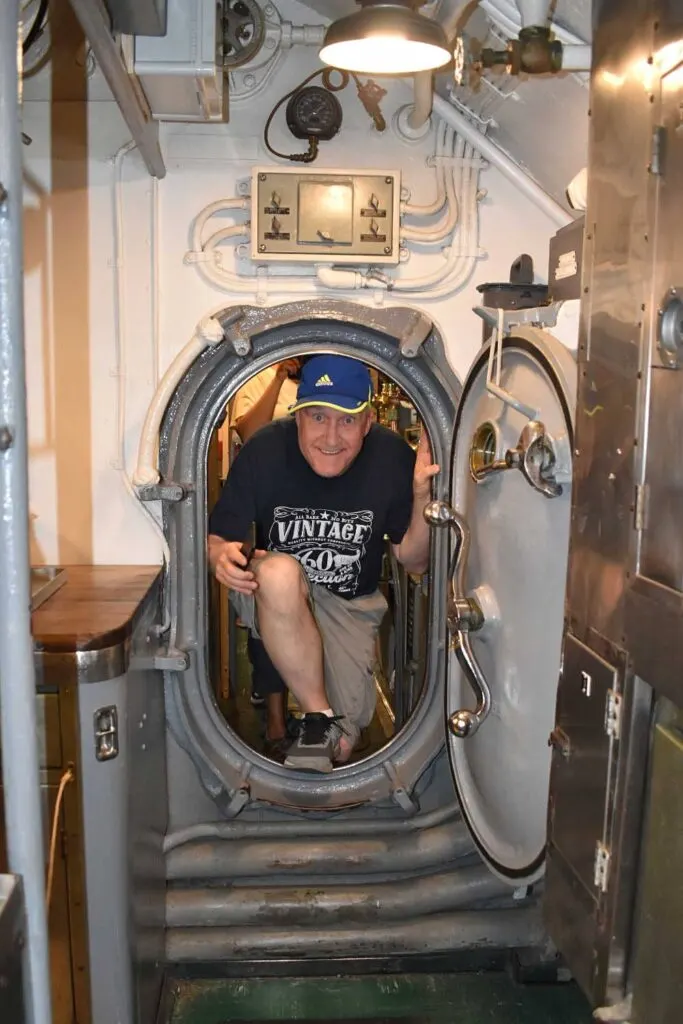 If you're back in Waikiki by 6 pm, head to the Royal Hawaiian Shopping Center to watch the lighting of the torches. The daily ritual includes the lighting of 50 torches and a short Hawaiian hula song and dance.
Day Two
Hawaii's history lesson continues at Hawaii's Plantation Village. Open Monday to Friday, 9 am to 2 pm, admission is free with a Go Oahu Card or USD 15 for adults. At the plantation village, visitors can step back in time when the people made their living from sugar cane.
The outdoor museum features restored plantation buildings showing how the plantation workers lived, crafted, and processed the sugar cane.
Afterward, continue onto the Bishop's Museum at 1525 Bernice St. Founded in 1889, the sizable museum features interactive exhibits and cultural artifacts. The museum documents the history of the Hawaiian people and the Pacific Islands that contribute to the existence of Hawaii.
The main floor of the beautiful building chronicles the Hawaii royal family. Here, you'll learn about the royal's lineage and see some of its treasured heirlooms. Entry into the Bishop's Museum is free with a Go Oahu Card.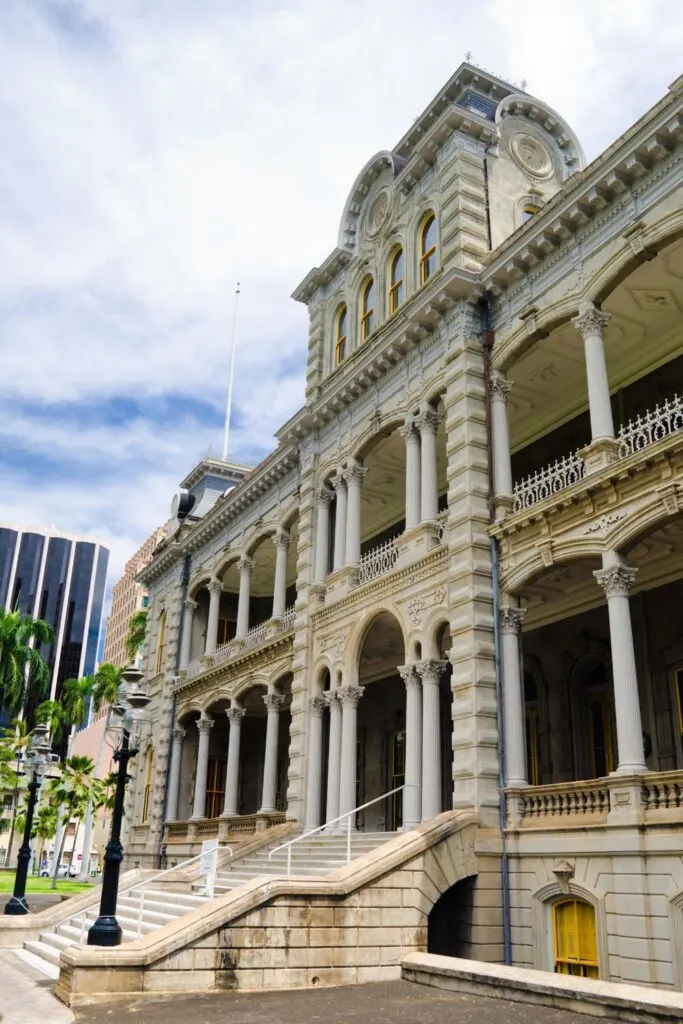 After Bishop's Museum, head to the Iolani Palace, located at 364 South King Street. Open from 9 am to 4 pm, it's best to make a reservation to prevent disappointment.
Visitors have two choices; explore on your own for USD 20 or a tour with a Palace Docent, which costs USD 27. Again, admission is free with a Go Oahu Pass.
The Koa wood grand staircase and lavishly decorated rooms wow visitors inside the Hawaiian palace. I found the throne room especially beautiful with its regal throne chairs and rich colored fabrics.
Upstairs, the Imprisonment Room is a somber bedroom where Queen Liliuokalani spent eight months after the overthrow of the Hawaiian Monarchy.
Even if you purchased a guided tour, visitors would explore the basement rooms on their own. The Iolani Palace basement contains a stunning collection of royal jewels, a restored kitchen, and documents the palace's history.
Day Three
Begin with a tour of Queen Emma's Palace at 2913 Pali Highway. Open from Tuesdays to Sundays from 9:30 am to 4 pm, it requires a reservation to visit. The Oahu palace was the summer home of Queen Emma and her husband, King Kamehameha IV, from 1857 to 1885.
The historic landmark displays Queen Emma's artifacts, Koa wood furnishings, and royal family portraits. While most royal palaces allow visitors to view rooms behind a roped line, Queen Emma's home allows free exploration.
From Queen Emma's Palace, head towards the Polynesian Cultural Center via the Kamehameha Hwy. Along the way, stop at the Tropical Farms Macadamia Nuts at 49-227 Kamehameha Hwy.
Here, you can sample unique flavors of macadamia nuts and drink some famed Kona coffee. Both items make great Hawaiian gifts for friends and family.
Arriving at the Polynesian Cultural Center, you can browse the Hukilau Marketplace outside the gate. It's a great place to sample some authentic Hawaiian food for lunch. The Polynesian Cultural Center opens at 12:45 pm (Monday to Saturday), and I recommend purchasing the full-day package.
Your day will finish at 9 pm, after touring the exhibits, enjoying an Ali'i Luau buffet, and the highlight of the evening, the HĀ: Breath of Life show. The Polynesian Cultural Center allows visitors to explore the six island villages.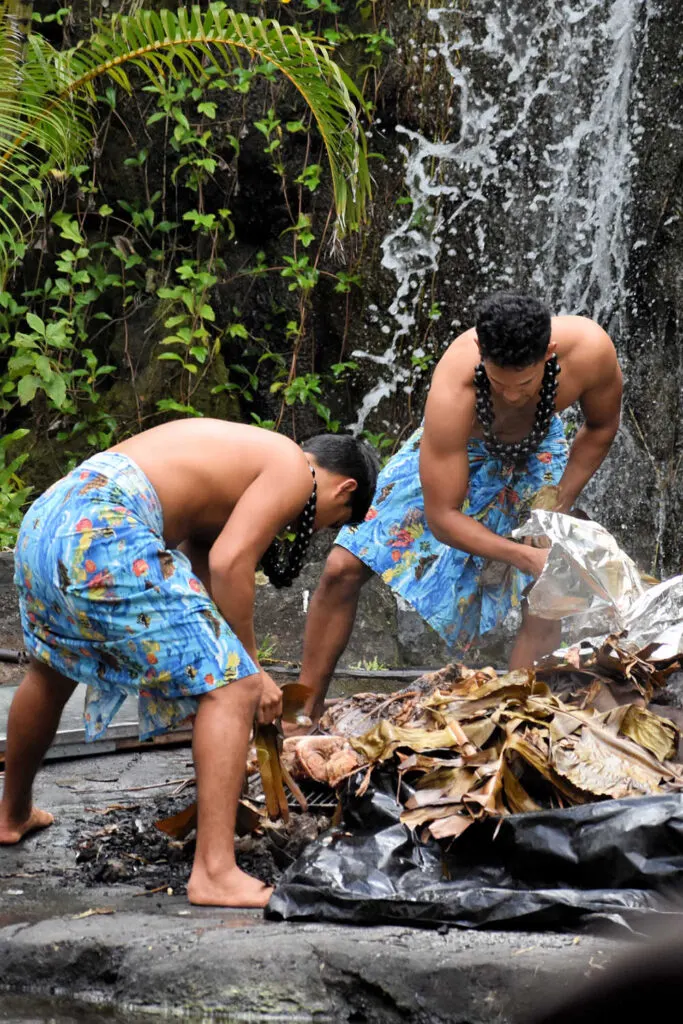 They feature interactive events, crafts, cooking demonstrations, shows, and much more. Throughout the day, you can take a canoe tour on the river, watch a canoe pageant (at 2:30 pm each day), and sample Polynesian foods.
During the luau, entertainers sing and dance on stage while telling the history of the royal family. For me, the HĀ: Breath of Life show was spectacular. With incredible animations, knife throwing, and flaming fireballs, you'll be mesmerized from the edge of your seat.
3-Day Oahu Itinerary For Families
This 3-day Oahu itinerary focuses on family fun and activities suited for both children and adults.
Day One
Start your day at the Dole Plantation on the North Shore. Hawaii has the perfect weather for growing pineapples, and at the Dole Plantation, you'll see many unusual varieties in more shades than yellow.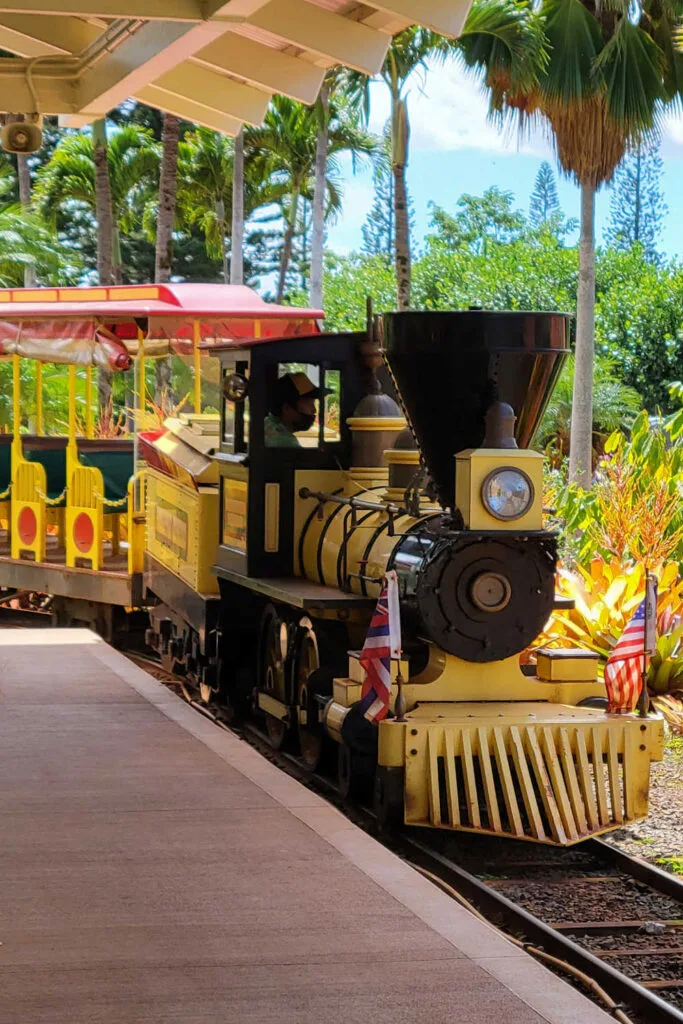 Activities include a Plantation Garden tour, riding the Pineapple Express train, and exploring the Pineapple maze. During your visit, be sure to try a refresh serving of Dole Whip. Once hooked on this incredible dessert, you'll want to buy the Dole mix to make at home.
A bit further north, try your luck at turtle spotting on Laniakea Beach. Known for its significant wave action in the winter, turtles often bask in the midday sun.
Since the Hawaiian Green Sea Turtles have been coming here for decades, most refer to this area as 'Turtle Beach.' Please remember that Hawaiian law prohibits getting too close, feeding, or touching the turtles.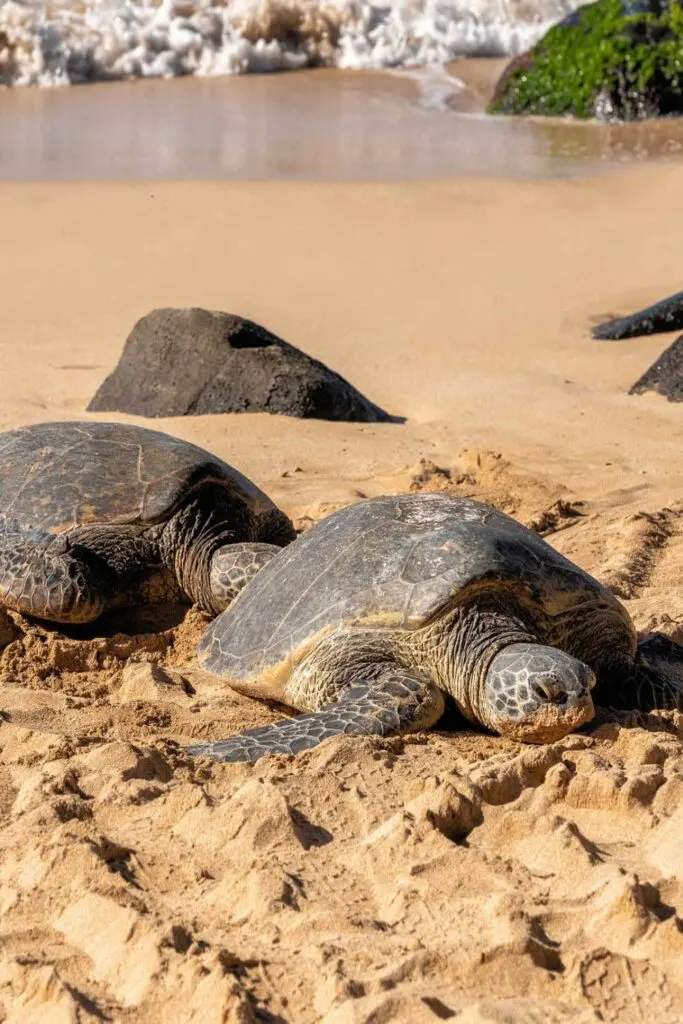 To conclude your day, head over to the Polynesia Cultural Center, an excellent venue for adults and children. I'd recommend the Islands of Polynesia package, which does not include a meal.
During your almost five hours of visitation, you'll tour six island villages at your own pace. Families will enjoy learning to weave bamboo leaves, throw a spear, paddle a canoe, and play with poi balls.
Also, immerse yourself in island life by watching a Samoan cooking demonstration, Maori warrior dance (called "the Haka"), and feeling the Fijian beat by pounding a bamboo stick called a "derua."
Day Two
The second day starts early with a trip to Hanauma Bay. If you don't arrive early, parking becomes a problem. Make sure to pack drinks, snacks, sunscreen, and an umbrella as there's little shade at the beach.
Hanauma Bay is a family-friendly attraction, offering excellent snorkeling in a sheltered cove for adults and a sandy beach for children. After your snorkeling excursion at Hanauma Bay, head to Sea Life Park.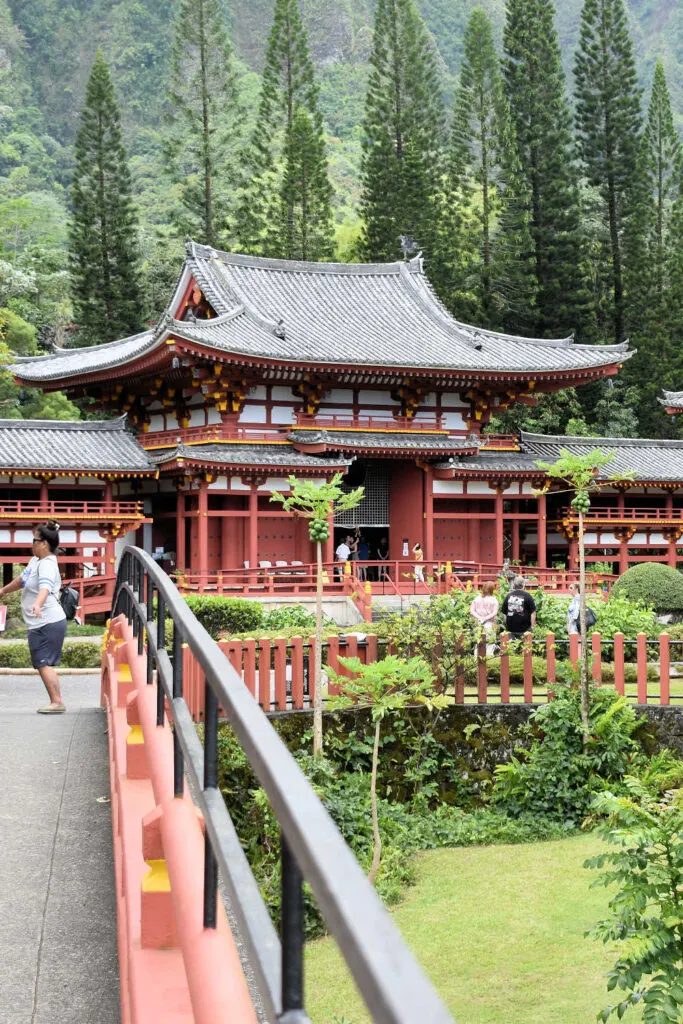 At Sea Life Park, you'll have an opportunity to swim with dolphins. Should you have a premium Go Oahu Card, the dolphin adventure is complimentary if you choose it as your premium activity.
The day continues onto the Japanese Byodo-In Temple, located in the Valley of the Temples Memorial Park. At the half-scale replica of a Japanese Temple, families will enjoy ringing the Sacred Bell and feeding the koi in the reflecting pond.
Lastly, finish the day with an excursion at the Kualoa Ranch. Excursions suited for families include the Jurassic Adventure Tour, Hollywood Movies Sites, or a Jungle Expedition.
At Kualoa Ranch, you can see some of the exact spots where scenes from Jurassic Park (and other movies) were filmed. One of the most iconic locations is the tree-lined field where the gallimimus flock was filmed stampeding.
An enormous log, which provided cover for the film's protagonists during this scene, still lies in the field and is a favorite photo opportunity for visitors.
With dinosaurs, Godzilla, and a jungle scavenger hunt, who can ask for anything more?
Day Three
The last day consists of water, fun, and animals. Since the Waikiki Aquarium opens at 9 am, it's an excellent place to start the day. For those who haven't done any snorkeling, you'll discover the fish and marine species that are common in Hawaii.
Close by, continue the fun at the Honolulu Zoo, where families can enjoy seeing everything from flamingoes and tropical birds to elephants and giraffes. While small, the zoo packs a lot into its beachside space.
In the heat of the day, visitors can find shade under the trees. However, be warned because the animals may be hiding from the sun too. For an afternoon of enjoyment, Oahu's Wet and Wild Hawaii (free with the Go Oahu card) allows for some wet family fun.
Located in Kapolei, the water park features 25 attractions. With giant slides, small slides, a lazy river, and Flowrider, there's something for everyone, regardless of your age. After a few hours of fun in the sun, finish your day at the water park with fried ice cream!
3-Day Oahu Itinerary For Adventurers
While many travel to Oahu to relax on a beach, some require more adventure. With ziplining, surfing, and diving with sharks, Oahu offers plenty of activities for the fearless. So, for the brave souls who want to get the adrenaline pumping, this 3-day Hawaiian vacation is perfect for you.
Day One
Diamond Head Crater is one of Oahu's most rewarding hikes, with magnificent views of Waikiki Beach, the Pacific Ocean, and surrounding flora. Diamond Head State park opens at 6 am. Hikers should arrive early to beat the crowds and avoid the midday heat.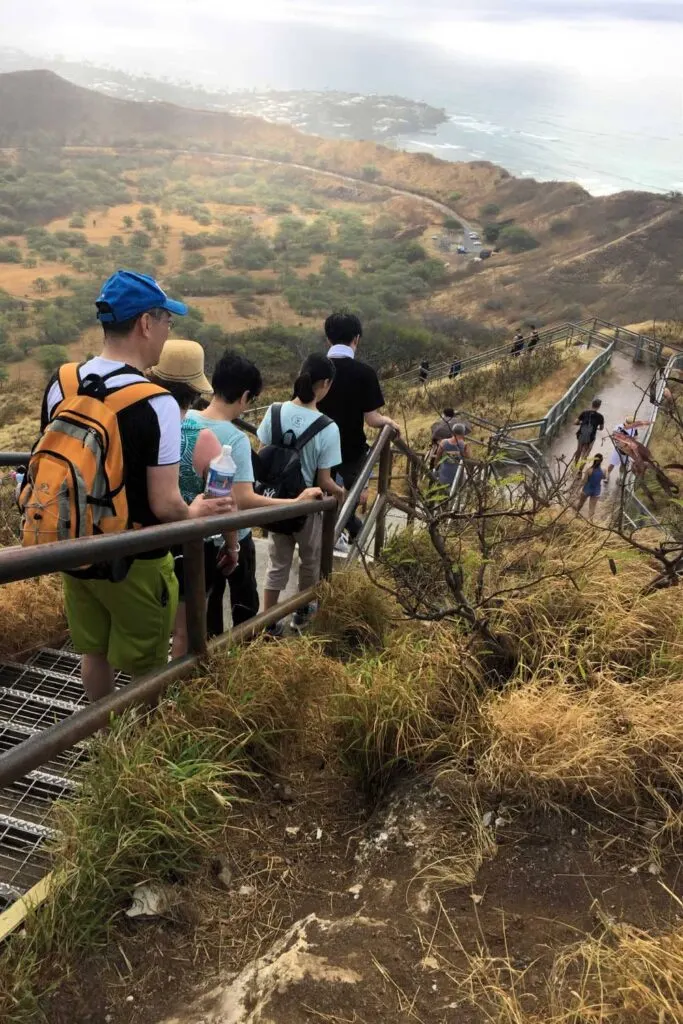 Be prepared by wearing sunscreen, carrying plenty of water, and wearing the appropriate footwear. If you're in good shape, the roundtrip hike takes about an hour. For others, allow 1-1/2 hours to complete the trip.
No trip to Oahu is complete without some fun on the water. So, book a catamaran sail, and you'll enjoy views of the Honolulu coastline from a large catamaran. If you're lucky, as I was, you'll see dolphins swimming alongside your vessel.
If you want to capture the best photos of Oahu, there's no better way than from a helicopter. Not just an ordinary flight, adrenaline rush junkies can opt for a 'doors off' tour, with no obstructions to photography.
You'll enjoy more expansive views with no doors, all while enjoying the Hawaiian trade winds. Choose from seeing the Pali Passage, majestic Diamond Head, or watching a Waikiki sunset.
For a bit of evening exploration, rent a Biki Bike to do a riding tour of Waikiki. The Biki bike program has 130 locations in Honolulu, and the bikes are inexpensive to rent.
Day Two
Spend your second day at the north shore of Oahu, where the waves are significant, and the excitement continues. The winter months are ideal for surfing the coastline from Sunset Beach to Waimea Bay Beach Park.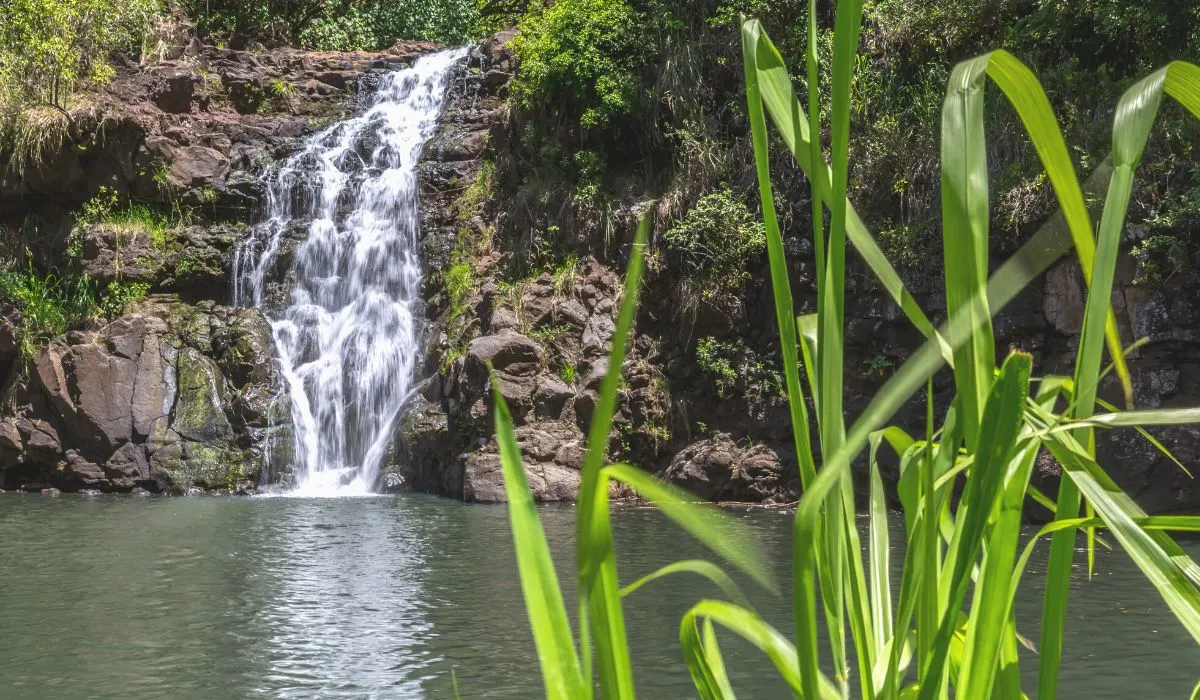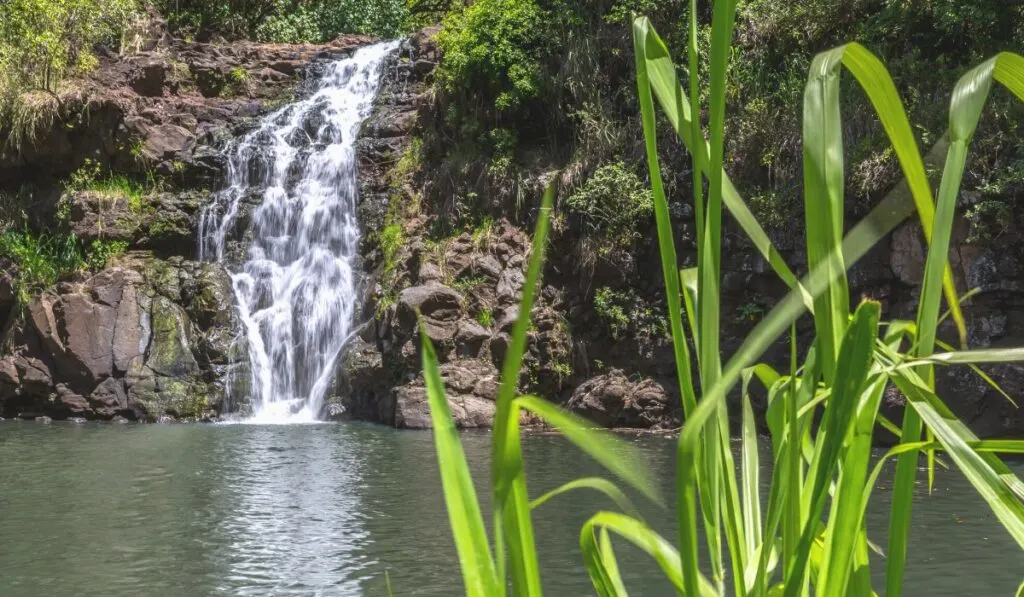 Waimea Bay is at the foot of the picturesque Waimea Valley. Be sure to enjoy this magnificent wonder during your stay.
Surfing competitions on the North Shore of Oahu are a spectacle that transcends the world of water sports. If you time your visit right, you can see world-class competitions in the international surfing scene.
Chief among these competitions is the Vans Triple Crown of Surfing. This is a prestigious triad of events that include the Hawaiian Pro, the World Cup of Surfing, and the Pipeline Masters.
During these events, you'll get to cheer on athletes who dare to conquer the North Shore's powerful waves. These surfing competitions encapsulate the raw, unfettered spirit of adventure that is at the heart of surfing.
Nearby Hawaii's Shark Cage Encounters offers the ultimate adrenaline rush as visitors come face-to-face with sharks in a cage. Not just an exciting excursion, visitors can learn about the species of sharks that frequent Hawaii and their role in the aquatic ecosystem.
If you get hungry, the North Shore food trucks will satisfy your hunger.
For some snorkeling or diving action, head to nearby Shark's Cove. But don't worry, while the name might imply its waters are filled with sharks, it gained its title from its shark-shaped cove.
For Oahu's longest and best ziplining, CLIMB Works at Keana Farms combines eight ziplines with three sky bridges and two rappels. However, that's not all! You'll start the adventure with an ATV ride to the ziplining course that ranges up to 2,400 feet.
Day Three
Rise early and take to the skyline on the Lanikai Pillbox hike. Also known as the Kaiwa Ridge Trail, climbers are rewarded with the most picturesque views of Lanikai Beach, Kailua Beach, and the Mokulua Islands. Like the Diamond Head hike, expect to spend up to 90 minutes on this out and back trail.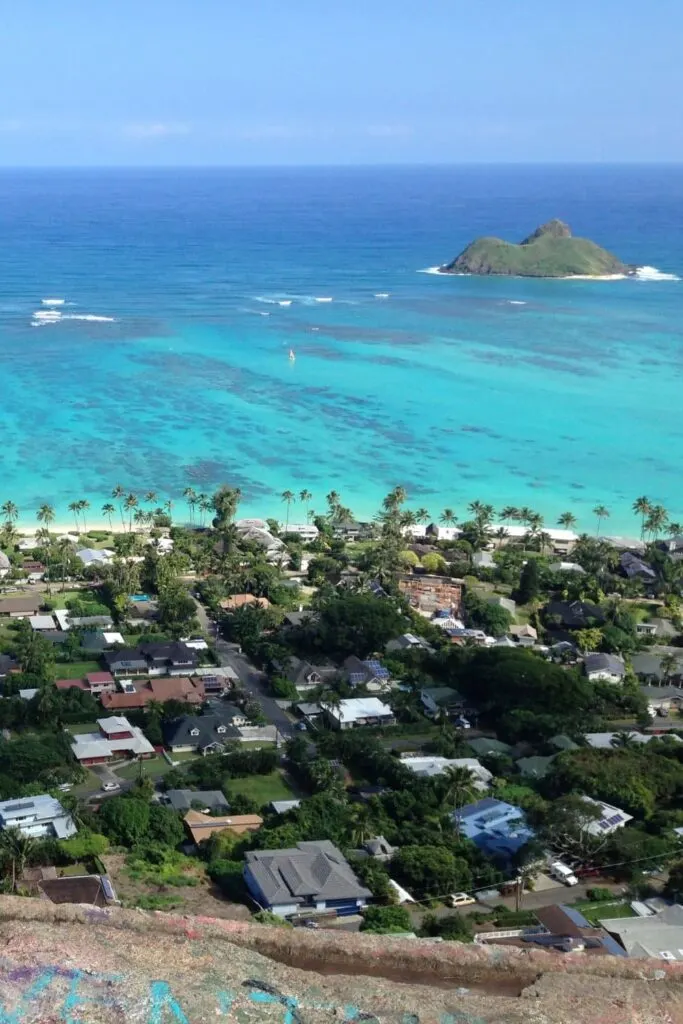 Next, choose an adventure at Kualoa Ranch, a 4,000-acre private estate that offers tours and excursions for every budget and level of activity.
For the adventurous, consider the ATV adventure, or take to the mountains on a peddle-assisted Ebike. Due to the popularity of these tours, Kualoa Ranch recommends advanced reservations.
Continue with a horseback adventure at Gunsmoke Ranch. The leisurely ride requires no previous riding experience. However, you'll enjoy the beautiful vistas of the north shore and shady forest on a four-legged friend.
Finish your 3-day Oahu itinerary with some standup paddleboarding at Waikiki Beach.
Staying On Oahu
When vacationing on Oahu, most stay in the Waikiki area because of its walking distance to restaurants and Waikiki Beach. A stay here means you won't need a car.
Travelers' favorites include the Royal Hawaiian with its pick facade and the Outrigger Reef Waikiki Beach Resort with its prime oceanfront location.
Families might prefer the Aulani, a Disney Resort & Spa because it's owned by Disney. However, located in Ko Olina, it's a bit of a drive to the Waikiki area.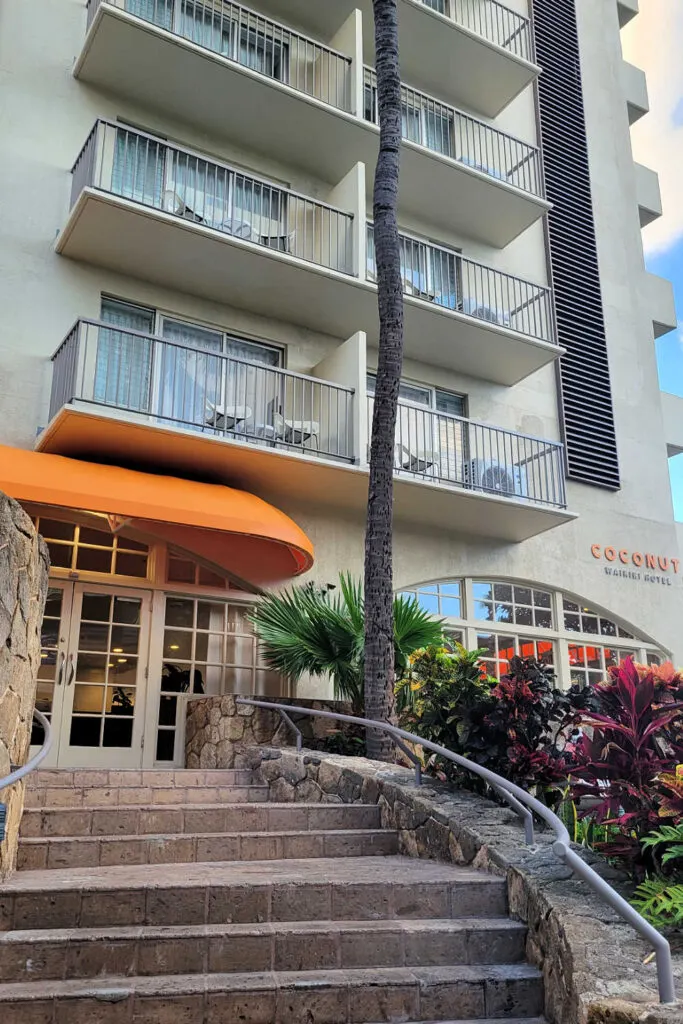 The Coconut Waikiki Hotel in Honolulu provides a budget-friendly stay. With steps to shops and restaurants, and walking distance to the beach, you can save money and enjoy a great location too.
The Turtle Bay Resort offers a dream destination on the north shore. Away from the hustle and bustle of Honolulu, guests can surf, hike, and see turtles.
Is 3 Days In Hawaii Enough?
While most who vacation in Hawaii come for a week, some only have three days because they combine their stay with a cruise or participate in island hopping. So, three days in Hawaii is enough to enjoy certain aspects of Oahu by exploring the Waikiki area, the north shore, and the windward side of the isle.
When looking to plan your three days in Hawaii, feel free to mix and match activities to suit your needs. If you don't get to see everything on your Oahu bucket list, the Aloha state will gladly welcome you for an encore visit.
Happy travels ~ Karen