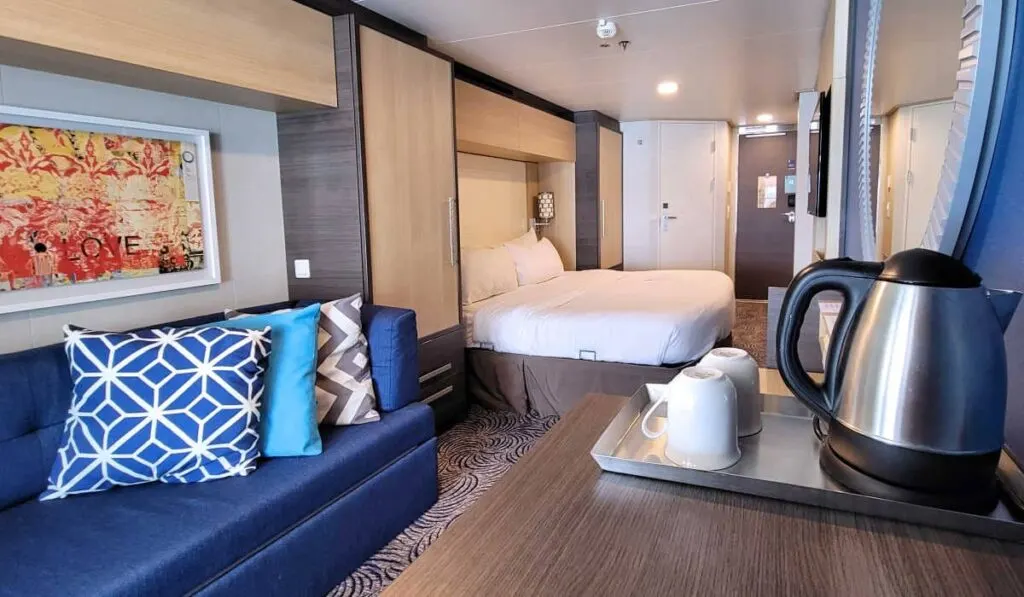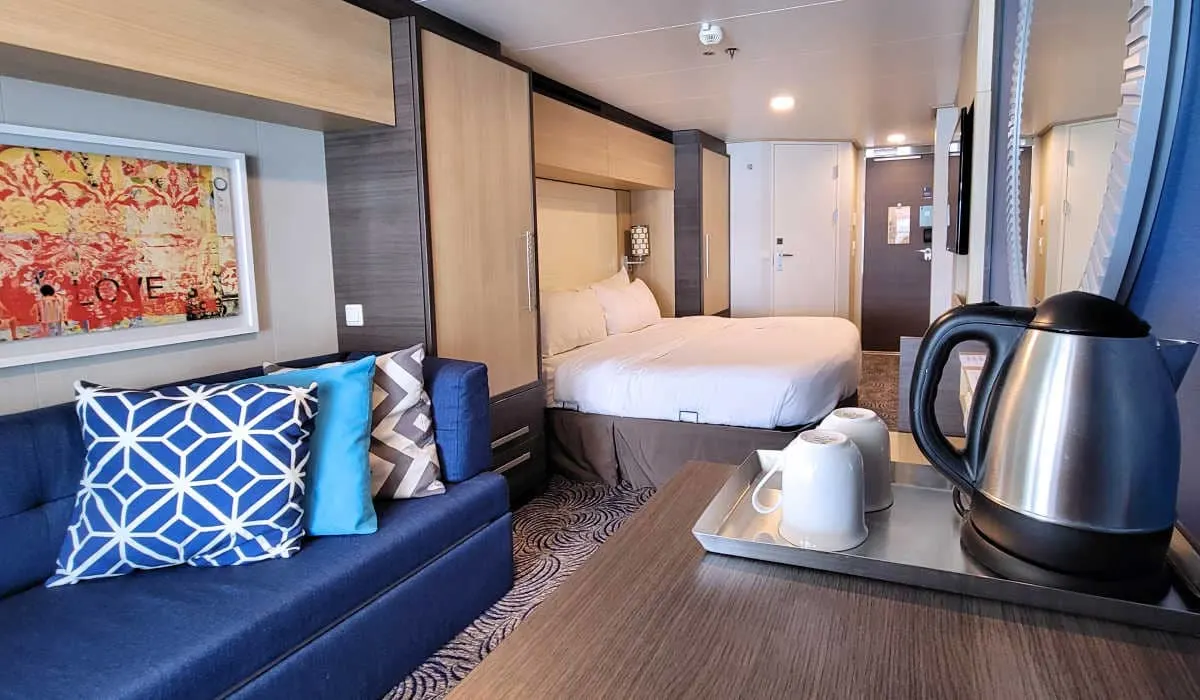 With a maximum capacity of almost 5,000, the Royal Caribbean's Quantum welcomes guests to luxury accommodations on its Quantum-class vessel. Onboard, you can choose from interior virtual balcony staterooms to suites or take the most popular choice, one of the Quantum of the Seas balcony cabins.
We enjoyed a 7-day itinerary to Alaska in a balcony stateroom, and enjoyed the signatures activities featured on Quantum-class ships.
These balcony cabins offer a large private balcony, allowing you to enjoy the mesmerizing glaciers, snow-capped mountains, and beautiful rainforests. If you're cruising elsewhere, you might enjoy vistas of swaying palm trees and sandy beaches.
How did our stateroom compare to competition? And would we have enjoyed one without a balcony? In this Quantum of the Seas stateroom review, we'll look at all the guest cabins onboard.
Quantum Of The Seas Balcony Cabins
We previously cruised on the Ovation of the Seas, and this space was a carbon copy, with same contemporary décor. We had the twin beds configured into a Royal king bed, which we found very comfortable.
At 198 square feet with a 55 sq. foot balcony, our room featured a trundle double bed, which is more convenient than Pullman beds. Our room, 13270, had the couch closest to the window, while others have the bed positioned there instead.
Across from the bed, you'll find a large wall mounted flat screen TV. The TV didn't feature many movies or high-quality programming.
The room had lots of storage space, with overhead storage over both the couch and bed, should you be cruising with more than two in the cabin. Our large suitcases easily fit under the bed.
The room had two closets, one on either side of the bed. The larger one had two hanging racks, and wire baskets on the inside of the door. The smaller closet had shelves, a small safe (not big enough for a laptop), and two large drawers below.
There were a couple of narrow shelves by the bed but we didn't use these since they were so small. However, they are suitable for a book and reading glasses, or a glass of water.
We brought heavy-duty magnetic hooks, which provided hanging space near the door for our jackets. Since we traveled to Alaska in early May, we used our jackets frequently.
We had four more drawers, a mini-fridge, and a tea station near the sliding door. Another drawer contained the hair dryer.
While the tea station had a kettle and two cups, we found it odd that our room steward never left any tea, sugar, or milk. However, with a mini-fridge, we could keep a glass of milk and regularly stocked our cabin with tea from the buffet.
Alternatively, you can get tea, coffee, and snacks from the café in the Royal Esplanade.
Most cruise lines don't offer tea or coffee stations in the cabins unless you book a suite, so we really enjoyed being able to enjoy tea in bed.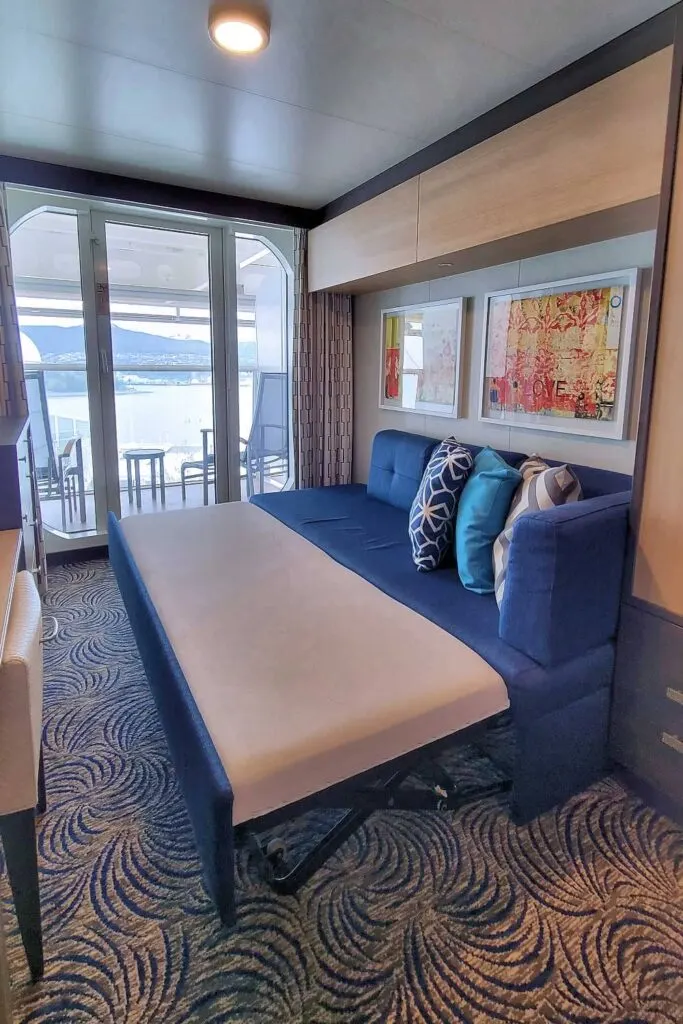 Our room featured a large sofa with a trundle bed. During our cruise, we opened it up and was quite surprised that there was still plenty of space to walk around it. There was no small table, so the mornings we had room service, we used the desk chair as a table.
Across from the bed, a desk doubled as a vanity area, although our mirror light wasn't very bright.
The desk had two North American sockets, two USB chargers and one European socket. We tend to carry a lot of electronics so we always pack this non-surge power strip, which is approved by cruise lines.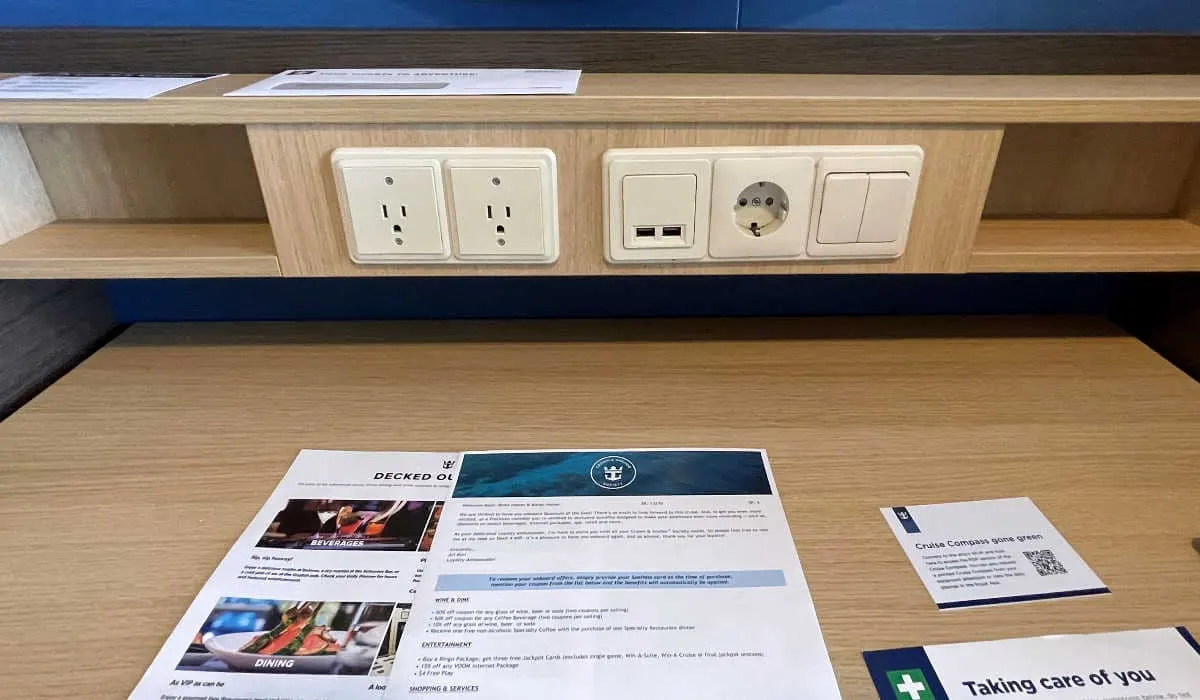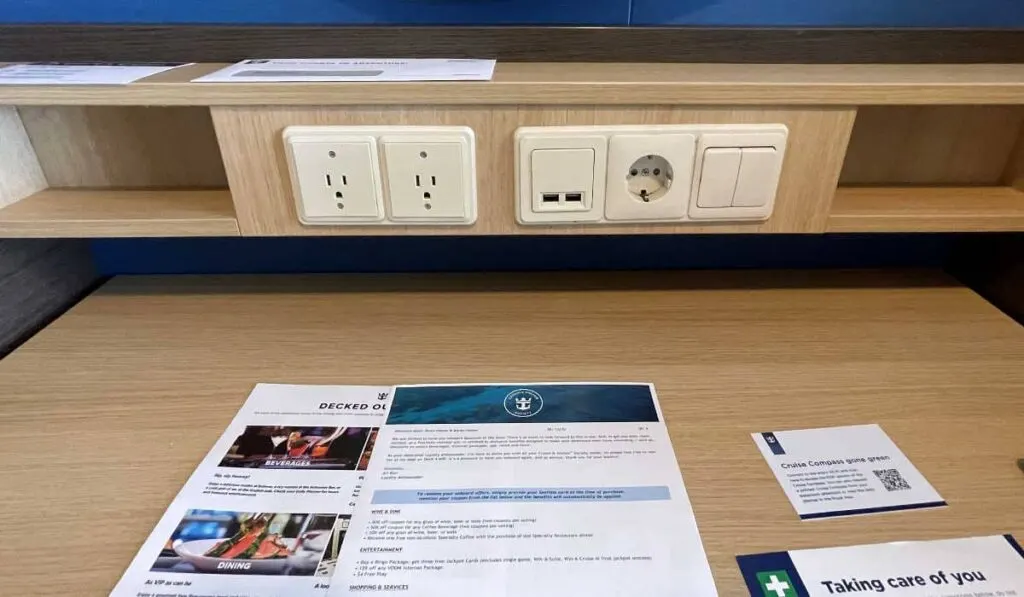 You'll find the phone on one side of the bed and a North American socket by the other.
Our balcony cabin was on deck 13, the highest deck for guest rooms, and was under the Windjammer Marketplace. We had originally booked an inside in hopes of bidding for an upgrade, through Royal Caribbean's upgrade program.
We bid on two categories, and won a balcony, with a USD 100 bid. While we under the buffet and normally, this is a cruise cabin I would avoid, we found it really quiet and maybe because the buffet closed relatively early.
The Balcony
Our attached balcony was large and could easily accommodate more than two. It came with two chairs, footstools, and a small table, which we enjoyed for breakfast one morning. If you're cruising with family in an adjoining cabin, the balconies can be opened up.
The footstools were a nice addition and we enjoying lounging on sea days. In comparison to the competition, the balconies are a lot deeper. We could sit comfortably without feeling like our knees were almost touching the glass.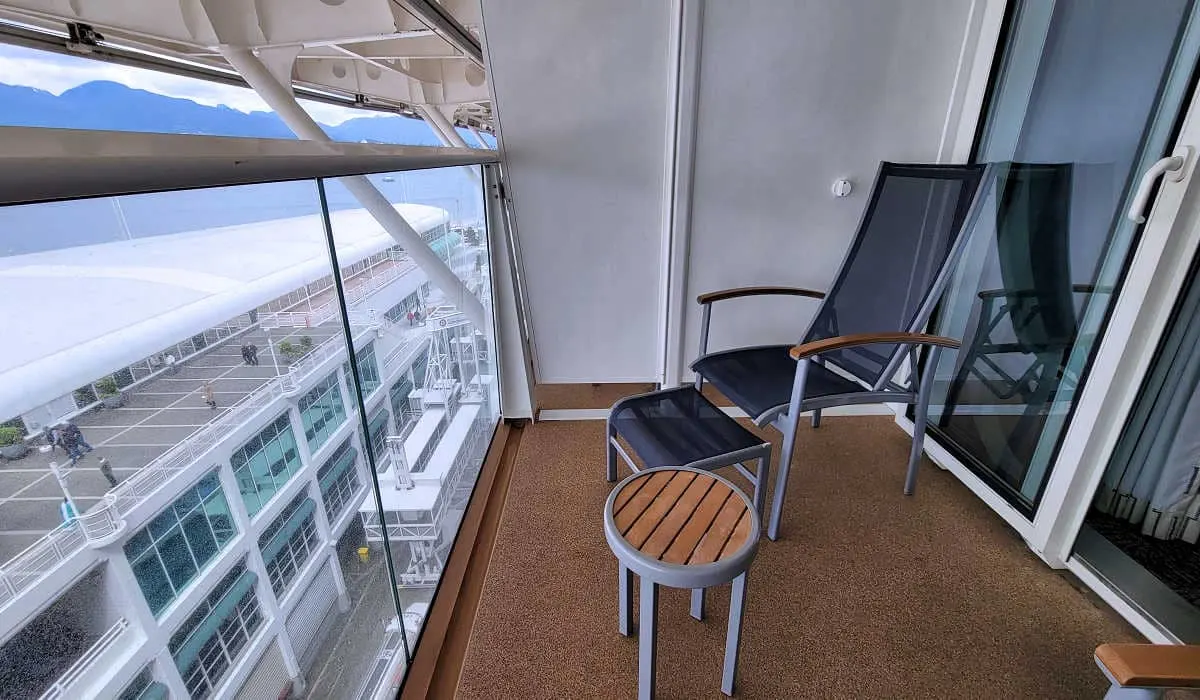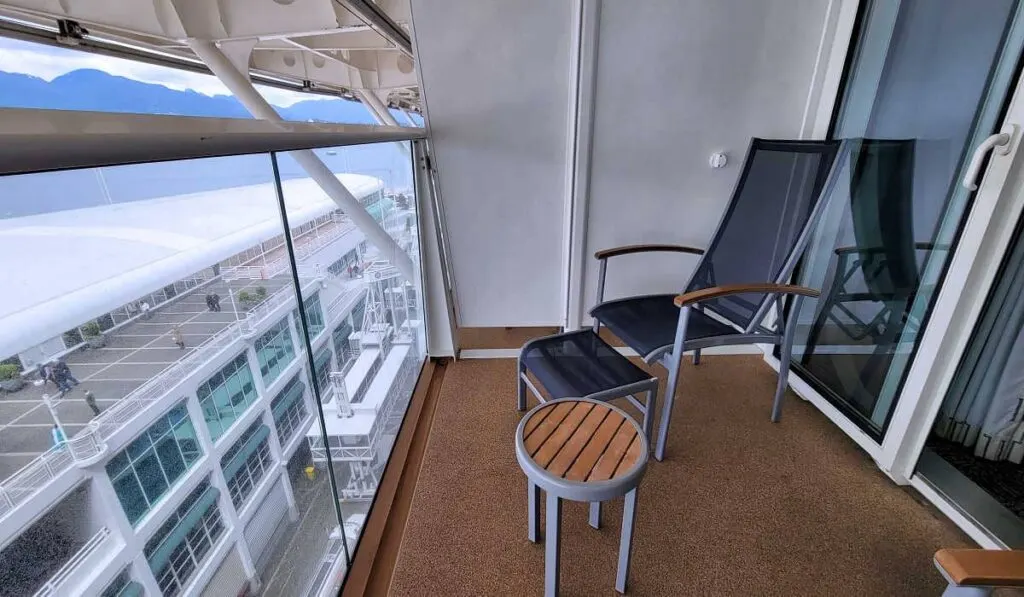 The only downside to being on deck 13, was the large overhang which we considered an obstruction, although it wasn't rated as an obstructed ocean view balcony cabin.
However, it did provide protection from the rain.
Overall, we loved the location of this stateroom. We could walk one level up to reach the buffet, or take the elevator straight down to the dining room. It just seemed like the pool deck, North Star, bumper cars, and FlowRider were within easy reach.
The Private Bathroom
Expect the standard private bathroom with enough room for one. The vanity had lots of open shelves and space below the sink for all our toiletries.
The shower features a curved glass door, which we prefer over a shower curtain. Inside the shower, you'll find two hooks, and two outside, to hang bathing suits, instead of a clothes line.
Royal Caribbean's Quantum supplies a 3-in-1 shower, hair and conditioner. It's not the nicest quality so if you have long hair, you may want to bring your own or at least a conditioner.
The bathroom had a nightlight feature which we liked. At night, the dimmed light would give just enough light without turning on the blinding light.
Our toilet suffered from the staff called a "delayed flush." We would push the button six to eight times in an attempt to flush the toilet. Sometimes it flushed, other times, it took 5 minutes!
What We Liked
Here's what we liked about the Quantum of the Seas balcony cabins:
The tea station allowed you to make tea or hot chocolate without going to the Promenade café.
The staterooms are larger and can easily accommodate four.
There is plenty of storage.
Rooms have a pleasing contemporary and modern décor.
The large private balconies have footstools to turn your chairs into loungers.
The shower has a glass door.
Here's how Royal Caribbean could improve the rooms:
Add USBs by the bed for charging.
Provide a separate shampoo, conditioner, and shower gel.
The ability to phone your steward when you need something. RCI now has a QR Code by the bed, but it didn't always contain information or things we could request.
Alternatively, the Quantum offers a variety of other staterooms, and there's one for every budget.
Quantum Of The Seas Virtual Balconies
Quantum-class vessels have interior staterooms that bring the outside in. Marketed as inside cabins with virtual balconies, the rooms feature a large high-definition screen that live streams the view outside. Port side cabins see views of the port side and starboard staterooms see the views from that side.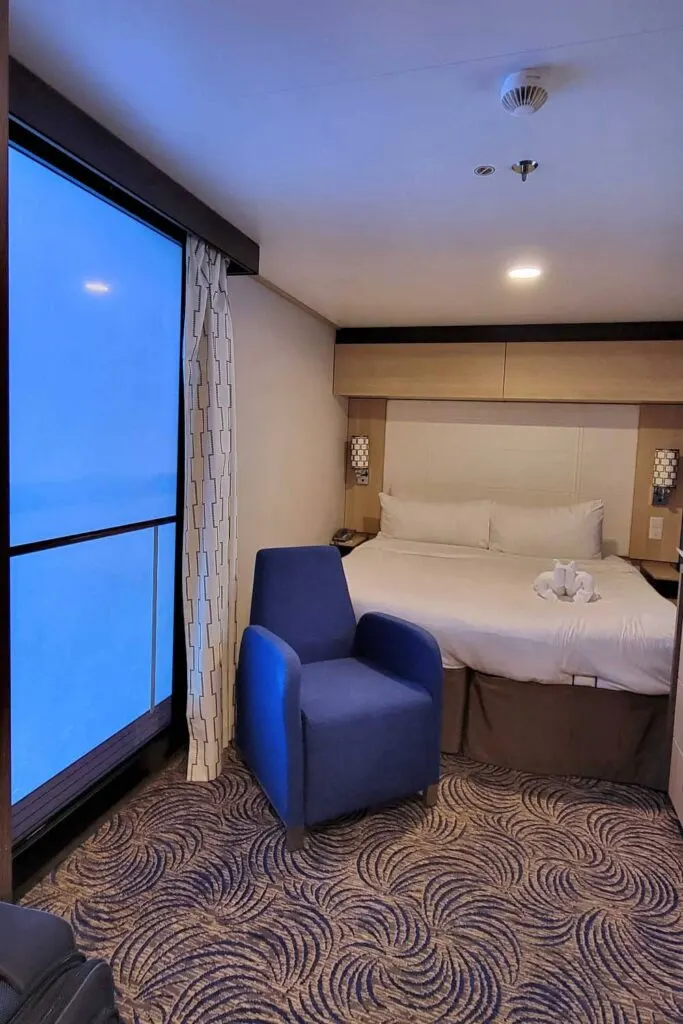 Less claustrophobic than a standard interior rooms, these 166 sq. foot cabins have similar amenities of a balcony cabin, but have a chair instead of a couch.
Solo travelers often book these staterooms because they are more affordable, even when paying a single supplement. If you're cruising on a budget, these virtual balcony spaces are a step up from a standard inside cabin.
While you won't have the benefit of fresh air, you'll enjoy the natural light through a TV screen. Long curtains either side of the screen allows you to close the "virtual window" so the early sunrise doesn't wake you.
Virtual balcony inside cabins have the same sized bathroom as a balcony and ocean view stateroom.
Ocean View Staterooms
Ocean view and spacious ocean view cabins vary from 182 to 302 square feet. However, you won't find many of these onboard.
The smaller rooms are located on deck 3, and below busy areas such as shops, casino, bars, and restaurants. Avoid these if you're a light sleeper.
The spacious ocean view rooms at the bow sell out fast. You'll find these on decks 8 to 11. These are more spacious than a balcony, and make a great option for a family instead of booking two connecting rooms.
While you'll be walking quite a distance to access these staterooms, you'll benefit from a quiet location.
The larger cabins have all the same features as balcony rooms, but have two chairs in addition to the couch.
Families with small children can use the sloping area by the window as a play area.
Being at the bow, you may feel more motion in rougher seas. So if you're prone to seasickness, select a cabin mid-ship on the lower decks.
Studio Cabins
Solo guests have a choice of two solo category staterooms. Firstly, the studio interiors are 101 sq. feet with a double bed.
Alternatively, you can book a studio ocean view balcony without paying the single supplement. Slightly larger at 119 sq. feet, you won't have a couch or chair in these cabins.
If you're a solo traveler, it's a good idea to book as early as possible as these staterooms go quickly. The Quantum has 28 solo cabins, 12 are balconies, and the remaining 16 interiors.
On deck 6, there are six studio ocean view balconies, with an additional six located one deck higher. For those who prefer an interior cabin, decks 6 to 13 each have two studio interior staterooms per floor.
These cabins provide a comfortable and affordable option. While you'll have a small bedroom space, you'll enjoy a full bathroom, and access to all the Quantum attractions and entertainment onboard.
Quantum Suites
If you prefer a suite, you'll have nine to choose from, measuring 267 to the royal loft suite at a colossal 1640 sq. feet with multiple balconies. Some suites can accommodate up to eight guests.
One step up from a balcony, at just over 250 sq. feet, the Junior suites can accommodate up to five guests.
The sitting area has a sofa which converts into a cozy double bed, and the bathroom has a bathtub, ideal for families. The bathroom has a door from the bedroom and a second entrance from the hallway.
Guests in Quantum of the Seas junior sites will benefit from a large balcony and mid-ship location.
A little bigger, the Grand suites offer a separate living room from the bedroom area, reminiscent of a luxury hotel. The one-bedroom Grand suite has a "grand" bathroom with double vanities, and a separate tub and shower.
At over 500 sq. feet, the two-bedroom suites provide more space for a large family. The master bedroom features a dressing area and master bathroom.
The second bedroom features two twin beds which can convert to a Royal king, and two Pullmans. With a double sofa bed in the living room and two bathrooms, eight guests can enjoy this spacious suite.
Also, you'll have a large 259 sq. foot balcony to enjoy to yourselves. If you're traveling to Glacier Bay National Park in Alaska, having a large private balcony means you can avoid the crowds on the upper decks.
At almost 550 sq. feet, the owner's suite welcomes guests with a marble entry and half bath. Passengers staying here, will enjoy a large bedroom with large closets, and a bathroom with double sinks, and separate shower and tub.
The living room is spacious and come with a dining area, so you can eat comfortably in your home away from home.
If you're a fan of aft staterooms, you'll like the spacious two-story Grand loft suites which can accommodate four.
Also at the aft, the sky loft suites and owner's loft suites, provide spacious accommodation on two decks. Both suites can sleep four, and the bedrooms feature beds with Duxiana Mattresses.
However, the larger suite, the owner's loft, has almost 1,000 sq. feet of space, and the large master bedroom has its own balcony.
However, the royal loft suite takes the title of the ultimate family suite with 1640 sq. feet of floor space and three balconies. This two-story palatial suite offers panoramic views though floor-to-ceiling windows at the aft.
🛳️ Ready to book your Quantum of the Seas cruise?
Find your perfect cruise for any budget with Cruise Critic. The site also offers itinerary and pricing information, deals and money-saving tips.
Find your cruise here
The main level features a large living/dining area with wet bar, ideal to entertain guests or family. You'll also enjoy a separate media room and a royal genie, who will take care of all your needs while onboard.
If you're cruising somewhere warm, you'll enjoy the dining area on the deck. Although the main benefit of this suite could be the private jacuzzi tub on the deck off the master bedroom.
Guests staying in a suite have exclusive access to Coastal Kitchen, a private Quantum dining venue. They will also have priority boarding, debarkation, access to a private sundeck, and thermal spa suite access for the duration of their cruise.
Final Thoughts
Overall, we loved our balcony cabin on the Quantum of the Seas. It was spacious, had lots of storage and the larger balcony space was a big bonus. However, the virtual balconies and ocean view staterooms are equally spacious.
The high-definition screen in the interior staterooms make an inside cabin seem less boring. Such cabins make great options if you want to save money. While we enjoyed the category we had, we would have been just as comfortable in an inside or ocean view stateroom.
While the suite categories aren't affordable to most, the extra perks are welcoming to guests who opt for the best.