With so many decisions when booking a cruise, your stateroom is the last deciding factor. While prices vary from interior cabins to luxurious suites, sometimes budget determines which ship cabin to choose. But take heed because there are some cruise ship cabins you may want to avoid.
On paper, all staterooms may seem alike, and in theory, they are. But cabin location to other venues on the ship can turn a good stateroom into a bad one. If it's your first time on a cruise, always look at what's above, below, and near the stateroom.
Working with a travel agent knowledgeable in cruise vacations can steer you to picking a better location. Sometimes, you need to pay a little more to avoid these particular cruise cabins.
Guarantee Staterooms
Unless you're willing to accept whatever the cruise line gives you, don't choose a guaranteed cabin. A guarantee stateroom is like playing the lottery; sometimes you win, but often you lose.
Guaranteed cabins are the rooms that no booked guest wanted. The cruise line allocates these to booked guests close to embarkation day or day you board.
If you're a young couple wanting a romantic cruise, your guaranteed stateroom could have bunk beds instead of a queen-sized bed. If you're a light sleeper, you could find yourself next to a noisy elevator.
However, if you're looking to save money and willing to gamble on location, by all means, take the guaranteed stateroom.
Having a higher status in the company's reward program may factor into where the cruise line places you. Personally, I have booked a few guaranteed cabins and have lucked out on good locations. But remember, each passenger's thoughts on undesirable staterooms may differ.
I recently took a guaranteed inside room on the Celebrity Solstice and received one in a great location.
If your cruise line allocates you an undesirable cabin, you could upgrade or bid on an upgrade if the line allows you.
Next To An Elevator
It goes without saying that elevators are noisy and run 24/7. So, should you be a light sleeper, avoid the cruise ship cabins adjacent to the elevators. While some lines have a slight separation between the elevator shafts and cabins, others do not.
Remember, it's not just the noise of the elevator shaft but the continuous dinging sound that can keep you awake. Since bars, casinos, and late-night venues close in the early hours of the morning, some passengers wander the hallways and use the elevator in the wee hours.
At the same time, you might want to avoid the staterooms far away from the elevators, especially if you're mobility challenged. Having a cruise cabin at the aft or bow means you'll be doing a lot of walking to get to venues and restaurants every day.
On mega-ships, the length of the walk might compare to doing a daily marathon. These end-of-the-ship cabins tend to feel the motion more, so avoiding these rooms helps to prevent seasickness.
Next To The Laundry Room
Some cruise lines have self-serve laundromats with several washers and dryers. Unless they're limited to certain hours, light-sleepers might want to avoid a neighboring stateroom. While some might like being lulled to sleep with the sound of a thumping dryer, others may not.
Above Or Below A Noisy Venue
If you're a light sleeper, the worst cruise ship cabins are above, below, or near noisy venues on the ship. These include nightclubs, bars, video arcades, or casinos. These late-night venues operate past midnight and create significant noise.
If you're an early-to-bed person, you'll have difficulty falling asleep depending on the soundproofing of your cabin. I have stayed in various cabins, and those paper-thin metal walls don't tend to prevent the noise from traveling.
If you're sensitive to smell, avoid staterooms close to the casino, not just for the noise factor but also for smoking. Cruise lines casinos are one of the few places where passengers can smoke, so smokers tend to congregate there. While the ventilation system is supposed to filter out most odors, it isn't full-proof.
Staterooms near or under a restaurant or buffet can prevent you from falling asleep too. Often, these food places remain open late, and staff work to clean tables after diners have left.
Under the galley is another noisy place as kitchen staff work 24 hrs. to prepare food for the next day's meals. However, if you're a person that can sleep through anything, staterooms near these late-night venues may not be an issue for you.
Over The Theater
Being over the main theater might not seem like a bad idea, and my travel agent suggested this location. She informed me that the late shows finish by 10 pm and practices take place in the afternoon. On her recommendation, I booked a cabin over the theater.
However, on embarkation day, I went to bed early, eager to get a good night's sleep after a long flight. Even though there was no theater show that evening, the crew practiced their singing and dancing until after 3 am.
The noise echoed through the metal walls. Needless to say, I was not thrilled and couldn't fall asleep even with the use of earplugs. It took a complaint to guest relations to stop the late-night practices.
Obstructed View Cabins
While some guests avoid an obstructed balcony stateroom, others may choose it as a means to stay within budget. In theory, obstructed staterooms aren't bad but do prevent clear views.
These cabins are generally advertised as partially obstructed. However, guests may find a partial obstruction to a fully obstructed view.
Examine the cruise ship deck plan carefully. Some obstructed rooms are categorized as such because they have a solid wall on one side and don't really impede your view.
Passengers staying in a room by the lifeboats may be woken up early on tender port days when the crew lowers the tenders. Bear in mind that you'll want to keep your curtains closed those mornings; otherwise, the staff may be peering into your stateroom.
I remember an incident on a Carnival ship when I booked a French door stateroom adjacent to the lifeboats. I was changing for dinner one day, and a crew member appeared outside my cruise cabin.
He was doing some regular maintenance on the lifeboat. After rushing to close my curtains, I remembered the potential lack of privacy.
Adjoining Staterooms
Unless you want an adjoining cabin (when sailing with family), sometimes it's best to avoid those types of cruise cabins. Cruise lines build their adjoining staterooms like hotel rooms with two connecting doors. The doors are generally heavy and insulated, so they should cut out the noise.
However, those doors vary from ship to ship, and sometimes guests can hear conversations, although not clear enough to make out the words. Depending on the location of the TV, television noise can also carry through the doors.
While most passengers are conscious of the noise they make, you can't avoid noise from a crying baby or young child. It all comes down to your neighbors, and as we know, we can't choose those.
Regardless of where you select a cruise cabin, it's best to travel with earplugs. If you're sensitive to noise, earplugs generally help cut out any small sounds. Alternatively, download a white noise app or pack a travel-sized white noise machine.
The machine's soothing sounds muffle out the surrounding noises and aid in falling asleep. Choose from ocean waves, jungle sounds, a babbling brook, or other gentle rhythms.
Cruise Ship Cabins With No Privacy
Many cruisers favor aft balconies for their soothing wake views. However, some of these pricey staterooms come with little privacy. Before you book one, check to see how the decks are layered. Ships with a tiered aft allow higher passengers to see onto lowered decks, offering no privacy.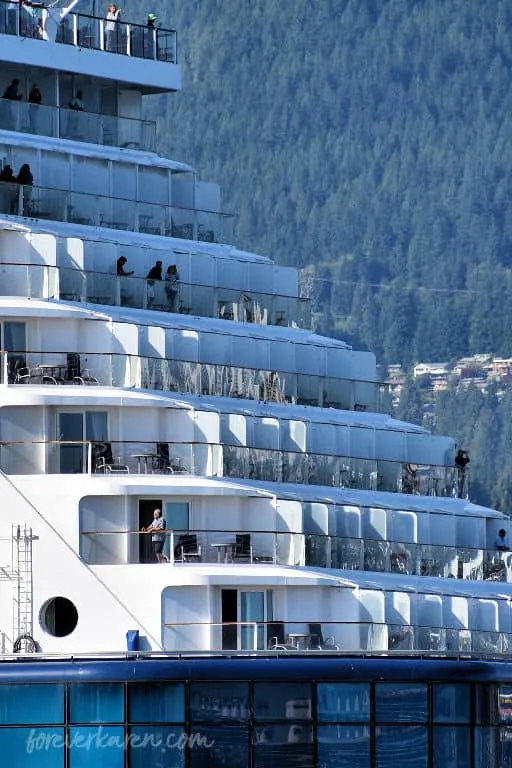 The same goes for Central Park balconies on Royal Caribbean's Oasis-class ships. Although, if you like to look over the hub of activity, rooms on the Boardwalk and Central Park provide just that.
Outside cabins that overlook the promenade deck and Lanai staterooms also offer no privacy. Passengers use these promenade decks for walking and jogging. So, if you want to avoid the sound of pounding feet, select a cabin on another deck.
When cruising on Celebrity's Edge-class ships, be careful of the cabins adjacent to the Magic Carpet. While most of these cabins are pricier Sky Suites, be aware that the Magic Carpet moves up and down, passing your balcony cabin. Those on the Magic Carpet might be getting some unexpected entertainment.
Princess Cruises Royal Class ships have a similar issue. If you choose a cabin location under the Skywalk, passengers on the Skywalk can see into your private space.
Bow Staterooms
Finding the ideal location on a cruise ship is easier after a few trial runs. You quickly realize what you can live with and what can ruin your vacation. Bow staterooms feel the most motion in rougher seas. You'll also walk further to reach the elevator.
I once had the second room from the bow and close to the bridge. The bridge obstructed my view looking forward. While I didn't experience rough waters during my cruise, it could be a deal breaker for others.
Lowest Decks
Cruise passengers on a budget or sensitive to motion may opt for a cabin on a lower deck. An inside cabin, midship is ideal for preventing seasickness. However, staterooms on the lowest decks (usually deck one or two) may be noisy due to their proximity to the engine room.
When choosing a room, examine the cruise ship deck plan, and choose a room with staterooms above and below.
Really Small Staterooms
Contrary to belief, not all staterooms are created equal. Some are so small that I'd class them as a glorified shoebox. Norwegian Epic's inside cabins are just 128 sq. feet and are advertised as accommodating up to four guests. I couldn't imagine two guests in 128 sq. feet, let alone four. Bear in mind that square footage includes the bathroom space.
Royal Caribbean's Vision of the Seas interior cabins aren't much bigger at 132 sq. feet. Some solo cabins measure only 100 sq. feet but may be doable for a single traveler.
If you have claustrophobia, you'll want to avoid an interior stateroom with no windows. Although, if you're cruising on a budget, the amount of money saved may pay for another cruise.
Under The Pool Deck
Like the venues above, being on an upper deck under the pool can disrupt your sleep too. In the early hours, the staff moves the pool loungers out onto the pool deck, creating noise. They move the seating again late at night and wash down the decks.
During one of my Norwegian cruise line vacations, a large group of teenagers stayed in the Haven suites. While guests pay a hefty price to be there, they expect the highest level of service, venues, and a quiet space.
Unfortunately, these youngers partied on the pool deck into the early hours, disturbing the nearby suite guests. It just goes to show that paying more for the best suites doesn't always ensure a relaxing vacation.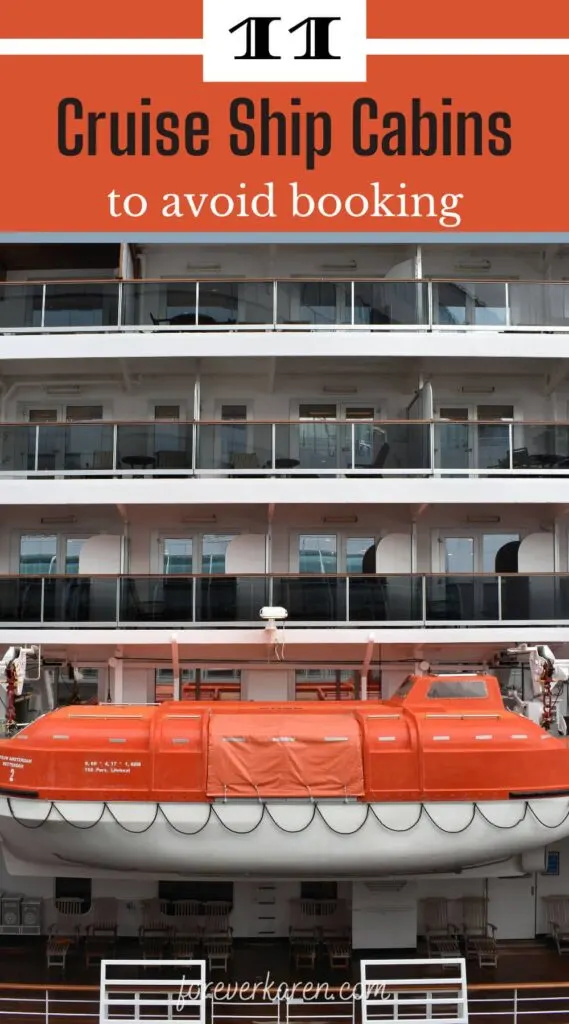 Near The Anchor Or Engines
For obvious reasons, passengers who need complete silence to sleep should avoid staterooms near the anchor or engine room. These cabins are on the lowest decks and come with the cheapest prices. Take a cabin one deck higher if possible, and you'll be thankful for the quieter space.
Final Thoughts
Don't underestimate the importance of cabin location. Vacations are about relaxing and destressing, which isn't possible without adequate sleep. When seeking a quiet cabin, try to select one with staterooms above and below. Also, avoid cruise ship cabins near busy areas of the ship where passengers walk or congregate.
When selecting a cabin, read online reviews of that particular stateroom or one nearby. Reading reviews help eliminate cabins that might prove to be problematic. Finally, if you experience a terrible location, live and learn, and take note not to choose that location again.
Happy travels ~ Karen