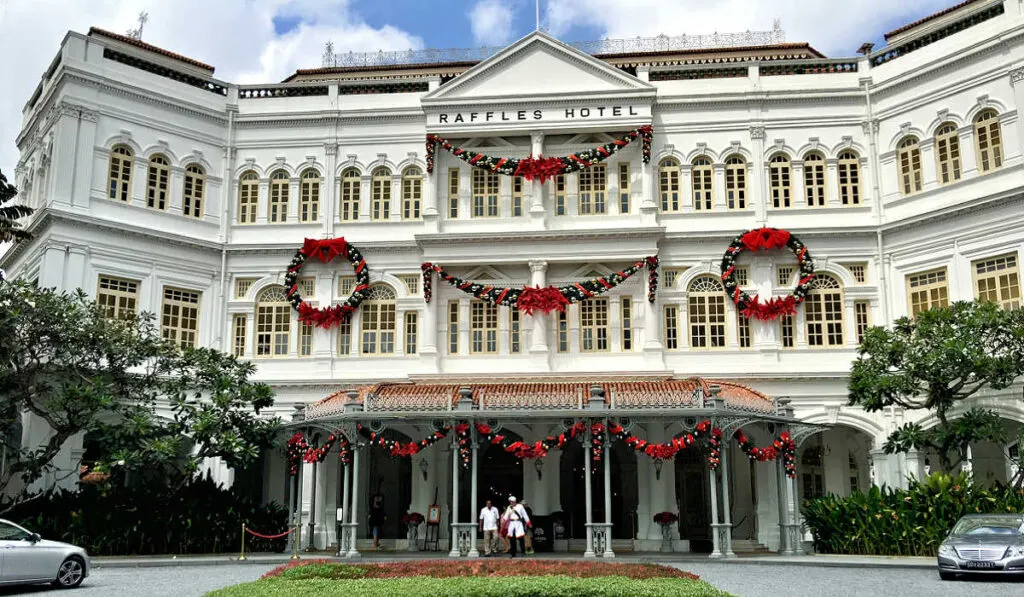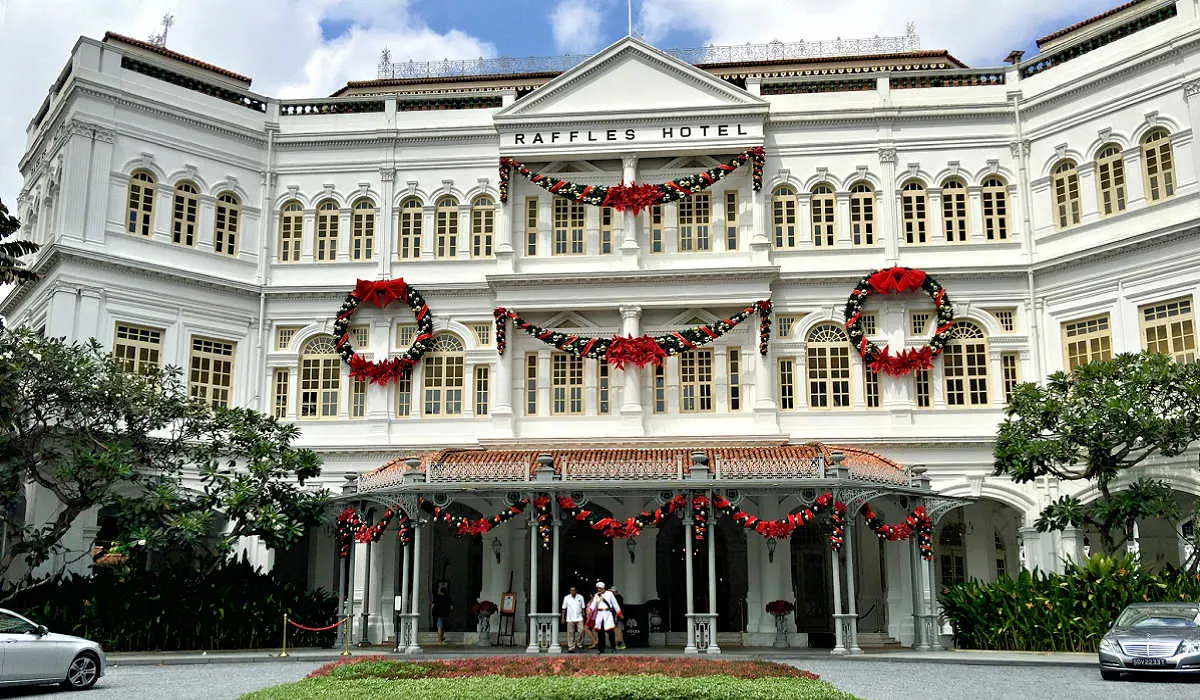 Quintessentially British, afternoon tea combines a good cup of tea with finger sandwiches, pastries, and scones. Once a bridge from lunch to dinner, the ritual is less of an everyday event and more of a special treat. Raffles Hotel Afternoon Tea allows guests to savor the tradition that started long ago.
Raffles afternoon tea is a must if you have five days (or more) in Singapore. Offered every day of the week, guests enjoy afternoon tea in the Tiffin Room, off the Grand Lobby in the Singapore hotel.
If you've never been to Raffles, it's a grand structure that opened in 1887 and still oozes regal elegance. So, if you're browsing Singapore on foot, includes Raffles in your spot.
Guests arriving at the hotel are welcomed by the iconic Raffles doorman. Dressed in white with a white turban, they are photographed as much as the colonial treasure itself.
Having afternoon tea at Raffles Hotel is a Singapore bucket list experience that should not be passed up. While the venue commands a high price, it's not every day you get to visit Raffles.
History of Afternoon Tea
Afternoon tea was a British ritual that came about in the 1840s and was usually reserved for the rich. The Duchess of Bedford, Anna Maria Russell, popularised the social event by inviting friends to share a snack and tea in the middle of the afternoon.
Back then, it was customary to eat two meals a day, breakfast and dinner, around 8 pm. To ward off the hunger pangs, having a mid-afternoon meal satisfied the belly until dinnertime.
The social event grew in popularity that nobility often gathered friends, sitting around a coffee table chatting for hours over freshly brewed tea and dainty finger food.
Since the upper class primarily hosted the event, the finest bone china, silverware, and crisp linens were used.
Afternoon tea has often been confused with "high tea." While both include food with a beverage, historically, high tea was the event held by the working class.
Factory workers from Scotland and Northern England often returned home hungry from a long day's work.
Instead of dinner, they ate high tea, consisting of a large mug of hot tea, bread with cheese, and sometimes meat and vegetables. Contrasting the cordial event of afternoon tea, high tea provided sustenance for the day without the social aspect.
While Raffles in Singapore serves afternoon tea, it's often called the Raffles Hotel High Tea.
Raffles Hotel Dress Code
Being a grand hotel, Raffles Hotel delivers an afternoon tea that's elegant and opulent. So, even if it's 35 C outside, don't expect to enjoy the afternoon event in shorts and a t-shirt. In keeping with the formality of the hotel and the 180-year-old tea ritual, there's a dress code to dine in the Tiffin Room.
Women are encouraged to wear dresses, skirts or pants with a nice blouse. Men should arrive in trousers and a shirt, and dressy footwear. Flip-flops and casual slip-ons are not allowed.
Should you show up for your reservation in inappropriate clothing, hotel staff with escort you to another, less formal area like the Raffles Courtyard.
Unlike most hotels that allow travelers to peruse its hallways to see where the other half stay, the Singapore Raffles Hotel keeps many of its areas off-limits to non-staying guests.
However, booking an afternoon tea allows you to peer inside its opulent space, if only for 90 minutes.
Raffles Hotel Afternoon Tea Price
The Singapore Raffles Hotel offers afternoon tea every day in the Tiffin Room. An advance reservation is required as the event is hugely popular amongst visitors and locals.
Although quite touristy, it's a bucket list affair for travelers to Singapore. Despite its hefty price tag, it attracts no end of people ready to drop more than SGD 100 for the bragging rights and to check that item off their bucket list.
Raffles serves afternoon tea from 1 pm to 5 pm from Monday to Thursday. From Friday to Sunday, guests can enjoy extended hours, from 12 pm to 6 pm.
Raffles charges SGD 80 per guest for tea and have an optional add-on of SGD 25 for a glass of Champagne Brut or SGD 35 for the Champagne Rose. These prices are not inclusive of tax. A booking requires a minimum of two guests.
Afternoon Tea Choices
The secret to a good afternoon tea is a great brew. Adjacent to the Grand Lobby, the Tiffin Room serves a careful selection of loose-leaf teas from the Mariage Frères gourmet tea company, which has been in business since 1854. Alternatively, you can enjoy a custom-blended coffee.
The popular Orange Pekoe Ceylan from Sri Lanka, or the Earl Grey Imperial, with its distinctive bergamot flavor, are offered for black tea drinkers.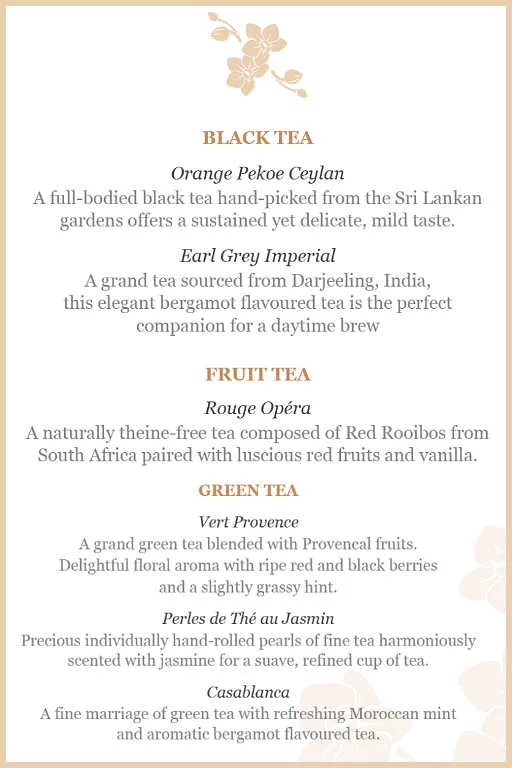 Vert Provence, Casablanca, and Perles de The au Jasmin are provided for those who prefer green tea. The Vert Provence is ideal for a touch of sweetness.
The Casablanca blend combines a mix of green tea, mint, and bergamot. The Perles de The au Jasmin is a premium jasmine tea with a lovely floral fragrance.
The hotel has a Rouge Opera fruit tea for those who prefer caffeine-free tea. Alternatively, tea-goers can heighten their afternoon tea experience by trying a superior tea for an additional SPD 10 to 15.
Afternoon Tea Menu
Afternoon tea takes place in a tall ceiling room with Victorian white columns. Recently renovated, the elegant décor and new crystal chandelier in the Grand Lobby add to the ambiance of the British afternoon tea experience.
The hotel delivers finger sandwiches, scones, and pastries on a three-tier silver cake stand, along with white linen napkins and silverware engraved with the Raffles Hotel logo. The display on the cake stand is so beautiful; you almost don't want to disturb it.
The savory sandwiches look decadent on the bottom layer, made with different colored bread. The selections included curried crab, cucumber and smoked salmon, tuna and mayonnaise, chicken, tuna and mayonnaise, and egg salad with chives.
The top two layers consist of the sweet treats created by the hotel's executive pastry chef, Tai Chien Lin. The English cakes delight the eyes with a mix of fruit tarts, hazelnut rolls, dark chocolate cake, and spiced orange marmalade cake.
To add to the elegant meal, two types of scones, regular and raisin, complete the social tea event. The hotel complements its scones with traditional clotted cream and rose petal jam. Being British, I wanted to stick to tradition and have strawberry jam.
Throughout the meal, attentive servers make sure teapots are filled with hot tea and offer more savory and sweet treats for those who have cleaned their plates.
An odd addition to Raffles afternoon tea is their buffet.
Afternoon Tea Buffet
To appeal to all tastes and cultures, guests attending afternoon tea have access to a buffet. It seems strange to go from crustless sandwiches and scones to a Dim Sum station. However, the buffet is optional.
If you haven't had your fill of sweets, you can choose from bread-and-butter pudding, lemon curd sponge cake, and apple crumble. The food selections on the buffet are constantly changing and dependent upon what's in season.
In addition to the savory and sweet selection, guests can choose from fresh fruit, which makes a great end to an afternoon tea.
During afternoon tea, the chanting melodies of a harp fill the air. The soothing sounds create the perfect mood for the sophisticated atmosphere.
At Christmastime, a choir dressed in black and white serenade guests with holiday tunes next to a giant Christmas tree. Inside and out, Raffles decorates its hotel with festive wreaths and swags in tones of red and gold.
Gluten-Free Options
Like most five-star hotels, Raffles can cater to those with food allergies. Be sure to mention your allergies when making a reservation so the kitchen can create alternatives for you to eat.
Guests can get gluten-free scones and finger sandwiches. The sandwiches are different from regular sandwiches as they are open-faced. Toppings can include egg salad, smoked salmon, cheese, and turkey with mayonnaise.
Unlike other restaurants, which charge an additional fee for gluten-free options, Raffles provides tasty treats without your allergens for the included price.
Additional Afternoon Tea Options
While the British afternoon tea experience has stood the test of time, the tradition has migrated to other countries where they have adapted the menu. So, from time to time, Raffles Hotels offers these different twists on an old favorite.
Early in the year, the Oslo Afternoon Tea experience allows guests to savor a Nordic-style affair. During the event, the kitchen adapts finger sandwiches to include Norwegian favorites such as quail egg, smoked salmon, and pickled herring.
After the savory course, the sweet treats include the limited edition Baristart Coffee cream puffs, which melt in your mouth.
In early March, the cherry blossom festival welcomes the beginning of the Sakura Afternoon Tea experience. It features Japanese favorites like Sakura roll cake, red bean Sakura ice cream, and Tobiko egg.
The sweet treats are a feast for the eyes in various shades of baby pink. Sakura Afternoon Tea runs to mid-May.
As the Sakura tea event closes in mid-March, Raffles welcomes the tastes and smells of southern Italy. So, indulge in Italy's savory and sweet treats at their Sicily Afternoon Tea. This event runs until the end of August.
As you can see, no matter when you visit Raffles in Singapore, you have the option to enjoy the signature classic afternoon tea or a version from another country.
The Singapore hotel offers a "Grab and Go" afternoon tea if you prefer to eat at home. Choose from the traditional tea or the Sicily version. The hotel packages their tea to go for two to share.
How To Elevate Your Experience
1. During certain events (Christmas, Sakura, and Easter afternoon tea), the hotel may fill tea times long in advance. To avoid disappointment, make a reservation as quickly as possible.
2. Dress for the occasion, so the hotel staff doesn't cancel your tea and ask you to move to another hotel area.
3. Make sure you arrive with an appetite. Afternoon tea is a whole meal, not just a cup of tea. It may be best to skip lunch and plan on a late dinner.
4. Notify the staff of any food allergies at the time of booking. The kitchen cannot substitute food during the event as food items are prepared in advance.
5. Make sure you arrive on time for your reservation. There's always a line to get into the hotel. However, the line moves quickly.
6. Choose a tea partner who appreciates the fine dining experience of afternoon tea.
7. Allocate plenty of time to enjoy the experience. Tea-goers shouldn't rush the experience but savor the affair slowly. The hotel allows for 90 minutes for each reservation.
8. Consider staying at the Raffles Hotel Singapore. Their Raffles Special Stay consists of a two-night Courtyard Suite, a signature Singapore sling at arrival, and complimentary afternoon tea.
Final Thoughts
If you have a three, four, or five-day visit to Singapore, be sure to reserve high tea one afternoon. The experience and ambiance at the Singapore Raffles are fantastic.
With delicious finger food, buttery scones, and aromatic teas, tea drinkers should savor the classic tea event at least once. It's a throwback to Victorian times when there were more hours to lazy away the afternoon, enjoying pleasant chatter.
I've enjoyed afternoon tea as a dining option on the Majestic Princess, in various English locations, and during an Alaska cruise on the Cunard Queen Elizabeth.
While some might consider the pricing high, it's not just the food but being able to consume it in the ambiance of a five-star hotel where the service is second to none.
Happy travels ~ Karen