Are you heading to Singapore? The beautiful beast of a country, it is truly a stunner. From its lush green grass fields to its cerulean blue waves, the country is an absolute beauty to explore.
Most tourists who head to this Asian island sing praises of its gorgeous scenery, but there's more to it. The country introduces tourists and foreigners to a diverse and mesmerizing culture and boasts a heritage worthy of envy.
Singapore, also known as the "Lion City," has some of the most historic and ancient landmarks, making it an excellent place for history buffs.
But what truly brings foreigners to this fantastic part of the world is the kindness and compassion of its people, who are always willing to help.
For those visiting Singapore, we know you want to explore all it has to offer and make the best of your trip.
So, whether you have five days, one week, or longer, a great way to explore any country is to take a tour on foot. Keep scrolling to find out the best Singapore walking tours that you can take on your own.
Reasons To Take A Walking Tour
Local operators offer walking tours and allow you to learn the culture and history with a tour guide. You can even take a free walking tour (with Monster Day Tours), but the expectation is to tip heavily at the end.
Alternatively, you can explore independently without following a set schedule.
Before we begin with the list of Singaporean walking tours, let's talk about why one should take a walking tour:
Easier to Explore in Detail – If you're not taking a walking tour, you'll probably be exploring way too fast to actually enjoy the experience.
Walking tours allow you to explore a place up close, and you can easily catch each and every detail.
Explore at Your Own Pace – If you tour Singapore on foot, you can explore at your own pace. With most tours, you're on a tight schedule and can't risk falling behind schedule. However, with walking tours, you can explore calmly.
You're Your Own Boss – On self-guided walking tours, you decide the time and the destination. Going with a large group can be challenging and tough to communicate if you're an introvert.
However, if you choose to take a self-guided walking tour, you get to call the shots.
It's Healthy – An obvious benefit to walking tours is that you remain fit and active.
Best Time To Walk In Singapore
You can visit Singapore any time of the year. However, while the country's weather is beautiful year-round, it might be a little drastic for those coming from colder climates.
Winters in Singapore are pretty pleasant, but summers can get quite hot. Since the rainy season brings a lot of humidity, it might not be ideal to visit in December and January.
The ideal time to visit the country is during the dry months, like February and March. During these months, the country experiences lower humidity levels.
To avoid the midday sun, plan to walk early in the morning or later in the evening.
Self-Guided Singapore Walking Tours
Now that you're up to speed on Singaporean weather, let's dive into the main topic: walking tours you can enjoy here.
You'll find lots of tour companies willing to take you to Singapore's historical and great attractions, but there's something relatively peaceful and comfortable about exploring on your own.
For couples or solo travelers, these walking tours are best.
Chinatown Tour
To reach the starting point of your walk, take the MRT to Chinatown and stroll down Mosque Street to South Bridge Road. From here, you can explore one of Singapore's most famous places.
Boasting a beautiful heritage and culture of the Chinese, Chinatown is a colorful visit. The ideal time to visit Chinatown is late morning; since most attractions don't open before 11 am.
Chinatown consists of mostly food stalls, inexpensive souvenir shops, and temples. Don't miss the Green Masjid Jamae Mosque, Buddha Tooth Temple, and Sri Mariamman Temple, Singapore's oldest Hindu temple.
Take a delightful stroll through the mesmerizing streets of Trengganu, Temple, and Pagoda. Here, you can haggle with the shopkeepers and enjoy tantalizing local food.
Chinatown is home to some amazing street art, and you never know what you'll find on a building.
Once you work up an appetite, head to Maxwell Food Center, which offers one of the best Hawker experiences. If you're a foodie, consider taking one of the food tours to sample its authentic bites.
Alternatively, you can head to Lau Pa Sat on Boon Tat St. It offers the best satay for a unique Singapore experience.
Continue onto Thian Hock Temple. This Chinese temple was built in 1840 without the use of any nails. This stunning structure showcases elaborate sculptures and carvings of dragons and phoenixes.
This walking tour concludes at Fuk Tak Chi Museum.
Colonial District Walking Tour
One of Singapore's most famous walking tours is its Colonial District walking tour. This heritage tour explores the Colonial District, allowing you to dive into Singapore's history and learn about Asian culture.
This walk takes 2-3 hours, focusing on a line of galleries, museums, cultural halls, and dainty little shops. Although, you can extend the duration if you plan on exploring the museums.
Start at Raffles Hotel, a magnificent colonial building offering luxury accommodation. Established in 1887, its white colonial architecture is iconic. Inside, you can enjoy an amazing Raffles Hotel afternoon tea.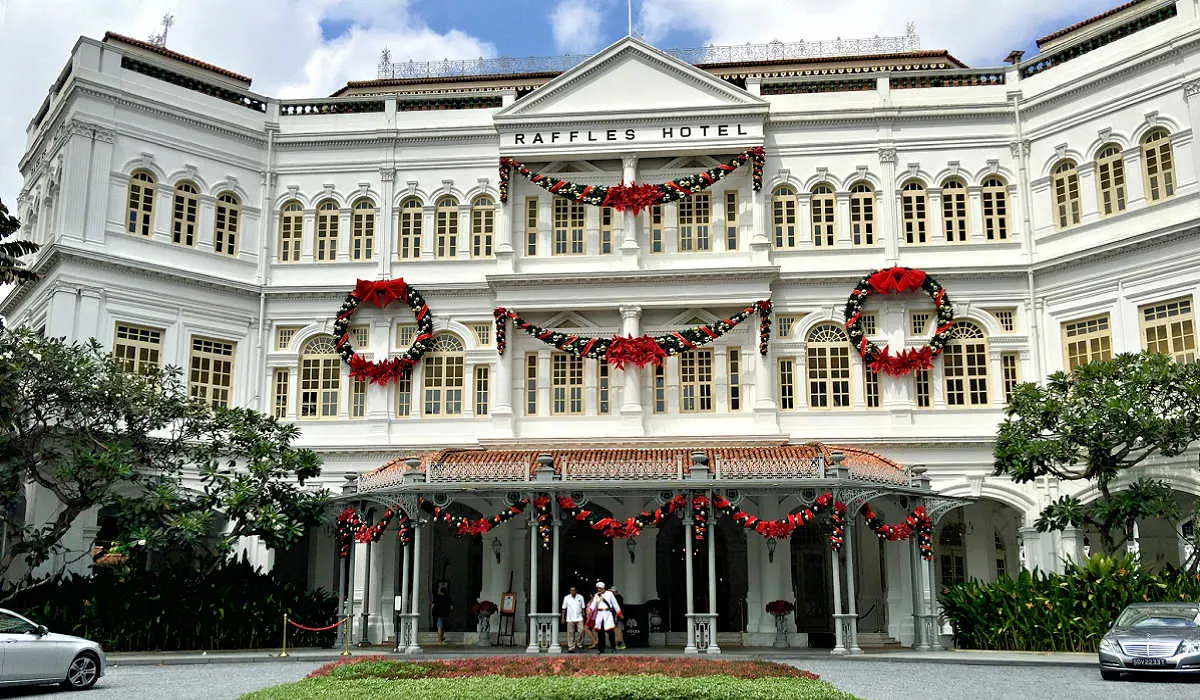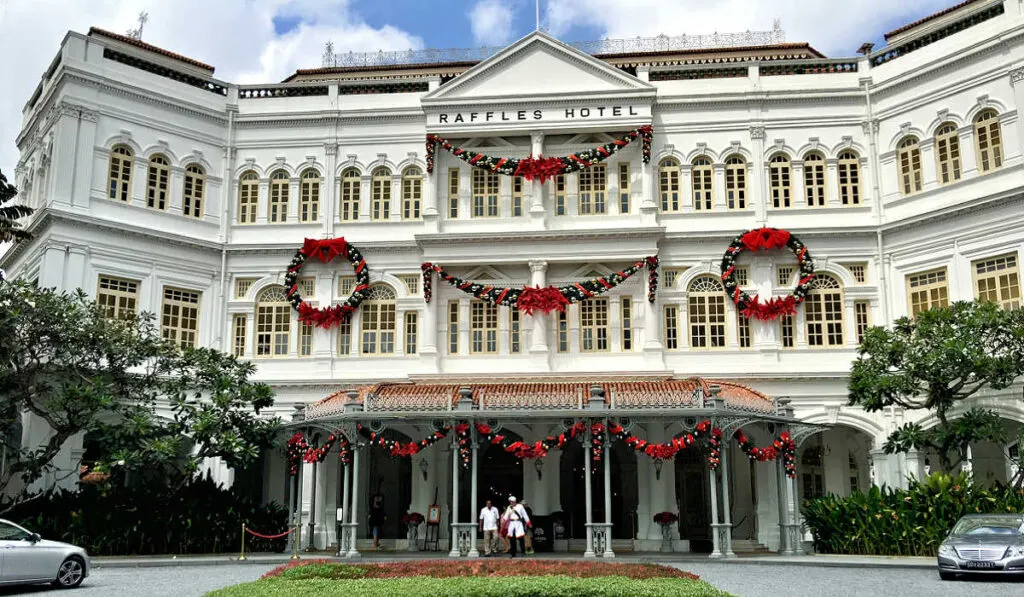 Continue onto St. Andrew's Cathedral, a historic structure older than Raffles Hotel. Built in 1861, the Neo-gothic architecture was inspired by a cathedral in England.
The next stop is the National Gallery of Singapore, in the civic district. It houses the most prominent global collection of Asian and Singaporean art. The museum combines two iconic monuments, the city hall and the old supreme court.
If you wish to explore inside, you'll enjoy contemporary and modern art pieces throughout its massive 690,000 sq. feet of floor space.
Further down the street, you can admire the neo-classical structure of the Victoria Theater & Victoria Concert Hall. Look up to see its iconic clock tower.
Located near the Singapore River, the Asian Civilizations Museum devotes its space to Asian antiquities, cultural objects, and decorative art. Nearby, you can see the Cavenagh Bridge, a vintage suspension bridge that dates back to 1870.
From here, follow the waterfront to the Old Hill Street Police Station. This historic building is one of the most distinctive in Singapore.
The six-story building has a neo-classical design with its 927 windows painted in rainbow colors.
The Colonial District walking tour ends at the Central Fire Station. The 1909 stricture has a unique red and white façade and a prominent tower. Should you visit on a Saturday morning, the fire hall conducts tours.
War Trails Walking Tour
If you love history and are up for a somber walk, you should try the War Trails walking tour. This walking tour specifically explores Fort Canning and its impact on Singapore's military history.
Start at the Fort Canning Center, once a British Military Barracks in 1926. Walking south, you'll see two 9-pound cannons, which were never used in combat.
Government House, built by Sir Stamford Raffles in 1822, took guard over the river. Nearby, the lighthouse, a replica of the original, guided ships into port.
In the same area, the time ball was a device used to tell the time. This ball was raised daily and 12:55 pm and dropped precisely at 1 pm.
The remnants of a fortress are visible at Fort Gate and Fort Wall. Once thick and robust, the wall circumnavigated the hill, providing defense from intruders. A moat surrounded the wall, but it's now gone.
Acting as a World War II bomb shelter and emergency bunker, you can find the Battle Box nearby. Today, this underground space serves as a small museum.
Your next stop is the Sallyport. Sallyports are small doors that provide access to and from a fort. Fort Canning had at least three, and they were used to charge the enemy by using the element of surprise.
The last stop is the North Cemetery Wall. Over the decades, Singapore has removed many cemeteries to make way for the living. Some old tombstones have been built into the Fort Canning cemetery wall. Nearby an old Christain cemetery has a limited number of tombstones.
Clarke Quay Leisure Walk
Clarke Quay holds a lot of importance in Singapore; once an important trade route, Clarke Quay is now a hub to let down your hair and party.
One of the best times to take a walk-through of Clarke Quay is early evening, just before the sun sets. However, you can also take it during the day, though you might have to miss a few attractions that open at night.
There's no fixed start or end point on Clarke Quay walks, so you're free to choose where to begin. You can decide how long you want to walk and where to wander.
Stroll across the promenade, grab a couple of drinks or a classic Singapore Sling along the way, and don't forget to hit the antique shops.
If you're an adrenaline junkie, you can ride the G-Max Bundy on the promenade, one of the most adventurous walks you'll ever take!
Marina Bay Walk
You'll love the Marina Bay walk if you'd like to go for something a little lowkey. Marina Bay is a popular tourist hub in Singapore, so you'll find a lot of the hustle and bustle here.
But don't let the crowd trick you; although Marina Bay gets busy, it's one of the most peaceful and beautiful places here.
If you start at the Suntec City Mall and work your way to Bayfront Bridge by walking through Helix Bridge, Marina Square, and Raffles City Shopping Center, it will only take a little over three hours.
To reach the starting point of your walk, take the MRT to Chinatown and stroll down Mosque Street to South Bridge Road. From here, you can explore one of Singapore's most famous places.
If you want to see the city from a different perspective, hop aboard a water taxi to enjoy the views from the river. Alternatively, the Singapore Flyer and SkyPark Observation Deck provide fantastic aerial views.
As you circle the ArtScience Museum, you can capture a selfie next to the Olympic rings. If you complete this walk in the evening, you'll enjoy a spectacular Vegas-style show called Spectra – A Light & Water Show.
If you prefer to keep walking, you can stroll to Merlion Park.
Little India Walking Tour
Head over for a hot bowl of curry in Little India, and explore the colorful heritage of this culture. Little India is a jubilant area where you'll find Indian heritage at its best.
By immersing yourself here, you'll be transported to a summer place in India with the sights, aromas, and tastes.
On tour, you'll see street vendors frying delicious samosas to Hindu shrines and temples inviting tourists in for a religious visit.
Little India is a delight to visit. The walking tour doesn't need a definite starting point since the area isn't vast. Just start at the Little India MRT Station and ask for directions.
The minute you spot vendors carrying garlands of flowers for sale, you know you've reached the center of Little India. If you decide to explore the shrines for a little longer than an hour, the walk can take around 2-3 hours.
Make sure to see Siddh Peeth Shree Lakshminarayan and Sri Veeramakaliamman Temple, two traditional Hindu shrines.
Other places of interest include Tan Teng Niah, a colorful Chinese house, and Abdul Gafoor, a small Muslim Mosque.
Wetland Reserve Walk
For a contrasting walk, consider a trip to Sungei Buloh Wetland Reserve. Located in the northwest part of Singapore, it provides exploration through an untouched wetland.
The park is home to rare mangroves, migratory birds, crocodiles, monitor lizards, and otters. There are many options for walking and interesting spiral observation pods.
To explore the mangroves, you can stroll on raised boardwalks offering tranquility through the mudded area. It's important to wear mosquito repellent before exploring.
The tidal ponds are a favorite amongst bird watchers. Here, there are five hides to observe the birds. However, the 18-meter bird tower provides the best views above the treetops.
After an exhausting 72 steps to the top, use a pair of compact binoculars to try to spot storks, common sandpipers, Mongolian Plover, and Common Redshanks.
Final Thoughts
Although small, there's a lot packed into Singapore. While the urban area is dense, there are walking trails through Bukit Timah Nature Reserve and Southern Ridges.
By exploring on your own, you meet locals who sometimes recommend places to explore. Often, you'll discover hidden gems, and those serendipity moments make for the best memories.