A land with a step into the future with its skyscrapers, Singapore is a progressive country. If you're traveling to Asian, this 5-day Singapore itinerary includes the best sites and recommendations of where to eat.
Singapore is filled with a magical aura from all the regions of the world. The brilliant light arrangements in each building make it look like a starry night when it's dark.
Singapore is famous for its developmental powers in recent years. Its Changi Airport is rated one of the best in the world, especially with the addition of the rain vortex.
The new and impressive shopping malls, exquisite restaurants and dine-ins, luxurious hotels, and intimidating views of land make this country different from the rest.
Singapore has also got all the funky activities alongside the historical locations. The nightlife here is much lit and happening. The street music and environment make you dance your heart out with your friends.
Apart from all the modern attractions, this place is quite close to nature with its botanical gardens, Flower Dome, Cloud Forest, and Supertree Grove. It is an ideal southeast Asia destination for people traveling alone as well as ones traveling with their families.
Some who travel to Singapore do so en route to another Asian country. Instead of flying through, please spend time absorbing its beauty, culture, and everchanging landscape.
There is comfort in Singapore for all kinds of travelers with their flexible hotel expenses and various options you can choose from.
Where To Stay In Singapore
Singapore is a small city and country so no matter where you stay, you can access its main attractions by transit. While a Singapore trip can be expensive with numerous luxury hotels, there are accommodations for all budgets.
For luxury stays, guests at the Marina Bay Sands Hotel you'll enjoy the perk of swimming in a roof-top infinity pool in the Skypark.
Alternatively, the iconic Raffles Hotel offers an idyllic location in central Singapore. Its classic white colonial architecture delights patrons who stay there. Guests have access to a wellness spa and fitness center.
You can enjoy the British Raffles Hotel afternoon tea in the Tiffin Room or quench your thirst with a signature Singapore Sling in the Long Bar.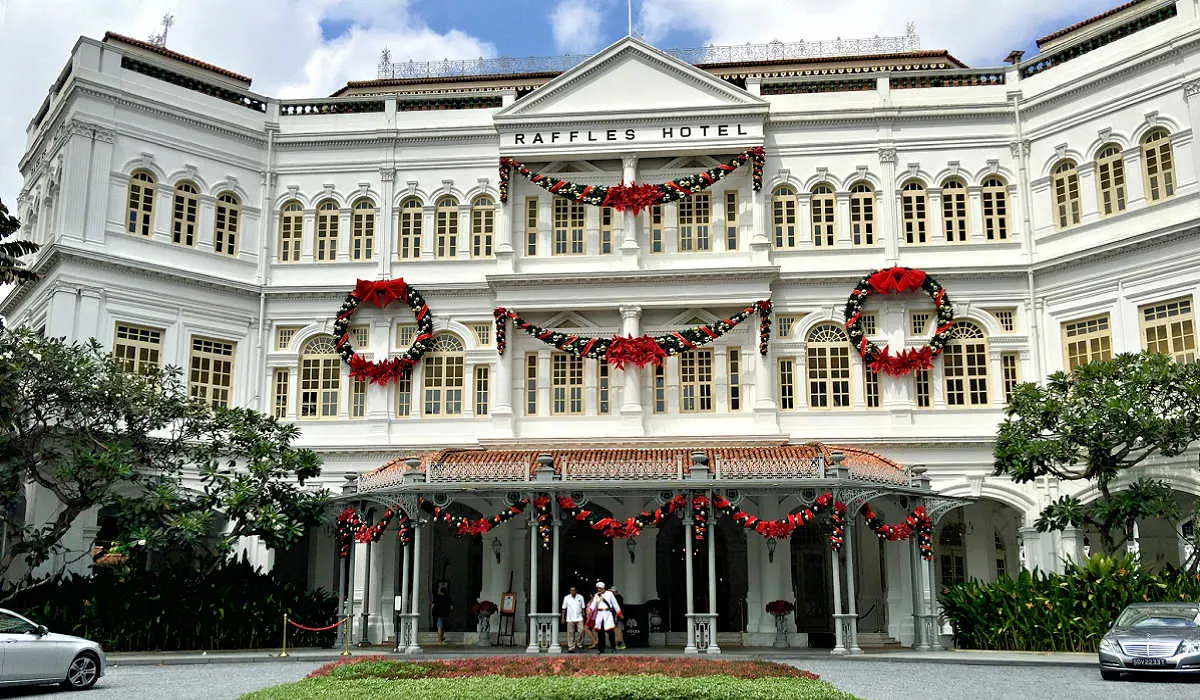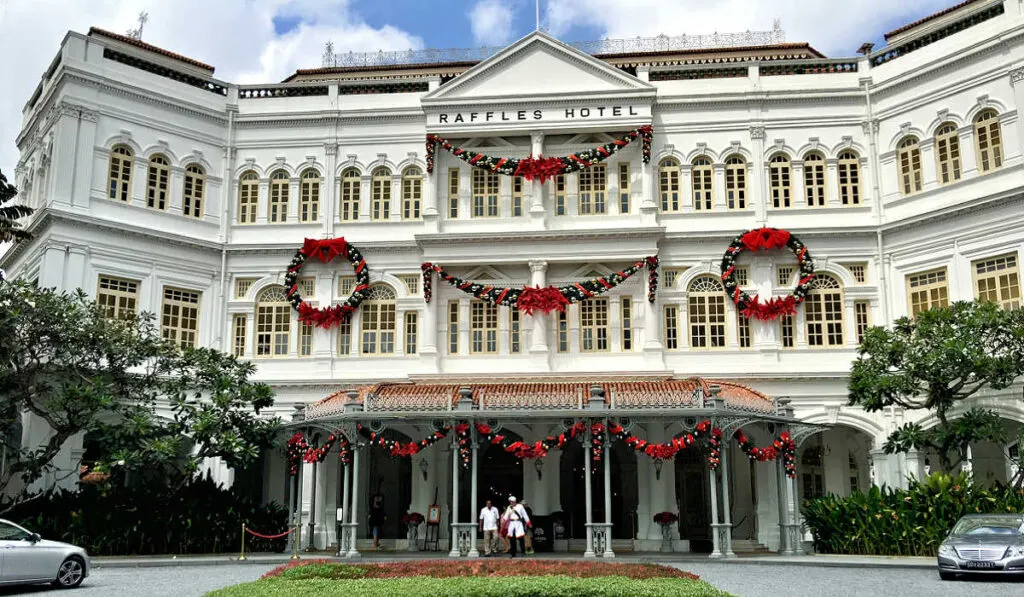 For hotels that won't break the bank, Pan Pacific Singapore offers panoramic views of the city skyline from Marina Bay. Located in the heart of downtown, guests can easily reach popular attractions.
With a fantastic fitness center, sumptuous buffets, and spacious rooms, this is a five-star hotel in every way.
Located near the Buddha Tooth Temple, the AMOY by Far East Hospitality has lovely rooms at reasonable prices. This boutique hotel has a lot of character and is close to many cultural places. Guests enjoy a lovely breakfast in the cafe.
The Quay Hotel provides a budget-friendly stay downtown. Guests can access an in-house restaurant, and the Clarke Quay MRT Station is nearby.
Singapore has many capsule hotels. If you want to stay on the cheap and don't mind sacrificing space, a capsule hotel provides a bed if you're not claustrophobic.
Getting Around Singapore
Since Singapore is a small country, you don't need a vehicle to get around. Their MRT (Mass Rapid Transit) provides fast and efficient transit from one area to another. You can use your foreign credit card to pay for rides; however, you'll pay exchange and administrative fees.
Instead, the Singapore Tourist Pass gives unlimited ridership for the number of days purchased. Alternatively, a Stored Value Smartcard costs SGD 12 and comes with an SGD 7 credit loaded to the card.
Singapore supplements its MRT with buses, which have an extensive network of routes. You'll enjoy a more scenic way to get around by riding a bus.
Taxis are readily available but may not be the most economical way to get around. Since Singapore has many toll roads, your fare may vary by the route chosen.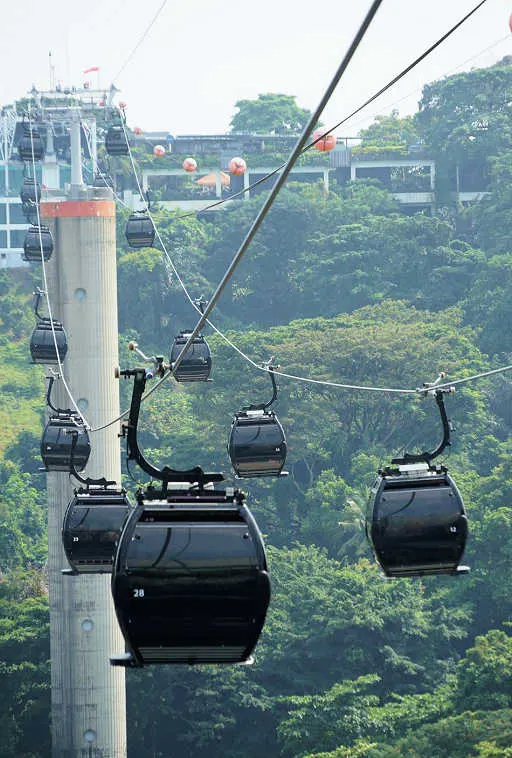 The Singapore cable car offers an overhead ride from Mount Faber to Sentosa Island. On the island, the Sentosa Line gets you from one area to another, all while enjoying the views from above.
Since Singapore is quite compact, you can also explore areas on a walking tour. So, here is a 5-day itinerary to beautiful Singapore with countless things to offer.
Day 1: Explore Singapore's Indian Culture
On the day of your arrival in Singapore, you can rest a bit and head towards the Kampong Glam neighborhood. Start your expedition from the "Little India and Arab Street." This place is a famous tourist spot so you will not face any problem finding it.
You can even use public transport to access the magical street. Arab Street has years-old structures, shops, and stalls filled with Arabian souvenirs and cultural items.
You can enjoy authentic Arabic food and snacks while walking around the street. The environment and the architecture will take on a spin of Arabic values in just a short time.
Alternatively, Haji Lane offers a vibrant atmosphere with eclectic shopping, mesmerizing street art, and quaint cafes. The diverse selection of goods is a little quirky, and maybe that's what makes Haji Lane so alluring.
You can continue your trip to the eastern region by visiting one of the most beautiful historical places in Singapore, "The Sultan Mosque." This mosque is just down the road from the Arabic and Indian streets.
With a history of almost three centuries, this is a must-visit place. Its majestic domes and glass bases, along with the grand prayer area, captivate your sense of seeing. The mosque is a national monument as well as the heart and soul of the Singaporean Muslim community.
To enjoy an explosion of color, pop by the Sri Veeramakaliamman Hindu Temple, initially built as a shrine to the Hindu Goddess Kali. The colorful figures on the exterior are as interesting as the temple's interior.
End your day with an authentic Turkish experience at the Anatolia Turkish Restaurant, a short walk away from Sultan Mosque.
This is one of the best places to immerse yourself in classic Turkish ambiance, with numerous sweets made from traditional Turkish recipes. You can enjoy a perfect dinner ending your night with exclusive Turkish drinks.
Day 2: Discover Singapore's History
Singapore is a hub of heritages from all the regions of the world. You will not find any place devoid of its rich culture with its numerous fantastic museums.
Among all these museums, National Museum Singapore is home to one of the most unique antiques and historical works. This place has two main galleries: the Singapore Living Galleries take you on a mini tour around Singapore.
They exhibit food, photography, films, and fashion from the country. The second house is the History Gallery, which summarizes the history of Singapore since the 14th century.
Alternatively, art enthusiasts may prefer the National Gallery Singapore. It features the most extensive collection of Singaporean and Southeast Asia art worldwide. The pieces date from the 19th century onwards.
Knowing about the history of a place is the best part of being a traveler. You can visit Fort Canning Park for a fresher experience of the past. It is located right in the center of Singapore and is one of the most significant historical buildings there.
Apart from its historical importance, lush green foliage fills the park. The environment is home to many stray birds, and there is always a pleasant wind blowing through the corridors and garden.
Alternatively, the ArtScience Museum allows you to enjoy rotating exhibitions at the Marina Bay Sands Resort. The building has interesting architecture, resembling a lotus flower. Its white exterior, with ten "fingertips" dominates the Singapore skyline.
Since your day went too formal, end it with a party at Clark Quay – one of the most popular places among travelers. This place is for people who like to stay up all night.
You can enjoy drinks and local food from the stalls and shops there. Walking down the streets, you will come across bungee jumping, and the mesmerizing neon lights display.
If you have the time, consider visiting Merlion Park, further down the Singapore River. The Merlion is a mythical creature with a lion's head and a fish body. Its head represents the current "Lion City" and the body, its humble beginning as a fishing village.
Day 3: Visit Singapore's Chinatown
No Singapore itinerary is complete without experiencing the beautiful Chinese heritage on the third day. Start it with a walk through Chinatown. This place can be a little busy but immerses you in Chinese culture.
You may want to skip souvenir shopping at Pagoda Street and save for all the scrumptious food at Smith Street. This is Chinatown Food Street with an exceptional display of Hawker Stalls.
If you want to know more about Chinese history, walk to the Buddha Tooth Relic Temple and Museum. The striking buddhist temple was constructed based on the Tang dynasty architectural style.
The four storey building houses a number of smaller museums and gold-gilded statues adorn its halls. You'll find the Nagapuspa Buddhist Culture Museum on the third floor, with relics from Thailand, Korea, China, and other Asian countries.
On your walk down the heritage road, the next stop should be Changi Museum. It is a Japanese museum that displays the history of Japan in WWII.
This place is divided into five sections, each with different writing scripts and audio-guided tours of the artifact's exhibitioner. The museum is specifically catered to people who have read and know about the history of World War II.
You've come to Singapore and haven't encountered any animals yet. Well, it's time to visit the Singapore Zoo, known for its rainforest environment.
It is famous for its eye-catching models of animals, designed to keep animals in larger spaces and make them feel less like entrapment.
This zoo is home to more than 300 animal species, 15% of which are endangered. For added excitement, take the river safari or night safari, where you can see animals that are active at night.
Jurong Bird Park has some feathered friends instead if you prefer to forego the zoo. With over 400 species in the bird park, you'll enjoy colorful varieties which are often not native to your country.
End your day by savoring a meal at Madame Fan, a Michelin-star restaurant offering Cantonese dishes. Be sure to try the chive dumplings and aromatic duck, while you listen to live music.
Day 4: Spend A Day On Sentosa Island
It's your 4th day, and it's high time to see a beach. From beaches to amusement parks and dine-ins, you name it, Sentosa Island has it. Resorts World Sentosa offers a diverse island playground to Singapore city.
Sentosa Island provides a day out for families or individuals seeking Singapore's bucket list adventures. Bungee jump, giant swing, and indoor skydiving are available on Sentosa Island.
It is an island resort on the southern coast that can be reached by road trips, cable cars, pedestrian boardwalks, and monorail.
This island takes you to exhilarating beach spots where you can do all the water activities and have a good family time. These beaches include Siloso Beach, Palawan Beach, and many more beach resorts you should explore.
Talking about exploration, nobody should miss the S.E.A Aquarium of Singapore. The sea aquarium is one of the world's largest, home to more than 10,000 marine animals from more than 40 underwater habitats.
From the depths of the sea to the heights, one should explore every part of the place they visit. The most exciting thing for people who like to take a quick scan is the viewing tower at Palawan Beach.
It provides a magnificent bird's eye view extending to Indonesia.
If you're a thrill lover, Sentosa has Universal Studios Singapore, with one of the world's fastest and most thrilling rides. The theme park has 28 rides amongst seven themed areas.
So, whether you are a solo traveler or a family person, this is your place. Don't miss out on the Trick Eye Museum; it is fun for both adults and children.
For a well prepared meal, check out The Kitchen Table on Sentosa Island. The service is impeccable, the food fresh, and the restaurant exudes a lovely ambiance.
Day 5: Enjoy Singapore's Gardens
Spend the last day of your 5-day Singapore itinerary in the most scenic areas. There is no such healer as nature, which the Singapore Botanic Gardens provides.
This place is filled with exotic plants and, of course, Singapore's national flower, orchids. The ducks and swans beautify the lakes and water bodies, which enhances the park.
The morning wind here feels very refreshing and purified. You can continue your tour for a nature spree at the Punggol Water Park.
If you're traveling to Singapore with a family, Punggol Waterway Park is a great place to enjoy the beauty of nature. This place is divided into four theme parks, each worth spending hours at; Recreation Zone, Heritage Zone, Nature Cove, and Green Gallery.
Alternatively, if you're a gardener, you may prefer Gardens by the Bay. Located on the river, it's a uniquely built green space that looks beautiful during the day.
At night, Supertree Grove provides a breathtaking light and music show called Garden Rhapsody.
Gardens by the Bay has three zones, and you won't be able to see it all on a five-day Singapore itinerary. However, pick what appeals to you.
Its Flower Dome is the largest glass greenhouse globally. Adjacent to it, you can enjoy the gentle mist of a waterfall inside the Cloud Dome. The Cloud Dome features a rainforest with picturesque waterfall.
The larger Flower Dome changes its theme depending on the season. You could enjoy a Christmas event, tulips in spring, or displays pertaining to the movie, Avatar.
We've done everything, but how can we miss shopping? Orchard Road is famous for its variety and availability of all kinds of products. This place is heavily packed and ideal for satisfying the shopping addict in you.
Orchard Road has 22 malls and 6 departmental stores; all of this in one place is quite a sight for a traveler. Moreover, it's a chance for you to interact with many different kinds of people at one stop.
Are Five Days Enough In Singapore?
A five-day trip to Singapore can cover most of the popular attractions, and you can tweak the itinerary to suit your interests.
If you want to capture the Singapore skyline, ride the Singapore Flyer or visit the Marina Bay Sands Skypark.
There is much more to do in Singapore other than the above attractions. Since Malaysia sits next to Singapore, some combine their trip with time in Malaysia. 355 km northwest, Kuala Lumpur, Malaysia's capital, has many exciting attractions of its own.
But if you are visiting for five days, that is how you can make the most of your trip. By not covering everything in Singapore, the country will entice you to return for an encore visit.