Are you looking for the best things to do in Aruba with kids? Then you are not alone! The beautiful shallow beaches of Aruba are a significant attraction for a family vacation each year.
While a lot of things on the island are adult-only and tailored to younger people, there are also plenty of family-friendly activities in Aruba.
I have been to Aruba recently – and found the best places for young and old!
Keep reading to learn about the best spots in Aruba to visit with your whole family!
Planning your trip to Aruba?
Where Is Aruba?
Aruba is in the Sothern Caribbean Sea and part of the ABC Islands – Aruba, Bonaire, and Curaçao. Since the islands aren't in the storm's path, visitors consider it a great destination and safe place to vacation during hurricane season.
So, if you plan to travel or cruise the Caribbean in September, Aruba makes a great choice.
With idyllic temperatures of 82 to 99 F (28 to 37 C), you can enjoy a vacation on land or by cruise ship. Oranjestad, a popular Caribbean cruise port, welcomes passengers to a small island with white sandy beaches.
On a cruise, you'll enjoy visiting several Caribbean Islands, although you'll only have one day on each. Extended itineraries from Florida, may include the Bahamas, Puerto Rico, St. Kitts, Grand Cayman, or one the Dominican Republic cruise ports.
By staying on land, you'll have your choice of the following family fun activities.
1. Eagle Beach
Eagle Beach is one of the most popular beaches in Aruba, and for good reason. Its symbolic Divi Divi trees grace the seashore and provide a lovely vision against the blue ocean.
TripAdvisor named Eagle Beach as the second best beach in the world because of its white sand, gentle waters, and idyllic sunsets.
The combination of pristine sandy, crystal-clear waters and iconic trees rank it as one of the best beaches globally. After one visit, you might agree!
You can spend a fun day playing in the soft white sand. The calm waters are perfect for kids to play and swim – and many tour operators offer water sports and fun things to do, like banana boats, for older children.
2. Butterfly Farm
The Aruba Butterfly Farm is one of my favorite places on the island – and it is an excellent place in Aruba for children.
Young and old can learn about the colorful little animals in an interactive and informative way. You'll see dozens of different species, including the majestic Monarch.
Pro tip: wear bright-colored shirts and dresses, and the butterflies might even land on you for a picture.
3. Arikok National Park
The Arikok National Park is a fantastic place for a family excursion. You can explore the unique national park and check out hiking trails, ancient caves many different animals.
The Guadirikiri caves, a highlight, are illuminated by sunlight streaming through a hole in the ceiling. Kids will love the adventure and exploring the beautiful natural landscape of this park.
To elevate the adventure, rent a buggy or a 4 x 4 – and start exploring!
4. Jolly Pirate Sail
If you're looking for some pirate fun, the Jolly Pirate Sail allows your kids to be pirates for a day. This unforgettable Aruba excursion enables you to sail around the island on a big, wooden pirate ship.
My favorite part about this ship is the rope from where you can flip yourself in the water. Jolly Pirate Sail offers different snorkel tours and even Aruba Sunset Sails for an extra memorable experience.
5. Baby Beach
Baby Beach is a unique, and and one of the best beach options in Aruba for families. The water is clean and shallow, and there are small tents for rent to shield yourselves from the sun.
The best thing about Baby Beach is the stunning marine life. So, if your kids are snorkel enthusiasts, this is your place to be. If they're new to the sport, it's an ideal place to enjoy their first snorkeling experience.
6. Aruba Donkey Sanctuary
The Aruba Donkey Sanctuary in Santa Cruz is a great place to visit with young kids. If you're traveling on a budget, you'll appreciate the free access, although donations are gratefully accepted.
The rescued donkeys are super sweet, and meeting them firsthand is a great experience. Teaching children a responsible way to interact with animals is also very important, making this an excellent place for it.
7. San Nicolaas Village
San Nicolaas Village, known as the "sunrise city," is a cultural center in Aruba. The village is off the beaten track but has some cool features.
A big street-art competition used to be held in the village, so now many walls are covered with beautiful, colorful murals.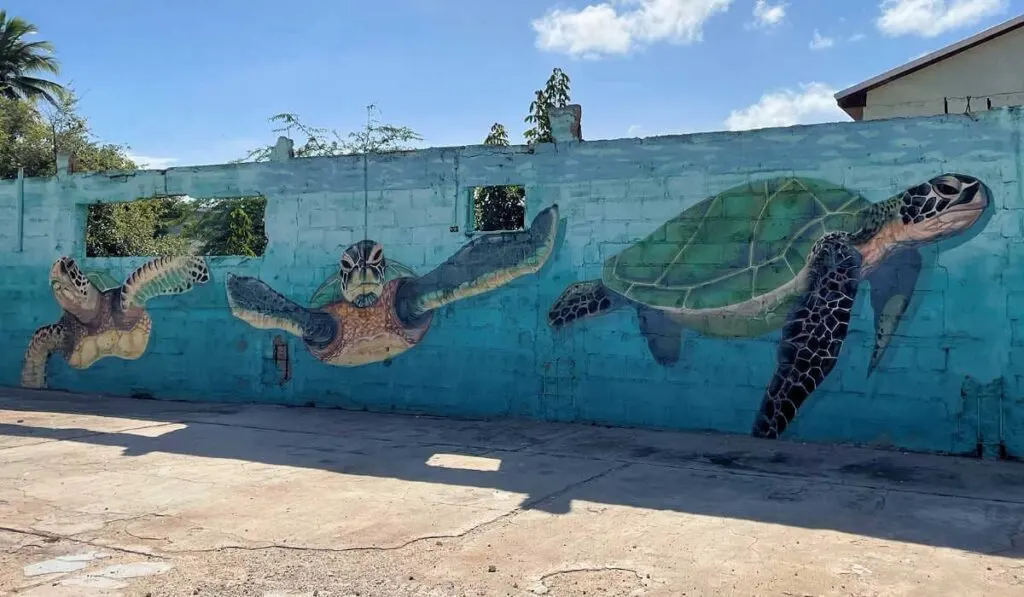 You can see stunning street art and enjoy a great spot for some Instagram pictures from Aruba at the same time.
8. De Palm Island
Palm Island is an all-inclusive private island in Aruba and a family paradise. It could be compared to cruise lines' private islands such as CocoCay.
It offers water park activities, snorkeling, zip-lining, banana boat rides, and more. While it's pretty pricey, you'll enjoy an all-day experience and a chance to see the pink flamingos.
Kids will love the water slides and the incredible snorkeling opportunities on Palm Island. The entrance fee includes unlimited food and beverages, with options to add on SNUBA and sea trek.
9. Eat At The Flying Fishbone
The flying fishbone is one of my favorite restaurants in Aruba – and your children will love it.
As one of Aruba's best beachfront restaurants, the staff will serve you dinner at the beach while you feel the sand between your toes.
With views of Crescent Bay and a great seafood selection, could you ask for anything more? The food is excellent, and there is something for every taste.
After your on-the-beach meal, you can buy colorful shirts for the entire family on the way out.
10. Splash Park Aruba
Splash Park Aruba is a fantastic and ultimate water adventure playground. Located near the Palm Beach area, kids and kids at heart can spend hours on the inflatables.
The obstacle course features slides, climbing towers, and jungle gyms. It is an excellent place for your small ones to cool off and have a blast with splash pads and other fabulous attractions.
11. See the Ayo Rock Formations
The Ayo Rock Formations and Casibari boulders are monolithic rock deposits that look like they're from another world.
They create a sense of awe – and kids will love to explore the rugged area around them and learn about the ancient stones.
12. Atlantis Submarine Expedition
Embark on an underwater adventure with a submarine tour of Aruba that your children will love. You can enjoy stunning views of Aruba's marine life without getting wet.
So, if you're not into snorkeling, the submarine provides an effortless way to view the underwater world. The sub has multiple round windows providing all guests with perfect views.
This excursion is fun and educational at the same time, and who knows, you might even see a shipwreck!
13. Aruba Ostrich Farm
Animal lovers will not be short of things to do in Aruba. The Aruba Ostrich Farm is another place your kids will love.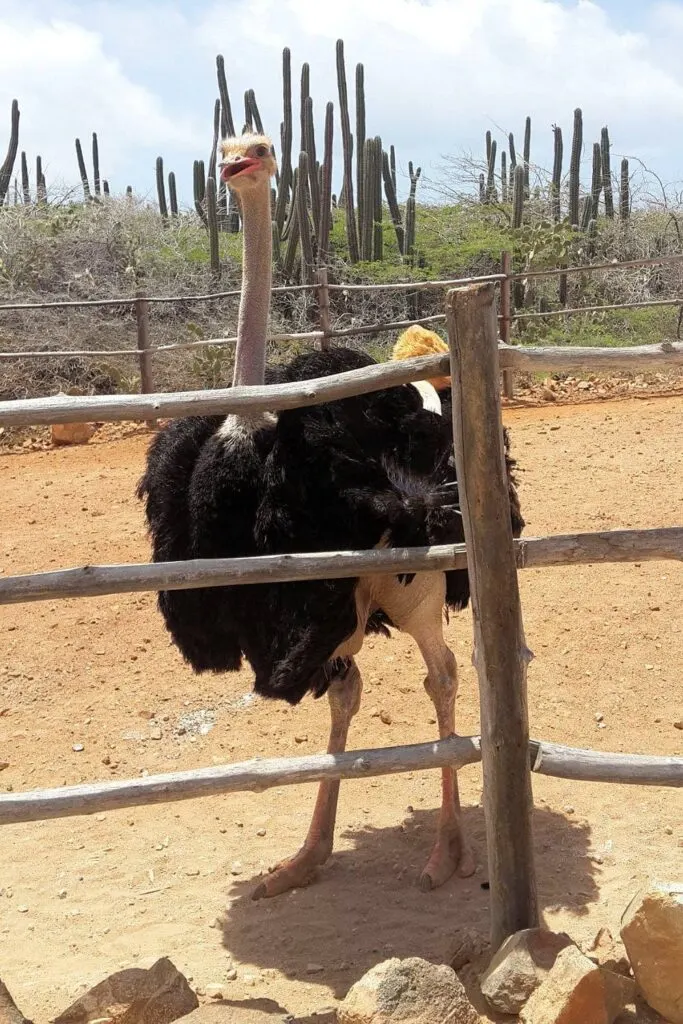 You will meet the animals and learn so many interesting facts about them. My favorite part is a visit to the hatchery and, of course, hand-feed the big birds.
14. Philip's Animal Garden
Philip's Animal Garden provides a home to hundreds of rescued exotic animals. The not-for-profit shelter allows kids to interact with many different species, including parrots, reptiles, and mammals.
The rescue offers many educational and interactive tours. During a visit, children can feed, pet, and learn about the animals in a safe and relaxed environment.
15. California Lighthouse
Located on the northwestern island's tip, the California Lighthouse provides an adventure that kids will love. This landmark was constructed in 1910 and has stood the test of time.
You can create an adventure by climbing the California Lighthouse and learning about its past functions.
You'll get amazing panoramic views of the island's coast from the top. Near the California Lighthouse are some great beaches, like Boca Catalina, that are amazing for snorkeling so that you can combine the trip.
16. Aruba Aloe Museum and Factory
The Aruba Aloe Museum is a fantastic place to visit for families in Aruba.
You can discover the history and benefits of aloe vera at the Aruba Aloe Museum. Later, you can visit the factory and have a look around.
Kids can learn about the aloe plant's healing properties and how the factory produces aloe products.
Best of all: the tour is free and a great place to get some souvenirs.
17. Horseback Riding Tours
If your children are a bit older, a guided horseback tour provides a unique way to see the island. Many different tour operators offer horseback riding adventures for beginners and experienced riders.
Tours typically last two hours, and you can select where to ride. So, whether it's a trip to the beach or a ride to Arikok National Park, it's a sightseeing adventure for young and old.
18. Hike Up The Hooiberg
Consider a hike if you prefer to avoid the tours and enjoy a DIY adventure.
A family hike up Hooiberg provides a great bonding activity for families.
The Hooiberg is a volcanic mountain with 561 steps to the top. The hike is relatively easy and suitable for those with any hiking ability.
From the top, you have terrific views of the island. It is totally worth the climb.
19. Archaeological Museum Of Aruba
If your children are interested in history, the Archaeological Museum of Aruba has thousands of intriguing artifacts.
You can visit the museum to learn about the island's indigenous history and culture. And the best part is, it's free!
Kids can discover incredible artifacts and understand the heritage of Aruba's indigenous inhabitants – brought to them in an easy and understandable manner.
20. Blue Parrotfish Water Park
Blue Parrotfish Water Park in Santa Cruz offers an exhilarating experience for kids. The park boasts thrilling water slides, lazy rivers, and splash pads, providing endless fun and excitement.
Lifeguards diligently ensure guests' safety while immersing themselves in the aquatic adventure. They ask for a small entrance fee, which is pretty decent.
Things To Know Before Going To Aruba With Kids
Aruba has a great and sunny climate year-round. It can get hot during the day, so pack light and comfortable clothing for your kids. Rashguard clothing pieces are recommended, provide UPF50+ protection, and are fast drying.
The sun in Aruba is powerful. Bring sunscreen, hats, and sunglasses for your family. Select a "reef-safe" sunscreen to protect marine wildlife.
Always supervise children near the water. While most beaches are shallow and the water is calm, some beaches might have strong currents. Snorkel tours on the open water might not suit children who can't swim well yet.
Bring mosquito protection! To prevent mosquito bites, you should use insect repellent, especially in the evening.
Tap water is safe to drink, but you may prefer bottled water for your kids.
Aruba is pretty safe and family-friendly. There is no need to be over concerned, but still, be cautious of pickpockets and scammers.
Aruba is relatively expensive. Make sure to plan for bigger expenditures on the island ahead of time.
How to Get Around Aruba With Kids
A rental car from the airport provides the best mode of transportation for families. You will need a vehicle to go almost anywhere on the island. Alternatively, you can rent cars from most hotels and pick one up for a few days when needed.
Taxis can be expensive if you utilize them frequently. While taxis are easy to find at major hotels, finding one in remote locations is challenging.
If you get a rental car, remember that some paths on the island are rocky and uneven (especially in the National Park). It is advisable to rent an SUV if you plan on exploring.
Where To Stay In Aruba With Kids
Aruba is an excellent destination for families because many hotels offer babysitting and activities for children. There are a couple of notable areas in Aruba to stay. Here are some of my favorites:
1. Palm Beach is known for beautiful beaches, calm waters, and a wide range of family-oriented resorts. Most have kid-friendly pools (with lifeguards), water parks, and even supervised kids' clubs. Divi Aruba Beach Resort is our number one choice.
2. Eagle Beach is another fantastic option for families. It also has soft white sands and shallow waters, ideal for those with young children. You can find resorts and vacation rentals on Eagle Beach.
3. Oranjestad: Staying in the capital city of Aruba also has its perks. You can enjoy the city while still being relatively close to some beaches.
There are many great resorts in Oranjestad, but I suggest staying at the Renaissance Wind Creek Resort if you plan to visit the Flamingos of Aruba.
4. If you prefer to stay in a vacation rental home or an Airbnb, consider Savaneta, Baby Beach, or the area around Mangel Halto Beach.
FAQ:
Is Aruba an excellent place to visit with kids?
Aruba is an ideal destination for families with children. The island boasts pristine and shallow waters, making it safe and enjoyable for kids to swim and play.
Additionally, numerous resorts on the island cater specifically to families, offering a range of amenities and activities suitable for children of all ages.
With its abundance of family-friendly entertainment options, Aruba is a must-visit destination for families looking to create lasting memories.
Can kids snorkel in Aruba?
Yes, kids can snorkel in Aruba, even if they've had no previous experience. Many great snorkel spots in Aruba just off the coast have shallow waters and no current.
Baby Beach is one of the best snorkel spots for kids. Of course, you can also book a guided snorkel tour suitable for children, giving them more confidence in snorkeling gear.
Can kids go to Flamingo Beach in Aruba?
Yes, Flamingo Beach allows children to visit for an hour every morning. Flamingo Beach on Renaissance Island is adults-only for the rest of the day.
Iguana Beach on Renaissance Island is a family-friendly alternative that you can visit.
Is it safe to swim in the ocean in Aruba?
Yes. The water is shallow, crystal-clear, and clean. The current is usually not strong, so even beginners can swim in Aruba's ocean. Of course, checking the situation once you arrive is always advisable.
If you're concerned about ocean swimming, use the resort swimming pools instead. Some include a lifeguard.
Conclusion: Aruba With Kids
Aruba offers a wide range of activities and attractions for visitors of all ages. Whether you're looking for a relaxing day at Palm Island or an adventurous snorkeling experience at Baby Beach, there is something for everyone to enjoy.
This island offers a safe and clean environment, with well-organized infrastructure to ensure a smooth and enjoyable experience.
So, whether you're exploring the stunning Arikok National Park, snorkeling with vibrant tropical fish, or embarking on a thrilling Pirate Sail adventure, you'll create some incredible memories while vacationing in Aruba.
Explore the beautiful beaches, indulge in water sports, or immerse yourself in the vibrant local culture. Aruba has it all!