If you're new to cruising, debarkation day or cruise disembarkation is the last day of your cruise. In contrast, embarkation day is the first day. It's the day you step off your cruise ship for the last time.
While this may be the saddest day of your vacation, don't fret. There's always the opportunity to cruise again. If you enjoyed the holiday, you might have already booked the next one on board, scoring free onboard credit.
However, disembarking your cruise ship is unlike checking out of a hotel. It's not about handing over the keys and leaving with your luggage.
These debarkation day cruise tips walk you through the process of ending your cruise vacation.
Depending on your cruise ship's size, 3,000 to 4,000 or more passengers could leave the vessel at once. As you can imagine, this makes for a logistical nightmare to get everyone off quickly and safely while preparing for a new batch of passengers to start the next cruise.
It also means moving 5,000 or more pieces of luggage and finalizing thousands of bills. On average, it takes two hours or longer to complete cruise debarkation.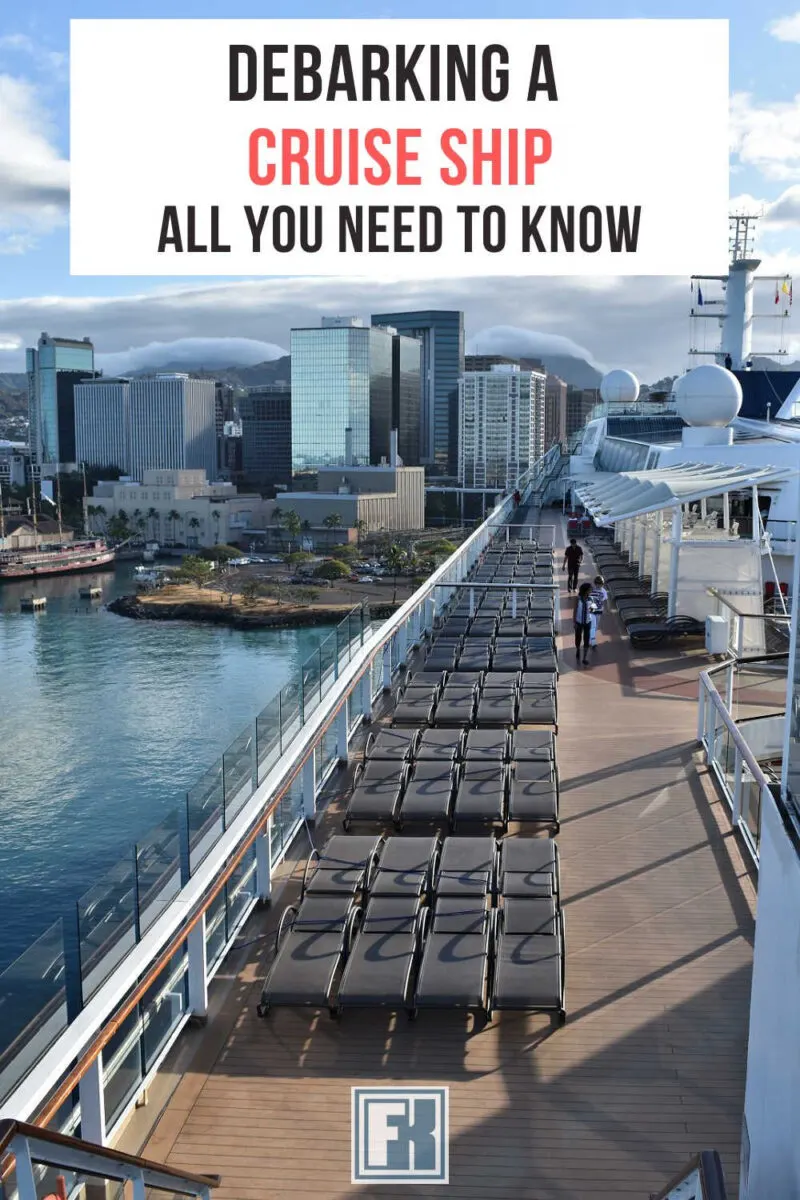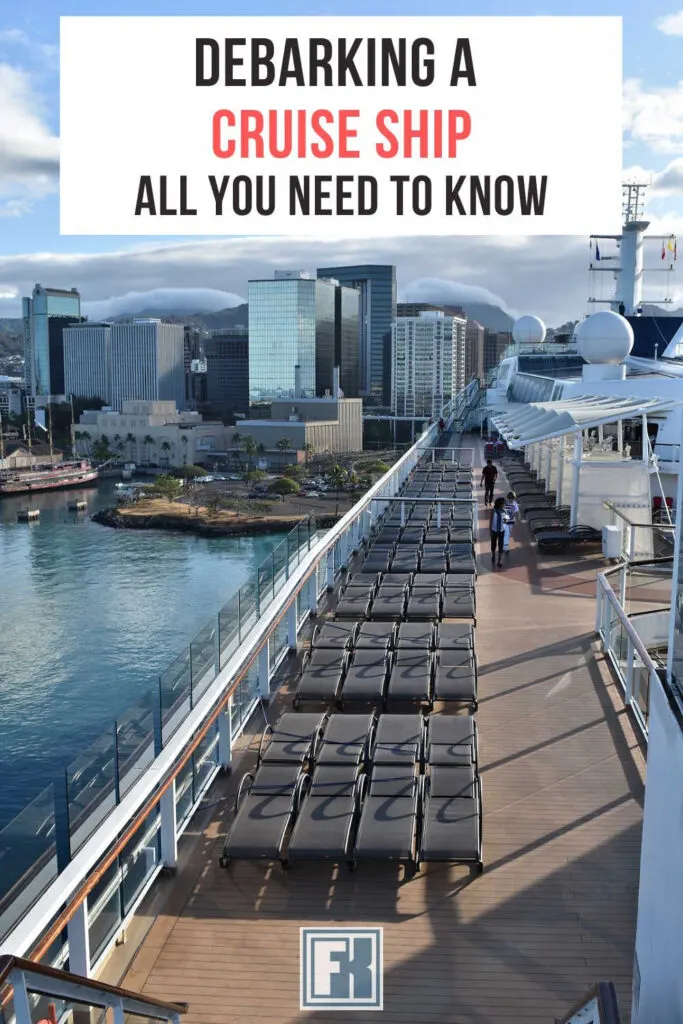 There are set rules for debarkation, and they are as follows. I wish I had known these debarkation day cruise tips before my first cruise!
Preparation For Debarkation Day Or Disembarkation Day
The process for debarkation requires some orchestrated planning. Usually, your cruise ship will deliver a disembarkation form to your stateroom two days before the end of your cruise.
You must fill out a form stating whether or not you have a connecting flight out of your port of disembarkation the day the ship docks. They will want to know the time and whether you have arranged a shuttle.
Passengers can also opt for "self disembarkation" on this form. Passengers are assigned a group and debarkation place and time-based on flight departure times.
Suppose you are not flying home the day you disembark your ship. In that case, you will probably be given a debarkation time later in the morning.
You must fill out this form at the required time to be able to disembark at your preferred time.
Once the forms are received, cruise lines allocate time slots for passengers to leave the cruise ship. Colored and numbered luggage tags corresponding to your debarkation time are provided, which must be attached to checked luggage.
Some cruise companies have made some slight changes to their debarkation process. Instead of delivering forms to staterooms, passengers must visit the guest services area to collect their colored and numbered luggage tags.
The tags are available on a first-come, first-served basis. Carnival Cruises uses this process for debarkation. This process reduces paper waste and allows cruisers to select their debarkation time.
What if your cruise ship gives you a time that doesn't work for you? Then visit the guest services desk and request another time. In most cases, they can accommodate you.
Customs Declaration
Suppose you have traveled to a different country. If you have traveled to another country, the authorities require you to complete a customs declaration form when you complete your cruise. In most cases, each family can fill out one form.
Suppose you have purchased any duty-free items or alcohol purchases during your cruise. In that case, your steward will deliver the sealed alcohol bags to your stateroom on the last day of your vacation.
If you have any items shipped by mail to your home, you must include these on your declaration.
What Time Do Cruise Ships Disembark?
Most cruise ships arrive at their debarkation port between 7 am and 8 am. You will not be allowed to leave the vessel the moment it docks.
Cruise ships must receive clearance from the port authority before disembarkation takes place. Approval can take an hour or longer. It's essential to be in a public area of the cruise ship so you can listen to the PA announcements.
Can You Disembark A Cruise Ship Early?
Should you wish to disembark a day or two before the end of your cruise, most cruise lines will allow it. However, you must inform your cruise line at least 24 hours before the day you wish to debark.
The crew must notify the port authority and have permission for your early disembarkation.
What Is Self-Disembarkation?
If you prefer not to do checked luggage, you can participate in self-disembarkation or express debarkation. You can disembark the ship early if you carry all your luggage.
I tend not to travel with many suitcases, so I have done an express Carnival debarkation. Self-debarkation allows you to keep all your belonging with you until it's time to leave the ship for the last time.
It also removes the worry of trying to find my luggage after leaving the ship. Self-debarkation is excellent if you have an early flight home because it allows you to skip luggage claims and head straight to customs.
Being one of the early birds off the cruise ship means you can get a taxi or rideshare, should you require one. Think about it, there are only so many taxis. If you leave the vessel late, chances are there will be a considerable line of passengers waiting for a cab.
It's best to get off early or pre-arrange a shuttle, especially if you're trying to catch a flight.
Regular Debarkation
Most cruise lines will give you a set time to have your luggage packed and put outside your cabin on the last night of your cruise. During a trip on the Majestic Princess, I had to have my luggage outside my stateroom before going to dinner.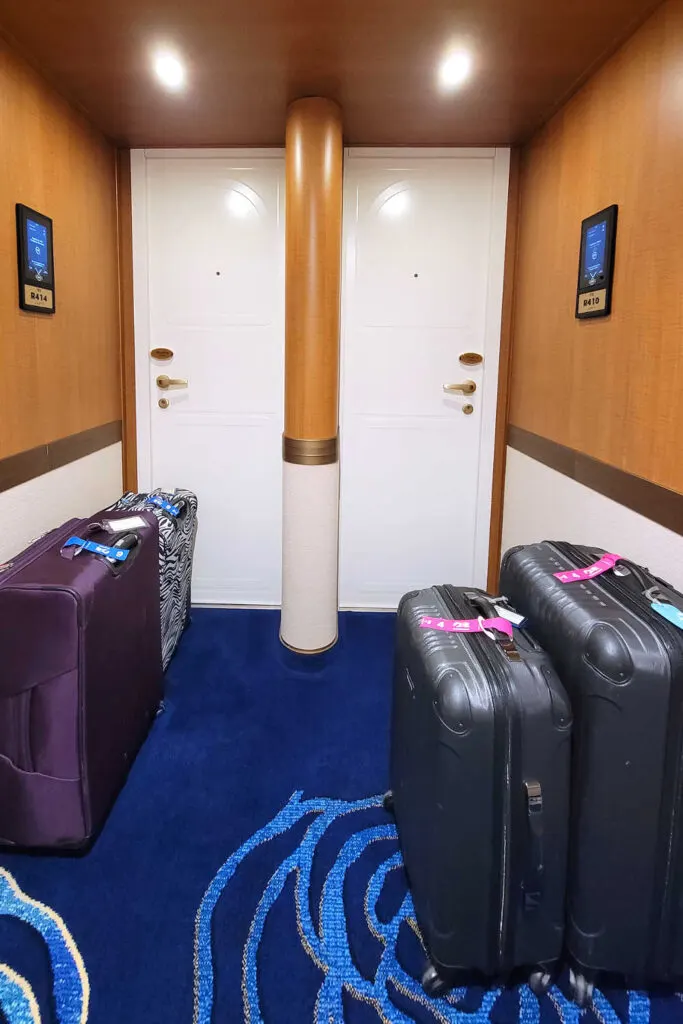 Since we had an early dinner seating, we didn't finish packing until after dinner. It was okay because everyone ate at different times. The porters kept coming around at night, collecting all the suitcases and moving them down to the lower decks.
The time you need to leave your luggage at the door varies by cruise line, but it's always done the night before.
It's best not to pack anything valuable. Although rare, there have been instances of theft from luggage left in the hallways. Keep electronics, medication, and valuables in your carry-on bags.
Do cruise ships check your bags? I've never had my luggage checked at the port, but security opened it at the airport.
It's important not to pack everything. Keep whatever toiletries you need, medication, passports, cruise cards, Ocean Medallions, and clothing you need for the next day, plus a carry-on bag (or a carry-off bag).
Onboard Account
On your last night, your steward will deliver a copy of your onboard account to your stateroom. However, some cruise lines do this process on an app.
You must check your account for any errors. Should there be any, head to guest services to discuss the mistakes? I have had things that were not my purchases added to my statement, so don't assume your bill is correct.
However, you only need to do something if everything looks good. The cruise line will charge the final bill to whatever credit card you gave them on embarkation day.
If you want to pay in cash, you must speak to your guest service person to pay and finalize your bill.
Don't think you can leave the ship without paying your bill if you're given a cash deposit and have not registered a credit card. You will only be allowed to disembark if you pay the account.
Should you travel home and find an added expense that wasn't yours, chances are, the cruise line will not reimburse you. Once you disembark, your statement is considered correct.
Bear in mind; if you need to talk to guest services, the line will be lengthy. It's not unusual to find passengers arguing about cruise gratuities.
It's important to realize that not paying cruise gratuities results in your steward and servers not being paid for their hard work.
The Night Before Debarkation Day
On the last night of the cruise, it's good to write thank you cards and leave tips. The staff who gave you exceptional service during your cruise appreciate the gesture.
Don't wait until debarkation day because you may not find the waiter who made you laugh at dinner or the Maitre D who made sure the kitchen cooked your special meals correctly.
Should you want to purchase any photos, the last night is the best time to make your purchases. I made the mistake of waiting until the morning, but the staff had already disposed of the photos.
Don't wait until the last minute, or you may miss out.
If you are on a cruise ship with self-serve laundry and continuing your vacation, do laundry. I often combine my cruises with land-based itineraries, so I usually do the laundry partway through my vacation.
Washing clothes results in packing lighter and prevents overweight charges at the airport. It also means I have extra space to bring goodies home!
The Cruise Is Over, Now What?
While your cruise is over, there's no better way to deal with the post-cruise blues than to arrange another vacation. So, head to the future cruise desk, check out the cruise deals and book your next adventure.
Most cruise lines offer incentives like complimentary onboard credit, smaller deposits, and sometimes better pricing. It's much easier stepping off a cruise ship knowing that you'll be back again soon.
If you're a gambler and spent any time in the casino, make sure you stop by the casino one last time to cash out your cruise card. Should you have money left on your card, it would be lost if you left the ship without cashing it out.
Debarkation Day
If you've checked your luggage, you can't jump the line by leaving the cruise ship early. While you might successfully get off before your cruise disembarkation time, your luggage won't be waiting for you.
It takes a couple of hours to get every passenger off a cruise ship, and the porters move the baggage in batches corresponding to their numbered tags.
On the last morning, the cruise line requests you leave your stateroom by a set time (usually 9 am). Do not sleep in because the stewards must clean every stateroom and change every bed before the next crowd arrives.
Double-check your stateroom to be sure you haven't left anything behind.
We asked our steward if we could leave our carry-on bag in our stateroom during my last cruise and collect it after breakfast. He allowed us to leave it as long as he could clean the room and change the linens.
One cruise tip is to avoid clogging the hallways or waiting near the gangway on debarkation morning. Listen to the PA system and remain in the designated areas until they call your number.
You will need your cruise ship card to sign out one last time as you exit the ship. Cruise ship security will be out in full force to ensure everyone leaves safely and the ship can begin embarkation for the next trip.
Back-To-Back Cruises
If you have booked a back-to-back cruise, your cruise line will give you instructions for turnaround day. Sometimes, passengers must leave the ship, go through security, and board again.
Other times, I have stayed on board and obtained a new sail card at guest services. I have booked back-to-back cruises on Princess Cruises and Holland America.
Cruisers must pay onboard accounts in full at the end of the first cruise. Then the cruise line will activate a new account at the start of the second leg.
If you're moving staterooms, you only need to pack toiletries and things in drawers. Your steward will put your hanging clothes on a rolling clothes cart and move them to your new cabin. In most cases, the new stateroom is available right away.
Other Debarkation Day Tips
When booking a flight home, ensure you've allowed enough time to disembark and reach the airport in plenty of time for your flight.
Bear in mind that cruise ship ports are only sometimes close to an international airport. Also, traffic may be congested, and there may be a long wait for a taxi, especially with multiple ships in port.
Traveling during Covid has made international travel challenging. Some countries require travelers to have a negative Covid test to fly home. I recently took my first post-pandemic cruise and needed a negative antigen test before I could check-in for my flight.
You need to allow sufficient time between disembarkation and your flight, so sometimes it's best to pre-arrange a shuttle to the airport. If you've chosen a later debarkation time, taxis and rideshare are not readily available. Also, due to short supply, rideshare prices can double.
If your flight is late in the day, some passengers opt for a debarkation day excursion. Take the hassle out of renting a car and knowing what to do by booking a tour. Once your tour is complete, the cruise line drops you and your luggage at the airport.
First-time cruise passengers may find disembarking from a cruise ship confusing. Most cruise ships will have a debarkation talk playing on their stateroom TV or app a day or two before the event. Be sure to watch it if you need help with what to do.
Should you have breakfast before debarkation? Absolutely, especially if you have a long travel day ahead. The buffet and restaurant are open for breakfast on the last day of your cruise, so fill your belly one last time.
Some cruise lines allow passengers to extend their stay onboard until the afternoon. This paid service is available in select ports.
Those extending their stay must debark the ship, pick up their luggage, and check it into a designated area. Staying onboard allows you to use the pool and other facilities for a while longer.
Post Debarkation Tips
After debarkation and at the cruise terminal, you'll need to clear customs (if you've traveled to another country) and hand in your customs declaration.
Proceed to the baggage claim area and find the number corresponding to your debarkation tags. Your luggage should be ready to collect if you've disembarked at the correct time.
Be sure to check your luggage tag because there are thousands of pieces and likely some exact matches to yours. If you've booked a shore excursion, gather at the meeting place with your luggage.
When you arrive home, remember to complete your cruise lines questionnaire and leave reviews of your cruise experience. Remember to register online to obtain a loyalty number if it's your first cruise with that line.
Loyalty members earn points for every cruise, which translates to future savings, perks, free upgrades, and other benefits.
Happy travels ~ Karen