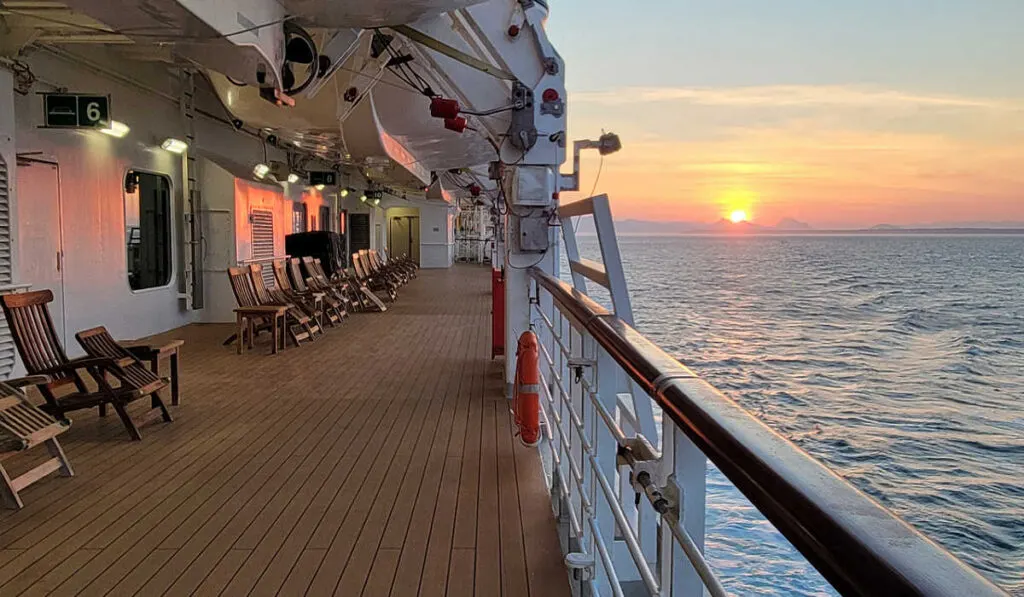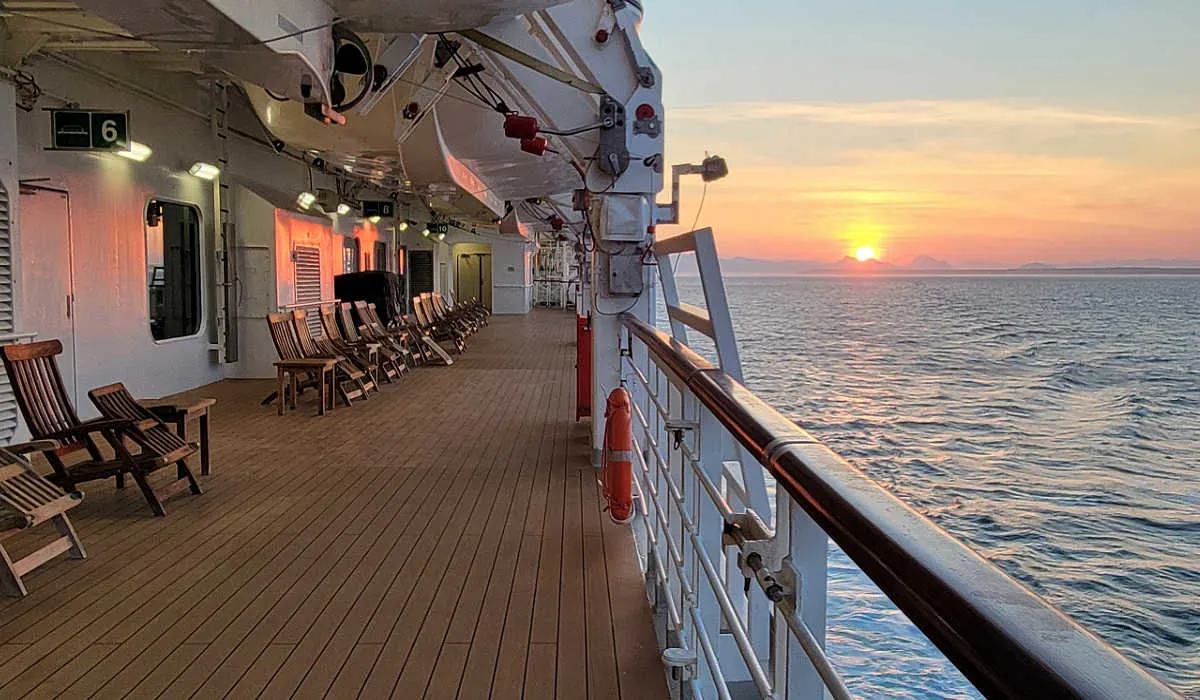 Cruising is a great way to travel and can be the most economical way to see the world. Let's face it; we are all looking for cruise bargains. This article will teach you the best ways to score cruise deals.
Getting a reasonable price on a cruise isn't by chance. Sometimes it has to do with timing, but there are other proven ways to pay less.
When you compare cruising to an all-inclusive, cruisers actually get a lot of bang for their buck. But you need to compare apples to apples, see what's included, and look at the extra costs.
Book Through Discount Websites
Do your homework online. The internet is a fantastic tool and allows you to window shop from the comfort of your home in your pajamas if you prefer!
For instance, the following sites often list discounted cruises.
Cruise Direct. Since Cruise Direct only sells cruises, their travel specialists are knowledgeable in their field. They also offer a guaranteed lowest price on their discount cruises.
Expedia. Expedia makes booking a discount cruise easy. They have a points system, so you can earn discounts on cruises, hotels, car rentals, and more.
Vacations To Go. It has daily specials and a 90-day ticker. I have booked many cruises through this site and have been thoroughly pleased. My back-to-back Alaska cruise cost me USD 349 per week for a total of USD 700 for a 14-day vacation.
Some cruisers are fans of Costco Travel. However, they are consistently more expensive than the sites listed above. I have never booked through Costco Travel.
Sail In The Shoulder Season
Instead of sailing during the summer months, consider sailing off-season to score better pricing. However, this will vary by area, and each destination has its cheapest time to cruise.
For instance, lower prices are offered during hurricane season and during cooler weather.
If you're considering South America, New England cruises, Alaska, a river cruise, or even a world cruise, these all have shoulder seasons.
Chance A Guarantee Cabin
Instead of a balcony, book an inside cabin. Let's face it, how much time do you spend in your cabin? I took my first cruise when I was newly divorced and became a single mom.
While I saved hard and could afford a balcony, it would be little leftover money to do anything else. Under those circumstances, I gave my daughter, then 13, the option of choosing our cabin.
We could either book a balcony with no excursions or an inside with a choice of any tour of her choosing. Consequently, she picked the inside because, after all, how much time would we spend there? As a result, I fulfilled her wish of dog sledding on a glacier.
Although that was many years ago, I can still picture her beaming smile as she "mushed" our dog team around a glacier………. a memory I will cherish forever.
Booking a guaranteed stateroom where the cruise line picks your room can save significant money. However, since the cabins are the cheapest, you must be prepared to take whatever the cruise lines give you.
I have booked several guaranteed staterooms and have always been happy with my cabin location. Of course, this is a game of chance.
Ask yourself, "Is saving money worth the risk of ending up in a bad cabin?" Also, "what are the chances of receiving a significant upgrade?"
While I was allocated cabins on higher decks and quiet places, I could have ended up with a room next to an elevator or over a nightclub.
So, if you are sensitive to noise or suffer from motion sickness, booking a guaranteed stateroom might not be best for you.
Your cabin will not be assigned to you until a few weeks to a few days before embarkation. Furthermore, if you are unhappy with the cabin given to you, there is little chance of changing it.
If you want to request a chance, wait until the second day of your cruise. Then, visit the customer service desk on board, hoping there are some empty staterooms.
Share With More Than Two
Cruising with more than two people in a cabin at reduced prices can save money. Sometimes the 3rd and 4th guests sharing the same stateroom are half-price or even free.
If the 3rd and 4th person is complimentary, you can split the cost of two passengers among four people making it an affordable vacation.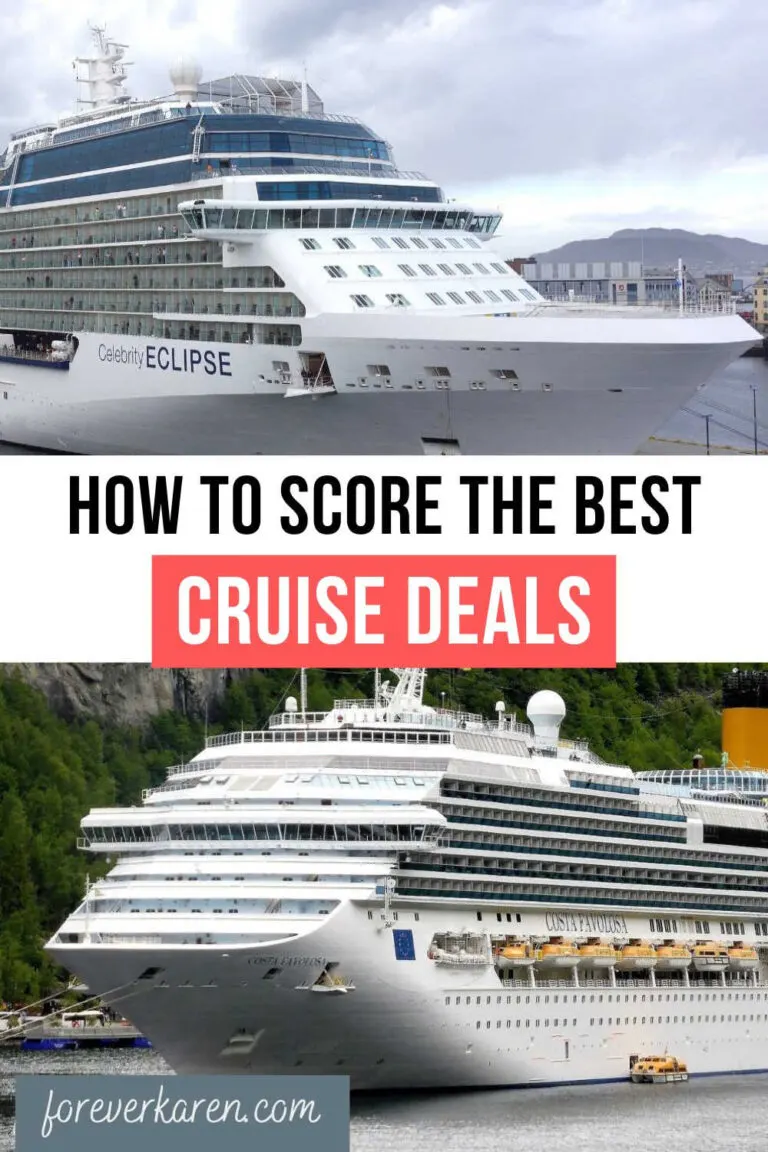 Bear in mind cabins are small, and you'll have one bathroom, so you'll want to utilize your cruise cabin storage.
Given these points, this is the deal most families should wait for to save money.
Sail On An Older Vessel
Pricing on older vessels is generally cheaper than on newer ones. The new Mega ships cost significantly more money due to the latest attractions which families prefer.
Older ships can save money, although they may have fewer amenities and attractions. Cruise lines are re-investing money into their older vessels, making them more attractive to passengers.
Therefore, refurbished ships now have many of the newer features passengers want.
Cruise Without The "Perks"
Compare prices when there are so-called "free perks." It's essential to note perks are NEVER free.
Cruise lines build them into the price and advertise them as free. Sometimes you can purchase a cruise without the perks.
Compare the cost. I booked a 12 days cruise that offered two free perks from the following; a classic drink package, free internet, USD 100 on-board-credit (OBC) per person, or free gratuities.
Since I don't drink, the next best choices are free gratuities and OBC. This is a savings of USD 274 per person, but the cruise price was increased by USD 500.
Since it didn't make sense to pay USD 500 to save USD 274, I declined the so-called free perks and booked the resident rate with USD 500 in savings per person.
Book Your Next Cruise Onboard
When looking for cheap cruises, book your next cruise while onboard your last one. If you plan to cruise again soon, it makes sense to book onboard if you intend to sail the same cruise line again.
Some cruise lines offer small discounts, free onboard credits, and lower deposits. Bear in mind, you must sail within a specific amount of time. Here is a chart of the onboard credit you can earn on selected cruise lines.
Cruise Line

Deposit
Onboard Credit
Years to use
Norwegian
USD 250
Instant USD 100
4 years
Royal Caribbean
USD 100 pp

Up to USD 200

5 years

Cunard
USD 300 pp
Up to USD 400 pp
4 years
Holland

USD 100 – 250
Up to USD 200

4 years

Princess Cruises
USD 100 pp

Up to USD 150

2 years or refund
Carnival
Up to USD 100
50% reduced
deposit
Celebrity Cruises
USD 100 pp

Up to USD 500

No expiry date
Sail From A Different Port
Sailing out of a different port but in the same area can save hundreds of dollars. Some destinations have multiple options of places to sail from.
For instance, there are five cruise ports in the state of Florida. Choosing a less popular departure port can save money.
Compare the prices, and you could save hundreds by going to a different cruise terminal. It's a simple supply and demand scenario. The Mediterranean also hosts a vast quantity of cruise ships.
Also, try to cruise where there are a large majority of ships. Over 240 ships offer a Caribbean cruise; only one ship sails Hawaii full-time. More competition results in better pricing.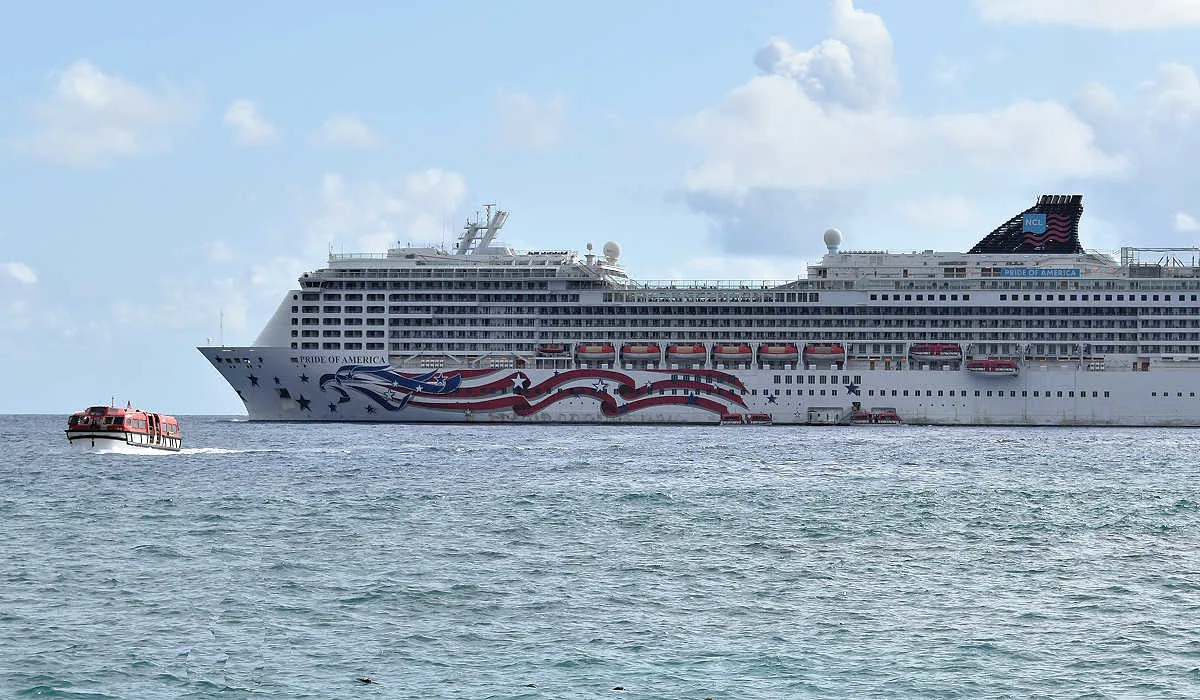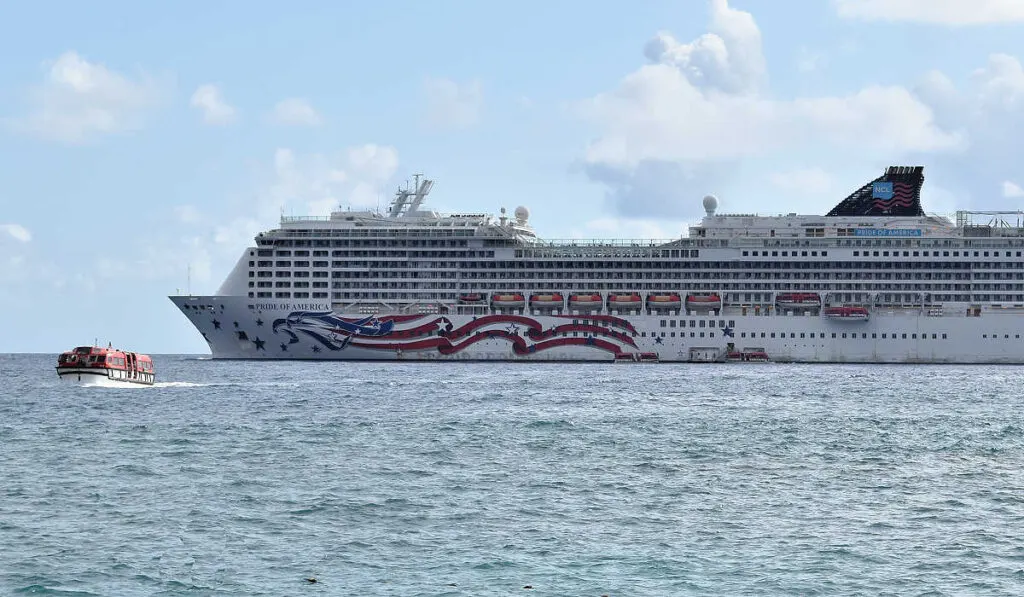 Try Different Cruise Lines
Some cruisers are overly loyal to a single cruise line. I've heard passengers say, "Holland America Line is the best cruise line."
However, I then discover they have only sailed on Holland America! Competitor cruise lines offer deals at different times. By shopping around, you can find the optimum cruise deal.
By trying another cruise line, you might find you prefer the competition.
Try A Repositioning Cruise
Have you ever considered a repositioning cruise? If you haven't, you should try one.
A cruise ship that is repositioning to another area offers impressive deals. Here are some of my discount cruise options from Vancouver.
I have sailed a five-day cruise from Vancouver to Los Angeles for just USD 149 in a balcony cabin. Also, I scored a great deal sailing a nine-day Vancouver to Hawaii on Royal Caribbean for a mere USD 599 in a balcony stateroom.
My latest deal was a repositioning cruise on the Ovation of the Seas. The 9-day cruise from Vancouver to Hawaii cost us USD 565 pp in a balcony cabin. While we scored a great deal, we met many passengers onboard who paid USD 1700+ for the same cabin category.
I have also seen many fantastic prices on Transatlantic cruises. Shop around, and you, too, can find some irresistible deals. Once you have scored your deal, it's time to plan the rest of your adventure.
Book During "Sale" Times
Just like the stores at the mall, cruise lines can offer fantastic deals on Black Friday, Halloween, and during other holidays.
If you intend to book during a Black Friday sale, know the price point for your chosen cruise beforehand. Sometimes, travel agents will raise the price, then lower it again, and advertise at a new lower price.
By tracking the price, you'll be aware of which it really is a genuine deal.
Opt For An All-Inclusive Line
Many cruisers love to sail on lines such as Viking Ocean Cruises, Oceania Cruises, Windstar Cruises, or Regent Seven Seas. These companies will never have prices similar to the lower-end lines.
However, you can find a better cruise fare by shopping on the cruise websites mentioned earlier. Since most luxury cruise lines are all-inclusive (sometimes including shore excursions), the fare is less expensive than it may appear.