Located in the largest temperate rain forest in the United States, the Tongass National Forest, the little town of Sitka, is accessible by air and sea. While Sitka is relatively compact, the selection of things to do in Sitka was very vast.
I arrived in Sitka on a Hubbard Glacier Alaska cruise and was surprised to see how different this coastal town is from the urban cement cities.
Pulling into Sitka, it was a typical cloudy day with a chance of rain. Sitka's weather, like the rest of Alaska, is unpredictable. I learned that the Russians established this Alaskan town, and when the United States purchased Alaska in 1867, the transfer ceremony took place in Sitka.
As a result, Sitka became the first capital city of Alaska until 1906. It's no surprise that its rich history is a significant part of Sitka tours being a historic town. Sitka has only 14 miles of paved road, and ships dock at one end of this road.
Cruise passengers can catch a free shuttle to town, which stops at the Harrigan Centennial Hall next to Sitka Harbor. The shuttles leave every 10 to 15 minutes, and the distance to town is just 6 miles.
From the Harrigan Centennial Hall, many attractions are within walking distance if you haven't booked a shore excursion.
Quick tips on visiting Sitka
Top tours and excursions:
Sights of Sitka – Includes Fortress of the Bear, Alaska Raptor Center, and Sitka National Historical Park.
Sitka Sound Kayak Tour – Enjoy the scenery of Sitka Sound from a two-person kayak.
Whale watching tour – Enjoy a small boat tour with a chance to see Humpback, Minke, and Gray whales.
Admire Tlingit Totem Poles
Alaska's oldest National Park is tiny at 113 acres, but it's packed with history. Sitka National Historical Park was created in 1910 to commemorate the Battle of 1804 between the Tlingits and Russians.
Located in a picturesque coastal rainforest, most travelers come to the park to see carving demonstrations and view the 20 or so intricately carved totem poles.
Visitors may choose one or two guided walks or decide to do a self-walking tour, as I did. Sitka National Historical Park is suitable for all ages since the trails are wide, easy to walk, and well maintained with plenty of informative signs.
In the fall, salmon swim up the stream to spawn. The salmon attract the eagles and sometimes the odd bear.
So, when cruising at the tail end of the Alaska season, Sitka National Historical Park is ideal for seeing some Alaskan wildlife.
Step Back In Time At Castle Hill
Castle Hill, also known as Baranof Castle State Historic Site, is one of Alaska's most historic sites. Initially occupied by the Tlingit, the area was later acquired by the United States in 1867 when Russia sold Alaska.
They paid a mere USD 7.2 million or 2 cents an acre…….a bargain by today's standards. The Americans lowered the Russian flag and replaced it with an American one during the transfer.
Today, there is no real fortress there. As I climbed the steep staircase to the top of the rocky outcrop, I could imagine it was an ideal spot for such a ceremony. The site has lots of plaques explaining the site's history and several old Russian cannons.
This historic place is worth visiting to learn about its integral part of Alaska's history. Its hill also provides spectacular views of downtown and the picturesque Sitka Harbor.
Go Whale Watching
It's no secret that Alaska is a fantastic destination for whale-watching. No Alaska adventure would be complete without taking a whale-watching excursion. While most Alaska towns are located on the inside passage, Sitka is located on the outer coast.
Its location makes it ideal for whales and other marine creatures. The rich feeding grounds draw humpback, orca, grey, and minke whales to feed in the summer months.
Other sea mammal sightings include sea otters, puffins, seals, and sea lions. While whale sightings are viewable from land, the best way to see whales is on the water.
Although this requires a fee, boat captains are very familiar with the waters and know the best places for viewing. Also, they communicate with other boats that share locations of whale sightings.
I have been on two whale-watching shore tours on my five Alaska cruises and have never been disappointed. I have always seen plenty of whales, and on the last occasion, the humpbacks swam under my boat.
Wow, that was a phenomenal moment that I will cherish forever. However, if you decide not to take a boat excursion, bring a pair of compact binoculars. You never know what you'll see from the shoreline.
See Orphaned Bears
If you've ventured to Alaska in search of the cuddly brown bear, there's no better place than the Sitka bear sanctuary. Located 11 miles from the cruise port, it's easily accessible by local bus, taxi, or on a shore excursion.
This wildlife bear sanctuary was founded by Les Kinnear, a hunting guide and outdoor enthusiast.
The shelter houses orphaned bear cubs who would have otherwise died or been destroyed. While some might have mixed feelings about keeping bears in captivity, this haven was the bears' only means of survival.
The entrance fee is low, and all money goes towards the feeding and caring of these bears. The refuge is a non-profit facility that receives absolutely no funding from the city, the state, or the government. If you don't plan to visit, you might consider donating HERE.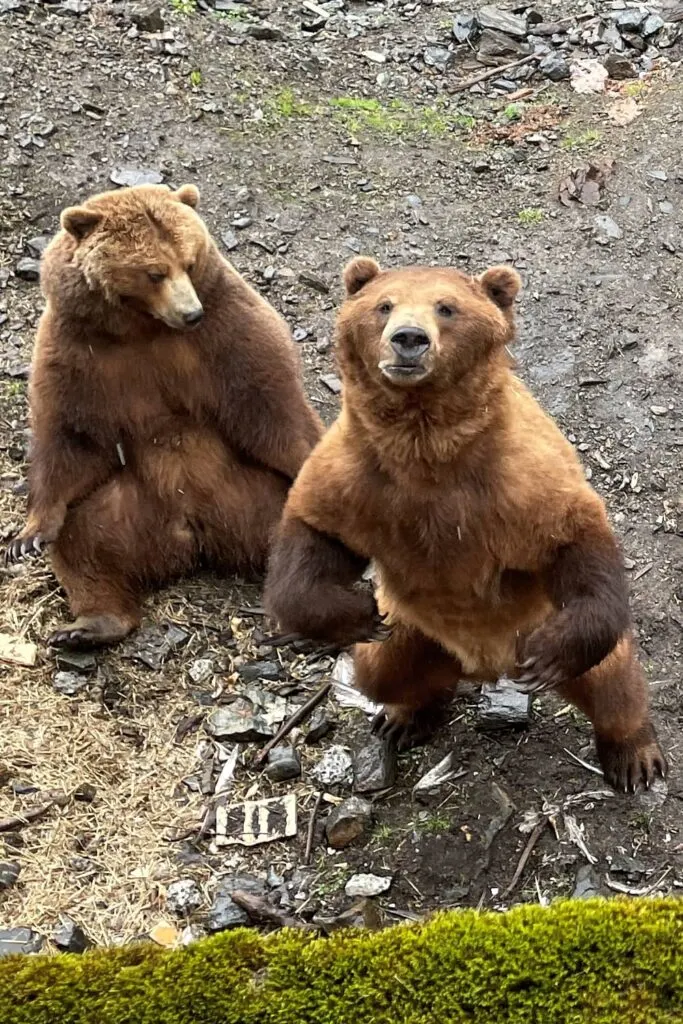 On my last Alaska cruise, we visited the Fortress of the Bears as part of a larger shore excursion. The "Best of Sitka" included Fortress of the Bear, the Alaska Raptor Center, and the Sitka National Historical Park.
We saw three black bears and five coastal brown bears on our visit. Coastal brown bears are only native to the ABC Islands (Admiralty, Baranof, and Chichagof) around Sitka. They are a cross between a polar bear and a grizzly bear.
They have a daily diet of fresh salmon (donated by the salmon canneries) and peanut butter apples. In the summer months, the sanctuary stocks the river with salmon so the bears can catch their own food.
If you're docking in Juneau, travelers can often see bears in Steep Creek at Mendenhall Glacier Visitor Center.
Visit The Raptor Center
Like the Fortress of the Bear, the Alaska Raptor Center serves as a rehabilitation center. Located on the Tongass National Forest's edge, the sanctuary receives over 100 birds a year that have been injured or suffered traumas.
Their mission is to heal these wild creatures and return them to the wilderness again. The birds of prey unable to live in the wild help educate the public on their care and treatment at the facility.
We met Spirit, a bald eagle who had lost sight of one eye during our visit. Since partial blindness would affect her ability to hunt, she's now an ambassador bird for the center.
While I live in a location where I can see bald eagles daily, I loved seeing the tiny owls that screamed cuteness! One of the things that I sincerely appreciated was that the fishing community of Sitka donates access catch to help feed these incredible feathered friends.
Visit Russian Bishop's House
Built in the mid-1840s for the Russian Orthodox Bishop, visiting the Russian Bishop's House is an add-on to seeing St. Michael's Cathedral. Outside, the yellow-hued two-story building reminded me of an old-fashioned schoolhouse.
Inside, the preserved building houses a variety of historical artifacts. It's free to visit the Russian Bishop's House and is generally overlooked by many who visit Sitka. On the first floor, you can wander the exhibit freely.
However, the upper floor required a guided tour, which is also free. Once used as an orphanage, it is now one of North America's last remaining Russian structures.
Take An Otter Wildlife Tour
Sea otters are an essential part of Sitka's history. Having the densest fur, they were almost hunted to extinction by the Russians for their prized pelts.
With dwindling numbers and no natural predators, the otters became a protected species, and now they thrive in Sitka, feeding on shellfish and sea urchins.
On a wildlife tour in Sitka Sound, you can view sea otters in their natural environment, playing in the water and feeding their young. As well as sea otters, you'll have a chance to see bald eagles, sea lions, and nesting birds.
View Treasured Orthodox Artwork
St. Michael's Cathedral is renowned for being the first Orthodox Catholic Church in North America. Built by the Russians in the 1840s, the old cathedral stood the test of time until it burned down in 1966.
While the new shell looks rather ordinary on the outside, the inside wowed me. The Russian Orthodox church showcases some stunningly gorgeous religious artwork.
The alter, royal doors, silk and brocade investments, and a stunning chandelier were not what I expected. Beautifully adorned with many treasured items saved from the tragic fire, St Michael's Cathedral is a must-visit.
Located at 240 Lincoln Street, it's a short walk from the cruise port. A visit here costs a mere USD 5 donation, which helps maintain the historic church.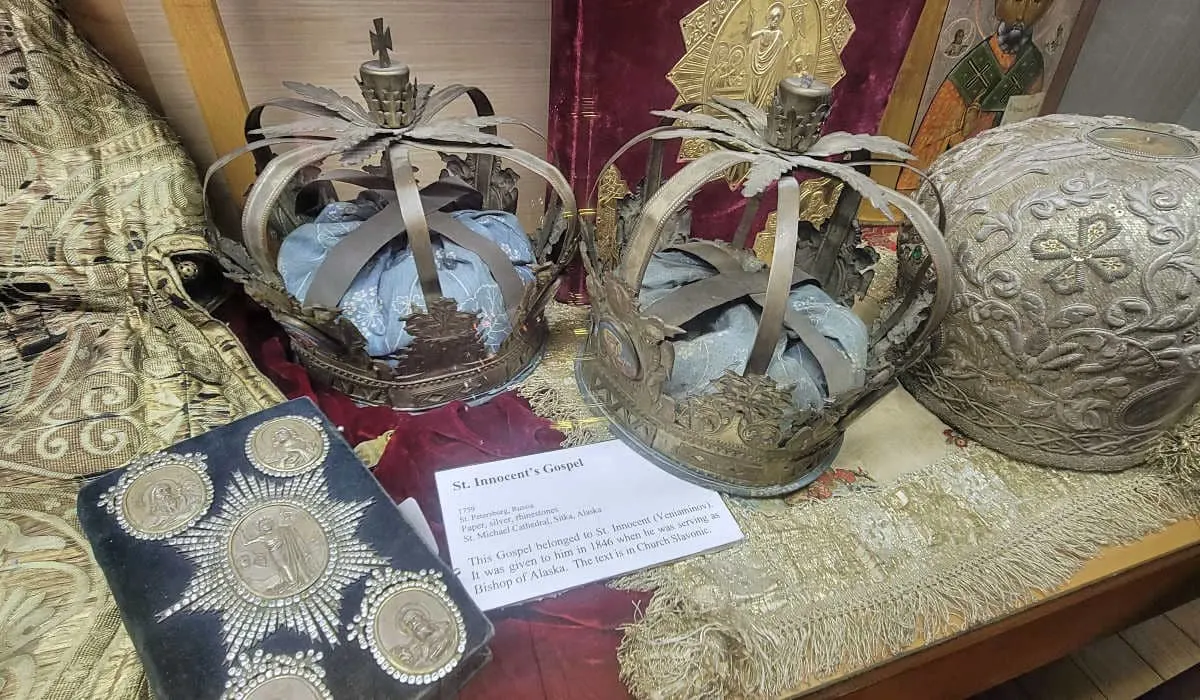 Cruise To Fin Island
On an excursion to Fin Island, you'll enjoy a boat ride with scenic views combined with an Alaskan feast. During the high-speed boat ride, there's a chance to see whales, sea otters, and coastal brown bears.
Once you arrive at Fin Island, the hospitality staff will welcome you to Fin Island Lodge in Sitka Sound. Here, guests enjoy an Alaska feast of all feasts.
The meal includes Alaskan crab, prime rib, and wild salmon, grilled on an alder wood fire.
Drive Your Own Zodiac Through Sitka Sound
If you want to captain your own vessel, take to the waters in a zodiac from Sitka Zodiac Adventures. Steer your boat along the rugged Alaska coastline and beside commercial fishing trawlers as they pull in their daily catch.
If the weather permits, don't forget to bring the camera to capture shots of Sitka's Rockwell Lighthouse, O'Connell Bridge, Castle Baranof Hill, and Mount Edgecumbe Volcano.
Try Reindeer Sausage
Several places in Sitka sell reindeer sausage. However, just outside the Harrigan Centennial Hall, a vendor on the corner sells reindeer hot dogs and Polish reindeer sausage. At USD 11, they're not cheap, and only 30% caribou meat.
You can make up your hot dog with sauerkraut, relish, and other condiments. The sausages are big enough for sharing. It's the perfect snack for a busy day in port if the weather is cooperating.
Learn Sitka's History
A visit to the Sitka Historical Museum is an extension of learning the importance of Sitka's history. The small but informative treasury houses a beautiful exhibit of items preserved from the Tlingit tribe.
Learn the influences of the Russians, Tlingit, and Americans on this historic Alaskan town. As well as seasonal installations, a miniature scale model of Sitka in the 1860s remains a permanent display.
Other native items include beautifully woven clothing, a goat fur blanket, and spoons made from animal horns. One of the things that intrigued me was the clothing made from fish skin. I couldn't imagine what that felt like to wear.
Visit The Sheldon Jackson Museum
Located on the Sheldon Jackson College grounds, the State of Alaska runs the same name museum. Its 6000+ artifacts are the impressive collection of a missionary, Rev. Dr. Sheldon Jackson.
While the museum is not large, the octagonal showroom is packed with interesting everyday items and ceremonial objects. Make sure to open the drawers for more hidden objects to admire.
Three totem pole fragments stand guard in the center of the room while full-sized kayaks perch above the display cases. Plan to spend an hour or two here as the display cases overflow with treasures.
See Sitka Sound By Kayak
Enjoy the tranquility of Sitka by paddling the waters in a kayak. As you paddle along the coastline, you can see eagles in the treetops, humpbacks in the water, and bears foraging the shoreline for food.
No experience is necessary, and kayakers can paddle at their own speed following a guide. On tour, you'll learn about Sitka's fauna and flora and can ask questions about this unique area.
Sample Some Flavored Salt
Alaska Pure Sea Salt has a retail store on Lincoln Street in Sitka. Here, visitors can sample their unique salt blends. Flavored salt has become quite trendy, and I recently tried some in a steak house specialty restaurant on a Mexico Riviera cruise.
Alaska Pure Sea Salt produced its first salt by accident, and today it produces flake sea salt locally, made from Sitka Sound water. Who can resist the lemon and lime, Sitka spruce tip, or buyer's choice, the alder smoked?
The company also sells gift packs, refreshing bath salts, and salted chocolate bars. Compliment your salt with a teak bowl and spoon for serving.
Final Thoughts
During my first visit to Sitka, cruise ships could only tender. Sitka can welcome two cruise ships a day with a new cruise port six miles from town. Although only a select cruise ships stop at Sitka, having this idyllic town as part of your itinerary is a treat.
Sitka, like Skagway has a rich history, and both towns are great additions to an Alaska cruise.
You can do as little or as much as you want on a port day. Cruise passengers aren't limited to expensive shore excursions with many attractions within walking distance. With this guide, you can discover all the fantastic places Sitka has to offer.
Happy travels ~ Karen