Located in Alaska, Sitka and Skagway are southeast coastal towns and are often included on an Alaska inside passage cruise. Whether you visit Alaska by road, air, or boat, Skagway vs. Sitka, how to choose between them?
Both are relatively small in size; Skagway has a population of 1,191, whereas Sitka, further south, has 8,569 residents, according to the 2020 census. Both are popular Alaska cruise ports but cruise ships generally include one per Alaska itinerary.
Both are located in southeast Alaska and have fascinating histories that date back more than a century. While Sitka and Skagway have some similarities, let's delve into the difference and see why you might choose one over the other for visitation.
Skagway Vs. Sitka: Accessibility
The Klondike Highway connects Skagway to road systems inland. This means you can literally drive to Skagway from the lower 48 states, should you have the time. It also means those flying to Anchorage can access Skagway with a rental car.
The road system allows drivers to travel through Canada to either Anchorage or south, to Seattle. Road trip anyone?
With a picturesque drive through the White Pass, cruise passengers who dock in Skagway sometimes rent a car and make the drive to Emerald Lake in the Yukon, British Columbia.
The 72 miles journey takes up to 5 hours, depending on your stops. Popular stopping points include Bridal Veil Falls, the welcome to Yukon sign, Yukon Suspension Bridge, Tutsi Sled Dogs, Bove Island viewpoint, Carcross, and the Carcross Desert.
In fact, the White Yukon railway and self-guided drive to Emerald Lake make Skagway a preferred Alaska port by many cruise passengers.
Further south, Baranof Island is home to Sitka. While the island has about 11 miles of road, travelers must reach it by air, cruise ship, or ferry (as part of the Alaska Marine Highway system).
Alaska Airlines provides flights to Sitka, or travelers can take a 45-minute seaplane ride from Juneau, operated by Alaska Seaplane. Cruising provides the easiest solution, although you'll only spend a day in port.
If cruising to Alaska, cruise ships dock at the Sitka Sound Cruise Terminal five miles north of town. The terminal can accommodate two vessels. You'll need to catch a complimentary shuttle from and to the terminal to access tours, shopping, and amenities in Sitka.
Since Sitka is positioned on the west coast of Baranof, ships must sail open waters to reach it. The Alaska weather is unpredictable at the best of times.
So, if you suffer from seasickness, you may need to use a motion sickness patch or other medication, as your vessels could hit choppy seas.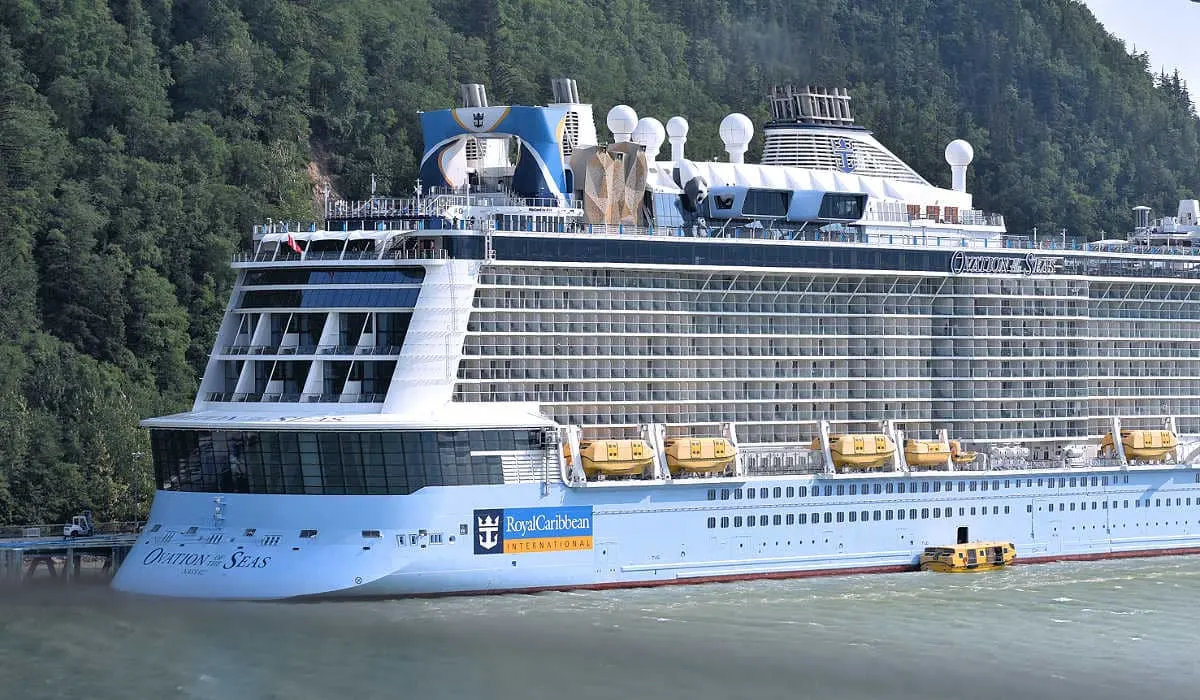 Alternatively, Skagway's cruise dock puts guests at a five-minute walk from town. While Skagway can typically accommodate up to four ships, recent landslides have limited the number of vessels, and some are required to tender.
Travelers to Skagway can easily walk its downtown area. If you're cruising on a budget, you can forego an expensive excursion and take a self-guided walking tour instead. You'll want to explore every nook and cranny with so much history and interesting buildings.
While you can fly to both cities, there are no direct flights to get there.
Skagway Vs. Sitka: History
Skagway's small town developed out of the Klondike Gold Rush. Get-rich prospectors traveled from Seattle by boat to make their way to the Yukon, where gold had been discovered. Today, Skagway has preserved much of its gold rush history.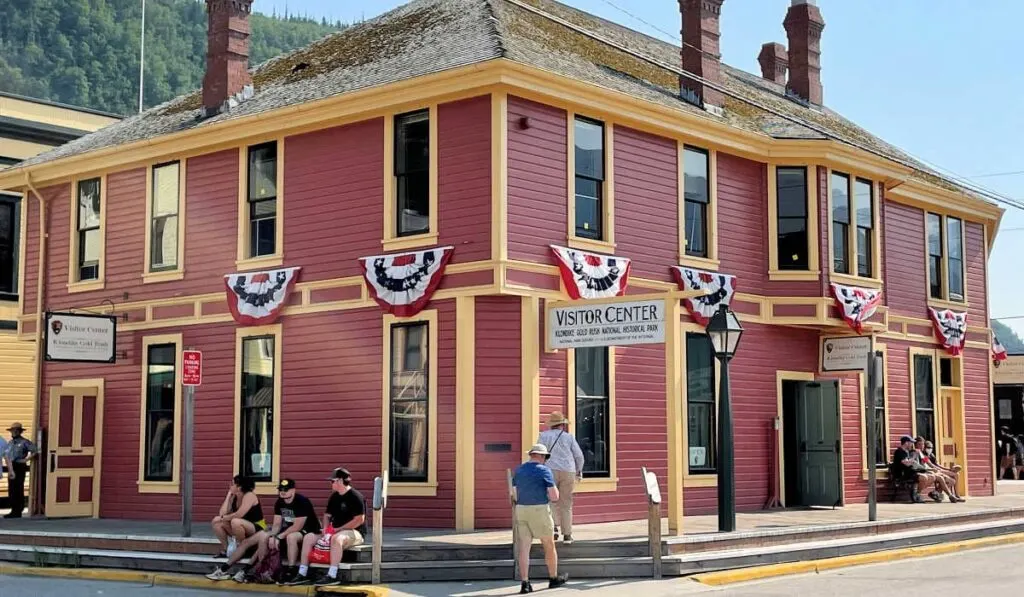 You can visit several museums and the visitor center which relive the gold rush era. You'll learn about the construction of the White Pass & Yukon railway to get prospectors to the Yukon, where gold was discovered.
With the prospect of gold came swindlers and shady characters like Soapy Smith. He intentionally robbed people and, because of his actions, became disliked.
In 1898, a gunfight between Jefferson "Soapy" Smith and Frank Reid cost ended both their lives. You can visit the Gold Rush Cemetery, where both are buried, a short walk from town.
As the oldest cemetery in Skagway, it holds significant history. If you prefer not to walk, you can rent Klondike Electric Bicycles as we did.
Sitka, although not Alaska's largest city was once Alaska's capital city until that title went to Juneau in 1906. The Tlingit people initially occupied the region. Russia sold Alaska to the United States in 1867, and the signing took place in Sitka.
On Castle Hill (Baranof Castle State Historic Site), the United States flag replaced the Russian one for the first time during the signing.
Today, you can walk a staircase to the national historic landmark and learn the history of the transfer. Several old cannons adorn the baron outlook, which offers picturesque views of Sitka Harbor.
Also, in downtown Sitka, you can see North America's first Orthodox Catholic Church. Located at 240 Lincoln Street, you can visit St. Michael's Orthodox Cathedral for free, although they suggest a donation of USD 5.
Built by the Russians, the exterior has been replaced due to a fire. However, the inside houses a treasure trove of authentic religious artwork, documents, brocade investments, and a beautiful chandelier.
You can also expand your historical knowledge by visiting the Sheldon Jackson Museum and Russian Bishop's House.
Sitka And Skagway For Activities
Most Alaska towns center their activities on the outdoors, and these two towns are no different. While Juneau, the capital, offers a diversity of shore excursions, tours, and things to see, most travelers forget about Sitka and Skagway.
However, let's discover what they bring to the table.
Sitka
Baranof Island is part of the ABC Islands, Admiralty, Baranof, and Chichagof (Icy Strait Point). It has lots of green space and is surrounded by the Tongass National Forest. It's also home to the Alaskan coastal bears and a large population of otters.
If you're into fishing, more than a dozen charter companies can take you on a fishing expedition to catch salmon, halibut, trout, and other seafood. It's also a great port for whale watching.
If you prefer to be one with nature, kayak tours allow you to enjoy the area from the water. During your paddle, you'll encounter large colonies of sea otters and learn more about Sitka.
From downtown, you have the option to rent a zodiac. The tour goes rain or shine, so remember to wear waterproof shoes. Sitka Zodiac Adventures provides a rain jacket, hat, and gloves.
You'll savor views of Mount Edgecumbe volcano, Baranof Castle Hill, Sitka Sound, and the Rockwell Lighthouse from the water.
The Sitka National Historical Park marks the conflict between the Tlingit clan and the Russians. Today, visitors can see a few totem poles and authentic native artifacts.
If you're into hiking, there are short trails around the historical park. Alternatively, the Herring Cove Trail takes two hours on a moderate trail with waterfalls.
Kings E-bike Rentals offers electric bikes daily rentals next to the Sitka Sound Cruise Terminal if you prefer to explore the outdoors on your own.
You can take to the skies in a float plane for some flight-seeing. Choose from Alaska Seaplanes, Baranautica Air Service, or Dove Island Lodge. It's the best way to see glaciers mountain lakes, and Mount Edgecumbe volcano.
Skagway
Further north, Skagway activities focus on its history. Its number one attraction is the White Pass Railroad. Departing from the cruise dock, guests walk off the ship and board their train nearby.
The railway assigns a train to each cruise ship and offers two daily tours. So, regardless of whether you're at the Railroad dock or the Broadway dock, your train will be steps away if you booked through your cruise line.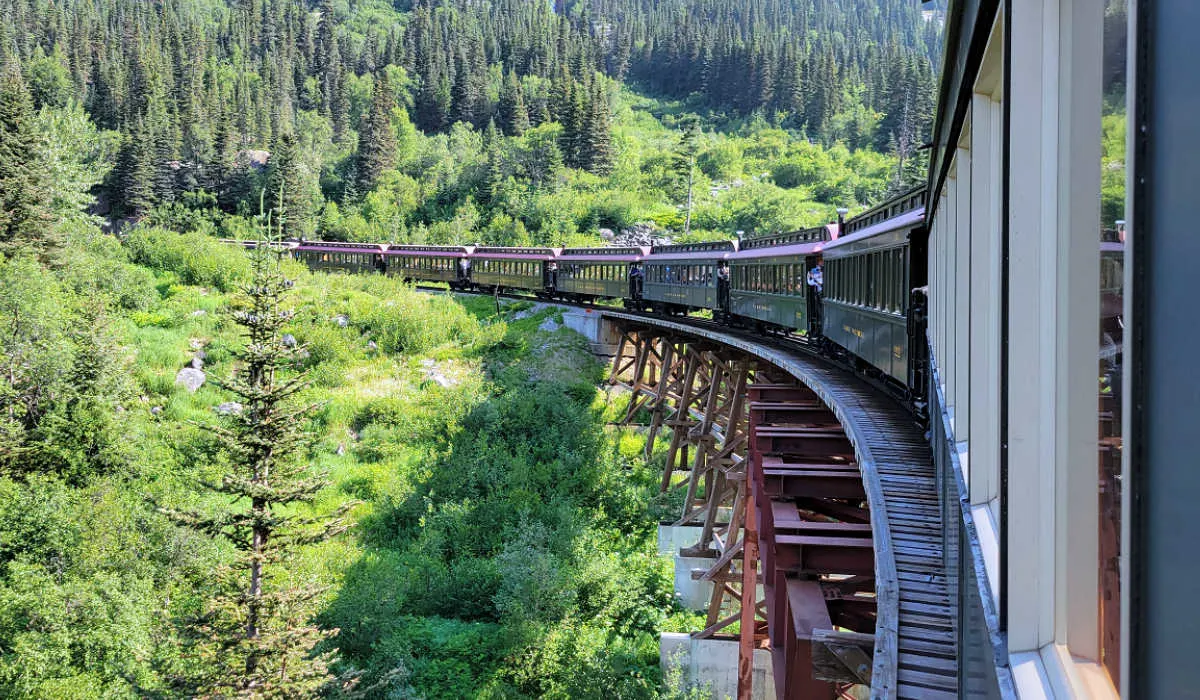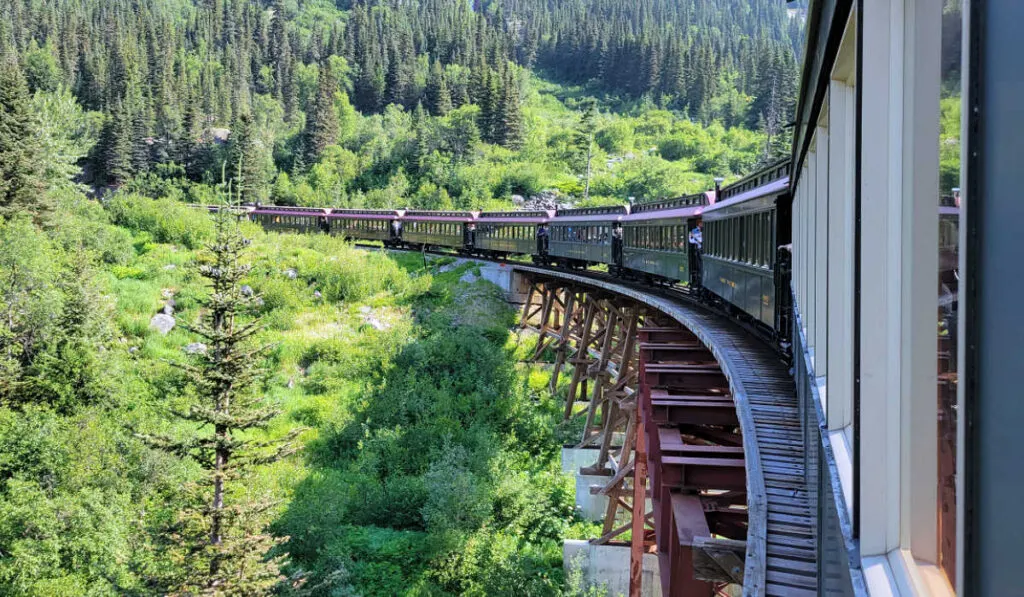 The train tour from Skagway allows you to ride in a vintage carriage into the Yukon in Canada. Currently, the train doesn't stop in Canada, so you won't need a passport.
On the three-hour journey, you'll learn the difficulties of building the railway in the harsh winter. The narrow-gauge track offers breathtaking views of snow-capped mountains, cascading waterfalls, and deep valleys.
On the journey, you'll have access to outer decks to take photos without the window glare. The decks are welcomed on a hot day.
You'll travel through tunnels and over tall wooden trestles that were a feat of engineering. During the peak of summer, you'll still see snow on the ground in Canada.
Alternatively, you can take the same journey on the Klondike Highway (by van), which costs 1/3 the price. You can enjoy similar scenery while saving money if you're on a budget.
Skagway, like Sitka, offers a few hiking trails. Trekkers can walk part of the Chilkoot Trail, once used by gold prospectors to get to the Yukon. If you prefer to join a tour, the Chilkoot Hiking and Float Tour combine a hike with a float down the Taiya River.
Other easy hiking options include Lower Reid Falls, Yakutania Point, and Lower Dewey Lake Trail.
In the nearby town of Dyea, The Grizzly Falls Zipline and Skagway Sled Dog and Mushers Camp offer excursions for thrill-seekers.
Growing in popularity, a self-driving tour to the Yukon allows you to explore outside Skagway. There are plenty of options for vehicle rentals, but you will need a passport to cross the border into Canada.
If you prefer air excursions, Temsco Helicopters offers a few options. For those without a budget, helicopter tours to Denver Glacier and dog sledding on a glacier are offered from Skagway Airport.
Alternatively, the Glacier Discovery Tour combines a bit of flight-seeing with a glacier landing and trek.
As you can see, there's lots to do in Skagway for kids, adults, and seniors.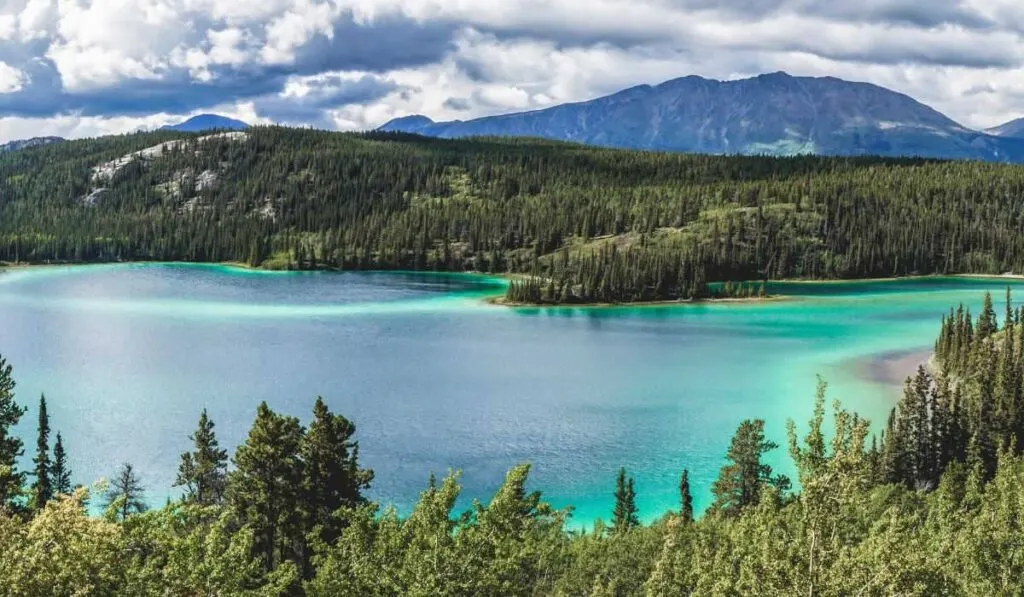 Skagway Vs. Sitka: Wildlife
Alaska is home to an abundance of wildlife, but spotting them is often a matter of luck. Early in the cruise season (April and early May), bears are emerging from hibernating, but they tend to be roaming in higher elevations.
However, here's what you can see in these ports.
Skagway
Renting a vehicle and driving into the Yukon increases your chance of seeing bears. Bears are often spotted near roads or along the shorelines of lakes and rivers. If you see one, stay in your vehicle and do not come between a mom and her cubs.
On the Chilkoot Hike and Float Tour, you can see bald eagles nesting along the Taiya River. You can also see other migratory birds.
By hiking the Yakutania Point trail from the cruise terminal, you could see humpback whales, harbor seals, and bald eagles. Bring a pair of binoculars to search for marine life, and make noise when you hike to avoid black bears.
You can visit the Kroschel Wildlife Center by taking the fast ferry to Haines. Owned by Steve Kroschel, the center provides a shelter for orphaned animals. Many of these can't be returned to the wild.
They include a moose sharing my name, porcupine, wolverine, wolf, lynx, caribou, and a grizzly bear. By taking a tour, your money goes towards feeding and caring for these animals.
If you visit Skagway in July or August, you can see the salmon run in Pullen Creek. The creek runs close to the cruise port, so you won't have to walk far. Pink and Chinook salmon gather at the mouth to swim upstream.
You may also spot harbor seals and river otters who come to feast on the salmon.
Sitka
Sitka, being a fishing port, offers numerous whale-watching tours. Humpbacks migrate from Hawaii in the spring to feed in Alaska's rich waters. On tour, you could also see orcas, harbor seals, and sea otters.
Outside of town, the wildlife sanctuary, Fortress of the Bear rescues orphaned bears. Without this refuge, the bears would have perished in the wild. Since Alaska does not allow a catch and release, the refuge has become their permanent home.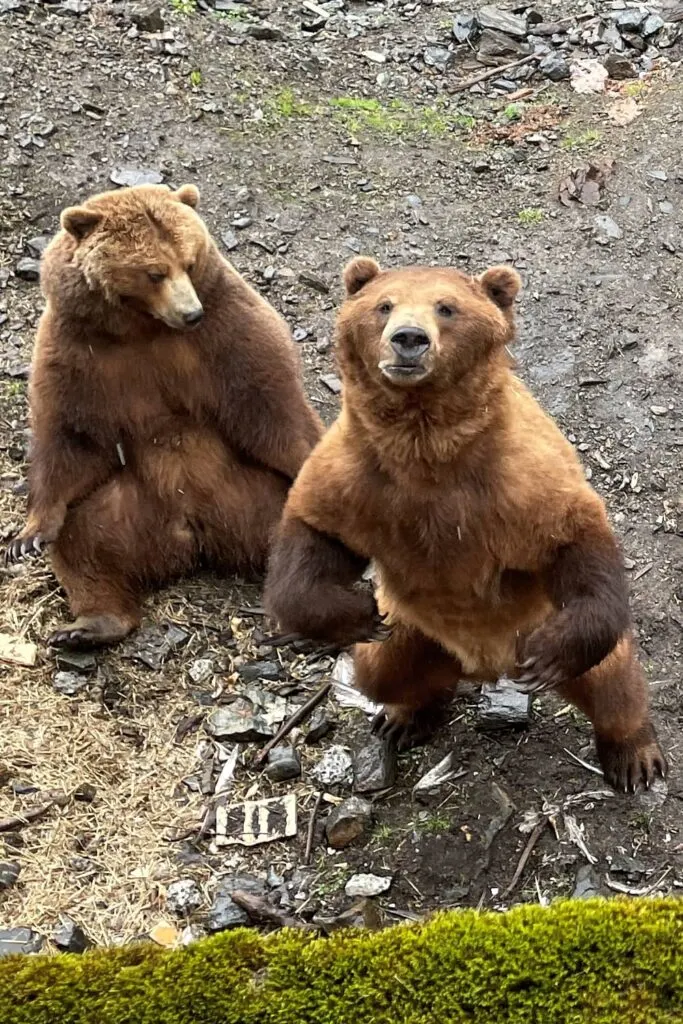 During my visit, there were three black bears and five coastal brown bears. The sanctuary houses the bears in old clarifying tanks once used by a pulp mill.
The giant coastal bears were very active and interacted with the staff. An overhead platform provides the ideal place to get photos and watch the bears should it rain.
Closer to town, the Alaska Raptor Center rehabilitates injured birds of prey. Some return to the wild, but others, like Spirit, who is blind in one eye and can't hunt for food, remain at the sanctuary.
The refuge has bald eagles, a golden eagle, several species of owls, hawks, falcons, and a Kestrel. The cutest one of all was Peanut, a Western Screech Owl.
A large indoor viewing center allows you to see some of the bald eagles. Here, they can fly through a corridor without seeing or hearing humans.
Another popular tour, a kayak half day cruise, seeks out sea otters in Sitka Sound. Having the densest fur, the otter population was almost wiped out by hunters centuries ago. Due to conservation programs, their numbers have grown from 2,000 to over 10,000.
Conclusion
When comparing Sitka to Skagway, the towns have a few similarities but some differences. If you're into history or prefer not to spend money on expensive excursions, Skagway might be the best Alaska cruise port for you.
However, Sitka is the obvious choice if you lean towards outdoor activities and want a better chance to see Alaskan wildlife.
Both towns offer tourist shopping, although Sitka may be a better choice for uniqueness. Alaska Pure Sea Salts and Russian American Company offer exclusive products. However, Skagway has lots of options for mammoth ivory carvings.
If you're cruising to Alaska, you'll often have to pick between one of these towns. However, if you're booking an extended itinerary, it's possible to find a cruise that includes both ports.