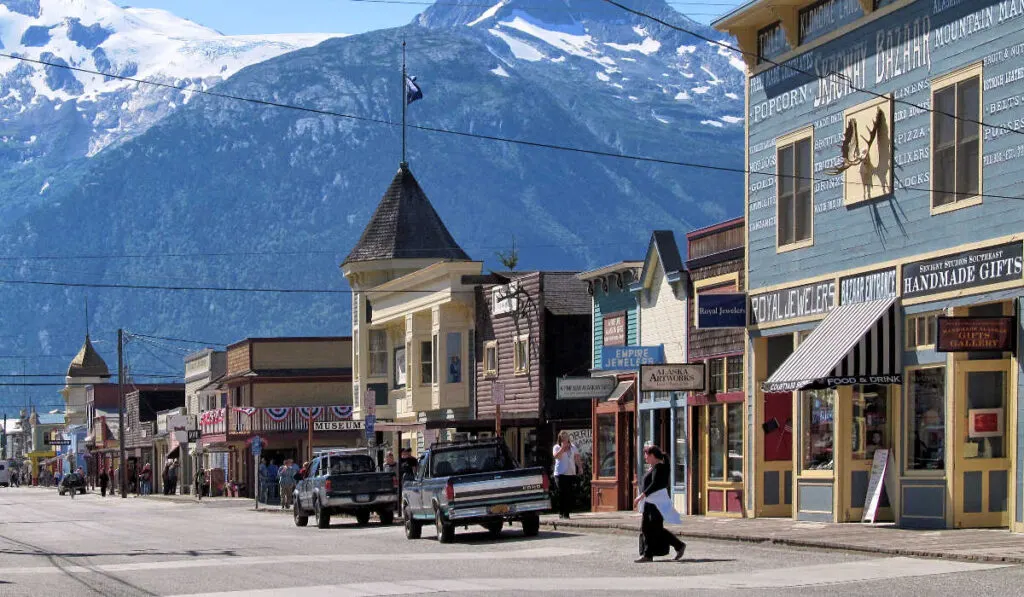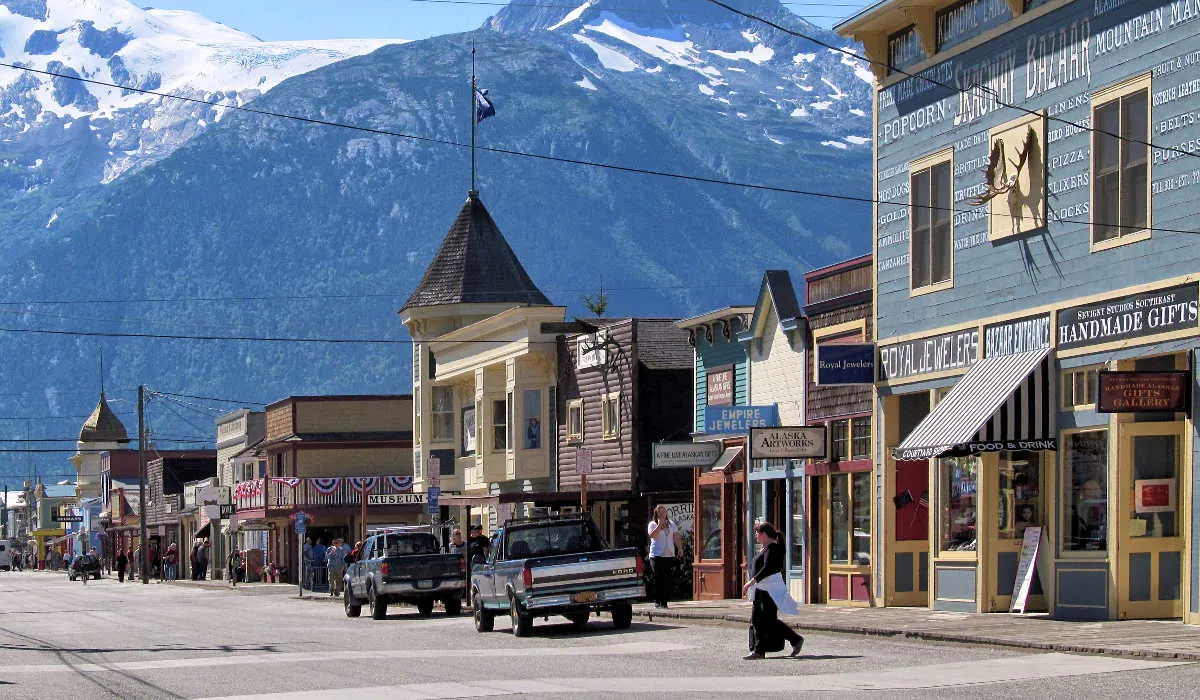 If you're booked on an Alaska cruise and searching for things to do in Skagway, you'll discover many options.
Located in the Upper Lynn Canal in southeast Alaska, Skagway is a blip of a town with approximately 1,000 residents. The number of residents snowballs during the summer months as transplants travel north to work the Alaska cruise season.
It's astonishing to think this tiny place hosts almost a million cruise ship passengers each year. Will you be one of them this Alaska cruise season? When looking for Skagway excursions, it's vital to learn its rich history.
This little town in northern Alaska saw thousands of "get-rich" prospectors in the late 1890s, all seeking gold during the Klondike Gold Rush era. Gold had been discovered in the Canadian Yukon, but the trek over the mountains was challenging.
Over a hundred years later, the town's facade is frozen in time, still the picture-perfect image of a gold mining town. When you visit, it's not unusual to see the locals dress in period costumes from the gold mining era.
Sitka is another historic town often included in an Alaskan itinerary. Being the first capital of Alaska, visitors can see where the transfer of Alaska to the United States took place.
In 1898, the White Pass and Yukon railroad laid the way for easier access to the gold mining areas in the Yukon territory. This narrow-gauge railroad is an International Historic Civil Engineering Landmark.
Today, the railroad continues to operate purely for the tourist industry, and riding the train is one of the most popular tours in Skagway.
If you visit by cruise ship, you'll only have one day, but this Alaskan town offers many options for travelers. The activities vary from a sedate train ride to adventure hiking.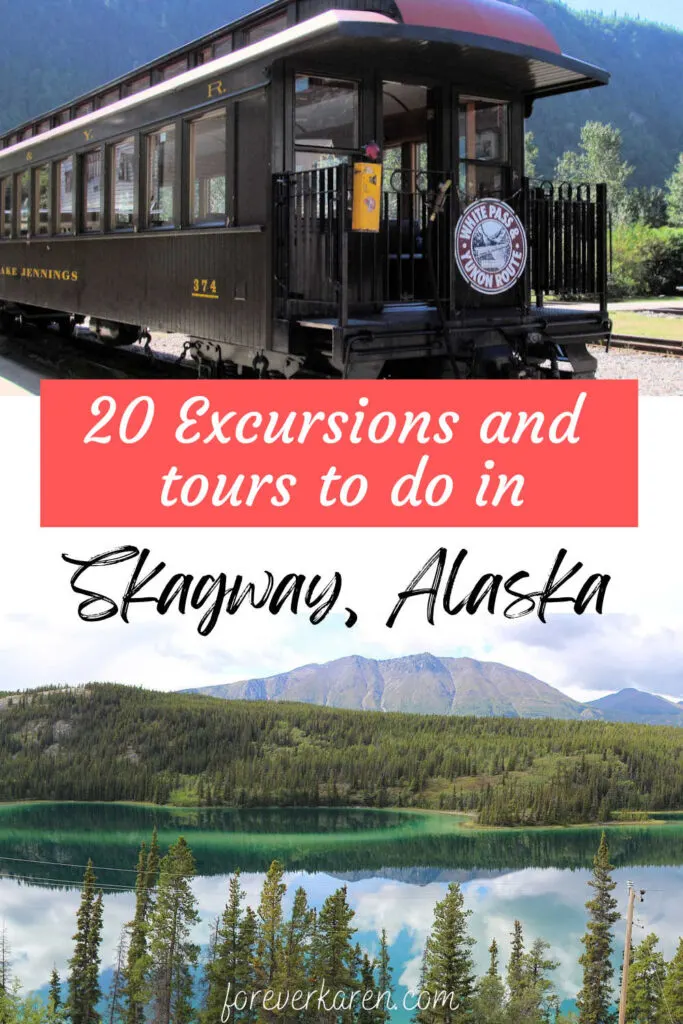 Skagway Alaska Weather
While most perceive Alaska to be very cold and snowy, it really isn't that way in the coastal towns. Skagway usually is quite humid, which makes it seem much warmer.
Average temperatures during the summer months hover between 57 degrees and 64 Fahrenheit.
While you may not need warm Alaska clothing here, it's best to pack a variety of outfits for port days and glacier viewing. If you plan to take the White Pass & Yukon Route train, it can be foggy and cooler in the mountain passes.
While Skagway, Alaska excursions are plentiful, not everyone wants to pay a hefty price for a tour. However, there are some things to do in Skagway that are entirely free.
1. Stroll To Gold Rush Cemetery And Reid Falls
While a visit to a cemetery might seem like one of the strangest tours to take, it's all about the history it holds. The Gold Rush Cemetery is the oldest graveyard in Skagway and an exciting point of interest.
If you walk to the cemetery, you'll see the many gravestones of the famous Gold Rush characters, including Jefferson "Soapy" Smith and Frank Reid. Soapy Smith reigned over Skagway during the Klondike Gold Rush.
Renowned for opening businesses with the sole intent of robbing customers, other prospectors disliked him. In 1898, a shootout between the two characters took place.
Smith died of a shot to the heart, and Reid succumbed to his injuries almost two weeks later. It's helpful to spend some time in town to learn its history before visiting the cemetery.
Then you'll have a better appreciation for what you are viewing. Alternatively, tours are available to the cemetery, where your tour guide will re-enact the stories of the historical era.
While at the cemetery, a short walk further provides views of Reid Falls, a small picturesque waterfall that is well worth a visit.
2. Visit A Skagway Museum
While Skagway may be small, it has several museums. The Skagway Museum documents the history of the Gold Rush and its impact on the town.
Corrington's Alaskan Ivory & Museum combines a gift shop with a small museum. The ivory collection is impressive, and the museum contains some precious historical artifacts.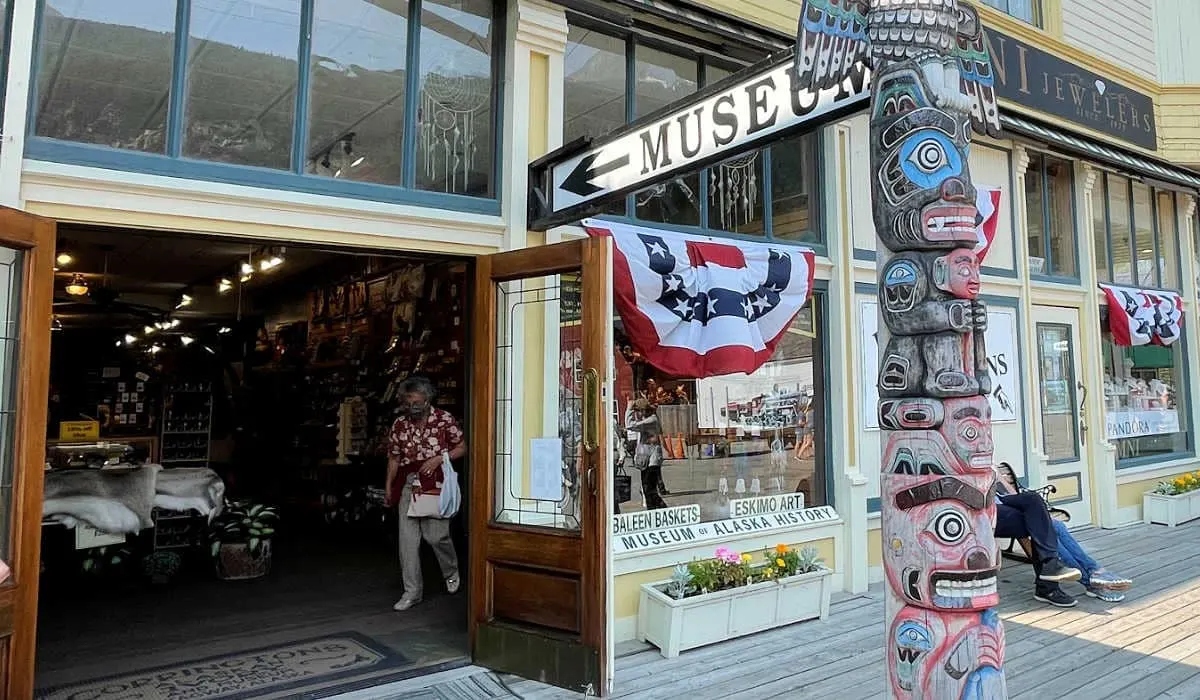 At the Klondike Gold Rush National Historical Park Visitor Center, visitors can relive the days of the Klondike gold rush. The visitor center shows "Gold Fever: Race to the Klondike" film and uses photographs and displays to tell the area's story.
Complimentary tickets are available for a guided walking tour with a national park service ranger. During a walking tour of Skagway, you'll learn the history of the area, see recreated exhibits, and learn about the prospectors who risked it all to get rich.
These tours fill up fast because they are free, so sign up early as soon as you disembark the cruise ship. Otherwise, visitors can pre-book a tour online, which requires a nominal fee.
Alternatively, pick up an area map and take a self-guided walking tour. Informational plaques are scattered around town with highlights of each building.
3. See The Arctic Brotherhood Hall
Located at 245 Broadway, it's hard not to miss the iconic building made of sticks. Made with almost 9000 pieces of wood, the large letters AB relates to its history.
The Arctic Brotherhood club was formed in the late 1800s by a group of gold prospectors. At its peak, it had over 10,000 members.
While the gold and prospectors disappeared, the building stands as a historical symbol in Skagway. Today, the building serves as the Skagway Convention and Visitors Center.
4. Hike To Yakutania Point
What to do in Skagway on your own? A hike of course! From the cruise port, it's an easy 15-minute strolling trail to Yakutania Point. From this point, an abundance of marine life was available for viewing.
Seals are commonly spotted, but humpback whales or orcas may surprise you if you're lucky. This little hike to a quiet place makes a nice break from the busy streets in town.
Remember that although Yakutania Point Park is close to town, this is also bear country. If you choose to hike, carry a bear bell, as most bears will walk the other way if they hear you approaching.
5. Watch The Salmon Run
Pullen Creek Shoreline Park provides a leisurely walk along a salmon-running creek at the corner of Congress Way and Broadway. From July to September, salmon swim up the creek to spawn and die. If you arrive at the peak of the salmon run, the rotting fish can be pretty stinky.
The creek is home to Chinook, coho, and pink salmon. The salmon attract eagles, bears, and seals, eager to grab an easy meal.
Outside of the free activities, consider one of these popular Skagway tours and excursions, which require a fee.
6. Ride The White Pass and Yukon Route Train
One of the most popular Skagway excursions is riding the White Pass and Yukon Route Railroad train. If you have never experienced the mountains, this ride is one of the most picturesque train rides in the world.
So, sit back, relax, and enjoy the breathtaking panorama of snow-capped rugged mountains, waterfalls, and glaciers from the comfort of your vintage carriage. You'll be assigned a carriage, but you can select your seat. All carriages have washrooms.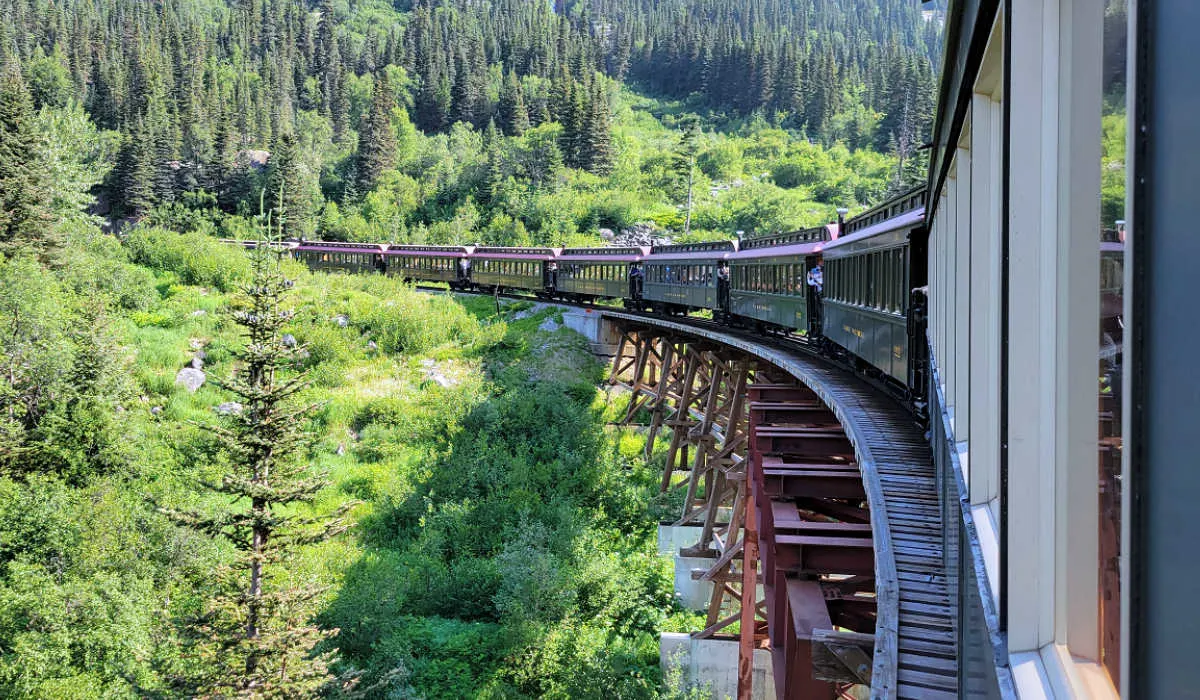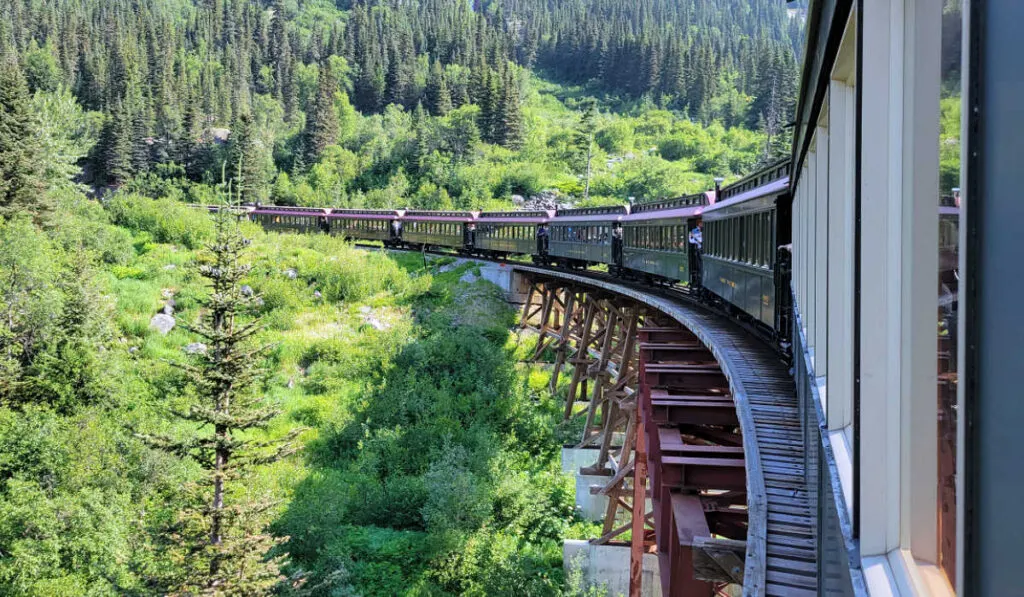 This spectacular journey to the Yukon travels through tunnels and over large high trestles. The 40-mile round-trip route climbs almost 3,000 feet and takes just over 2-1/2 hours.
During the train tour from Skagway to the Yukon, step outside your railcar onto the platforms at the ends of the carriages. These provide excellent opportunities for shots of the train rounding the curves on the wooden trestles.
7. Learn to Blow Glass
Opened initially as a floral garden, Jewell Gardens is home to playful grounds of brightly planted flowers from the native area.
Charlotte Jewell, the brainchild behind the gardens, had the vision to beautify Skagway as the "Garden city of Alaska." In 2007, she opened the first glass-blowing studio in southwest Alaska and offered classes to students.
Cruise passengers can book an excursion to "blow your own glass" or take a glass-blowing tour of the facility. The tours usually include a gourmet tea or fresh lunch prepared from vegetables grown in the garden. The garden's gift shop offers a unique array of souvenirs.
[Updated: due to staff shortage, Jewell Gardens is temporarily closed for the 2022 season]
If you're sailing to Alaska on either the Celebrity Eclipse or Celebrity Solstice, passengers can blow their own glass on board the ship with Celebrity's hot glass class.
8. Take A White Pass Summit Tour
If trains aren't your thing, almost the same tour can be taken by mini-bus for half the price. The White Deluxe Tour from Skagway follows the Klondike Highway.
The excursion includes views of the historic town, Gold Rush Cemetery, alpine valleys, waterfalls, and the city overlook. The overlook offers excellent views of Skagway, as well as views of your cruise ship in dock.
The road traveled runs almost parallel to the railway for part of the way but includes waterfalls below the railroad tracks that are not viewable on the train. You'll also stop at the "Welcome to Alaska" sign so you can capture some selfies.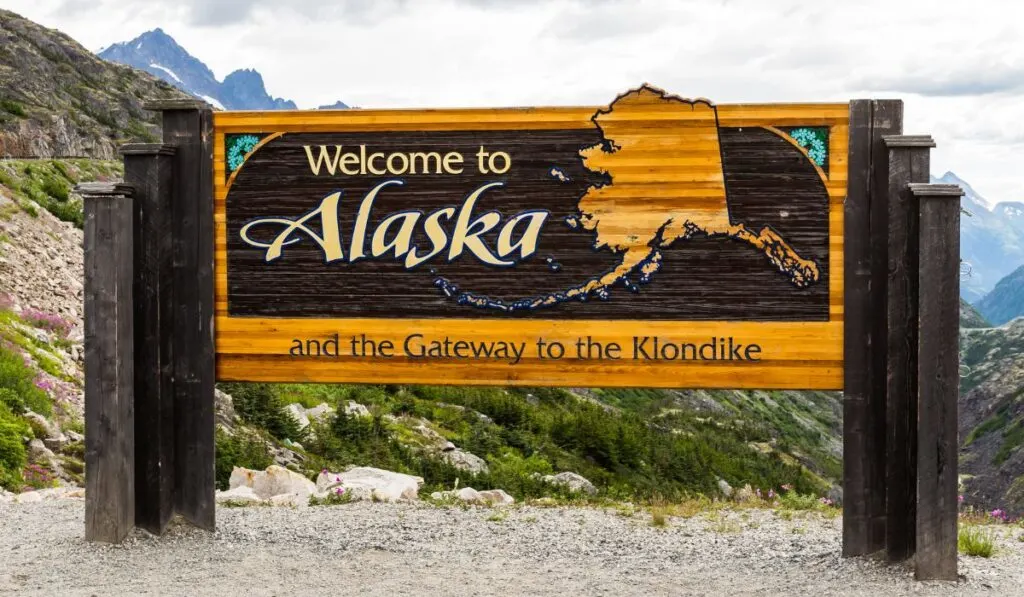 The three-hour excursion travels to White Pass summit and crosses into Canada a short distance, so be sure to carry your passport. I traveled this route in May, and snow still blanketed some areas. Bears were visible in the higher regions of the Yukon.
9. Take A Kayak Safari
If you love kayaking, then take advantage of the beautiful Alaska scenery and explore the waters of Lynn Canal. Guides will access your kayaking ability and pair you with a single or double kayak. This all-day tour has plenty of photo opportunities.
On your kayaking adventure, seals, bald eagles, or porpoises could accompany you along the way. You may even see the odd humpback whale. Also, consider kayaking on Chilkoot Lake as another great Skagway excursion.
10. Hike The Chilkoot Trail
The Chilkoot trail and float tour combined a hike with a river raft floating down the Taiya River. The excursion features a medium-level trek in the Klondike Gold Rush Historical Park.
The 2-mile (3.2-km) trail wanders through the lush rainforest with lots of stairs and roots, so make sure to have appropriate footwear.
The guides are very knowledgeable about the area, the wildlife, and the vegetation. You'll see bear claw marks on a tree on the trail, a reminder that you're in the wilderness.
I took this excursion in the third week of May and was not prepared for the number of mosquitoes I encountered. While the guide had some environmentally friendly bug repellent, it did not work.
So, I spent the whole hike swinging my arms briskly and continually moving. Even so, I still ended up with multiple bites. If you plan to hike in Alaska, I suggest bringing some mosquito repellent to minimize the bites.
You'll put on a life jacket at the end of the trail to finish the other half of the excursion. So, relax in a rubber raft and enjoy a gentle float down the Taiya River.
In May, it was a little brisk so remember to wear layers. Riding the raft allowed me to see many birds and eagles high in their nests. The raft ride concludes with a snack and a drink before the journey back to town.
11. Mush Dogs At A Sled Dog Camp
The Yukon Dog Sledding and Sightseeing Tour excursion is an excellent tour and allows you to enjoy dog sledding without paying for the expensive helicopter dog sledding in Alaska's capital, Juneau.
While dog sledding on a glacier will set you back around USD 575+ due to the helicopter ride, the musher's camp and the tour is a fraction of the cost at around USD 190 for a longer amount of time (6 hours).
However, the difference between this excursion and the one on the glacier is that you will be on a customized wheeled dog cart. While not quite the same exhilarating experience, you still get to cuddle with some adorable huskies and see the newest puppies.
Your guide will tell you all about the fantastic Iditarod race and the incredible endurance training huskies go through to complete a 1,000-mile race.
12. Drive To Emerald Lake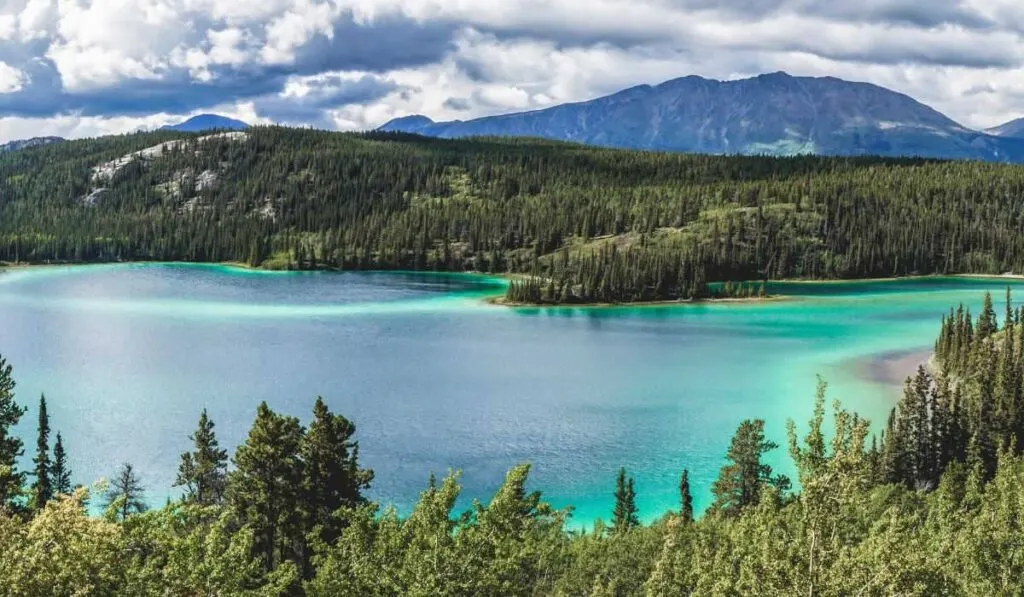 If you prefer to pass on a Skagway shore excursion, rent a car and follow your own schedule. Avis, Drive About Car Rental, and Klondike Electric Cars offer car rentals by the day.
With a vehicle, drive the scenic Klondike Hwy to Emerald Lake. Since the lake lies within British Columbia, Canada, you'll need your passport to cross the Canadian border.
As one of the most photographed lakes in the Yukon, Emerald Lake rivals some of the best lakes in Banff. It takes about 90 minutes to drive the 71-mile route to Emerald Lake. Consider stopping to see the Carcross Desert, noted for being the smallest desert globally.
The Yukon Suspension Bridge is another popular attraction. It's renowned for being accessible by those in two countries. It costs under USD 20 to cross the 180-foot-long bridge, which hangs 65 feet over the rapids of the Tutshi River.
13. Go Ocean Rafting
Ocean Raft Adventure offers a popular activity for those wanting a thrilling adventure. Once suited in waterproof clothing, you'll enjoy an exhilarating high-speed ride to Lynn Canal, renowned for having the deepest and longest fjord in North America.
In the fjord, photo opportunities are endless. With cascading waterfalls, towering cliffs, and lush forests, be prepared to take many pictures. In between landscape viewing, bald eagles, sea lions, seals, and humpback whales may make an appearance.
14. Pan For Gold
A hidden gem in Skagway, the Back Alley Rock Shop offers visitors the opportunity to pan for gold like a Gold Rush prospector.
Hidden in an alley, this store is filled with hidden treasures from natural woods to semi-precious gems. The gold panning is a fun activity in Skagway, especially if you're traveling with children.
The store seeds the dirt with flakes of gold, so each person is guaranteed to find some. Any gold found is placed in a small vial to take home as a souvenir.
The cost for this activity is very inexpensive and perfect for those who do not want to pay hundreds of dollars for an expensive port excursion.
15. See Skagway On An E-Bike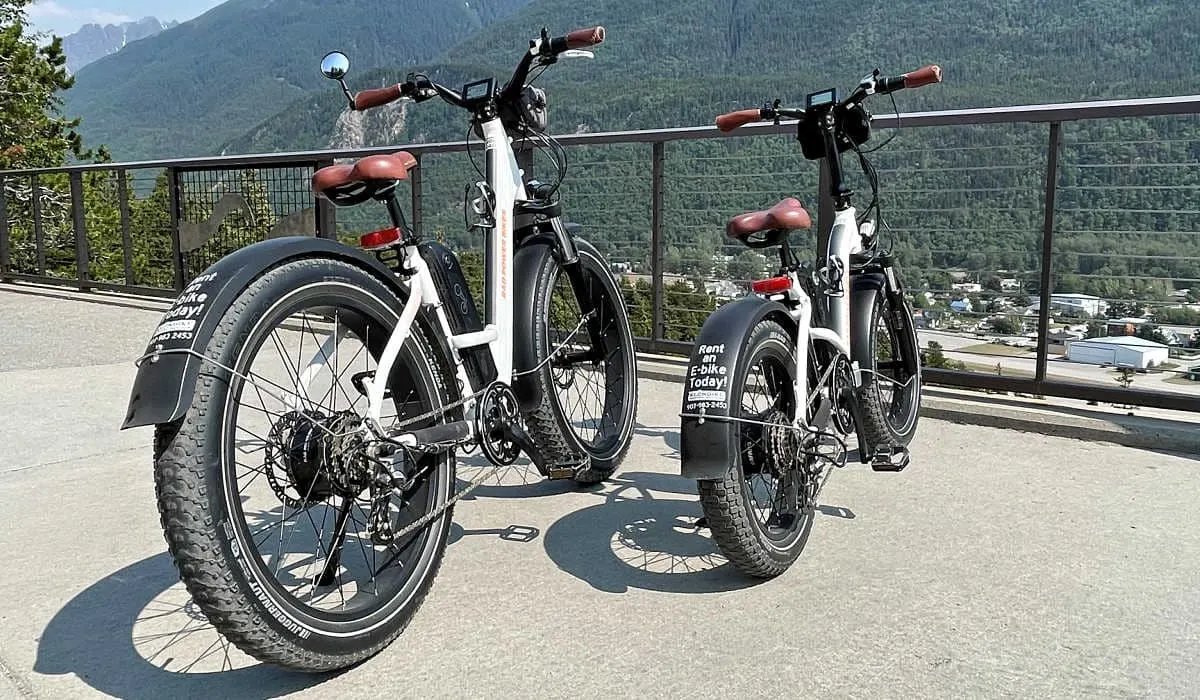 For a self-guided tour of Skagway and beyond, an electric bike provides a fun way to explore. Electric bikes are easy to ride and do the grunt work for you when the going gets tough. Klondike Electric Bicycles' location is easy to find on State Street and 5th Ave. in downtown Skagway
Booked guests can choose from three bike models with a range of up to 40 miles. The RadMini StepThru can accommodate short people like me, at only 5 feet tall.
The RadRover StepThru and RadRunner Plus are suitable for those up to 6′ 2″, and the latter has a passenger seat. Helmets, locks, and maps are included. All that you need to bring is your sense of adventure.
Bikes are rented by the hour, so ride to Gold Rush Cemetery, the Rocky Road Lookout, or travel along the Dyea Road, depending on your time. Alternatively, you can book an e-bike tour if you prefer a guided group experience.
With battery assist, you can explore areas beyond the Skagway cruise port that you can't reach on foot.
16. Laughton Glacier Hike
The Laughton Glacier Hike combines a hiking adventure with a White Pass and Yukon Railroad ride. The 7-1/2-hour tour is only suitable for those in good physical condition and who enjoy an outdoor adventure.
It's vital to dress in layers as you'll be hiking four to six miles in the mountains, regardless of the weather. Hiking boots with good ankle support are recommended.
In May or June, the snowpack may prevent traveling to the glacier. The tour includes bottled water, snacks, hot beverages, and a bush-style buffet.
17. Go Zip Lining
If you're not afraid of heights, take to the treetops on a wilderness zip-lining adventure. Grizzly Falls Zipline combines hair-raising zip lines with four canyon suspension bridges. To add to the excitement, the operator uses a customized Unimog vehicle that resembles something from Jurassic Park.
To add to the excitement, the operator uses a customized Unimog vehicle that resembles something from Jurassic Park.
You'll pass over waterfalls and beautiful Alaskan scenery as you fly through the canopy. Remember to bring your GoPro and attach it to your helmet for hands-free pictures.
18. Visit Haines By Ferry
Skagway offers a fast ferry to nearby Haines. The journey takes just 45 minutes. With five to six ferry runs a day (on most days), visitors can access additional excursions.
Consider a kayak on Chilkoot Lake, check out the Chilkat Bald Eagle Reserve, or visit a Hammer Museum.
The Haines Brewing Company and Port Chilkoot Distillery offer award-winning brews if you prefer to taste some Alaskan ale. For a taste of Alaska, try Icy Strait Vodka and Spruce Tip Ale.
19. Go Dog Sledding
For a bucket list excursion, dog sledding provides a thrill of a lifetime. Like dog sledding in Juneau, guests are equipped with glacier boots before flying to Denver Glacier. The tour combines some flight-seeing with a fun event of mushing a team of dogs around the icefield.
While it may be warmer in town, it's essential to dress in layers for the colder conditions on the ice. While it takes a helicopter to get to the glacier, the operator will cancel the tour if bad weather prevents the aircraft from flying.
20. Take A Davidson Glacier Tour
The Glacier Point Wilderness Safari brings you into the Alaskan Wilderness with a little bit of everything. This excursion features a high-speed boat ride, a rainforest hike, a safari ride, and canoeing.
If you're seeking one of the adventurous Skagway excursions, this is it! This wilderness safari gives you a sample of the "wild Alaska."
This super-organized excursion benefits from the very knowledgeable staff. The naturalist guide will watch for sea lions, seals, whales, and porpoises during a high-speed catamaran ride.
The tour then continues with a short bus ride and a quarter-mile hike to the glacial lake. There, you'll experience the Davidson Glacier up close from your 30-foot canoes. The glacier is stunning, and it's incredibly cool to paddle in iceberg-filled water.
Where To Eat In Skagway?
While Skagway isn't a big town, it does have some great choices for lunch and seafood. For the best halibut and chips, head to the Skagway Fish Hose, next to the cruise port.
For a quick lunch, Bites on Broadway offers fresh pastries, homemade sandwiches, and the best coffee. If you want a taste of Alaska, try the Alaskan salmon sandwich or the reindeer sausage.
For natural and organic, Poppies at Jewell gardens offers farm-to-table choices. It grows its own vegetables, so you can ensure your meals are created from the freshest ingredients.
Final Thoughts
Approximately 400 cruise ships will sail into Skagway, Alaska, with almost one million passengers this year. Will you be one of them? From my experience, Skagway and Alaska rarely disappoint.
While Skagway attractions are centered around the Gold Rush and its pristine wilderness, you have options to do things that are free or inexpensive.
Today, Skagway survives almost entirely on tourism so take comfort that your visit ensures this gem of a town continues for others to enjoy.
Happy travels ~ Karen