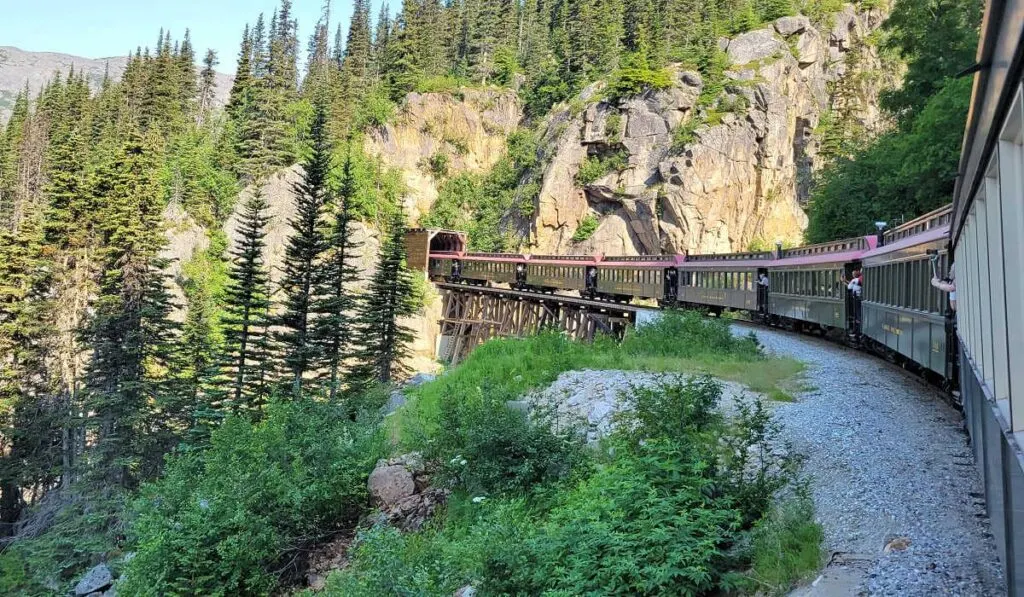 Skagway is an idyllic and historic town in the Upper Lynn Canal, Alaska. If you plan to visit Skagway with kids, this guide includes all the family-friendly activities.
With a population of just over 1,000 people, the Skagway area evolved from the Klondike Gold Rush era. On your visit, kids of all ages can learn about what it was like during this exciting period by visiting various historical sites.
Whether you go gold panning as they did decades ago or ride the historic White Pass & Yukon Route railroad, you'll enjoy beautiful Alaskan scenery and may spot some wildlife. It's sure to create meaningful memories!
Most travelers arrive in Skagway on cruise ships. While you'll have only one day in this southeast town, select from the following kid-friendly Skagway activities.
1. Try Gold Panning
Gold panning dates back to the 19th century. While it was done in the hopes of getting rich, today, it provides a fun activity that families enjoy.
While prospectors never found gold in Skagway, tour operators have built facilities to offer a novelty experience.
So, if you want to go for the gold, Alaska 360's Dredge Town allows children to practice the art of gold panning in the Skagway River. Kids love this tour because there's water, dirt, and gold! Need I say more?
At the Dredge Tour, you can tour a gold dredge used by the Klondike prospectors years ago. Children love the fact that whatever gold they find, they keep. Now, isn't that the best Alaska souvenir?
While the tours last two hours, you can often combine it with a salmon bake, dog mushing, and other Skagway activities.
Alternatively, if you prefer a simple gold panning experience without a bus ride, Back Alley Rock Shop downtown offers just that. Kids can admire the gems and rocks in the shop, along with the gold panning outside.
2. Ride The White Pass & Yukon Route Train
Rated as the most popular excursion in Skagway, you'll understand why after you've ridden the railroad. If you book through your cruise line, you'll board the train at the dock and get the first pick of the seats.
However, those who purchase tickets directly must walk 10 to 15 minutes to the train station and board last. The vintage carriages have washrooms and outdoor platforms to enjoy the views.
On the journey to White Pass, you'll learn what it took to build this iconic route during harsh winters. In summer, snow will still blanket some of White Pass, even when Skagway is experiencing higher-than-normal temperatures.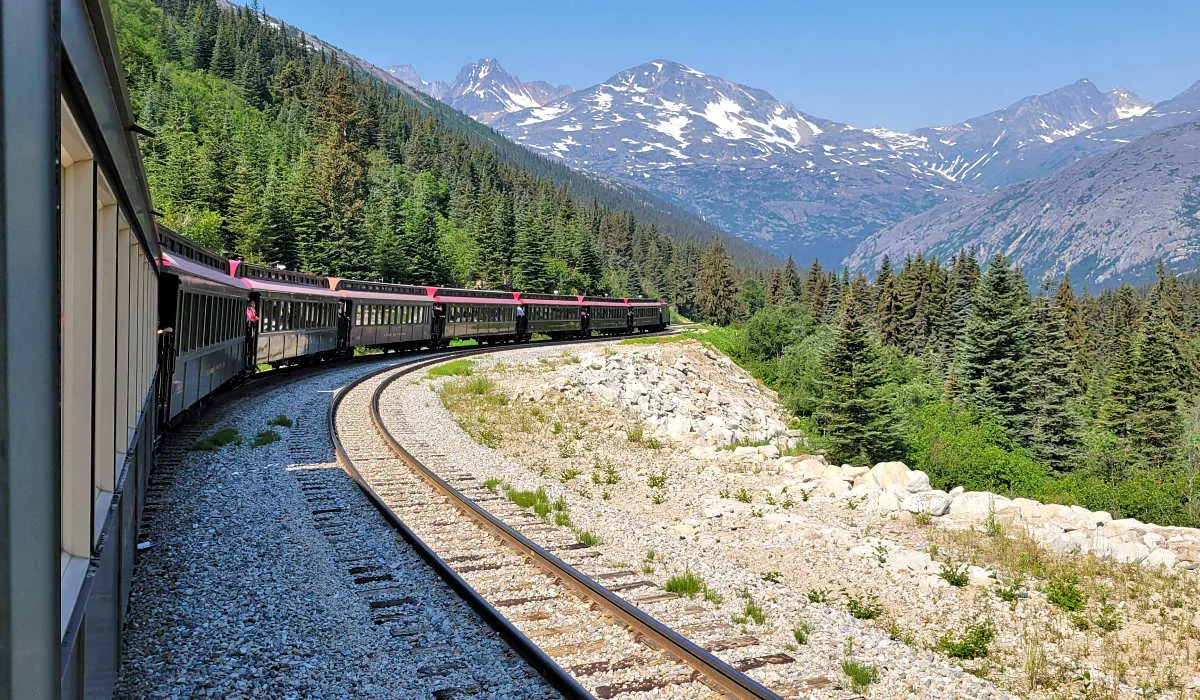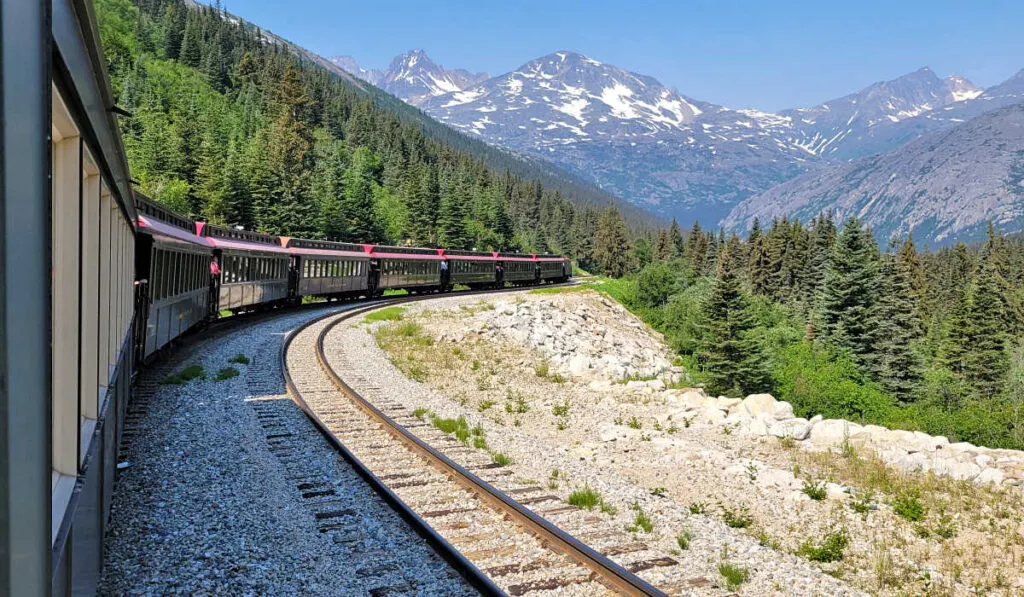 Each rider will receive a White Pass booklet with railroad facts. Children will enjoy completing crosswords, word searches, and other puzzles at the back. So, remember to bring a pen or pencil.
The Skagway train trip takes under three hours, and you can choose from two time slots, either morning or afternoon. So, you'll have time for lunch and may decide to add a second tour during your port day.
Train journeys make great family vacation memories, and this one is no different.
3. Enjoy A Scenic Float Tour
For families who love the wilderness, the Chilkoot Hike and Float excursion combines a bit of hiking with a float on the Taiya River. The trail is not suitable for really small children unless you're using a kid carrier.
However, if you want to get off the beaten track and enjoy the rainforest, this excursion may be right up your alley.
Regardless of when you plan to visit, use mosquito repellent, as pesky flies can be a nuisance in summer. It's a rainforest, after all, and mosquitoes thrive in damp environments.
On tour, an experienced local guide will escort you to a small section of the Chilkoot Trail. It's a chance to learn about the gold prospectors who used the same route years ago. You'll see a bear claw mark on a tree and sample wild berries if they're in season.
The float down the river allows you to see bald eagles nesting in the trees. Before returning to downtown Skagway, you'll complete your tour with a sugary snack, granola bar, or cookie and a drink.
4. Go Zip Lining At Grizzly Falls
For an adrenaline-filled experience, try zip lining at Grizzly Falls in Dyea, near Skagway. It combines the thrill of zip lining with the wonder of four canyon suspension bridges. Since this is one of Skagway's popular activities, you must reserve your spot early.
And when you go, you'll be riding in a Unimog vehicle that looks like it belongs in Jurassic Park! You'll see magnificent waterfalls and breathtaking scenery as you fly through the Alaskan canopy.
Bring a GoPro or other action camera to capture your adventure (attach it to your helmet for hands-free photos!).
Be aware that this tour goes rain or shine. However, if the sunshine comes in liquid form, the canopy will shield you from the elements.
Children must be at least six years of age and 50 lbs. to join this exhilarating tour. You'll spend 90 minutes flying from treetop to treetop on eleven thrilling lines.
Due to its proximity to the dog mushers camp, you could combine both shore excursions if you have the budget.
5. Hike To Yakutania Point
If your children aren't too little, consider heading to Yakutania Point, close to the cruise port. It takes a 15-minute leisurely stroll through the wilderness to reach Yakutania Point. Should you want to walk a bit further, you can reach the beautiful Smuggler's Cove.
From this spectacular view, you can observe many different types of marine life, including harbor seals, sea lions, bald eagles, and, if you're lucky, humpback whales or orcas.
Since it costs nothing to take a walk, you'll enjoy a free, family-friendly activity if you're cruising to Alaska on a budget. Since you're trekking in bear country, remember to make noise, carry a bear bell, and don't allow your children to run ahead.
6. Visit A Dog Mushing Camp
If you're missing your pup back home, there's no better activity to take with your family than the dog musher's excursion.
Your tour starts with a short bus ride to the dog mushers camp in Dyea, north of Skagway. Then you'll ascend the mountain in a Unimog, built to handle rugged terrain.
The dog camp is located in an area of spectacular natural beauty. Here, you'll learn about the Alaska state sport and why dog sledding is an essential part of Alaska living.
On the Yukon Dog Sledding and Sightseeing Tour, mushers and their furry friends take you on an exciting adventure in a customized wheeled dog cart.
Kids of all ages will enjoy being with some friendly huskies and puppies. They'll also learn more about the legendary Iditarod race and the incredible feat of endurance these dogs undertake.
This tour provides an unforgettable experience that is much more affordable than the helicopter dog sledding tours in Juneau. Plus, families love that there is no minimum age limit.
7. Watch A Salmon Run
Pullen Creek, which runs out to the cruise port, fills with spawning salmon in July and August. King (Chinook) and pink salmon make their way up the creek to spawn and die.
If you visit in these months, your family can watch the salmon run without a paid tour. You can observe these mighty fish pooling in the waters near the Broadway Dock.
But you could see other creatures while at the creek. These include harbor seals, river otters, mink, and birds who come for an easy feast.
Exploring the shoreline from the boat harbor to town provides ample opportunities to witness the annual salmon run.
8. Rent An E-Bike
Families with teenagers might prefer the option of riding an electric bike. Klondike Electric Bike shop (at State Street and 5th Ave) requires kids to be 14 years or older and be at least five feet tall.
If you've ridden a bike, you can learn to ride a RadPower bike in five minutes. The bikes have a couple of extra controls, such as the throttle and electronic panel, which control the amount of power assist.
With the aid of a battery, you can cover more ground than walking and tackle hills that might be challenging on a regular bike. Bike rentals are inexpensive; families can rent by the hour, half day, or all day.
Their five-hour self-guided tour to Dyea includes a lunch. All tours include a map and suggested routes that you can ride within your allotted time. You can even book an e-bike with gold panning.
Excursions include a bike helmet and lock to secure your bikes at stopping points.
9. Hike To Lower Reid Falls
North of Skagway, you can hike to Lower Reid Falls. The 1.5-mile walk takes about 30 minutes but provides some interesting views along the way. Travel north on Main Street, make a left at the end of the road and turn right onto Alaska Street.
You'll pass the White Pass & Yukon Route train yard as you turn onto Alaska Street. Here, they service and maintain the train engines and carriages which carry passengers into Canada.
Beyond that, you'll reach the Gold Rush Cemetery. A visit to the cemetery might seem like an odd place to go, but it's a natural extension of learning the history of the Gold Rush.
Some of the prospectors, such as Frank Reid and Jefferson "Soapy" Smith, were laid to rest in Gold Rush Cemetery.
A short trail leads to Lower Reid Falls at the back of the small cemetery. Depending upon recent rainfall, the waterfall could be cascading or rushing.
10. Drive To Emerald Lake
Growing in popularity, a self-guided scenic drive to Emerald Lake provides a leisurely day to enjoy Alaska's wilderness at your own pace.
You'll need at least eight hours in Skagway to choose this activity, a passport, and a rental car from one of these businesses.
Klondike Bikes (398 5th Ave) has two electric cars. If you prefer to travel sustainably, you won't need to refuel, and you're doing your part to save the planet. Also, electric cars have plenty of range to reach the Yukon and back.
Avis (2020 2nd Ave) offers car rentals in the summer months. You can walk to their rental office from the cruise dock.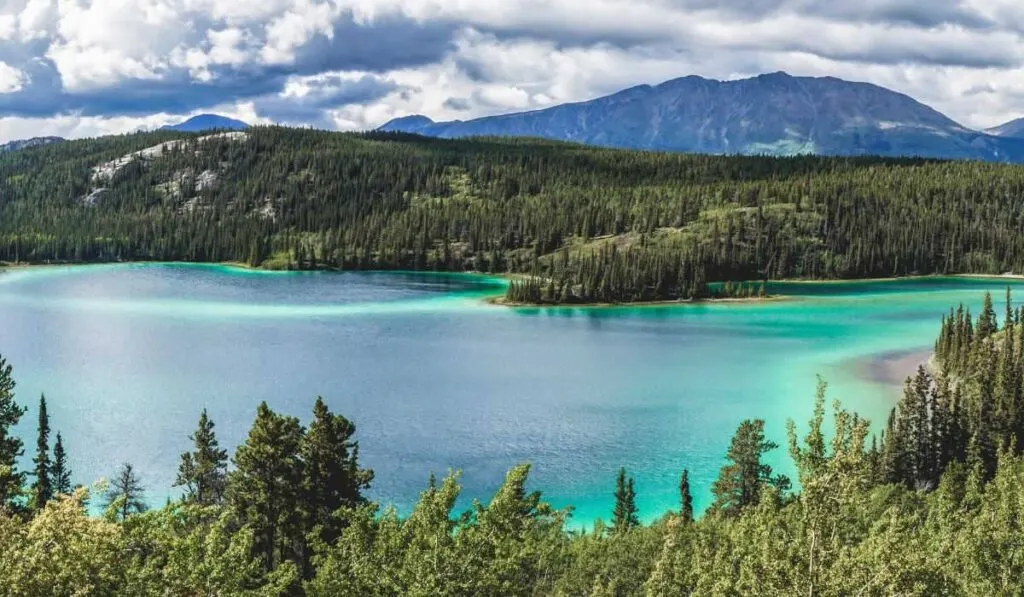 Affordable Car Rental (648 Broadway) offers a USD 10 brown bag lunch and pick up and drop off.
DIY Jeep Tours (2nd and State Street) is the only option for an SUV. Their vehicles seat five and have ample space for backpacks.
The 72-mile route to Emerald Lakes takes 90 minutes with no stops. Even if your children aren't fond of road trips, the Klondike Highway provides picturesque views and has many great stopping points.
Popular stops include Pitchfork Falls, Tutshi Sled Dogs, Carcross Desert, and the Yukon Suspension Bridge. With a swaying bridge, husky pups, and a chance to see snow in summer, who wouldn't love this road trip?
11. Go Dog Sledding On A Glacier
No trip to Alaska is complete without completing at least one bucket list experience. Of all the excursions available, dog sledding might be the number one choice if you can afford it. Even at a high cost, dog sledding on a glacier sells out months in advance.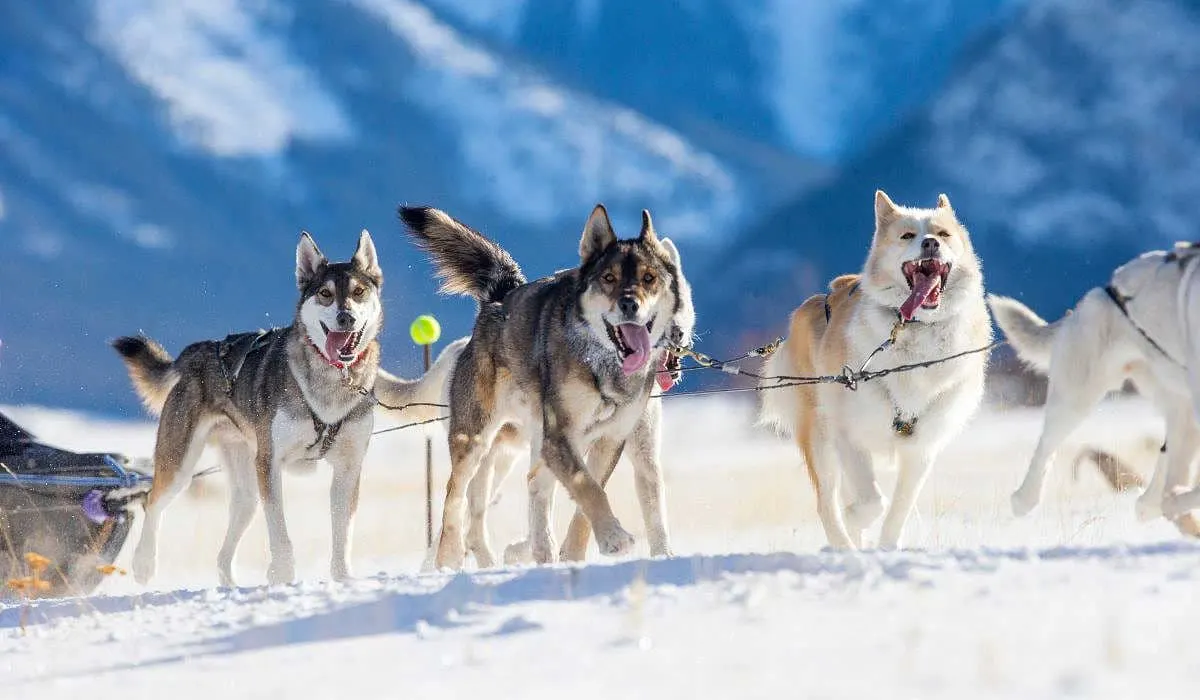 While most cruise guest book the excursion in Juneau, Skagway is a great place to experience dog sledding! Temsco Helicopters offers the unique opportunity to take a scenic helicopter tour over Denver Glacier while also getting to hop on a dog sled.
Even if the skies are clear in downtown Skagway, it can still be quite cold up on the glacier. So, be sure to bundle up your kids and wear waterproof gear.
This exciting tour will make you feel like an Arctic explorer as you soar through the air, surrounded by beautiful glaciers and dogsled with your team of eager huskies.
After this two-hour adventure, your family will return with beautiful memories and new members of the dog mushing club!
12. Visit Kroschel Films Wildlife Center In Haines
For an unforgettable Alaskan wildlife experience with your family, visit Kroschel Films Wildlife Center. Founded by naturalist and renowned filmmaker Steve Kroschel, the center is dedicated to rescuing and rehabilitating injured animals.
Whether you book a tour with your cruise line or take a fast ferry from Skagway to Haines for a private tour, you'll get the chance to observe wildlife at close range and meet some of Alaska's creatures up close!
The Kroschel Films Wildlife Center is not a zoo but a refuge for needy animals. Steve, a wildlife lover, puts his heart and soul into his passion project, and it reflects in his animal family.
At the center, you can see species such as wolves, grizzly bears, reindeer, lynxes, and porcupines in their natural habitats. Guided tours take place between May and September, which happens to be Alaska cruise season.
13. See Skagway By Streetcar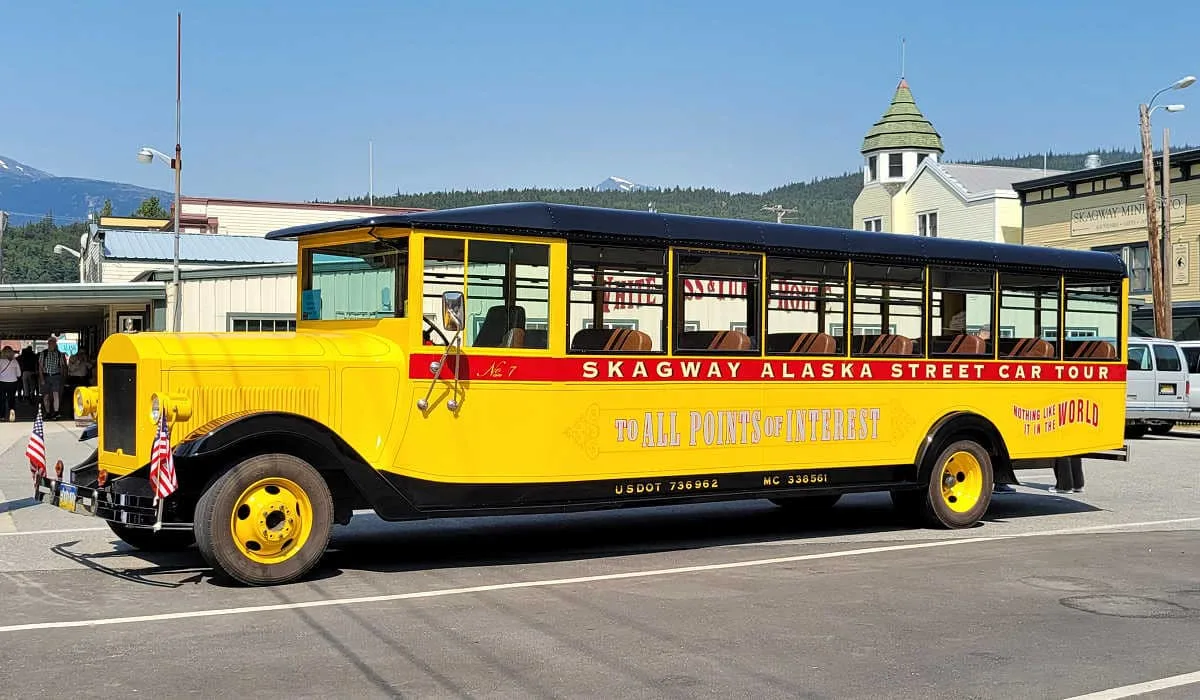 If you're not into renting a vehicle or taking an expensive tour, you can see the sights of Skagway on a 90-minute streetcar tour. The historical tours take place on vintage 1927 bright yellow touring vehicles.
You'll explore downtown (the National Park Historic District) and continues on to enjoy a picturesque Skagway Overlook. The whole tour is narrated and starts with the story of Martin Itjen, Skagway's pioneering tour guide from the 19th century.
Some say he put Skagway on the map when he attracted celebrities like Mae West. Whatever the story, the streetcar tour still delights those who ride the yellow buses.
In nearby Gold Rush Cemetery, you can find the grave of Martin and his wife, Lucy, next to the gimmicky gold nugget boulder he created to "wow" the tourists.
14. Join The Junior Ranger Program
The National Historical Park has a Junior Ranger program, encouraging kids of all ages to learn about the Klondike Gold Rush. By completing activities, children can earn "nuggets" on their way to earning a badge.
You can download the booklet online or visit the Junior Ranger Visitor Center during your port day. Adults can join along and help their little ones answer the answers.
The activities vary, and younger children need to complete fewer to earn their badge. Some activities are completed on an iPad at the center, while others encourage young rangers to explore parts of the park for the answers.
Once youngsters have completed their booklet, they can return it to the visitor center or mail it to receive a badge.
15. Play At Mollie Walsh Park
If you need a break from exploring or between tours, let the little ones burn off some energy at Mollie Walsh Park. Located at the eastern end of 6th Avenue, the playground equipment is one of the best I've seen and screams "wilderness!"
A small bust and informational board explain the significance of Mollie Walsh, who came to Skagway during the 19th-century Gold Rush.
While this playground has the typical slides, bridges, and climbing frames, it's topped by evergreen trees. How Alaskan is that? The treehouse forest theme is an ingenious idea that your kids will enjoy.
Final Thoughts On Visiting Skagway With Children
Skagway, Alaska, is an excellent place for families to explore together! Kids of all ages can discover the history and culture of the Klondike Gold Rush. It's like stepping back in time.
From thrilling zip lines to relaxing train rides, there are plenty of tours to suit all ages. Whether you have a budget or time restraints, spend some time with your kids to learn more about Skagway's unique past!