If you're traveling to Alaska and on the fence about a whale watching tour, this article breaks down what to expect and gives reasons to take the excursion in Juneau.
Alaska cruises run from late April to early October. But did you know this coincides with the longest global migration?
The rich waters of the Gulf of Alaska give humpback whales a binge-feeding opportunity during the summer months before returning to Hawaii and Mexico in the fall.
While the first week of May may not be the best time for viewing, whales are prevalent through cruises in August and into the beginning of September.
So, if you're considering booking this adventure, here are eight reasons to take a Juneau whale-watching tour.
1. You're Guaranteed To See Whales
If you're traveling to Alaska by cruise ship, enjoying sightings from your stateroom balcony is not unusual. However, vessels sail in the deepest parts of the inside passage, and whales usually swim close to the coastline.
To see them, you need binoculars. Buy the best whale-watching binoculars for your budget, whether high-end or, if you're concerned about luggage space, a compact pair instead. However, the best way to view the gentle giants is on a tour.
There are many private whale tours in Juneau, Alaska, and most will guarantee you'll see whales, and you WILL!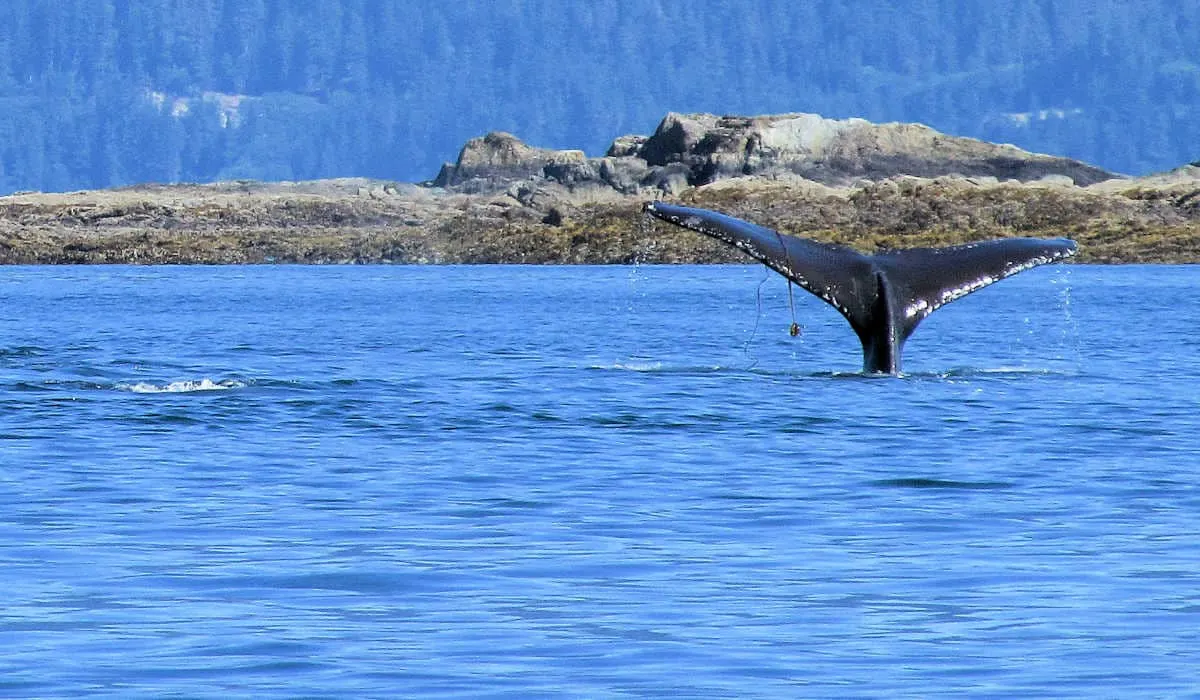 You may book your Juneau shore excursion in advance through the cruise line's website or tour companies. I always found the cruise line excursions a little expensive, so booking whale watching independently can save money.
During your tour, operators will share sightings of whales with other tour companies so that each excursion group can locate the whales quickly. This ensures the best experience possible.
Staff on board can share expert advice and information on marine mammals in their area.
The most commonly spotted whales are the colossal humpbacks, although orcas are sometimes seen. The humpbacks breed in the warm waters of Hawaii during the winter months but migrate north to Alaska to feed in the summer season.
Gray whales also migrate to Alaska. They can grow to 50 feet long and weigh 40 tons. These gentle giants have the longest migration of 5,000 to 7,000 miles each way!
Traveling from Baja California, Mexico, to Northern Alaska and vice versa takes two to three months. While the nutrient-rich waters of Alaska sustain eight different types of whales, you're more likely to spot humpbacks and maybe Orcas while cruising.
Other whale species include the sperm, blue, minke, bowhead, and beluga whales.
2. Small Boat Experience
While spotting whales on an Alaskan cruise is common, a sightseeing vessel offers a contrasting experience. Travelers can select from a wide range of companies like Allen Marine Tours, Gastineau Guiding, and Harv and Marv's Outback Alaska.
However, Jayleen's Alaska offers a small group experience with a maximum of six passengers. Bear in mind that these 26-foot small boats don't have washrooms and, due to their size, may cause seasickness.
Remember to use a seasickness remedy onshore long before your tour if you are prone to motion sickness. The motion sickness patches work well and do not make you drowsy.
Alternatively, slightly larger vessels accommodate more but still give that small vessel experience. Gastineau Guiding has unique safari vessels with upper indoor and outdoor viewing decks.
Some excursions include onboard naturalists or tour guides who will educate you about Alaska's wildlife and flora.
3. You'll See Other Wildlife
The waters around Juneau are a major marine thoroughfare. For most, seeing a whale up close is a bucket list activity, but it's also a great opportunity to see other wildlife. You could see orcas (killer whales), harbor seals, Steller sea lions, porpoises, and bald eagles during the excursion.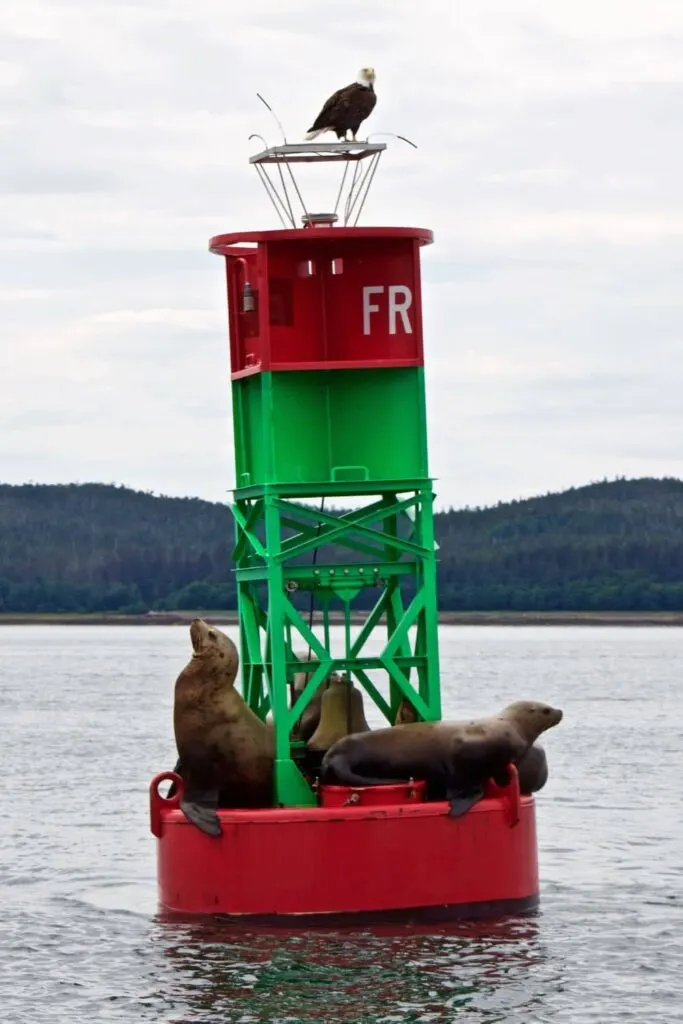 In fact, on the way back to the harbor, boats always swing by a buoy, a favorite spot for sea lions to hang out. You'll also enjoy distant views of Mendenhall Glacier and the snow-capped mountains from Auke Bay.
Take the time to look around because the amazing scenery from the water is breathtaking. You don't want to miss those memorable experiences of being in the Last Frontier.
Guests on the Tracy Arm Fjord and Explorer tours also see whale sightings. Along with humpbacks and Orca, they may see bald eagles, harbor seals, sea lions, black bears, mountain goats, and many bird species.
4. You'll Get Up Close And Personal
Your captain and crew will be scouring the waters of Juneau, but you can help by using your binoculars to look too. The more eyes, the better your chances of getting what you came for.
If you want those fantastic whale shots, remember to bring a camera. While a cell phone is adequate for most people, a DSLR camera with a zoom is better.
If you have a camera but don't have a lens, don't buy one; consider renting one instead. The zoom lens will be handy when waiting patiently at a glacier to witness glacier calving.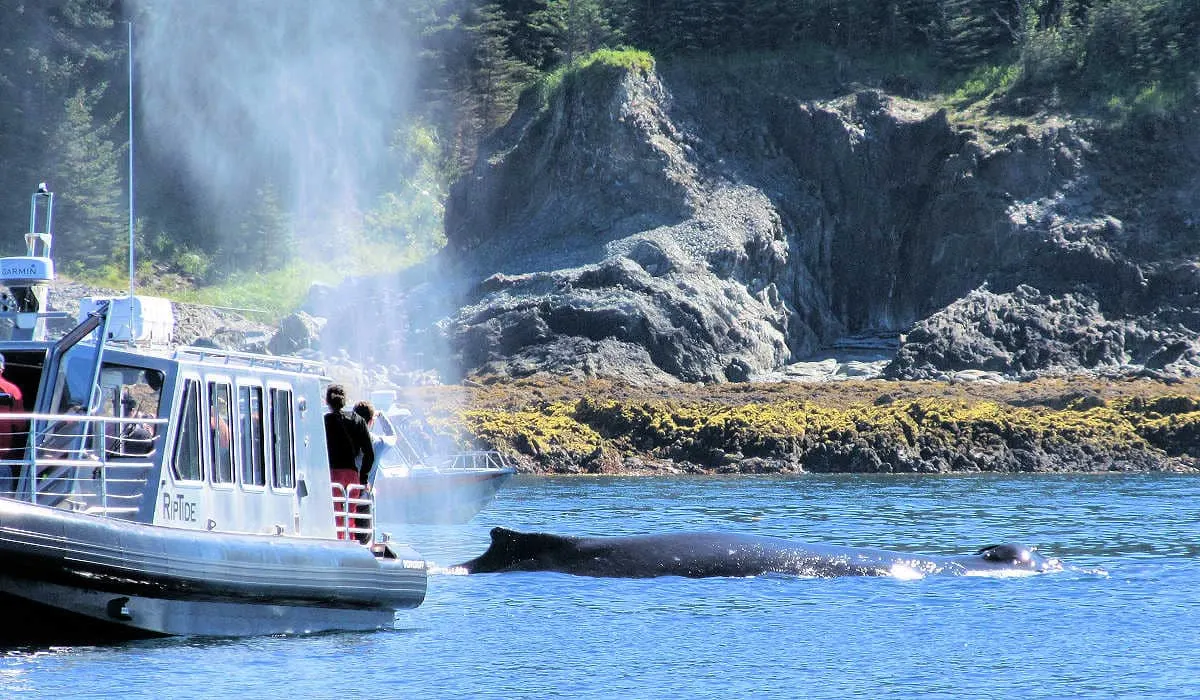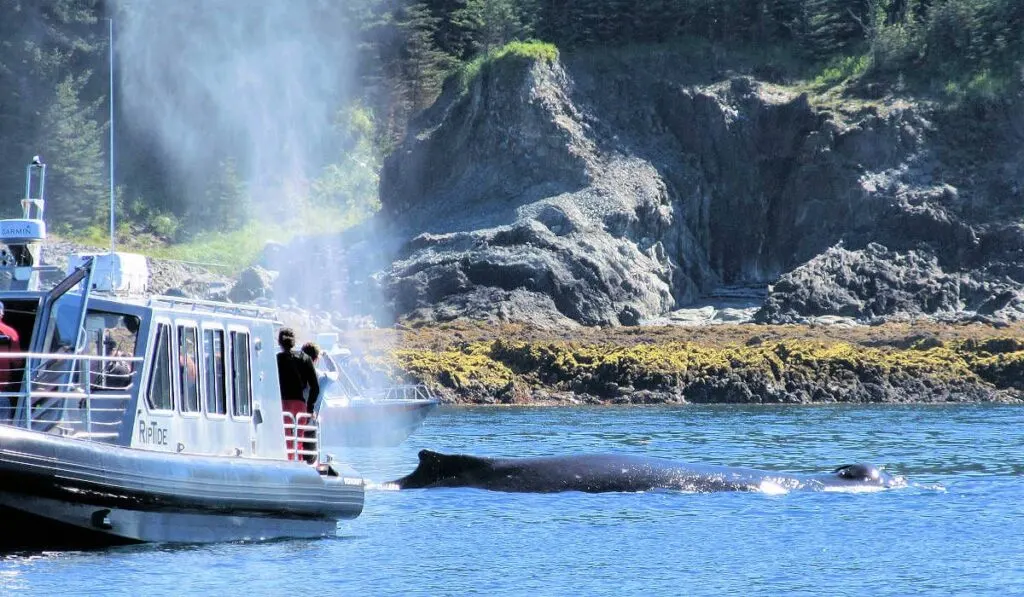 Whales are easily spotted by mist spouts from their blowholes as they surface for air. Once your boat locates some whales, it must follow the Alaska humpback whale approach regulation, which has been in effect since 2001.
It states that you:
Should not approach within 100 yards of a humpback whale.
Do not place your vessel in the path of oncoming whales causing them to surface within 100 yards of your boat.
Not disrupt the normal behavior or prior activity of a whale.
Operate your vessel at a slow, safe speed when near whales.
While regulations state you cannot approach a whale, it does stop a pod from coming to you. In fact, on one occasion, these massive creatures swam under my boat.
While I knew whales were big, I appreciated their immense size when I was up close and realized they were bigger than my vessel. I had a flashback to the "Jaws" movie, where the shark was bigger than the boat. Although I knew the whales were harmless.
5. You Can Smell Whale's Breath
During my last whale-watching excursion in Juneau, my boat stayed with two adult humpbacks with a new calf for quite some time. Let me tell you, being in a small vessel next to a whale was quite eye-opening and left me speechless.
Be warned; when whales exhale through their blowhole, it's loud…really loud! Not only that, if you are pretty close, and they exhale, their breath smells bad, like rotten fish or garbage!
I'm not sure it's a good reason to take a whale tour, but it makes for an interesting memory.
6. You Could See Bubble-net Feeding
One of the exciting facts about humpback whales is they can eat by bubble-net feeding. Bubble net feeding is a fascinating and amazing phenomenon created by these gigantic creatures.
Strategically working together, humpbacks create columns of bubbles under the water by releasing air from their blowhole. The ring of bubbles traps their prey in a netting of fizzle.
Then the massive whales lunge out of the water, devouring their prey in a frenzy feeding. Bubble net feeding is unique to the humpback whales in Southeast Alaska and a great reason to book a west coast whale-watching tour.
7. You'll Enjoy A Private Performance At Sea
The majority of tours from Juneau see tails and fins. Whales can stay underwater for approximately 20 minutes before coming up for air.
So, practice patience when viewing whales because once they dive, you could wait 15 to 20 minutes before they resurface again.
Whales are mammals and breathe through the blowholes on the top of their heads. When they dive deeply into the water, they flip their tails up. Once you've seen a flipped whale tail, you know it will be a while before that whale resurfaces.
Whales sometimes jump out of the water, then hit the water with a thundering splash. This is known as breaching.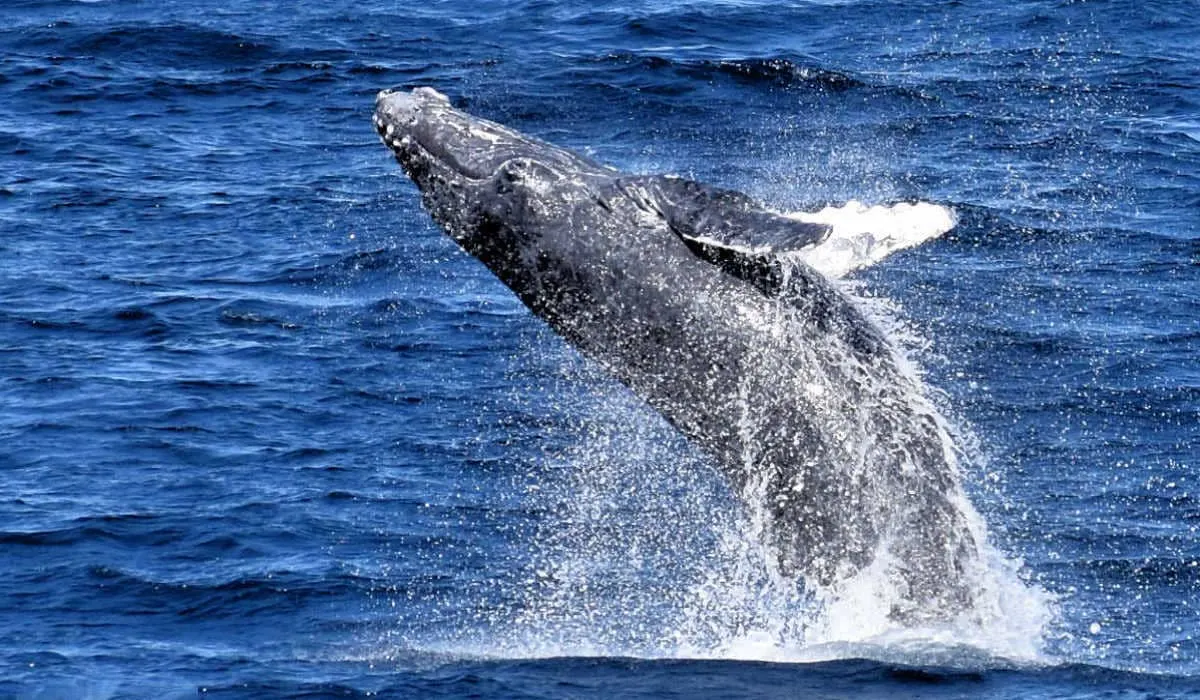 While scientists are still studying why whales breach, many believe it's a way of communicating with other whales. Watching a breaching performance is spectacular.
8. Supports The Local Economy
Companies that offer whale-watching trips were hit hard by the pandemic. You're supporting a small local company by taking a Juneau tour to see whales in their natural habitat.
Alaska relies on tourism and cruise ships to bring people to explore its wilderness. Since most tours last a few hours, consider combining your excursion with a visit to Mendenhall Glacier. It's easily doable on your one day in Juneau.
Mendenhall Glacier is a must-visit, and a trip to the park allows you to explore on your own. If you have an hour or more, the hike to Nugget Falls lets you see a thunderous waterfall close to the ice field.
Alternatively, combine a whale-watching tour with the Gold Creek salmon bake.
What To Wear?
Weather is very changeable in Alaska. Even if it's sunny in downtown Juneau, expect slightly colder conditions on the water. Be prepared for wet weather by wearing a waterproof rain jacket.
After all, you're in Alaska, and the chances of rain can be 25% or more in the summer months.
Also, wear layers because being out on a boat can sometimes be very chilly at the best of times. Since UV rays reflect off the water, protect against sunburn (even on a cloudy day) by wearing sunscreen. A pair of sunglasses will also help with the glare from the water.
If showers are in the forecast, wear waterproof shoes. I prefer Vessi shoes because they're lightweight, vegan, and 100% waterproof, even in a downpour. You can find them online here.
Similar shore excursions are available in other Alaska ports if you're conflicted about tours in Juneau.
Whale Watching In Icy Strait Point, Alaska
Like Juneau, Icy Strait Point (ISP) offers plenty to do, including whale-watching tours. Boats are much smaller, so you can enjoy wildlife viewing with fewer people. Fewer people also mean less competition for finding whales.
In ISP, there are plenty of opportunities to see humpback whales, Orca, sea lions, and porpoises. Most tour boats have a covered area (in case of rain), a bathroom, and plenty of seating.
The excursions usually include a drink and a snack too. Also, transportation to and from the cruise port is provided if you're traveling by cruise ship.
Kenai Fjord Tours
If you're sailing a one-way itinerary to Seward, consider booking a whale-watching cruise to Resurrection Bay or combine it with a Kenai Fjords National Park tour.
Being so far north, you'll have an excellent opportunity to see the California gray whales. Also, look out for humpback whales, Orca, stellar sea lions, puffins, and other marine wildlife.
Frequently Asked Questions About Whale Watching
Q: How much does it cost to go whale watching?
A: Most tour operators charge approximately USD 130+ for a 4-hour tour, but cruise lines charge upwards of USD 175 for the same excursion.
Q: Can you do a Juneau whale watching and Mendenhall Glacier tour together on a cruise port day?
A: Absolutely, and I've done it several times. Just be aware of the last shuttle bus back from Mendenhall Glacier.
Q: When is Alaska whale watching season?
A: The season runs from May to September, which is Alaska cruise season.
Q: What to wear whale watching in Alaska?
A: The weather can change quickly in Alaska. So it's best to wear layers and bring a waterproof jacket in case Alaska blesses you with liquid sunshine.
Q: My cruise ship arrives late in the day. Are tours still offered?
A: Yes, companies keep track of cruise ship arrivals, and some offer excursions later in the day.
Q: Are whale watching tours in Juneau worth it?
A: A Juneau whale watching tour rarely disappoints. Even if you see whales from your ship, you'll get much closer in a smaller vessel.
Q: Who offers the best whale-watching excursion in Alaska?
A: While this is a popular question, there is no defined answer because everyone's opinion differs. I have taken whale-watching tours with Allen Marine Tours and Gastineau Guiding; both are amazing companies.
But I have also heard rave reviews from Harv and Marv's Outback Alaska, Juneau Tours, and Whale Watch.
Final Thoughts
While I'm blessed to live in Vancouver and can participate in whale watching near me, there is something special about taking a similar experience in Alaska. It could be the allure of Alaska's natural beauty of rugged mountains with glistening glaciers.
I have taken several Auke Bay whale-watching day tours, and they are amazing. I think the waters near Juneau offer great wildlife viewing in Alaska.
Or maybe it's the adventure of being somewhere other than home. If you've booked an Alaskan cruise, what are you waiting for? Book a thrilling Juneau whale-watching tour today. You won't regret it!