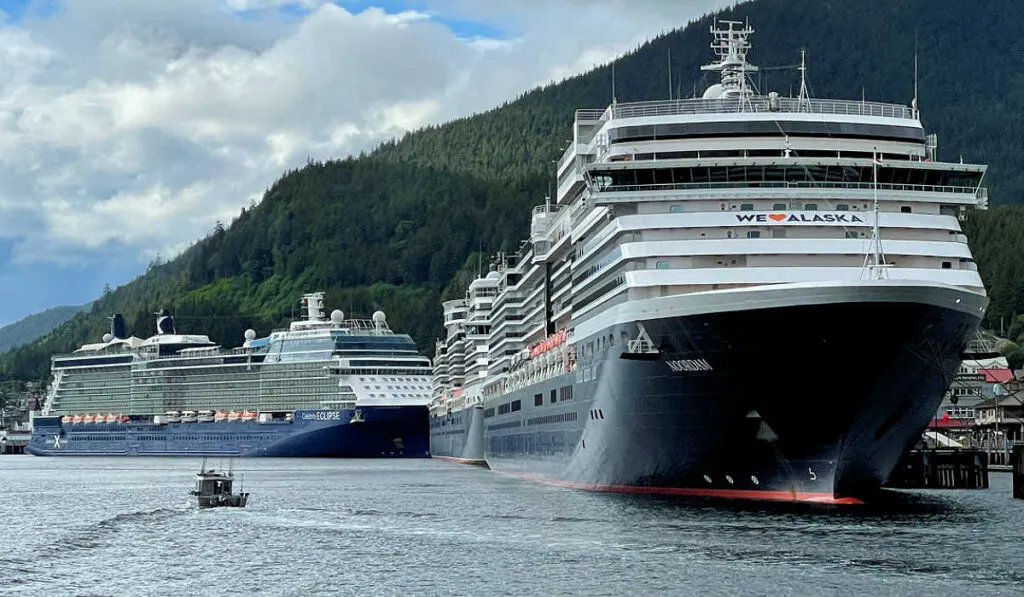 Alaska has an abridged cruise season from late April to early October. First-timers usually look for the best cruise option for Alaska and the best month to sail. If you're planning to visit Alaska in August, July and August command the highest prices and are considered the peak season.
With children out of school, cruise ships welcome many families in the month of August. They also see travelers from Australia who are escaping their winter.
In August, you'll experience long days, which allow you to enjoy the pristine landscapes and look for wildlife. So, let's examine seeing Alaska in August.
Cruising In August Vs. Shoulder Season
Cruising in August allows you to enjoy warmer weather conditions, so you won't necessarily need that down jacket or fleece-lined raincoat.
🛳️ Haven't booked your August cruise yet?
Find your perfect cruise with Cruise Critic. It features more than 650,000 cruise reviews, advice, information and money-saving tips.
Find your cruise here
Let's compare traveling in August to going in the shoulder season. If you're from the south, taking an cruise to Alaska in May might be out of the question.
However, April and May are the driest months and receive the least amount of rain. The chances of rain increase as the summer progresses. So, is summer the best time to take an Alaska cruise?
Being the peak time of year, expect to pay 50% more than one offered in colder weather. But summer weather allows you to enjoy outdoor activities without wearing heavy clothing.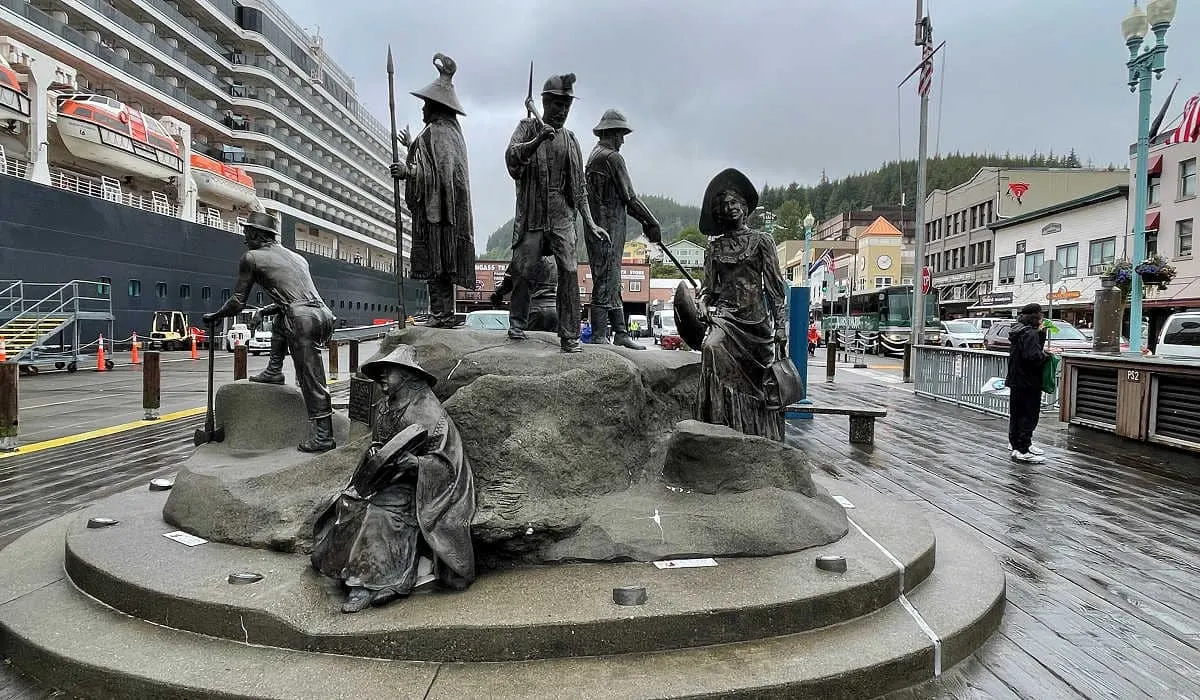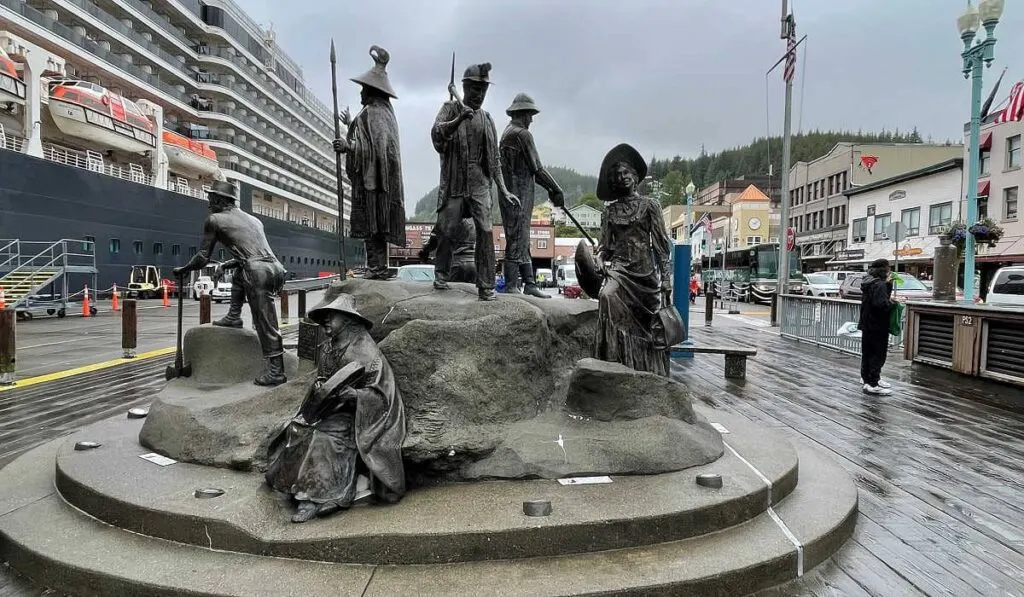 In August, the cruise season is in full swing, and multiple ships may be in port.
Before booking your cruise, compare docking times and where you dock. If there are more than five ships scheduled to stop in Juneau, chances are, some vessels will need to tender.
Expect it to be crowded in town, and the popular excursions could sell out months in advance.
With congested ports, some ships spend 12 hours in port, while others dock for half the time. You'll want to choose an itinerary with maximum hours to explore the ports.
At the end of the month, many businesses in Alaska start having their end-of-season sales. It's good news for you because you can shop for Alaska souvenirs at lower prices.
While some stores stay open year-round, most "tourist shops" or small businesses close until the following cruise season.
Daylight Hours And Weather Forecast
Alaska's a vast state, bigger than Texas. So, the weather can vary by area. It's advisable to check the weather forecast before flying to your embarkation port.
While you've passed the longest day of the year, you'll still have long daylight hours, warm weather, and reasonably high temperatures.
On average, Anchorage receives 16 hours, Juneau 15 hours, Hubbard Glacier 15.5 hours, and Fairbanks 16.5 hours of daylight. Depending on the area, some towns receive ten days of rain in August.
| | | |
| --- | --- | --- |
| City/Town | Temperature | Rainfall |
| Ketchikan | 65 F or 18 C | 11.3 inches |
| Skagway | 63 F or 17 C | 2.4 inches |
| Anchorage | 64 F or 18 C | 2.9 inches |
| Fairbanks | 66 F or 19C | 2.1 inches |
| Glacier Bay National Park | 60 F or 16 C | 6.2 inches |
| Hubbard Glacier | 62 F or 17 C | 13.9 inches |
If you intend to hike to higher elevations or take a helicopter excursion to a glacier, you may need extra layers to compensate for various types of Alaska weather. Cruising in early August can also experience vastly different temperatures than the end of August.
Packing For An Alaskan Cruise In August
It goes without saying that packing for a trip to Alaska is easier in August than in the off-season. While you might need an extra layer on glacier viewing day, it should be balmy in the ports.
The chart above shows average temperatures, but I have experienced low 80s (Fahrenheit) or high 20s (Centigrade) in August.
So, pack mostly summer clothes; lightweight pants or shorts, t-shirts, and good walking shoes. Bring a bathing suit because most ships have indoor pools if it isn't warm enough to use the outdoor one.
Regardless of the weather forecast, take a jacket, preferably waterproof, a compact pair of binoculars, and mosquito repellent (because mosquitoes are rampant in Alaska).
Since most itineraries include a glacier viewing day, you'll need extra layers. Wearing a base layer or sweater would suffice, with a jacket. On sunny days, sunglasses prevent the glare off the ice.
As rain increases this month, having waterproof shoes, a waterproof jacket, and a compact umbrella is advisable. A waterproof spray may do the trick if you want to avoid investing in new items.
Alaska cruises are less formal than Caribbean cruises. So, don't think you need to dress for dinner. Having comfy cruise attire is a good idea unless you're sailing on the Queen Elizabeth owned by Cunard, which is more formal.
Since most lines have moved away from formal nights to "wear your best," "evening chic," or "dress up or not." So, dark jeans and a shirt or blouse are perfectly acceptable if you want to remain casual.
Is It A Good Time To See Humpback Whales?
Humpback whales migrate from Hawaii to Alaska in May to feed in their marine-rich waters. Since the whales don't leave until September, it's a great time to spot the majestic giants.
If you pick a balcony stateroom, you can often see whales swimming the shorelines of the inside passage with binoculars. Look for the flumes of mist coming from their blowholes.
While humpbacks are the most popular species spotted, you could see orcas or gray whales too. If you're taking a one-way cruise from Seward or Whittier, Beluga whales can be seen around the Seward Peninsula.
Consider a whale watching tour in Juneau or Icy Strait Point for an unforgettable adventure. Whale sightings are guaranteed, and you can witness the phenomena of bubble-net feeding.
Cruise passengers stopping in Icy Strait Point may see humpbacks from the shoreline. I saw one breach multiple times during my visit as if performing for us tourists.
What Wildlife Can I See In August?
Alaska's wildlife is plentiful, and what you see may depend on where you go. Sitka has a large population of sea otters, which you can enjoy on a bear, eagle, and otter excursion.
The ABC Islands (Admiralty, Baranof, and Chichagof) are home to Alaskan brown bears. Brown bears are a cross between grizzly bears and polar bears, which you tell from their size.
Bear tours are available to Admiralty Island from Juneau, Icy Strait Point, and the Kenia Peninsula. With binoculars, you could spot a bear walking the shoreline in Glacier Bay National Park.
Alternatively, you can see Coastal Brown Bears and Black Bears at a bear sanctuary in Sitka. The sanctuary rescues orphaned bears that would have perished in the wild.
In August, bears are foraging for food to sustain them during the winter hibernation, so they are easy to spot than in the earlier months.
The summer months bring the salmon runs. Sockeye salmon run in early August, and you may hit the tail end of King salmon season.
Coho salmon are the most prevalent species this month. If you're an avid angler, get a license, rent fishing gear, and try your luck on the Stedman Bridge in Ketchikan.
Dall sheep may be spotted on higher peaks in Tracy Arm Fjord or Juneau if you take the Roberts Tramway.
During a glacier viewing day, harbor seals often grace the icebergs near a glacier terminus. So, whether you cruise to Hubbard Glacier, Glacier Bay, or Tracy Arm Fjord, keep your eyes peeled for those black dots in the bergy bits. What looks like a dark piece of ice might actually be a harbor seal.
Bald Eagles are plentiful in Alaska. You'll see them in trees, on poles near harbors, or trying to catch dinner during salmon runs. If you want an up close and personal experience, the Bering Sea Tour in Ketchikan provides that.
If you add on a land tour to visit Denali, you could also see other animals.
Should I Visit Denali National Park?
A cruise tour to Denali National Park is an option for those sailing from or finishing in Vancouver, British Columbia. In August, it's the perfect time to explore a top-rated Canadian city before or after your cruise.
Denali Park cruise tours are gaining popularity and allow travelers to venture inland, which contrasts significantly with the Alaskan coastal towns. However, since the wilderness lodges come with high pricing, these itineraries may not suit those traveling to Alaska on a budget.
Cruise lines that package land tours provide a coach or glass-domed railcars to transport passengers inland. Since fewer people continue into the cruise tour, you'll enjoy fewer crowds and a chance to see the towering Denali if it isn't shielded by cloud cover.
Wildlife sightings increase in the national park, and you could see moose, caribou, grizzly bears, and wolves.
While some of your time inland is structured, you'll also have plenty of free time. So, you can take a hiking excursion with an experienced guide in Denali, do a flight-seeing tour, or visit the Denali National Park dog sled kennels.
Should you start or end your vacation in Fairbanks, you can take a Riverboat Discovery cruise on a paddlewheel vessel up the Chena and Tanana Rivers.
Will I See The Northern Lights?
Alaska lies in the aurora oval and has increased chances of seeing the spectacular light show.
The Aurora Borealis is often seen from August until April. While they appear year-round, viewing them during the midnight sun is hard. For ideal viewing conditions, you need total darkness.
So, if you take a cruise and land tour, being in Denali puts you away from the light pollution of Alaskan cities. You'll also have good viewing locations in Anchorage and Fairbanks.
The Northern Lights are unpredictable, so check the aurora borealis forecast to establish your chances of seeing them during your August visit to Alaska.
Sailing at the end of August will give you a better opportunity than at the beginning of the month. The days are getting shorter and the nights longer.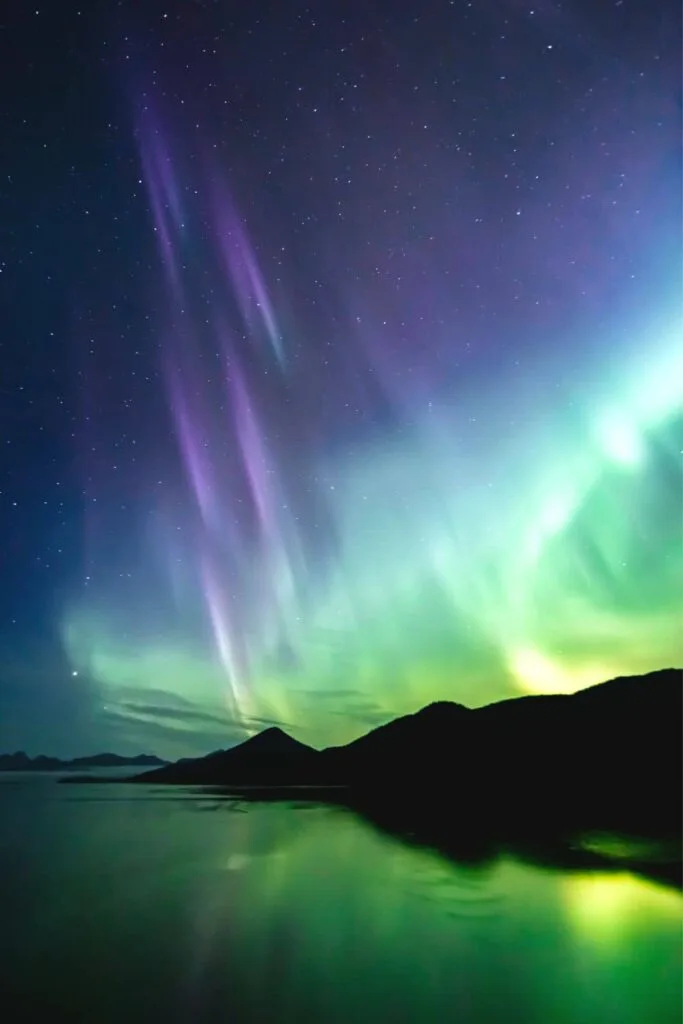 Just outside of Fairbanks, the Chena Hot Springs features an ice museum. The Aurora Ice Museum stays a frigid 25 F, even in summer. Inside the ice palace, grab a stiff drink to warm your insides.
Conclusion
August is a great time to see Alaska if you need to travel when the kids are out of school. Expect to pay premium prices for a cruise or cruise and land tour.
The weather may vary in southeast Alaska from the first week to the last. If you sail a cruise in late August and early September, you could experience a lot of rain.
With changing weather, your operators may choose to discontinue their excursions early, and those that run may be subject to cancellation. This is especially true of helicopter tours.
If you prefer to sail with fewer children, the end of the month is best. As families get ready for back to school, the last week may sail with unsold cabins.
But Alaska is a place that never disappoints. Its untouched landscapes, abundance of wildlife, and magnificent glaciers will add to your enduring memories.