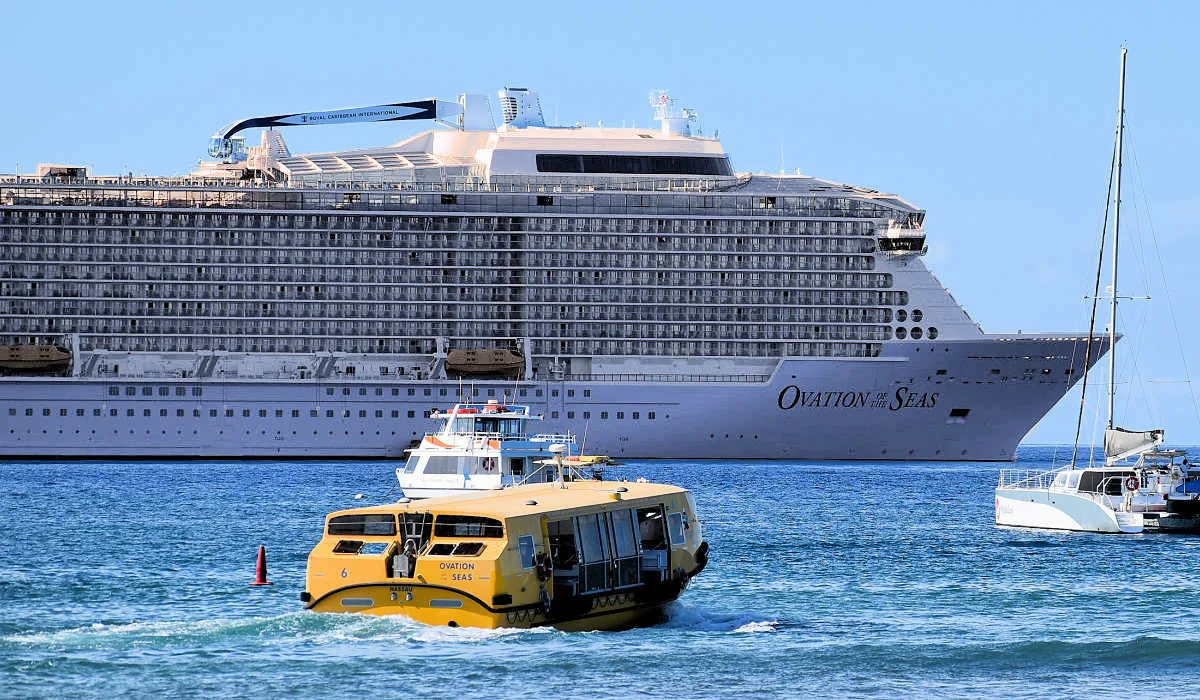 Maui ports have the ability to accommodate large cruise ships at either Kahului Harbor or Lahaina Harbor. Norwegian Cruise Line has one ship, the Pride of America homeported in Honolulu Harbor and sails around the Hawaiian Islands year-round.
However, some cruise ship itineraries include a Maui port as they reposition to and from the Pacific Northwest for the Alaska cruise season. In the fall, you can cruise between Vancouver and Hawaii, and in spring, it's the reverse itinerary.
Also, Princess, Carnival, Seabourn, and Viking Cruise Lines offer 14 to 32-day roundtrip Hawaiian cruises from Los Angeles, California.
You also have the option to sail out of San Francisco on the Crown or Royal Princess.
If you're cruising to or around the Hawaiian Islands, you may spend a day or more in a Maui cruise port.
If you're scheduled to spend two days in Maui, cruise ship passengers can opt for an overnight stay in a hotel. This option is ideal if you plan to attend a late-night luau or have a shore excursion far from the dock.
Lahaina Harbor Vs. Kahului Harbor
[UPDATE] Due to the fires in Maui, cruise ships will not be visiting Lahaina until further notice. Those that were scheduled to stop in Lahaina will reroute to another port.
If your cruise itinerary includes a stop or two in Maui, you'll want to check the cruise ship schedule to see which port is included. Lahaina Harbor is located on the west side of Maui.
It doesn't have a cruise port for ships to dock. Instead, vessels anchor off the coast of Lahaina, and cruise ship guests tender using smaller boats to downtown Lahaina.
The tendering process can be slow, with priority given to higher-class cruise loyalty members and those who have booked an excursion through the cruise line.
If you're planning a private tour, factor in your tendering time, when selecting an excursion time.
In front of the tendering area, a giant Banyan tree in Lahaina Banyan Court welcomes visitors.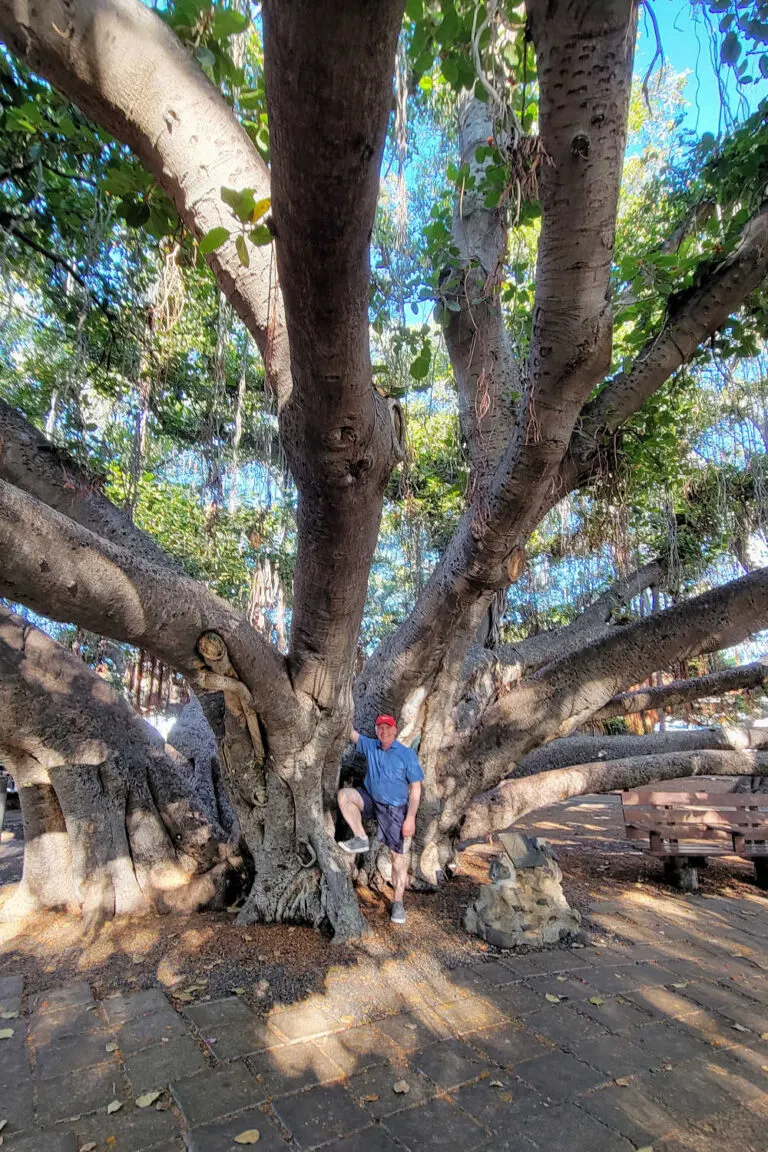 Ships that visit Lahaina for more than one day, generally don't run tenders throughout the night. So, if you plan to stay out late, you'll want to check what time the tenders stop running.
Alternatively, some cruise ships go to the eastern side of the island to Kahului Harbor. If you're docking in Kahului, this is a Maui commercial port away from the tourist area. However, you won't need to tender, which means you'll get off faster.
A two-day stop here means you can leave and join your cruise ship throughout the night, as the gangway remains open for 24 hours. There's not much within walking distance.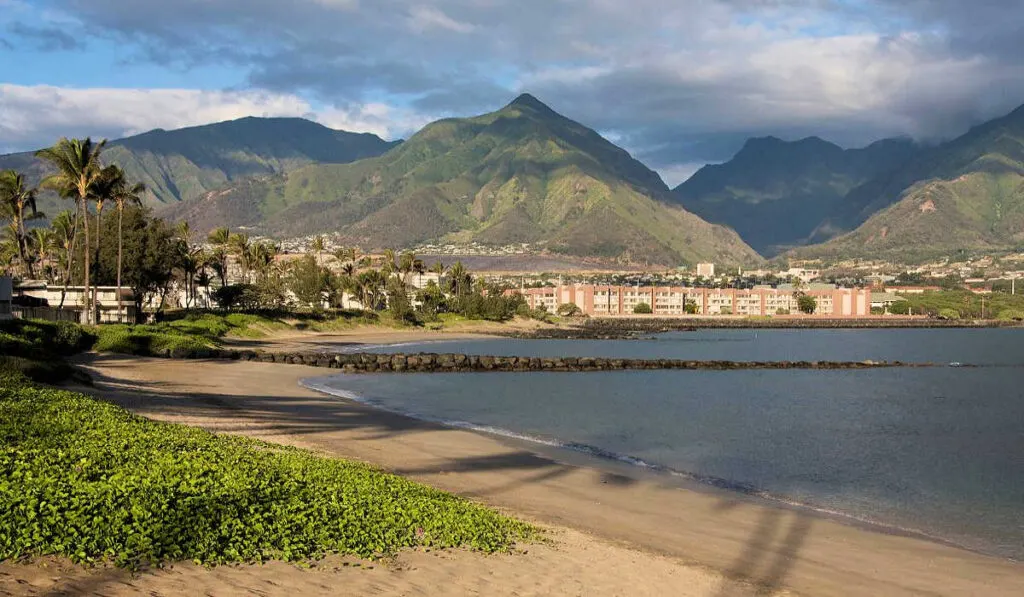 To access the Island of Maui, visit Haleakala National Park, or drive the Road to Hana, you'll want to rent a vehicle. Kahului provides the best option.
If you have traveled to Maui without doing any research and didn't book a car, don't fret. Some cruise passengers walk to Queen Ka'ahumanu Center from Kahului.
It's an ideal place to do some shopping, enjoy some fresh fruit and browse a market.
Where To Get A Rental Car In The Port?
With easy access to Kahului Airport, guests docking in Kahului Harbor can pre-arrange car rentals. You can choose from Dollar, Thrifty, Ace, Budget, Hertz, Alamo, Avis, and Sixt.
Depending on the size of your cruise ship, there could be hundreds of passengers getting a vehicle for the day. While some car companies offer a free shuttle service from the port, I found it quicker to get a taxi.
When docked for two days, it can be challenging to find overnight parking near the port. Remember to only park in designated areas or you risk getting towed.
If you're scheduled to visit Lahaina, you'll have quicker access to beautiful beaches, snorkeling, and whale watching (in the winter months). However, Lahaina doesn't have a port.
If you plan to spend the day browsing and dining on Front Street, you don't necessarily need a car.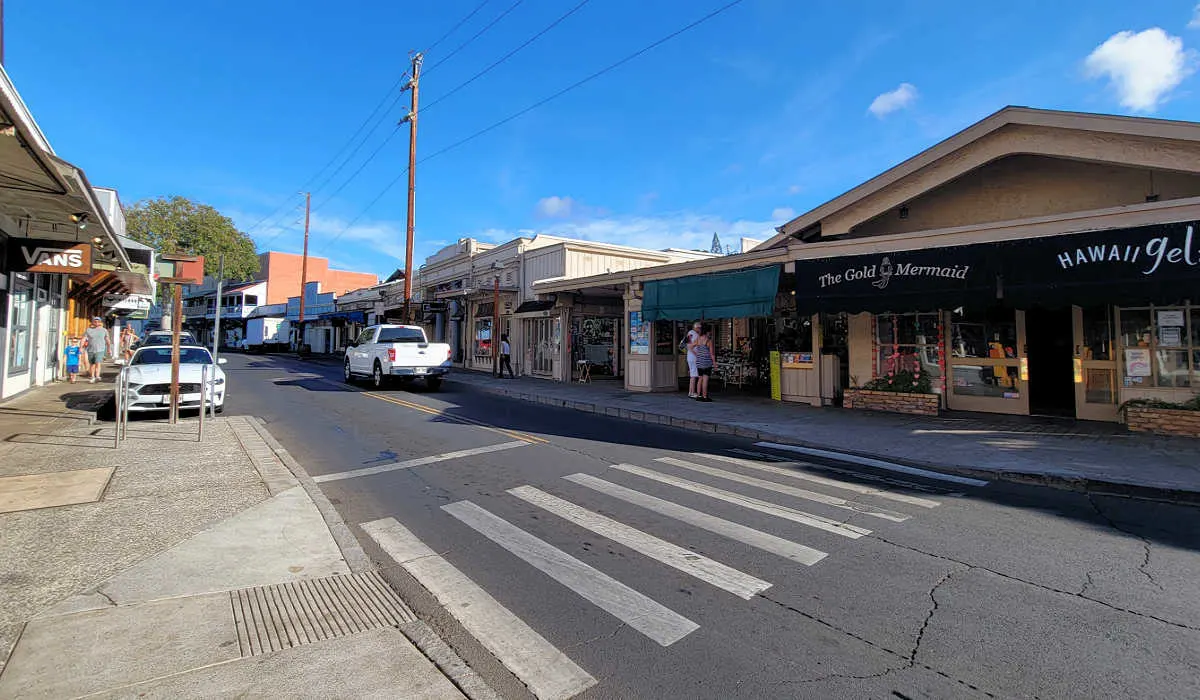 But having your own transportation gives you the freedom to do a road trip to the North Coast, or drive to Kihei, and take a Molokini Crater snorkeling tour.
There are no car rental companies within walking distance of the tendering area. Instead, you'll need to get a taxi or shuttle to the car rental venues.
Hertz offers the closest location at 3 miles from Lahaina. Budget and Avis are a bit further away at 11 Halawai Dr, almost a 5-mile journey.
Maui's Beaches
It's easy to see why Maui is the second most popular isle in the Hawaiian archipelago. The gorgeous island boasts fantastic sandy beaches all along the west side of the island.
So, sun lovers can forego the cruise ship Lido deck pool and head to a Maui beach instead. In town, you can walk to Lahaina Beach and a bit further is Baby Beach.
North of Lahaina, Ka'anapali Beach is the perfect place for swimming, snorkeling, and cliff diving. It's easily reached by public transit if you didn't rent a car.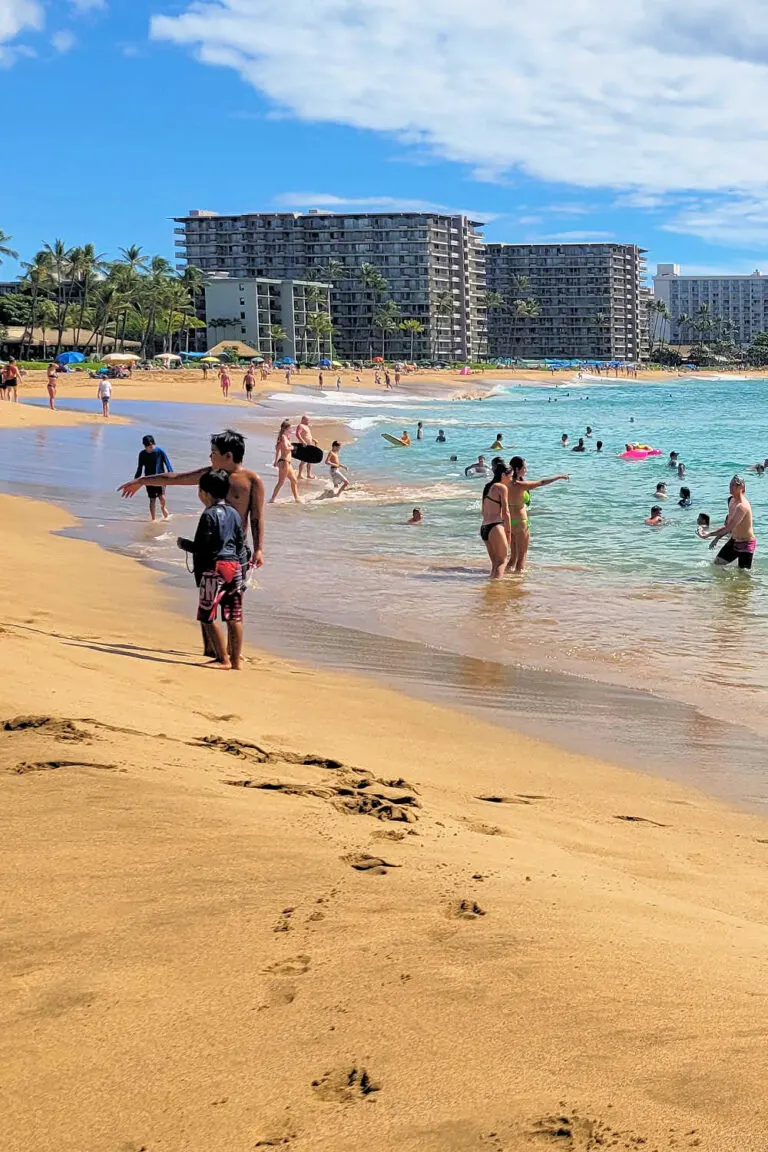 Nearby, Whaler's Village provides the perfect mall to get those last-minute gifts or do some personal outlet shopping.
Kahekili Beach offers the ultimate jewel for snorkeling. Arrive early in the day to enjoy calmer waters.
With showers and public washrooms, it's a less crowded option than Ka'anapali to the south.
Kapalua Bay and DT Fleming Beaches are also nice providing the ocean swells aren't too rough for swimming.
The Kapalua area is better known for its golfing. The area draws golf enthusiasts to test their skills at one of their lush golf courses.
South of Lahaina, the beaches are equally beautiful and the choices are plentiful. Sugar, Charley Young, and Kamaole Beach Park's I, II, and III allow beach time with fewer crowds.
Shore Excursions From Kahului
If your vessel is docking in the cruise port in Kahului, Maui, the airport's location close to the commercial dock means you have access to Maui helicopter tours.
Whether you choose a short flight over the West Maui Mountains or an extended one to see Hana and Haleakala, it's a nice way to enjoy some sightseeing.
Although, if it's your first time in Hawaii, you'll want to take a self-guided tour on the Maui Hwy.
The route to Hana offers a picturesque journey filled with cascading waterfalls, stunning ocean views, a lava tube, and an opportunity to taste the world's best banana bread.
On route, Ho'okipa Beach Park provides the best chance to see Hawaiian sea turtles. This iconic journey includes 600 curves, and over 50 bridges, many of which, are one lane.
Haleakala National Park offers another option for a port day. Haleakala, meaning "house of the sun" rises over 10,000 feet above sea level.
The switchback drive has changing weather conditions, so it may be hot at the base and quite chilly at the top. However, the reward for making the journey is amazing views above the cloud line.
Its moonlike landscape is captivating, providing unique photographs for the avid photographer. Those keen to explore can choose one of many hikes into the dormant cater.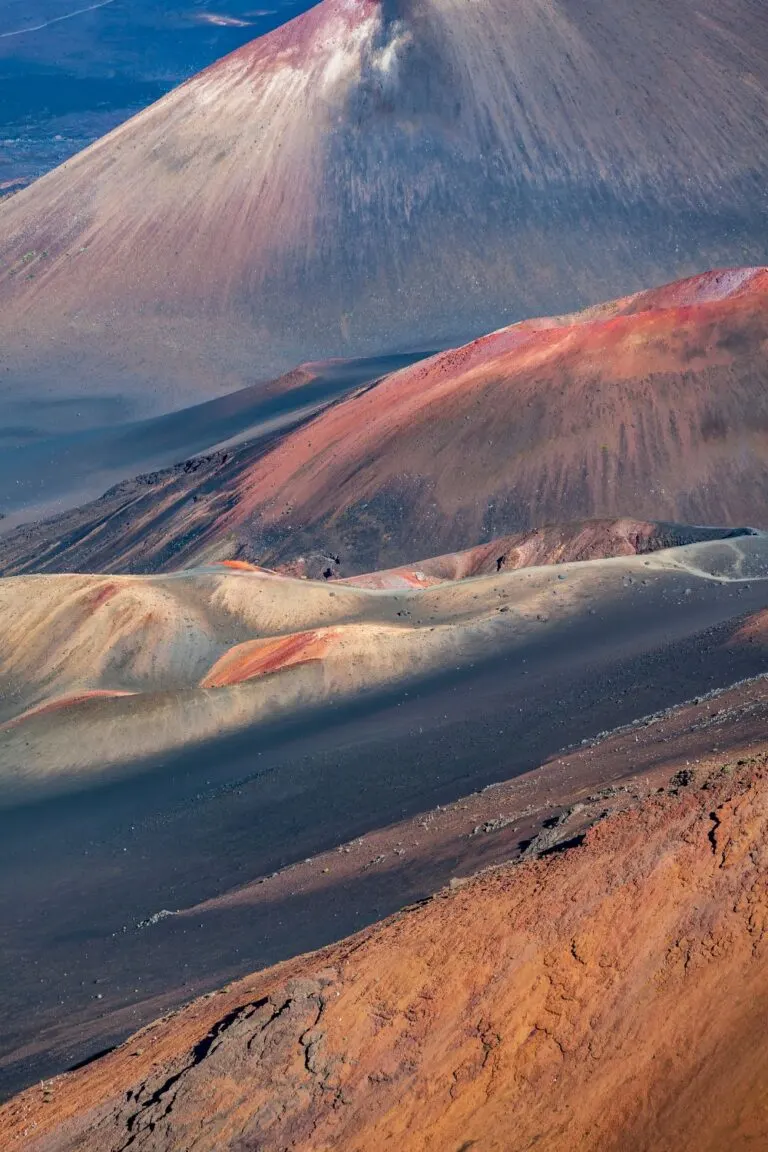 If you're docked for two days, the beautiful sunrise should be on your Maui itinerary. This bucket list experience has become so popular, you now need a reservation to attend the iconic event.
However, if you book a tour, you don't need a reservation and can leave the driving to someone else.
For thrill-seekers, the downhill bike provides a unique experience. The sunrise tour requires you to rise before the birds.
Then you'll be transported to the Haleakala visitor center and given a bike to make the switchback descent. It's an adventure to get your heart pumping.
For a mellower pace, a visit to Iao Valley State Park provides a walk through a lush forest with cultural history. It's a short hike to the lookout to get a better view of the Iao Needle.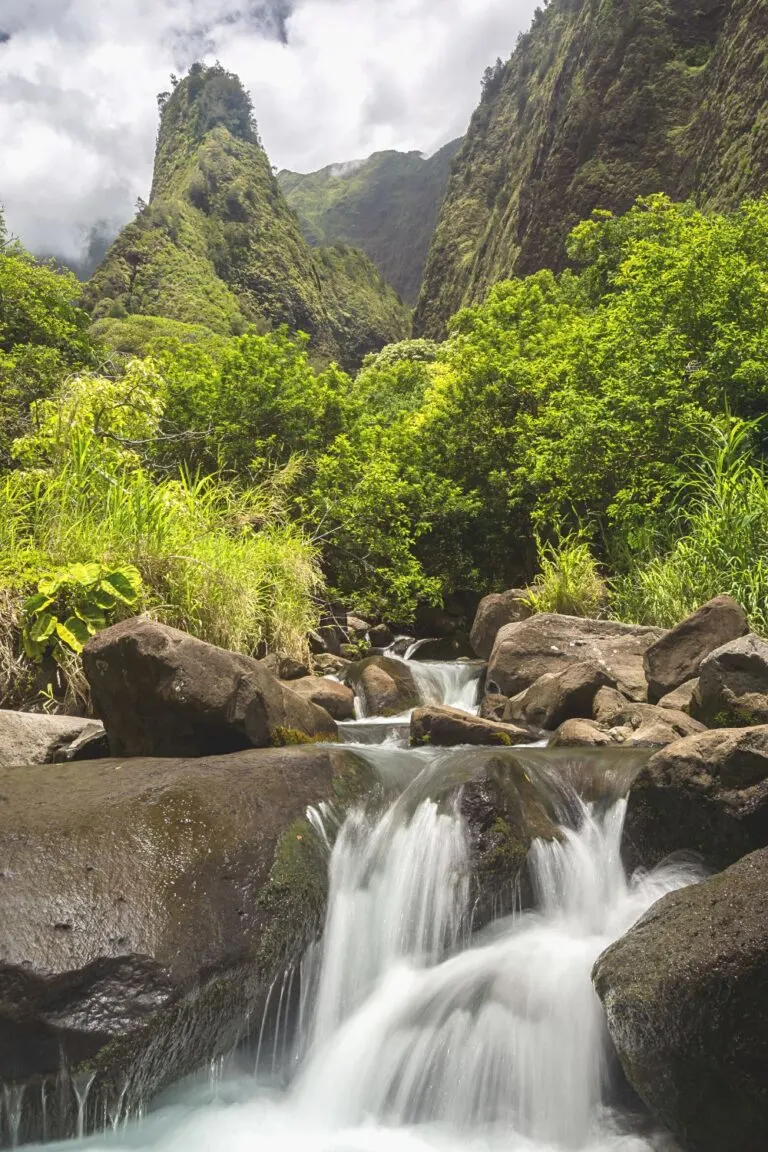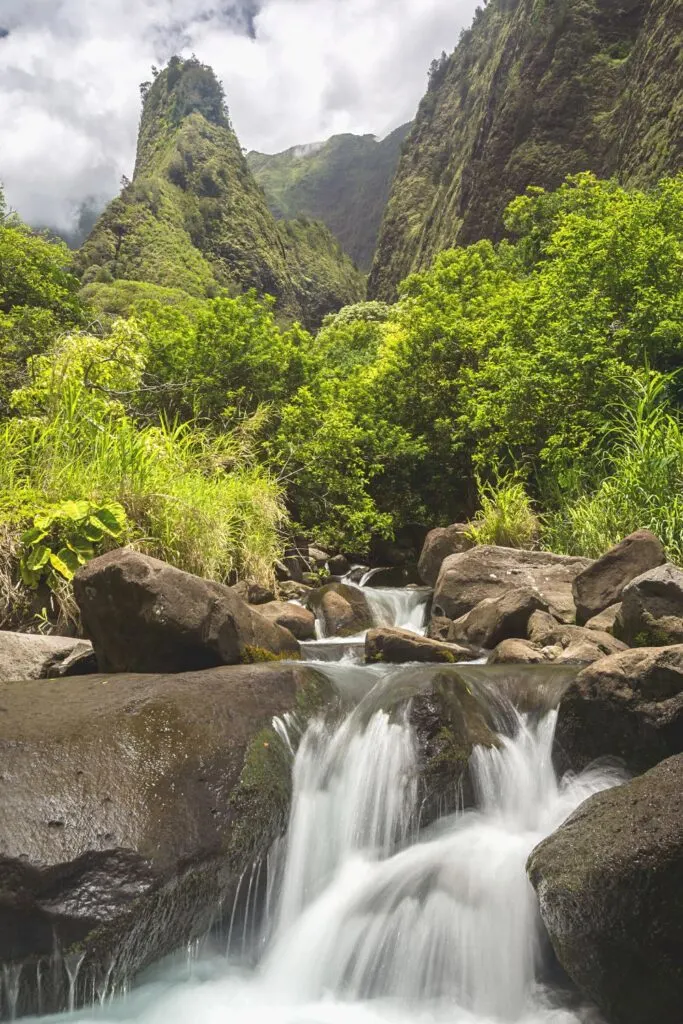 This area now requires a reservation for parking and visitation by non-residents.
Things To Do Around Lahaina Town
With an average temperature of 82 to 88F (28 to 31C), Lahaina provides the perfect playground for watersports or a lazy day on the beach.
Front Street becomes a hub of activity late morning as businesses open and boutiques showcase their wares. With many outdoor patios, the food choices are plentiful.
The western side of the isle has its own iconic drive, sometimes called the "other road to Hana."
This road trip travels on the Honoapiilani Hwy from Lahaina northwards and joins Kahekili Hwy around to Kahului.
Beyond Punalau Beach, the road becomes a series of switchbacks with blind corners and sections that can only accommodate one vehicle.
If you meet another driver, one of you could be reversing quite a distance to the nearest pullout. Let's hope it's the one with good backup skills.
T this scenic drive provides stunning ocean views, a rugged landscape, and a selection of tourist attractions.
These include the Nakalele Blowhole, Nakalele Point Lighthouse, and access to the Olivine Pools trailhead.
For families, the Maui Ocean center makes a great day out and a great way to escape the sun. Named as one of the top aquariums in the world, expect to spend about three hours enjoying the exhibits.
It takes a 25-minute drive to reach the center, southeast of Lahaina. At under USD 45 for adults and USD 29 for children, you'll enjoy species you may have missed snorkeling.
Along with tropical fish, the tanks have stingrays, jellyfish, octopi, sea turtles, and sharks.
For those who didn't rent a car but want to cover more ground, you can rent e-bikes in Maui. Boss Frogs in Lahaina rents electric bicycles and regular bicycles. E-bikes are easy to ride and inexpensive, and a fully charged bike has a range of 40 miles.
Boss Frogs has the option to do a bike and snorkel rental, which includes snorkel gear and saddle bags to carry them.
The Atlantis Submarine allows you to view underwater life without getting wet. The submarine dives to a depth of 100 feet, where the corals are thriving and marine life flourishes.
With large portal windows, you can try to spot certain fish species around a sunken ship.
The small Maui Dragon Fruit Farm is a little-known attraction that provides unique tours. You can opt for just the farm tour, where you'll learn about what's cultivated on the hillside farm.
However, to make the tour more exciting, consider the ziplining or aqua ball add-ons.
Their zipline is fairly short and allows guests to do four runs. Having done ziplining before, this one is more suited for beginners or children.
Their aqua ball runs provide a great way to cool off after the hot farm tour.
You'll need a bathing suit, and participants can do two runs in the giant hamster ball. It might be an unusual thing to do in Maui, but it was a barrel of laughs.
The Maui Butterfly Farm offers a fun and interactive excursion for families and adults.
While the farm is small, it's dedicated to preserving the butterfly population, and its educational program shows us the importance of maintaining a healthy environment for butterflies to thrive.
On a tour, you'll walk through a live flight house and see the butterflies flutter around you. The guide will show you how to feed the butterflies and soon they'll be landing on you.
You can also see the metamorphosis of a caterpillar, to a chrysalis, then to a butterfly.
The facility studies the decline in the number of Monarch Butterflies. While it breeds the Monarchs, it doesn't allow a release unless there is a food source to ensure the viability of the species.
The small group tours take about 45 minutes, so you'll have lots of time for other things.
Tours From Lahaina Harbor
During the winter (December to mid-April), humpback whales migrate to Maui to mate and give birth. It's the ideal time to take a whale-watching tour.
Ultimate Whale Watch & Snorkel, Makai Adventures, and Pacific Whale offer tours from the harbor, next to the tender area.
The best months for viewing are January through March. You could witness a breach, pectoral slap, or tail throw during a tour.
It's a heart-stopping moment to see such antics from a colossal creature.
There's no better way to enjoy Hawaii than on a Maui sunset cruise. With warm trade winds and a setting sun, you'll savor paradise with ukulele music and refreshments.
As the drinks keep flowing, the views don't end from historic Lahaina and your cruise ship to Molokai and Lanai.
From Lahaina Harbor, kayak rentals are plentiful if you don't mind a little workout. You can paddle the shallow waters along the shoreline with a two-hour rental.
Hawaiian sea turtles are regularly sighted, and occasionally, spinner dolphins make a surprise appearance.
Late Night Tours
If you're scheduled to spend two days in Maui, it's the perfect opportunity to do a luau or evening event.
Visiting Hawaii without a luau might be compared to bread without butter. Maui offers fantastic luaus with the majority near the Lahaina area.
Consistently ranked as number one, it's hard to beat the story-telling at the Old Lahaina Luau.
While it doesn't feature the iconic fire dancing, it offers shows 7 days a week, except they are booked months in advance.
Another highly ranked luau is Andaz Luau. Unlike the former, it's only available three nights a week.
The Myths of Maui at the Royal Lahaina Resort is available every day. rums of the Pacific, Maui Nui Luau (Sheraton), and Wailele (Westin Maui Resort & Spa) provide other options.
Since luaus aren't always available every day, you'll want to compare your cruising schedule.
No matter which one you attend, the humble stories, tranquil hula, and breathtaking fire dancing will captivate you.
The authentic luau gives you a chance to sample Hawaiian and Polynesian classics like Kalua pig, Huli Huli chicken, and Macadamia-crusted Mahi-Mahi.
Conclusion
No matter which Maui cruise port you stop at, you'll enjoy a day or two on a paradise island.
Whether you take a private tour or book an excursion through the cruise line, you'll realize this is one of the best islands to honeymoon, or enjoy a tropical getaway.
Before returning to the cruise ship, make sure to try Ululani's Shave Ice or Dole Whip. One taste and you know you're in paradise.