What are the pros and cons of visiting Maui vs. Kauai? Maui and Kauai, both tropical islands in Hawaii, attract visitors to enjoy their natural beauty, cinematic landscapes, black sand beaches, and fantastic volcanoes.
There's no easy answer and the decision comes down to your priorities. Your decision may come down to cost, overall island vibe, or a combination of factors.
If you poll the audience and ask if Kauai is better than Maui or vice versa, you will receive conflicting answers. So, let's take a closer look at these islands' assets and see how they compare so you can choose the better choice for you.
Flying To Maui Or Kauai
The Hawaiian Islands get most of the visitors from the west coast. Even residing in the west, flight times are around 6 hours, making Hawaii less attractive to east coast residents. While some cities offer direct flights to Kauai, others do not.
Flights to Kauai command higher prices, and those traveling to the "garden island" from Vancouver have a longer journey. Here are some flying options from some west coast cities with 2024 pricing.
| | | | |
| --- | --- | --- | --- |
| Departure City | Hawaiian Island | Non-stop or Stops | Approximate Cost |
| Los Angeles | Kauai | Non-stop | USD 350-650 |
| Los Angeles | Maui | Non-stop | USD 255-560 |
| San Francisco | Kauai | Non-stop | USD 300-700 |
| San Francisco | Maui | Non-stop | USD 255-600 |
| Seattle | Kauai | Non-stop | USD 400-700 |
| Seattle | Maui | Non-stop | USD 300-500 |
| Vancouver | Kauai | 1-2 stops | CAD 500-900 |
| Vancouver | Maui | Non-stop | CAD 300-650 |
While it's cheaper to fly to Maui than Kauai, expect to spend what you've saved and more on accommodation.
Since Maui is the second most popular isle after Oahu, it sees more travelers yearning to soak up the sun, splash in the ocean, and disconnect from urban life.
Why Choose Maui Or Kauai?
Both Maui and Kauai are major islands in the Hawaiian archipelago, created from underwater volcanoes. At five million years old, Kauai takes the title of being the oldest sibling.
At around one million years of age, Maui is the baby of the islands. Maui, the "valley isle," and Kauai, the "garden isle," offer unique geography of deep valleys, dormant volcanoes, and lush jungles.
They are quieter islands than Oahu, perfect for vacationers who want to avoid the crowds of Honolulu. However, while the towns are smaller, the islands offer plenty of opportunities to snorkel, hike, golf, or explore their landscapes.
Kauai receives more rain than Maui, and it's the rain that helps the landscape blossom with greenery. If you prefer a drier climate, Maui delivers.
Heavenly Landscapes
It's undeniable that both Maui and Kauai exhibit heavenly landscapes with beautiful beaches. However, visitors have less access to Kauai's rugged terrain, as some areas can only be seen from the air or by boat.
Known as the "garden isle," Kauai radiates with lush rainforests, creviced canyons and cascading waterfalls that were featured in Jurassic Park.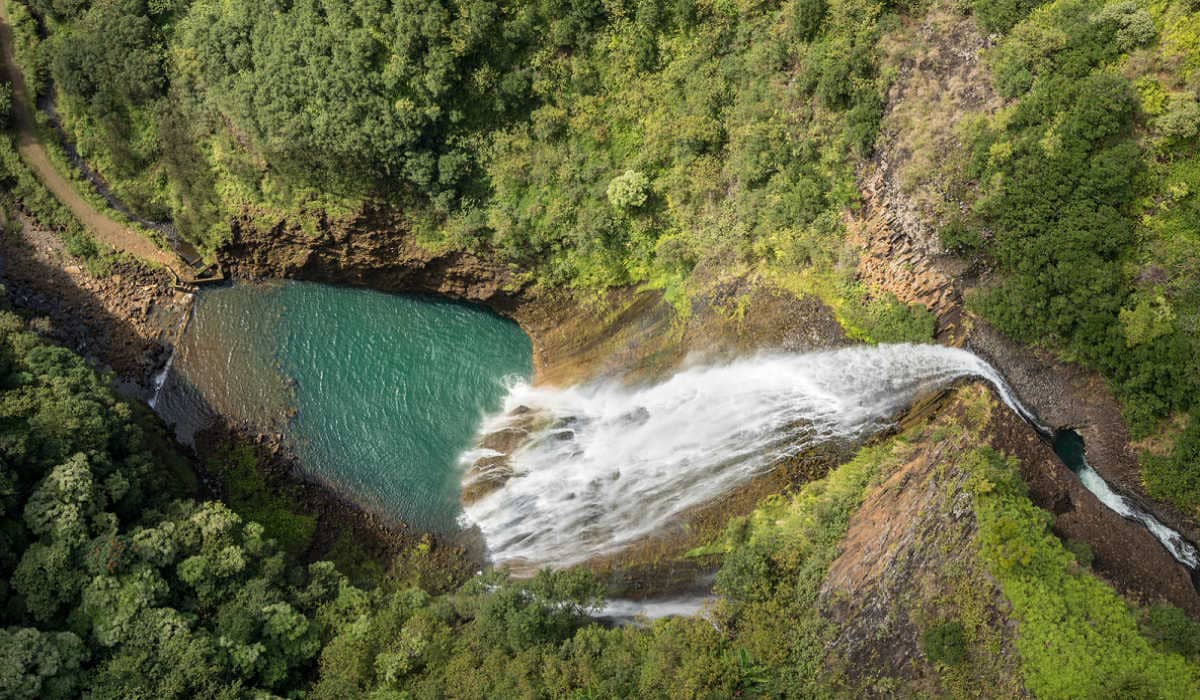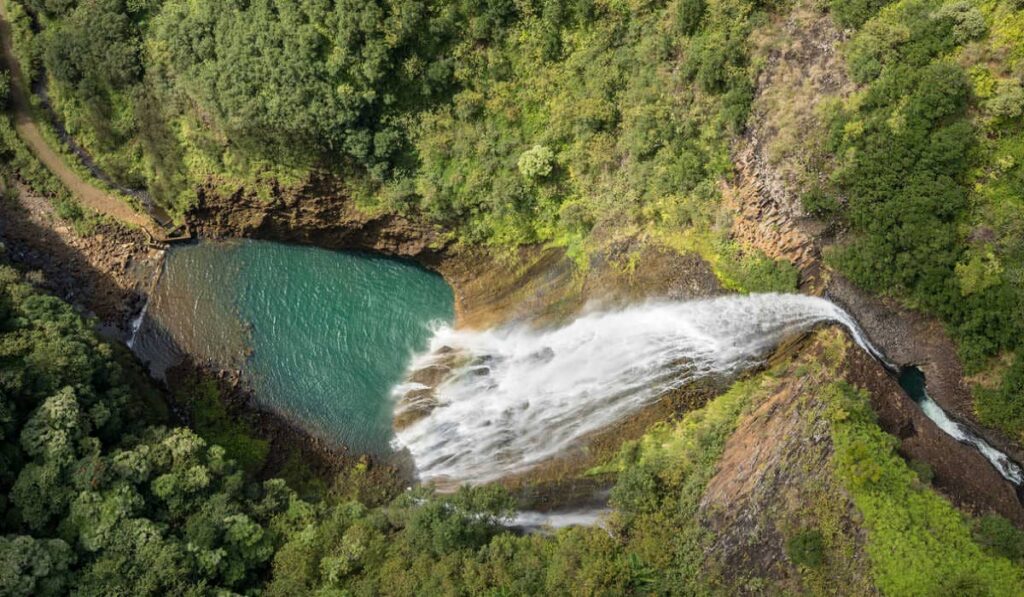 Waimea Canyon, the island's jewel, is literally a different colored version of the Grand Canyon.
Known as the "The Grand Canyon of the Pacific," Waimea Canyon state park creates "photoshopped" images with its rich red soil and lush green flora.
In Kalaheo, the limestone Makauwahi Cave allows for exploring a giant sinkhole. No visit to Kauai is complete without immersing yourself in the beautiful scenery of the Na Pali Coast.
Its prehistoric outlook is captivating, whether you experience it by air, boat, or on foot.
With a dormant volcano that offers spectacular sunrise views and breathtaking beaches, it's no wonder movie stars have chosen Maui as their vacation getaway.
For an outdoor adventure, who can resist driving the highway to Hana, a memorable route recognized worldwide? With 59 bridges and 620 curves, this knuckle-boning drive includes scrumptious landscapes of gushing waterfalls and prolific rainforests.
Haleakala National Park offers a unique moon-like landscape that's second to none for outdoor enthusiasts. Its oodles of hiking trails invite trekkers to explore its barren terrain 10,000 feet above sea level.
High above the clouds, those eager to rise before the birds can catch a fantastic sunrise. Let's not forget Iao Valley with its main attraction, the Iao Needle, towering above the lush rainforest.
How Do The Beaches Compare?
Maui's beaches make it a popular honeymoon destination. Its beachfront hotels offer easy access to endless beaches with calmer waters. Maui's an excellent choice for families, too, as it provides many kid-friendly beaches on the leeward side.
From Ka'anapali Beach to beaches along the Wailea area, you'll enjoy sandy beaches within footsteps of your condo or luxury resort.
Ka'anapali Beach is close to popular resorts and offers three miles of pristine sand. Alternatively, snorkelers may prefer the protected reefs off Kapalua Beach.
Honokalani Beach is a must-stop to see its unusual black peddled sand for those driving the Road to Hana. You may even spot sea turtles. As if black sand wasn't special enough, travelers can see green sand at Papakolea Beach and red sand at Kaihalulu Beach.
Although travelers may find Kauai less accessible than Maui, it still has several idyllic beaches. Poipu Beach fits the bill for beginner snorkelers and those with small children.
Its protective cove provides calm waters and an opportunity to see monk seals. For those who prefer a bit of wave action to practice their surfing technique, check out Hanalei Bay.
Families may opt for Tunnels Beach, a popular spot on the north shore. With lifeguards on duty and an endless sandy beach, your little ones can enjoy hours of fun.
Offshore, this Kauai beach has amazing reefs, ideal for snorkeling and diving enthusiasts.
If you're traveling to Hawaii for beach time, Maui wins on volume, diversity, and the number of water sports activities over the garden island.
Maui Vs. Kauai: Which Island Has More Activities?
The adventures are endless in Maui and Kauai, with both islands having overlapping outdoor activities. Whether you're into snorkeling, hiking, surfing, diving, or searching for wildlife, these isles will allow you to do it all, providing you have the time.
Maui is the preferred island for good snorkeling and for good reason. Snorkelers can choose to take to the waters from the beach for a chance to swim with Hawaiian green turtles. Molokini Crater offers snorkeling in deeper waters for the ultimate adventure but requires an excursion.
During the winter months, travelers to Maui can see humpback whales breaching and performing fin slaps. While I saw whales from the lookout point on the Honoapiilani Hwy, a whale-watching tour gets you closer to the action.
If you prefer a leisurely activity on land, the Dragon Fruit Farm offers tours and other activities, such as zip lining and aqua balling.
For the ultimate adventure on Maui, the bike ride from the top of Haleakala descends 10,00 feet and is bound to get your heart pumping. If you prefer to cycle on flatter roads, renting e-bikes in Maui allows you to explore without the challenge of parking.
However, if you're into star-gazing, its sister volcano, Mauna Kea, allows for a clear view above the clouds.
If you're into hiking, Kauai wins this battle for having the best trails. Trekkers can enjoy the Jurassic Park landscape on the Napali Coast hike, but you'll need a rental car to get around.
With plenty of rainfall, Kauai trails are heightened with cascading waterfalls and luscious forests.
While Maui offers hiking too, Haleakala National Park provides the most routes, but the landscape is relatively barren. However, you can enjoy scenic drives to its peak and at the base on the Road to Hana Highway.
A helicopter tour over Kauai's Waimea Canyon or Na Pali Coast is second to none for breathtaking scenery. If you want to add to the adventure, consider booking the "doors off" flight.
What's Their History?
Every island oozes history and Hawaiian culture, but some offer more cultural experiences than others. On Maui, visitors can learn about the sugar plantations and what caused the demise of this thriving business.
At the Bailey House Museum, a series of artifacts relives the cultural history of the land. Unique cultural experiences on Maui include the East Maui Taro Festival and the Olukai Hoolaulea, which celebrate Maui's present, past, and future.
In the evening, visitors can learn about the Hawaiian and Polynesian Islands' culture through song and dance. These luaus are a treat for the eyes, and a traditional Hawaiian feast accompanies the evening's entertainment.
Choose from Royal Lahaina Luau or Sheraton Luau in West Maui or Andaz Luau and Grand Wailea Luau in the south.
As the oldest of the Hawaiian Islands, Kauai has its own marvelous finds. In 1778, Captain Cook landed in Kauai at the mouth of the Waimea River.
Like its sister island, the Grove Farm Sugar Plantation Museum tells the story of harvesting sugar cane for a living.
In Lihue, the Kauai Museum features a fascinating collection of native artifacts in a historic building. You'll also learn about the creation of the island, how Hawaii became the 50th state, and about Hawaii's former royal family.
While the museum isn't big, it documents Kauai's history for all to enjoy. Kauai, like Maui, has annual cultural festivals. The July Koloa Plantation Days commemorate the first sugar plantation.
In October, the Emalani Festival celebrates the initial arrival of Queen Emma to Kauai. Those visiting in March can attend the Prince Kuhio Celebration, which recognizes the impact Prince Kuhio had on the local culture.
So, if you love to immerse yourself in history and culture, Kauai wins this race by a nose.
Where To Eat On Maui And Kauai
Maui may be a better option than Kauai for those with discerning tastes. Maui dominates with its fresh seafood choices and farm-to-table Hawaiian fare.
You can't go wrong with Coconut Fresh Fish Curry at Mama's Fish House on the north shore. Upscale dining includes sushi at Morimoto's, Maui beef at the Mill House, or Hawaiian regional entrees from Gannon's.
If you're stopping in Lahaina, you can't miss having shaved ice from Ululani's. Kimo's, a popular place for seafood, offers a lovely patio with magnificent views, Maui has fantastic food truck choices if you prefer grab 'n' go food.
In Kihei, Kinaʻole Grill Food Truck serves seafood dishes and yummy mahi-mahi with mango salsa. If you're looking to sample something authentic, try an açai bowl from Mo ʻOno Hawaii.
Those staying on Kauai have fewer restaurants to choose from. However, they excel in the ambiance department. For the ultimate romantic date night, Tidepools delivers with its scrumptious food and intimate setting next to a waterfall.
Hualani's provides farm-to-table organic selections, while diners at Merriman's, enjoy their meal inside an old Hawaiian Plantation.
Cheap eats are available too. Why not try taro donuts from Holey Grail, poke bowls from Kauai Poke Co. Food Truck, or the local classic Spam Musubi from the Musubi Truck.
Accommodation On Maui And Kauai
Both Kauai and Maui offer five-star luxury hotels and beachside condos to laid-back lodgings for the budget-conscious. On Kauai, those wanting to escape to a secluded spot can find Airbnb vacation rentals.
However, those wishing to vacation in a resort may prefer Princeville at Hanalei. The resort offers tours of its 2,500-acre cattle ranch, horseback excursions, golfing, kayaking, and hiking trails.
In Poipu, the Grand Hyatt and Sheraton Kauai are popular choices. They're located amongst a bunch of chain hotels, but all exude a Hawaiian feel.
If you want something a little rustic, consider the Waimea Plantation Cottages. You can choose from one to five-bedroom ocean-view accommodations close the Kauai's famous Waimea Canyon.
Being a more popular island, Maui offers alluring accommodations with beachside views. However, luxury resorts with stylish spas and five-star restaurants command higher prices.
Those in the higher-priced category include the Fairmont Kea Lani, Ritz-Carlton Kapalua, and Four Seasons at Wailea.
Although, the Maui Beach Hotel in Kahului offers a less expensive option and easy access to Haleakala's vast park and the Hana Highway.
Those staying in Lahaina can get cheap stays at Maui Sunset Hotel or Kahana Falls. If you prefer to do some camping or Glamping, the Maui Camping Company rent complete camping kits for as little as USD 200 for a week.
Maui Vs. Kauai For Nightlife?
Kauai isn't known for its nightlife. While Duke's and Tahiti Nui offer live music, it doesn't compete with the hip nightlife in Honolulu, Oahu.
However, if you prefer the mellow sounds of the ukulele or the Hawaiian classics, Kauai may be the perfect island for you.
Whether you're single or traveling as a couple, you can enjoy live music, karaoke, dancing, and bar hopping in Maui. Lahaina's Front Street restaurants and bars provide live music, great food, and a warm ambiance. The Dirty Monkey and Kahale's Maui's Local Dive Bar are highly rated.
For a laid-back evening, consider attending one of Maui's luaus. Since 1996, the Old Lahaina Luau has entertained visitors with its song and dance.
In the Hyatt Regency Resort, the Drums of the Pacific Luau wows its audience with its fire dancing. Maui's newest luau, the Feast at Mokapu, offers a lavish luau for those staying in Kihei or Wailea.
The bottom line: If nightlife is a priority when vacationing in Hawaii, you may want to pass on Maui and Kauai and stay on Oahu instead.
Shopping Choices On Kauai And Maui
Shopping on either island differs significantly from the designer boutiques at the Ala Moana Mall in Honolulu. While Maui has one luxury outlet, The Shops at Wailea, quaint, one-of-a-kind boutiques and trendy finds make up most of the shops.
In Paia, Maui, Alice in Hulaland sells hip and trendy clothing, while visitors can find jewelry, pottery, and handmade pieces at the Maui Crafts Guild. Lahaina's Front Street has lots of art galleries and stores selling souvenirs.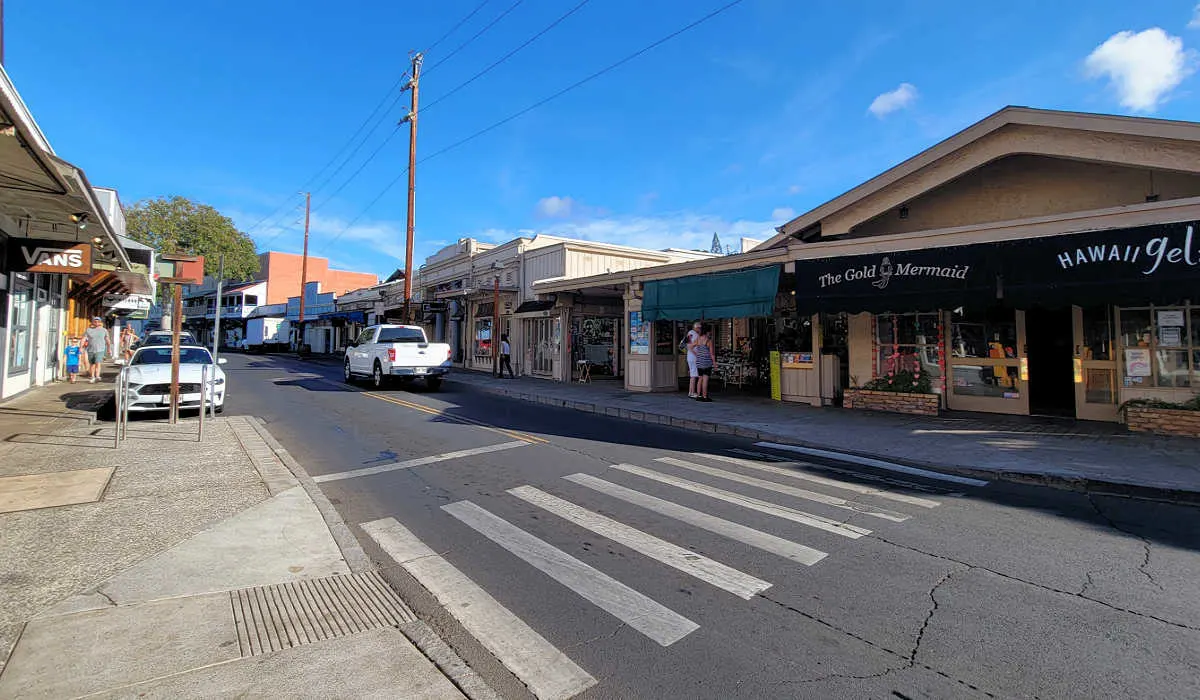 Sometimes, local vendors sell handmade items under the giant banyan tree in Lahaina Banyan Park. It's a great place to find Koa wood carvings, locally made soaps, ceramics, and fiber art.
On Kauai, local shops sell swim shorts, tropical-inspired bikinis, and one-of-a-kind souvenirs.
You can find funky bohemian goods at Jungle Girl Boutique, hand-painted tiles at Hanapepe's Banana Patch, or a unique find at Kiko Kauai. Kapaia Stitchery has Hawaiian fabric and locally made gifts for those into quilting.
Final Thoughts
If you're still undecided on which island to choose, consider a Hawaiian vacation by cruise ship which stops at three to four of the islands.
Visiting each island allows you to savor their main differences. After a cruise, you'll have a better understanding of which island suits you best.
So, whether you want to experience a sunrise at Haleakala crater, see a red sand beach, or vacation with fewer people, you'll decide on the best island based on your needs.