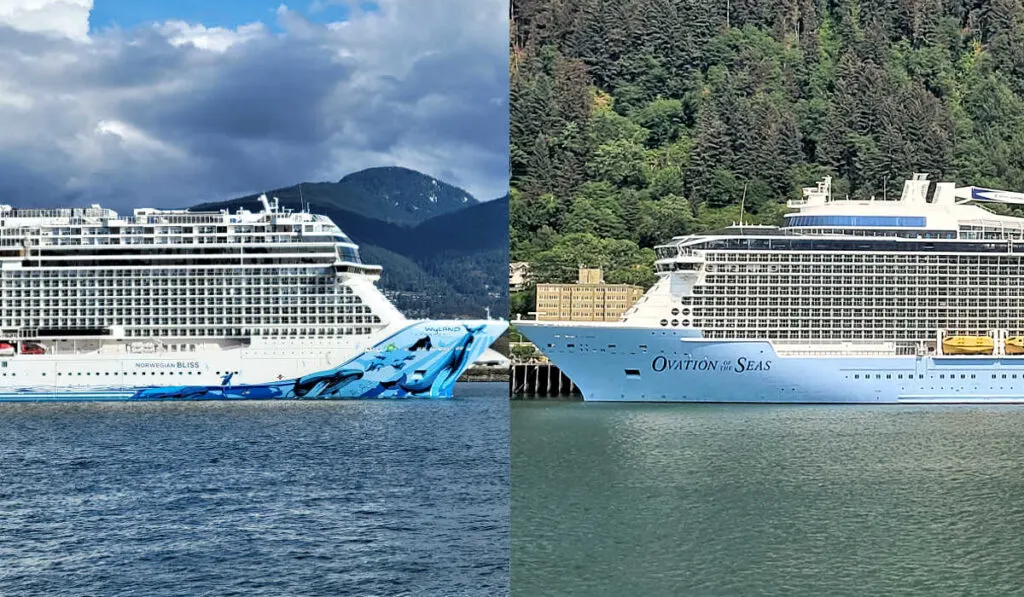 Both the Norwegian cruise line and Royal Caribbean International make mega-ships to attract families. At first glance, they may seem similar and draw the same type of clientele.
Royal Caribbean International encompasses a larger brand and owns Celebrity Cruises and Silversea Cruises.
In this detailed comparison of Norwegian Vs. Royal Caribbean, you'll discover their differences and determine the best cruise line for your next vacation at sea.
While some prefer one line over the other, each person's needs will differ. What works for one family may not be the best choice for the next.
Who Has the Largest Ships?
A step up from the Breakaway class, Norwegian's Breakaway Plus includes four vessels: the Joy, Encore, Escape, and Bliss. While they fit in the same category, there are slight variations in the vessel's design. At double occupancy, these vessels carry approximately 4,000 passengers.
Onboard, these cities at sea offer endless dining choices, Haven suite amenities to make you drool, and family-friendly attractions such as go-carts, laser tag, escape rooms, and 4D theaters.
The design of the Norwegian Bliss was adapted for sailings to Alaska. Its revolutionary observation lounge encompasses 20,000 sq. feet of deck space on two floors, offering 180-degree views.
Since Alaska itineraries focus on untouched scenery, passengers prefer cruise ships with large viewing venues.
Royal Caribbean International wins the race with the largest cruise ship. The Wonder of the Seas is currently the largest ship in the fleet, with a passenger capacity of almost 7,000. It was the final vessel built in the Oasis class.
However, in 2024, RCI will launch the Icon class vessel with its inaugural ship, the Icon of the Seas. While only ten feet longer than the Wonder, the Icon of the Seas can carry a colossal 7,600 guests.
These massive floating islands offer various onboard activities that you can stay onboard on port days if you choose to do so.
Royal Caribbean International also has a bigger fleet with more than 25 vessels, whereas Norwegian has less than twenty.
Which One Caters Better To Families?
Both cruise lines offer children's programs designed for different age groups. Norwegian's Splash Academy caters to kids aged 3 to 12. Teens 13 to 17 join the Norwegian Entourage. Splash Academy divides the kids into groups: Turtles 3 to 5, Seals 6 to 9, and Dolphins 10 to 12.
The Splash Academy focuses on game shows, scavenger hunts, group sports, and events for the whole family.
The teen group offers gaming, parties, jamming sessions, and improv acting classes. Both programs are complimentary, although late pick-ups cost USD 1 per minute.
Norwegian also offers late-night hours from 11 pm to 1 am, which incurs a fee. Additionally, parents of babies and toddlers from 6 months to 3 years can join "Guppies." This fee-for-use program allows parents to join their little ones in a unique play zone.
Royal Caribbean has a similar kids' program. Their Aquanauts cater to 3 to 5-year-olds, Explorers for 6- to 8-year-olds, and Voyagers for 9 to 11-year-olds. Their teens are divided into two groups; 12 to 14 years and 15 to 17.
The younger kids have activities for their age group, such as adventure art, building blocks, talent shows, sports tournaments, and scavenger hunts.
The teens can enjoy karaoke, pool parties, themed dance parties, and DJ training.
Royal Babies and Tots aged 6 to 36 months is available on selected vessels.
Outside the kids' clubs, most newer vessels on both lines have children's pools and water slides, and some have water parks. Both lines have climbing walls on selected ships, sometimes reserved for children.
If you're cruising to Alaska, who can beat the views of a fjord from 300 feet in the air? The Ovation and Quantum cruise ships offer itineraries to Alaska.
Norwegian's Breakaway-class vessels are well suited for children. There's plenty to do at sea, with multiple water slides, a kids' aqua park, a ropes course, and a sports complex.
In addition, the Breakaway Plus-class ships are more suited to teens with their laser tag and go-cart track. Both Royal Caribbean and Norwegian larger vessels provide great Alaskan cruises for families.
The winner: It's hard to beat the attractions on Royal Caribbean's Oasis-class and Quantum-class vessels.
Who would want to leave the ship on port days with Splashaway Bay, rock climbing walls, FlowRider, a carousel, bumper cars, and more? Its Oasis-class ships feature a carousel, and who doesn't love a carousel ride?
How Do Their Dining Options Differ?
Norwegian and RCI have Starbucks coffee shops on their newest ships so that you can get your morning caffeine kick.
Norwegian's dining rooms have all gone to freestyle dining. So, guests no longer have a choice of a set dining time or anytime dining. With freestyle cruising, you show up at a dining room when you're hungry and wait to be seated.
While freestyle has been hugely popular with many cruise passengers, it doesn't suit all. If you cruise with food allergies, having the same table and a consistent waiter works better.
On late port days, all passengers return to their vessel simultaneously, often creating a bottleneck at the main dining room.
Most of Norwegian's specialty restaurants have gone to a la carte. While this might benefit those who eat very little, diners with a substantial appetite could pay much more.
Alternatively, Royal Caribbean cruises allow any time dining or set dining time. Their new ships have almost too many choices when it comes to dining.
Their specialty restaurants command some of the highest prices in the cruise industry. The Ovation of the Seas Chops Grille charges USD 64.99, which is almost double what you'd pay in a similar restaurant with Norwegian.
Their "Wonderland" restaurant, with its Alice in Wonderland theme, is a must-try. Its venue is quirky, but its presentation and themed food add to the ambiance of this specialty restaurant.
If you're a big fan of additional fee restaurants, both lines offer a specialty dining package that saves a significant amount on the individual venues.
The winner: Overall, Royal Caribbean has a leg up in terms of taste, presentation, and sheer selection of fine dining choices.
Onboard Activities
It's hard to pick the better choice in this category, and it could come down to activities suited to your family or group. Both major cruise lines cater to adults and families.
Most vessels have all the common-place activities, including basketball courts, rocking climbing walls, and pool decks with swimming pools and hot tubs.
However, some Norwegian ships have go-cart tracks allowing you to race family and friends at sea. Their Breakaway Plus and Breakaway vessels feature a rope course high above the ocean. Another great activity is their laser tag at sea.
For thrill-seekers, their "walk the plank" provides a unique and one-of-a-kind experience at sea. But, are you daring enough to walk eight feet off the ship's deck?
Royal Caribbean's North Star allows guests to rise 200 feet above the ocean in a pod modeled after the London Eye. One of its best features is its wheelchair accessibility, letting all guests enjoy a unique activity.
Quantum-class vessels allow passengers to test their sky-diving skills in the RipCord by iFly wind tunnel. Suitable for kids five to those 60+, you can experience sky diving without jumping out of an airplane.
Select ships feature a FlowRider aft of the vessel. A FlowRider is a surf simulator that allows anyone to learn the art of surfing. Boogie boarding and surfing are fun activities best suited for warm climate destinations.
While some of these thrill-seeking activities incur an extra fee, the next one is included in your cruise fare. Guests can enjoy zip-lining on Oasis-class vessels.
The zip line may be short, but it runs over the Boardwalk mid-ship. Some ships feature the Ultimate Abyss, a 10-story spiraling slide suitable for all ages.
In cooler weather destinations, the Sea Plex offers a multitude of activities, from roller skating and bumper cars to pickleball and basketball.
RCI's Voyager, Oasis, and Freedom-class vessels have ice skating rinks too. While skating on an ice rink is complimentary, the activity requires you to wear long pants. The only limitation is your desire to practice a pirouette.
The winner: Royal Caribbean makes you love sea days with their onboard activities. Many of their attractions are inclusive.
A Comparison Of Their Private Islands
All cruise lines have private Caribbean Islands. Norwegian calls theirs Great Stirrup Cay, and CocoCay belongs to Royal Caribbean International. Ironically, the islands sit side-by-side, 140 miles east of Miami, Florida, and are parts of the Bahamas.
RCI's private island may be better known, maybe due to advertising of "Perfect Day at CocoCay.". Its island has many beaches, a water park, a balloon ride, zip lining, and day-use cabanas.
RCI has invested a lot into its island, creating the largest wave pool and longest waterslide. New to CocoCay, its over-the-water huts (like in the Maldives) might cost you more than the cruise itself.
If you've purchased a drink package on your cruise, you can get complimentary drinks on the island. Unlike Norwegian Cruise lines, who tender to their private island, Royal Caribbean guests have the luxury of docking.
Norwegian's private island has almost twice the area and offers excursions too. While it may be bigger, it lacks the thrills found on CocoCay. Like RCI, your alcohol on Great Stirrup Cay is included in your drinks package.
One of the unique excursions offered by both lines is their swimming with the pigs' tour on Treasure Island.
The winner: It's hard to beat Royal Caribbean's CocoCay private Island. It's truly a tropical paradise for all.
Norwegian Vs. Royal Caribbean: Staterooms
Both lines offer studio staterooms for solo guests, although Norwegian has a better concept. RCI has studio cabins on the Anthem of the Seas, Harmony of the Seas, Ovation of the Seas, Quantum of the Seas, Brilliance of the Seas, and Spectrum of the Seas.
Traditionally, solo rooms were interiors, but some Royal Caribbean vessels offer selected solo balcony cabins.
Norwegian blazed the way for solo cabins. While small, at 100 sq. feet, you can find them on the Norwegian Escape, Epic, Getaway, Bliss, Breakaway, and Pride of America.
However, solo cruisers benefit by having access to the Studio Lounge (not available on the Pride of America) and a chance to meet other solo guests.
A step up from solo rooms, the insides differ between these lines. Norwegian's interiors are very small and might be compared to a glorified shoebox with just a bed and a chair.
However, Royal Caribbean's interiors are roomier, and some vessels feature a "virtual balcony" or large flatscreen that live streams the views outside. While you won't have fresh air, the outside view adds to the room's airiness, making it seem larger.
Royal Caribbean staterooms win an award for uniqueness. Across its fleet, you can find cabins that overlook the inside of the vessel, called Central Park or Boardwalk cabins.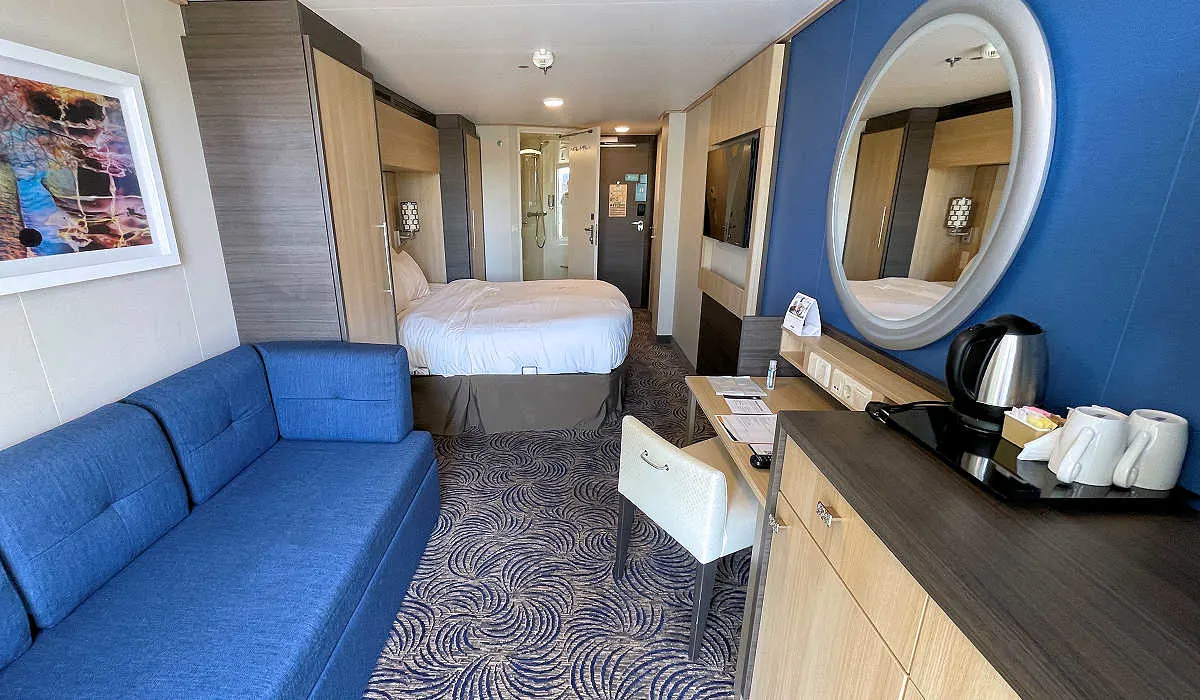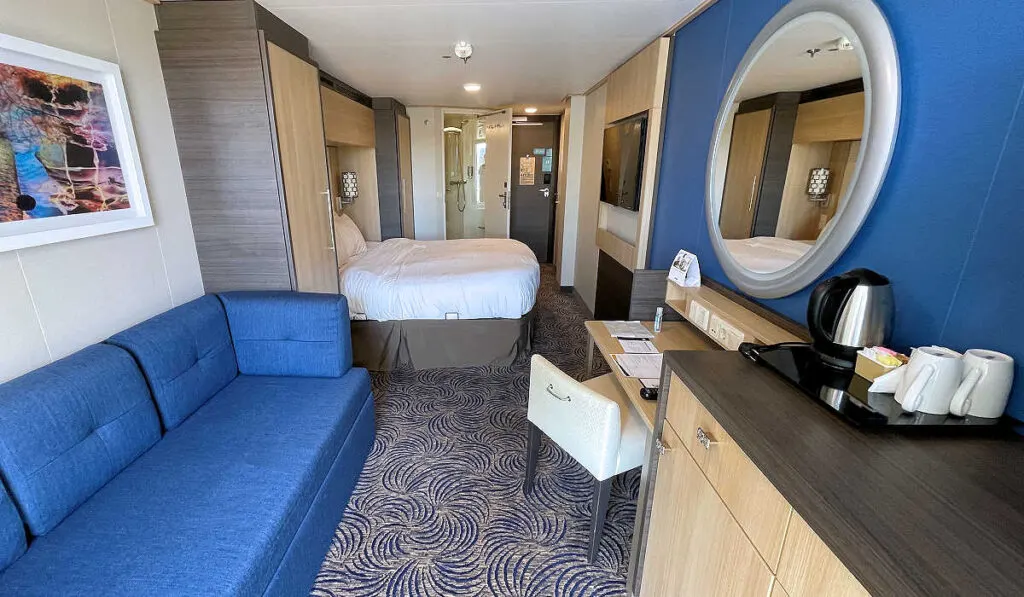 Oasis-class ships feature an aqua theater at the aft. This unique venue allows for another unusual cabin, the aqua theater stateroom. These are the largest staterooms, featuring two bedrooms and massive balconies overlooking the outdoor theater.
The winner: It's a tie. While RCI offers virtual balconies and unique cabins, Norwegian has enticing studio staterooms with access to a studio lounge.
Ship-Within-A-Ship Perks
Ship suites and ship-within-a-ship perks are popular amongst cruisers if they can afford the upgraded staterooms. You can compare Royal Caribbean's top suites to staying in a luxury resort on land.
Guests in these categories benefit from priority boarding and disembarkation, complimentary WiFi, a free drinks package, gratuities included, an exclusive dining venue, and a Royal Genie.
A Royal Genie is a glorified name for a personal butler who does everything for you, including unpacking your suitcase. The Royal Loft Suite has the largest square footage at almost 2,500 sq. feet.
It's hard to beat Norwegian Haven Suites, which give Haven guests an exclusive area of the ship. The Haven has prime real estate on the upper decks at the vessel's bow.
This area features a concierge, sun deck, private pool, hot tubs, and bar. It's a private oasis separated from the rest of the vessel. Haven guests enjoy a quieter space, with fewer people and upgraded amenities like padded loungers.
The Norwegian 3-bedroom Villa offers the largest suite with over 6,000 sq. feet of indoor and outdoor space. It can accommodate up to eight guests in a luxurious space.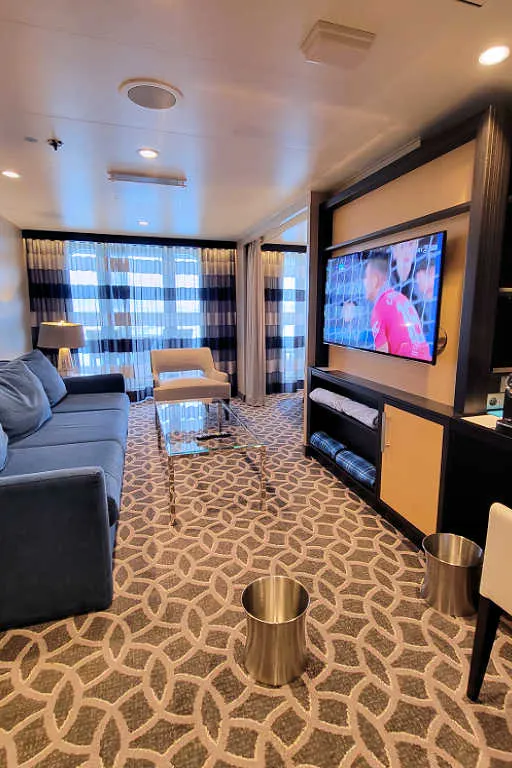 The 3-bedroom suites are only available on selected vessels. These are the Norwegian Dawn, Gem, Jade, Jewel, Pearl, and Star.
The winner: Norwegian wins with its Haven ship-within-a-ship suite concept.
Royal Caribbean Vs. Norwegian In Alaska
Both brands offer mega-ship itineraries to Alaska from Seattle, Washington. The Norwegian Encore and Bliss provide families with various onboard activities on their 4,000 passenger vessels.
If you prefer something smaller, you can sail on the Sun, Jewel, and Spirit, which carry around 2,000 guests.
Alternatively, you can pick from one of four Royal Caribbean vessels. Their mega-ships, the Ovation of the Sea and Quantum of the Seas, offers roundtrip itineraries from Seattle. The Brilliance of the Seas and Radiance of the Seas sail out of Vancouver, with the latter cruising one-way.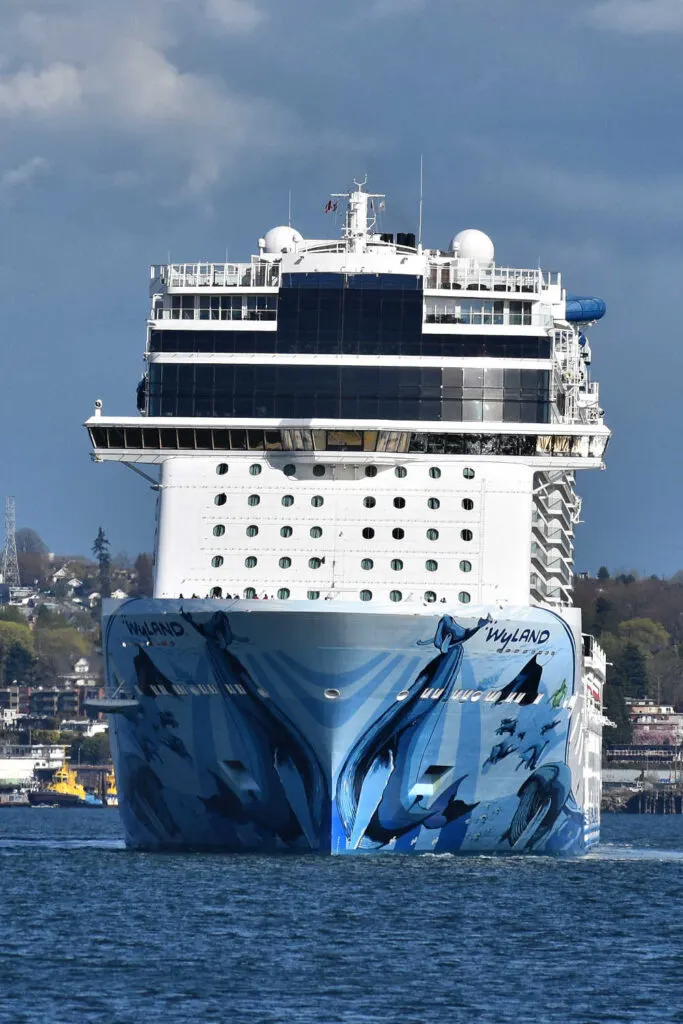 While RCI's larger vessels carry 5,000 passengers, they dock in downtown Alaska ports. Norwegian uses Ward Cove in Ketchikan, which requires a shuttle bus to reach the downtown area.
Traveling by shuttle cuts into a port day and may factor into your decision on choosing a cruise line.
With the recent landslide in Skagway, larger vessels on both lines may need to tender in Skagway or may substitute another port instead.
If you choose a smaller ship, chances are, you won't be impacted as they use the smaller docks unaffected by the landslide.
The Norwegian Bliss and Encore were built for Alaska. Their 180-degree observation lounge provides guests with an unobstructed view of the stunning Alaska landscape.
If you stay in a Haven suite, you'll have access to the Haven observation lounge for a less crowded viewing experience. With a go-cart track, aqua racer, and laser tag, the kids will never be bored on sea days.
Norwegian, like Princess Cruises and Holland America, have the option to cruise Glacier Bay National Park. Norwegian offers both if you're trying to decide on an itinerary between Glacier Bay vs. Hubbard Glacier.
You can book a cruise and land tour on Royal Caribbean's Radiance of the Seas. Choose from 9 to 13-day itineraries that end or begin in Anchorage or Fairbanks.
Norwegian offers a similar option on four ships, although those sailing out of Seattle don't sail to Anchorage but require a fight instead.
Guests on the Ovation of the Seas and Quantum of the Seas can experience glacier viewing from 300 feet above sea level on the North Star pod. While the attraction commands an extra charge, it's a unique experience you can't get on other lines.
The winner: A tie. While Norwegian docks in Ward Cove and requires a shuttle to get to town, it's offset by the fact that some itineraries include Glacier Bay National Park.
Itineraries
Norwegian offers cruises to most areas globally, including the Artic and Antarctica. However, they don't sail around Asia. The Pride of America is the only cruise ship homeported in Honolulu, offering sailings around the Hawaiian Islands.
If you prefer to sail on Royal Caribbean, they only offer Hawaiian cruises at the start and end of Alaska season as the ships reposition to the Pacific Northwest.
The Quantum, Ovation, and Brilliance of the Seas cruise from Vancouver to Honolulu in September and October. In April and May, they offer the reverse itinerary. These repositioning cruises come with five sea days to cross the Pacific Ocean.
Royal Caribbean does not offer cruises to the Artic or Antarctica. However, their Spectrum of the Seas, a Quantum Ultra Class vessel, offers itineraries out of Singapore and was purpose-built for the Asian market. It holds up to 5,622 guests who can choose from 3 to 9-day sailings.
Unlike NCL, Royal Caribbean provides the occasional cruises to Eastern Canada and New England. Passengers can choose from 4 to 5-day sailings on the Liberty of the Seas and Oasis of the Seas.
When it comes to world cruises, only RCL offers them. When Royal Caribbean offered an extended 274-day cruise on the Serenade of the Seas, it sold out quickly.
The world cruise included business class airfare, hotel, WiFi, transfers, deluxe beverage package, laundry, and gratuities. Amazingly, guests will enjoy 169 port days! Be prepared for exhaustion because, in Europe, the ship has one sea day in 37 consecutive days.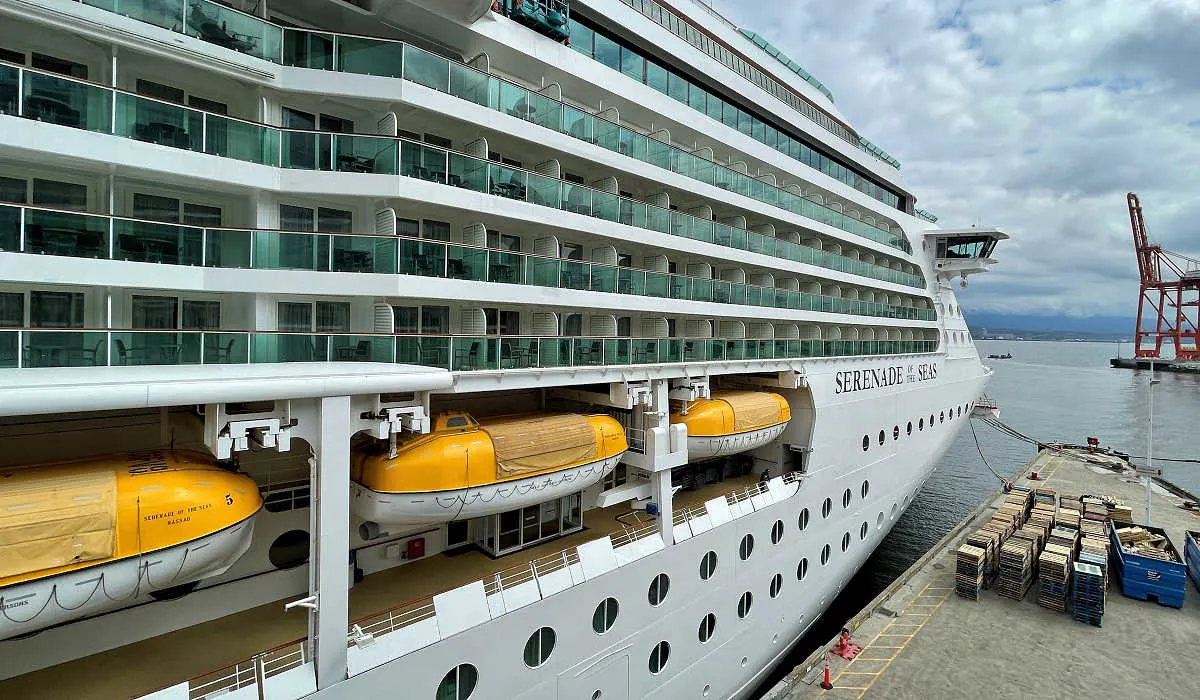 While you can't get a cabin on the world cruise departing December 2023, there are still available staterooms on portions of the itinerary.
The winner: A tie. Both companies cover a broad spectrum of the world.
Pricing
On average, Royal Caribbean charges more per day than Norweigan cruises, but this varies by vessel. The newest ships command the highest prices, and suites sell out fast.
Expect to pay significantly more at Christmas and New Year on a Royal Caribbean vessel, especially if it's a newer one.
If you want to try out The Haven on an NCL ship, but it's out of budget, consider a 3-day cruise to the Caribbean instead. Sampler and mini cruises are a great way to experience suites and upgraded staterooms without breaking the bank.
With a comparison of cruise lines, it comes down to personal choice. You may prefer one line to the other for a specific reason, while it may not be someone else's first choice.
Even different ships within the same company may give you contrasting experiences.