Like Lake Louise, Peyto Lake's iconic hues and unusual shape make it a must-visit in Banff National Park. In the summer, the parking area fills quickly with crowds who come by vehicle and bus to admire one of Banff's best lakes. However, have you considered visiting Peyto Lake in winter?
Parks Canada recently invested a ton of money to upgrade the facilities at Bow Summit. The renovation took two long years. With upgraded washrooms, more parking, and a larger viewing platform, we waited in anticipation of its re-opening.
Unfortunately, the makeover wasn't completed on schedule, and we missed seeing Peyto Lake by a few weeks during our Vancouver to Banff road trip.
Fast forward a few months, and we decided to make an impromptu trip to the Canadian Rocky Mountains and brave the weather in December.
What To Pack For The Rocky Mountains In December
During our five days in the Canadian Rockies, we endured temperatures of -20 C to -31 C. But, with the wind chill, it often felt colder.
Ideally, you need a winter jacket rated for those frigid temperatures worn with base layers, a sweater, a wool hat, wool socks, and fleece-lined gloves.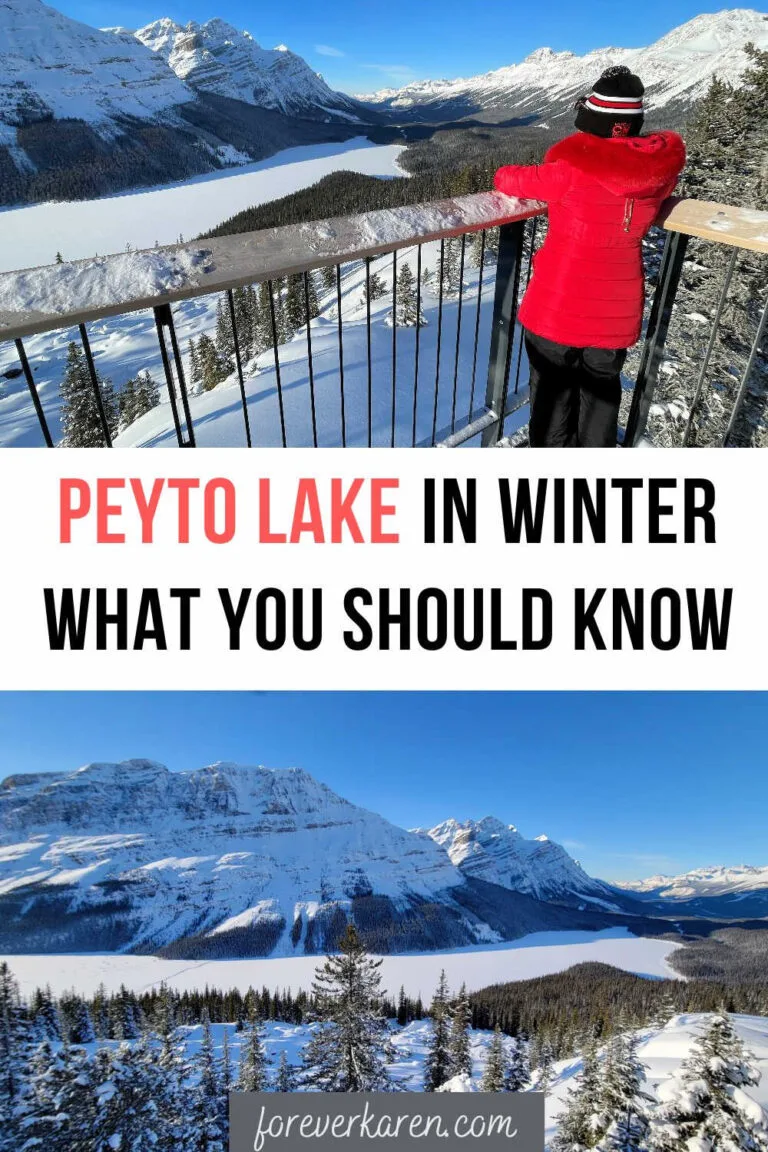 Because the snow was 4-feet deep at Bow Summit, you'll want to wear some snow pants too. We loved hand warmers and used them every day we were outside the vehicle for a significant amount of time.
We tried three different types of hand warmers and toe warmers. The "Little Hotties" (rated to last 8 hrs) and "Grabber" (up to 7+ hours of warmth) didn't meet our expectations. They were small and didn't give a lot of extra warmth.
The "Hot Hands" toe warmers were also a miss for the same reason. However, our lifesavers or hand savers were the "Hot Hands super warmer" in the larger size.
They were rated to stay warm for up to 18 hours, and we found they delivered on their promise. Being larger, we could wrap our fingers around the warming pads, so we never had cold hands.
These larger ones cost a little more because you get one per package as opposed to the smaller ones, which contained a pair.
If you've forgotten to purchase hand warmers before your trip, most stores carry them. However, you won't get to pick a brand.
Even though it's cold, you need to stay hydrated. We quickly learned that bottled water froze in our car and during our hikes. So, we took hot tea in a travel mug instead.
Driving To Peyto Lake In Winter
During the winter, some areas of the parks are inaccessible due to snow. Moraine Lake, Columbia Icefields, and Takakkaw Falls in Yoho National Park are a few places that come to mind.
However, the Icefields Parkway remains open if you wish to drive to Jasper National Park. Due to changeable weather conditions, the drive can be challenging and not suitable for those who have fear of driving in snow.
Ideally, you'll want to drive the route with an SUV. We rented a Kia Sportage with snow tires, ideal for getting through packed snow.
The road conditions can change dramatically when driving from Banff to Jasper. Exiting Highway 1 onto the Icefields Parkway (Highway 93 N), a sign notes that snow tires are mandatory beyond that point.
We were staying in Lake Louise for our winter getaway. It's 45.5 km from Lake Louise to the Peyto Lake pullout, which takes 36 minutes in summer. However, you'll want to allow at least an hour or longer in winter, depending on the road conditions.
Since COVID, there has been a lack of rental cars. So book ahead to ensure you get an SUV.
We experienced a slippery road with packed snow, so it took longer than an hour. Turn off at the sign that says Bow Summit, a short distance after Bow Lake.
Although there are two parking lots, only the lower one will be open and plowed in winter.
The upgraded flush toilets are a welcome sight over the previous pit toilets. Be warned; the toilet seats are frozen in winter (yep, no heating in the newly renovated bathrooms).
Bow Summit Lookout In Winter
At 2,840 meters or 6,840 feet, Bow Summit is the highest point on the Icefields Parkway. As a result, it gets significant snowfall and frigid daytime temperatures.
It's important to check the weather before driving to Peyto Lake, so you aren't going during a heavy snowfall.
During our stop, a week before Christmas, it was -29 C, but it felt much colder with the wind chill. The surrounding forest was blanketed in deep, fluffy powder, and despite the cold, it looked breathtaking.
Since I visited over a decade ago, I couldn't remember where the Peyto Lake trail started for the lookout. With over four feet of snow, all signage was covered, and trails were buried with the white stuff.
And so began our journey of finding the Peyto Lake Lookout from the parking lot.
In Search Of Peyto Lake
We started our trek to the lookout with new hand warmers, snow pants, hats, and mitts. I remembered it wasn't a long walk, but I hadn't done it in four feet of snow before.
From the parking area, numerous packed trails were heading into the trees. Large groups of people started following a route, and like sheep, we followed.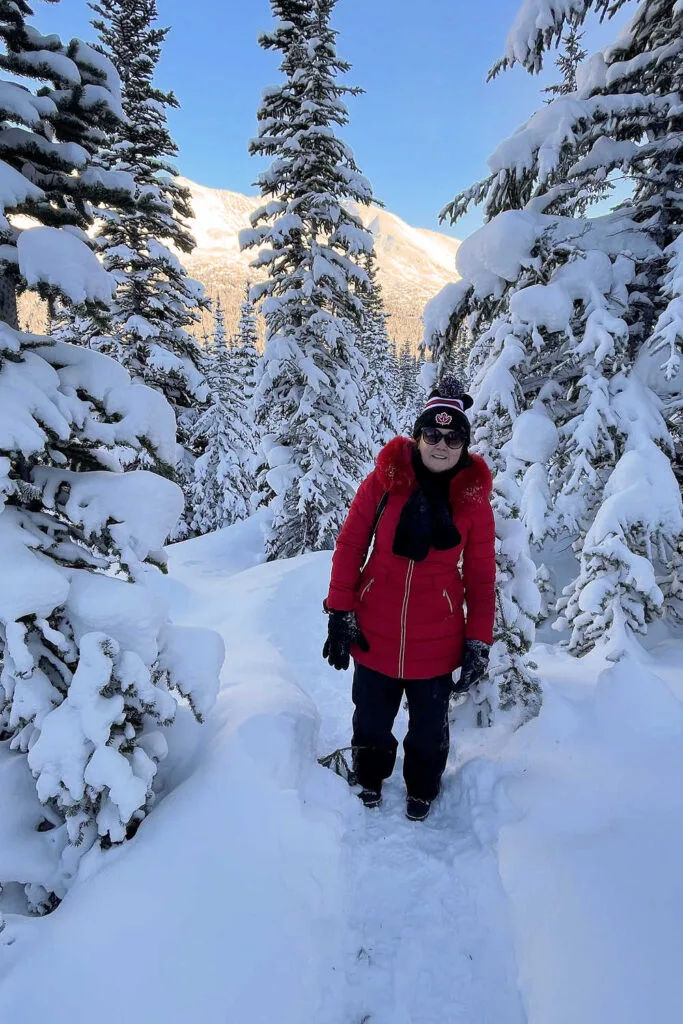 The air was bitterly cold, but the views of the dense spruce and pine trees were lovely. It took careful treading to walk the barely 12 to 18″ wide, flattened pathway.
Should we veer off the trail, we'd sink into dense snow, sometimes up to our hips. Let me tell you; it's no fun trying to escape that situation. Also, passing someone on the narrow pathway was challenging to say the least.
After 45 minutes or more, the trees were getting denser, and we realized we weren't on the right path. We questioned others going the other way, and no one had found the lookout. So, we headed back to the parking lot.
Then, we tried another route and had no luck. I'm not sure how long we hiked, but my nose became numb, and my hair, eyelashes, and eyebrows froze. It wasn't a pretty picture!
While most travelers gave up finding the lookout, we kept trying.
Reaching The Bow Summit Viewpoint
Eventually, the trees started to thin, and we found a path with fencing. We jumped for joy, knowing we were almost there.
But, as we reached the top, it opened up to the upper parking lot, buried under a few feet of snow. Wow, I couldn't believe it took 1-1/2 hours to find another parking lot!
However, we met a couple who were snowshoeing in the Peyto Late area, and they said we were almost there. From there, the snow was very deep, and it was evident not many had found the correct route.
With no compacted trail, it was strenuous walking through the deep snow without snow shoes.
We saw a sign (not buried in snow) showing the path to the viewing area. Eventually, we made it to the lookout and were treated to majestic views.
With clear blue skies, we marveled at the panoramic landscape. Although snow buried the newly built platform, those who had made it that far had created small trails.
Looking down over the railing, an animal trail showed what looked like a moose or elk had recently walked through the area. We didn't have to worry about encountering a bear in December, but this may not be the case in the spring.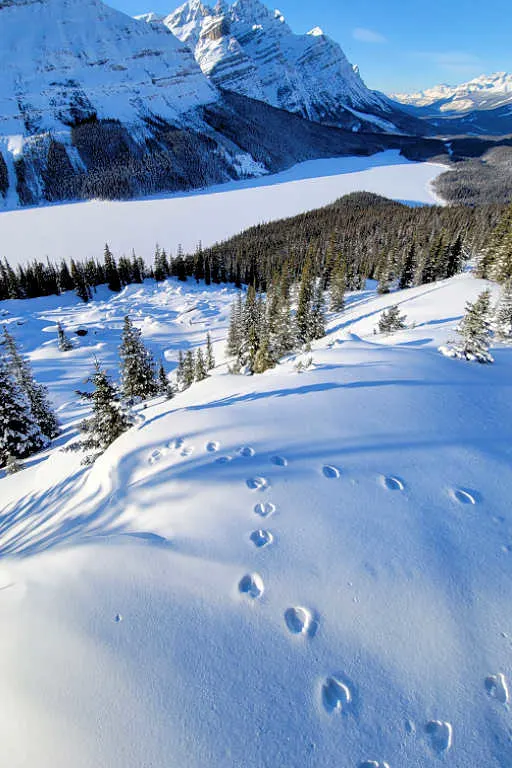 If you visit when the snow isn't so deep, you can venture a bit further. The higher lookout provides views of Peyto Glacier and the Waputik Range behind the lake.
Peyto Lake In Winter Vs. Summer
Having been to Peyto Lake numerous times in the summer, I savored the fact that it was easy to park and could stand at the railing without battling a crowd of tourists in winter.
I have always loved this lake, not just for its turquoise hues but for its iconic shape. Seeing it for the first time in winter, I think it looked just as stunning. What do you think?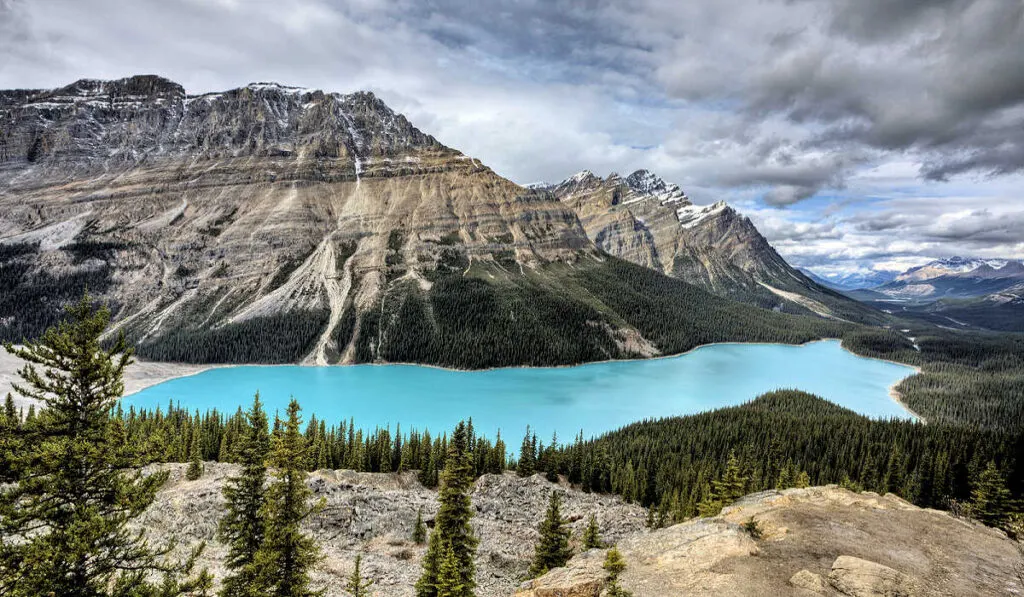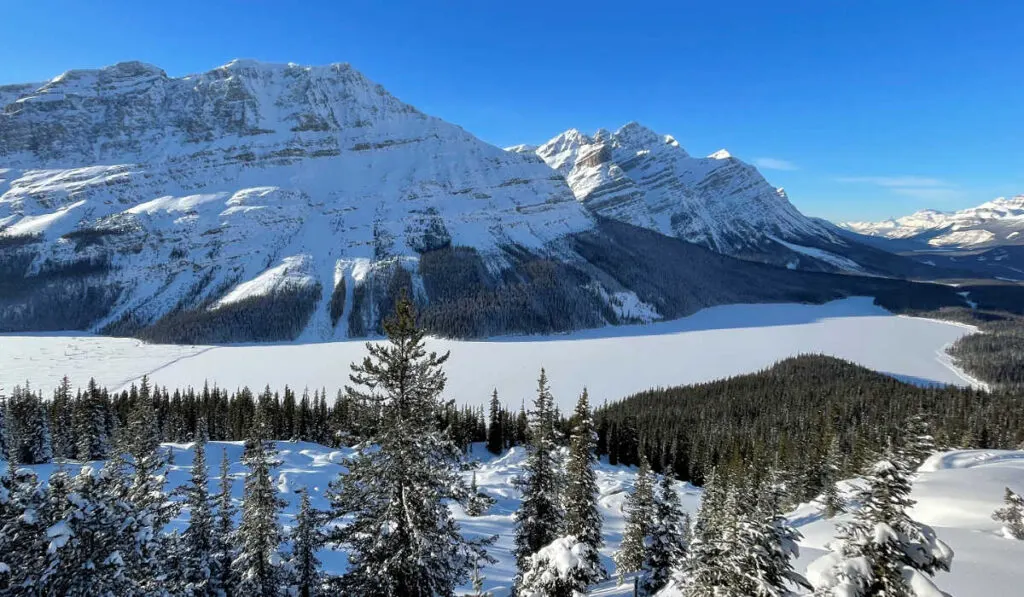 In summer, you can hike down to the lake's edge. Due to avalanche risks, it's not possible in winter. However, the area does offer an incredible landscape to go snowshoeing.
After some time, we returned to the parking lot, which took only 15 minutes. We then realized the trail started from the northwest end of the lower lot.
Here, there's an informational area that was empty in winter. I took a photo showing the heavy snow on its roof.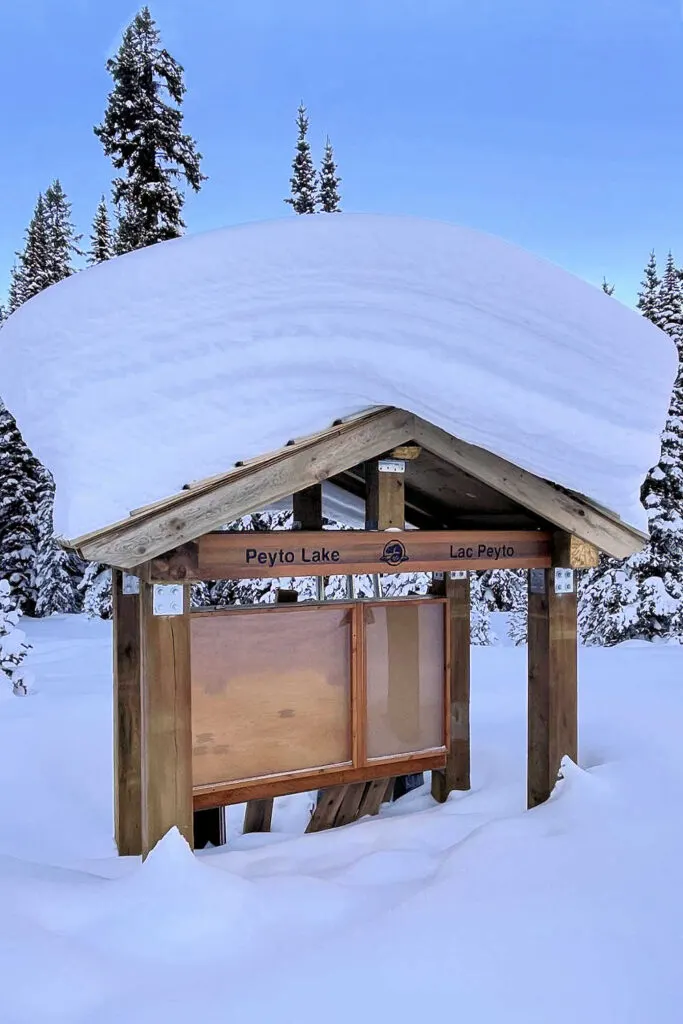 While it took us almost two hours to find the lookout in deep snow, the reward was worth the effort. If you should visit Peyto Lake in December (or up to April), it may be easier to hike up the road to the upper parking lot to access the viewpoint.
With a road to guide the way, there would be no fear of getting lost. Early in the winter season, it's also advisable to have snow shoes to make the going easier.
Tips For Seeing Peyto Lake In Winter
Should you brave the cold in winter to see Peyto Lake, here are some essential tips to follow.
You're in avalanche terrain, so stay away from the edge and keep to the compacted pathways. Get avalanche reports before you go.
Dress for the weather. Since Bow Summit is the highest point, it will be much colder than Banff or Jasper.
With inclines and thin air, you'll get out of breath quickly. So, pace yourself.
Keep dogs on a leash.
Stay hydrated. Since water freezes, consider taking a hot drink in a travel mug or thermos.
Know that there is no cell phone coverage at Peyto Lake if you get into trouble.
You'll need a Parks Canada pass called a Discovery Pass.
Leave no trace. Carry out everything you took with you.
Use snowshoes or traction devices to get a better grip.
The days are much shorter in the winter. So, set out early to give yourself plenty of time. You don't want to be hiking to the Bow Summit Lookout in the dark.
Visiting the Canadian Rocky Mountains in December is an adventure like none other. Frozen hair, freezing water bottles, and a numb nose are experiences I won't soon forget. This, coming from a gal who was born in Singapore!
However, those majestic views of deep powder and tree branches heavy with snow blankets still linger in my mind. Seeing Peyto Lake in shades of white was a bucket list encounter that delivered beyond my expectations.