There's no better way to experience Alaska's beauty than on one of Cunard's Alaska cruises. Cunard Queen Elizabeth is elegantly built and known for their outstanding white star service.
With extended itineraries of up to 15 days, you can enjoy Alaska's ports, landscapes, and wildlife a little longer.
On Cunard Queen Elizabeth, you'll enjoy specialty dishes made from Alaskan seafood. They also carry Alaskan craft beer and cocktails inspired by the Alaskan scenery.
During your voyage, an onboard naturalist will allow you to immerse yourself in the landscape, culture, and wildlife which makes the area so unique.
Cunard Is A Luxury Cruise Line
Owned by Carnival Corporation, the Cunard line offers luxury sailings with only three ships, Queen Elizabeth, Queen Mary 2, and Queen Victoria.
In 2024, they will add a new ship, Queen Anne. While there are numerous cruise lines in the world, they each cater to a different demographic.
Cunard cruise line caters to a more sophisticated traveler who enjoys extraordinary things and the tradition of modern luxury and exceptional service.
During our cruise, there was a staff-to-guest ratio of 1:1, resulting in exceptional white star service every day. However, at full capacity, you can expect one staff to every two passengers.
Cunard Alaska cruises evoke a touch of nostalgia with old-world décor of rich mahogany and opulent fabrics over a glitzy interior design. The library, for instance, features a circular staircase right out of a movie set.
Regardless of your cabin choice, rich textures adorn every stateroom, making them fit for a king or queen. So, travelers who like a more stylish holiday select Cunard for a conservative ocean liner voyage.
Cunard Alaska Cruises Are Longer
Typically, most cruises to Alaska from Seattle or Vancouver are seven days. However, Cunard offers longer than 7-day return cruises from Vancouver, British Columbia.
Cunard's Alaska cruises start at nine days, and some sail longer than two weeks. Cunard is one of the better cruise lines for Alaska if you want a longer itinerary.
It's a no-brainer that sailing longer than seven days means more stops in Alaskan ports, more chances to see Alaskan wildlife, more glacier viewings, and more days of vacation! So, who doesn't like more holidays?
Most 7-day Alaskan cruises stop at three towns with one glacier or one glacier inlet viewing. However, our 10-day Cunard Alaska cruise in July 2022 included five ports, two glacier cruising days, and only two sea days.
Our itinerary included Skagway, Juneau, Ketchikan, Icy Strait Point, and Victoria.
Not only that, but Queen Elizabeth cruises to both Hubbard AND Glacier Bay. If this isn't the perfect Alaska itinerary, I don't know what is.
I loved the idea of a longer itinerary, having sailed back-to-back before, and it was the primary reason for selecting this particular cruise.
Glacier Bay, a UNESCO world heritage site, is a must for anyone booking an Alaska voyage. There is no comparison with the other glacier sightings. While Hubbard Glacier is one mighty glacier, it's still only one glacier.
In Glacier Bay, we will spend nine hours scenic cruising through the park.
Classic Afternoon Tea
Being British, if there's one thing I enjoy immensely, it's a splendid cup of tea. Cream tea or "afternoon tea" is an afternoon ritual in England that's not only a cup of tea but more of a meal.
Cunard, a British cruise line, serves a traditional afternoon tea daily in the Queen's Room from 3:00 pm to 4:30 pm. If you've never experienced this longtime British tradition, you must go. While Cunard has a dress code, you aren't expected to dress formally for tea.
Afternoon tea is an event that's savored slowly. Enjoy the timeless elegance of the Queen's Room with crisp white linens, china teacups, and background orchestral melodies. Traditional afternoon tea consists of three courses.
Traditional delicate finger sandwiches are featured in the first course, made with crustless bread. It's followed by scrumptious fresh baked scones with clotted cream and strawberry jam.
Delicate pastries conclude the afternoon event, and all are enjoyed with a good cup of tea.
While I am celiac and cannot consume wheat or milk products, Cunard catered to my special dietary needs. Instead of finger sandwiches, I received bun sandwiches instead. However, the gluten-free scones and vegan cream were utterly delicious.
The Art Of Dressing For Dinner
While the idea of dressing for dinner is no longer popular amongst the majority of cruisers, some still enjoy dressing up for their evening meal.
Being half British, I still want the routine of putting on "my Sunday best" before heading to the dining room.
Cunard is definitely the cruise line if you are one of those travelers. Not only can you immerse yourself in the defining art deco elegance and outstanding hospitality, but you'll enjoy amazing restaurant food in all of Cunard's venues.
Today, most cruise lines have replaced their formal nights with wording like "evening chic" and "wear your best." However, Cunard inspires finesse with its formal Gala nights.
On our 10-day Alaska cruise, we enjoyed two gala-themed nights. The first, "white ice," celebrated seeing the beautiful white and aqua hues of glacial ice.
The last, the "roaring 20s," had women dressed in flapper dresses with feathered headpieces and men in suits and top hats.
On one of our gala nights, all guests received a complimentary glass of bubbly.
Tea And Coffee In The Stateroom
One of the big bonuses of sailing with Cunard is having a kettle in the stateroom. It gives you that hotel feel, by being able to make a spontaneous cup of coffee or tea whenever the urge arises.
While we know room service is always available, it's much quicker to make it yourself, and you're guaranteed to have hotter water.
One of our weekend rituals is to have tea in bed and start our day leisurely. We even pack our favorite tea wherever we go.
On our Alaska cruise with Cunard, we can maintain our homey ritual because every day's a weekend. Along with the tea station, your room steward leaves daily chocolates, cookies, or shortbread to enjoy with tea.
Self-Serve Laundry Is Free
Being a minimalist packer, I prefer to travel light to save on overweight charges. Doing laundry on a sea day allows me to travel with less and gives me more room to bring home destination souvenirs.
Cunard ships have self-serve laundry rooms, and the best part is that they're FREE! You don't even have to bring laundry soap because Cunard provides that too.
On Queen Elizabeth, laundry rooms were located on decks 4 to 8, near the bow of the ship. During my cruise, the laundrette opened from 7:30 am to 9 pm.
The laundry rooms also have an iron and ironing board, and there was often a lineup to use them before gala nights. Since guests can sail a world cruise with Cunard, free laundry is a nice bonus.
Stateroom Extras
Sometimes it's the little touches that differentiate a good cruise line from a great one. Our balcony cabin on Queen Elizabeth was beautifully decorated in jewel-tone colors, and the bed was embellished with embroidered cushions.
On embarkation day, we had access to our stateroom immediately. Although it only took 30 minutes to board, our luggage was already at our cabin.
Not only did we have plush robes, but slippers too. We also received a complimentary bottle of champagne in our mini-fridge.
The bathroom featured full-sized Penhaligon luxury products instead of the bulk mass-marketed products on other lines. You'd normally have to book a suite with the competition to get luxury bath products.
While we didn't book a suite, we were treated like suite guests. After our first night, we found our pillows too soft. So, our cabin steward immediately brought firmer ones.
Along with the "Daily Programme" each evening, we received "The Canadian." The four-page leaflet was a condensed version of the Canadian news. It was like receiving a daily newspaper.
Exceptional Room Service
While most lines have limited the selection of room service food or charge a fee, Cunard has stayed true to their white star service. Guests can request breakfast in their stateroom from 7 am to 10 am.
The menu is comprehensive and includes a full hot meal. I was thrilled to get eggs done my way, with British back bacon, baked beans, hash browns, and grilled tomato.
Room service is included in your cruise fare. After breakfast, a brunch menu offers a hot meal for those wanting to eat later. Throughout the day, guests can order salads, soups, sandwiches, quesadillas, chicken curry, and afternoon tea.
For a fee, you also can order premium canapes or caviar and champagne.
Umbrellas And Rain Ponchos
Alaska cruise itineraries are known for unpredictable weather. It can be in the 80s one week and low 60s with rain the following week. Heck, we wore shorts and t-shirts one day and winter jackets the next.
On our port day in Ketchikan, it drizzled all morning. Yet, as cruise passengers disembarked, they could take a large "Cunard" umbrella to use in port. Since we always travel to Alaska with a waterproof jacket, we didn't need one.
If you didn't travel without any rain gear, Cunard also leaves plastic ponchos in the stateroom drawers. While the onboard shops have jackets, sweatshirts, and other Alaska clothing, guests could suffice with the complimentary poncho.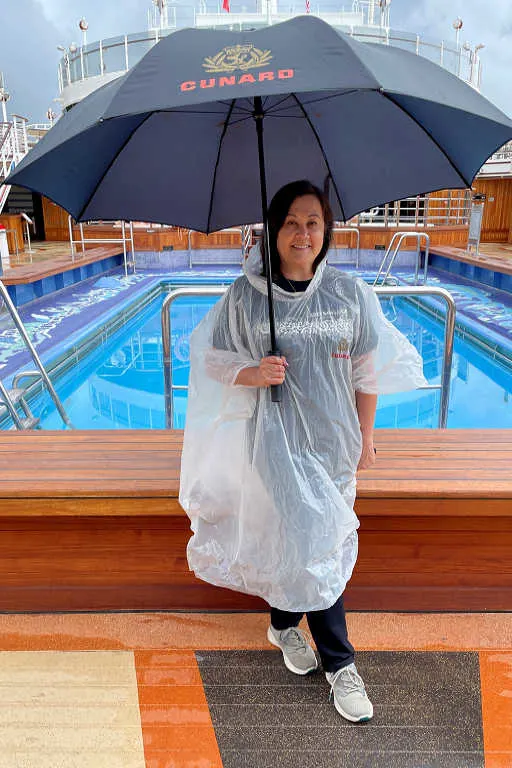 Arts And Enrichment
Express your creative side by learning to paint during a Cunard cruise. Watercolor painting classes are offered on sea days, with all high-quality supplies provided for a small fee.
Two sessions (morning and afternoon) allow plenty of spots for those that want to try something new. If painting isn't your thing, how about dance lessons?
If you want to learn the Waltz, Rumba, Tango, or line dancing, Cunard has you covered.
Cunard Alaska cruises endeavor to provide an enriching experience that is second to none. Rachel Cartwright, an onboard naturalist, gave a presentation on Alaska.
Guests could learn about wildlife spotting and scenic highlights on the cruise. On deck 9 in the Garden Lounge, a poster board gave updates of what was spotted from the bridge.
I was shocked to see a total of 20 orcas, 350 Pacific White-sided dolphins, 96 sea otters, and 102 humpback whales.
Fantastic Food Choices
Cunard prides itself on providing the finest of everything, including food. Cunard differs from other lines by not having half the menu that stays the same each night. Instead, the whole menu changed, which I enjoyed.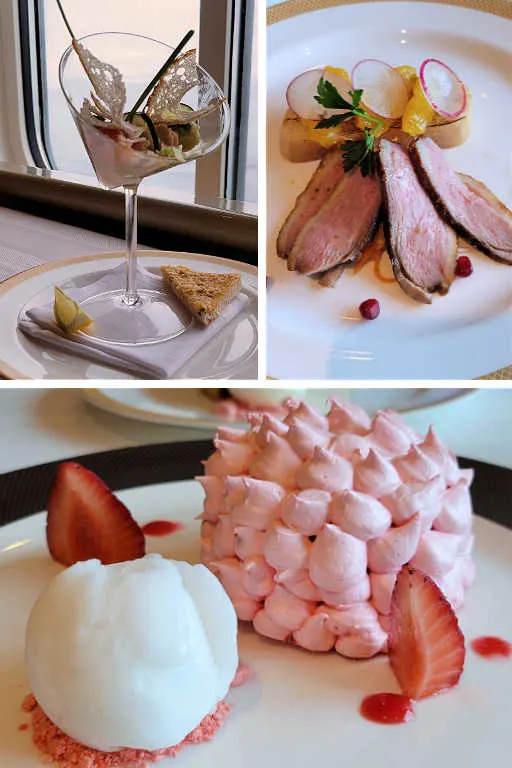 Every course of each meal was beautifully presented and tasted great. The food in the Britannia restaurant was equivalent to what you'd receive in a specialty restaurant on competitive lines.
Even better, their service and food in The Veranda, a specialty restaurant, sang our praises.
After dinner each evening, waiters brought handmade chocolates or sweet treats to enjoy with tea and coffee.
You Won't Pay More For Shore Excursions
Typically, when you book shore excursions through your cruise line, you pay more than through a vendor. However, you book through the third-party vendor on Cunard, so you're paying exactly what the tour costs.
You're guaranteed to make it back to the ship on time by booking with Cunard. During our cruise, Cunard offered gondola tickets in Icy Strait Point and Juneau for USD 5 less than buying in port.
While that may not seem like big savings, when you have several people in your cruise party, the savings add up fast.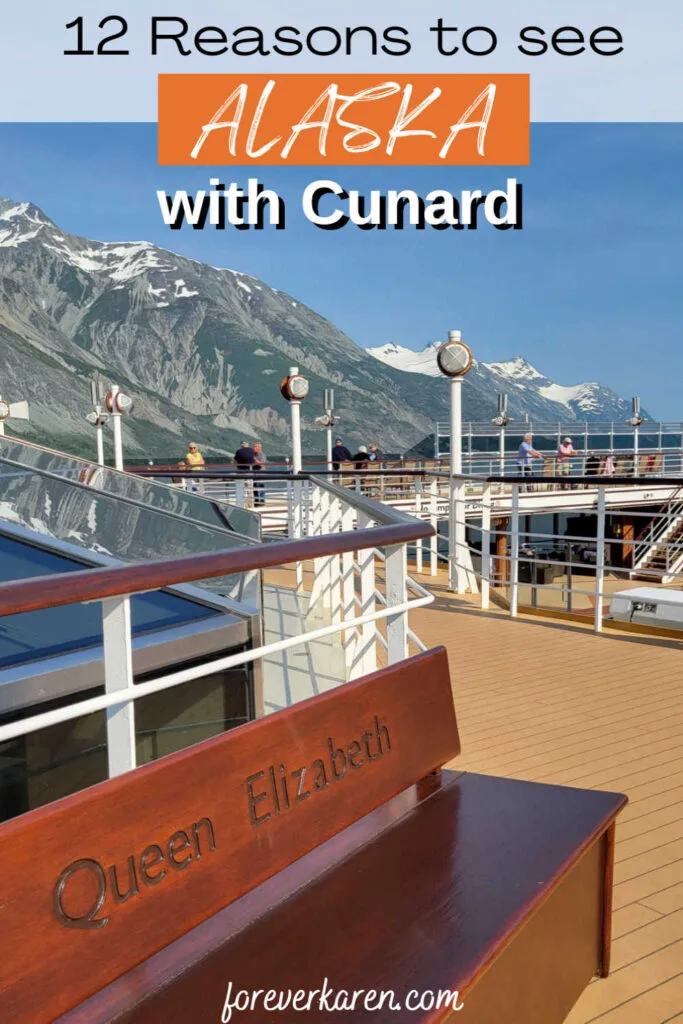 So, we booked all our tours with Cunard except one, the e-bike rental with Klondike Electric Bicycles, because it wasn't offered. The e-bikes were fun to ride and a great option for those on a budget.
Overall, our favorite excursion was the Bering Sea excursion in Ketchikan. This tour is a must if you've ever watched the "Deadliest Catch" show.
Final Thoughts
Cunard offers Alaska cruises after an almost 30-year hiatus. While some might think their pricing is out of reach, its Alaska pricing has been extremely competitive.
During its inaugural year (2019), I saw many 9+ days cruise deals through the inside passage for under USD 900.
Considering Queen Elizabeth is a five-star cruise ship, paying less than USD 100 per day is quite the cruise bargain. Their gratuities are the lowest in the cruise industry at USD 11.50 a day.
With a pent-up demand to travel, Alaska cruise pricing tends to rise. Additionally, as each year passes, Cunard's pricing will probably climb, too, until it gains a loyal following on the west coast.
Happy travels ~ Karen