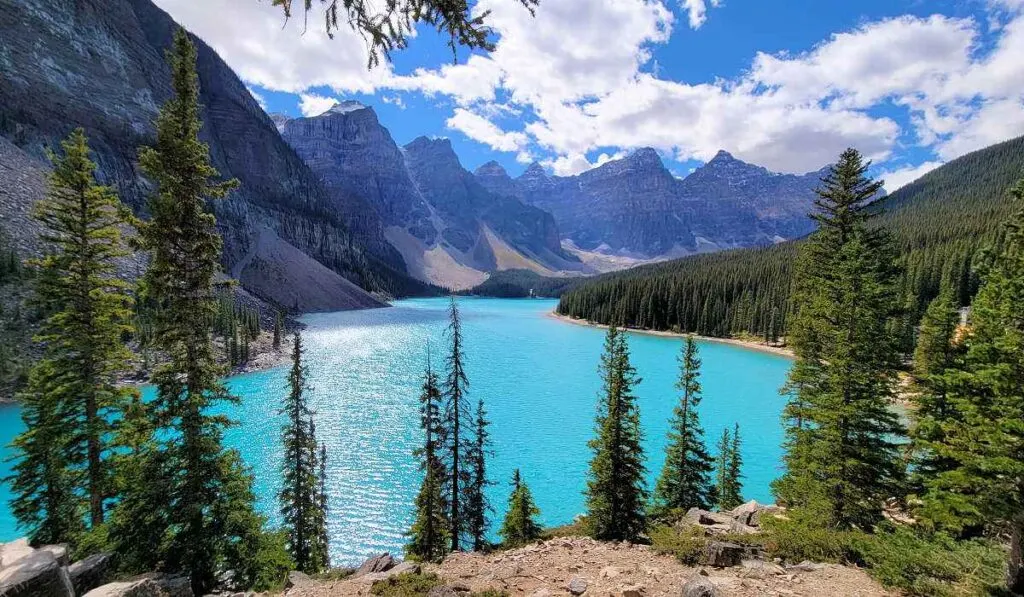 Located in the Canadian Rockies, Banff National Park's popularity as a vacation destination has sky-rocked, thanks to pictures on the web. If you're seeking a Banff itinerary for visiting the national park, this one covers all the best hikes, waterfalls, and glacial lakes.
Established in 1885, Banff is Canada's oldest national park. While it isn't the largest of its kind (that title goes to Wood Buffalo Park), it does have 6,641 sq. km or 2,562 sq. miles of stunning landscapes.
The Canadian Pacific Railway was built through the Rockies, which contributed to the construction of Banff Springs and Chateau Lake Louise.
You need a Discovery Pass to visit a Canadian national park. You can purchase a pass at the gate, Banff visitors center, or online.
Some people combine a trip to Banff National Park with time in Jasper National Park. After five days in Banff, you can drive north on Hwy 93. On the Banff to Jasper road trip, there are many great stops on the Icefields Parkway, so expect the trip to take the better part of the day.
When Is The Best Time To Visit
You can visit Banff National Park year-round. However, winter presents challenges like driving on icy roads, hiking in deep snow, and temperatures in the minus double digits.
Winter in Banff is stunning, with everything blanketed in snow. You can spot the wildlife in winter as they stand out against the white landscape.
While some roads are not accessible in the winter, you can enjoy other activities not possible in summer. Ski resorts are open for skiing, snowboarding, cross-country skiing, and tubing.
Hiking is slow-going when the snow is deep. Also, the short daylight hours impact how much you can accomplish during the day.
July to August is peak season, but the popular hikes and attractions are crowded. In summer, you'll enjoy long days of hiking to savor the scenery. In June, the lakes are still melting, and the trails will be muddy.
The fall, September to October, is a great time to see the autumn colors. Larch Valley and Paradise Valley have many larch trees, which display beautiful golden tones in the fall months.
Where To Stay In Banff National Park
For this itinerary, the activities are grouped by area. The first three days travel around the town, so you'll want accommodation in Banff.
The last two days have activities in and around Lake Louise. Since it's a 40-minute drive to Lake Louise, I'd move to that area to save on driving time. With sunrise activities, you'll also eliminate getting up at 4 am in Banff.
Hotels book up fast if you're visiting in summer and command the highest rates. You'll want a hotel within walking distance of restaurants.
In summer, the town closes Banff Avenue to vehicle traffic, and the roads become gridlocked. Walking to dinner will save a lot of grief by not needing to park a vehicle.
Budget Banff Hotel
Located on Banff Avenue, the Banff Ptarmigan Inn has complimentary underground parking and an incredible hot breakfast.
Since the hotel has an in-house restaurant, they provide made-to-order omelets, scrambled eggs, waffles, cereal, fresh fruit, sausages, yogurt, pastries, and pancakes. The complimentary breakfast is a great reason to stay at this hotel.
Mid-Range Hotel
The Moose Hotel and Suites has a great location, again on Banff Avenue. While you won't receive a complimentary breakfast, it has a reasonably priced in-house restaurant that serves excellent food. The suites also come with kitchenettes to save money on restaurant meals.
With a roof-top hot tub and suites with fireplaces, it's hard to beat the amenities when visiting in winter. The suites are beautiful and roomy and can easily accommodate a family of four.
Luxury Accommodations
You can't beat the Banff Springs and Chateau Lake Louise hotels if you want the ultimate pampering and superb service.
The Fairmont Chateau Lake Louise sits next to the lake with the same name. With underground parking, you won't need to worry about getting parking at the lake.
If you opt for a room with lake views, you'll enjoy those turquoise hues in summer and the frozen lake in winter. The hotel has several first-class restaurants, so you don't need to go out to eat.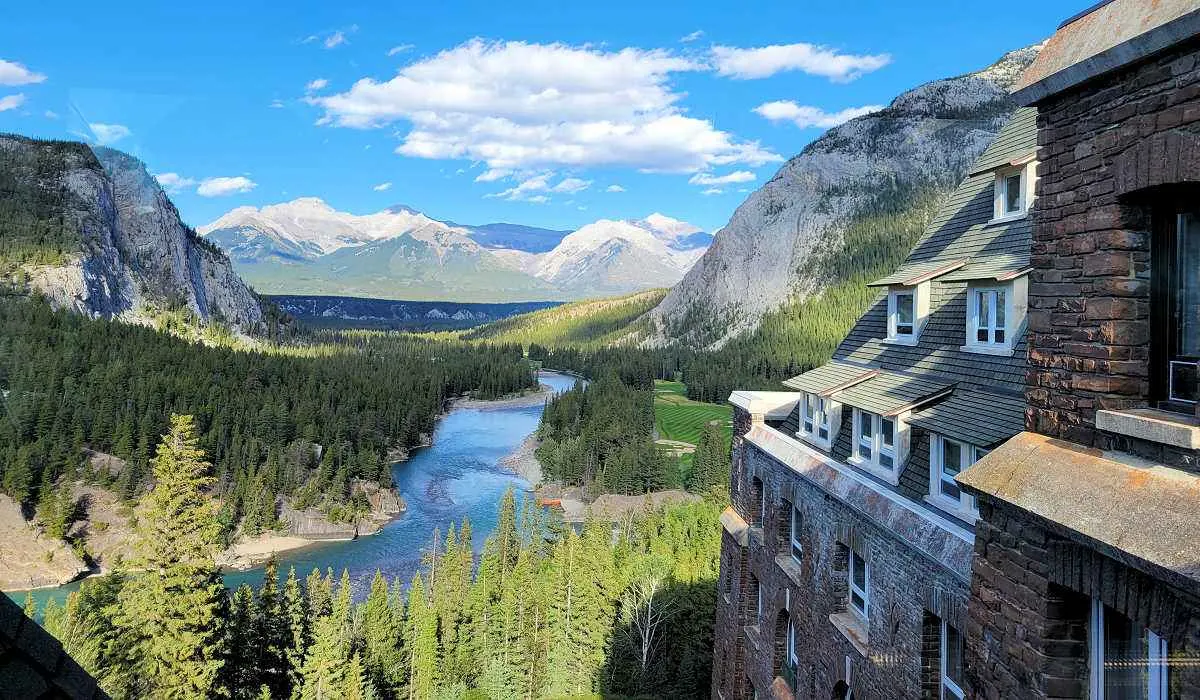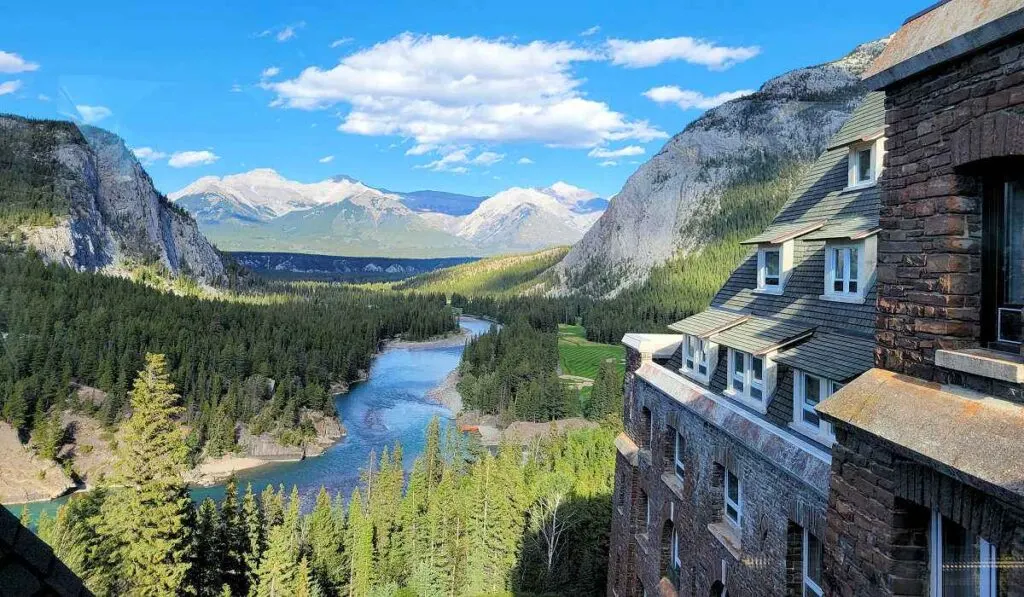 The Fairmont Banff Springs Hotel offers a Scottish Castle accommodation overlooking the Bow Valley in Banff. The rooms are equally beautiful here.
Banff Itinerary Day One
The first day is always an ideal time to explore the town of Banff and get your bearings. Located on Banff Avenue, you can get face-to-face with the wildlife at the Banff Park Museum. The taxidermy specimens are the results of road kill or animals that died of natural causes.
Built in 1903, the building is Canada's oldest natural history museum. It's free to visit with your Discovery Pass.
Heading south across the Bow River Bridge, the Cascades of Time Gardens provides beautifully terraced plots behind the Parks Canada Administrative Office.
If you visit Banff in the winter season, Banff and Lake Louise Tourism host "In search of Christmas Spirit" on the grounds. You'll need to bundle up to make the winter trek in frigid conditions.
From mid-November to January, you can enjoy the Hot Chocolate Trail. Businesses sell holiday-themed drinks with a twist. So, to warm you in winter, you can choose one with a shot of vodka, pumpkin puree, or Kahlua.
If you're visiting in summer, restaurants get very busy, and most don't take reservations. So, plan on heading to dinner before you're overly hungry. You can pass the time browsing the shops and stores along Banff Avenue.
Cave And Basin
Your Discovery Pass gives you free admission to the Cave and Basin National Historic Site. The site was built over a thermal spring, and it was believed that the mineral-rich waters had medicinal effects.
While the Cave and Basin site once housed a hot springs pool, that pool has been drained and, in its place, exhibit show displays of rapidly receding glaciers in Banff National Park.
The black-and-white photos of the Peyto, Bow, and Athabasca Glaciers show the amount of ice loss over the last decade. With global warming, scientists estimate that 70% of the park's glaciers will melt by 2100.
By the outdoor hot spring pool, an exhibit shows what we can do to make a difference. The thermal pool, no longer suitable for bathers, is home to some rare life species.
The endangered Banff Springs Snail inhabits the thermal springs on Sulphur Mountain. Now a protected species, their numbers have started to increase.
The jewel of the Cave and Basin is the cave itself. After walking through a rock tunnel, you'll reach an inside thermal pool that smells like rotten eggs. You'll enjoy a natural cavern if you get past the sulphur smell.
Outside, trailheads offer hikes in the area. The Marsh Trail meanders down from the building to the marsh. It's a simple stroll on an elevated boardwalk over the marsh.
Once you reach the clearing, the grasslands with Mount Norquay and Mount Cory offer panoramic photos. In the winter, the snow-covered boardwalk is a treat to walk.
With warm water flowing from the hot springs, it prevents snow and ice from building in some areas. This oasis attracts fish, deer, and moose, who come to feed in the winter. We were lucky enough to spot two deer.
Banff Upper Hot Springs
Open year-round, Banff Upper Hot Springs allow visitors to bathe in a mineral-rich pool. The outdoor pool sits beneath the majestic peaks of Mount Rundle and Sundance Peak.
Hot Springs vary in odor depending on the mineral content. The thermal water at Banff's Hot Springs is combined with city water to fill the pool.
Water outflow and pressure vary by season. However, the water temperature is kept at a constant 37C to 40C (98F to 104F) throughout the year.
Renowned for being Canada's highest hot spring, the venue attracts a crowd in summer. If you forgot to pack a bathing suit, don't worry, the hot springs offer swimsuit and towel rentals.
Yamnuska Wolfdog Sanctuary
While not located in Banff but in Cochrane, the Yamnuska sanctuary for wolfdogs is a must-visit when traveling to Banff. This not-for-profit shelter rescues wolfdogs and educates the public on their breed.
Wolfdogs haven't evolved naturally but are the result of humans breeding dogs with wolves to create an "exotic pet." Unfortunately, most owners don't have the capacity to care for or understand their wolf traits. So, most wolfdogs are surrendered and euthanized.
Yamnuska Wolfdog Sanctuary allows the public to visit on one of three tours, from Thursdays to Mondays. A self-guided Sanctuary Walk allows you to stroll through the shelter and view the animals in their packs.
During the day, the staff holds Wolfdog Wisdom sessions where they interact with the animals. It's an excellent opportunity to ask questions and learn about the traits of a wolfdog.
Guests on the Intro Tour step inside the Engadine enclosure to meet the wolfdogs. You can observe and photograph the wolfdogs on a wooden platform without pesky fencing. This tour gets you one step closer to the animals and has a minimum age requirement of six years.
If you're seeking a one-on-one experience, book the Interactive Tour. Limited to 10 participants, you'll visit two packs instead of one.
The Yamnuska enclosure contains three high wolfdogs named Nova, Zeus, and Kuna. The Cascade enclosure has two low and mid-content wolfdogs, Loki and Rue.
In the enclosures, guests can feed the animals jerky (if they choose to eat) and watch how they interact with people.
While visitors can pop in for a Sanctuary Walk, the shelter recommends reservations for the other two tours. You cannot bring a dog, and the shelter has a strict dress code.
You must not wear fur (real or fake), have dangly objects such as pompoms, or wear leather or down-filled coats.
During the summer, the dogs have thin coats and often hide in the trees to escape the heat. They almost look like different wolfdogs when they don thick coats in winter.
Banff Itinerary Day Two
Day two still explores the attractions close to the town of Banff. While you choose to do these in any order, you'll want to visit Johnston Canyon early in the morning or late afternoon due to limited parking. In winter, parking isn't an issue.
Johnston Canyon
Rated as one of the best waterfall trails in Banff, after one time, you'll understand why. The path through Johnston Canyon is picturesque, and most other waterfall hikes pale in comparison.
In summer, the Johnston Canyon trail becomes a bottleneck comparable to rush hour traffic in a metropolitan city. While it starts as a dirt path along the river, it soon turns into a narrow walkway over the rushing river.
The trail is a feat of engineering, with a cantilevering walkway with metal safety railings. While the path has two named falls, the Upper and Lower Johnston Falls, multiple cascades exist.
Most hikers walk to the lower falls, which has a 100-meter elevation gain and a 2.3 km roundtrip. In the summer, you'll often have to queue, to access a small tunnel to the viewing point.
If you choose not to wait, you'll enjoy spectacular views from the bridge. In winter, the tunnel's stairs become an icy mess, so step carefully.
The trail to the upper falls has a bit more incline (260 meters) and adds another 2.8 km to the roundtrip hike. Due to slippery sections, having snow cleats or shoe spikes helps with the descent.
The path travels up and down, and alternatives between a forest path and narrow canyon walkways. The Upper Johnston Falls offers a taller cascade, which drops into a pool below. In winter, climbers enjoy ice climbing on the surrounding ice walls.
The 11.7 km trail has an incline of 600 meters to reach the Ink Pots. In winter, you can't view them due to snow and ice. You'll also need snow shoes to trek through the deeper snow.
Bow Falls
Located near the Fairmont Banff Springs Hotel, you can view Bow Falls, a major waterfall on the Bow River. The parking lot fills up fast in the summer, but most people stay for a short time. So, wait a while, and people are always leaving.
By staying at the Banff Springs Hotel, you can take a short walk down the hill to the viewing area. Alternatively, you can view the falls from across the river.
So, cross the Bow River Bridge, and take a right onto Buffalo Street. There's a pullout called Surprise Corner Viewpoint to see Bow Falls and the Fairmont Banff Springs Hotel.
Banff Hoodoos/Tunnel Mountain Drive
If you continue on Buffalo Street, it turns into Tunnel Mountain Road. Drive for 10 minutes or 5 km to reach the Banff Hoodoos viewpoint. Drive slowly and take in the majestic scenery. There is decent parking at the viewpoint.
Hoodoos are a natural phenomenon and the result of weathering and erosion. A harder layer of rock covers a softer stone. When it rains, the weather erodes the softer layer, leaving a rock tower.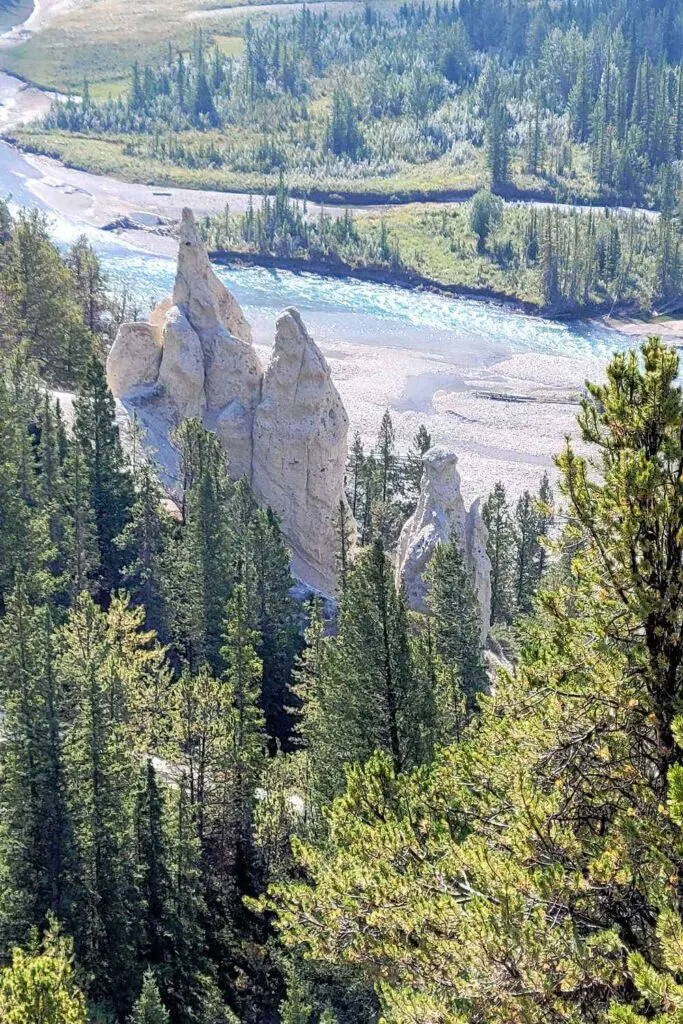 Sometimes the chimney stacks are capped with rocks, as in the case of the Leanchoil Hoodoos, a popular hike in Yoho National Park. The lifespan of a hoodoo is short-lived as the weather continues to erode the towers until they're gone.
From the parking area, a trail follows the ridge above the hoodoos. It can be pretty windy here, and there are no guard rails. Walking along the path, you can see the hoodoos between the trees.
You can hike the Banff Hoodoos trail if you're an avid hiker. It starts from the surprise corner viewpoint and offers an easy to moderate 9.5 km roundtrip trek. Expect it to take up to 3 hours to complete it.
Sulphur Mountain Gondola
It's best to take the Banff gondola to the top of Sulphur Mountain on a clear day. So, check the weather forecast, and tweak your Banff itinerary to fit this activity in when there are no clouds or rain.
You'll need to book a ticket and time slot during peak times, and the price varies according to demand. The gondola takes 8 minutes to reach the peak, which stands at 2,481 meters or 8,041 feet.
The gondola cars can accommodate four, but couples aren't required to share with strangers.
Since the temperatures at the peak can be 10C cooler than at the base, it's advisable to take a jacket. In winter, expect frigid weather, so you'll need to dress for sub-zero temperatures.
Inside the interpretation center, you can learn about the animals living in the Canadian Rockies and the mountains surrounding Sulphur Mountain.
The center offers fun for the whole family. You can download the Agents of Discovery mobile game, which invites the little ones to explore through the app.
Outside, two observation decks offer 360 degrees views. Beyond the observation area, a wooden boardwalk meanders across to Sanson Peak.
You can read many plaques on the boardwalk, documenting the landscapes, birds, and flora. There are lots of benches to sit on and enjoy the surroundings. You may see some Bighorn Sheep near the peak if you are lucky.
At the highest point of Sulphur Mountain, Sanson Peak was a vital weather station, recording weather from 1903 to the mid-30s. While you can't go into the building, peering through the windows, you can see the humble dwelling.
If you're hungry, the Northern Lights offers a buffet. The Sky Bistro offers a romantic setting for dinner. However, you need a reservation to dine there.
Vermillion Lakes
Located in the Bow River Valley, the Vermilion Lakes are three marshland lakes close to the town of Banff. A dirt road follows the shoreline below the Trans-Canada Highway.
The Vermilion Lakes is the place to go if you're looking to capture an iconic sunrise or sunset. With Mount Rundle as a backdrop, it makes for a spectacular vision.
In winter, you can spot deer, elk, and moose in the marshy areas. The snow offers no camouflage, so they're easy to see.
When driving back to town, stop at the Banff sign to get a selfie.
Banff Itinerary Day Three
With so many lakes close to the town center, you'll spend your day exploring some of them. From Banff, the Lake Minnewanka scenic drive arrives at two lakes, Tow Jack Lake and Lake Minnewanka.
Lake Minnewanka
As Banff's largest body of water at 13 miles long, Lake Minnewanka offers several activities in summer. For nature lovers, you can take the Lake Minnewanka Lakeside trail.
The 15.5 km return trail has an elevation gain of just over 500 meters and takes 4-1/2 hours to complete. Since this is an out-and-back trail, you can hike a small portion without committing to the whole 15 km.
This is a fantastic spot for hiking in winter, although you'll need crampons and poles to secure a grip.
If you prefer to be on the water, try stand-up paddleboarding or kayaking instead. Lake Minnewanka is the only lake that allows motor boats in Banff National Park.
Boating and fishing are equally as popular as avid anglers try to catch trophy-sized lake trout. Along with trout, you can catch Lake Whitefish and Mountain Whitefish too.
But the best way to explore the massive lake is on a leisurely cruise. Choose from one-hour to 90-minute cruises, which give you a different perspective of Banff. For adults, you can also select a beer voyage which includes craft beer.
You have opportunities to spot wildlife on the scenic cruise and visit inlets, coves, and bays not reachable on land. The longer journey also travels to Devil's Gap at the end of the lake.
Bring a pair of compact binoculars to increase your chance of wildlife sightings.
From the comfort of a covered vessel, you can search the shores along the lake for bald eagles, grizzly bears, and bighorn sheep. Cruises include a knowledgeable guide who provides history and facts about the land.
Two Jack Lake
Much smaller in size, the emerald waters of Two Jack Lake are popular for swimming (although still glacier-fed), kayaking, and stand-up paddleboarding (SUP).
As a smaller lake, the calmer waters are more suited to SUP, especially if you're a beginner. The lake doesn't offer rentals, so you'll need to supply your own or rent from a store in town.
Johnson Lake
From the Lake Minnewanka scenic drive, a road branches off to Johnson Lake. Like the previous lake, this waterhole is popular for swimming, kayaking, and stand-up paddleboarding.
With lots of picnic tables, it's an ideal spot to enjoy an outdoor lunch. If you prefer an easier trail to the one at Lake Minnewanka, the 3 km or 1.8-mile looping trail has little elevation gain, making it perfect for families.
In winter, Johnson Lake freezes, providing a natural skating rink. Also, the looping trail invites visitors to enjoy the route on snowshoes or cross-country skis.
Drive To Mount Norquay
To enjoy scenic views of Banff, take the Mount Norquay scenic drive to the lookout. From the parking area, take a stroll out onto the meadow. You can see sweeping Banff and Mount Rundle views across the Bow Valley Parkway.
In the summer, you can drive to the top of Mount Norquay and take the summer chairlift to the peak. Because it's across the valley from the Sulphur Mountain gondola, you'll have contrasting views.
If you're afraid of heights, you may not want to ride an open chairlift. In winter, the chairlift allows guests to enjoy skiing and tubing near the town of Banff.
Banff Itinerary Day Four
Day four of this Banff National Park itinerary starts at the place everyone wants to see, Lake Louise.
You should stay overnight at Lake Louise after day three for an early start the next day. The Fairmont Chateau Lake Louise offers luxury accommodations at the lake without the hassle of parking.
Sunrise at Lake Louise
You'll need to rise very early to watch the iconic sunrise on Mount Victoria and Victoria Glacier. In the summertime, the sun rises at about 5:30 am, and you'll need to be at the lake's edge earlier to secure a photography spot.
If you stay in Banff, it requires a 40-minute drive to get to Lake Louise and additional time to park. Instead of waking at 4 am in Banff, you can get up slightly later by staying in the Lake Louise area.
Both Lake Louise and Moraine Lake are known for their spectacular sunrises. As the sun rises, the top of the mountain appears to be dipped in gold.
The area of golden glow grows quite quickly, but you want to capture the moment before the entire mountain lights up.
Lake Louise is a year-round destination. In winter, you'll benefit from a much later sunrise. However, the day are much shorter, so you'll have fewer daylight hours to accomplish your goals.
Rent A Canoe On Lake Louise
A benefit of staying at the Chateau is the sunrise canoe rental. Exclusive for hotel guests, you can watch the sunrise from the canoe.
Guests also enjoy a discounted rate on canoe rentals through the summer months. In-home guests pay CAD 85 for 30 minutes or CAD 95 for one hour.
Day visitors pay CAD 135 for 30 minutes and CAD 145 for a full hour. It makes sense to rent by the hour.
Guests of the hotel can make reservations, but day visitors rent based on a first-come-first-served basis.
The boat house opens for rental once the lake has thawed, usually in mid to late June. They operate throughout the summer, usually until early or mid-September.
If you visit Lake Louise in winter, the lake freezes by mid-December. The hotel drills holes into the ice to flood the surface, to thicken it for ice skating.
The lake becomes a great place to cross-country ski, and the trails provide a venue for snowshoeing. A basement store in the hotel offers rentals of skates, snow shoes, cross-country skis, skiing, and snowboarding equipment.
Alternatively, a horse-drawn sleigh offers rides up the lake if you prefer something a little more relaxing. Operated by Brewster's, guests can select from a group carriage ride or a private carriage for two.
Lake Agnes Tea House
While there are numerous amazing hikes in the Lake Louise area, the Lake Agnes Tea House Trail is a must-visit destination for hikers. While the trail attracts a crowd, don't let that stop you from making the trek with hundreds of other hikers.
The trail begins at Lake Louise Chateau and takes hikers on an elevation gain of 400 meters. To avoid the crowd, hit the trail early in the morning. While it might be chilly, you'll enjoy the path with a few people.
Expect to spend up to three hours completing this out-and-back trail. The trail is 7.4 km or 4.9 miles roundtrip but can be slightly extended if you go to the Big Beehive too.
Along the way, you will pass by Mirror Lake and enjoy stunning views of the picturesque landscape. Near Mirror Lake, you'll have the option to see Little Beehive.
Upon reaching the tea house, you can reward your climb with food and a hot loose-leaf tea. Even in its remote location, the teahouse serves over 100 flavors of tea.
It also bakes cookies, pastries, banana bread and makes daily sandwiches from homemade oatmeal bread. Take cash because the tea house can't process debit or credit.
Expect higher prices, as staff carries the ingredients up into the mountains. But, with a spot next to Lake Agnes, this mountain location beats any city Starbucks by a long shot.
After you've recharged from a refreshing tea and snack, either head back down or visit the Big Beehive.
If you opt for the latter, expect a steady incline (another 150 meters) on this 1.5 km route. However, you'll be rewarded with views that are out of this world.
While the tea house closes in winter, you can still make the hike, provided you have crampons and hiking poles. Be sure to check on the avalanche risk before you go. Contrasting summer, you'll savor views of the frozen lake and the white landscape.
Fairview Lookout Trail
Are you looking for an easy hike with stunning views? Then the Fairview Lookout hiking trail is perfect for you! While the Lake Agnes Teahouse Trail follows the lake's right side, the Fairview Lookout Trail starts on the left.
The trail starts behind the canoe rental boat house. Unlike other trails in the area, there are no views during the ascension. It takes about 45 minutes to complete a 2 km round trip short hike with 150 meters of elevation gain, all through a dense forest.
Surprisingly, you'll find few people on the trail early in the morning, and the stroll through the forest is very peaceful.
Once you reach the lookout point, you will be rewarded with some of the best views over the lake and Chateau without putting in much effort. Having done the Big Beehive and Plain of the Six Glaciers hikes, this one was just as rewarding but with little effort.
There is also a wooden bench to enjoy time at the lookout while taking in all its beauty and also possibly having a snack.
All-in-all, this trail is definitely worth your time, providing great views, and is suitable for those with little to no hiking experience.
Descending takes little time since it's all downhill, making this trail ideal for those with limited time or who have a busy Banff itinerary.
Lakeshore Trail
This trail is an alternative to the other two if you prefer no elevation gain. The Lake Louise Lakeshore Trail is the perfect option for those looking for a scenic walk around the stunning Lake Louise.
The Lake Louise Lakeshore Trail is a 4 km roundtrip hike that takes approximately two hours to complete. This easy trail is wheelchair and stroller friendly, allowing for an enjoyable experience for everyone.
Since it's an out-and-back path, you can walk as far as you want before returning to the Chateau. The path is busy between 10 am and 4 pm, so if you plan to walk, you should travel outside these times.
At the end of the lake, take time to snap photos of the silty flats and friendly chipmunks before admiring rock climbers practicing on the sheer rock wall.
Those seeking further adventure can keep walking past the silted area into the forest alongside a rippling river.
Horseback riders may join in on excursions here too! With plenty of benches on route and plenty of chipmunk photo opportunities, the Lakeshore Trail provides something for everyone.
Banff Itinerary Day Five
On the final day of your Banff itinerary, you can rise early for another iconic sunrise or start your day a little later. The Moraine Lake sunrise is said to be the better iconic event of the neighboring lakes.
If you choose to forego the sunrise at Moraine Lake, I'd recommend traveling to Yoho National Park and seeing its attractions before returning to Lake Louise.
Again, the itinerary is flexible, so tweak it as it suits your schedule.
Moraine Lake
The road access from Lake Louise to Moraine Lake has permanently closed. So, you'll need to book a shuttle to get to the lake.
Moraine Lake has become a popular destination due to images on the web. If you don't plan to visit at sunrise, it's best to try in the early afternoon.
It might seem like a hassle to reach the lake, but once you see its incredible beauty, you'll agree that the destination ranks eleven out of ten.
You will have access to various hiking trails when you get there. Alternatively, you can rent a canoe for an unmatched experience of the glacial-fed lake and its overwhelming beauty!
Moraine Lake is known for its iconic, stunning blue-green hues and dramatic ten mountain peaks backdrop. To enjoy the best views, climb the rockpile moraine to enjoy the lake's beautiful tones.
As you climb the rock, keep your eyes peeled for chipmunks, pika, and hoary marmots who call the stones home. On a sunny day, you might spot a marmot sunning itself on a boulder.
The lake isn't always those lovely shades of blue-green. The color comes from the rock flour created from glacial melt. So, it may not exude those tones in June but gets more beautiful as the summer progresses.
From Moraine Lake, you have options for hiking. Sentinel Valley via Larch Valley has beautiful colors in the fall. Other trails include Taylor Lake, Lake Annette, and Consolation Lakes.
Consolation Lakes
The hike to Consolation Lakes is known for its incredible views. The 7.6 km or 4.7-mile hike has only a 320-meter (1050 foot) elevation gain, so it's ideal for families or those without hiking experience.
Starting from the Moraine Lake parking lot and traveling along a rock pile path, you will witness the Tower of Babel before entering the forest.
At the start of the trail, signage suggests whether hiking groups of four or more are suggested or mandatory. On the journey into the valley, be aware of possible grizzly bear sightings and always carry bear spray and an inexpensive bear bell.
Please remember to stay in your hiking groups and make some noise to alert animals of your presence. In most cases, animals will move away.
Listen to Babel Creek babbling nearby as you make your way through the forest. In the summer, you'll spot plenty of wildflowers, including the popular Indian Paintbrush.
When you reach the meadow, marvel at Lower Consolation Lake from a rock pile in front of it. Take extra care when attempting to access Upper Consolation Lake, as it requires some scrambling over tricky terrain.
Even though the trail is rated as easy, wearing boots with ankle support and using hiking poles will help to prevent ankle sprains.
Takakkaw Falls
Located in Yoho National Park, Takakkaw Falls is Canada's second-highest waterfall. Taking a hike to Takakkaw Falls is an easy and rewarding experience, with mostly flat terrain and spectacular views.
The 1.3 km return trip is suitable for families and even pets. However, the switchback road to the parking lot might not be ideal for large RVs or novice drivers.
It is important to note that in winter, the road closed dues to heavy snow and an inability to remove it.
During the summer peak, parking can be problematic as families tend to picnic and linger longer than in other areas. With parking secured, you can enjoy a stroll to the thundering falls. Be sure to stop at the iconic red Adirondack chairs, which beg for a selfie.
Take precautions when getting close to the falls, as the spray causes slippery rocks. Bring a waterproof jacket to keep you dry if you're visiting in cooler weather.
Natural Bridge
Further down the highway, the Natural Bridge is a must-see. Also located in Yoho National Park near Field, the Natural Bridge is a powerful reminder of the power and influence of water.
Sculpted by powerful rushing water over what previously was a waterfall, this stunning rock formation spans the Kicking Horse River downstream from Field valley flats.
From the parking area, it's a short walk across a bridge to several lookout points. Informational plaques explain the geologic process that created this natural phenomenon.
Emerald Lake
A 3 km road from the Natural Bridge leads to the picturesque Emerald Lake. Emerald Lake gets its namesake from the blue-green glacial flour in its waters.
Due to its lower altitude than other Canadian Rockies lakes, its icy temperatures don't last long. With earlier access, you can head to Emerald Lake and enjoy one of its many trails if you choose to do so.
Along the lake, there are picnic tables. So, if you decide to have a chill day for your last day in Banff Natural Park, bring your favorite snack foods and enjoy the breathtaking views.
You can find rocky terrain on the western side, while on the eastern side is a lush hemlock and cedar forest trail. This unique combination of landscapes showcases that various ecosystems can coexist harmoniously despite inhospitable conditions.
Canoeing is often thought to be the best way to traverse Emerald Lake; however, it does come with a cost and is typically crowded during peak times. Although, you will pay slightly lower prices than canoeing at Lake Louise or Moraine Lake.
Final Thoughts
You can customize this five-day Banff National Park itinerary to suit your needs. If you visit in the summer, you'll have long daylight hours for all the things listed and more if you have an early start.
You'll face crowds at popular attractions during peak times, and Banff town will be busy around meal times.
However, the winter brings challenges and a change of activities. Some areas are closed for winter, and roads can be challenging to drive.
If you brave the cold, you'll experience a mind-blowing winter wonderland. In winter, you'll benefit from lower-priced accommodation, fewer people, and unique adventures.
Even if you don't ski, you can take a sleigh ride, go dog sledding in Canmore, ice skate on a natural lake, and make snow angels in deep powder. Need I say more?