Banff National Park offers a brisk playground in the winter months with snowy landscapes, icy waterfalls, and frozen lakes. If you're looking for the best things to do, these unique attractions will keep you coming back both in summer and winter.
Also, within a short drive from Banff, you can go dog sledding in Canmore, visit Lake Louise, hike through Johnston Canyon, and explore the surrounding area for hidden gems. I love Banff and its surrounding attractions in the off-season when a fresh blanket of snow glistens in the sunlight.
However, with temperatures ranging from -10 to -30 Celsius (14 to -22 Fahrenheit), you need to dress warmly in the right gear! If you're driving, you'll need snow tires.
The Banff area has some incredible ski resorts and ski hills for locals who live in nearby Calgary, but there is so much more than just skiing. Since Karen and I are not skiers, we traveled to Banff to experience the winter wonderland as we had been there just a few months earlier during the summer.
Coming from Vancouver, where the temperature rarely gets below freezing, we knew we would need to pack some extra winter gear and clothing, but, in the end, we had a memorable mini-vacation that exceeded our wildest expectations.
Getting To Banff National Park In Winter
While we took a Vancouver to Banff road trip in September, we weren't prepared to take on the challenge in winter. Also, snow often covers the Trans-Canada Highway even though it is frequently plowed.
The best way to get to Banff in the winter is to fly into Calgary and rent an SUV with winter tires. From Calgary International Airport, it's a relatively easy 90-minute drive (140 km or 87 miles) to Banff National Park.
Driving In The Canadian Rockies
Since we flew into Calgary from our home in Vancouver, British Columbia, we needed a rental car. That way, we could explore Banff and Lake Louise on our schedule – rather than be tied to tours and bus schedules.
If you're doing the same, be sure to rent an appropriate vehicle for the types of places you'll be visiting. We picked a mid-size SUV (Sport Utility Vehicle) with all-wheel-drive (AWD) and snow tires and were so glad we did!
In Alberta, the law does not require vehicles to use snow tires in winter strangely enough. We found that a little odd coming from Vancouver, where we barely get a snowflake.
Depending on the weather, driving conditions, and where you're driving, you may regret it if you just had a small car with mud and all-season tires, which the rental companies provide. Even the main highway can have packed snow and ice.
Remember, you're driving in the mountains during winter, and once you leave the main highways, it's easy to end up on roads that have just had a foot of snow overnight.
Even parking at our hotel during our winter trip was sometimes a challenge.
As we drove to Lake Louise and Peyto Lake, there were several times that we might have gotten stuck if we didn't have an SUV.
On our last morning, we experienced whiteout conditions on the Trans-Canada Hwy which was quite scary. We could barely see anything. For reference, that's a semi-truck in front of us.
We ended up with a Kia Sportage, and besides being easy to drive everywhere, the feature Karen liked most was the heated seats – we call them "bun warmers!"
Since the pandemic rental vehicles have sky-rocketed in price. But, since you're traveling in the off-season, pricing should be cheaper than in the prime summer months.
Packing For A Winter Trip To Banff
If you ski or already live in a cold climate, you already know how to prepare for a winter environment.
However, when traveling to the Canadian Rocky Mountains, or any winter destination, here are some clothing and gear we would recommend to have a safe and comfortable experience.
Note that you may adjust your equipment accordingly depending on what itinerary you plan.
Ski pants.
Ski jacket or down coat.
Crampons or ice cleats (for hiking in icy areas) or at least shoe spikes.
Hiking poles.
High-quality winter gloves or mitts with down fill.
Hand warmers and toe warmers.
Ski goggles (primarily for dog sledding and snow tubing).
Thermal base layers (tops and pants).
Insulated snow or hiking boots.
Hiking (wool) or thermal socks.
Warm toque that covers ears.
Tissues for runny noses and watering eyes.
Travel mug for hot beverages.
Sunscreen or chapstick (optional).
Sunglasses.
What's Near Banff National Park?
The small resort town of Banff has a population of just 8,000. While super touristy, you'll discover lots of great restaurants and a variety of places to stay in Banff.
During the peak months, hotels command high prices and sell out fast. Since we visited in December, prices were less than 50%, which we really appreciated.
While we had stayed at the Fairmont Banff Springs Hotel a few months earlier, we decided to try somewhere new. We chose to stay at the Moose Hotel and Suites on Banff Avenue.
With a cozy fireplace, it was a great place to come "home" to after a cold day of exploration. By being one block from a great selection of restaurants in Banff town, we didn't have to walk far for dinner each evening.
Should you prefer more budget-friendly options, consider choosing a hotel in Canmore, as it provides easy access to Banff and surrounding activities.
Since Banff is located within Banff National Park, within just an hour's drive (or much less), you can reach many more world-class attractions that are worth visiting.
When visiting Banff in the off-season, some peak attractions, such as Moraine Lake, are closed and are unavailable once the snow comes.
It's essential to remember that daylight hours are very restricted in winter. So, before you head out cross-country skiing or snowshoeing trip, know what time the sun sets.
Armed with the right gear and an adventurous attitude, here are popular Banff winter activities to include in your itinerary.
1. Attend In Search of Christmas Spirit
Put on by Banff and Lake Louise Tourism, In Search of Christmas Spirit is a beautiful outdoor event that runs during December. You get to find 'Christmas Spirit' through storytelling, well-designed light displays, and lots of informative guides along the path.
The show uses illuminated shapes of many animals found naturally in Banff National Park, such as owls, moose, wolves, fish, bison, and more. Since the entire event takes place outdoors, you'll want to bundle up well, especially when visiting at night.
The event started in 2020 and was initially offered to Banff and Canmore residents. In 2021, Banff offered tickets to non-residents, and we were fortunate to get some a few weeks before our trip. You need to order tickets online in advance.
Since the event was free (in 2021) the event is popular and sells out very quickly. It's an excellent show for all ages, and I'm sure the locals will come back each year.
The event takes place on the Cascade of Time Garden, behind the Parks Canada Administration Building. Those attending the event can park in town, walk across the bridge, and start their outdoor tour.
Besides being a bitterly cold night when we attended, I thought the show was terrific and a perfect addition to our Banff itinerary. Consider wearing shoe spikes if you have them, as some of the frozen pathways were slippery.
We spent about half an hour walking a snowy and sometimes icy path. Also, hand warmers are really helpful in keeping your hands from freezing in the bitter cold.
2. Ride The Banff Gondola
Riding up the Banff Gondola on Sulphur Mountain provides some of the most scenic views of Bow Valley surrounding Banff. From the top, you'll enjoy the majestic mountains of Mount Rundle, Cascade Mountain, and Mount Girouard.
The lineups are long during the summer, but the views are worth the wait. However, it's much quicker to catch a private gondola car (max. four people per car) in winter.
Tickets are booked online and range from CAD 53 to CAD 63 at the time of this writing. Not cheap, considering it's the off-season. Also, at an altitude of 2,281 m (7,486 ft), the weather is always frigid.
The gondola rises almost 700 m (2,300 ft), so you'll enjoy the scenic ride up. There are multiple dining options at the top with a casual restaurant; Northern Lights, serving popular faire, and Sky Bistro, providing fine dining at a reasonable price, but you need a reservation.
Since the Sky Bistro has large windows, you'll enjoy fantastic views during lunch or dinner.
During the winter (Dec. through mid-March), Nightrise uses multimedia to tell the story of the mountains and fill the senses in the night air.
The evening show takes place inside the summit building and outside on the decks. Tickets are CAD 56 for adults and CAD 28 for children.
3. Visit Abraham Lake
A rare occurrence in nature, Abraham Lake (also known as Lake Abraham) lets you experience frozen bubbles formed by methane gas while the ice freezes.
A man-made lake created in 1972, Abraham Lake was formed during the building of the Bighorn Dam between the Saskatchewan River Crossing and the hamlet of Nordegg, Alberta.
You can reach Abraham Lake by taking Highway 11 (David Thompson Highway), heading east of the Icefield Parkway. Depending on the weather and road conditions, it can be a challenging drive in the winter.
So, plan to drive early in the day so you'll arrive during daylight. The lookout provides access to viewing the bubbles once the lake is frozen.
Decaying plants on the lake floor cause methane. As the lake freezes, the frozen bubbles form on top of each other and create a visual effect rarely seen in other lakes.
Abraham Lake is best viewed from January onward because the lake is sometimes not frozen until at least December.
4. Go Snowshoeing
Start your Banff adventures by snow-shoeing one of its many trails. Snowshoeing is available in many locations throughout Banff National Park from December to April.
The Meadows at Banff Sunshine Village are a favorite place amongst snowshoe enthusiasts.
Lake Louise offers several trails and provides convenient snowshoe rentals in the Chateau Lake Louise hotel. Gear rentals typically start at CAD 12 and upwards.
Talk to the staff before heading out, as they have updated information on trail conditions and avalanche risks.
The Fairmont Banff Springs Hotel and Tunnel Mountain trails also offer great snowshoeing.
Snowshoeing can be a great family activity and low cost if you have your own equipment. It's essential to follow any local signage, trail reports, and weather forecasts and be aware of avalanche risk.
5. Make Snow Angels Like A Kid
Who can resist making snow angels in Banff when deep fresh snow is so fluffy and light? Since we live in Vancouver, where it rarely snows. Consequently, I haven't made snow angels since I was a kid living in Ontario.
With fresh powder around Lake Louise, it begged me to flop down and practice my snow angel movement. I didn't anticipate it being so deep. As a result, the snow went down my back, lol.
So, choose your spot wisely because we would have disappeared beneath the powder at Peyto Lake with four feet of snow.
6. Go Dog Sledding
Dog sledding is a winter activity suitable for all family members. It's essential to find a quality tour operator, and after Karen did her research, we decided to go with Howling Dog Tours in Canmore.
They are a Canadian family-run business that has been operating for over 25 years, and besides providing a thrilling adventure, I was impressed with how they treated their dogs!
They provide excellent customer service, including picking you up at your Banff hotel if needed. Also, a shuttle bus transports participants from their easy-to-find Canmore office to the start of the run.
Canmore is just 20 minutes east of Banff, off the Trans-Canada Highway.
We took the 2-hour "Unleash the Musher" tour, which was about CAD 250 per person at the time of this writing. The longer Dog Day Afternoon tour is a half-day and costs CAD 525 per person.
There are less expensive options to go dog sledding in Banff. A "Narnia" tour costs CAD 145 per person (based on two people sharing a sled), and the excursion lasts 30 minutes. For dog sledding enthusiasts, Snowy Owl Tours offers a two-day tour which costs CAD 3700 for two.
7. Check Out The Ice Castle
Castles aren't just for royalty; they're for tourists too. The Fairmont Chateau Lake Louise constructs a new ice castle on Lake Louise every mid-December.
It stands until "Mother Nature says it's time to go," which is typically in March or April. It takes 300 lbs. of ice to make the frosty outdoor castle with awesome views.
So, after a cold afternoon of ice skating or snowshoeing, check out this super cool structure. When I was there in mid-December, they had just started the construction.
They transported the heavy blocks of ice onto the lake with a forklift. Then, I watched the skilled craftsmen shape and fuse the blocks with water.
8. Visit a Wolfdog Sanctuary
The Yamnuska Wolf refuge is the only sanctuary in Canada dedicated to rescuing wolfdogs. Located in Cochrane, Alberta, it's about an hour east of Banff but only 30 minutes from Calgary International Airport.
Wolfdogs are part domestic canines and part wolves typically bred as exotic pets. However, wolves make terrible pets because they instinctually fear humans and do not like being confined (on a leash or in a house).
Described as high-content, medium-content, or low-content, wolfdogs are not successful as pets, and owners have few options for caring for them.
Besides providing a safe haven for wolfdogs, the sanctuary aims to educate the public on wolfdogs and how this is a 'man-made problem.' Wolves and dogs would never naturally breed in the wild.
There are different tours available, but I would recommend the Interactive Tour because it allows you to get close to the wolfdogs and even feed them! To join the tour, you must be at least 15 years old, so this is not as 'family-friendly' as some other Banff area activities.
Current tour pricing is under CAD 70 per person and requires a reservation. The tour includes access to the sanctuary, so you can also do a self-guided tour to see all the wolfdogs.
Those on an unplanned schedule can drop in to purchase one of their other tours.
9. Go Ice Fishing
Ice fishing is a popular sport in Canada and a great way to chill (no pun intended) with friends. While sitting on the ice waiting for the fish to bite might not appeal to some, if you book with a tour guide, they will ensure you're equipped with the correct gear and heated hut to stay warm.
Popular locations include Spray Lakes and Upper Bow River, where you might hook a trophy-sized trout. Many tours include pick-up and drop-off at Banff hotels, food, and hot beverages.
10. Enjoy A Canyon Hike
A popular destination in summer, Johnston Canyon turns into a winter wonderland when the snow falls. We loved hiking Johnston Canyon in the winter because the crowds were a fraction of what we saw in the summer just months earlier.
However, when exploring Johnston Canyon in December, you must be dressed appropriately and be sure to wear ice cleats or at least shoe spikes to improve your footing on the snowy and icy trails.
There is some elevation gain, but the hike to the Lower Falls is just 1.2 km (.7 miles). Continuing for another 1.3 km (.8 miles), you reach the Upper Falls, but if you're ambitious, you can hike for another 3 km (1.8 miles) to the Inkpots.
Few people venture onto the inkpots because the trail has deep snow and hikers need snowshoes to continue. Since the Inkpots are not visible during the winter, so we only walked to the Upper Falls.
The combination of frozen waterfalls, beautiful snow-laden trees, and minimal people made this a beautiful hike during the winter. While the snow was heavy on the trees, enough people hike the trail to keep it relatively packed.
Be sure to carry a snack and a drink in your pack because you need to refuel, even though it can be bitter cold outside. We carried hot tea in travel mugs because our water bottles had frozen on a previous hike.
Near Canmore, the Grotto Canyon Icewalk allows visitors to walk on a frozen creek. The 4.2 km trek follows the creek until it reaches a frozen waterfall popular with ice climbers.
11. Enjoy Ice Skating On A Frozen Lake
Lake Louise is a magical place and a massive attraction for tourists from all across the world. While it is beyond crowded in the summer, Lake Louise has a fraction of the people in the winter.
The biggest bonus in winter is there are no problems with parking, and we could park in a nearby lot for FREE. We enjoyed the Lake Louise area with fewer people, although not as accessible due to snow coverage.
The ice-skating season runs from mid-December to April, weather permitting, and is FREE if you come with your own skates. We arrived in mid-December, and thankfully, skating opened a few days before our arrival.
Lake Louise is one of the best places to go ice skating because the hotel maintains the ice. They regularly drill holes into the ice and allow water to seep up, creating a thin layer of ice. They keep thickening the ice to make it safe for skating.
Inside the Chateau Lake Louise, a convenient rental shop allows visitors to rent all their gear for winter activities. They even offer a choice of 'leisure skates' (for guys like me!) or 'hockey skates' if you are more athletic.
I booked skates for 2 hours and paid just CAD 24. My legs wouldn't last any longer than two hours, so the time was perfect. The first thing I noticed when skating was the roughness of the surface.
Lake Louise is a natural environment, and the only maintenance is the occasional clearing of snow by the hotel ice crew.
Regardless, it was tremendous fun and so thrilling to feel the wind on my face as I glided across frozen Lake Louise.
The crampons came in handy for Karen, who walked on the slippery ice and kept an eye on my gear while I skated.
Other than Lake Louise, you can ice skate on Lake Minnewanka, Two Jack Lake, and Johnson Lake if the conditions are right.
12. Take A Snowkiting Lesson
Snowkiting is an exciting sport that combines a snowboard or skis and the wind of a kite. The Vermillion Lakes and Spray Lakes (near Canmore) provide the perfect location to test your snowkiting skills.
With a large frozen lake surface and the right wind conditions, snowkiters can enjoy hours of entertainment without the expense of a costly lift ticket.
Snowkiting might come easily if you already know how to ski or snowboard. But be warned, it can be frigid zipping around on the lake.
So, bundle up in the right gear, and head out onto a frozen lake to experience the Canadian Rockies in a unique way.
While I'm not a skier or snowboarder, I was thrilled to watch this Banff winter endeavor on Vermillion Lake.
13. Enjoy A Horse-Drawn Sleigh Ride In Banff
There are a few places to catch a romantic sleigh ride in the greater Banff area. Since Karen and I were already staying near Lake Louise, we took the tour along the frozen lake.
Operated by Brewster Adventures, you can book your ride online or in the Fairmont Chateau Lake Louise office. The cost is about CAD 45 per person if you ride in the larger sleigh, which carries 12 people.
They also offer a private sleigh for just two, which costs about CAD 450. Both sleighs take the same route and provide a ride that's almost an hour.
During our ride, it was snowing heavily and was very cold. Pre-COVID, they would provide blankets, but now you need to purchase one or bring your own. Be sure to dress warmly because Lake Louise is at 1600 m (5,250′) elevation, so it's always cold in the winter.
We wore our snow pants, good winter coats, wool hats and kept hand warmers in our gloves. We even brought our favorite hot cup of tea in an insulated mug to drink along the way.
The ride was everything I hoped it would be as we slid along the trail to the far end of Lake Louise. The ice thickness was increasing every day, and the driver explained how they measured the thickness of the ice throughout the winter.
We had to disembark the sleigh when the driver turned around on the ice at the end of the lake. The sleigh likely weighs at least 1,000 lbs. The passengers' additional weight exceeded the capacity of the current ice conditions.
If the ice is thick enough, they take the sleighs across the lake, but that would be later in the season.
14. Go Snow Tubing On Mt. Norquay
Snow tubing has become a very popular winter activity in recent years. Much less expensive than skiing, it makes a great family-friendly activity during the winter season.
When staying in Banff or Canmore, one of the best resorts for snow tubing is Mount Norquay. Tubing is available from CAD 28 to CAD 42, depending on age.
Located at #2 Mt Norquay Rd., it's a short drive from Banff. However, the road there includes many switchbacks, so be sure you have snow tires and preferably all-wheel-drive (AWD) if driving yourself.
Alternatively, you can take the free shuttle bus service, which leaves hourly from various Banff hotels. Mount Norquay claims to have the longest tubing runs in Alberta.
Sessions include morning (10 am to 12:30 pm) or afternoon (1:30 pm to 4 pm) 7 days a week. Alternatively, you can go in the evening (5 pm to 7:30 pm), on weekends. The only restriction is that all riders must be at least four years old and 42″ tall.
Alternatively, you can go tubing at the Lake Louise Ski Resort. At Sunny Tube Park, kids must be 3 years of age and up, and riders must have one person per tube.
15. See Peyto Lake
Located just over an hour from Banff and a short half-hour north of Lake Louise, Peyto Lake offers picture-postcard views in summer and winter.
The lake is a beautiful turquoise color during the summer, like many other glacier-fed lakes in the Rockies.
However, it is frozen and snow-covered in winter, but still a picturesque destination on a clear sunny day.
The road conditions weren't great along the Icefields Parkway the day we visited, so it took much longer to reach the pull-off. If you plan to drive to Jasper National Park, check the highway conditions before you go.
There are upper and lower parking lots available during the crowded summer, but visitors can only access the lower parking lot in winter. When Karen and I visited the lake in the winter, we couldn't find the trail to the lookout due to heavy snow.
Subsequently, many previous visitors randomly began hiking up the hill, hoping to find the viewpoint. So, many of us (like sheep) followed their paths in the deep snow, hoping they knew where they were going!
The result was that many of the tracks from previous visitors led to nowhere, or worse, in a circle. Just for reference, the picture below shows the informational stand buried in snow. Look at the depth of snow on its roof.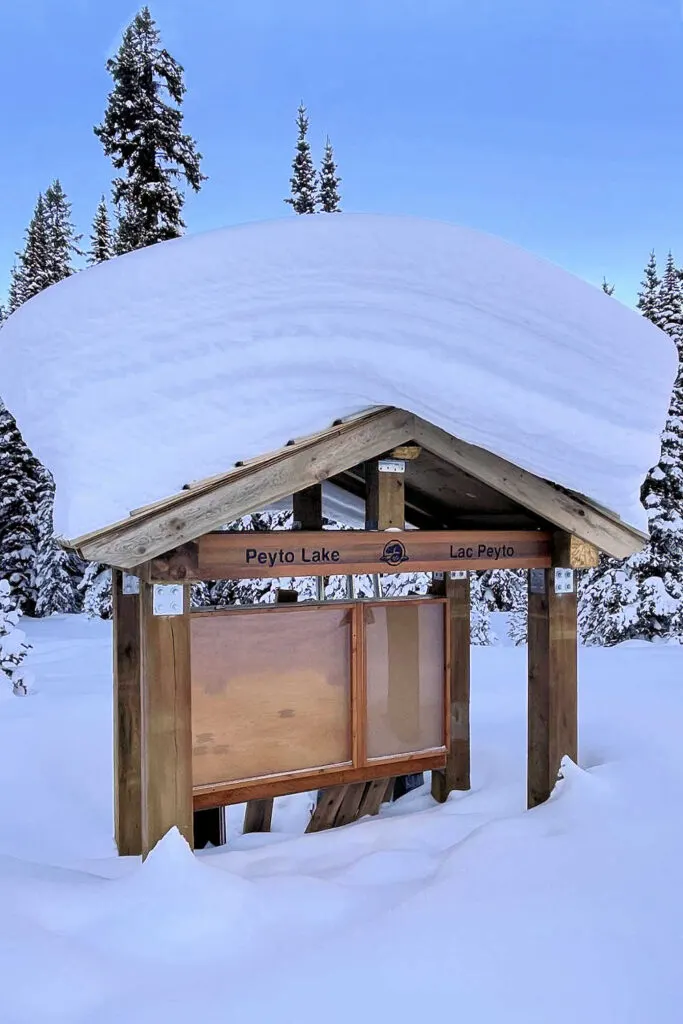 Eventually, we finally made our way to the lookout point and could view the beautiful frozen, snow-covered lake shown above. However, what should have been a 10 to 15-minute hike was actually over an hour.
With bitterly cold temperatures of -29 Celsius, we were chilled to the bone after our trek. One final tip is that the snow is easily four feet deep, and if you happen to step off the trail, you will instantly be in snow up to your hips!
Be sure to stop at Bow Lake along the way. It's beautiful to see it completely frozen over and blanketed in snow.
16. Try Ice Climbing
Ice climbing is a growing sport, and in winter, the Banff and Canmore areas offer some excellent ice climbing. Some steep canyon walls which were once covered in moss with cascading waterfalls, now feature walls of ice.
Johnston Canyon, Grotto Canyon, and the frozen waterfall at the end of Lake Louise are popular spots to try your hand at ice climbing.
With ice axes, safety ropes, and crampons, experienced ice climbers scale an ice wall quite quickly. Those new to the sport should book with an experienced company.
If you'd rather watch, ice climbers usually climb the ice formations in Johnston Canyon early in the morning or later in the day. Sometimes, you may witness a crowd of climbers anxiously waiting their turn to scale the ice wall.
17. Warm Up At The Hot Springs
After a cold day on the slopes or snowshoeing on Banff's trails, warm up by taking a dip in Banff's Upper Hot Spring. While some Banff hotels have amazing outdoor heated pools and hot tubs, others don't.
Located at 1 Mountain Ave, travelers can visit the Banff Upper Hot Springs daily from 10 am to 6 pm. With admission under CAD 10, it's a great way to relax, soak those aching muscles, and warm up, while enjoying views of the snow-covered mountains.
Even if you don't have a vehicle, the Roam buses provide access from downtown Banff. There's nothing more magical than sitting in a hot tub and watching the falling snow around you.
If you forgot to pack a bathing suit, don't worry, the hot springs offer swimsuits, towels, and locker rentals.
18. Try To Spot Wildlife
Spotting wildlife in Banff can be hit or miss. Even if you get up early or drive around at dusk, you aren't always guaranteed to see something. In summer, the landscape provides excellent camouflage for wildlife.
However, it's easier to spot an elk, bighorn sheep, or deer in the winter, as they contrast against the snow. Since it's difficult for animals to find food in the winter, they tend to migrate to lower elevations.
Stay sharp all the time, drive slowly, and scan between the trees. In winter, you won't see any bears because they're hibernating.
In Canmore, Spray Lakes Road is a great area to see wildlife. In Banff, visitors could see animals on the Bow Valley Parkway, near Banff Stables and Tunnel Mountain.
We saw deer at the Vermillion Lakes and on the Marsh Trail at the Cave and Basin during our winter trip.
19. Take A Helicopter Tour
As majestic as the Canadian Rocky Mountains are from the ground, they are doubly magnificent from the sky. You can choose from a tour in Canmore or one near the Columbia Icefields.
The itinerary varies depending on your Helipad selection and the length of the tour.
Flights from Canmore may include the Three Sisters Peaks, Mount Assiniboine, and the Continental Divide. Alternatively, helicopter tours near the icefields may include Abraham Lake, Wilson Icefield, or the complete Columbia Icefields.
20. Take A Winter Photography Tour
Winter brings a new perspective to the Canadian Rockies. On a photography tour, you'll learn how to capture wintery images with your own camera. Whether you're a beginner or someone trying to advance your skills, an experienced photographer will give you tips on composition, lighting, and how to do the landscape justice.
The three to five-hour tours include multiple settings. Since you're outside for the whole time, you'll need to dress warmly and pack an extra camera battery.
The stops are all spectacular, and you come away from this excursion looking at the landscape in a different way.
Where to Get Your Discovery Pass
To visit Banff National Park, visitors need a Discovery Pass issued by Parks Canada. You can purchase the pass online at Parks Canada.
Day passes are available, but they are about CAD 10 per person per day, so the annual pass is the best value. The yearly Discovery Pass is CAD 140 for a family (up to 7 people in a car), CAD 70 for adults, and CAD 60 for seniors.
Final Thoughts
Banff will always be a world-class destination at any time of the year due to its spectacular scenery and excursions.
Unfortunately, most travelers don't consider visiting in the winter due to the harsh temperatures, unpredictable weather, and challenging driving conditions.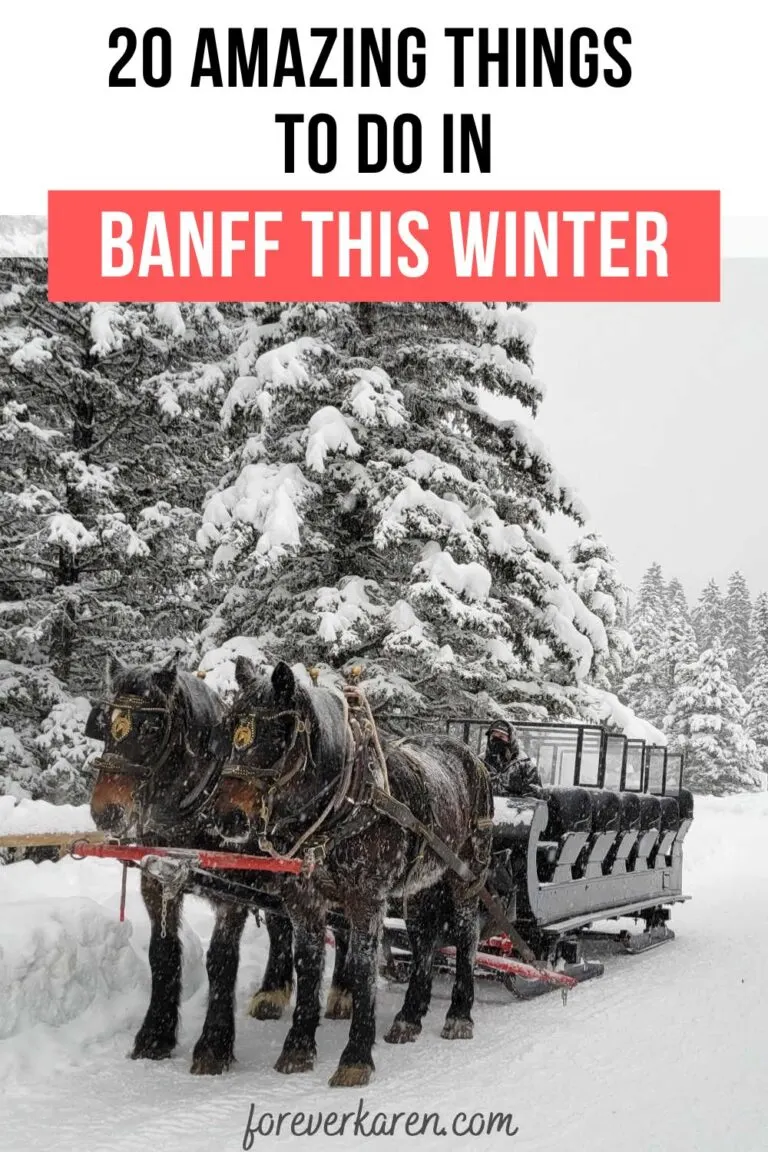 However, the winter is my favorite time to visit if I want to miss the massive crowds of the summer.
Many Banff-area destinations can be closed during the summer due to a lack of parking or exceeding safety limits. When traveling in the winter, this is never a problem.
Granted, not all attractions are open (e.g., Moraine Lake) because they are inaccessible due to snow and road closures. However, many incredible attractions take on a pristine, 'winter wonderland' appearance on a sunny winter's day.
Along with a significantly reduced number of visitors and great hotels at less than half the cost, winter is the preferred time to visit. When traveling to Banff in the winter, travelers must bring warm winter clothing and the appropriate gear for whatever activities they are planning.
Also, having a safe vehicle with all-wheel-drive and snow tires is essential, so you can safely travel wherever you want.
Karen and I can't wait to go back again in the winter to take in all of Banff's stunning beauty. I hope you'll consider it too sometime soon!
Happy Banffing ~ Brian and Karen