While some cruisers stay loyal to one cruise line, I like to try them all. After all, how can I compare one cruise line to another without testing the waters? Both Celebrity Cruises and Princess Cruises cater to adults who like cruising traditions and expect a certain level of service.
I consider them in the top ten cruise lines to try. While the Carnival Corporation owns Princess and Royal Caribbean owns Celebrity, they both offer a sophisticated cruise experience. So, before you set out on the high seas, here's a comparison of Celebrity Cruises Vs. Princess Cruises.
Overall, the demographics of cruise passengers are the same; generally over 40 with no kids in tow, although Princess sees more families.
While Princess has remained traditional and hasn't waived much in the design of its ships, Celebrity's recent innovations on its Edge-class ships have wowed its loyal followers.
Overall Design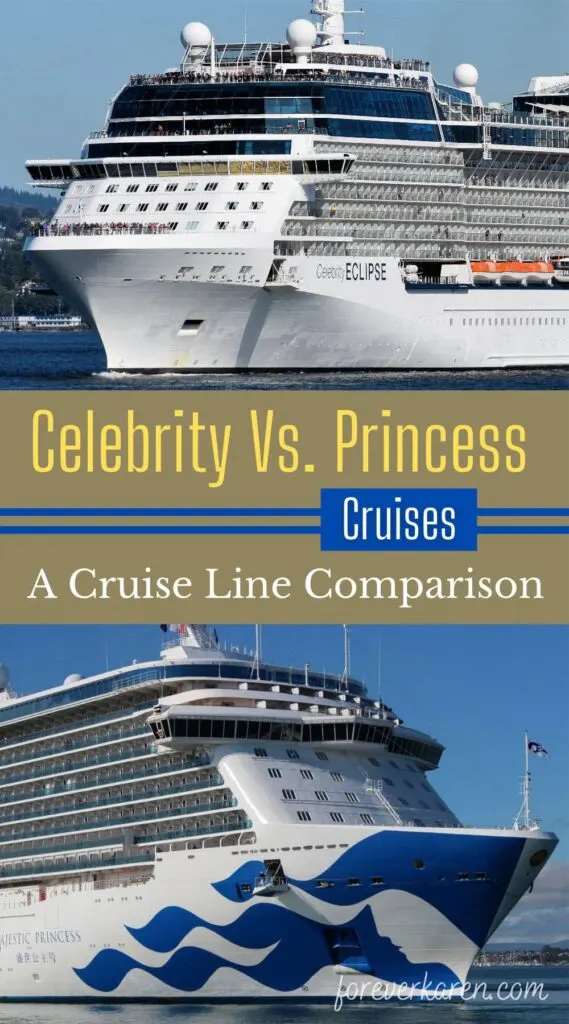 Celebrity ships have a sophisticated and elegant décor. In stark contrast to other cruise lines' garish color schemes, its interiors are timeless with a neutral color palette.
Its Edge-class ships have pushed the boundaries of innovation with the Magic Carpet, a multifunctional platform that moves up and down the ship.
Their infinite verandas staterooms allow passengers to incorporate their balconies into their cabins, adding to the overall space.
Even some of the ships have real grass, inviting guests to picnic on the lawn. Eden, a new venue presented on the Edge class, offers three levels of light-filled space that brings the outside in.
All ships feature a unique art collection, adding to their brand of "Modern Luxury."
Princess Cruises has stayed true to its traditional design without the swanky extras featured on mega-ships. All ships feature a central atrium surrounded by lounge areas to enjoy a cocktail or listen to live music nearby.
Princess Cruises Royal-class ships have a new feature, the SeaWalk, a cantilevered walkway with glass floors. Suspended 128 feet over the ocean, passengers can enjoy unparalleled views of the changing scenery if they dare to walk the glass floor.
Often referred to as the "Love Boat," Princess Cruises' special touches and design features add a little romance to your cruise vacation.
With intimate balcony dining, onboard chapels for vow renewals, and "movies under the stars" complete with blankets and complimentary popcorn, it's the perfect recipe for romance at sea.
Celebrity Vs. Princess Cruises: Cabins
While most cruisers believe cabins are the same across all cruise lines, sometimes there's a difference in size and design. Overall, Celebrity staterooms are larger than those on a Princess ship.
Celebrity's smallest inside cabins are found on Millennium-class ships and measure 170 sq. ft. However, its newest Edge-class ships have interiors staterooms of over 200 sq. ft. Princess' identical class staterooms vary from 156 to 166 sq. ft.
When it comes to balcony cabins, you'd need to book a mini-suite on Princess to get a similar-sized stateroom on Celebrity. However, if you're traveling with young children, a Princess Cruises mini-suite may be preferable over a Celebrity balcony cabin because of its bathtub instead of a shower.
For those focused on a healthier lifestyle, Celebrity's AquaClass suites offer cruisers a spa-inspired experience. Travelers in these cabins have access to the spa's thermal suite and get to eat at an exclusive restaurant.
Celebrity's Edge-class vessels introduced a new style of stateroom called the infinite veranda. It allows the guests to fold back the doors to the balcony, creating an all-in-one space to enjoy both night and day. Instead of a true balcony stateroom, the room extends to 244 sq. ft.
For those who travel in suite class, Princess suites are comfortable and spacious but lack pizzazz. Alternatively, Celebrity's highest-grade suites are customizable by guests.
In fact, Celebrity will add a treadmill, free weights, or extra seating to your staterooms at your request.
Celebrity Vs. Princess Cruises: Dining
Both Celebrity and Princess offer courses that are tasteful and well-presented. For the traditionalists, the Princess royal afternoon tea offers premium teas and champagne with freshly-baked scones, finger sandwiches, and delicious treats.
You can read about afternoon tea and our experience dining on the Discovery Princess.
For those that prefer something sweeter, Chocolate Journeys evolved out of a partnership with chocolatier Norman Love. His decadent handmade chocolates and rich desserts satisfy any sweet tooth.
Partnered with Chef Curtis Stone, Princess passengers can enjoy his award-winning food at "Share," his only restaurant at sea. For just USD 29.00, diners can savor a curated menu featuring courses such as lobster bisque, ricotta cavatelli, and toffee cheesecake.
Celebrity AquaClass and Suite guests enjoy an elevated dining experience at exclusive Blu and Luminae restaurants.
Outside of the main restaurant, Celebrity passengers have a wide choice of specialty restaurants like the Tuscan Grille, Le Grand Bistro, and Japanese food at Raw on 5. Here's an example of dining options on the Celebrity Solstice.
A first at sea, Celebrity combined Skullmapping 3D imagery with a dining experience to create Le Petit Chef dining experience.
The projected thumb-sized chef digitally creates each course of your meal before your waiters serve you. Waiters serve the diners in a choreographed fashion after the miniature chef has entertained you with his quirky sense of humor.
Celebrity Vs. Princess Cruises: Entertainment
Piano players, jazz singers, magicians, and stage performers entertain on both cruise lines. Celebrity sometimes features themed parties, and its Edge-class ships have immersive entertainment in The Eden.
During my Hawaiian cruise on the Celebrity Eclipse, I thoroughly enjoyed "Topper," a compelling presentation that mimics a Cirque du Soleil show.
One of the things I always enjoy on a Princess Cruises vessel is their "movies at sea." One evening on an Alaska cruise, I snuggled under a blanket and watched a music concert under the star-filled sky.
Coupled with a hot beverage and warm popcorn, it made a nice change from the usual theatre show.
Princess prides itself on having top-rated entertainment that appeases all tastes. A partnership with Jim Henson's Creative Shop has produced "The Silk Weave," a mythical show featuring special effects.
From its Rock Opera and Broadway-style shows to mesmerizing magicians and high-flying acrobats, guests never have time for boredom. We recently watched Rock Opera on the Discovery Princess, which was spectacular.
Focused on being family-friendly, its newest attraction, an escape room, entertains all ages with its interactive game experience.
With 700 different outcomes, guests must work together to find the key to exit the room. Currently, The Phantom Bridge is available on the Sky Princess and the Enchanted Princess ships.
Amenities
While gyms, swimming pools, mini-golf, and pampering spas are signature amenities on most cruise ships, some cruise lines add unique features. Celebrity's Solstice-class ships have natural grass to play bocce ball or lawn bowling.
Distinctive to Celebrity, guests can watch or learn to blow hot glass at the Hot Glass Class. Offered on the Eclipse, Equinox, and Solstice, passengers can choose from various items such as a paperweight or Christmas ornament.
Celebrity's iLounge came out of a partnership with Apple. Here, guests can take classes to use Apple products and learn about their applications. The classes range from beginner to advanced.
Partnered with Discovery and Animal Planet, Princess' Discovery at Sea immerses families in science and nature. Onboard, their programs include stargazing and navigation by stars, survival games, and learning about sharks during shark week.
The adventure continues with family-friendly excursions that focus on nature, culture, and indigenous history on port days.
The Sanctuary is Princess Cruises' serene hideaway, allowing guests to enjoy a peaceful space reserved for adults. While the area costs USD 40 a day or USD 20 for half a day, the cruise line pampers the guests with plush loungers and personalized service for a spa-like experience.
For those that prefer a quieter spot than the pool deck, The Sanctuary delivers just that.
Itineraries
When comparing Celebrity to Princess Cruises, sometimes it comes down to itinerary. Both lines sail to popular cruising locations like the Caribbean, Mediterranean, and Asia.
However, Princess Cruises offers world itineraries starting at 55 days for those who prefer an extended adventure. Its longest journeys last well over 100 days at sea!
In 1969, Princess Cruises sailed its inaugural cruise to Alaska. Over fifty years later, it dominates Alaska cruise season with inside passage cruises to the coveted Glacier Bay National Park.
With five wilderness lodges, passengers can extend their vacation by adding a land itinerary for the ultimate Alaska adventure. If a 7-day cruise isn't enough, consider a 14-day back-to-back Princess cruise, which cruises from Vancouver to Anchorage and back.
Alternatively, Celebrity designed the Flora to sail to a specific destination, the Galapagos Islands. Being a small expedition ship with a capacity of 100 passengers, all guests enjoy suite staterooms that maximize the views.
Cruisers can choose between 10-, 11- and 16-night itineraries that are all-inclusive and combine a cruise with a land stay.
During the cruise, guests can choose excursions that include viewing giant tortoises, seeing the blue-footed boobies, exploring the terrain, and snorkeling with the marine wildlife.
All tours are limited to 12 and include a naturalist who guides you through the volcanic landscapes. The Galapagos Islands are on my bucket list; how about you?
Pricing
Both Celebrity and Princess offer an elevated cruise experience, so they are priced higher than Carnival, Norwegian, and Royal Caribbean brands.
During the pandemic, Celebrity changed its business model and now has "always included." With inclusive alcohol, Wi-Fi, and gratuities, Celebrity Cruises now steers towards higher brands such as Silversea, Regent, and Azamara.
Since Celebrity has raised its prices to reflect the three inclusive items, its vacations are less budget-friendly.
Booking your next cruise during your current vacation can save money and earn free onboard spending money. When booking a future cruise onboard, Celebrity allows for a reduced deposit of USD 100 per person.
Cruises on a specific ship and date earn up to USD 500 in onboard credit, and open passage cruises (no specific ship and date) earn up to USD 200 in OBC.
Princess offers a similar program with a deposit of USD 100 per person. They offer up to USD 300 in onboard credit, which is fully refundable.
Kids Zone
Being family-friendly, both cruise lines have programs suitable for children 3 to 17. Under threes are welcome to enjoy the toddler play area with a parent.
Celebrity's Camp at Sea offers a fully customizable program with more than 500 activities. Children can explore the arts, play games, build team skills, and learn to cook. Outside, the Solstice-class vessels feature a Wet Zone next to the family pool for some playful fun.
Princess Cruises' Camp Discovery offers similar activities, including crafts, sports, games, and even a movie night complete with pizza. The Lido deck's Reef Splash Zone provides a great family space, perfect for a hot day.
Other Facts
Celebrity welcomes their guests on embarkation day with a complimentary glass of champagne or cocktail. Princess offers a complimentary drink during the champagne waterfall event and to those booked in a Princess mini-suite or higher category.
Princess Cruises' vessels have self-service laundry; Celebrity ships do not.
Celebrity uses reals towels in their washrooms instead of paper.
Princess was the first to offer the Ocean Medallion, a touchless system. Its unique design provides a more personalized and enhanced cruising experience.
Celebrity Cruises allows passengers to tour its galley on the "heartbeat of the operations tour." The tour is complimentary. Princess offers a similar tour called behind the scenes galley tour. Due to the pandemic, cruise lines have canceled these tours until further notice.
Princess Cruises has a larger fleet than Celebrity.
Princess has a book club that allows its guests to discuss chosen books with other readers.
Both brands offer free onboard credit if you own a minimum of 100 cruise stock shares. These onboard credits vary from USD 50 to USD 250, depending on the length of the cruise. Some exclusions apply.
Celebrity rewards military service with up to USD 100 in discount depending on the cruise length. Princess Cruises gives an onboard credit of up to USD 250 for active, retired, and disabled military.
Celebrity Cruises' oldest ship is the Millennium, launched in 2000 but revolutionized in 2019. The Grand Princess is its line's oldest ship, launched in 1998. It was also refurbished in 2019.
Final Thoughts
As you can see, both lines share similarities when it comes to amenities, entertainment, and itineraries. However, one brand may appeal to you more than the other. Whatever your preferences, there's a brand to suit your needs.
While I have a favorite brand, I don't always sail that cruise line if the itinerary or pricing doesn't suit my needs. I prefer to stay flexible when it comes to cruising.
Sometimes trying a different line brings pleasant surprises. Do you have a preference between Celebrity vs. Princess Cruises, and why? Leave your comment below.
Happy travels ~ Karen