As a celiac, I find it somewhat challenging to travel and seek safe places to eat. With Honolulu being a large metropolitan city, I didn't expect the search to be that difficult. But I soon learned most restaurants in Honolulu proclaim to be gluten-friendly instead of gluten-free.
Maybe it's easier to say we can't guarantee there's no gluten just like all food says, "may contain wheat, milk, and nuts."
I prefer to travel by cruise ship. But even though I've cruised to Hawaii from Canada multiple times, I always extend my stay by adding a land itinerary. When staying in Waikiki, I always choose a hotel that has a mini-fridge and preferably a microwave.
That way, I can shop at a "Whole Foods" type market for gluten-free prepared food and snacks should I not want to eat out. While Oahu has free activities, I couldn't always purchase gluten-free food during those activities.
So, having the mini-fridge came in handy for storing fresh fruit, pepperoni sticks, and other safe gluten-free snacks I could carry during outings. These snacks came in handy during my hike up Diamond Head and visiting the royal residence, Iolani Palace.
In the evening, we'd try out different restaurants for Celiac-friendly choices. If you're Celiac and planning a first time to Oahu, here are some gluten-free dining options.
The Cheesecake Factory
Location: 2301 Kalakaua Ave | Open: Daily 11 am to 10 pm
The Cheesecake Factory wins my award for the best gluten-free food in Honolulu for its selection, prices, service, and unique Aloha vibe. Judging from the line-up, it's many other people's favourite too. While I've eaten at many of their mainland restaurants, the Honolulu location always delivers on taste, presentation, and service.
While I can't eat the cheesecake itself (because I'm lactose-free too), I appreciate the choice of entrees. The restaurant offers burgers and sandwiches with a gluten-free bun, gluten-free pasta, steaks, and many salad fixings. Also, any of the pizzas are available with a cauliflower crust to eliminate gluten.
The popular Waikiki restaurant attracts a crowd every night, so don't be surprised to wait 45 minutes to over an hour to eat. To lessen the wait, plan to arrive at 5 pm before the congestion.
Alternatively, I find it best to eat at the Honolulu restaurant at lunchtime. That way, I avoid the wait but still enjoy the same good food, service, and fantastic ambiance.
Roy's
Location: 226 Lewers Street | Open: Daily 4 pm to 10 pm
Located on the Waikiki Beach Walk, patrons will enjoy the freshest food made from locally sourced ingredients. The main chef, Roy Yamaguchi, infuses Japanese cooking into Hawaiian entrees, resulting in delicious, allergy-free food.
For starters, try the Aunt Lei's Aloha Roll made from spicy tuna or the Maui Wowie Shrimp Salad with a fantastic lime vinaigrette. Mouth-watering entrees consist of Seared Sea Scallops, Alaskan Black Cod, or Grilled Filet Mignon. The Braised Short Ribs of Beef are some of the best you'll enjoy in Honolulu.
At the end of the evening, finish the meal with Roy's Chocolate Souffle Cake. Those familiar with Carnival Cruises' Melting Chocolate Cake will enjoy Roy's version. It's just as rich with the classic gooey inside….yum!
Roy's is a place that cares about its customers' allergies and makes every effort to deliver delicious food with top-notched service. If you're looking for a quiet, romantic restaurant by the ocean, this isn't it!
In fact, it's the polar opposite. I like Roy's for its loud and lively atmosphere. Patrons who eat here come to talk, laugh, and enjoy good food.
Tucker & Bevvy
Location: 2386 and 2424 Kalakaua Ave | Open: Daily 6:30 am to 3 pm
Australian for food and beverage, Tucker & Bevvy provides good, clean, locally sourced food that's simple but delicious. Having supplied Whole Foods Market for years, the owners opened their first retail store in 2013.
Focusing on breakfast, lunch, and take-out items, sometimes there's a crowd waiting to eat should you arrive later for brunch. The breakfasts have an option for gluten-free toast, and the Prime Rib Roast Hash with Eggs is fantastic.
Mushroom Rosti's simple ingredients of potato pancakes with spinach, mushrooms, and eggs make a tasty, hearty meal.
On the take-out side, busy Honolulu vacationers can load up on organic salads, no-gluten brownies, cookies, and a wide variety of gluten-free picnic options. With so many organic and non-processed food options, it's a great choice in Honolulu for health-conscious eaters.
P.F. Changs
Location: 2201 Kalakaua Ave | Open: Daily 11 am to 10 pm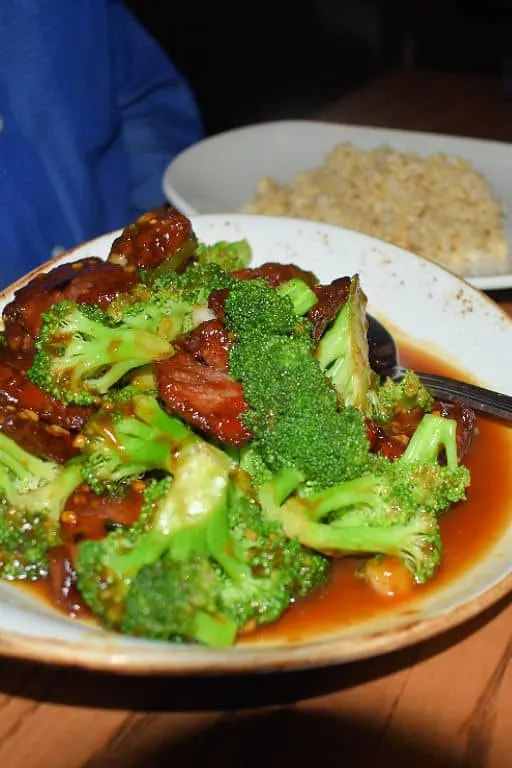 Being half Asian, I love Asian food but tend to avoid eating at Chinese restaurants due to cross-contamination issues. That's until I discovered P.F. Changs in Las Vegas. They not only offer the best gluten-free Asian food, but it's fresh and flavourful. With a location in Honolulu, Oahu, I couldn't resist dining there, and their prices are incredibly reasonable.
Their Lettuce Wraps starter provides enough food for sharing. The Chang's Spicy Chicken has a great combination of spices, and for the people who prefer a little less kick, the Beef with Broccoli fits the bill. Other gluten-free options include Mongolian Beef and Chicken Pad Thai for those without nut allergies.
My go-to dish, Singapore Street Noodles, has the perfect flavour of curry without being too hot. With chicken, egg, and shrimp, it's my favourite proteins all in one dish. Stick a serving in front of me, and it's hard not to chow down the whole lot without coming up for air, haha. Their noodles are simply the best!
Dukes Waikiki
Location: 2335 Kalakaua Ave | Open: Daily 7 am to 11 pm
Dukes came highly recommended to me during my last trip to Waikiki. Its location on Waikiki Beach makes it a draw for those staying nearby.
The night I arrived, a crowd was waiting to dine, and the wait was close to 45 minutes. To cut a long story short, I waited two hours for a table and almost another hour after ordering to receive our food.
While the restaurant only claims to be gluten-friendly, the options for gluten-friendly were very few. Dukes can make sandwiches and burgers with a gluten-free bun, but salad dressings were limited.
There's no separate fryer, so those with celiac should pass on fries. In the end, the meals were mediocre at best.
I expected so much from this Honolulu restaurant with its views of Diamond Head Crater and high prices. But sadly, I left disappointed. While Dukes' online reviews vary, I suggest only those with slight gluten sensitivity should eat there.
Aulani Resort
Location: 92 – 1185 Ali'inui Dr, Kapolei
While not in Honolulu but Kapolei, I had to include the Disney Resort because there are some things that Disney does well. It caters well to families with small children and understands some of those little ones have food allergies.
With various restaurants and beachside stalls to buy food, gluten-free eaters can enjoy dine-in food and snacks and prepared items to enjoy on the go.
At Makahiki's, the chef can prepare most things on the menu to adhere to your food allergy. Who can resist their gluten-free Mickey waffles or pancakes? At "Off the Hook," gluten-free flatbreads and sandwiches make a great option when travelling around the island on a day trip.
A popular choice, the 'Ama 'Ama' restaurant has breakfast fixing like Bacon and Eggs, Kalua Pig Omelette, and Steel-cut Oatmeal. Dinner dishes are equally appetizing with selections like Seafood Island Curry, Seared Ahi Tuna, and Shrimp.
Ulu Café not only offers dine-in but easy takeaway snacks too. For those that aren't lactose-intolerant, the Dole Whip is a must.
California Pizza Kitchen
Location: 4211 Waialae Ave, 2284 Kalakaua Ave Space E, and 1450 Ala Moana Blvd Space 3241 | Open: Daily 11 am to 11 pm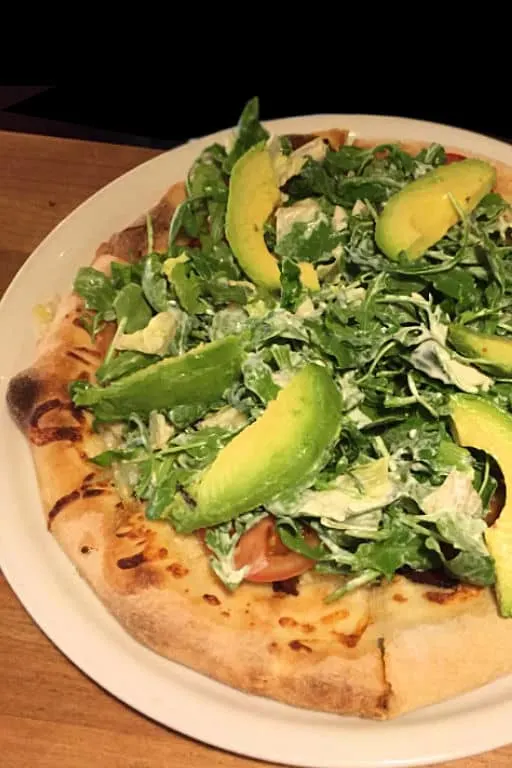 Being celiac, it's tough finding a pizza place that makes a good gluten-free pizza. In Honolulu, California Pizza Kitchen sells pizza made from a cauliflower crust, and the cauliflower base makes it lower in carbohydrates.
However, the crust does contain milk and eggs, so California Pizza Kitchen isn't the place for you if you are allergic to those ingredients.
With three locations in Honolulu and four in other areas of Oahu, this restaurant allows you to get your pizza fix and remain gluten-free. Choose from five pizza flavors like Pepperoni and the Original BBQ Chicken, or try a traditional entrée.
Other gluten-free entrees include Cedar Plank Salmon, Roasted Garlic Chicken, Charred Shishito Peppers, and a selection of salads.
Tommy Bahama Restaurant
Location: 298 Beach Walk | Open: Sun to Thurs 2 pm to 9 pm, Fri and Sat 2 pm to 10 pm
In Waikiki, Tommy Bahamas has two locations; one at the Ala Moana Center and the other downtown over its retail store. The scenic location offers a restaurant on the second floor and a bar on the third with jaw-dropping views. Like most large chain restaurants, Tommy Bahamas has a gluten-free menu.
While it says it operates a gluten-friendly kitchen, it's best to avoid anything done in a fryer and stick with items from the gluten-free menu rather than ask for a modification from the regular menu.
For an appetizer, the Macadamia Crusted Goat Cheese Flatbread is heavenly. Since macadamia nuts are plentiful in Hawaii, restaurants tend to use them as a coating.
Their rich, buttery flavor pair well with goat cheese and mango salsa. Alternatively, try the Duo of Chips with Spiked Guacamole and Zesty Pub Cheese.
Like most gluten-sensitive menus, the selection isn't huge, but I'd take quality over quantity any day. Try the Blackened Fish Tacos on bibb lettuce or the Lump Blue Crab & Avocado Salad with lime-caper vinaigrette for small appetites.
Being a meat-eater, I love the Guava Glazed Baby Back Pork Ribs, which have the perfect touch of sweetness. They also offer a Filet Mignon and a Ribeye infused with Kona Coffee. Tommy Bahama offers some of the best food in Honolulu.
With a lively atmosphere and fantastic service, you can't beat this large chain restaurant for tasty, gluten-free food.
12th Ave. Grill
Location: 1120 12th Ave | Open: Sun, Wed, Thurs 11:30 am to 8 pm, Fri and Sat 11:20 am to 9 pm
With an indoor and expanded outdoor seating area, diners can select a gluten-free option with the help of knowledgeable staff. While it doesn't have a separate celiac menu, some things are naturally gluten-free, and the chef can prepare others without the pesky gluten.
Seared Scallops with charred leeks and wilted kale will satisfy seafood lovers. You can't go wrong with a Grilled Pork Chop with apple chutney, a 14 oz Ribeye Steak, or Steamed Fish for the meat-eaters.
While I often go without dessert due to an allergy to milk products, 12th Ave Grill has sorbet made from seasonal local fruit. Sometimes it's nice to pass on a decadent dessert in favor of refreshing mango or guava sorbet.
Don't pass up on this eatery with amazing service, great ambiance, and delicious comfort food.
Shore Fyre Fresh Grill & Bar
Location: 2446 Koa Ave | Open: Mon to Fri 11 am to 9 pm, Sat and Sun 10 am to 9 pm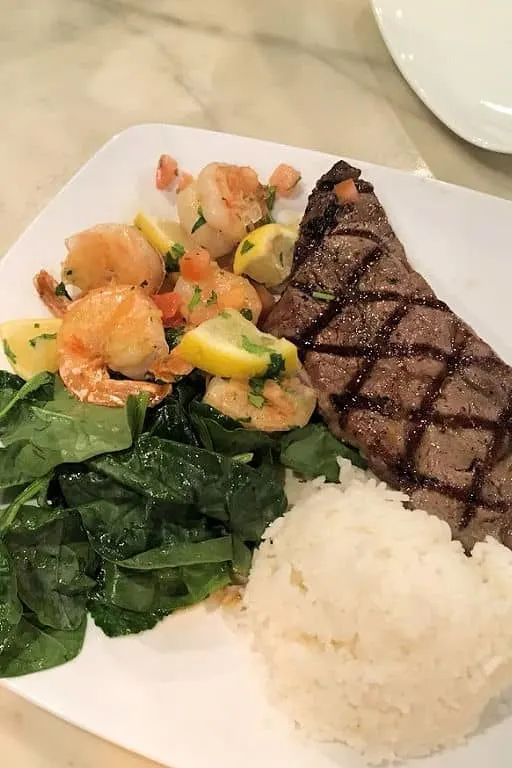 Located on an upper level in the International Market, the outdoor seating offers open-air dining with the Aloha vibe. While the menu may be small, the options are delicious and at an affordable price. If you're looking for some casual dining for breakfast, lunch, or dinner, give Shore Fyre a try.
We stumbled across this restaurant by accident, and while other restaurants were hopping with activity, this one was quiet. Normally, this would be a sign to try another place. However, we tried our luck, and we were pleasantly surprised. The inside dining area is a little dark and uninviting, so I suggest requesting a table outside.
I had the Koa Chicken accompanied by mango and avocado salsa and coconut rice. Not only was it void of gluten, but delicious. Brian enjoyed the Surf & Turf, which was also gluten-free and a bargain at under USD 20.00.
Hula Grill
Location: 2335 Kalakaua Ave | Open: 7 am to 10 pm
Like most restaurants in Waikiki, Hula Grill does not claim to be gluten-free but offers meals made with non-gluten ingredients.
With a focus on Hawaiian fresh fish and seafood, who can pass up the Coconut Seafood Chowder made with lobster, scallops, shrimp, and fish. Equally as delicious is the Macadamia Nut Crusted Mahi Mahi topped with a helping of tender crab.
Traditional entrees include Steak Diane with truffle butter or Angus Ribeye with green peppercorn demi-glace. With a beachside patio, start your day with brunch and fantastic views, or end it with a perfect sunset and great food.
Rarely can I eat dessert out, but Hula Grill makes a gluten and dairy-free dessert called Pono Pie. Made from a nut crust and filled with Hawaiian breadfruit, some will appreciate the lower calories in this sugar-free dessert.
Uncle Bo's Bar & Grill
Location: 559 Kapahulu Ave
With one location in Waikiki and another in Haleiwa on the North Shore, celiacs can enjoy a classic Hawaiian breakfast of Eggs and Spam or Kalua Pig.
While most restaurants offer gluten-filled sausages, Uncle Bo's has link sausages and Portuguese sausages without the wheat filler. If you're a fan of breakfast food, the hearty meals are served until 3 pm daily.
For dinner, start with Walnut-Shrimp Wraps or some Oyster Shooters. The Kalua Pig Fried Rice is tasty and reasonably priced at under USD 13.00. Many pasta dishes are made with brown rice noodles with additions of chicken, seafood, or vegetables.
Meat lovers will enjoy the option of Surf and Turf, Prime Rib, or Filet Mignon. The gluten-free menu goes on and on and is not restricted to just salad. The staff are knowledgeable and understand the need to prevent cross-contamination.
Final Thoughts
When I travel and struggle to find a good selection of gluten-free food, I usually settle for a salad with grilled chicken. Thankfully, Honolulu, Hawaii, has some great gluten-free options that don't consist of rabbit food.
While the majority of good restaurants are found in Waikiki, there are other options for dining on the north shore and around the rest of Oahu.
On the north shore, Maui Mike's Fire-Roasted Chicken serves delicious chicken without wheat fillers. In fact, almost their whole menu is gluten-free except for the buns and teriyaki sauce. I also found a food truck selling fish tacos minus the gluten.
While I'm a big fan of the large chain Cheesecake Factory, I'm not afraid to try the local eateries, and you should too.
Happy travels ~ Karen