The Hawaiian archipelago attracts visitors to its constant sunshine and sandy beaches. However, is remoteness comes at a cost. If you're visiting on a budget, this article contains 20 free things to do in Oahu.
Saving money while traveling doesn't mean you have to sacrifice enjoyment. There are always ways to stay within a travel budget but have a great time.
During my last vacation to Hawaii, a 12-day Hawaiian cruise from Vancouver combined with a 4-day stay on Oahu.I researched how to save money and visit major attractions.
In the end, I purchased a Go City Oahu Pass which gave me admission to many popular places on Oahu. By buying the Oahu card, I saved money but still enjoyed free Oahu activities.
Whether or not you purchase a pass, there are many options to do things on Oahu that are free or inexpensive. If it's your first trip to Hawaii, here is a list of free activities to do on Oahu.
Planning your trip to Oahu?
1. Be Humbled By The USS Arizona Memorial
No visit to Oahu is complete without a visit to the Arizona Memorial, at the Pearl Harbor Visitor Center. Not only is this one of the best free things to do in Oahu, but you'll learn the history of Pearl Harbor.
While the admission is complementary to the Pearl Harbor National Memorial, you need a time slot to enter, and these fill up fast.
It's best to arrive early in the morning and get your free tickets, then browse the other areas of Pearl Harbor before returning for your ticketed time.
The memorial is built over the top of the sunken USS Arizona and marks the resting place of the 1102 sailors killed on Arizona. To visit the monument, you must first watch a film that shows the events that lead up to the surprise attack on Pearl Harbor on December 7, 1941, during World War II.
As you tour the memorial, look out into the water because oil from the sunken battleship is still visibly leaking from its hull.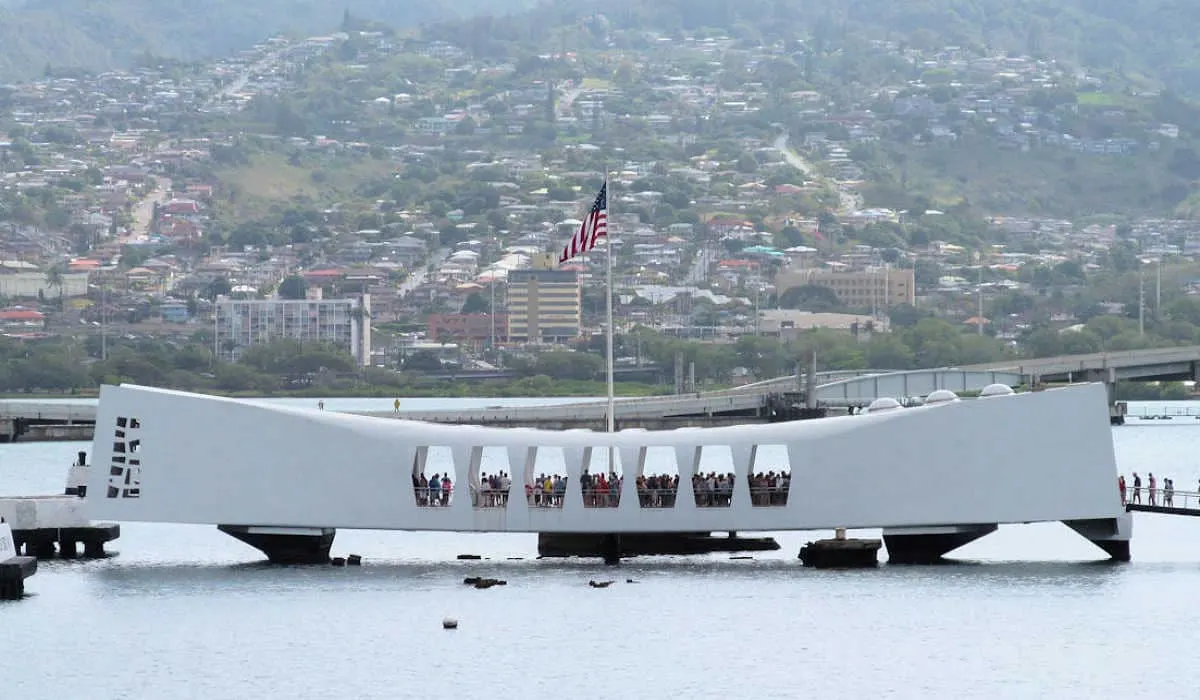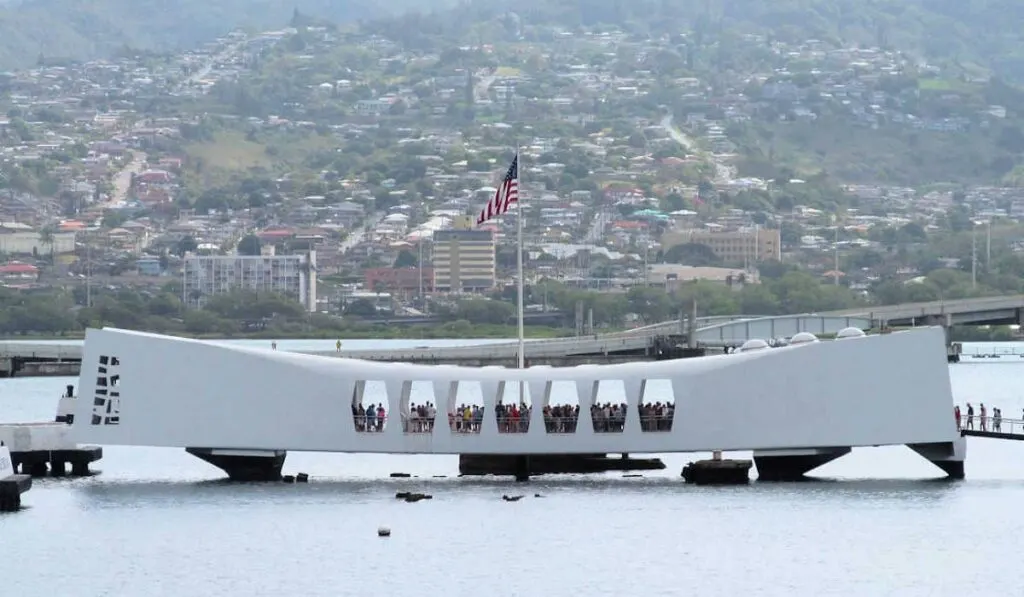 2. Pay Your Respects To War Heroes
Raised in a military family, the National Memorial Cemetery of the Pacific was a must for me. It's also an integral part of Pearl Harbor. Perched on a hill, this spectacular cemetery offers impressive views of Honolulu and Diamond Head.
While pictures online can show the cemetery's serene setting, they cannot capture the humbling feeling of reading all the names of women and men who lost their lives serving their nation.
The cemetery grounds are immaculately kept, and the trees that shoulder the central roadway are amazing. The setting is picturesque as the cemetery is set in the caldera of an extinct volcano.
While this is not a common place for tourists to visit, it is a place that touched me deeply. Spend some time reading the names on the gravestones.
Also, walk up to the chapel, and learn the significant war history displayed on intricate mosaics on the walls surrounding the chapel. But most of all, pay your respects to all those that gave their lives for their country.
While the admission is free, it's best to visit by car as bus tours don't stop in the cemetery. During my four visits to Hawaii, I had visited the National Cemetery several times.
3. Browse The International Market
For many years, visitors to Honolulu have enjoyed browsing the International Market in the downtown area, looking for that unique souvenir. The market is open for extended hours, and many of the stalls have been operating by the same families for generations.
In recent years, the market was closed and replaced by a sizeable Metropolitan mall with many name brands not unique to Hawaii. While it is disappointing to see many of the tented stalls gone, there is still a small strip of outdoor vendors selling inexpensive souvenirs.
During my last trip, I stayed close to the market, so I walked through it every night on my way to dinner. If you find anything you like, don't be afraid to haggle with the vendors to get a better price.
4. Visit Iolani Palace
Iolani Palace was the Royal Palace and home of the last Hawaiian Royal family. While it charges an admission fee, it hosts Kamaaina Sundays or "free days" when locals and visitors can enjoy a complimentary visit.
Tickets are limited, but visitors can enjoy a tour of the Oahu Palace, and see its lavishly furnished rooms. Tours provide an incite into the fall of the royal family, and an in-depth learning of the Hawaiian culture.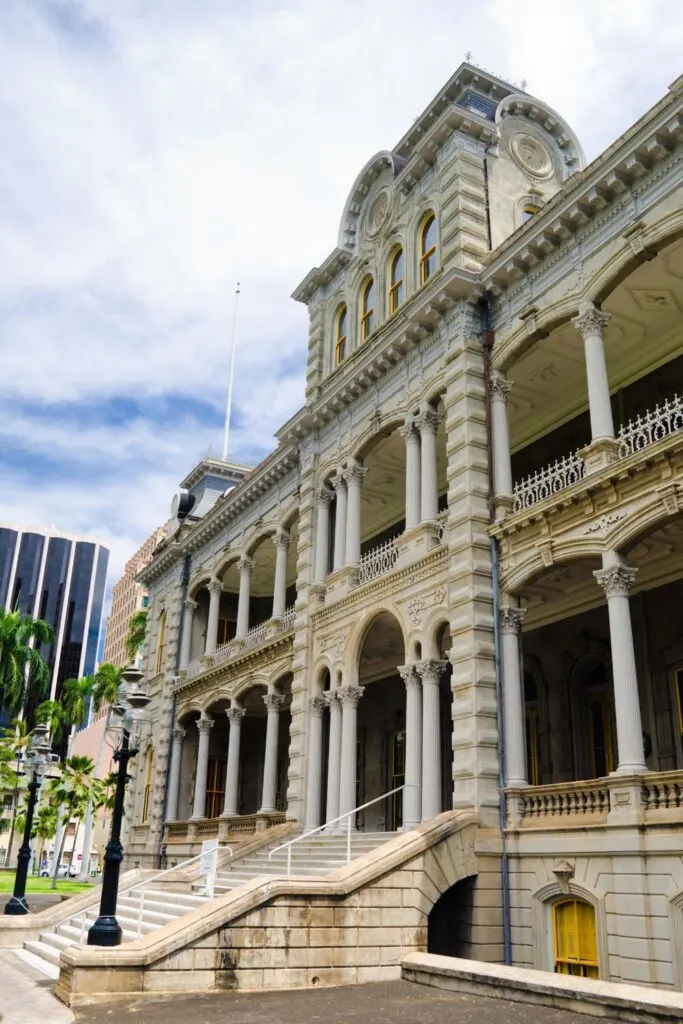 Kamaʻāina Sundays provide weaving demonstrations, bracelet making workshops, and educational booths suited to all family members.
5. Sample Coffee And Nuts
No visit to Hawaii is complete without sampling some Kona coffee and eating some macadamia nuts. What better way to sample than to visit a farm?
I have stopped at the Tropical Farms Macadamia Nuts on #83 Kamehameha Hwy a few times on Oahu.
This farm is right on the highway with plenty of parking. It offers visitors free samples of the world-famous Kona coffee and tasty macadamia nuts. Gone are the days of just lightly roasted with salt.
Today, macadamia nut samplings include Maui onion and garlic, Kona coffee glazed, caramel glazed, and honey glazed, to name a few. My favorite was the cinnamon glazed which I could have quickly eaten a whole bag, lol.
If you're looking for a unique gift, the farm also offers a variety of inexpensive gifts that include local jewelry, scented oils, and lotions, as well as jams and preserves. During your visit, be sure to go through the back of the shop, which backs onto the farm area.
The farm has plenty of wild chickens who beg to be fed by breaking some of the macadamia nuts with a rock. Be warned; these chickens are quite aggressive in trying to get their fair share.
The adults will fly up onto the wooden stump as you try to break the nuts.
6. Watch The Torch Lighting
Unlike metropolitan cities that have electric street lights, gas torches light a part of downtown Honolulu. These torches add ambiance to the streets at night and an understanding of why Hawaii is called the "Islands of Love."
On my first vacation to Oahu, I wondered how these torches were lit at night. I assumed someone flicked a switch and the flames came on automatically.
However, one night, while waiting for dinner at the Cheesecake Factory, I saw a scantily dressed man running through the street, lighting the torches one by one. I soon learned this is a ritual in Waikiki and one everyone should see.
7. Watch Free Fireworks
Nothing can be more perfect than ending a day in paradise than watching a sunset and fireworks. Every Friday night, the Hilton Hawaiian Village hosts a complimentary fireworks show over Waikiki Beach.
The Beach offers plenty of spots for viewing the 10 minutes show, which starts between 7:45 and 8 pm, depending on the time of year.
Do note; that the show is not viewable from every area of Waikiki Beach. The optimal viewing spots are near the Hilton Hawaiian Village and on the beach area by Outrigger Reef on the Beach.
Another option to see the fireworks is from the water. Some local tour operators sell firework cruises, except these won't be part of the cheap Oahu activities.
8. Climb The Aloha Tower
The Aloha Tower, Waikiki stands as a welcoming beacon to visitors coming to Honolulu through its harbor just 15 minutes from Waikiki Beach. Most don't know that you can ride the elevator to the observation deck on the tenth floor for spectacular panoramic views of the harbor and cityscape.
Visitors are allowed entrance to the observation deck from 9:30 am to 5:00 pm daily. With no entrance fee, this cheap activity is a must when visiting Oahu!
Built in 1926, the tower still has a vintage art deco feel. If you are cruising into Honolulu Harbour, the Aloha Tower will stand out among the city landscape.
Browse the local shops in the shopping center or have a bite to eat at one of the restaurants.
9. Enjoy The Sunset With A Loved One
Since you're vacationing on the "Islands of Love," what better way to end your day than watching a Pacific sunset on the beach. Grab a Mai Tai or a Blue Hawaii and head out to Waikiki Beach with a loved one.
Is there anything better than watching the orange glow of the sun reflecting off the water, feeling the tropical breezes on your faces, and listening to the tranquilizing sounds of the ocean waves?
If you have a car, head over to Ala Moana Beach Park for a more picturesque view of the sunset. This is a far more romantic spot and void of the large crowds on Waikiki Beach.
Another popular spot is Sunset Beach. It is a two-mile (3.3 km) stretch of mostly beige sand located at 59-104 Kamehameha Highway in Pupukea.
It is 39 miles (63 km) driving distance from Waikiki.
Head out to the end of Magic Island to watch the sun lower behind the palm trees. The beautiful sunsets are one of the reasons Oahu is my favorite Hawaiian island.
10. Go Wildlife Spotting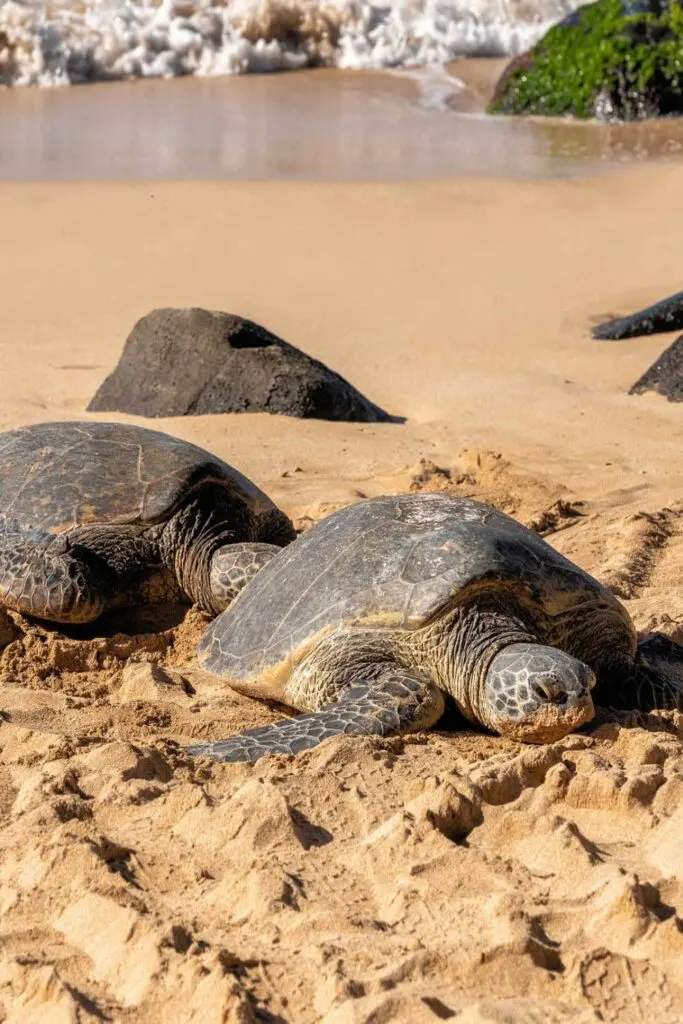 If you head to the north shore of Oahu, you can often spot Hawaiian green sea turtles on Laniakea Beach. This beach is a favorite in the winter months for surfing. While it's not recommended for swimming, it's the best location on Oahu for turtle watching.
Do remember, that turtles are protected species so don't get too close, feed or touch them. The Malama Na Honu organization has volunteer who hang out in popular turtle spotting areas.
If turtles are present on the beach, you'll rope off the area to prevent visitors from getting too close. They'll answer questions and provide information about their turtle protection program.
Further up the highway, Kuilima Cove or Turtle Beach is another area you could see turtles. This is a great spot to see endangered monk seals.
11. See A Botanical Gardens And Waterfall
If you love tropical plants, then visiting Lyon Arboretum is a must. The botanical garden is amazingly fragrant, with a plethora of Hawaiian species that will excite any nose.
While the Arboretum is free, it does suggest a donation of USD 5. The University of Hawaii runs the beautiful garden as a research center.
Allow a couple of hours to enjoy the trees and tropical plants and a hike to Manoa Falls. There are plenty of walking trails, but signage is limited.
12. Snorkel At Sharks Cove
Snorkeling at Sharks Cove in Oahu is a top activity for underwater enthusiasts. It's free to snorkel here if you have your own snorkel gear. Located on the North Shore, the cove is famous for its clear water and rich marine life.
You'll see a variety of fish, and possibly sea turtles. The best time to go is during the summer months. The water is calm, making it ideal for snorkeling.
Winter brings large waves, making the area risky for this activity. Always check weather and wave conditions before going.
Parking spots are limited, especially on weekends. Arrive early to secure a spot. Also, there are no lifeguards, so exercise caution and always snorkel with a buddy.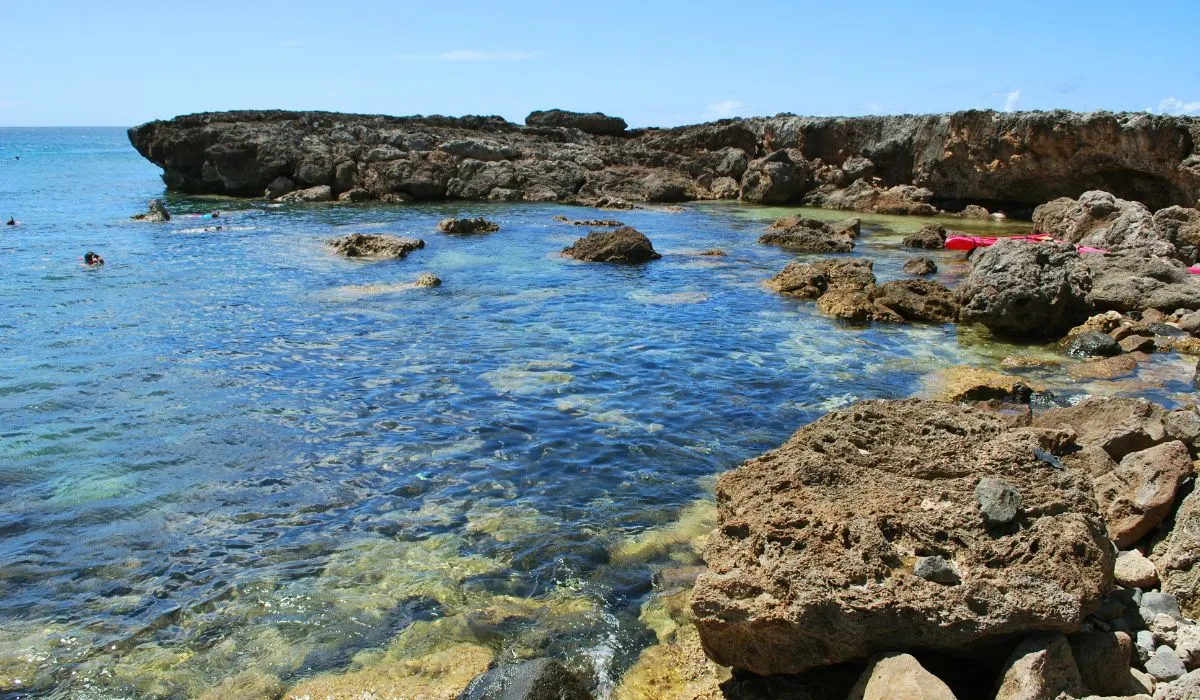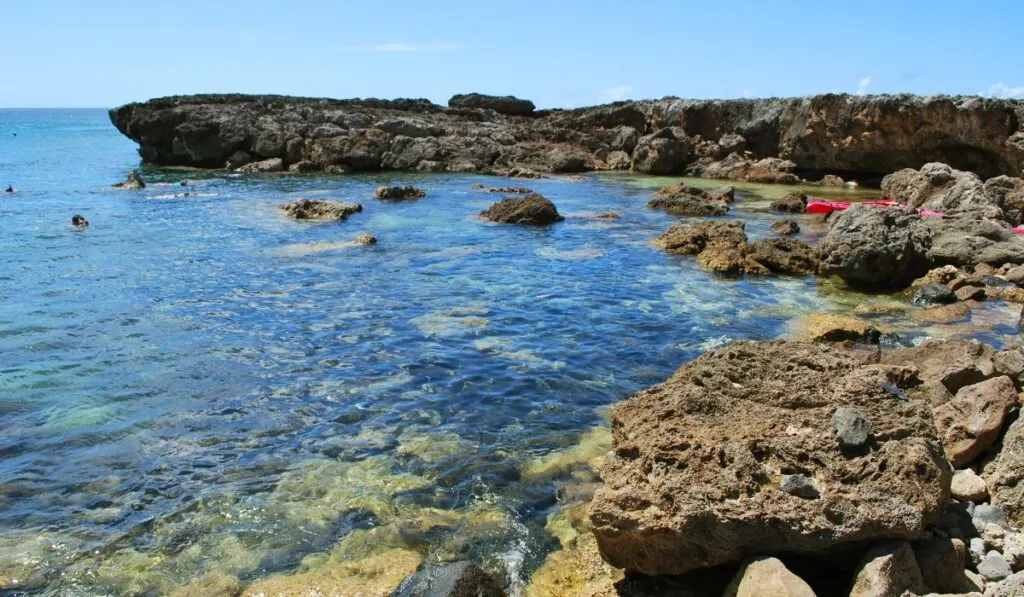 Whether you're a beginner or an experienced snorkeler, Sharks Cove offers an unforgettable underwater experience.
13. Visit A Museum
There are some museums in Oahu that you can enjoy for free. These include the Hawaii State Art Museum (open 10 am to 4 pm Monday to Saturday, Hawaii Army Museum (open 10 am to 5 pm Tuesday to Saturday), and Honolulu Police Museum (open 9 am to 3 pm Monday to Friday). All are accessible with a short drive from Waikiki.
The King Kamehameha V Judiciary History Center also offers complimentary tours if you're interested in Hawaiian history. Guided tours are available in three time slots on Tuesdays, Wednesdays and Thursdays.
On a tour, you'll learn about the legal system, see models of the first courthouse, and learn how the law changed after the Pearl harbor bombing. It's an ideal free activity for history buffs.
14. Hike To Lanikai Pillbox
While the crater at Diamond Head offers spectacular views of Waikiki, it costs USD 5 per person and hiker's require a reservation. If you're seeking a free hike with amazing views, there's another option.
Located 40 minutes from Waikiki, you can do the Lanikai Pillbox hike. It offers stunning views of Lanikai Beach and the Mokulua Islands.
The 1.8-mile trail is rated as moderate, not too easy but not too hard. It involves some steep climbs and rocky patches, so wearing proper footwear for grip and safety is recommended.
Expect t spend about 1-2 hours to complete, depending on your hiking ability. It's popular for sunrise hikes, giving you unbeatable sky and ocean views.
Parking can be challenging, so arrive early. Bring a refillable water bottle, sunscreen, and a hat. Best times to go are weekdays to avoid crowds or early mornings on weekends. Overall, it's a must-do hike for stunning Oahu vistas.
Alternatively, you can hike to Manoa Falls, another trail near Waikiki. However, this trail requires a parking lot fee of USD 4 to 7.
15. Walk Through Historic Chinatown
Oahu's Chinatown is a vibrant area in Honolulu. A walk here offers a mix of culture, history, and amazing cuisine. Visit Maunakea Marketplace for fresh produce and local crafts.
If you're hungry, visit Fete for fantastic dim sum or grab poke bowls at Maguro Spot. Don't miss the art murals; they add a modern touch to the historic setting.
From Chinese herbal medicine shops to trendy cafes, Chinatown is a must-see for any Oahu visitor.
16. Explore Street Art In The Kakaako District
Street art has become popular in many city. It's a way to beautify old or unloved buildings. The Kakaako district in Oahu is a hub for street art. Once an industrial area, it's now transformed into an open-air gallery.
The POW! WOW! Hawaii festival annually invites local artists and global muralists to create murals. This event turns blank walls into vivid canvases, making the district a hotspot for art lovers.
You'll see a variety of styles and themes, from Hawaiian culture to social issues. Walk around and you'll find work by both local and international artists. Many murals change yearly, offering fresh visual treats on every visit.
This area is not just about visual appeal; it's a community statement. So, whether you're an art enthusiast or a casual observer, Kakaako's street art is a must-see in Oahu.
You may also see some amazing murals in other areas of Oahu.
17. See The Makapu'u Tide Pools
The Makapu'u Tide Pools in Oahu offer a fun place to visit. Located near Makapu'u Beach, these tidepools are accessible by hiking down a rocky trail from Makapu'u Lighthouse Road.
To get there from Waikiki, take the H-1 East and then Highway 72. The drive takes about 40 minutes. You'll find a free parking lot at the Makapu'u Lighthouse Trailhead.
The tidepools are most impressive during high tide, especially when the ocean is active. This is also the best time to see the blowhole nearby, which can shoot water high into the air. Winter months generally offer the most dramatic action.
However, caution is essential; the rocks can be slippery, and waves can be unpredictable. Always pay attention to tide and weather conditions before heading out.
With its rugged beauty and blowhole spectacle, the Makapu'u Tidepools offer a memorable adventure that costs you nothing.
If you're up for a walk, continue on the trail to reach the Makapu'u Lighthouse.
18. Visit The Dole Plantation Center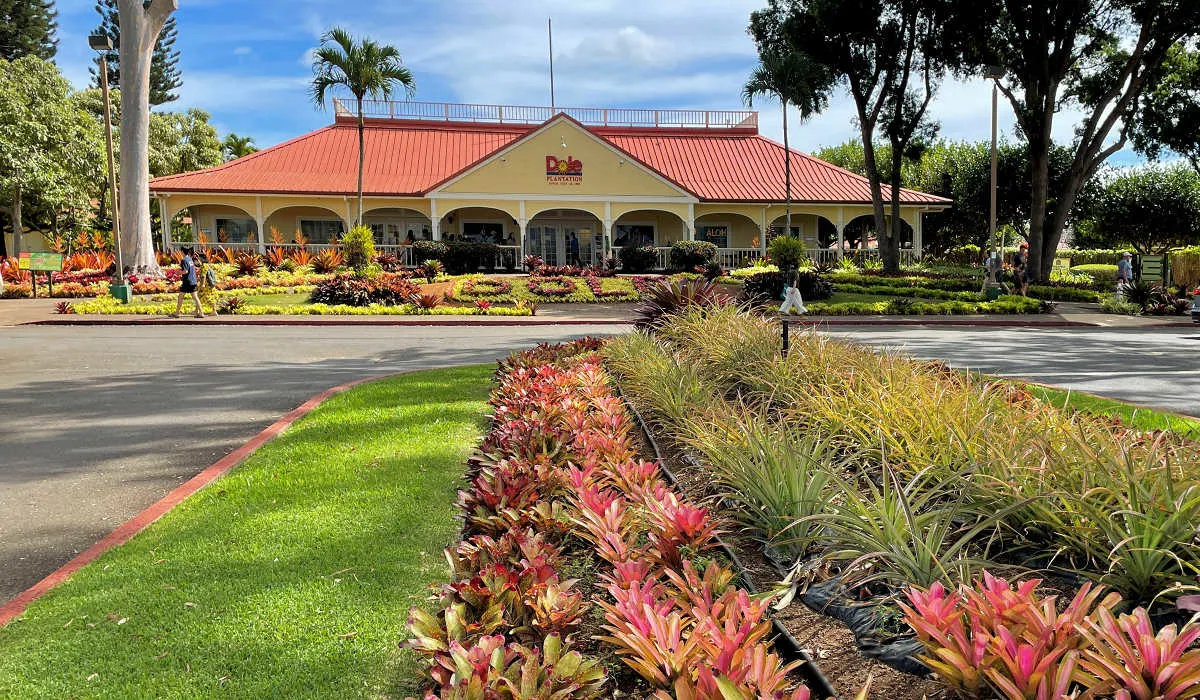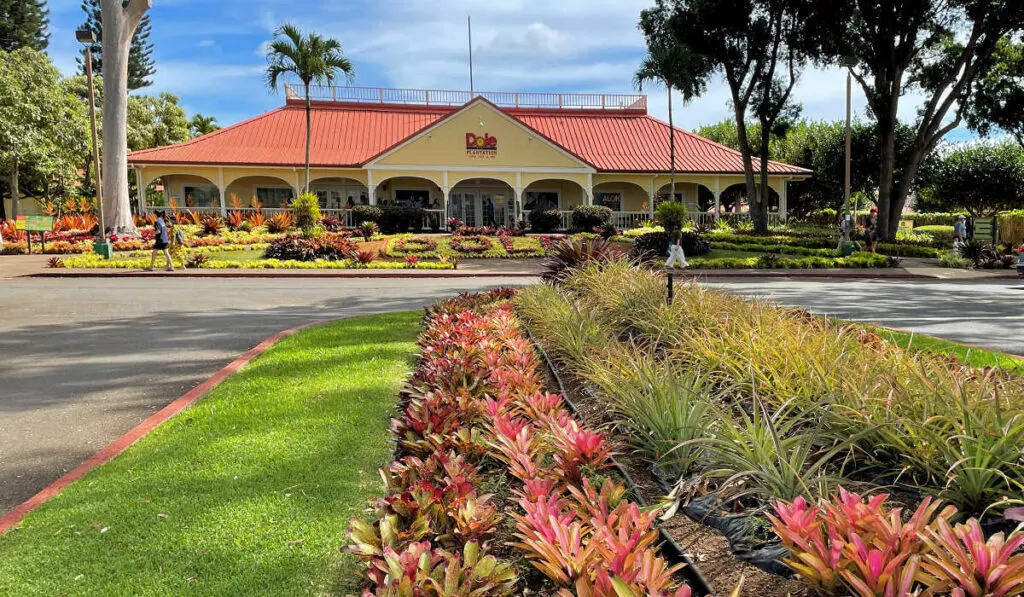 The Dole Plantation is about a 40-minute drive from Honolulu. It's a popular spot for tourists and offers various activities. Parking and entry to the grounds are free. You can explore the gift shop and enjoy the pineapple-themed products at no charge.
The plantation garden is free to stroll around in as well and you can see a variety of pineapples. In addition, you can see some colorful eucalyptus trees at the entrance. However, some of the popular attractions have fees.
Expect to pay extra to ride the Pineapple Express Train, walk through the Garden Maze (one of the world's largest), or take the Plantation Garden Tour.
19. Watch The Surfers
Ehukai Beach Park is a surfing paradise, home to the world-famous Banzai Pipeline. Located on the North Shore, it's about an hour's drive from Waikiki.
Take the H-2 North, then follow Highway 83. Parking is available but fills up quickly, especially during surf competitions.
The beach is best known for its powerful waves and tube formations, making it a magnet for advanced surfers. The winter months, particularly November through February, are the best time to catch big waves.
During this period, swells can reach up to 20 feet. The spot is not for beginners; the reef is shallow and the currents are strong. But whether you're a surfer or not, it's one of the best beaches for viewing.
20. Watch Hula Dancing
Head to the Royal Hawaiian Center in the evening. During the summer, the O Nā Lani Sunset Stories starts at 7 pm as the torchbearers parade into the center court, blowing a horn.
After they light the torches in the courtyard, immerse yourself in the fantastic performance told through Hawaiian and Polynesian song and dance.
This free hula show is popular, so take the time to see it one evening during your Hawaiian vacation. Alternatively, you can watch a hula show at the Ala Moana Center.
Free Things To Do In Oahu Conclusion
Beyond Oahu's free activities, you can find some things that won't break the bank. Here is a list of inexpensive Oahu activities:
Visit the Byodo-In Temple – cost USD 5 per person.
Climb Diamond Head Crater – cost USD 5 per person.
Rent a Biki bike – cost USD 3.50 for a single use ride.