Located on the south coast of England, Brighton is famous for the Royal Pavilion, Volk's Electric Railway, British Airways i360, and Brighton Pier. Bordering West Sussex, Kent, and Surrey, many possibilities exist for day trips from Brighton.
Whether you drive, take a bus tour, or take a train from Brighton Station, here are some great trips to explore surrounding areas. Taking the train sometimes provides quicker access and the perfect way to enjoy the countryside without the stress of traffic.
If you prefer a scenic drive, a route along the coast provides beautiful views of the English Channel from East Sussex in whatever direction you drive.
These favorite day tours from Brighton take under two hours and sorted by travel time. However, peak times and traffic can add to your travel time.
Lewes And Charleston Farmhouse
Location: East Sussex | Distance: 9 miles | Travel time: 20 minutes
Visiting Lewes and Charleston Farmhouse makes the perfect day trip from Brighton for art lovers. Lewes is a charming market town full of independent shops and antiques.
However, Charleston Farmhouse is the iconic home of Vanessa Bell and other Bloomsbury artists who covered every surface in decorative painting.
Lewes is easy to reach from Brighton, with only a 17-minute direct train separating the two. From Lewes, getting a taxi to Charleston is possible, and the trip takes 10 minutes. It is, of course, even easier if driving between the two!
Lewes is a beautiful historic town to wander. The 11th-century Lewes Castle is a fascinating location to explore, as is the lovely Southover Grange Gardens, a wonderful public park filled with naturalistic flower beds.
The Anne of Cleves Museum gives insight into Henry VIII's 4th wife. Finally, the High Street is full of excellent independent shops such as Closet and Botts and antique markets filled with treasures.
Visiting Charleston Farmhouse can't be missed for anyone interested in the arts. Its unique and well-preserved design makes it one of the most fascinating house museums in the UK.
The decorative and colourful painting of the Bloomsbury Group covers the entirety of the house, from walls to furniture, even to cups and lampshades.
Charleston also has a lovely garden and a modern gallery space that hosts exhibitions of contemporary artists.
Contributed by Hannah from Art Distance
Worthing
Location: West Sussex | Distance: 14 miles | Travel time: 30 minutes
Worthing is a seaside town in West Sussex, a short drive from Brighton. From Brighton, you can reach Worthing by car in around 30 minutes or by bus in 45 minutes to 1 hour.
There is also the option to catch the train, which will take approximately 25 minutes and drop you at either of Worthing's train stations.
Worthing is a much quieter and up-and-coming town than its neighbouring Brighton; however, don't let that put you off. Worthing has everything you are looking for if you are after a beach with a seaside pier filled with amusements but not the crowds.
If you're looking for things to do, visit the Worthing Pavilion Theatre, conveniently located at the start of Worthing Pier. It hosts live events, films, and workshops.
There is also the option to hire equipment to enjoy some water-based activities, or you may prefer to enjoy a coastal walk from Worthing to neighbouring Lancing.
A range of local and independent cafes and restaurants are worth checking out, including Crabshack, Perch on the Pier, and the Laughing Dog Cafe.
Contributed by Aimee from Our Salt Souls
Arundel Castle
Location: West Sussex | Distance: 22 miles | Travel time: 40 minutes
You can access the historic town of Arundel and its medieval castle by driving the A27 west of Brighton. Visiting Arundel Castle is the area's highlight, and you'll enjoy art, history, and stunning gardens in one location.
The Duke and Duchess of Norfolk own the magnificent West Sussex castle. Plan to explore the castle and its extensive grounds for four to five hours.
The castle dates back to 1067, and one of its most impressive attractions is its keep. Climb to the top and enjoy panoramic views of River Arun, the small town, and the West Sussex countryside.
The Fitzalan Chapel is another highlight. It showcases medieval architecture and stained-glass windows. Connected to the St Nicholas Church, it features two worships: Anglican and Catholic.
Wander through the grounds, which offer a mix of formal gardens such as the Collector Earl's Garden and the Stumpery, an informal area. The Collector Earl's Garden has fountains, sculptures, and rare plants.
You'll want to start your tour there since the beautiful gardens open before the castle. It's an excellent place for nature lovers and avid gardeners.
The bedrooms and library inside the castle are lavish and worth exploring. They display fine art and antique furniture. You can select from different entrance tickets to see as much or as little of the castle as you want.
Seven Sisters
Location: East Sussex | Distance: 19 miles | Travel time: 40 mins
The white cliffs of the Seven Sisters make a great day trip from Brighton. The cliffs are between Seaford and Eastbourne, but the best place to access the cliffs is from Seaford. This small town is 45-50 minutes from Brighton by train, bus or car.
From the train station in Seaford, you can enjoy a one-hour walk along the coast to the cliffs. Most of the walk is along the beachfront and Seaford Head Nature Reserve. The view out to sea and of the cliffs is impressive.
Before you get to the white cliffs, you will find Cuckmere Haven Beach. Walk along the beach to view the cliffs above you.
Walking this section during low tide is preferred since there is a vast difference between high and low tides. Come high tide, there is very little beach remaining, so make sure you return quickly.
Afterward, continue to the top of the cliffs. Walking on top of the cliffs all the way to Eastbourne is possible, but it's a 14-mile distance.
Direct trains run between Brighton and Eastbourne, taking around 40 minutes. Or return the same way to Seaford.
On the way back, the view over Cuckmere Haven Beach reveals it is an estuary, just like Silver Sand Beach. Most days, you will see people kayaking and stand-up paddle boarding on the river.
Contributed by Kristin from Scotland Less Explored
Amberley
Location: West Sussex | Distance: 24 miles | Travel time: 40 mins
If you prefer to spend the day off the beaten path, there's no better place than the village of Amberley. This charming West Sussex village is famous for its extensive collection of traditional thatched cottages.
One highlight is the Amberley Castle, a 900-year-old structure that you can tour and enjoy its historic gardens.
Another must-see is the Amberley Museum & Heritage Centre. This museum offers a look at local history and features vintage vehicles and industrial artifacts. You can ride on the narrow-gauge railway and see some vintage double-decker buses.
The Amberley Museum & Heritage Centre makes a great day outing in Sussex for families. Along with vintage vehicles, they can learn about old crafts, such as blacksmithing, woodturning, pottery, and broom-making.
The South Downs National Park surrounds the village, ideal for hiking and outdoor activities. Walking trails offer panoramic views and connect to nearby towns. The River Arun flows near the village, providing opportunities for fishing and canoeing.
For shopping, there are antique stores and small boutiques featuring local crafts. The Amberley Village Tea Room is popular for classic English tea and pastries. The village even has a working chalk pit, providing a unique glimpse into local industry.
London
Location: Westminster, London | Distance: 54 miles | Travel time: 1 hr 5 mins
You can reach central London from Brighton on one of the direct trains in just over an hour. Train tickets vary in price, with peak times offering the quickest journey but the highest cost.
If you opt to save money, your journey may take 90 minutes and could require a train change. When arriving at Victoria Station in London, the Underground will give you access to many areas.
So, whether you want to shop on Oxford Street, explore the British Museum, or visit popular tourist attractions, visiting London provides one of the best day trips from the heart of Brighton.
Don't miss Buckingham Palace, Big Ben, and the iconic Tower Bridge if you're traveling to London to sightsee. Harry Potter Warner Bros Studio is a big draw for some.
If you plan to visit multiple attractions, a Go City London Pass gives free entry and potential savings.
You have many choices if shopping is more your thing. Oxford Street attracts the crowds, while Knightsbridge brings those with discerning tastes and higher budgets.
Alternatively, you can browse the antique shops on Portobello Road. Running through Notting Hill, made famous by a movie, visitors can enjoy the rainbow-painted homes on Lancaster Road and Hillgate Place.
Bodiam Castle
Location: East Sussex | Distance: 36 miles | Travel time: 1 hr 8 mins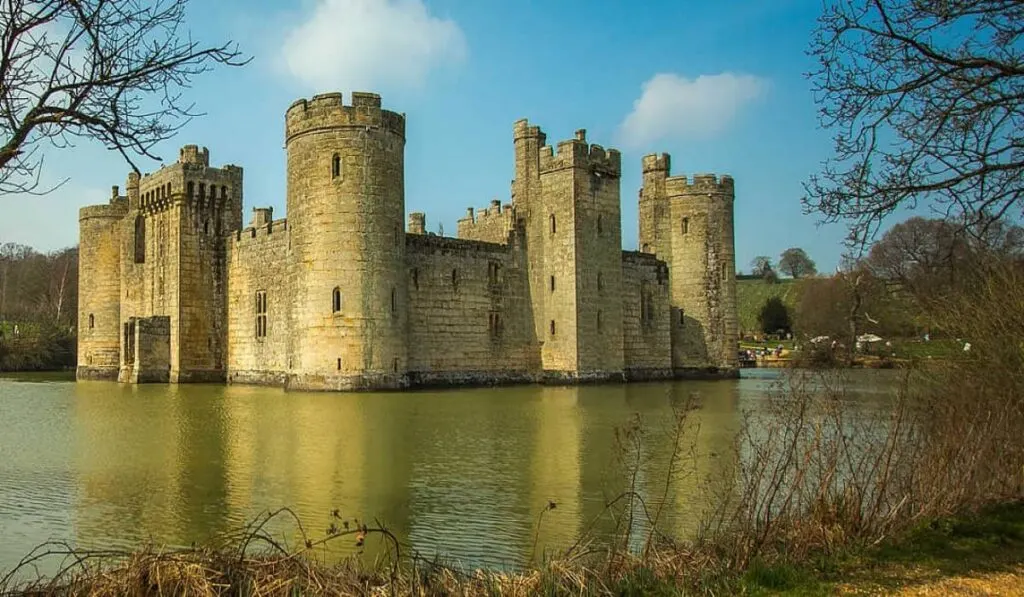 A day trip to Bodiam Castle, north of Hastings, allows you to tour a romantic medieval structure surrounded by a moat. It was built in 1385 by Sir Edward Dalyngrigge.
Bodiam Castle has a simple square shape with drum towers on each corner. During a visit, you can see its battlements and climb the towers. While the interior is primarily ruined, you can enjoy great views from the top.
The castle is known for its picture-perfect appearance and a popular spot for avid photographers. Inside, you can explore the remains of the living quarters and enjoy reenactment events that bring its history to life.
For the best experience, visit during spring or fall, as summer attracts the crowds. Tickets can be purchased online or at the gate. However, you'll benefit from free admission if you're a National Trust member. If you want to delve into its history, take the guided tour.
Wear comfortable shoes, as you'll be walking on uneven ground. Don't forget to check the weather as you'll be outdoors. Ideally, you should plan your day trip on a sunny day.
Getting there is easy; it's accessible by car or train. Driving provides the quickest option. Leaving Brighton at 9 am ensures you'll arrive just after their opening time at 10 am.
If you take the train, it will double your travel time. Once you arrive at Robertsbridge Station, you'll need to take a taxi to reach the castle.
Portsmouth
Location: Hampshire | Distance: 50 miles | Travel time: 1 hour 15 mins
Portsmouth makes a great day trip no matter what your age. Its historic dockyard attracts visitors to explore the HMS Victory and HMS Warrior. Below the decks of these ancient vessels, you'll tour the sleeping quarters, galley, and gun ports.
Be sure to visit the Mary Rose Museum if you have free time. It showcases the Mary Rose, a Tudor warship commissioned by King Henry VIII in 1510. The ship sank in 1545 and was raised in 1982.
While the ship served King Henry for 35 years, it took another 35 years of conservation to make it available for public viewing. Located in a climate-controlled room, temperature and humidity levels are carefully maintained to prevent further decay of the warship.
The museum offers a time capsule of Tudor life, displaying thousands of artifacts, from weapons to personal items.
For stunning views, go up the Spinnaker Tower and look over the harbor. The observation tower features a coffee shop 345 feet above the ocean, reserved for those who have booked a classic high tea experience.
Military history buffs should visit the D-Day Story Museum to learn about the Normandy landings and see wartime artifacts.
Round off your trip with a harbor cruise to get a different city view. With so much to offer, Portsmouth makes for an engaging visit and a fun day out.
Rye
Location: East Sussex | Distance: 49 miles | Travel time: 1 hr 20 mins
One of the best day trips from Brighton is to Rye, East Sussex. Located about 1.20 hours by car or 2 hours by train from Brighton, Rye provides an amazing outing that will instantly transport you back in time.
This medieval village dates back to the 12th century and is full of history, incredible architecture, quaint shops, cute tearooms, and fantastic restaurants.
Half-timbered homes and cobblestones line a labyrinth of alleyways throughout this ancient town.
Some of the best things to do in Rye include climbing up to the top of St Mary's Cathedral for sweeping 360-degree views of Rye and beyond, all the way over the Winchelsea and the English Channel.
For those interested in Rye's history, a visit to Ypres Castle will impress. Once a fortress, prison, private dwelling, and court hall, this museum will indicate how life was back in the 1200s.
Rye's rich history can also be told by visiting the Rye Model. This scale model of the town has a historical light and sound presentation spanning 700 years. Be sure to visit the vintage arcade on the second floor!
No day trip to Rye would be complete without visiting the Mermaid Inn. This pub was rebuilt in 1420! It's a great place for a drink next to the Giant's Fireplace, or head to the restaurant for a locally sourced meal.
Numerous celebrities have frequented the Mermaid, but be forewarned, it's reported to be haunted!
Contributed by Sarah from In Search of Sarah
Fishbourne Roman Palace
Location: West Sussex | Distance: 35 miles | Travel time: 1 hr 20 mins
Fishbourne Roman Palace is a must-visit historical site near Chichester, roughly an hour from Brighton. The best way to get there is by train. The train from Brighton to Chichester, then catch a local bus or taxi to Fishbourne, takes about 80 minutes.
Once there, you'll step back in time to Roman Britain to explore the largest Roman residence in Northern Europe.
The palace is famous for its stunning mosaic floors, and you can browse the fantastic examples once part of the North Wing. One area shows the Roman Hypocaust System, the early invention of in-floor heating. Don't miss the Cupid on a Dolphin Mosaic, a spectacular example of Roman flooring.
While much of the palace remains unexcavated, you can imagine the size of the structure during its prime. You'll also see well-preserved Roman ruins, including bathhouses and gardens. Be sure to browse the museum; it houses a rich collection of Roman artifacts.
Outside, the reconstructed Roman gardens show what they planted and ate. You'll find plants and designs from ancient times. The experience offers insight into the daily life of Romans who lived here. The on-site café provides snacks and refreshments, making it easy to spend an entire day.
Fishbourne Palace delivers history, art, and a touch of ancient daily life. It's a worthwhile day trip from Brighton for anyone interested in Roman history.
Leeds Castle
Location: Kent | Distance: 69 miles | Travel time: 1 hour 20 minutes
Traveling by car to Leeds Castle is straightforward, using the A23, M25, and M20 motorways, and takes around 90 minutes. Alternatively, you can take a train to Maidstone and then a taxi, totaling approximately 2 hours.
Plan for a full day to explore Leeds Castle and its extensive grounds. The site opens at 10:00 am and closes at 5:00 pm. Your ticket gives you access for a year, offering good value for your money.
Upon arrival, a lengthy walk takes you through beautiful gardens featuring vibrant flora and well-kept lawns. The castle sits on two islands in a scenic lake. Often called the "loveliest castle in the world," you might agree after your visit.
The castle has a rich history and was home to six queens. King Henry VIII and his first wife, Catherine of Aragon, were its most famous residents.
Inside, you'll see elegantly furnished rooms and artifacts from various periods. Due to updates by Lady Baillie, its last owner, some rooms are more updated than others.
Don't miss the Leeds Castle Maze, a fun but challenging puzzle made from yew hedges. Solve it and find a hidden underground grotto adorned with shells.
For bird lovers, the Falconry Display showcases birds of prey in action. Kids enjoy the Knights' Stronghold Playground and the Adventure Golf.
Windsor Castle
Location: Berkshire | Distance: 70 miles | Travel time: 1 hr 30 mins
Windsor Castle is a fantastic day trip option for those looking for a day filled with royalty and history.
The castle has been the home of 40 monarchs for over 1000 years and is the world's largest and oldest occupied castle. Built by William the Conqueror, starting in 1070, it took 16 years to complete and has undergone many additions and restorations over the years.
Visitors can glimpse what it's like to be a part of the royal family. The State Apartments are some of the highlights to see at the castle. They are still used to this day for hosting meetings with visiting Heads of State.
St. George's Chapel is another stunning place to see. Royal weddings still take place here, and the chapel hosts services every Sunday.
The Changing of the Guard is a memorable event to witness. Visitors can watch this ceremony on Thursdays and Saturdays at 11:00 a.m.
If you have more time after you visit the castle, check out the town of Windsor. Browse the shops, stroll in the park, or participate in Afternoon Tea.
Driving will be the quickest way to get to Windsor Castle, taking about 1.5 hours from Brighton. Windsor is a great place to take a road trip all year round, including the off-season, as it is open to the public most of the year.
Contributed by Stefanie from Open Road Odysseys
Legoland Windsor
Location: Berkshire | Distance: 68 miles | Travel time: 1 hr 30 mins
For Lego enthusiasts, families with young children, or avid theme park fans, Legoland Windsor is well worth a day trip from Brighton.
Most come to Legoland for the rides and rollercoasters, including riding Flight of the Sky Lion, the UK's first-ever flying theatre. However, there's more to Legoland than just the rides.
You can catch a swashbuckling pirate show or take your hand to a Lego building. Take a trip on the Legoland train while keeping your eyes peeled for animal statues, enjoy a film at the 4D cinema, or wonder at the Lego globe made from 200,000 bricks.
During your visit, don't miss the Miniland Park attraction. This impressive collection of model scenes worldwide features nearly 40 million Lego bricks.
Among other global scenes, you'll find Canary Wharf at a whopping 5.2 metres tall and a remarkable Forbidden City that took four builders 500 hours to build.
A top tip for visiting Legoland is to shop early if you want to buy something from the Lego store. Towards the end of the day, the shops get extremely busy when everyone leaves. You can leave your purchases at a collection point to save you carrying it around all day.
Driving provides the easiest and quickest way to travel from Brighton to Legoland Windsor. The journey takes around 90 minutes, with most of the route being on main roads.
Since Legoland gets busy, you can beat the line by purchasing your tickets in advance.
Contributed by Louise from Travel with the Whitlows
Camber Sands
Location: East Sussex | Distance: 53 miles | Travel time: 1 hr 30 mins
Camber Sands is a famous beach in East Sussex, England, near the town of Rye. It's known for its long stretch of sandy shores and dunes. People flock here for kitesurfing and windsurfing. It offers picturesque views with golden sands and blue waters.
If you visit for kitesurfing, you can only launch your kite from the east side by the Jury's Gap car park. To ensure your safety, always check the weather forecast before you go.
At the beach, you'll see families building sandcastles and beachgoers enjoying picnics. Watersport enthusiasts take advantage of the wind and waves. Dogs are allowed but with some seasonal restrictions.
For the best experience, visit during low tide, which gives you more beach space. While there are three parking lots, they fill up quickly, so arrive early. Bring your own umbrella and snacks, as facilities are limited.
In Rye, you can stop at The Ship's Inn for a meal. The pub features classic British favorites as well as new favorites. Why not try the Rye Bay Fish Pie or the Garden Pea & Mint Ravioli?
Camber Sands is a must-visit for beach lovers and those looking for an active day out. From Brighton, expect the drive on the A27 to take 1 hour 30 minutes.
Winchester
If you love history and culture, Winchester must be on your list of best day trips from Brighton! Reached within 2 hours by car, Winchester is a thoroughly romantic UK destination and a lovely place to escape the bustle.
Often overlooked by some of the bigger cathedral cities, Winchester is compact and charming. It's a city that was once named the capital of England and is a destination that's bursting with history.
The cathedral is the draw with breathtaking architecture, but you won't want to miss the Great Hall, home to King Arthur's iconic Round Table.
Winchester is a treat for literature lovers, too. Not only is the city the resting place of Jane Austen, but this magical destination inspired the ode 'To Autumn' by poet John Keats.
Surrounded by gorgeous countryside, you can follow Keats' footsteps on a trail from the city into the landscapes that inspired him.
Elsewhere in the city, there's lots to enjoy. Winchester boasts a pedestrianised high street with high-end and independent shops, bars, and restaurants. Plus, regular markets line the streets with an array of eclectic stalls.
If you choose a day trip from Brighton in winter, make sure you visit the Winchester Christmas Market – it's considered one of the best in the UK and has a beautiful setting against the backdrop of the cathedral.
Contributed by Hannah from Mariée Travel
Southampton
Located to the west along England's South Coast, Southampton is a great place to visit as a day trip from Brighton.
In contrast to Brighton's bright and colourful atmosphere, Southampton is more of a step into the past with ancient buildings, surrounding city walls, and crumbling abbey ruins nearby.
To get to Southampton from Brighton, you have two options. You can either drive, which takes about 1 hour and 40 minutes. Alternatively, you can get the train. A direct train from Brighton to Southampton Central also takes about 1 hour and 50 minutes.
So, it depends on whether you prefer the freedom of driving at the cost of finding a parking space, or you'd rather have the ease of train travel but potentially have to deal with England's typical train delays!
However, once you make it to Southampton, there are plenty of fantastic things to do. If you love history, the Tudor House and Garden and Merchant's House are great places to start. These traditional buildings are a direct link to Southampton's past.
If you'd prefer to dive more into maritime history, the SeaCity Museum is a great choice and features stories of the Titanic, which departed from Southampton before it sank."
Contributed by Alice from Adventures of Alice
Dungeness
Location: Kent | Distance: 63 miles | Travel time: 1 hr 45 minutes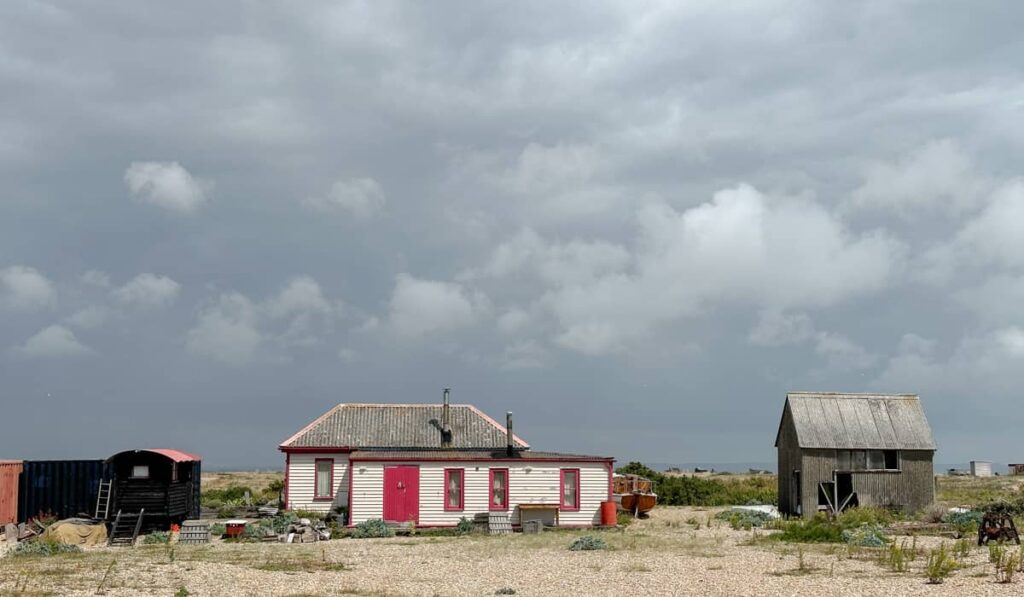 Dungeness is an easy day trip from Brighton, providing a complete change of pace and scenery. The landscape of Dungeness is wild and remote; there are no arcades or ice cream shops, just big skies and the sea.
At Dungeness Point, you will find the two lighthouses, one of which you can climb for amazing views across the Romney Marshes.
Adjacent to the old lighthouse are the 1960s block buildings of the Nuclear Power Stations. While they are not a tourist attraction, they add to the desolate feel of the landscape.
All along the beach, you will find small beach huts and converted train carriages, the most famous of which, Prospect Cottage, belonged to the filmmaker and artist Derek Jarman.
One of the beach huts has been converted into the Dungeness Snack Shack, where you can purchase freshly caught fish and shellfish.
From Dungeness, it is possible to take the narrow-gauge Romney, Hythe, and Dymchurch steam train further along the coast to Dymchurch, passing through a few small villages.
Dungeness is reached by taking the A27 and the A259 along the coast towards Rye. Dungeness is clearly signed from New Romney. Reaching Dungeness using public transport is possible, but options are limited.
Contributed by Suzanne from Meandering Wild
Paultons Park
Location: Hampshire | Distance: 73 miles | Travel time: 1 hr 47 mins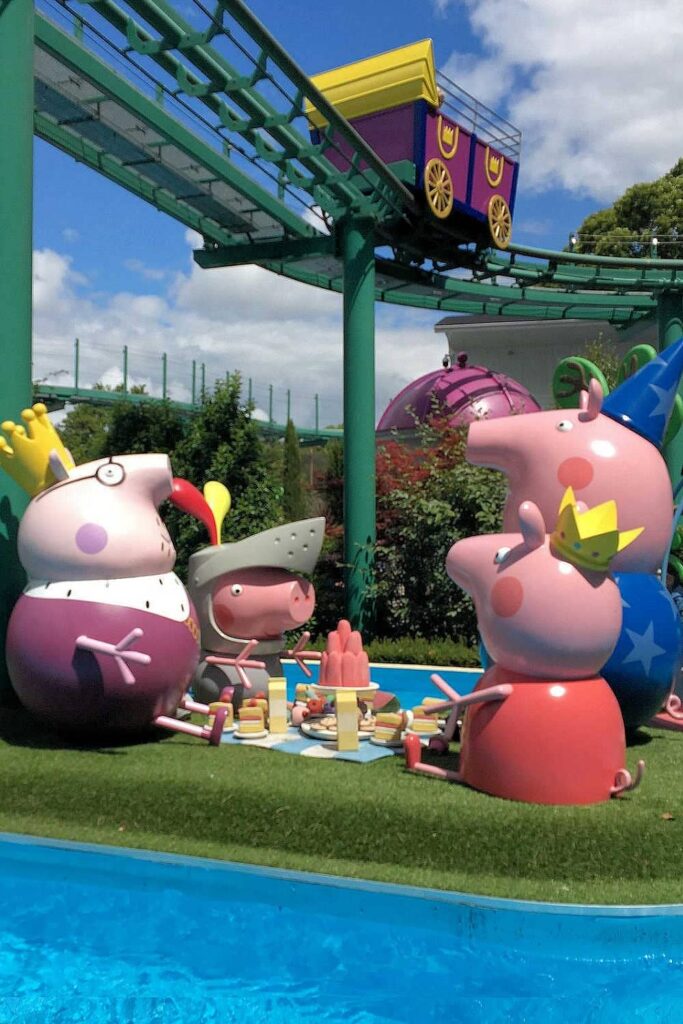 If you have kids, one of the best day trips from Brighton is Paultons Park in Southampton, one of the best theme parks in Europe.
Paultons Park is home to Peppa Pig World, one of the UK's best places to take little ones. You'll find colourful Peppa Pig-themed rides, the biggest Peppa Pig shop in the UK, a fantastic playground, and even a huge Peppa Pig shop.
Ensure you also visit The Lost Kingdom, another highlight at the park. The dinosaur-themed section has more thrilling rides and creatures that bring the prehistoric era to life.
In other areas of the Paultons park, there are over 70 attractions and rides for all ages, from roller coasters to water slides and animal encounters.
Packing tip: Bring a change of clothes for the water rides, and consider pre-booking tickets online for discounts and faster entry.
Paultons Park is a 1 hour, 47-minute drive from Southampton, and there is lots of parking once you arrive.
The easiest way to get there by public transport is to take the train from Brighton to Southampton Central (1 hour, 53 minutes). From Southampton Central, you can take the X7 bus (22 minutes) directly to Paultons Park.
Alternatively, you can take a train to Romsey and then a taxi or local bus to the park.
Contributed by Sylvie from European Cities with Kids
New Forest
Location: Hampshire | Distance: 82 miles | Travel time: 1 hr 50 mins
If you are looking for a nature day trip from Brighton with loads of outdoor activities and hidden gems, the New Forest National Park will be the perfect destination.
You can easily get there by car and expect the drive to take a bit under two hours. There are many car parks around the National Park, but getting there early is preferable since it can get a bit busy, especially on sunny days.
Upon arrival, head to the New Forest Heritage Centre. Here, you can find a lot of information about the area in the free museum. It's also an excellent place to hire a bike.
The New Forest is an amazing place to visit on foot since there are a lot of walking paths, but renting a bicycle will allow you to cover more ground.
The Hawkhill Trail and The Old Railway are particularly popular routes. They are 9 miles long, which should take about 3 hours to complete.
As you explore, you will also get to see a lot of wild horses, which is always a winner with children.
If you'd like to discover more animals, head to Hockeys Farm, a family-owned farm shop with activities and local products.
Contributed by Pauline from Beeloved City
White Cliffs Of Dover
Location: Kent | Distance: 106 miles | Travel time: 2 hrs
Impressively towering 350ft above sea level, the White Cliffs of Dover are an iconic part of the UK and make for a great day trip from Brighton.
Stretching over 16 miles along the coast, there are a number of scenic hiking trails for all abilities. The most popular of these is the South Foreland Lighthouse trail.
This trail is a 2-mile walk each way from the National Trust Visitor Centre to South Foreland Lighthouse. The relatively easy route provides spectacular, sweeping views over the English Channel. On a clear day, it is possible to see France in the distance.
At the lighthouse, you can stop for a bite to eat at Mrs. Knott's Tea Room, where you'll find delicious homemade soups, cakes, and scones. Alternatively, pack a picnic to enjoy atop the cliffs.
In addition to spectacular natural beauty, Dover is steeped in history, from Stone Age settlers to Roman invasions and important WW2 events. You can learn more about the area's fascinating history at the Dover Museum.
The town is also home to the largest castle in England, Dover Castle. Built in the 11th century, it has survived many invasions and is a wonderful place to visit.
The best way to reach the White Cliffs of Dover from Brighton is by car. It is just under 2 hours drive. While there is public transport, it involves taking a train into London and then back out, which takes over 3 hours.
Contributed by Sophie from We Dream of Travel
Day Trips From Brighton Conclusion
While Brighton has the Brighton Pier, pebbled beach, and plenty of attractions to warrant a stay, many places are worth exploring beyond this south coast city. As you can see, you won't have a shortage of areas to explore if you're seeking some days out from Brighton.
So, whether you want to enjoy long walks, explore a hidden gem, or check out a new attraction, you have many choices. While some areas are fastest by car, you can take the train to others for stress-free transportation. With 20 outing options, it's time to start planning your fun-filled Brighton day trip itinerary