If you're planning on sailing with Celebrity Cruises in the near future, consider the heartbeat of the operations galley tour. While cruises are climbing in price and companies are finding more ways to make money, this tour is still free.
Yes free, however, who knows how long it will stay complimentary as the tour becomes popular. Be sure to check your daily newsletter for the day and time.
The heartbeat of the operations galley tour is surprisingly fun and a fantastic activity to do on a sea day.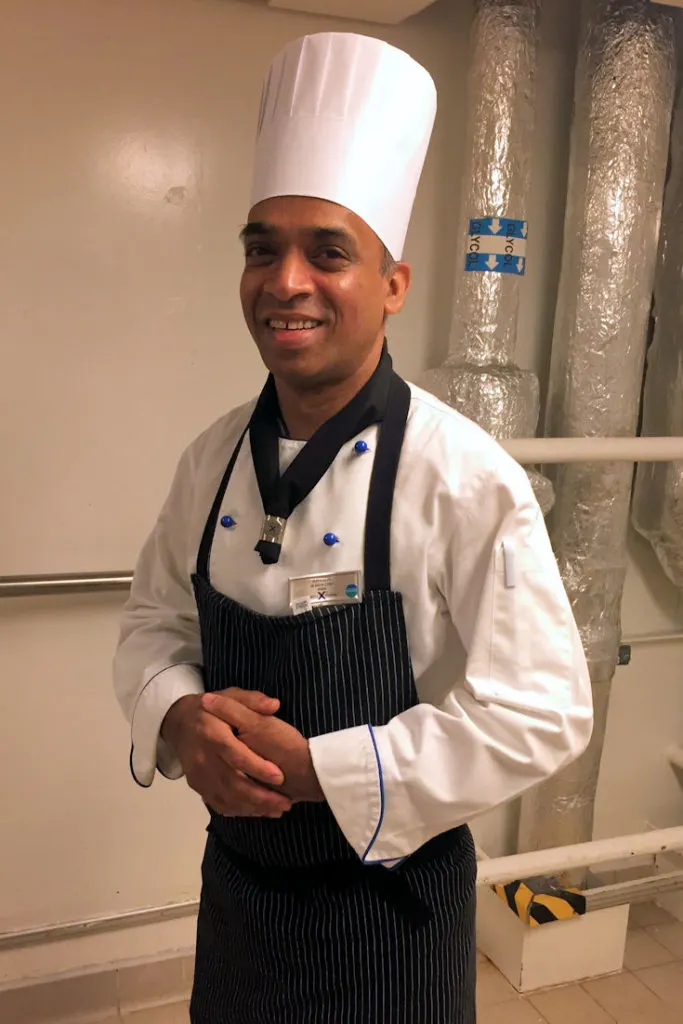 The Celebrity Cruises tour of the galley is top-rated and popular amongst guests. While I've done three galley tours, the last, on the Celebrity Eclipse had a turnout of over 300 people.
But don't worry about the number of passengers attending because the tours take place in smaller groups. In fact, each group tours through the different areas of the galley at intervals to prevent overcrowding.
Your guide will show you several areas of the kitchen and will answer all your questions on cruise ship food.
Staffing The Galley
During my 12-day cruise to Hawaii, the head chef on the Celebrity Eclipse was Kenny Ramos. It took a large team of 630 food and beverage staff to feed the 3,000 hungry passengers and 1250 crew.
It's fascinating to see that half of the staff work in the food and drink departments. With all those people preparing food every day, it makes you wonder who drives the ship and cleans the cabins? Lol.
Heartbeat of the Operations Galley Tour: Inside the Galley
The first thing that's noticeable inside the ship's galley is the amount of stainless steel. Literally, there is stainless steel everywhere. The floors are concrete with lots of drains. A cruise ship galley is designed this way to make sanitization and clean up effortless.
One of the biggest nightmares on a cruise ship is the Norovirus, so there are protocols about sanitization and cleanliness. The galley is thoroughly cleaned after each mealtime.
As I walked through the galley, I was astonished to know that 15,000 meals are prepared there every day. While I was trying to comprehend that number, I was thinking of how many clean dishes they would need for rotation.
Yes, it's crazy what goes through my brain sometimes, haha. We never got to see the industrial-sized, but I can imagine those run all day and all night. I certainly wouldn't want the job of loading and unloading the dishes.
I noticed there were quite a few electronic terminals that kept track of passengers' orders. At one preparation area, I was surprised to see a colossal recipe book and computer-printed pages in protective sleeves. It reminded me a lot of my grandmother's cookbook.
While I had previously done a galley tour on the Celebrity Mercury (no longer in service) and on my 14-day Princess Alaska cruise, the galley was slightly different on the Celebrity Eclipse.
The Eclipse used elevators to transport its cooked food to different levels of the main restaurant and specialty restaurants. The other galleys I had seen used escalators.
Preparing The Food
Preparing and cooking food in large quantities is done very differently on a cruise ship to a land-based restaurant. There is a separate area just for the butcher to carve the meat into individual portions.
The seasoning is done in large batches, the meat is put into large containers then taken to another area for cooking.
Fruits and vegetables are also prepared in different locations. Desserts are made by the hundreds and stacked in large coolers until they were put out for consumption.
Every day, the bakery produces hundreds of loaves of bread and thousands of bread rolls. No day-old bread on a cruise ship!
For safety reasons, open flames are banned on cruise ships, and rightly so. The only exception is the use of small Crème Brulee torches used for that fantastic dessert.
Since there are no gas burners in a galley kitchen, that ribeye steak isn't going to taste quite the same as the one you get at your local steak house restaurant. However, with those scorch lines on the meat, it certainly looks like a steak perfected on a grill.
One of the toughest jobs for the head chefs is guessing the passengers' palettes and deciding what to cook. It's a guessing game each meal trying to predict what cruisers will order.
Ideally, meals are prepared with little waste, but there is always waste. And what happens to the food waste on a cruise ship? Anything uneaten is mulched and dehydrated into fish food and released into the ocean more than 12 miles from shore.
Food Allergies
Over the years, the number of passengers with food allergies has grown substantially. However, modern cruise ships try their very best to cater to your dietary needs.
Menus and some of the buffet food is marked with gluten-free, milk-free, sugar-free, and vegan signage. Anyone with severe allergies should contact the Maître D and discuss their food options each day.
Meals are generally chosen one day in advance, and these are prepared and cooked separately from other food to avoid cross-contamination.
I suffer from celiac disease and have several severe food allergies, yet it doesn't deter me from vacationing on a cruise ship.
If you suffer from food allergies too, be sure to read my post about how to manage food allergies when cruising. There are many tips on how to stay healthy with cruising the high seas.
On the Celebrity Eclipse, all bread, pastries, and cooks are baked from scratch. Only gluten-free bread and sugar-free ice cream are purchased.
Restaurant Tours
At the end of the heartbeat of the operations galley tour, each group is guided through the specialty restaurants. In the Qsine, passengers are shown a mini-clip of the 3D animation presented during Le Petit Chef.
Need more information on this interesting animation dining adventure, read my review on this thumb-sized Chef.
In the Murano, a cooking demonstration of the Murano Lobster entrée. This cognac flambeed warm water lobster tail is served with fresh basil, applewood smoked bacon, and Dijon cream.
The stops at the restaurants are a way for the cruise line to try to sell specialty restaurant dining.