"Food, glorious food." As you board a cruise ship on a food adventure, that thought comes to mind. Today, there are many enticing culinary options on larger vessels.
There is something to suit every palette, from the cafeteria-style buffet and the poolside bar to the exclusive suite restaurants.
With a global trend towards organic and ethically grown ingredients, cruise lines have followed suit. As a result, many cruise lines now offer culinary classes, wine pairing sessions, and delicious meals to appeal to any foodie.
For instance, Princess Cruises offer a successful annual Culinary Cruise, which features an extravagant event hosted by guest chefs.
During the cruise, these chefs add some exotic flavors to the meals and whip up some decadent desserts. Consequently, these are a favorite among budding chefs and sell out quickly.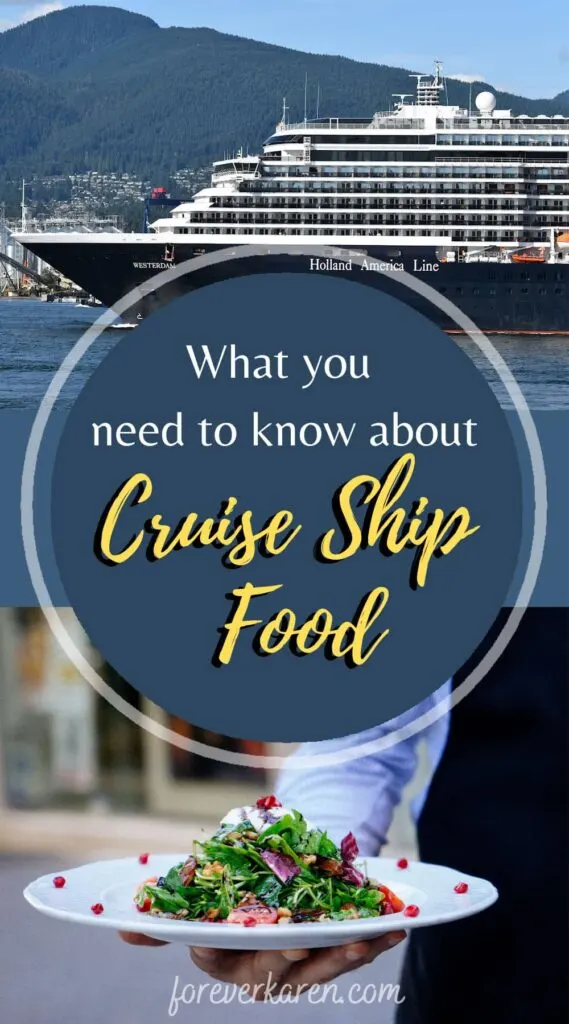 Have you ever wondered about the production of having to order, store, and prepare meals for thousands of people? If you have ever sailed a back-to-back cruise, you know the logistical nightmare of turnaround day.
It's fascinating to watch the process in action. During those hectic few hours, cruise lines unload the garbage and bring onboard truckloads of fresh food for the following itinerary.
The orchestrated ballet of turnaround day happens in a matter of hours.
Food Consumption
Have you ever considered the amount of food consumed on a cruise ship? This list contains the supplies for an average 7-day cruise with 2,800 people, including passengers and crew.
| | |
| --- | --- |
| 15,400 pounds of beef | 2,500 pounds of lamb |
| 3,100 pounds of pork | 2,050 pounds of veal |
| 1,900 pounds of sausage | 3,000 pounds of chicken |
| 2,200 pounds of turkey | 5,380 pounds of fish |
| 900 pounds of lobster | 18,000 pounds of fresh vegetables |
| 8,400 pounds of potatoes | 20,000 pounds of fresh fruit |
| 3,000 gallons of milk | 240 gallons of ice cream |
| 48,000 eggs | 3,500 pounds of sugar |
| 2,600 pounds of rice | 1,200 pounds of cereal |
| 400 pounds of jelly | 1,000 pounds of coffee |
| 1,400 pounds of cookies | 40 pounds of herbs and spices |
| 2,950 bottles of wine | 175 bottles of champagne |
| 150 bottles of gin | 350 bottles of vodka |
| 290 bottles of whiskey | 175 bottles of rum |
| 40 bottles of sherry | 570 bottles of assorted liquors |
| 7,600 bottles/cans of beer | |
Wow, all I can say is that's a lot of eggs!
With food available to passengers 24/7, it's easy to gain a few extra pounds on a cruise. Taking the stairs, choosing healthier selections, and smaller portions will help to curb weight gain at sea.
Cruise Ship Food Storage
Before fresh produce boards a cruise ship, it is removed from its cardboard boxes and repacked into metal trays. Metal trays are a preferred means of storage because metal is easy to sanitize.
Additionally, cruise lines store fresh fruits and vegetables in various stages of ripeness in dozens of storehouses. However, bananas are stored separately as these give off gases that can spoil other fruits.
Foods are kept in one area and transported to another location for cooking.
Cruise Ship Food Waste
Compared to land-based restaurants, cruise ships create massive food waste to keep their passengers fed. An overabundance of perishable food is cooked based on the estimates of the chefs.
Most of the waste comes from uneaten food at mealtimes, with waste estimates as high as 30%. Wow!
With this in mind, it's best only to take what you can eat. Maybe all the uneaten food from every vessel in the world is the solution to end world hunger.
Do you ever wonder what happens to ship food waste? It is pulped, dehydrated, and sent out into the ocean as fish food twelve miles offshore.
Is this a good idea? Probably not, because fish don't need any of the food humans consume.
However, many cruise lines change how they serve food to cut back on cruise ship food waste. They serve fruits whole, so if it isn't consumed, it's added to fruit salads.
Soups or stews contain uneaten meats and vegetables. Sushi has become a la carte due to cost and waste.
Sushi has a short shelf life; most of the time, much of it is disposed of before it is eaten. That's probably the reason, most lines only offer it in specialty restaurants now. The exception is Cunard, who still offers complimentary sushi at the buffet.
Not only is uneaten food recycled, but some cruise lines have implemented ways to reduce food waste. Recently, some lines have removed trays at the buffets to prevent cruisers from taking too much food.
With the growing trend towards sustainable travel, cruise lines have successfully reduced waste and continue monitoring its progress.
Cruise Ship Food Facts
When I cruise, I ask the staff many questions regarding life on board. During a back-to-back 14-day Alaska cruise, I noticed that the bananas were becoming quite brown by day eight.
When inquiring about the cruise ship's food supply, I discovered two cruises were fed by one 14-day food supply.
In Seward, where most people disembarked, the port did not load a new batch of fresh food. Knowing that if I ever sailed a seven-day Alaska cruise again, I would sail the first seven days from Vancouver to Seward when the food is freshest.
Also, most cruise passengers believe food cruises prepare their food around an itinerary. For instance, an Alaska cruise would serve Alaska king crab, salmon, and fresh seafood from the area, and a Mediterranean cruise would serve delicious foods from the surrounding area.
However, this is not usually the case. Cruise lines have many ships, so contracts are signed with various companies worldwide to supply ALL ships regardless of where they are in the world.
So, during my Princess back-to-back Alaska cruise, I ate prawns and lobster from New Zealand, of all places.
Store-Bought Food
Today, most cruise passengers assume cruise lines freshly make all food onboard. However, this is not always the case.
Since a growing number of people need gluten-free food, some cruise ships purchase these ready-made items. For instance, Carnival Cruise Line provides store-bought gluten-free bagels and hamburger buns.
Celebrity Cruises purchased gluten-free bread and sugar-free ice cream on my recent cruise.
Cunard supplies a large selection of gluten-free tarts, muffins, waffles, etc. These items are ready-made.
Bringing Food Onboard
On most cruises, each passenger can bring certain foods onboard. This is especially helpful if you suffer from food allergies, as I do.
Exceptions to the rule are raw meats and sometimes fresh fruit. I always pack my favorite gluten-free bars and my favorite tea, which isn't available in the United States.
On port days, food is generally not allowed off the ship. Some ports have sniffing dogs to scour passengers' bags for fresh fruit and vegetables.
However, the store-bought snacks you've brought aboard are allowed off with you during port stops.
Dining
There are several dining options once onboard. The options available depend on the cruise line and the size of the ship.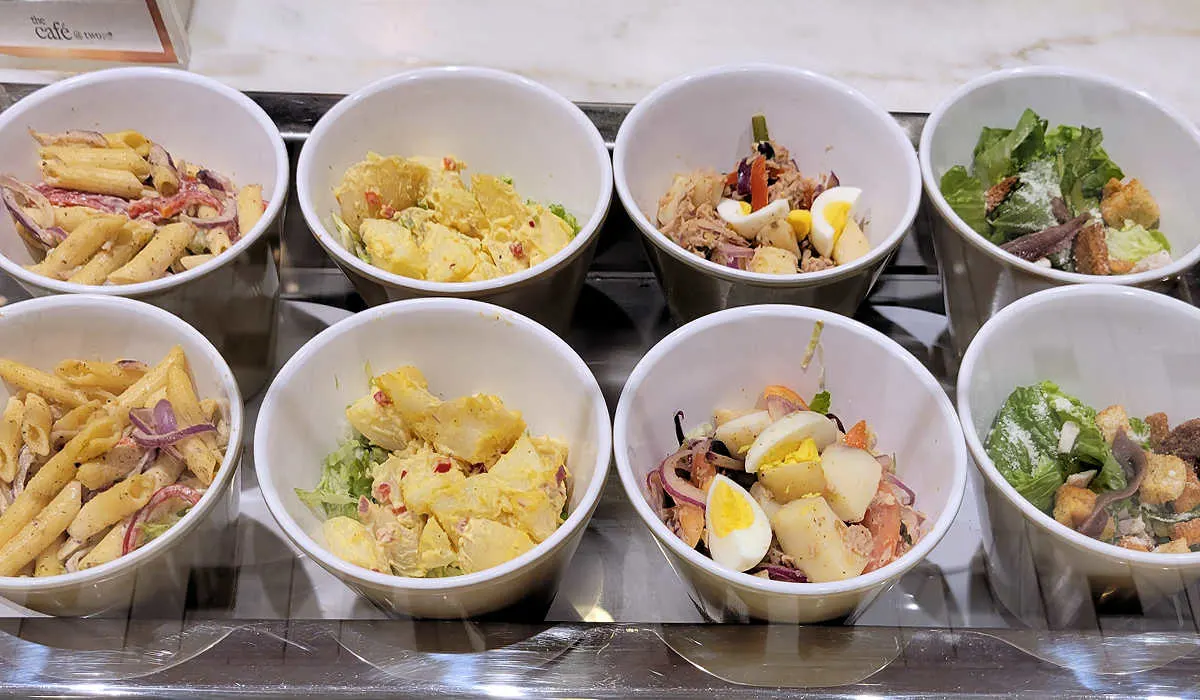 Larger ships tend to have more choices in where you eat. Small vessels may have just 5-10 places to eat, while large mega-ships may have over 20 options.
Your dining options can range from casual dining to fine dining. Most of your choices are included in your fare.
Cruise Ship Buffet
This dining option is the one most passengers try soon after they board the ship. There are many food options, and the quality can range greatly depending on the cruise line.
We have always enjoyed the buffet after embarkation or before disembarkation. It's also great if you want a quick meal any time of the day.
There are often dining themes such as Indian one night or Asian another night. The cruise ship buffet never has a dress code, making it popular for some passengers.
If you are a passenger who hates dressing up on vacation, you can have a delicious dinner nightly at the buffet.
Main Dining Room
The main dining room serves sit-down meals that are served by wait staff. If you have a set dining time, you will be assigned a table that stays the same each night. Small ships have a single dining room, and large ships often have multiple.
We sailed recently on the Ovation of the Seas within Royal Caribbean. As a mega-ship, they are so large that they offer three main dining rooms with different décor.
The food is predictable, and several entrees are promoted as "classics." The classic menu items are present each night and are usually popular.
My favorite classic menu items are New York steak, shrimp cocktail, French onion sour, and escargot. However, the lobster night is my favorite night in the main dining room.
Specialty Dining
A specialty restaurant is an upgrade compared to the main dining room. Typically, there is a steak house, Japanese (sushi), Mediterranean or Italian, and others.
Cruise lines, such as Royal Caribbean, Celebrity Cruise, and Princess Cruises, offer specialty dining with licensed restaurants that are branded outside cruising.
On our last Royal Caribbean International cruise, one of the specialty dining options was Jamie Oliver. He is a famous chef with an international brand and is well-known on television.
The food was excellent, and we would return to his restaurant on our next cruise if available. If you are considering a specialty restaurant, look for a special offer from the cruise line.
After boarding the ship, cruise lines, such as MSC Cruises, Princess Cruises, or Holland America, will present a special offer for dining. They may offer 2-For-1 or other deals in the hope you will try one of their specialty restaurants.
If your budget is unlimited and you can cruise on premium or luxury lines, specialty dining is different. Lines such as Virgin Voyage, Disney Cruise Line, Oceania Cruises, or Silversea Cruises do not offer specialty dining.
For these lines, the cruise fare includes all dining options. On non-luxury cruise lines, you can buy specialty dining packages that let you dine at any restaurant throughout your cruise.
Final Thoughts
I have always been fascinated by cruise ship food and not just the massive quantity but also the variety.
I hope you've found this post to pique your interest, and you may see cruise ship dining differently.