The average cruise ship cabin is significantly smaller than the smallest hotel room. Instead of fretting over it, embrace the space and make the most of what you have. After all, some people are living in "Tiny" homes, and they make it work.
Being prepared is always the key to maximizing the usable space, indeed. These useful cruise cabin hacks help you embrace your "Tiny home" on board.
Let's face it; some interior staterooms are as small as 140 sq. ft, bathroom included. Knowing you'll have limited space, it's best to bring less and use creative ways to make more storage space.
Even with a family of four to a room, it's possible to be comfortable with good organization.
Overpacking can create serious storage issues and I have to confess, I've been guilty of that. Now, I check to see if my cruise ship has self-serve laundry facilities. Being able to do laundry halfway through my vacation (especially on a long cruise), means I pack half as much.
It's good to know, cruise ships provide many everyday items so there's no need to pack a towel, hairdryer, soap, or shower gel.
1. Choose Stacking Suitcases
Travel with suitcases that fit inside each other. I generally travel with a medium and a large bag. Once unpacked, one will fit inside the other and take up a smaller footprint in your cabin.
While this may not seem like a big deal, imagine four people sharing one cabin and all traveling with the same size suitcase. Staterooms do not provide enough storage to store four large separate pieces of luggage.
While cabin space is premium, you certainly don't want to clutter it up with luggage and other large items. Also, don't travel with too large bags, or it won't fit under your bed.
2. Rearrange Your Cabin
Depending on the size of your stateroom, you might want to rearrange the furniture. Having had a 140 sq. ft cabin, the chair, and small table were a nuisance. Instead of stumbling over the items every day, I had them removed by my steward.
Furniture is movable in the stateroom, so you can push the bed into a corner to create more space. Changing your bed position is also helpful if you suffer from motion sickness.
In general, pitching (from bow to stern) is more tolerable than rolling (from port to starboard).
3. Purchase An Over The Door Organizer
One of the most useful cruise cabin hacks is to use a flame-retardant over the door organizer to store bathroom accessories, suntan lotion, flip flops, deodorant, or other small items. Check with your cruise line to make sure these are allowed on the door. If not, use one that hangs in the closet.
Cabin bathrooms are significantly smaller than the smallest hotel room washroom. The bathroom is one space that only one person can occupy at a time. Small bathrooms provide little storage.
Rather than hide things in places and then spend your cruise trying to find them, the organizer keeps everything in one place for easy access. As a result, you'll never be hunting for sunscreen or shaving lotion.
4. Utilize Packing Cubes
Packing cubes are amazingly versatile and a must for travelers. First of all, because they keep everything so tight, they create more usable space in luggage. Packing containers also make unpacking a breeze as cubes can be slipped neatly into drawers, keeping clothes organized.
Unlike plastic, the fabric is more durable, which makes it an eco-friendly re-usable item. Since cubes come in various sizes and colors, there's one to fit every suitcase, and families can color-code their essentials. Being organized can speed up packing before debarkation day.
5. Bring Ziploc Bags
Ziploc bags of different sizes are beneficial on a cruise vacation. These are great for keeping electronic devices dry at the beach, preventing spillage from bottled liquid, and using for carrying snacks in your bag on port days.
But the best part about packing Ziploc bags is that they don't take up any space in your luggage. So, pack a variety of sizes and more than you think you'll need.
6. Pack Extra Hangers
Closets don't come equipped with enough hangers. While you can request additional hangers from your cabin steward, hangers to hang pants or ones with clips are harder to come by.
I recommend packing a few in your luggage. I prefer to have extra hangers, so I'm not hanging three or four items on one hanger. Folding hangers take little space in bags and are an inexpensive necessity.
7. Bring Magnetic Hooks
The walls of all cruise cabins are magnetic. So, bring a selection of fridge magnets, strong magnetic hooks, magnetic whiteboard or scratchpad, as well as decorations to personalize your cabin.
Hooks are great for hanging hats, lanyards, bathing suits, and other light items. By getting everything onto the wall, the cabin will feel less cluttered and more spacious.
Ensure the magnetic hooks are the super-strong ones that will hold more than a few pieces of paper. The clip hooks are also a great way to organize all the documents and daily newsletters you gather in the cabin.
Clipping them all together means never needing to hunt down that one piece you need. A scratchpad or whiteboard is an excellent communication tool between cabin cruisers.
Decorating your cabin door is not only fun but adds a little fun to your cruise vacation. It's also a useful "beacon light" tool for finding your cabin.
How many of you have walked down a hallway full of doors and walked right by your cabin? It's easy to do because they all look the same. So, uniquely decorating your door means you can easily find your room every time.
8. Use Space Saver Bags
Space saver bags aren't just to store things at home, but they're great for travel too. While some require a vacuum to remove the air, others can compress the bag by rolling. By eliminating the air, garments take less space and come out with fewer wrinkles.
The space savers bags ensure you have extra space for all those travel gifts on the return trip. Space saver bags are ideal for itineraries that require different types of clothing.
If you're taking an Alaska cruise or sailing a repositioning route from a cold climate to a warmer one, the bags allow you to pack bulkier items without needing an extra suitcase.
9. Empty The Bar Fridge
On embarkation day, empty your bar fridge and ask your cabin steward to store its contents if you don't plan to drink the alcohol. The mini-fridge may be small, but it is nice to have; to keep ice, fresh fruit, cheeses, and snacks to satisfy your midnight hunger.
Most cruise lines allow a limited amount of wine, champagne, water, and soft drink to be brought on board. You certainly don't want to drink these at room temperature. Make use of the minibar fridge by keeping your drink chilled.
10. Bring A Colourful Washable Marker
Without a cruise app or WiFi, it's sometimes difficult to track down your travel party onboard a cruise ship. Rather than bring sticky notes or a whiteboard to leave messages, I prefer a washable marker.
All cruise ship cabins have a mirror above the desk. Not only does it make a great vanity but an excellent place to write notes.
So, pack a bright colour and write to your heart's desire because the writing is removable with just a little water. This is my favourite cruise cabin hack. During one of my cruises, our steward left us a cute message on the mirror, wishing us a happy anniversary.
11. Pack A Charging Station
Bring a charging station for all your electronics. Cabins will typically have only two accessible plugs for use, although some newer ships have included four or more. Since most people travel with cell phones, tablets, cameras, and laptops, two outlets just won't cut it.
Make sure your charging station is without an extension cord and non-surge protected. If you don't bring the right one, it will be confiscated. For safety reasons, always pack your electronics and cables in your carry-on bag.
12. Bring A Laundry Bag
Bring a laundry bag and make a habit of clearing your laundry each day. The pop-up laundry hampers are perfect for traveling because they are light and take no luggage space. Consider doing laundry onboard halfway through your cruise, so you will only need clothes for half the days you are away.
If the cruise ship has self-service laundry, bring some Tide Pods, a Tide Pen, dryer sheets, and a Ziploc bag of quarters. Knowing that your vessel has self-serve laundry means you can pass on the wrinkle spray, as irons and an ironing board are free for use.
13. Travel With A Nightlight
Bring a nightlight, especially for an inside cabin. Cabins can be very dark at night, and there is nothing worse than someone turning on a bright light in the wee hours while trying to navigate to the bathroom.
Plug the nightlight into the bathroom socket and leave the door open. It will provide enough ambient light to prevent you from stumbling in the dark.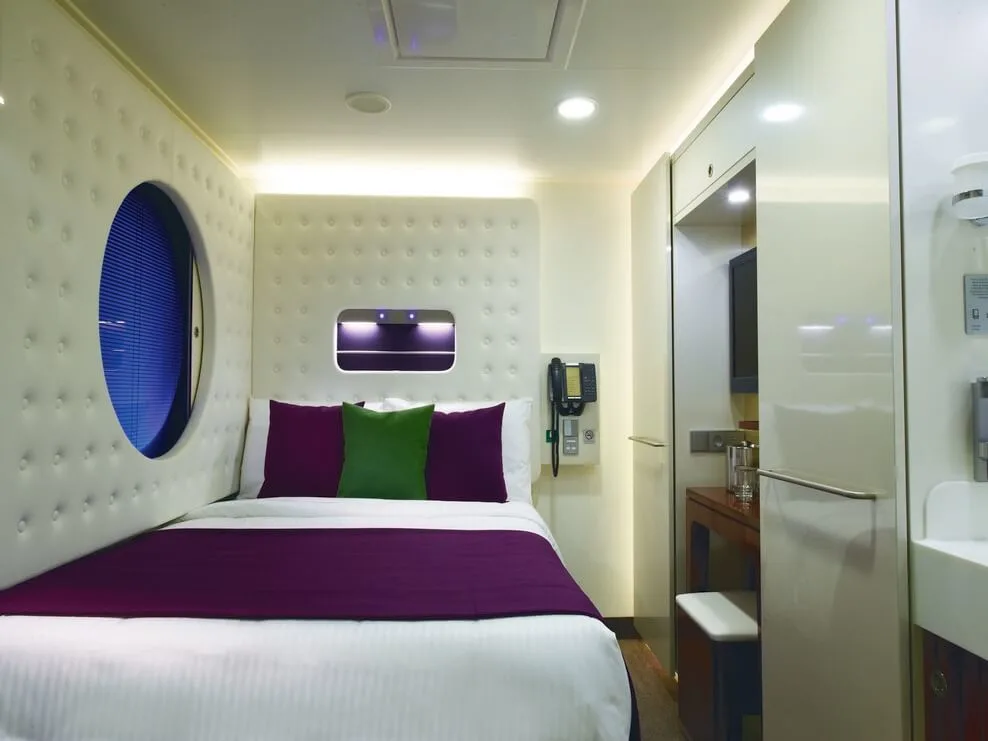 Having booked dark inside cabins, I understand the dilemma of not knowing when the sun is up. So, alternatively, leave your TV on at night and put it on the outside cruise cam.
Once the sun is up, you'll be able to see it on your TV. As a result, you won't be scrambling around to see what time it is and whether it's still dark outside.
14. Use Silicone Travel Bottles
It's no secret that we women tend to pack more than men. I blame it on the hair and make-up products! Instead of packing everything from the bathroom, choose items you really need, or are multifunctional.
Then, put just the right amount in these nifty silicone travel bottles, which are leakproof and collapsible when empty. Don't cheap out on the dollar store's travel bottles because the tops are not leakproof.
Alternatively, buy travel-sized products like toothpaste, shampoo, and hair spray. Instead of packing breakable bottles of perfume or aftershave, use a refillable atomizer. The atomizer is small enough to carry in a purse with no risk of breakage.
15. Bring A Hanging Closet Organizer
Depending on who you cruise with, some cabins lack drawer space, especially when cruising with more than two to a stateroom. Create more shelf space with the addition of a foldable closet organizer. The cloth organizer hangs from the closet hanging rod and provides an additional six shelves.
Extra shelves are useful in place of drawers. Not only are they perfect for folded clothes, but shoes too.
16. Travel With A Collapsible Water Bottle
No matter where we travel, we are never without our collapsible water bottles. In Mexico, we filled them on the ship and didn't have to worry about Mexican water making us sick.
Traveling without a heavy glass or aluminum container avoids the worry of it shattering. Plus, rolling it up when not in use saves precious room in my suitcase.
When in use, the bottles are easy to carry by attaching them to a backpack. By using a reusable bottle, you're doing your part to help save the planet.
17. Download Apps, Videos, And Books
Cruising is a different experience for everyone. Some love to read, others still work out each day, and families like to watch movies. Whatever your preference, download your books, apps, and movies onto a tablet before you leave home.
While cruise ships have some TV channels, they are somewhat limited and may not show movies you want to watch. Downloading your selection means you'll be entertained onboard and while flying to and from your port.
It's a no-brainer that books are too heavy to pack. While all cruise ships have a library, you may not complete reading your book during the cruise. Having to give the book back before the last chapter leaves every cruiser disappointed (unless the book is no good, lol!)
At home, my husband and I participate in yoga four to five days a week. Cruise ships charge for yoga classes, so we download our favourite routines onto an iPad. This way, we follow the flows we are comfortable with, and we pick the time that suits us.
If you're a light sleeper, instead of packing a small fan, download a white noise app. You'll be saving space and be able to sleep like a baby too.
18. Pack Tea Lights For Romance
Cruising can be a romantic time for couples. While candles are not allowed, battery-powered tea lights are a perfect way to add mood lighting to your stateroom. These small ones are perfect for adding ambiance and don't take much space in our luggage.
Cruise Cabin Hacks Conclusion
All in all, it's best to research your cruise destination to see what clothes you'll need. Pack what you'll really use, take layering pieces, and leave the unnecessary items behind. By minimizing your packing list, you'll save space and eliminate the chance of overweight charges.
Just remember, no one knows you on the cruise, so it's ok to travel without make-up and wear that cocktail dress twice. Please keep it simple, pack less, and enjoy your adventure more.
I have found more cruise ship hacks from reading reviews and learning from fellow cruisers with each cruise. Plan to join a cabin crawl to view other rooms. That way, if your stateroom doesn't work for you, you'll have a better idea of what to book next time.
You'll also know which cruise ship cabins to avoid. If you have any great tips of your own, I'd love to hear from you.
Happy travels ~ Karen