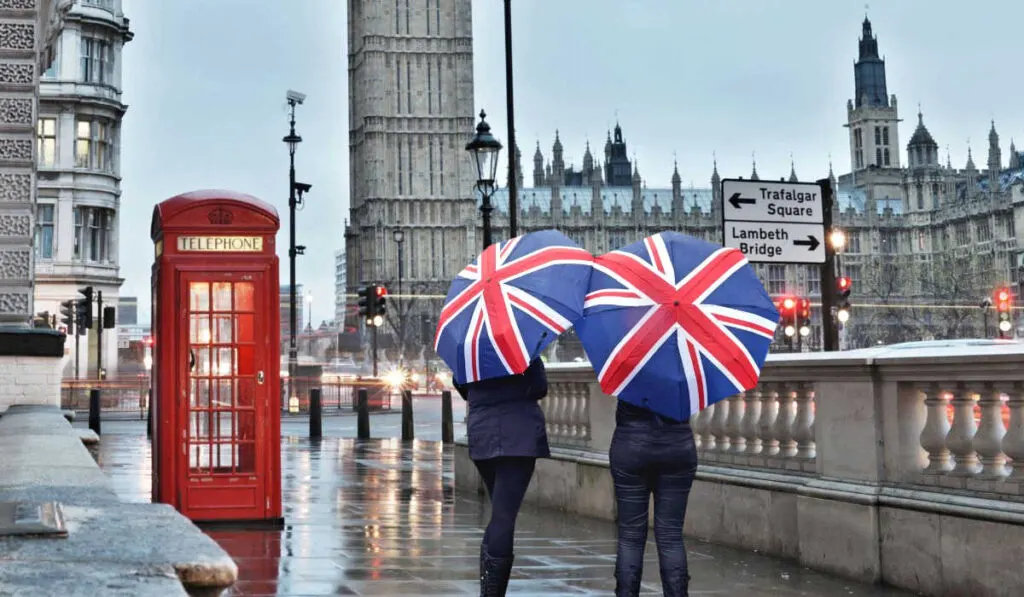 A trip to England allows you to savor traditional afternoon tea, see Buckingham Palace, and ride the London Eye. While your trip may offer the best pubs and iconic London landmarks, you'll want to remember your vacation with some curated souvenirs from England.
By visiting central London, you'll have your fill of souvenir shops on Oxford Street. If you're visiting any attractions, you won't have to wander far to find a London souvenir store.
Let's not forget Harrods, where you can literally lose yourself amongst the delicious British chocolates and loose-leaf tea section in search of the best gifts.
Instead of high-end department stores, you could seek out a unique gift from one of the London markets like Portobello Road Market or Camden Market. It's one of the best ways to immerse yourself in local culture.
Outside of London, you'll find boutique shops in quaint Cotswold villages and trinkets from seaside towns.
So, whether you're visiting Covent Garden, browsing a British museum, or exploring a city outside London, here are the most popular UK souvenirs to add to your shopping list.
1. Beatles Memorabilia
When tourists think of the great English icons – Big Ben, Buckingham Palace, or the red double-decker buses come to mind. Of course, these are vital pieces of England's history and make great mementos.
But sometimes, cultural symbols can be a lot more fun and quirky reminders of a great trip. So, one of the most unique souvenirs from England is Beatles memorabilia, especially if you are a music lover.
Hailing from the lively northern city of Liverpool, the greatest rock and roll band of all time put British music on the world stage and has enduring popularity nationwide.
From cozy sweatshirts, cool shot glasses, and vintage posters to lyric sheets and vinyl, there is an endless collection of Beatles merchandise. So, choose from keepsakes to adore or something than can become a staple piece in your home.
Whether or not you're a huge fan of the band, purchasing something Beatles-inspired while in England feels natural and desired.
The best thing about these souvenirs is that they are linked to a fascinating musical journey and that many products are useful in everyday life (like clothing and dishware), making them far more worth the money than a metal miniature of a landmark.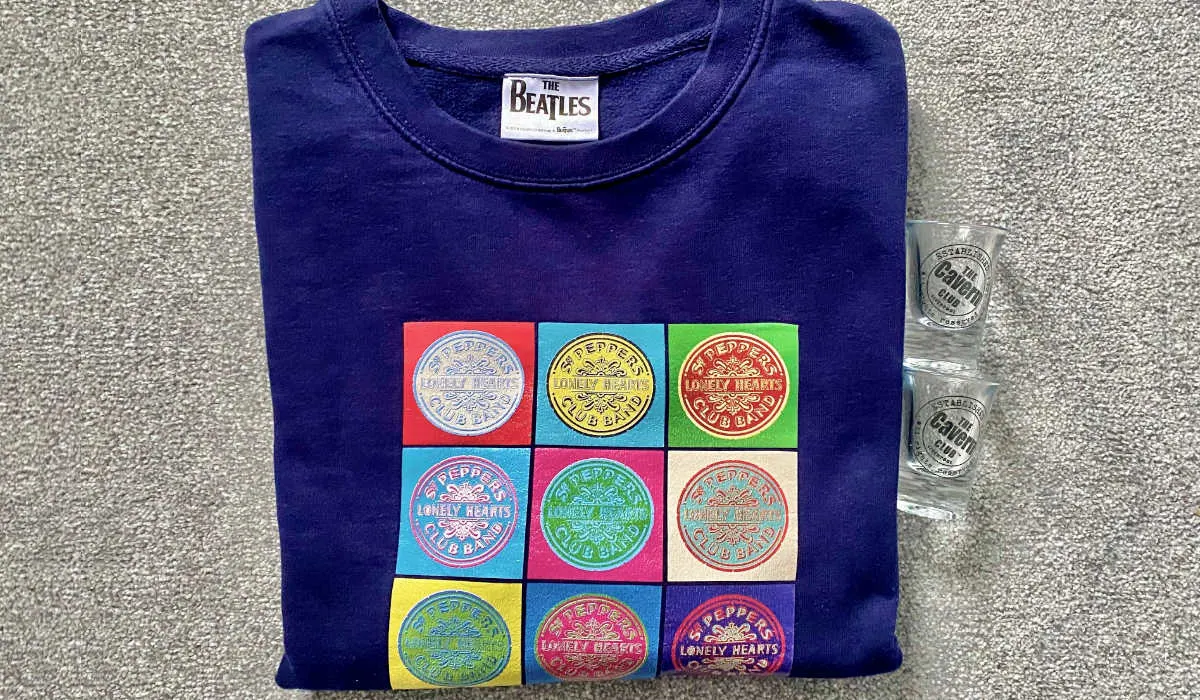 There are a few places to purchase Beatles memorabilia, both online and in-store:
1. Liverpool: The Beatles Story Museum gift shop (L3 4AD)
2. London: London Beatles Store on Baker Street (NW1 6XE)
3. Online: The Beatles Store and Abbey Road Studios
Contributed by Sanika from Trailing Pages
2. Harrods Bear
If you are visiting London and plan on shopping for souvenirs, head to Harrods and pick a teddy bear to bring home.
They come in different variations and colors, but the most popular teddy bears are dressed up as guardsmen, police officers, and beefeaters. There is even a bear dressed up in a Union Jack flag sweatshirt.
Harrods also sells exclusive Christmas bears annually with its name and custom outfit. These bears are considered collectors' items, so if you are lucky enough to get your hands on one of them, you hit the jackpot.
The bears were introduced to Harrods in 1905 by Steiff Teddy Bears in Germany. However, during World War I, Britain banned German goods, and Harrods had to look for English manufacturing companies to produce their very own bears to sell.
These bears became so iconic that a customer, Daphne Milne, purchased one for her son, Christopher Robin, which then inspired Winnie the Pooh.
While the Harrods bear is popular among children and babies, adults enjoy this ever-so-adorable mascot of London's luxury department store and treat themselves to a new friend.
For the newborns in your life, you can gift the "My First Bear," which is embroidered with the Harrods logo on the left paw.
You can purchase a bear at Harrods in London on the lower level or through their website.
Contributed by Hannah from Hannah on Horizon
3. Double-Decker Buses
One of the most iconic images of London are the double-decker buses that carry passengers through the city streets. The bright red buses offer the opportunity to sit upstairs in the front row, where you can see the city as it passes by.
The public transit options, in all their whimsy, are one of many reasons that travelers may choose to visit London over other European cities.
You can bring a bit of iconic London home with you by purchasing a slightly retro mini double-decker bus from one of the shops throughout the city.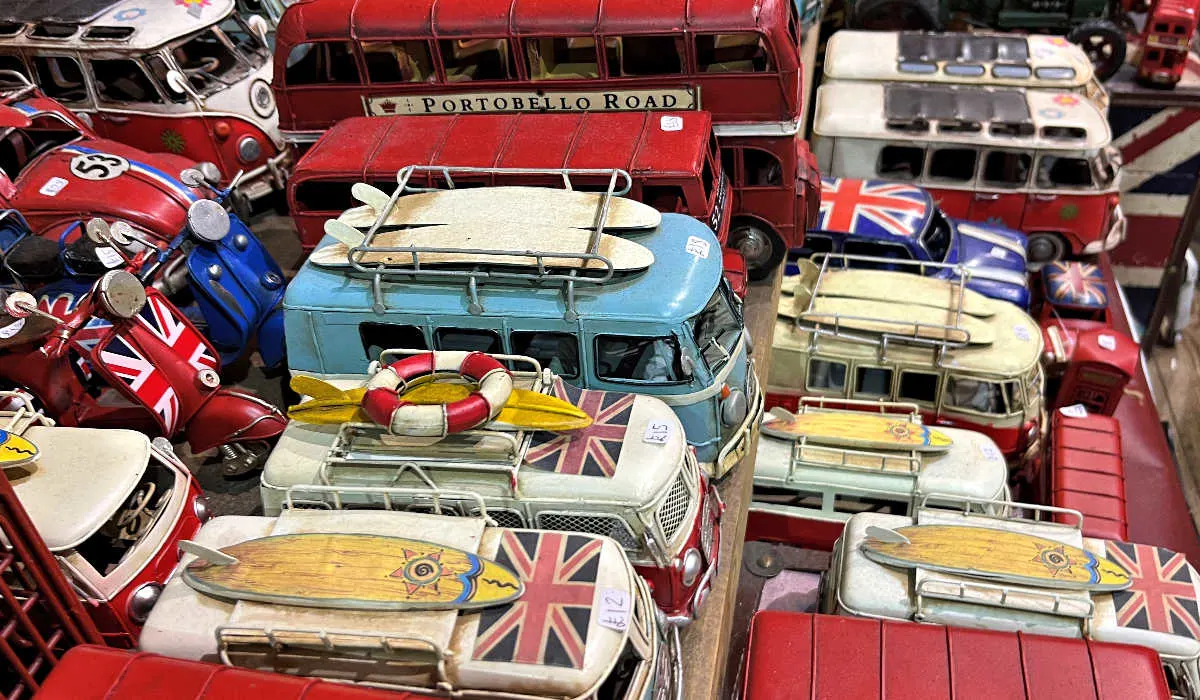 They make great gifts for older children, but adults will most likely enjoy them as a small statement piece in an office or on a mantle.
Camden Market is a great place to visit while you're in London, and there you'll find plenty of small vendors offering souvenirs. For the best selection, try to visit a few souvenir shops so that you find the bus that most appeals to you.
You'll find several options for miniature double-decker buses, so you may want to choose one that's a bit more retro, a different size, or even one that doubles as a piggy bank.
Contributed by Amber from Amber Everywhere
4. Marmite
Marmite is a classic British spread made from yeast extract and one of the nation's favorite condiments. It has an unmistakable strong taste – you either love or hate it!
Regardless of your opinion on this salty spread, Marmite makes an excellent souvenir or gift to take home from England.
Marmite was first produced in the United Kingdom in the late 19th century, and it quickly became a popular source of nutrients during World War I and World War II.
The process of making Marmite involves combining yeast extract with salt, vegetables, and spices. The mixture is then heated, concentrated, and packaged into jars.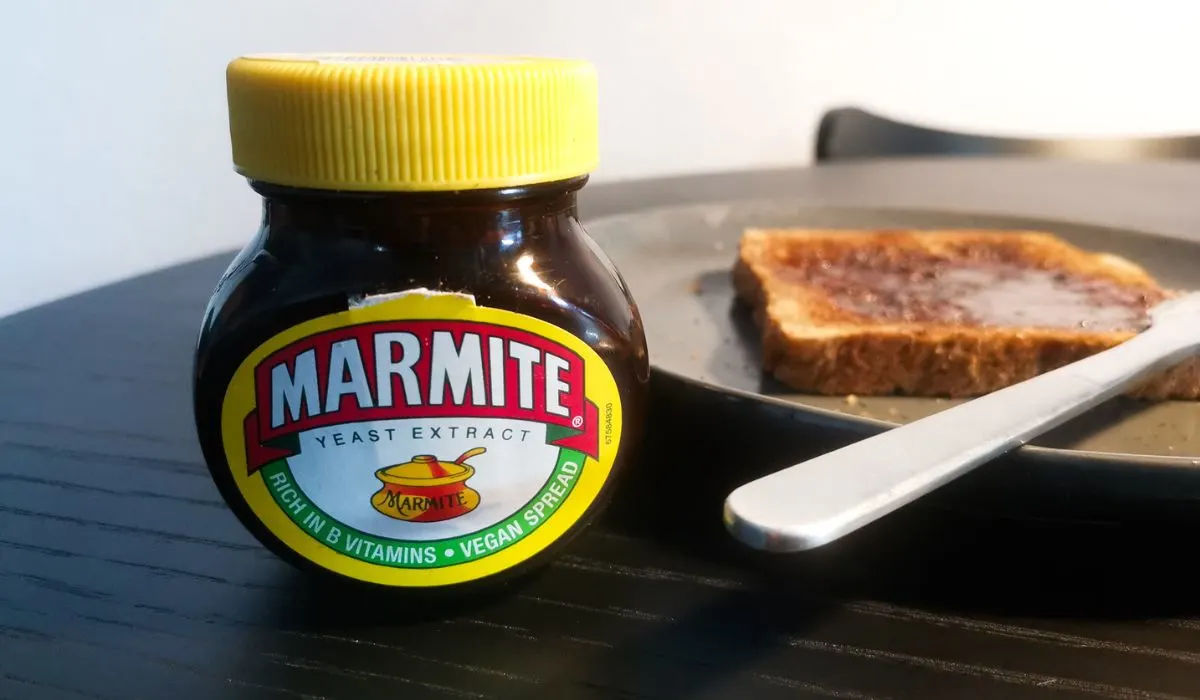 The resulting spread is high in vitamins and minerals, particularly B vitamins, and is often used as a nutritional supplement.
Traditionally spread on buttered toast, Marmite can also be used in various recipes, from pies and pastries to Marmite mac and cheese. You may even be able to find limited edition products like Marmite-flavoured chocolate or peanut butter if you dare to try them!
Marmite makes a great souvenir, as you won't find it in most other countries. Luckily, it's easy to find in England and is available in almost any supermarket (even smaller corner shops).
Contributed by Beth from The Train Diaries
5. Union Jack Umbrella
The United Kingdom might best be known for its historic sites, opulent palaces, and British castles, but it's also known for fog, rain, and overcast days.
So, what better way to reminisce on your British adventure than with a union jack umbrella? An umbrella is practical and always used.
You can choose from a domed design, a compact style, or a larger golf umbrella.
Instead of the traditional black umbrella, you'll sport one of red, white, and blue. Whenever you use it back home, it's bound to be a conversation starter.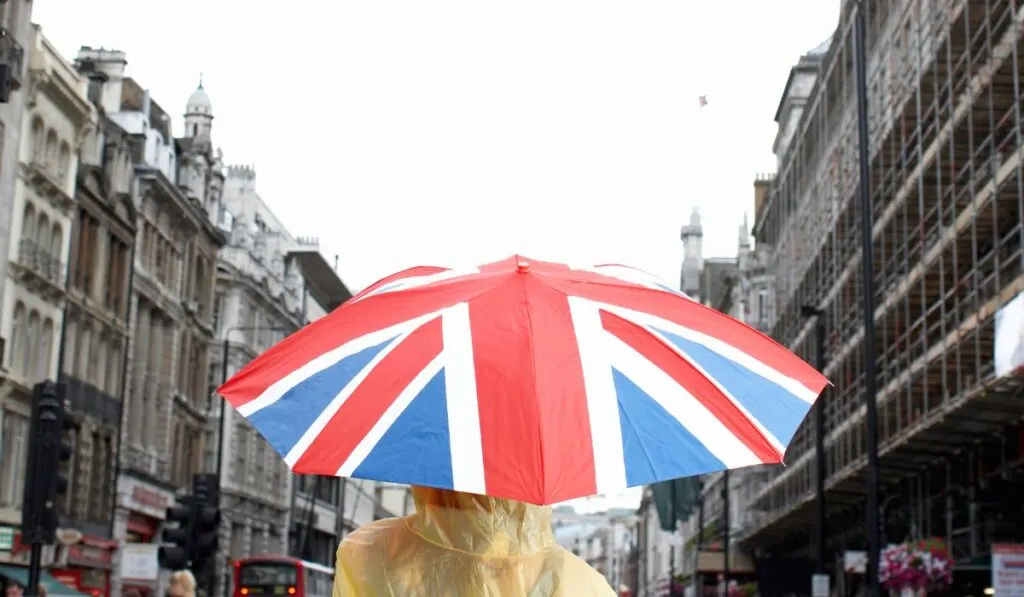 While most styles show the union jack on the outside, conservative dressers have another option. Van Buck of England and the English Heritage Shop makes a model with a plain navy outer cover and the union jack on the inside.
Dating back over 3000 years, the umbrella or parasol was a symbol of status. Today, the English often refer to it as a "brolly."
While union jack brollies are harder to find at souvenir shops, you can find the odd sidewalk stand that carries them.
Alternatively, purchase one at the British Souvenir Shop at Leicester Square, James Smith & Sons, or Harrods department store.
If you opt for the latter, you'll be paying a premium price for your red, white, and blue rain canopy. However, Harrods has a great souvenir shop, and it's the best place to do your one-stop shopping.
6. Shortbread
On your travels in England, you can be sure that at some point, somebody will serve you a shortbread biscuit alongside a cup of tea or coffee.
It is traditionally a dry biscuit made mainly from flour, butter, and sugar, but today you can also buy varieties containing chocolate, nuts, or dried fruit.
The biscuit is seen as typically English, but it comes from Scotland. It dates back to the 12th Century when it was made by sweetening leftover bread dough.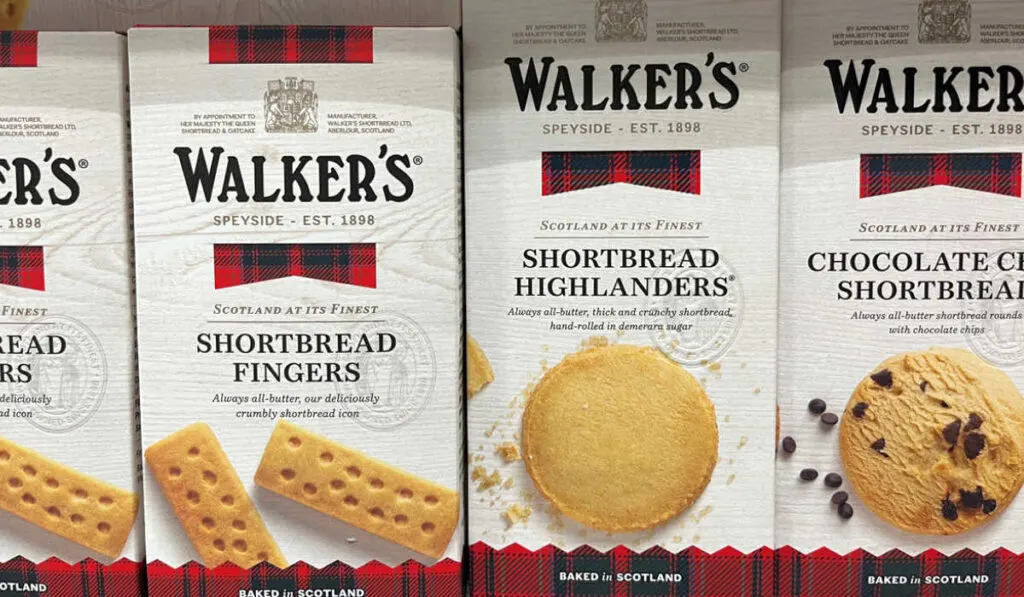 Over the years, the recipe has developed. When Mary Queen of Scots came to power in the 16th Century, her cooks are said to have used their skills in French cooking.
They made the biscuits much more similar to what we know of shortbread today. That is why she is often given credit for having invented shortbread.
Today most shortbreads are thick rectangular biscuits cut into the shape of fingers. However, the traditional form was a triangle shape from a large circle divided into segments or round biscuits. All of these shapes are still produced today.
As a souvenir from England, shortbread is perfect. It is inexpensive, lightweight lasts for a long time, and is easy to pack.
Every food store in England sells shortbread, such as supermarkets such as Tesco and Sainsburys, with more up-market varieties found in stores such as Harrods and Fortnum & Masons in London.
Contributed by Kristen from Scotland Less Explored
7. Teacups And Teapots
The best travel souvenirs are the ones that mean something to you, souvenirs with real and sentimental value that you will want to keep for years to come.
One of the best gifts you can buy to remember your time in England is a china tea cup set and/or a teapot. England is the land of tea, after all.
Rather than spend your cash at one of the many London souvenir shops selling the same cheap, kitschy objects, head to a flea market! London has several fantastic flea markets, the most popular being Portobello Road and Camden Market.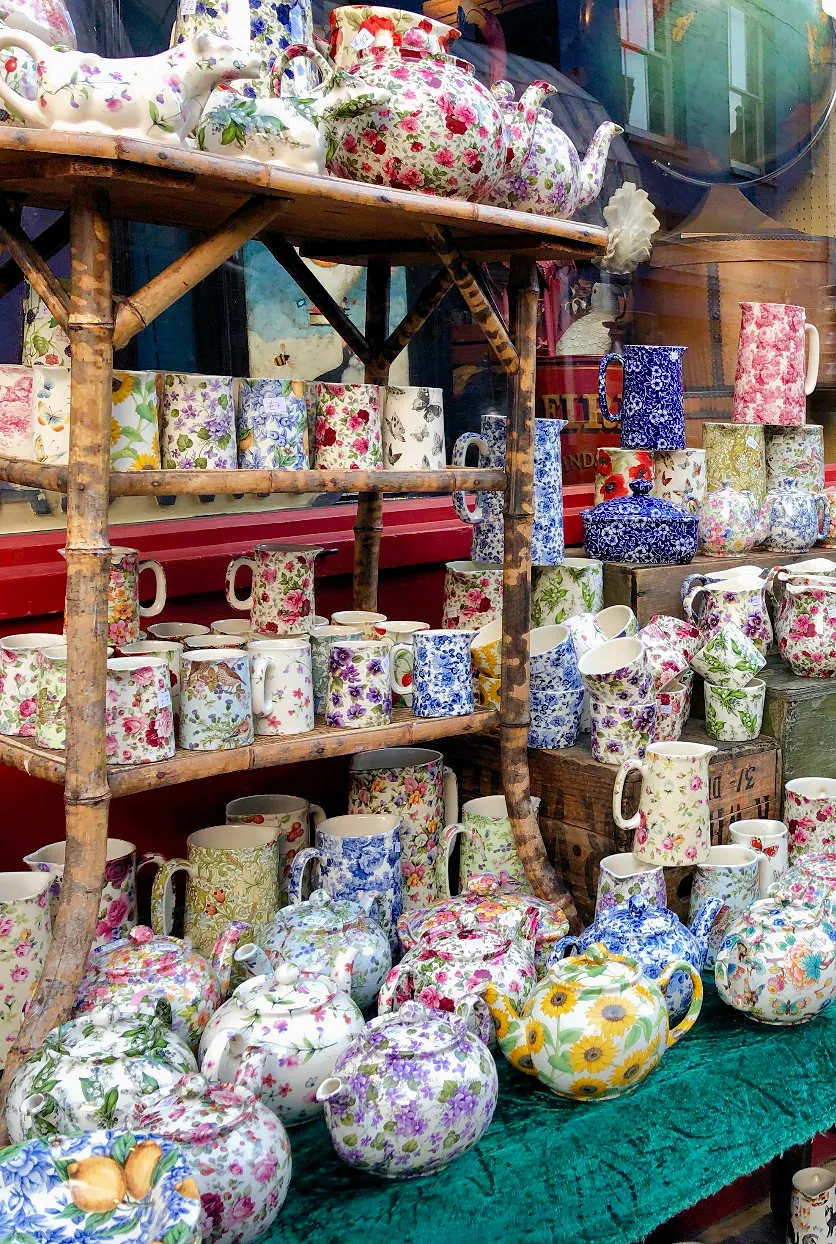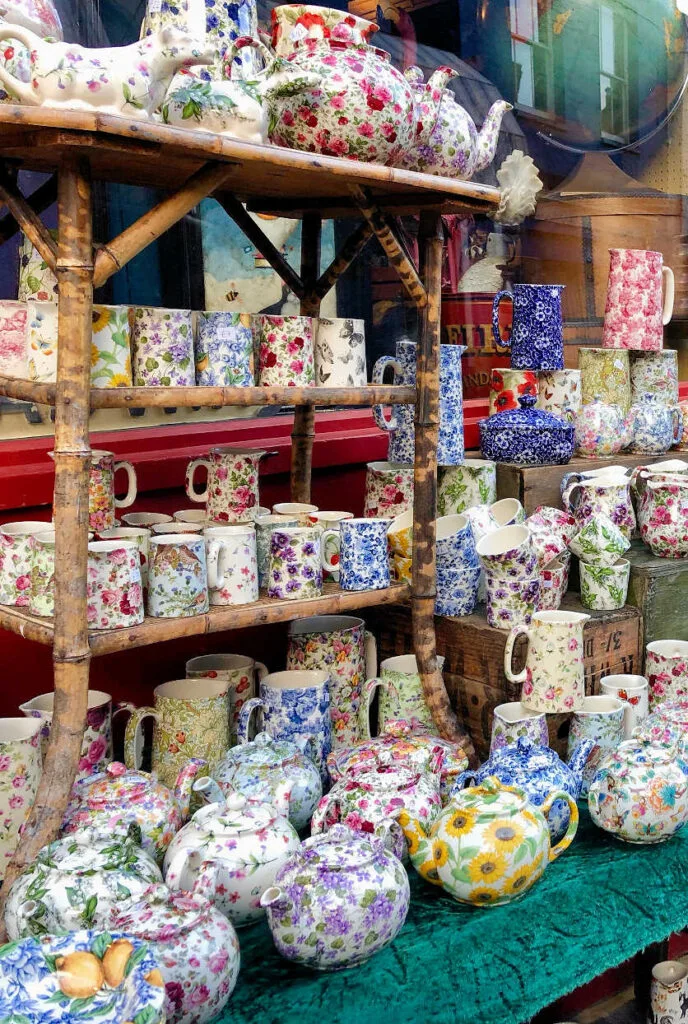 At Portobello Road, many individual vendors sell a wide assortment of teacups and teapots that will make the perfect souvenir. You will have a lot of fun hunting for just the right one.
There are also some brick-and-mortar shops on Portobello Road where you can purchase teacups and pots, most famously Alice's (as in Alice in Wonderland).
There's so much variety. You're guaranteed to find a unique teacup to suit your taste and remind you of your time in England.
It will be particularly meaningful if you've made time to have afternoon tea during your trip, such as the gorgeous afternoon tea at the Library in London.
One buyer's tip: If you're looking for a genuine English china teacup, check the stamp on the bottom to verify it's made in England.
Contributed by Constance from A Well-Read Wanderer
8. British Flat Cap
There's nothing quite as British as a flat cap. The flat cap has a long history dating back to 1571 when it was required by law in England. The British Parliament decreed that all males over six and non-noblemen had to wear wool caps on Sundays and holidays.
This law aimed to increase demand for wool, which was an essential commodity at the time. A fine of three farthings was issued to those who violated the law until the government repealed it 26 years later.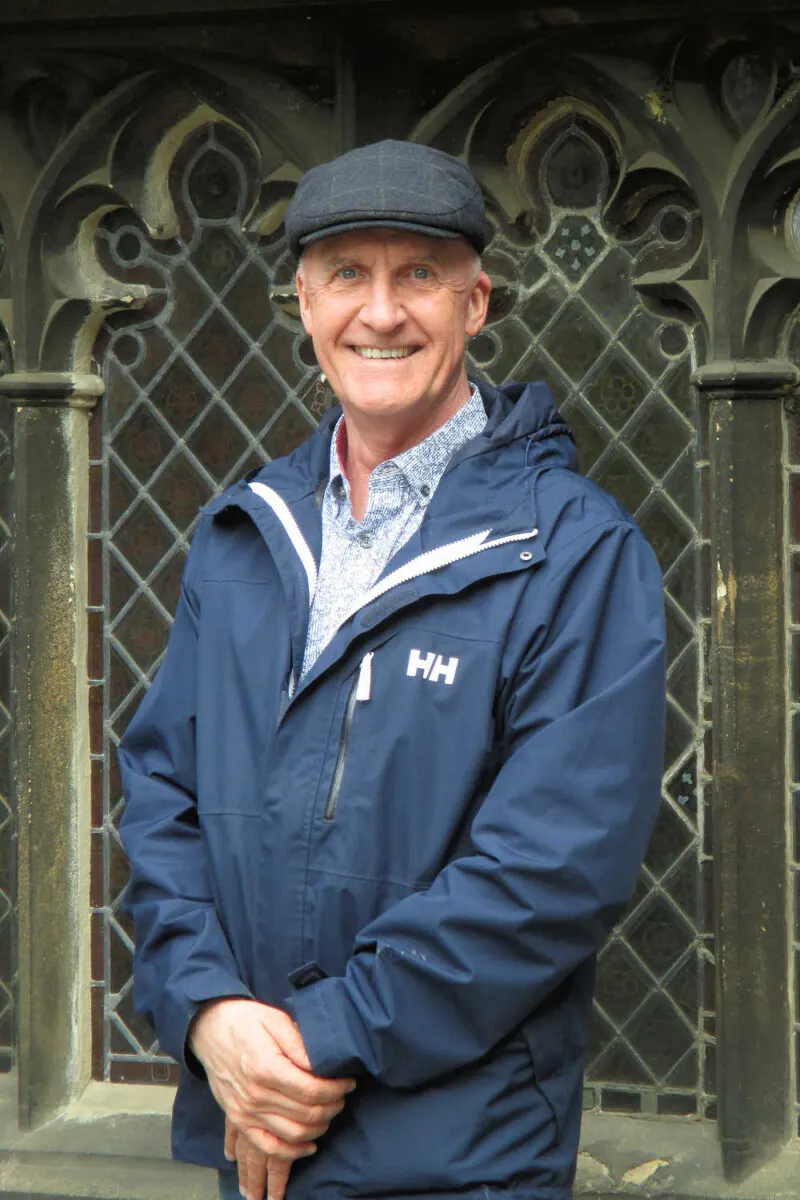 Throughout the years, flat caps have evolved and became an accessory to school uniforms. Today, the flat cap is considered a fashion accessory, worn for both style and practicality.
It's not unusual to see King Charles wearing a tweed flat cap when visiting Sandringham Castle. David Beckham is another celebrity who favors a British flat cap.
Despite its origins as a necessity, the flat cap became a fashion staple and a great item to dress up a pair of jeans. While you can buy one made of linen or silk, the most popular material is wool.
In London, you can purchase a tweed cap from Lock & Company, Laird Hatters, and Christys' of London.
9. Mince Pies
Mince pies are a traditional British food that is typically enjoyed during the Christmas season. The buttery pastry crust is filled with mincemeat, a mixture of dried fruits, spices, and sometimes a splash of brandy or rum.
In spite of the name, the pies do not contain any animal meat.
You will usually see mince pies in stores from the beginning of October through the end of the year. The mince pies are generally the size of a cupcake and are sold in packages of six. The boxes travel well, and the pies keep for a few months, so you don't have to eat them all at once.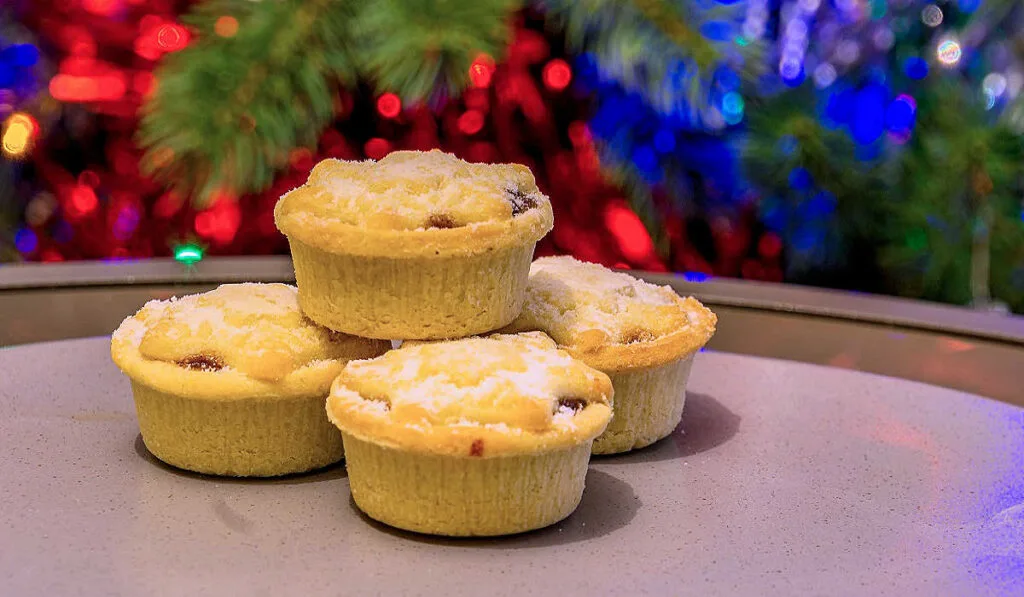 One of the best places to purchase mince pies is Fortnum & Mason, a luxurious department store in London that has been around since 1707.
They are famous for their high-quality food products, and their mince pies are no exception. Their mince pies may be more expensive than others, but they are pretty special.
Marks & Spencer is a great alternative for a more affordable option. They offer a wide range of mince pies at a much more reasonable price point, including gluten-free and vegan options.
Whether you buy them from Fortnum & Mason or Marks & Spencer, mince pies are quintessentially English and a tasty treat you can't get in other countries.
Contributed by Anisa from Two Traveling Texans
10. British Tea
What's more English than afternoon tea? Tea is an essential part of the culture in England and is one of the best souvenirs you can bring home.
One of the best things to do in England is to experience afternoon tea at a grand hotel, a local cafe, or a famous tea shop like Fortnum & Mason in London.
During your tea time, you'll be served a variety of savory and sweet treats. You'll enjoy classic scones with clotted cream, sandwiches filled with cucumbers and meats, and an array of desserts to finish. It's a fantastic way to try some delicious tea and taste a bit of England.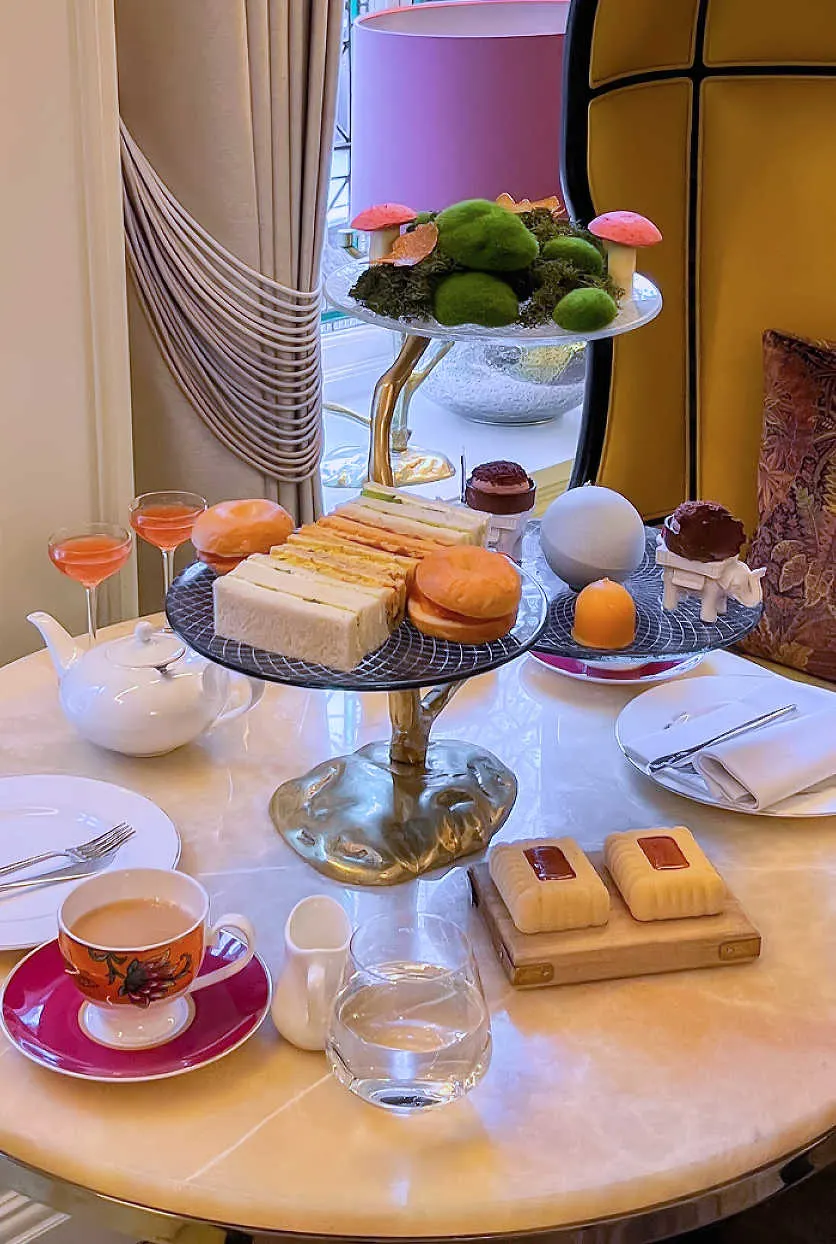 The most popular type of tea in England is black tea, which comes in various flavors. You may know the beloved Earl Grey tea, a mix of black tea leaves and bergamot, one of the most delicious and standard varieties of black tea.
The best place to buy tea is at a tea shop! You'll find tea shops everywhere in London especially. If you want to check out a more famous tea shop, stop by Fortnum & Mason or Twinings in London.
If you prefer a more local shop, then check out Postcard Teas or Tea2You, also in London. You can buy a variety of teas here, from loose-leaf teas to bagged teas and black tea to fruity teas.
Contributed by Jenoa from The Travel Folk
11. Whittard's Hot Chocolate
Souvenir shopping is a fun task, especially when perusing items that speak to the life of that city.
Fridge magnets and keychains make for easy gifts, but if you're willing to do some leg work, there are plenty of other unique souvenirs available. Sometimes spending above the fridge magnet budget can provide the most thoughtful gifts.
London has so much to offer in the realm of souvenirs, but it's an expensive city. Consider purchasing out-of-the-box gifts like Whittard's hot chocolate when traveling to London.
Whittard of Chelsea has been around since 1886, selling teas, coffee, and hot chocolate. They serve indulgence sprinkled with pleasure in a mug. Their hot chocolate has luxury written all over it – from the presentation, the boxing, right down to the taste.
When looking for a souvenir at one of their stores, go straight to their best-selling item, which is a gift box containing creamy white hot chocolate, rich hot chocolate, and a jar of pillow soft pink/white marshmallows.
Whittard's hot chocolate is a souvenir for the taste buds. The specialty hot chocolate can be purchased at a variety of spots across London. They have plenty of locations throughout the city, such as Oxford Street, Covent Garden, and near the Coppa Club igloos.
If hot chocolate isn't your cup of joy, consider exploring their range of coffee and tea blends for a full-circle experience.
Contributed by Ilakkiya from Wander Is Calling
12. Paddington Bear
Paddington Bear is often associated with English culture and is a beloved and iconic character in children's literature. A Paddington Bear toy makes a great souvenir or gift from England as he was a friend to the late Queen Elizabeth II.
Paddington Bear has been around for over 60 years and has become a symbol of English culture. Paddington Bear isn't only loved by people in England but by people all over the world. The storybook has been translated into over 40 languages.
So, giving someone a Paddington Bear book or toy as a gift is a great way to share a piece of English culture and literature with them.
Paddington Bear is cute and cuddly, making a Paddington Bear toy an excellent gift for children and adults alike.
If you want to purchase a Paddington Bear souvenir or gift, you can easily find them in London. Hamleys is a famous toy store in London known for its Paddington Bear merchandise selection.
Department stores like Harrods and Selfridges also carry a selection of Paddington Bear items. London also has many Souvenir Shops where you can find Paddington Bear souvenirs.
If you can't find any Paddington Bear souvenirs in shops, you can go to the Paddington Bear Online Store. The official Paddington Bear website has a store where you can purchase various items, including cuddly toys, books, and other merchandise.
Contributed by Catrina of 24 Hours Layover
13. Jaffa Cakes
One of the best souvenirs from England is definitely Jaffa Cakes. They are perfect to take for yourself or as a gift. Jaffa Cakes are delicious chocolate biscuits (although technically cakes, there was a literal lawsuit over this!) filled with sponge and tasty orange jam.
Jaffa Cakes make the perfect souvenir for lots of reasons. Of course, one of the best reasons is that they taste so good. Once you have tried them once, you will wish they were sold worldwide.
This is another reason they make a great souvenir; they are sold almost exclusively in the UK as British biscuit company McVitie and Price produces them.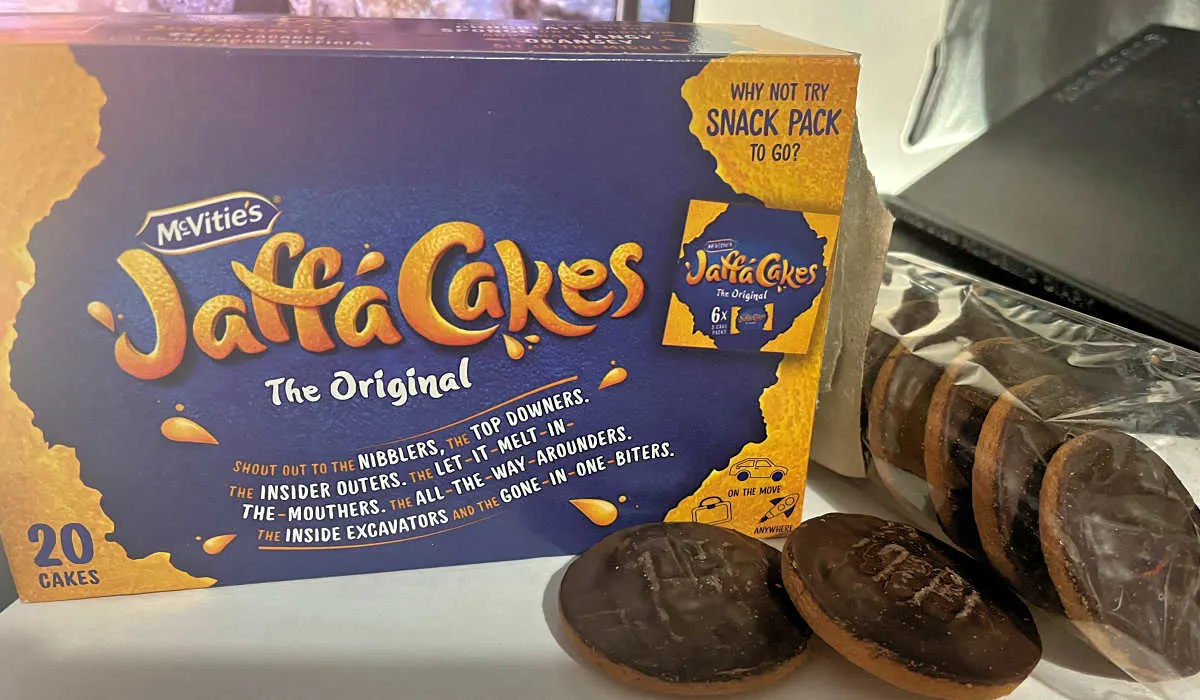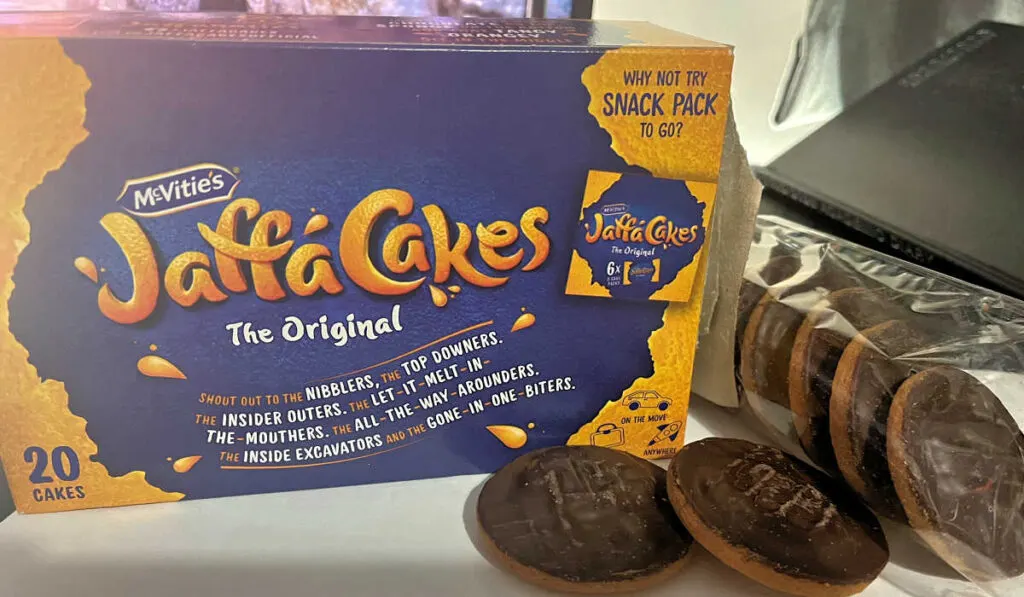 You can pick Jaffa Cakes up from any supermarket or store pretty much anywhere in England. Tesco, Asda, Sainsbury's, Lidl, etc., all sell Jaffa Cakes. The Brits love Jaffa Cakes; if you try one, you will understand why.
They are a simple treat but mouth-wateringly good. Surprisingly, they aren't more popular elsewhere in the world. But if you visit England, you have to try them.
Whether you have one day in London or a week in Liverpool, you NEED to try them. What better way than with a cup of tea, right? Once you have tried them, you will definitely want to take them home as a souvenir.
Contributed by Josh from A Backpackers World
14. Royal Family Merchandise
Memorabilia and collectibles of the Royal family are as popular today as they were centuries ago. Royal weddings, births, and even the death of the late Queen Elizabeth II signal the production of collectibles.
You can find everything from mugs and plates to t-shirts and trinket boxes. Some items are mass-produced, while others have limited runs. Wedgewood and Royal Doulton are popular brands that produce high-quality, limited-edition items.
Don't think traditional souvenir shops are only the place to carry them. If you browse antique shops or dealers in Portobello Road Market or Greenwich Market, you'll discover some treasured items from decades ago.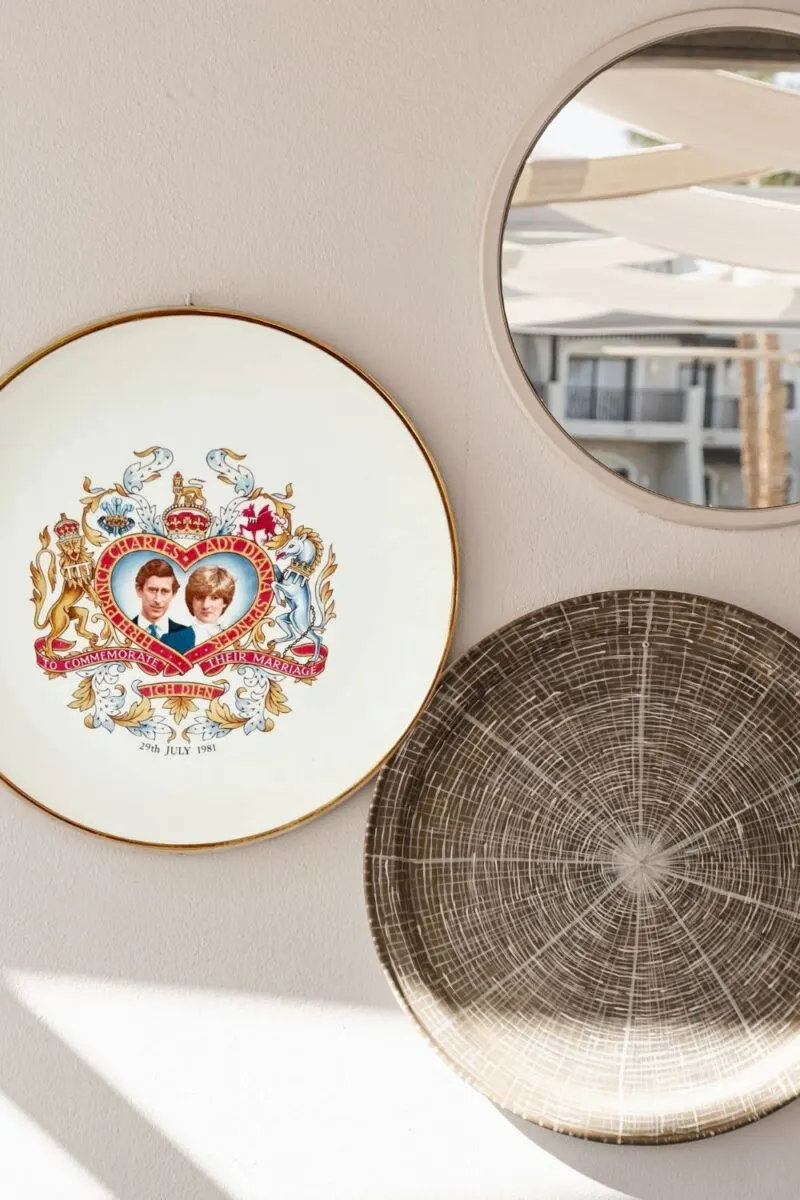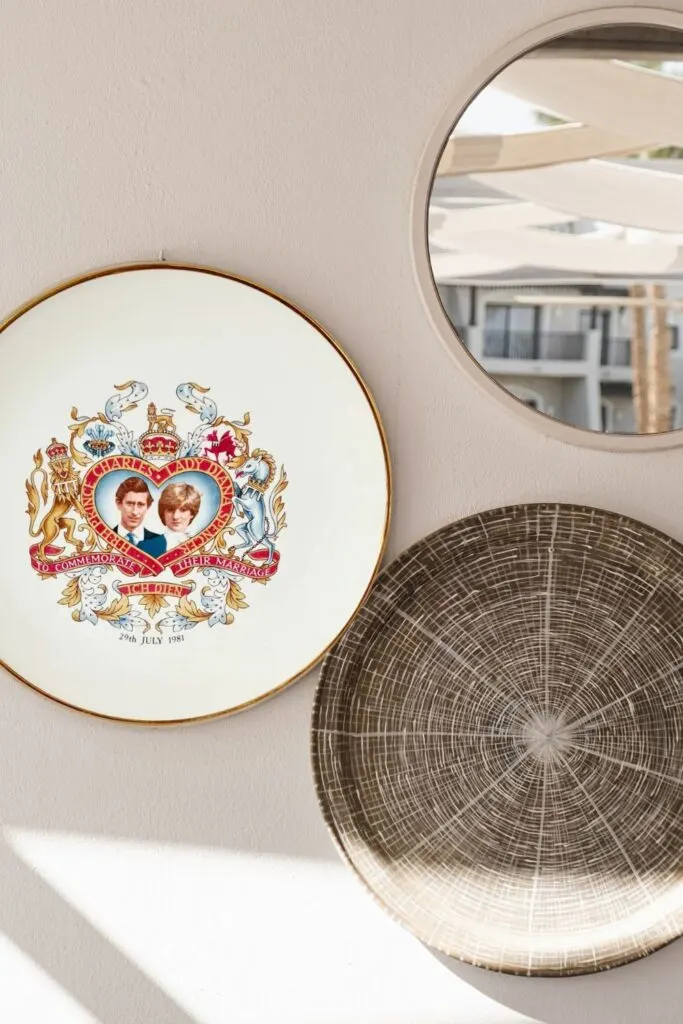 Even things from Queen Elizabeth's coronation are relatively inexpensive.
London attractions, such as the iconic Tower of London and Windsor Castle, also have gift shops with royal memorabilia. Royal merchandise is only an excellent item to gift others if you know they are royalists.
Otherwise, they'll consider it just stuff from England. So, if you're a royalist, pick up a souvenir of your favorite royal before leaving England.
15. Harris Tweed Handbag
Harris Tweed comes exclusively from the islands of the Outer Hebrides. It's made solely of 100% virgin wool. While made in Scotland, Harris Tweed products are readily available throughout the United Kingdom.
Once hand-dyed, spun, and woven into cloth, Harris Tweed is made into scarves, jackets, soft furnishing, and handbags. The fabric is warm, resists winds and weather, and is hard-wearing. It also comes in many beautiful colors.
A Tweed Handbag makes a fantastic gift for yourself or someone else. Because the fabric is hard-wearing, you'll enjoy the bag for many years.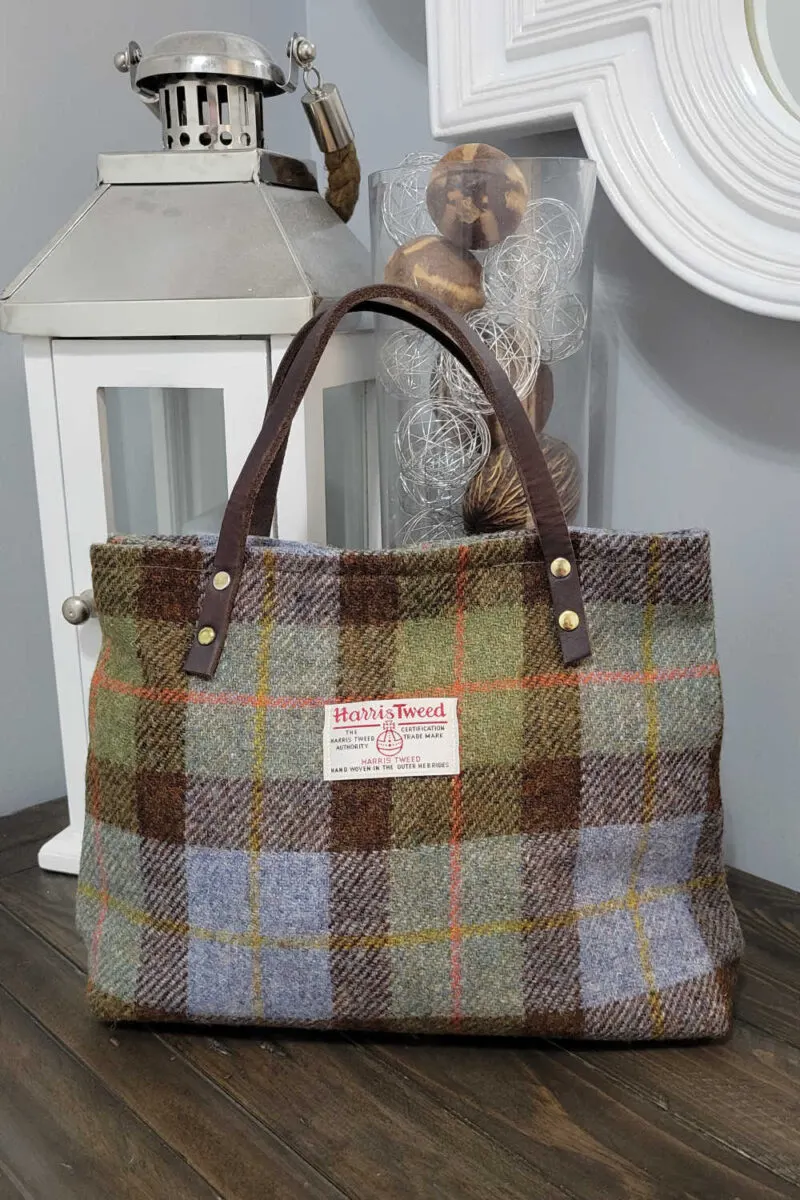 The most challenging choice is choosing the pattern. Handbags come in plain colors, tartans, checks, herringbones, and houndstooth.
You'll also need to decide on the bag style. So, choose from a satchel, shoulder, cross-body, tote, backpack, or weekend bag. Add a change purse or scarf to complete the look.
Harris Tweed is one of the most famous fabrics worldwide and is protected by a Parliament Act. Every fabric bears the mark of the Harris Tweed Orb.
In London, you can find a variety of bags at the Highland Store on Portobello Road. Around the country, you can find gift shops selling the bags in Cotswold destinations like Bourton-on-the-Water. Alternatively, Harris Tweed Shop has a fantastic online store.
16. Mind The Gap Mug
The London Underground dates back to the 19th century. Its intricate networks of tracks create a famous underground map featured on t-shirts and other British souvenirs. While the map merchandise makes a great London souvenir, there's another option.
If you ride the underground regularly, you'll become familiar with the iconic phrase "Mind the Gap." Since trains are straight and platform stations are curved, you'll often find an unsafe gap between the two.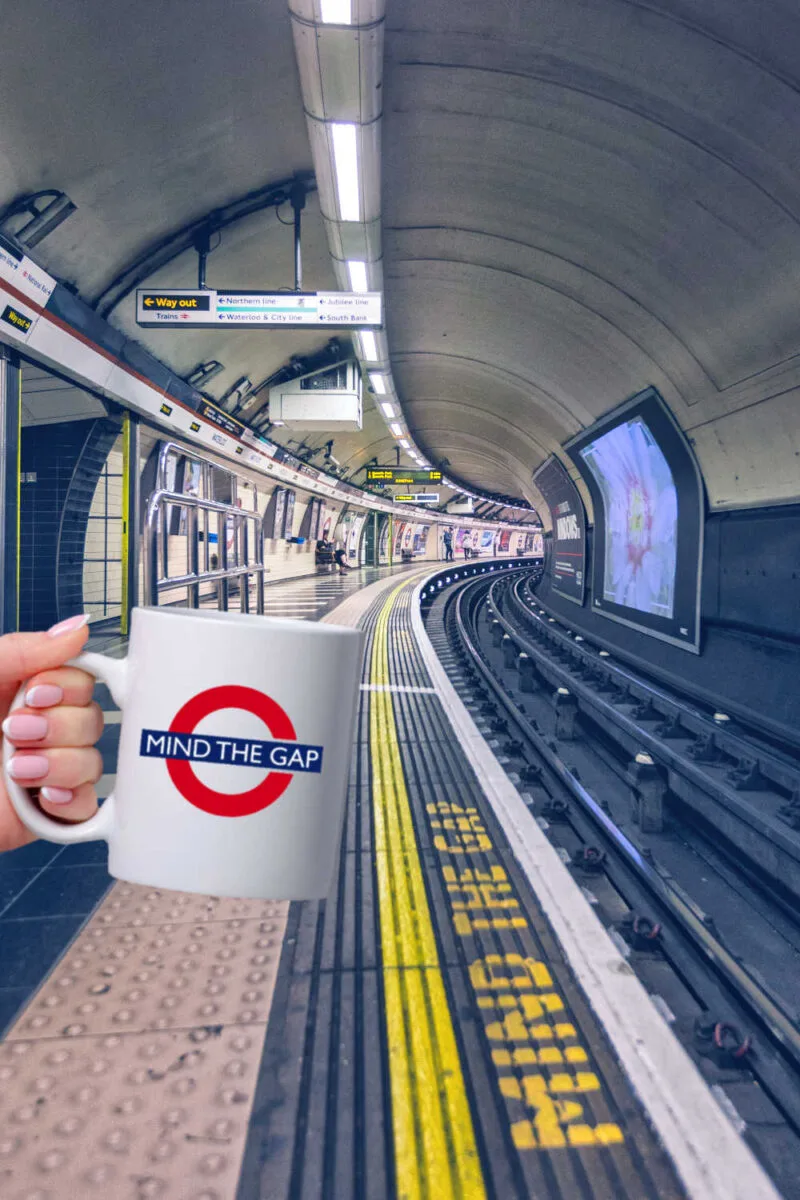 After a few trips on the tube, the mind the gap slogan will sit forever in your mind. So, why not purchase a coffee mug or other related merchandise as a reminder of your London commutes? "Mind the Gap" merchandise includes mugs, t-shirts, pillows, and coasters.
Due to the volume of ridership, the London Underground realized station workers couldn't warn all passengers of the impending danger. So, the Mind the Gap announcement was recorded by Peter Lodge, a sound engineer.
While passengers first heard the digital recording in 1968, it's still used today. Globally, metro stations use similar recordings and messages. However, Mind the Gap will always be the legendary phrase for London.
17. Harry Potter Items From Platform 9-3/4
For some great souvenirs and gifts to bring home from England, head to Kings Cross Station and check out the Harry Potter Shop at Platform 9 3/4.
The Harry Potter Shop is FULL of fun souvenirs and gifts that any Harry Potter fan would appreciate. Everything from Hogwarts house-themed clothing, robes, wands, bags, sweets, you name it!
If you're looking for something small that will travel easily, there are plenty of those options. Check out the jewelry, pins, and key chains. There are also pens and stationery that would easily fit into a carry-on bag.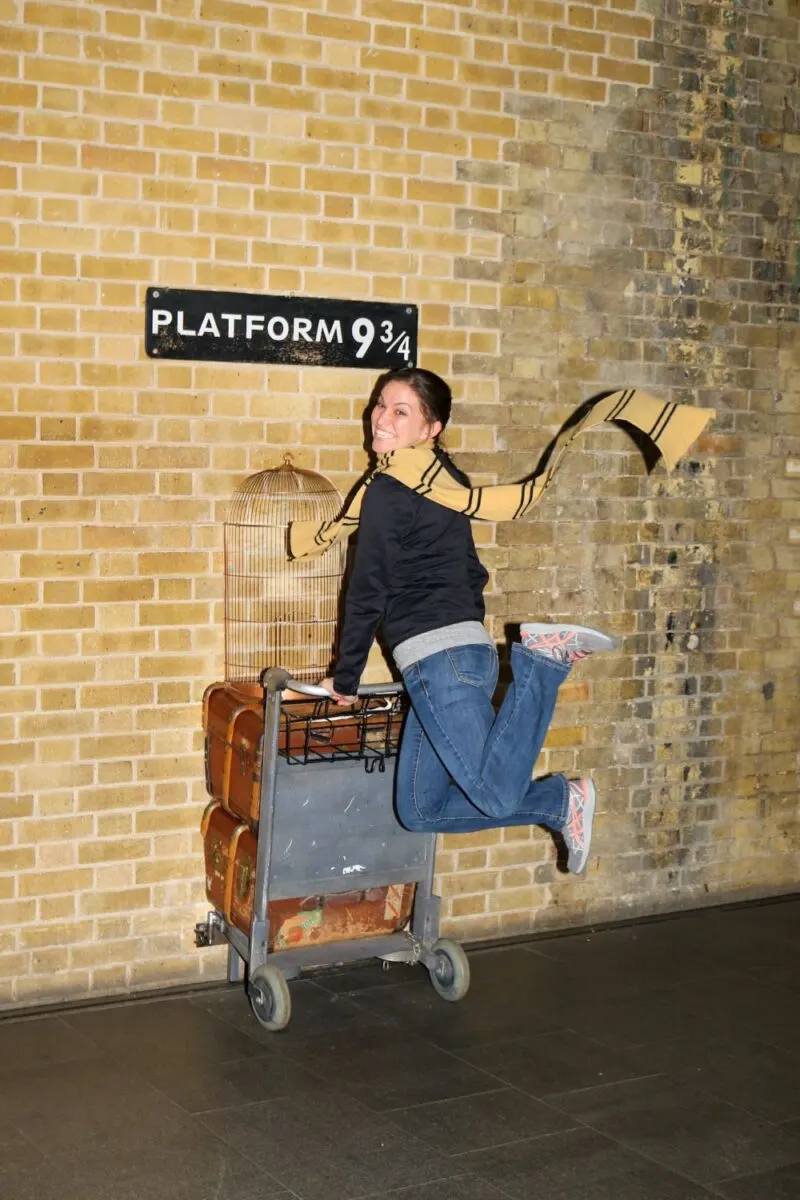 If you're looking for food-related souvenirs, the trolley offers a unique selection of sweets. Choose from chocolate frogs, Bertie Bott's Flavor Beans, Fizzing Whizzbees, and more. There's truly something for everyone at this store!
To find the Harry Potter Shop at Platform 9 3/4, look for the main departure/arrival screen inside Kings Cross Station.
To the left of that, you'll find a photo op set up with a trolley halfway through the wall at Platform 9 3/4. (Stop for a picture, of course!) To the left of that is the store.
Happy travels, and enjoy the treasures you'll find at the Harry Potter Shop.
Contributed by Chelsea from Adventures Of Chels
18. British Football Shirt
Football clubs are a massive part of British culture, but you don't have to be British to be a fan. So, if you prefer to pass on that union jack merchandise and be the envy of your friends, purchase a football shirt from your favorite club instead.
When looking to purchase, be aware of cheap knockoffs. Official football shirts come with a hefty price tag but are made with high-quality materials. Cheap copycats often have thin fabrics, which don't wear well.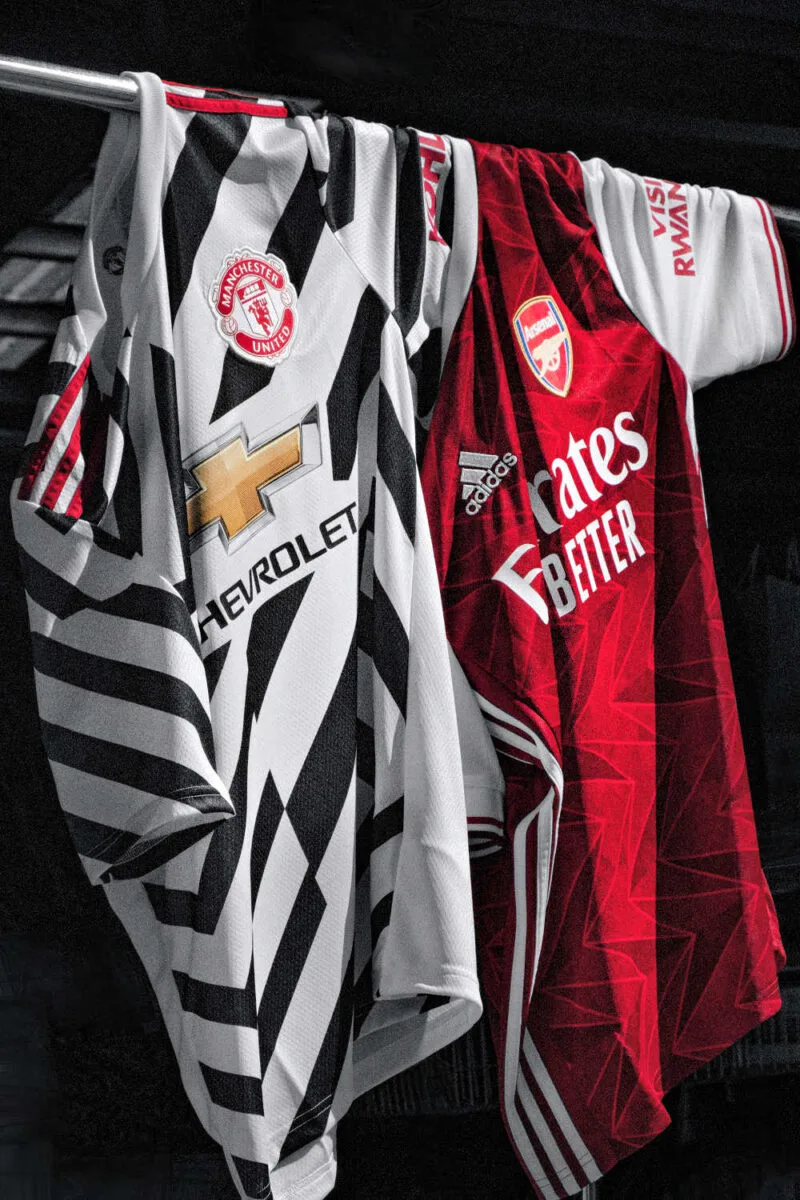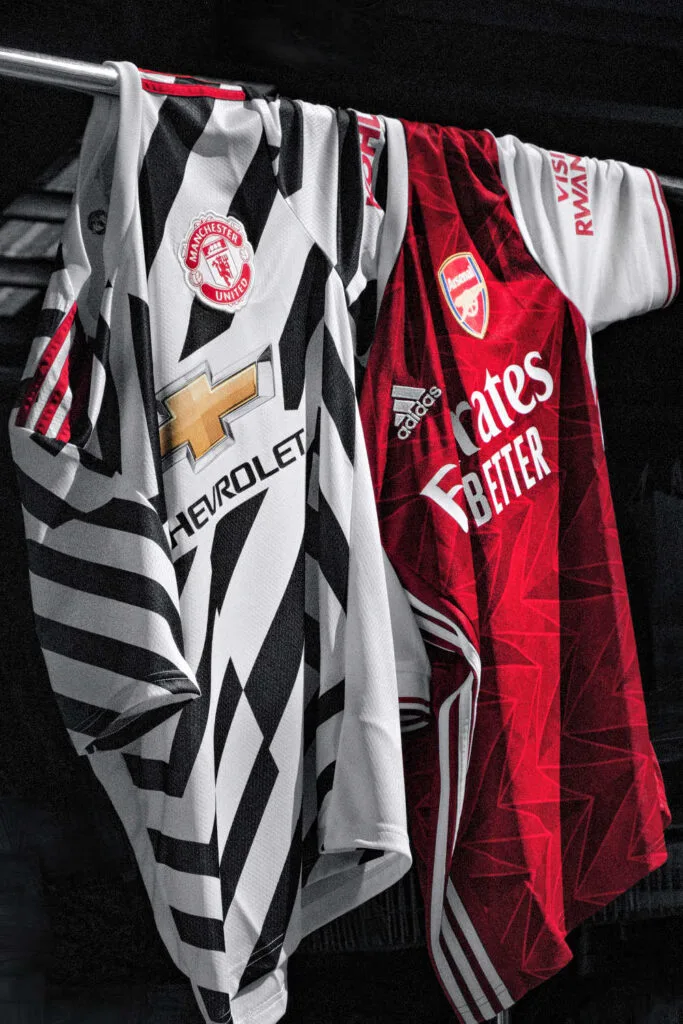 Wearing that football club shirt, hat, or scarf allows you to celebrate your team spirit, and a UK souvenir you'll treasure forever. Ones that are autographed command high prices. You can purchase your merchandise at the event if you attend a game
Around the country, big sports stores sell official merchandise. You can also buy online from Uk Soccer Shop and the England Store.
You don't need to wear your shirt if you're a number one fan. Why not frame it with a photo to preserve your jersey for years to come?
19. Sherlock Holmes Merchandise
When most people think of popular souvenirs from England, inexpensive magnets, keychains, and stickers come to mind. However, mementos aren't always associated with the country or bear its official flag.
Some souvenirs from the UK celebrate a character or person from that county. Think Mr. Bean, The Beatles, Dr. Who, and Harry Potter.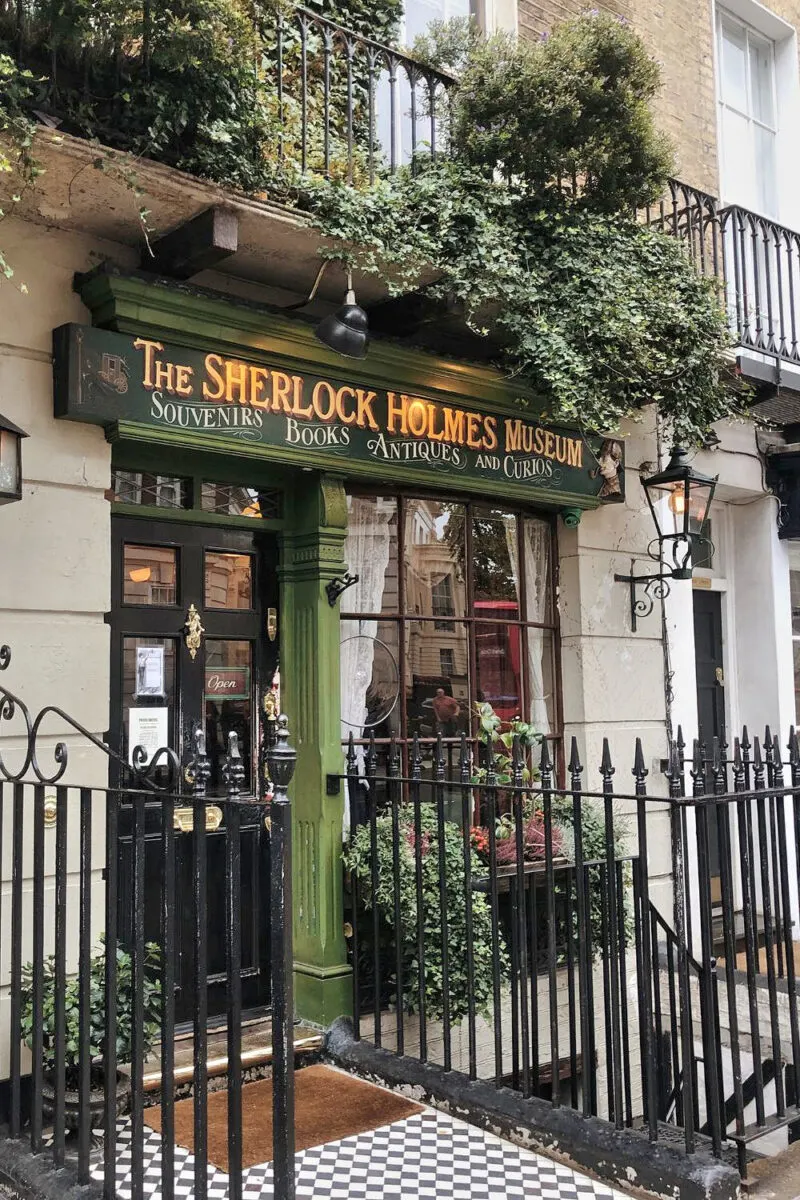 If you're a Sherlock Holmes fan, you must visit the museum at 221B – Baker Street. Inside the museum, you'll step back in time to reminisce on the literary character Sherlock Holmes.
As you browse the rooms, you'll see items from the Victoria era, including Sherlock's chemistry set. On the ground level, a gift shop offers a variety of Sherlock and Dr. Watson merchandise. For the kids, there's a great selection of sleuth gifts.
For the puzzlers, you can't go wrong with a book with riddles, escape room puzzles, or one entitled "How to think like Sherlock."
The Deerstalker hat makes an excellent gift for the man in your life. The signature hat was worn by Sherlock Holmes and is available in different weaves of wool tweed.
20. Souvenir Booklets
A trip to England often includes some sightseeing to iconic cathedrals, castles, and palaces. While you want to read every plaque or sign, it's often impossible to do so. So, if you're looking for what to buy in England, purchasing a brochure or booklet lets you catch up on the history when you get home.
Souvenir booklets make excellent coffee table conversation pieces and invite you to read. Some include in-depth history, which is only sometimes present at the place of interest. Larger, glossy formats may have aerial shots or photos of areas not accessible to the public.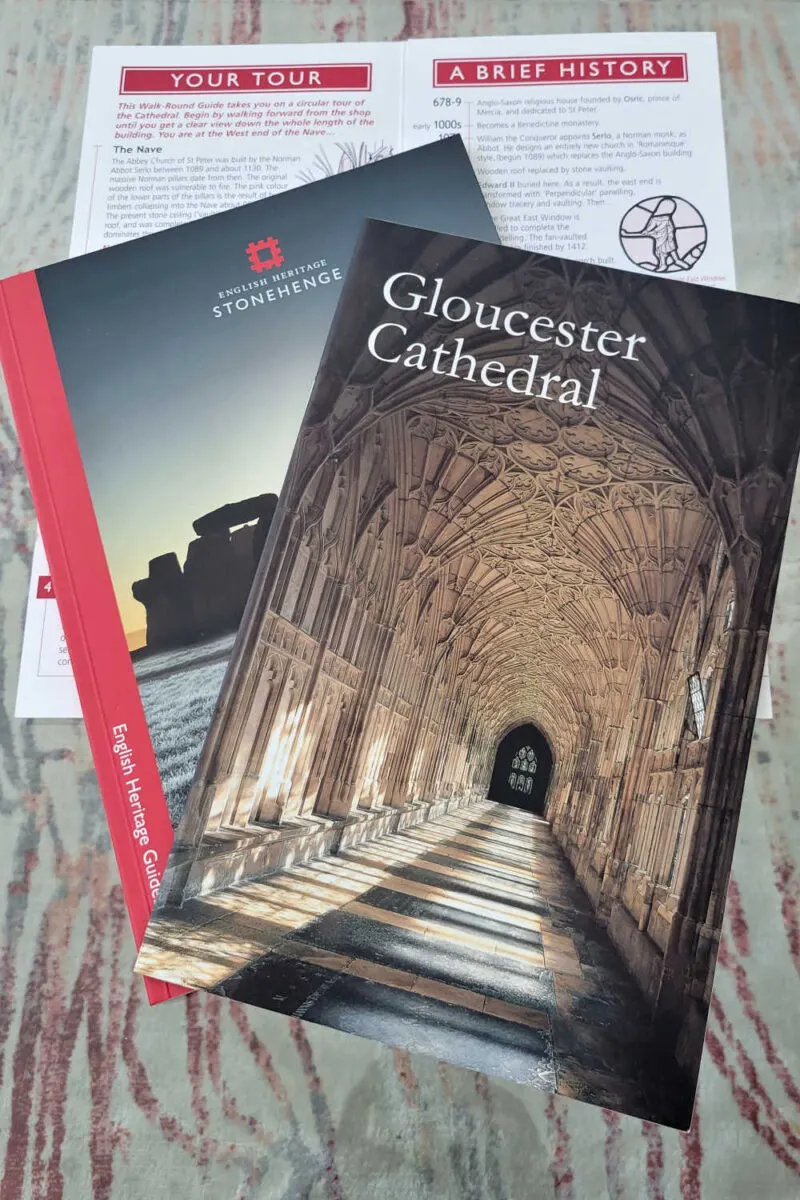 You can purchase brochures for adults and ones for kids too. The children's version often includes coloring pages, puzzles, and easy-to-read facts.
If you're visiting one of England's heritage sites like Leeds Castle, Stonehenge, or Tower Bridge, making a purchase supports the upkeep and restoration of the structure. It's money well spent.
The English Heritage guidebooks are especially lovely. They are inexpensive and filled will beautiful photos and information. English Heritage also produces a line of regional, walking, and cycling guides, so you can preplan your adventures in England.
Final Thoughts On The Best Souvenirs From England
The best London souvenirs don't have to be expensive or even purchased; they need to remind you of your trip or have meaning to the recipients.
Whether you buy food-related items, funny London souvenirs, or something with a British flag, it will remind you of your time in England.