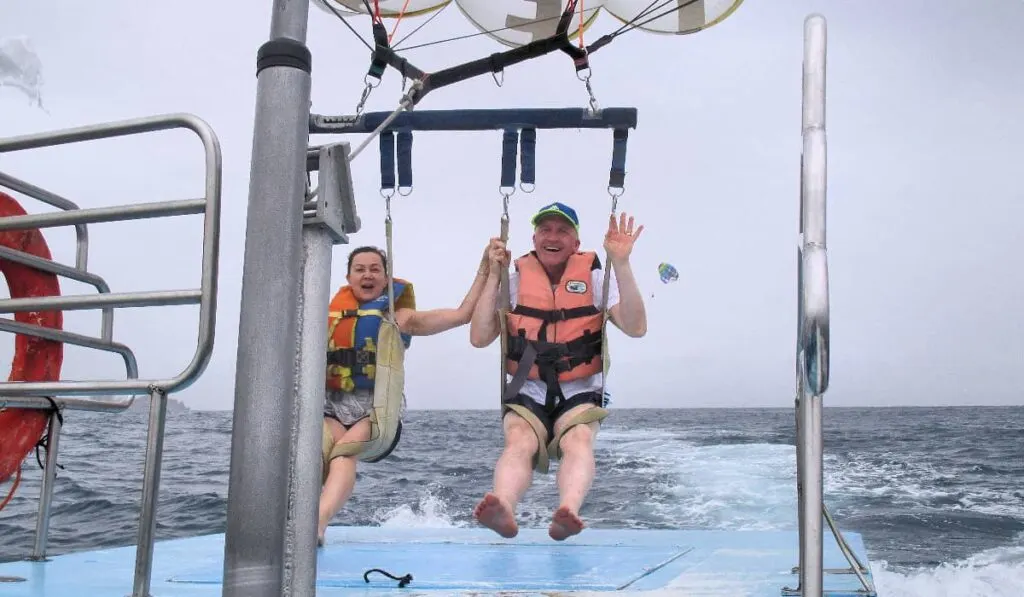 Parasailing in Cabo San Lucas is a popular activity, not only in Mexico but in most tropical places where there is water.
Depending on where you go parasailing, chutes are designed for single riders while some vendors offer tandem parasailing for up to three people. No skill is needed for this adrenaline rush excursion and the activity is family-friendly.
I remember the first time I took a parasailing excursion. I was sailing a Pacific coast Mexican cruise and wanted to try out this thrilling activity. My first stop was in Cabo, on the tip of Baja California Sur.
As my cruise ship pulled into the bay, I could see several parasailing boats circling the waters. I was immediately captivated at the thought of flying high in the sky, and over Medano Beach and the picturesque Arch at Land's End.
While Cabo offered a variety of outdoor activities and water sports, parasailing was high on my bucket list. One thing I quickly learned was that parasailing is dependent upon wind conditions.
Parasailing requires some light winds to lift the parachute; but if it's too windy, the activity is canceled. The Cabo San Lucas weather didn't co-operate for me that day, so I could not go parasailing in that cruise port. However, I was able to remove parasailing from my bucket list in Mazatlan.
Read some reviews if you plan to book in advance. In Cabo, there are plenty of tour operators on the beach in front of the Cabo San Lucas hotels. Alternatively, tours can be picked up last minute in the Cabo San Lucas harbor area.
Parasailing Prices
If cruising to Mexico, don't book a parasailing excursion through your cruise line. They will typically charge you around USD 150 per person, and use the same shore operators.
Mexico is by far the cheapest place to participate in parasailing and there are numerous merchants trying to sell you this exciting activity. Parasailing deals are available if you negotiate with the vendors. This is Mexico, after all, and most people expect a little haggling.
Don't expect to find any parasailing coupons for such an activity. Parasailing rates are negotiable, so just bargain with some vendors to find a price that works for you.
If you're undecided about participating and want some information, don't be afraid to ask questions. Parasailing cost varies by area. I found Los Cabos parasailing to be the most expensive, with vendors asking for more than USD 70 per person.
I can understand why they can command the higher prices given that we enjoyed panoramic views of the famous Arch.
In Mazatlan, I was able to go parasailing on the beach for a mere USD 40, and the flight time was three times longer.
Parasailing In Cabo San Lucas From A Boat
The most popular way to parasail is from the back of a boat. Brian and I took a tandem flight in Cabo San Lucas, on a cloudy day. A small boat ferried us from the beach to the parasailing boat out on the water.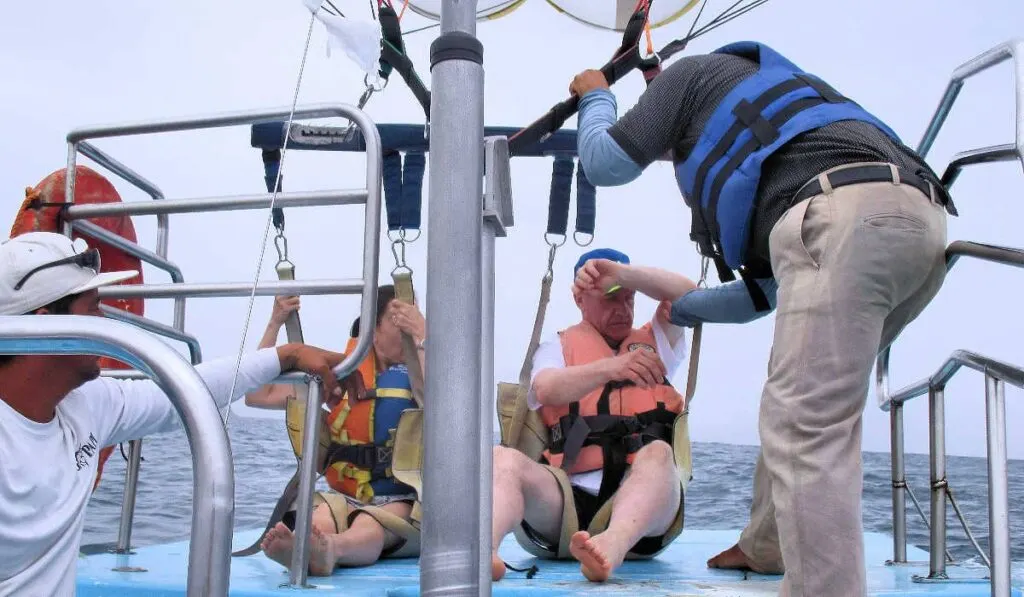 The experienced crew gave us a short safety briefing on the entire parasailing process. As with any water activity, it's best to wear comfortable clothing, or shorts and a t-shirt; or something that can get wet.
While you're not supposed to go in the water, there is a chance you'll touch the water on take-off. We had to remove our footwear as well as anything loose from our pockets. It's advisable not to wear a hat and only wear sunglasses if they have a safety strap.
A GoPro camera is allowed, but it's best to have a safety strap that is securely attached to your wrist. Should you have a cellphone or non-waterproof camera, it's advisable not to take these unless you have a waterproof cellphone pouch, which you can wear around your neck. Saltwater and cameras don't go well together!
Since we did not have a waterproof camera, we left our cameras on the boat, and a fellow passenger took our photos. Some tour operators have a GoPro attached to the rope which takes shots during the flight.
Most tour companies have a maximum weight limit. The minimum weight was 110 lbs. for single riders. Doubles and triples had a maximum of 360 lbs. The weight limit varies from company to company and rarely do three people fly unless there's a child.
The Parasailing Gear
During our parasailing tour, it was mandatory to wear life jackets. We were then strapped into a heavy-duty parasailing harness that was attached to a parachute and tethered to the boat. The parasailing harness allowed us to sit rather than hang from the chute.
After take-off, we weren't required to hang onto the ropes. Once our tour guide gave us the thumbs up, the winch was unwound, which released the rope slowly. That's the moment when we flew up into the sky.
The winch allowed the line to slowly unwind until we were about 500 feet in the air. Let me tell you, the aerial views were spectacular, and it was incredibly peaceful high in the sky.
The duration of a parasailing flight is approximately 10 minutes. While this seems incredibly short, it's still enough time to appreciate the spectacular views of Land's End, Medano Beach, and the Pacific Ocean.
For us, it was an incredibly romantic experience, holding hands while flying high over Cabo San Lucas Bay. In the distance, we could see Lovers Beach and our cruise ship anchor in the bay. Obviously, flight times vary by area and the number of people who want to participate.
Once our dose of excitement was over, the boat staff used the winch to slowly pull the rope in, and we descended to the boat deck. We were unharnessed from the parachute, and the next riders were harnessed up to take their turn.
Parasailing On A Beach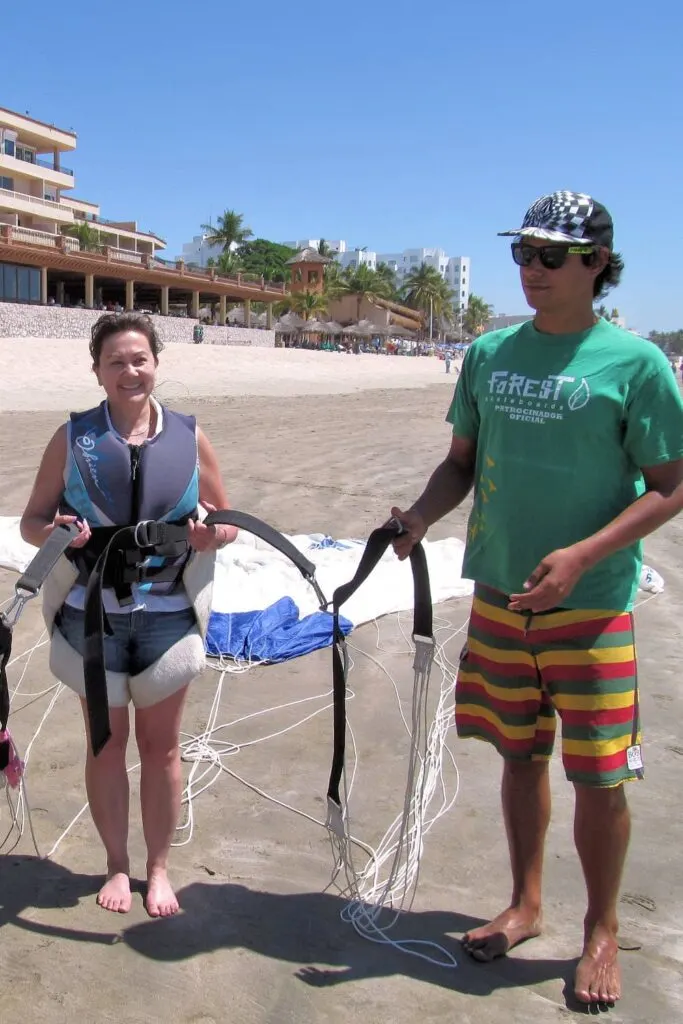 During my first parasailing tour in Mazatlan, there was no winch on the back of the boat. Instead, I was tethered to the boat with a very long rope. As the boat pulled away from the beach, I took a few steps and immediately flew into the air.
Seeing as there was no winch, I had some concerns about how I was going to come down at the end of my ride. They assured me that the boat would slow down, come close to the beach, and I would slowly float down.
The rope that tethered me was extraordinarily long, and although I flew about 500 feet high in Cabo San Lucas, in Mazatlan, I seemed to fly twice as high. Is parasailing scary? No, not for me.
I was mesmerized by the fantastic views of the entire city. Being so high, I could no longer hear anything on the ground below; just the sound of the wind whistling so gently.
After circling the bay for what seemed like forever, it was time to come down. As the parasailing boat neared the beach, I began to float down ever so slowly.
At under 100lbs, I assumed I didn't have enough weight to bring the parachute down because I drifted for a very long time.
I began to wonder what would happen if I didn't reach the ground as there was no winch to pull me in. However, after an extended period, I finally landed softly on the beach.
Is Parasailing Safe?
Like anything you do in life, there is a risk of injury or worse. However, the risk is small, providing you take your tour with an experienced operator.
There are no safety standards when it comes to parasailing in Mexico. Most of the injuries or deaths are due to operator error or poorly maintained safety equipment.
Do not take this excursion if the weather conditions are not right, the equipment looks old, and there is no safety briefing. Most of the accidents are due to the tether breaking or the lines crossing with another parasailer.
During our tandem parasailing excursion in Cabo San Lucas, we noticed a nearby boat was slowing down and attempting to maneuver its flying passengers onto the front of another boat. The act looked extremely dangerous, and I questioned our guide as to what they were doing.
It turns out the winch had broken, and they were unable to pull them back to the boat. Their attempts to land them on another boat failed, and they were forced to drop them into the ocean. I was thankful we had completed our excursion before we witnessed this.
Companies Who Offer Parasailing In Cabo
Here are some parasailing tour operators in Cabo San Lucas, Mexico.
Happy Flights Cabo Parasailing, F Dock, Centro, Marina, daily 9 am to 5 pm.
Cabo Expeditions, Blvd. Marina s/n Plaza de la Danza Local 6 Centro, Marina, daily 8 am to 5 pm
Aries water Sports, Arroyo, Puente Salto Seco, daily 10 am to 4 pm
Cabo Parasailing Sky King, Finisterra a1, Centro, Marina, daily 8:30 am to 5 pm
Overall Tips For A Safe Parasail
If you plan to take an adventure parasail excursion, try to book in the morning. The weather is generally calmer before noon, and your tour is less likely to be canceled. Earlier tours often compete with less boat traffic on the waters too.
Check the weather for storm warnings. Don't fly in fog, rain, or stormy weather.
Book with a reputable parasailing provider.
Do not go if the equipment is old or looks worn out.
Make sure there's a safety briefing and know what to do if something goes wrong.
Only go parasailing in an area of open ocean. Avoid areas with rocky terrain.
If you're a little nervous, don't go alone. Try tandem parasailing instead.
Avoid parasailing if you have a fear of heights.
Don't go if there are too many operators and they aren't keeping their distance from other parasailers.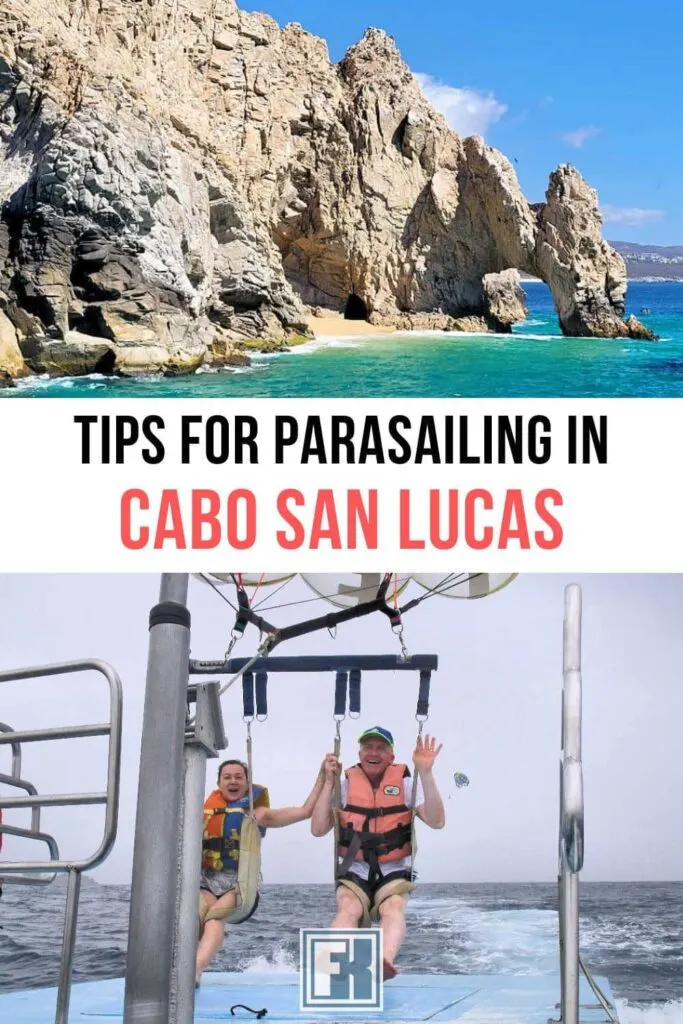 While I went parasailing in Cabo San Lucas and Mazatlan, you can go parasailing in Cozumel, Cancun, and many other places. If you're looking for things to do in Cabo San Lucas, consider whale watching, some water sports activity, or deep-sea fishing.
If you're visiting in the winter months, a Cabo whale watching excursion is magnificent as whales breach frequently.
While parasailing isn't for the faint of heart, with jaw-dropping views of Land's End and the Pacific Ocean, you'll forget you are hundreds of feet in the air.
Happy travels ~ Karen