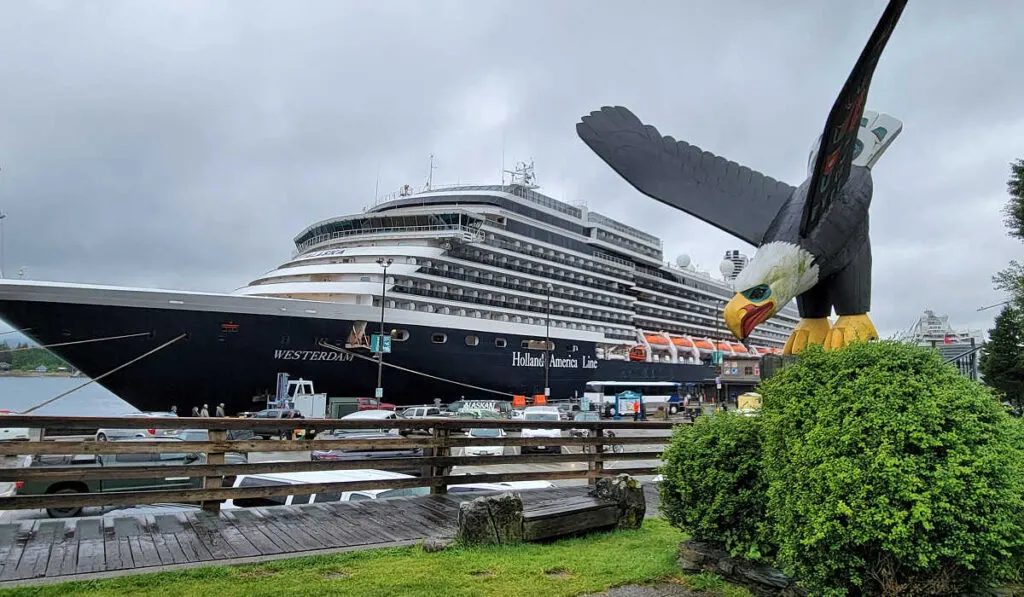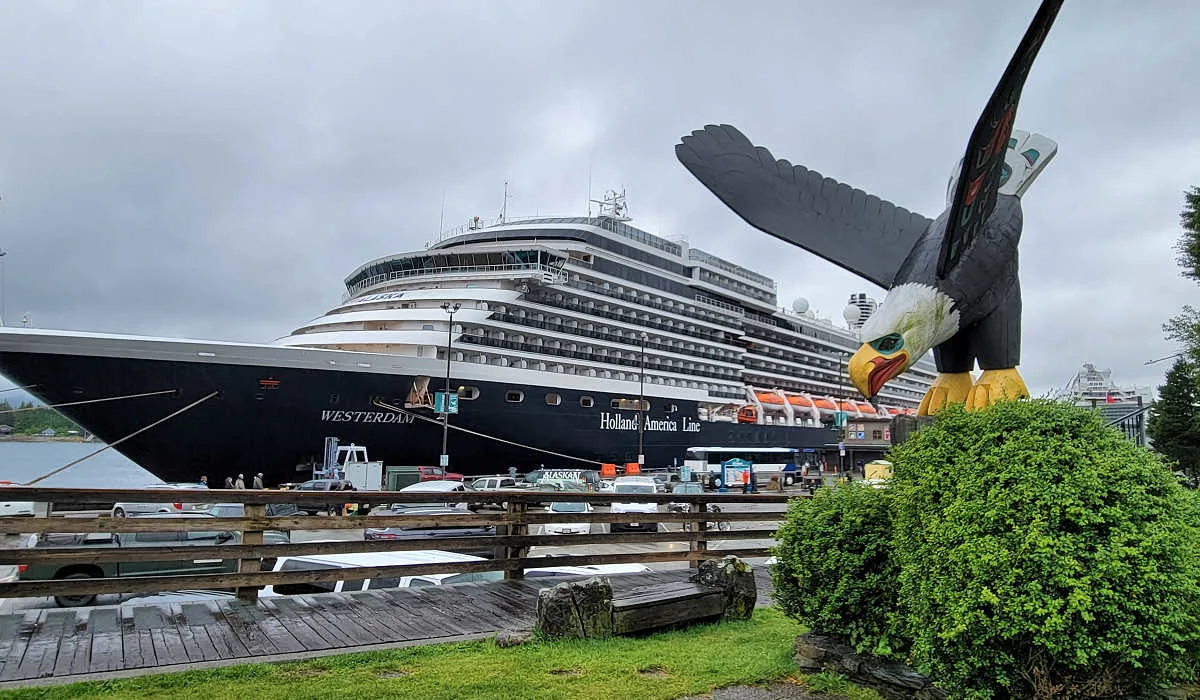 If you're cruising on an inside passage Alaska cruise, chances are, you're stopping in Ketchikan. It's the most southeastern town in Alaska, and the Ketchikan cruise port can accommodate four cruise ships.
If more vessels are scheduled on a given day, the cruise passengers need to tender.
Ketchikan is known for a few things. It has the world's largest collection of totem poles, its sign claims it's the salmon capital of the world, and it's one of the rainiest cities in the Americas.
So, you'll want to prepare for a visit with a raincoat, waterproof footwear, and a compact umbrella. Since 140+ inches of precipitation fall over 235 days, you could experience sunshine of the liquid variety.
Where Do Cruise Ships Dock?
Cruise lines dock their ships in front of the Ketchikan visitors bureau downtown. Next to it, a rainfall gauge shows the precipitation for the year compared to the record. It's a short walk to Ketchikan Creek, Creek Street, and many of its popular museums.
If you choose not to purchase a tour in Ketchikan, you can do a self-guided walking tour and enjoy some retail shopping. The town of Ketchikan is relatively compact and easy to navigate on foot.
You can enjoy seeing the historic buildings, getting a selfie at "The Rock" statue, and chowing down some seafood at the Alaska Fish House.
If you want to explore further, Lyft and Uber are available in Ketchikan.
Ward Cove
If you've booked with Norwegian Cruise Line, their ships go to a new dock in Ward Cove, away from the port of Ketchikan. However, you can get a complimentary shuttle which takes 20 minutes to reach the downtown area.
Both Wave Cove and Ketchikan are on Revillagigedo Island, which is separated from the rest of mainland Alaska.
Shuttles run every 20 minutes, but you'll need to know the last bus back to Ward Cove. If you have limited time in the port, the shuttle ride back and forth cuts into your port day and can factor into what you do in Ketchikan.
However, here are some shore excursions and things to do in this popular cruise port.
1. See The Totem Poles
In Ketchikan, totem poles are scattered amongst different venues, but you don't need to travel far to see them. At Whale Park (corner of Mill and Bawden Streets), you can see the Chief Kyan pole.
Further down the street, the Chief Johnson Totem Pole has become one of the most photographed totem poles in the city, maybe even the world.
Across the Stedman Bridge, you can find the Sun Raven Totem pole, and outside the Cape Fox Lodge, the Council of the Clans Circle welcomes visitors.
A little further away, although still walkable, the Totem Heritage Center has some beautiful 19th-century Haida and Tlingit poles and a collection of native artwork.
South of Ketchikan, you can watch a master carver work on a totem pole in Saxman Village. The Saxman Totem Park is in a beautiful setting surrounded by the Tongass National Forest.
Here, you can immerse yourself in the culture of the native ways and learn how they preserve their heritage through their carvings.
If you dock in Ward Cove, you're closer to Totem Bright State Park. The 33-acre park has 14 totem poles spread around the grounds, which offer exceptional scenery. The park has an honor system for entry and suggests a USD 5 donation.
2. Take The Crab Fishermen's Tour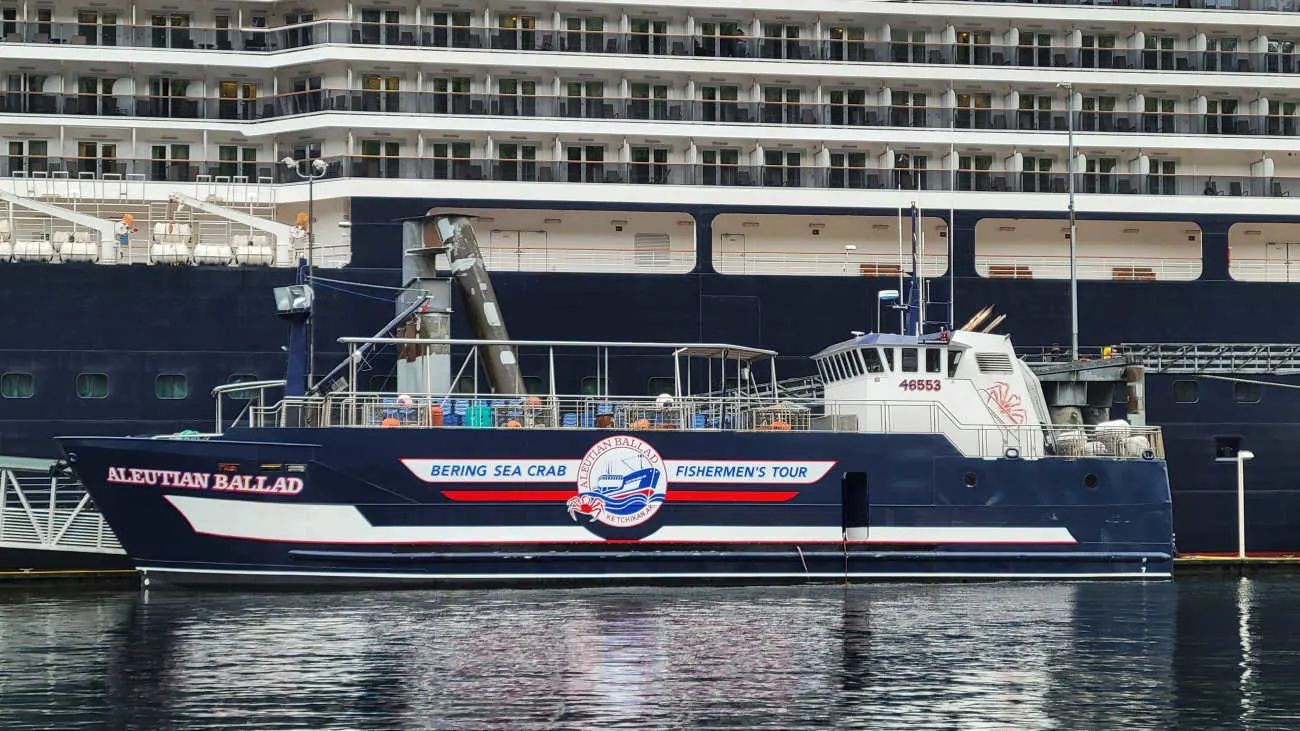 Docked next to cruise ship berths, the Aleutian Ballad is best known for its episodes on the TV show, The Deadliest Catch. The crab fishing boat had been retrofitted into a state-of-the-art tour boat, offering the best tour in Ketchikan.
The tour is wheelchair accessible and provides comfortable stadium seating with overhead heaters. On the popular Bering Sea Excursion, you'll hold Dungeness Crab and listen to the treacherous stories of making a living in the Bering Sea.
Although the boat has been renovated, much of the equipment used by a fishing boat still remains. During the tour, the staff pulls up crab traps, and you can see the different varieties.
You can even buy tasty hot crab to feast on from the ship's kitchen.
The highlight for many is feeding the bald eagles. They swoop down from the trees by the dozen in a competition to grab fish from the ocean's surface. While I've been to Ketchikan six times, this Bering Sea tour was the highlight of all my port days.
3. Browse Creek Street
In the summer months, the historic boardwalk of Creek Street attracts crowds of cruise passengers. It's a popular place to shop for unique things, learn about its early beginnings as a red-light district, and visit Dolly's House Museum.
Many bawdy houses have informational plaques telling the stories of those who lived there. Behind the buildings, the "Married Man's Trail" winds through the trees, allowing men to access the brothels secretly.
If the salmon are running in the Ketchikan Creek below, it's a great place to spot otters and harbor seals enjoying an easy meal. Further up the river, you can watch the salmon jumping up the fish ladder.
Should you want to try your luck at catching one, sell fishing licenses, and rent gear for the day. At the end of Creek Street, the Stedman Bridge provides a good spot to cast your line.
4. Watch A Lumberjack Show
Experience all the Alaskan axe-tion and excitement of southeast Alaska's logging culture in the Great Alaskan Lumberjack Show! Watch as champion athletes wearing spiked boots & hard hats compete in twelve spectacular events.
The family-friendly event will have you on the edge of your seat as you watch axe throwing, lumberjacks climbing trees with gaffs, and log-sawing with razor-sharp saws.
The show also includes a thrilling display of strength as competitors balance on spinning logs floating in the water. And cheers will turn to roars of excitement as axes fly through the air.
The event is held in a covered, comfortable, cushioned grandstand lodge, featuring a gift shop and concession stands throughout. The lumberjack show takes place within walking distance of the cruise ship docks.
Purchasing your tickets online will save money than getting them through the cruise line. You can also get a combo ticket which allows you to enjoy a crab feast following the entertainment. A thrilling show and all-you-can-eat Dungeness crab, need I say more?
5. Take A Seaplane Tour
Those looking to explore Misty Fjords National Monument can easily do so via a short seaplane journey from Ketchikan. Located near Ketchikan, Misty Fjords offer spectacular aerial views of 3,000 feet granite walls carved out by glaciers.
The untouched wilderness of the Misty Fjords boasts snowfields, cascading waterfalls, and wildflowers above the tree line. You can choose from a one-hour flight-seeing tour or a longer trip that includes a landing.
If you opt for the extended excursion, you'll land either a remote mountain lake or saltwater inlet and get a more intimate view of the unique landscape.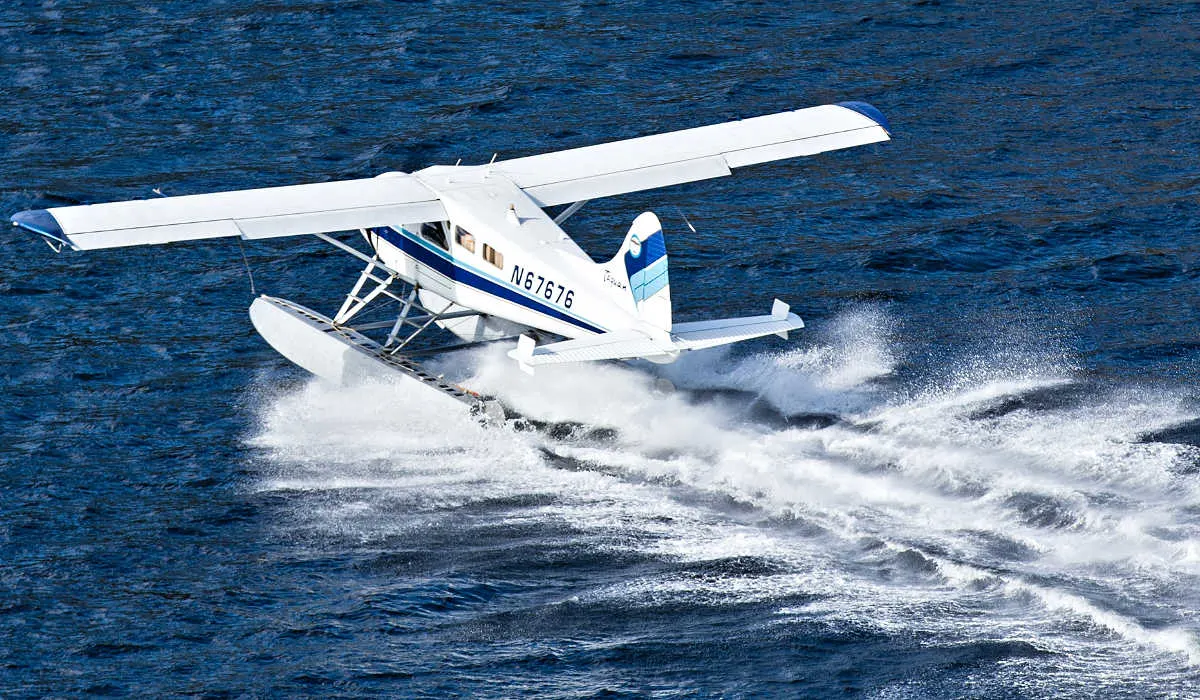 The flight may even provide the chance to spot humpback whales, mountain goats navigating the steep cliffs, and black bears fishing in the wild!
6. Browse The Southeast Alaska Discovery Center
If it's raining on your port day as it usually does in Ketchikan, head to the Southeast Alaska Discovery Center. You can travel virtually through 17 million acres of Tongass National Forest in Ketchikan, Alaska.
You'll learn about its stunning landscapes, diverse wildlife, vibrant native cultures, and history. For just USD 5, you can explore 20,000 square feet of interactive exhibits and participate in ranger talks on salmon, bears, and geology.
Then relax in the 210-seat theater to experience high-definition films showcasing the skylines and stories of this untouched "Last Frontier."
With something for everyone, the Southeast Alaska Discovery Center is an unforgettable experience for the whole family, whether it's sunny or rainy.
7. See Black Bears At Traitor's Cove
You'll have to leave downtown Ketchikan to see black bears. Traitor's Cove, 26 miles north of Ketchikan, provides a great place to see bears fishing for salmon if you're visiting from late July to September.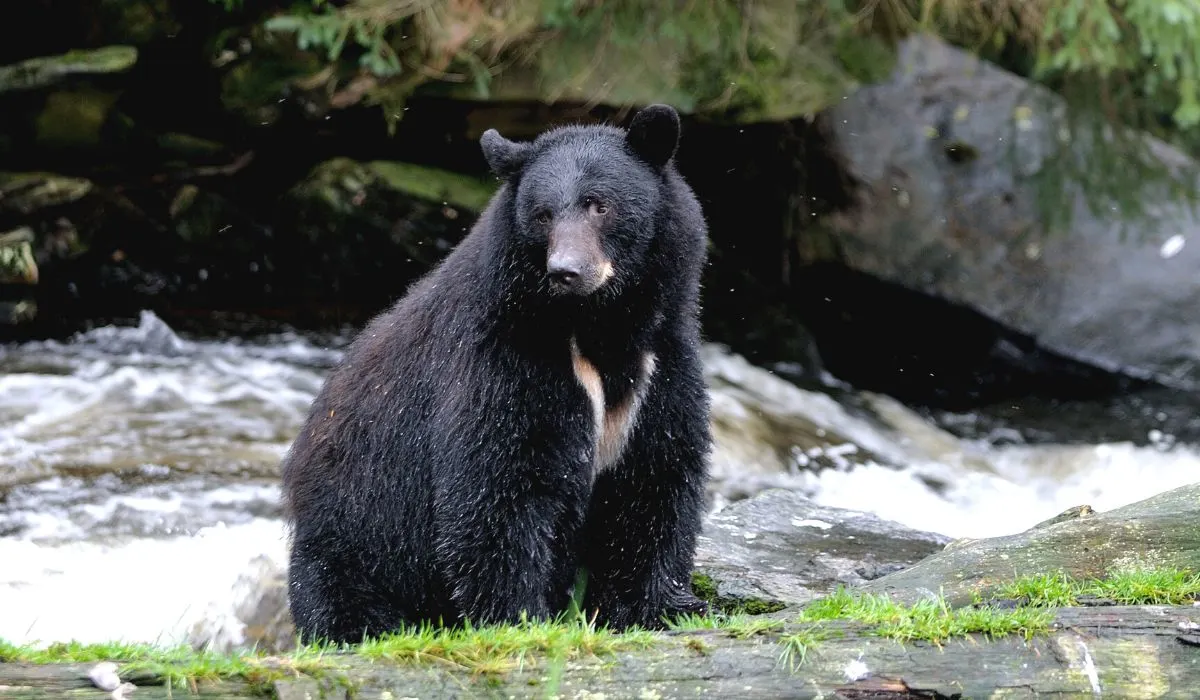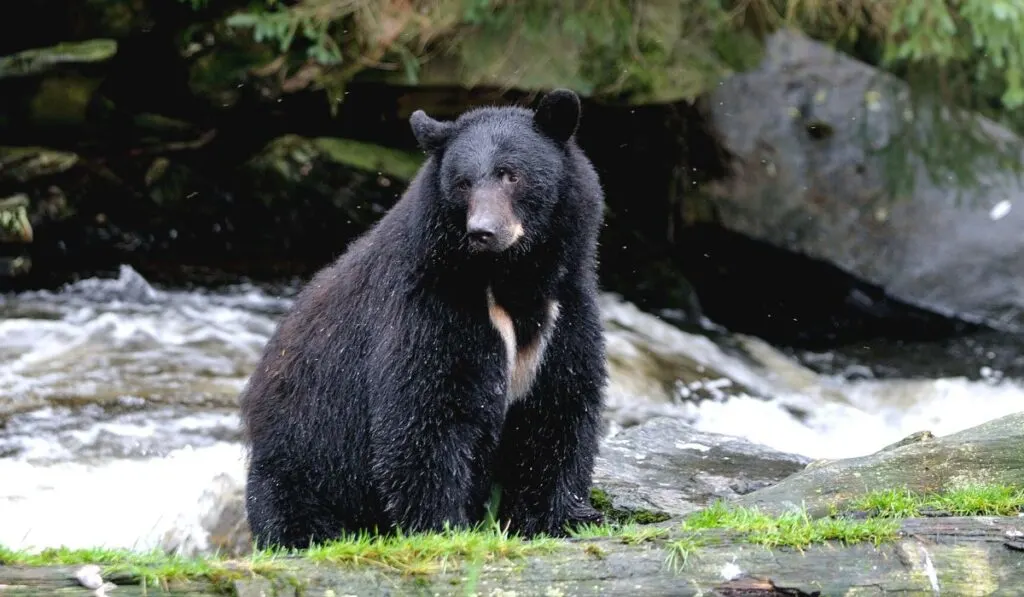 This small boat tour navigates the waters of Tongass Narrows, and the journey to the cove takes an hour. You'll savor views of an old-growth forest, pristine bays, and majestic mountains along the way.
It's an opportunity to see coastal wildlife and immerse yourself in Alaska's natural beauty.
At Traitor's Cove, you'll transfer to a vehicle for a drive to Margaret Creek. Here, it takes a short hike to complete the journey to the bear-viewing waterfall.
When the salmon are running, the river provides a feast for bears who prefer the food to come to them. After their fill, the bald eagles join the buffet to clean up the leftovers.
8. Enjoy Flight-Seeing By Helicopter
Seeing Ketchikan by helicopter allows you to appreciate Alaska's incredible natural beauty. Tour operators offer a few different itineraries, from gorgeous views of Herring Cove to a landing on Anvil Mountain.
You could see some wildlife from the skies while taking in the majestic snow-capped landscapes.
A lengthier excursion includes visiting the 1,500-foot Mahoney Falls in the Tongass National Forest.
9. Admire The Raptors
The Alaska Raptor Center, located just 10 miles from town, is an excellent destination for families looking to learn more about raptors like bald eagles, owls, falcons, and hawks.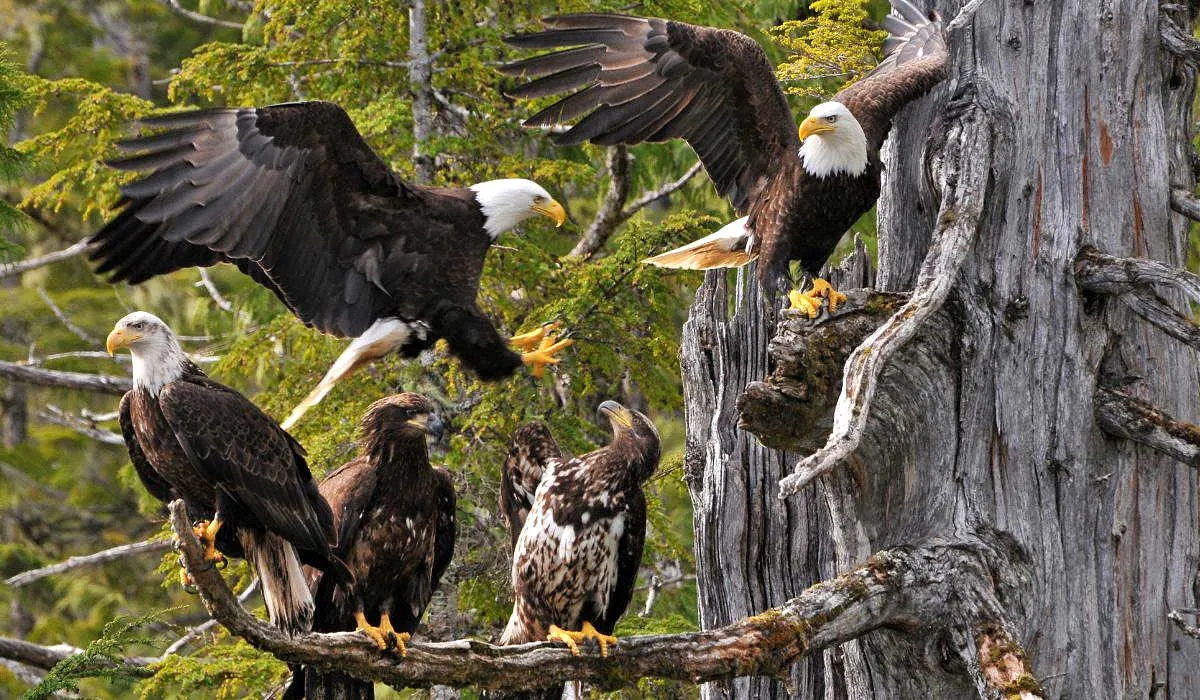 This seasonal facility is an extension of the Raptor Center in Sitka on Baranof Island and is open to the public in summer.
Situated in a gorgeous 40-acre rainforest reserve, you can interact with various wildlife species. You can also enjoy walking trails and boardwalks, which offer stunning views of Eagle Creek, home to black bears, seals, otters, and bald eagles.
Kids will especially enjoy the viewpoints as they see these birds up close!
10. Go Snorkeling In Alaska!
The Caribbean isn't the only place that offers snorkeling; Ketchikan, Alaska, does too! While the idea of swimming in Alaska's frigid waters might sound crazy, Snorkel Alaska provides 7mm neoprene wetsuits to keep you warm.
The average water temperature is 55F in summer, but with those Gumby wetsuits, you're guaranteed to stay warm.
Now the snorkeling experience differs from warm-weather destinations. While you won't see tropical fish, you'll view sea stars, crabs, barnacles, swaying kelp, and substantial sea cucumbers.
If the guide approves, you can pick up some of the marine life for those all-important selfies. Then, you can prove to your family and friends that you went snorkeling in Alaska!
For those who want to explore deeper, the guides will allow you to try diving with weighted belts. If you're lucky, you may spot some curious sea lions who frolic in the waves.
11. Cruise To Misty Fjords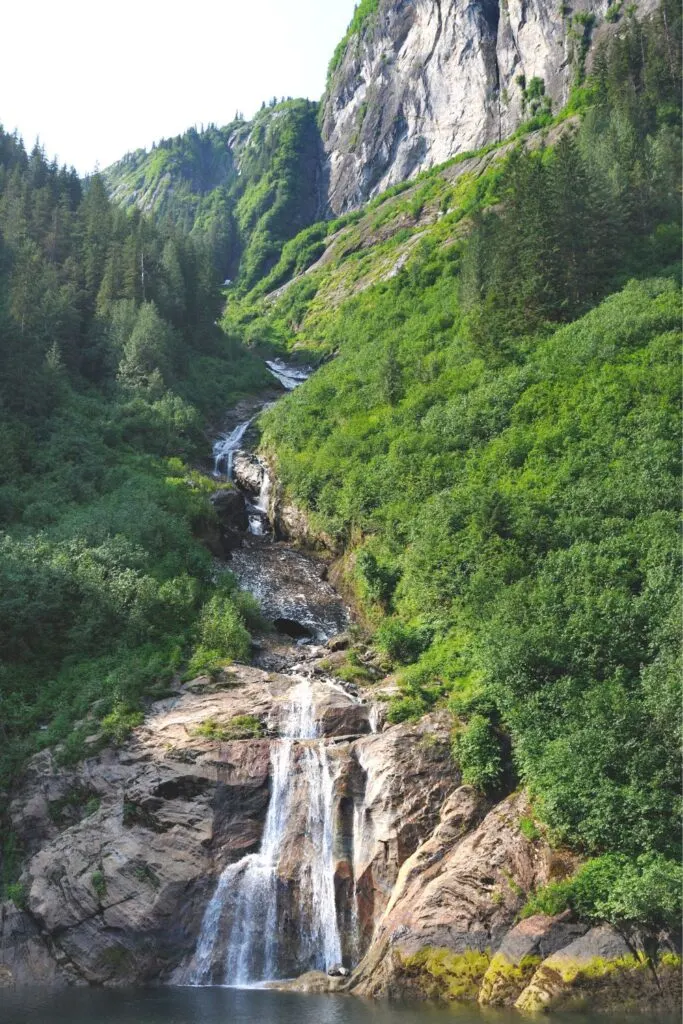 While you can enjoy the Misty Fjords National Monument on a floatplane, you can also explore it on a fast catamaran. Imagine cruising through the spectacular landscapes of the fjords, aboard one of the swiftest sightseeing vessels!
The Misty Fjords Explorer Excursion allows for unhurried explorations of Rudyerd Bay while gliding serenely past 3,000 feet high granite cliffs plunging into the tranquil water.
A knowledgeable guide will keep you entertained with captivating stories on the history, geology, and wildlife along the way.
Bring binoculars and scour the water for humpbacks or orcas cruising in these narrow waterways! The heavenly landscape is home to mountain goats, bears, wolves, whales, and numerous birds.
Soak in sights of an active bald eagle's nest, Tlingit pictograph, and magnificent New Eddystone Rock – a colossal volcanic spire rising from the emerald sea!
12. Enjoy Ketchikan Off-Roading
Unique to the inside passage tour route, the Adventure Kart Expedition allows you to operate an off-road vehicle. The vehicles seat two, so you can take turns driving.
For thrill-seekers, this must-do tour has you zipping through the lush rainforest, with multiple stops to enjoy the scenic lookouts.
While the trails can be muddy or dusty (dependent on the weather), the tour operator provides head-to-toe coveralls to keep your clothing clean.
On the 90-minute tour, you'll learn about Ketchikan's history, see the Behm Canal, and enjoy a majestic waterfall.
13. Take A Rainforest Hike
Ketchikan is blessed with fantastic hiking opportunities! The Rainbird Trail is a short distance from the downtown cruise ship terminals, so it makes a great trail to hike, when cruising. The trail is 1.3 miles through a forest but you can trek 50% of the trail if you prefer.
The hike takes about 1 hour, and in the spring, you may see Sitka deer on the trail. The trail consists of gravel paths, tree roots, streams, and stairs. You can find salmonberries, huckleberries, and wild blueberries between the lush ferns.
Since you can access this trail from the Ketchikan cruise port, this activity is ideal for those who enjoy nature or don't want to spend money on a shore excursion.
If you prefer to tackle a more challenging hike, you can try Carlanna Lake, Connell Lake, or Ward Lake Trails.
14. Lighthouse, Totems, and Eagles Excursion
Embark on an exciting shore excursion to explore the natural beauty, culture, and wildlife of Ketchikan. Sip on a warm cup of coffee or hot chocolate while appreciating the majestic Tongass National Rainforest and nearby animals in their natural habitat.
You'll cruise past Totem Bight State Park, where you can admire the totem poles hand-carved by members of the Alaskan Native clan.
Travel further out to Guard Island Lighthouse, built in 1904 and still working today, which offers panoramic views of the mountainous seascape surrounding you.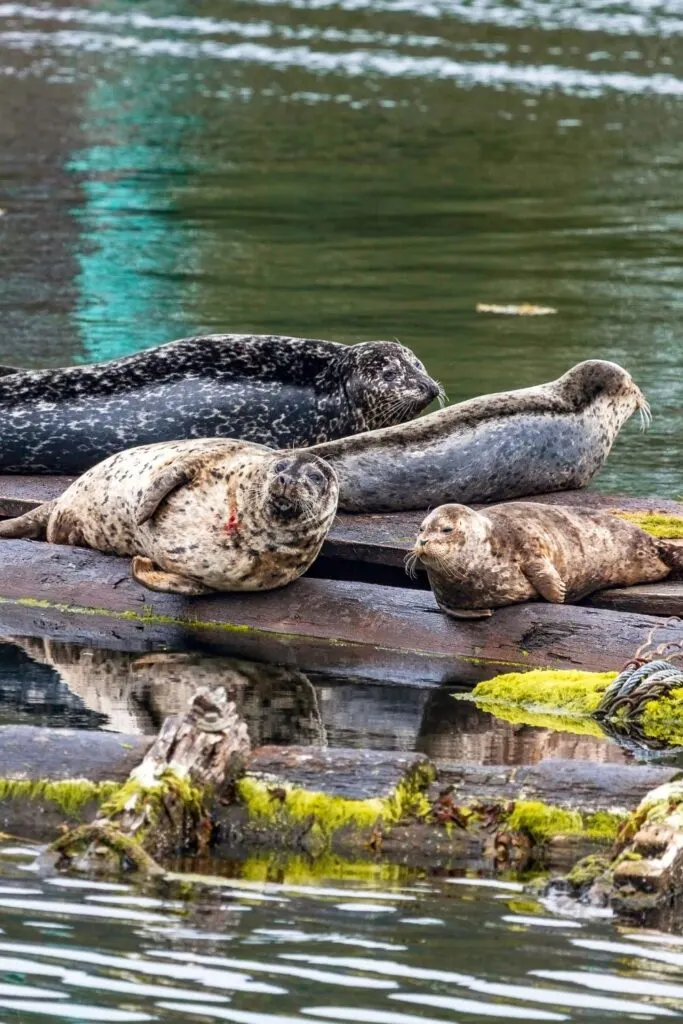 Get a glimpse at other points of interest, such as remnants of the Ketchikan Pulp Mill, a fish cannery from Alaska's past, coastal island homes, Refuge Cove and its outlying islands, and Gravina Island's old-growth forests.
This excursion provides an opportunity for wildlife viewing. Look for bald eagles, harbor seals, sea lions, humpback whales, orcas, deer, pigeon guillemots, and seabirds!
During the cruise, you'll enjoy a complimentary alder-smoked salmon tasting and treats from other local Alaskan companies.
15. Enjoy A Ketchikan Duck Tour
Experience a different perspective of Ketchikan on a unique duck tour! Aboard this humorous and educational journey, be prepared for entertainment, trivia, and live narration.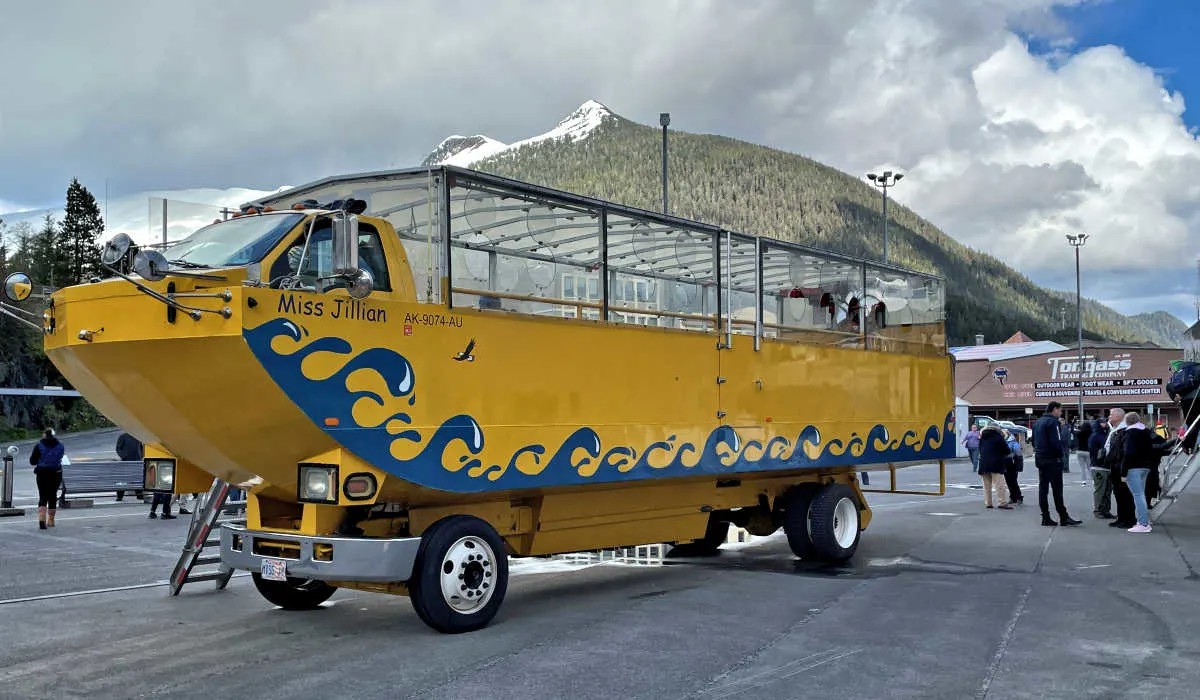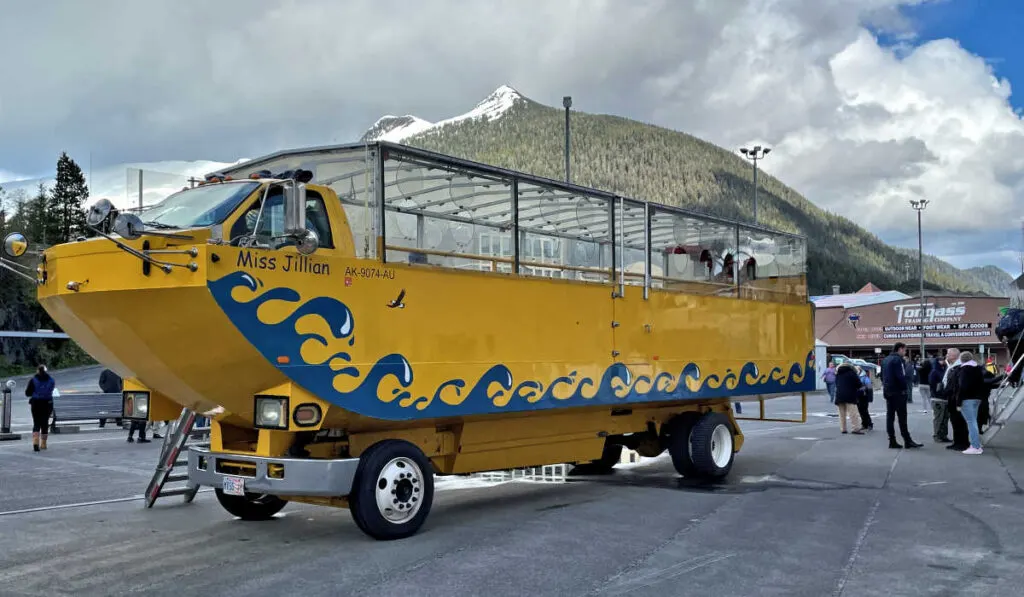 The colorful amphibian bus roams through the rustic streets of Alaska's First City as you learn about its distinction as the "Salmon capital." Then, the vehicle splashes into the harbor like a duck to water (sorry, bad pun!)
Don't worry about the weather because even if it's raining in Ketchikan (which it often does), you'll stay dry while experiencing this one-of-a-kind ride.
Keep your eyes peeled and binoculars handy, as you may see bears roaming the shorelines, eagles soaring above, and other ducks taking a dip.
16. Explore Ketchikan In A Kayak
Kayaking the Ketchikan waters allows you to explore at a slower pace and in an intimate group. With a maximum of six guests, you'll spend 2-1/2 hours paddling the coastal area and exploring a few sheltered coves.
You could encounter sea lions, harbor seals, bald eagles, whales, and porpoises. The tour guides are very knowledgeable, and you'll learn much about Ketchikan's marine life.
High-quality rain jackets and pants are provided to keep you dry, and gloves to keep your hands warm. You'll also have use of a dry bag for camera equipment or cell phones to protect them from moisture.
While your arms will feel the workout on this excursion, you'll escape the crowds of Creek Street and won't feel rushed. Kayaking is an excellent way to immerse yourself in nature and enjoy the scenery.
17. Take A Trolley Ride
An authentic Cable Car Style Trolley Tour allows you to see the highlights of Ketchikan without walking. On the excursion, you'll experience the sights and sounds of this vibrant fishing and logging community, known as the "Salmon Capital of the World."
As you pass through City Park and Creek Street, learn about Ketchikan's rich culture, including its legends and stories of bootleggers, dance halls, and brothels.
Then it's off to Herring Cove, where you can enjoy your private viewing platform overlooking the tranquil scenery away from downtown. Keep an eye out for seals, bald eagles, herons, and even a possible bear sighting near spawning salmon!
Lastly, enjoy a stroll through Totem Park at Saxman Native Village to learn about the historical carvings and stories behind the native culture.
In the nearby carving shed, you can watch artists perform their craft using traditional tools, paints, and techniques used in totem pole carving.
18. See Ketchikan On Two Wheels
Ketchikan's E-bike and hike combines an electric bike tour with a leisurely walk through the Tongass National Forest. Transportation is included, even if you're docked in Ward Cove.
Electric bikes are easy to ride and take the grunt work out of peddling. On this ecotour, the highlight is the incredible temperature rainforest hike. The tour sells out and is rated one of the best, so book your tour online to prevent disappointment.
You see beautiful waterfalls and salmon making their way up the river if it's the salmon season. Since you're walking in a rainforest, you could encounter rain. The tour operator will provide raincoats should you need one.
Along the beach, you have an opportunity to see harbor seals, which may be on the hunt for those flavorful salmon!
19. Zip Line In The Rainforest
Ketchikan's rainforest provides the ideal environment to enjoy a zip-lining adventure. The excursion is suitable for all family members, especially the kids.
Imagine zipping through the lush canopy and tackling three swaying suspension bridges. You might even spot a black bear between the hemlock, cedar, and spruce trees.
Because the lines run over a salmon creek, guests often see bears and bald eagles from the tree platforms if the salmon are running.
20. Go Fishing
Since Ketchikan's claim to fame is the "salmon capital of the world," why not spend your day trying to catch the big one?
On a fishing excursion, you can fish for Silver, Pink, King, and Chum salmon, depending on the season. And you can try for halibut too!
Select from 4 to 6 hours tours, and most operators will clean and package your catch and ship it home to you.
While the aim is to come back with a bounty of fish, you may also be lucky enough to see bald eagles and humpback whales.
Wrap it up
What you do on your cruise port day in Ketchikan may depend on the weather, time in port, and budget. If you're cruising on a budget, this is a great town to explore on your own.
If you want something more adventurous, zip lining, fishing, off-roading, and kayaking tours are readily available. The Bering Sea Crab Fishermen's Tour and Lumberjack Show are great options for the mobility challenged.
Ketchikan is a town that oozes charm, so explore it to your heart's content.