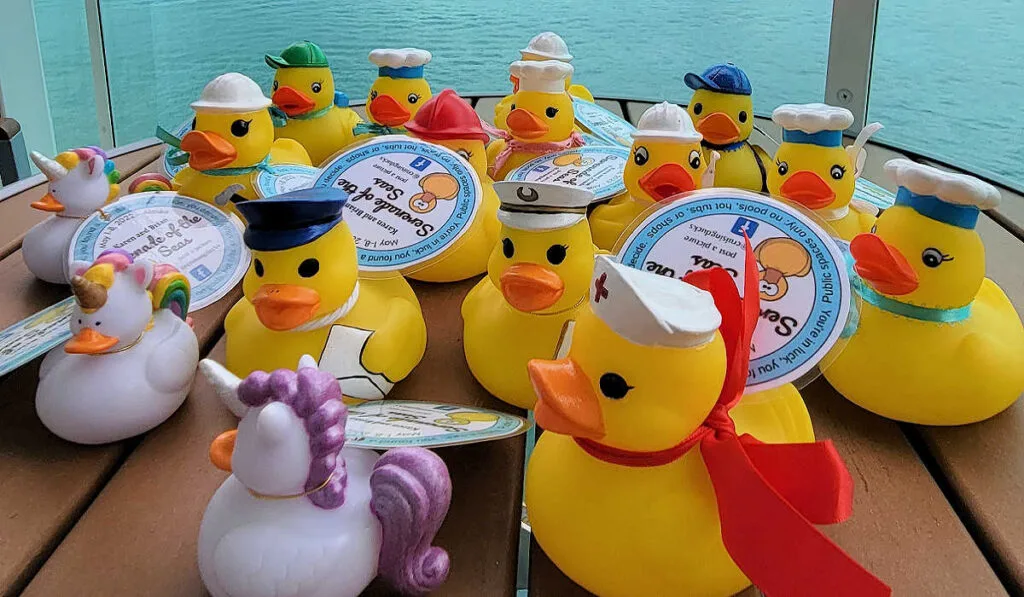 Although it's been around for several years, cruising ducks have grown in popularity. The crazy game of hide and seek or "hide and squeak" allows cruise guests to leave plastic or rubber ducks around the cruise ship for others to find.
Some guests leave a few a day while others hide 100 ducks per cruise, earning the name "ducker." Duckers usually attach a tag or passport with their name, date, and vessel's name. The note allows the finder to "keep or hide, you decide."
While the event started on one cruise line, the craze has spread far and wide. Why do they do it? It's good clean fun, which brings a smile to a random stranger on vacation.
How Did Cruising Ducks Start?
The duck game of hide and seek was started in 2018 by a young girl named Abby Davis. She wanted to bring a smile to others. So, she gathered 50 toy ducks and randomly hid them during her 7-day Carnival Breeze cruise.
The fad took off in no time at all, like a duck to water! The game became known as cruising ducks. A few years later, the duckers have a Facebook group called "cruising ducks, original group."
It has over 100,000 members who post pictures of the ducks they've found. They also post images of unusual ducks they buy online or in stores.
They show the process of gathering their ducks or "getting their ducks in a row" and upload tags for other duckers to download and print.
While the cruise duck game started with the Carnival Cruise line, passengers can find them on Royal Caribbean, NCL, Princess, Holland America, and Disney cruise lines.
You may find other duck groups on Facebook and social media. Each one is dedicated to hiding ducks and spreading smiles to those who find them. Don't think this is an activity for kids. Adults have embraced this game too.
Some cruise passengers don't just hide rubber ducks but leave anything duck-related. So, cruisers could find duck earrings, stuffed toys, electronic duck toys, rubber duck key rings, and more.
The serious duckers enjoy their cruises wearing duck t-shirts, hats, and other apparel.
Getting Started With Cruising Ducks
If you're going to hide 50 to 100 ducks, they need to be inexpensive. I found plastic ducks at the dollar store, and Amazon is a great place to shop for ducks in bulk.
Since hiding ducks have become quite the fad, companies now make wide varieties of the yellow bird. So, move over rubber ducks and welcome Disney ducks, unicorn ducks, clown ducks, and ducks in uniform.
Ducks no longer come in just yellow. I've seen them in red, purple, green, and every color of the rainbow. Some duckers go through the extreme process of 3D printing ducks or croqueting their own. There's no end to the creativity of some duckers.
Ducks vary in size, and most agree that the two-inch size is ideal. Anything smaller would become a choking hazard.
If you purchase three-inch and larger, be prepared to bring an extra suitcase. And many do! I can picture the face of the person working at airport security, scanning a case filled with toy ducks.
Cruising Ducks With Personality
The duck game phenomenon has gone from hiding a simple rubber duck to something much bigger in just four years. Some people use holidays for their duck theme. Yes, you can buy Christmas, Easter, and New Years' ducks.
Others celebrate a milestone. I've seen people post photos of wedding, anniversary, and birthday ducks. Others attach boxes with sweet treats or other gifts inside.
I've also seen ducks that raise awareness of a cause, like diabetes, breast cancer, or Crohn's disease. The saddest ones are the ones created to memorialize someone's life.
Tagging A Rubber Duck
Most who hide ducks personalize them with a tag. Tags can be as simple as a sticker stuck to the duck's base. The majority of ducks come with a note attached with elastic, a hair tie, or a ribbon.
Along with a tag, some passengers add a magnet. Since cruise ships are metal, they can stick ducks to walls and doors.
If you need a tag, there are many places to purchase one if you can't make your own. Try searching on:
Etsy
Amazon
Cruising Ducks Facebook page
Walmart
Zazzle
eBay
Customizing The Tag
Tags are customizable with the ship's name, sailing date, and name of the person hiding them. They also vary in design. Some resemble the cruise line's cruise card and include the cruise's logo.
Others mimic a passport, where each finder can add a date and location of where they found the duck. It's interesting to see how far these ducks travel in a short amount of time.
For our Alaska cruise, I created my own tag using Canva, a free online program. If you're handy with a computer or have a graphics program, you can create one too.
Most ask the finder to take a picture and post it on social media with #cruisingducks. Some people post, and others don't. Don't be upset if they don't.
Since posting a picture on the original group's Facebook page requires the person to have a Facebook account and "join" the group, some prefer not to.
The tags have catchy sayings like:
Conquackulations. You found a cruising duck.
Oh, what luck, you found a duck! Keep or hide, you decide.
Ahoy matey! You found a duck.
I'm one lucky duck to have a friend like you.
If you want your tag to last a while without tearing, it's best to laminate it before attaching it to the duck. Alternatively, print the tag on card stock instead of paper.
Join the Facebook group and find a downloadable file in the "files" section if you want a free tag. There are many to choose from, including those with the cruise line's logo.
Duck Hiding Rules
There are no "real" rules to hiding cruise ducks. However, you want to avoid these areas:
Swimming pools and hot tubs.
Onboard shops.
Places where they can fall into the ocean.
Anywhere too high. Guests shouldn't have to climb on chairs or furniture to retrieve a duck.
I took some ducks on my Royal Caribbean Serenade of the Seas cruise to Alaska. While it was my first-time hiding ducks, I did it with my daughter, who was sailing with me. We only took fifteen and made an effort to hide three or four a day.
It was a great sea day activity to look for good hiding places, like in a plant, on a bookcase, or in the ship's theater. However, it didn't take very long to realize there weren't many people on our cruise looking for them.
So, if guests didn't find one of the ducks in a day or two, we moved them to more obvious places. Then we decided not to hide some and leave them in plain sight, like on the staircase and outside the kids' Adventure Ocean.
One day, we left one in the middle of the floor in a popular event room. Then, we watched the room fill up with people, each walking by the duck. But no one picked up the duck, thinking it was part of the presentation.
We heard some people argue at the back of the room. The man said, "people hide these on cruises." The women were adamant the duck was part of the Royal Mounted Police presentation.
Eventually, he walked to the front, asking if the duck was part of the speech. The activities manager explained that people hide them, and they often have a tag from the passenger that left them.
Then, the entire room clapped and cheered as he claimed the duck.
What Do You Do When You Find A Duck?
As the tag says, "keep or hide, you decide." Some duckers are serious hunters and collect the ducks they find. Some find as many as eight on each cruise, left by different cruise guests. I still haven't found one, even though I've looked.
Sometimes, passengers rehide the ducks on the same cruise. Other times, guests take them home and leave them on their next cruise to a different destination.
With an attached passport, finders can view the duck's travel log. I got the sense that I was the only one hiding ducks on our Hubbard Glacier cruise.
Since some guests like to personalize a found duck, they attach a new tag with a date, the new vessel's name, and hometown. New tags are added along with the old ones.
Kids and adults collect ducks. However, if you want to increase the odds of a child finding your duck, hide them in the kids' play areas, outside the kids' clubs, or in the arcades.
How Do Cruise Lines Feel About Cruising Ducks?
In the early days, there was some talk that cruise staff disposed of the ducks when found. While I can't confirm if that was true, I hid ducks while the crew was watching, and they smiled at me.
Today, cruise companies are well aware of the duck game and seem to turn a blind eye to its activity. In fact, some of the crew members collect the ducks themselves.
Final Thoughts
Cruising ducks is meant to be a fun game whether you want to participate or not. It's similar to the concept of hiding painted rocks on land. Finding one is meant to bring a smile.
At the time of writing, I never found a duck, but I have found and rehidden a rock. And it certainly brought a smile to my face. That rock traveled from Hawaii Volcanoes National Park to the Canadian Rockies. Who knows where it is now?
[UPDATE] I found three ducks on a cruise to Hawaii on September 2022. I brought them home, and they traveled to Mexico with me in January 2023, where I left them on the Discovery Princess.
On a cruise ship, duck season is all year round. Are you a ducker, or have you found a stowaway duck? Or do you think the world has gone quackers?
Happy duck hunting ~ Karen