If you plan to visit Banff National Park in the month of June, it's essential to prepare for wildly fluctuating temperatures and inclement weather. While the rest of Canada is welcoming the beginning of summer, the Canadian Rockies is still in shoulder season.
By visiting in June, you'll enjoy the park with fewer crowds and take advantage of lower costs associated with traveling, such as hotels and car rentals.
Banff offers plenty of outdoor adventures, some bucket list worthy. Since the weather can be unpredictable, you'll need to pack accordingly.
Banff Weather In June
You should expect some rainy days in June, which creates muddy hiking trails. While much of the snowpack has melted, you'll still find icy spots on higher peaks.
In June, expect average temperatures of 19C. Early weeks have slightly lower highs and lows of 6C. In the last two weeks, the daytime highs inches up to 22C, and nighttime drops to 8C.
During this month, you can expect 61 mm of rain, falling 16 days of the month. While it could be wet, it's a great time to explore trails without the dense crowds in July and August.
With the summer solstice, expect more than 16 hours of daylight. With extended light, you can plan to hike longer and enjoy more hours of sightseeing.
There's no fear of snowfall in late June, but it can take this long for some of Banff's lakes to melt. Moraine Lake and Louise Louise typically don't thaw until mid-June.
So, if you're hoping to see those turquoise hues, wait until the last weeks for visitation. You'll also benefit from warmer weather and less rain.
Heading out for the day, it's essential to know it could be sunny for a few hours, followed by rain, or vice versa.
What To Pack For Banff
Since there's a 50% chance of rain each day, you'll need a lightweight waterproof jacket. Bring a light sweater for the cooler evenings, and add layers that are fast drying.
Waterproof boots are essential for hiking, especially when the trails are muddy. Combine the boots with merino wool socks for warmth and moisture-wicking properties.
Since you can encounter grizzly bears in the wilderness, have a bear bell to make noise and carry bear spray. If you fly into Calgary International Airport, you can't carry bear spray. Instead, have a plan to purchase it locally.
A waterproof backpack for carrying water and snacks is essential. A refillable water bottle or travel mug helps to quench the thirst.
Collapsible hiking poles, along with shoe spikes, are handy if you plan to walk on an ice field or hike at higher elevations where you'll encounter snow or icy conditions.
Where To Stay In Banff
If you plan to camp, most campgrounds are open from May 11 to June 2. Two Jack Main, Two Jack Main Equipped, Protection Mountain, and Waterfowl Lakes have delayed openings in the third week of June.
If you prefer a hotel stay, Banff has many accommodations, from budget-friendly hostels to luxury stays at the Fairmont. Fairmont owns two of the best hotels, the Chateau Lake Louise and Banff Springs Hotel.
We have stayed at both but prefer the Chateau Lake Louise for its premium location next to the world-famous lake of the same name.
For families, the chalet-style the suites at the Moose Hotel have spacious suites with separate living areas and kitchenettes. Some come with fireplaces, ideal for cozy nights, and a rooftop hot tub.
Most hotels in Banff come with parking. But, try to choose one within walking distance of shops and restaurants downtown.
Things To Do In Banff In June
As the snowpack melts, it creates heavy river flow and rushing waterfalls. It's the perfect time to go waterfalls chasing.
In the spring, large animals welcome their young. It's the best time of year to see baby animals before they move to higher ground to avoid the heat of the summer months.
So, here are some activities to enjoy in Banff in June.
Explore Moraine Lake
While Parks Canada has closed Moraine Lake Road to private vehicle traffic, you can visit the iconic lake by booking a shuttle bus. Shuttle buses are available to book from June 1, starting at 6:30 am and leaving every 20 minutes after that.
In June, you won't be able to witness the magnificent sunrise, which happens at 5:30 am. However, if you stay at the Moraine Lake Lodge, your accommodation next to the lake allows you to see the sunrise without needing a shuttle.
Moraine Lake thaws from its winter freeze in early to mid-June. So, if you want to admire its gorgeous blue hues, you should plan to visit towards the end of the month.
The Moraine Lake area offers lots of activities, from renting a canoe on the lake to hiking one of its many trails. You can't go wrong with choices like the Consolation Lakes, Larch Valley, or Sentinel Pass.
Visit A Wolfdog Sanctuary
It takes a one-hour road trip from Banff to visit the little town of Cochrane, home to the Yamnuska Wolfdog Sanctuary. It's the perfect place to interact with wolfdogs and learn about their breed.
You have a choice of three tours, offering different degrees of interaction with the animals. The Sanctuary Walk allows you to explore the reserve at your own pace from outside the enclosures.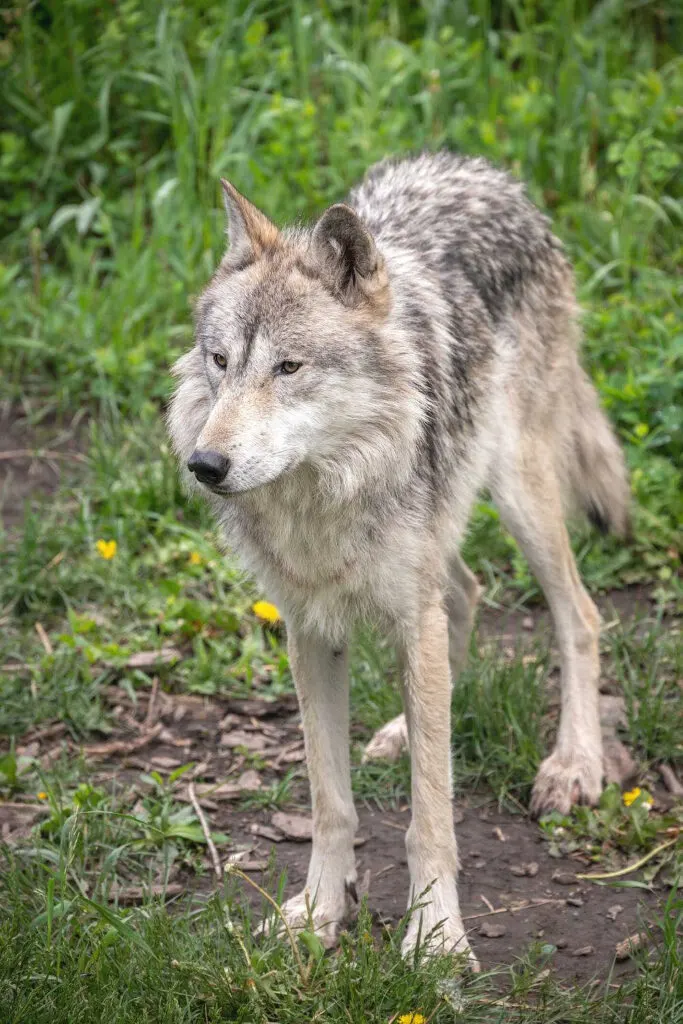 The Intro Tour takes you inside an enclosure with a wolfdog expert. You'll observe them from a raised platform and learn more about their traits and breed.
On the Interactive Tour, you enter two enclosures and see the difference between low-content wolfdogs and high-content breeds. You'll also have a chance to feed them if they're willing to take a treat from you.
In June, the wolfdogs undergo the annual ritual of shredding their winter coats. In peak season, wolfdogs tend to take shelter in the trees to avoid the heat. By visiting before the warm weather arrives, you'll enjoy easy viewing as the wolfdogs are still active in their pens.
Hike Johnston Canyon
Although Johnston canyon might be one of the most touristy areas of Banff, it's one of the best places to hike a canyon and view multiple cascades. Open year-round, you can hike the canyon in all weather conditions. In fact, it's one of the best things to do in the national park.
With melting snow, expect a high volume of water and spectacular waterfalls in June. While Johnston Canyon might be known for its Lower and Upper Falls, it has multiple waterfalls along its trail.
The hanging walkways suspended over the river are pretty magnificent. Whether you take the 2.3 km short hike to the lower cascade or the longer 5.1 km trek to the Upper Falls, you'll enjoy a scenic trip through a beautiful canyon.
Getting there early will help you secure a spot in the busy parking lot if you're driving.
Head To The Top Of Sulphur Mountain
Located south of Banff town, a gondola ride transports you to the top of Sulphur Mountain. You'll enjoy 360-degree views of Bow Valley, Mount Rundle, Sundance Peak, and Mount Norquay on a clear day.
Since the gondola tickets are pretty pricey, check the weather forecast before planning the ascent to prevent disappointment. Since Banff's weather can change quickly, take a rain jacket and an extra layer because it can be 10 degrees cooler at the peak, especially on a windy day.
A 1 km wooden boardwalk extends across the peak and provides an easy walk to Samson's Peak. With lots of stairs, the route isn't wheelchair friendly.
But those who reach Samson's Peak can peer inside its old Cosmic Weather Station and take those treasured selfies. In June, you might see Bighorn Sheep around the boardwalk.
For avid hikers, you could forego the gondola and reach the peak by way of a trail. Regarded as a moderately challenging hike, the trail has a 759-meter elevation gain and takes over 2 hours one way.
Go Rafting On Bow River
If you want to experience the majestic landscapes of Banff, there's no better way than from the water. A raft excursion down the Bow River is family-friendly and lots of fun.
The rafting trips are leisurely floats, not the white-water kind. You'll board your boat near the base of Bow Falls and float for 7 km down the river.
The journey continues past the Banff Springs Golf Course, below the Banff Hoodoos, and offers terrific views of Mount Rundle and the Cascade Mountains.
Remember your camera or smartphone to capture the picturesque Rockies from the comfort of your boat.
Drive To The Columbia Icefields
Your Banff itinerary should include a road trip up the Icefields Parkway to the Columbia Icefields Centre. While the center closes for the winter, the venue opens in June and offers a selection of tours.
The Brewsters Glacial Explorer transports guests from the parking lot to the top of Athabasca Glacier. You'll want to bundle up because the frigid winds off the ice are pretty chilling.
For the ultimate thrilling adventure, combine your bus ride with a stroll on the Skywalk. Further down the highway, fearless individuals can walk a glass floor suspended 280 meters above the canyon.
Before reaching the Skywalk, informational plaques along the walkway document the area's wildlife, and you'll learn about the making of the Columbia Icefields Skywalk.
Cycle The Bow Valley Parkway
While riding a bike and sharing the road with vehicles can be scary, you can ride a section of a Banff highway without cars.
As a pilot project, the Bow Valley Parkway is closed to vehicle traffic from the Johnston Canyon Campgrounds eastwards from May 1 to June 25. The closure allows animals to roam without human intervention.
So, whether you bring your own bike or rent one, riding the Bow Valley Parkway on the 17 km stretch of road gives you a wide bike path without the fear of passing cars.
During the day, it's not unusual to see families with small children and groups enjoying the route.
Have Tea At A Mountain Teahouse
There's something quite extraordinary about hiking up a mountain and having tea in the remote wilderness. When visiting the Lake Louise area, the surrounding mountains offer hikers a choice of TWO mountain teahouses.
To reach the Agnes Lake Teahouse, you'll need to trek 3.5 km uphill to Agnes Lake. Nestled between the little and big Beehives, the teahouse reopens each June and attracts a crowd in summer. Despite their remote location, they serve over 100 teas.
Remember to take cash, as the teahouse can't accept credit. You can purchase freshly baked cookies, sandwiches, soups, and other sweet treats along with your tea.
The Plain of the Six Glaciers includes another teahouse for those who prefer a more challenging trek. At 14 km roundtrip, you'll have to work hard for your Oolong or Earl Grey brew. For the ultimate afternoon tea, consider stopping at both teahouses.
Paddle A Canoe
Paddling a canoe in Banff National Park might be a bucket list activity for most. There are few areas in the world where you can enjoy glacial waters as stunning as those in the Rockies.
You can rent a canoe on many iconic lakes, such as Emerald Lake, Moraine Lake, Lake Louise, and Lake Minnewanka. Sunrise canoe rentals are exclusive to guests of the Chateau Lake Louise.
If you bring your own canoe, the outdoor activity is free, and you can forego the expensive rental fee. Rentals are available by the hour and half-hour. Each canoe can hold two adults and two children or up to three adults.
Visit Peyto Lake
Located off the Icefields Parkway, Peyto Lake may be one of the most accessible lakes in Banff. Its beautiful turquoise hues and wolf shape make it a must-visit.
You can reach the viewpoint by taking the Bow Summit exit off the highway. Being the highest point on the road, the area receives a lot of snow in winter.
Like Moraine Lake and Lake Louise, expect Peyto to thaw in early June. If you want to see the blue tones, plan to visit towards the end of the month.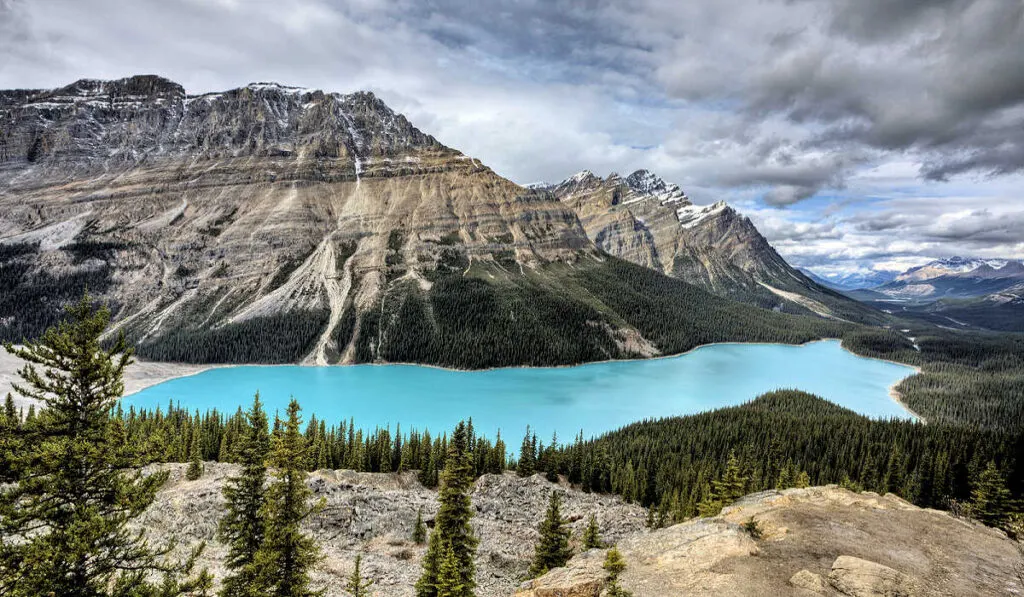 Peyto is one of many glacial lakes in the Canadian Rockies. Its stunning summer hues come from rock flour which flows into the lake.
Bow Summit recently underwent an expansion of its parking and viewing platforms. In June, you'll benefit from fewer crowds that are common a month later.
Drive The Spray Lakes Road
June is also a great time to experience wildlife in the Canadian Rockies. While the Trans Canadian Hwy has fencing along its route to prevent collisions with animals, there are plenty of places to see wildlife.
You'll need to rise early to increase your chances. The Bow Valley Parkway (Hwy-1A) is outside the fenced area, and deer, elk, and bears are often spotted there.
Outside Banff National Park, the Spray Lakes Road or Smith Dorrien Trail sees less vehicle traffic than Banff. Here, drivers can spot moose, bears, elk, mountain goats, and coyotes.
Again, driving at sunrise or sunset will increase your odds of seeing wildlife.
Wrap It Up
While you can visit Banff year-round, each month offers different opportunities for outdoor activities. In June, Banff continues its winter melt, and animals are having their young.
The spring flowers may not be in bloom, but you'll enjoy trails and venues with fewer people. With no crowds, you'll benefit from lower prices and could even get a hotel upgrade.
With roads and venues opening up after lengthy winter closures, you could pay lower fees for tours and excursions over the high season rates.
Banff has so many wonderful things to do that you'll want to visit each month of the year to compare the differences.