While I have visited Mexico several times, I have always done so during a Mexican Riviera cruise. I love the fact that I wake up in a different city every day and only unpack my suitcase once. With scorching hot weather in Mexico, what better way to see Puerto Vallarta than on a Segway tour?
For those of you who are not familiar with a Segway, it's a two-wheeled electric scooter. Police often utilize this mode of transportation in popular tourist cities. On my last visit to Puerto Vallarta, I took a tour with Wheeling Vallarta Segway Tours and what a blast it was.
With little time in port, riding a Segway meant I could cover more ground faster, and enjoy the sites of Puerto Vallarta with ease.
It costs around USD 5 to take a taxi from the cruise port. Wheeling Vallarta is owned by a Canadian transplant, Debra, who was very helpful and charming to talk to.
The prices to ride a Segway is very reasonable. So, a whole family or group can enjoy this fantastic Puerto Vallarta excursion without breaking the bank.
Who Can Take A Wheeling Vallarta Segway Tour?
In order to ride a Segway, you must weigh a minimum of 90 lbs (40 kg). To maneuver the Segway, it requires a certain amount of weight. The weight limit to ride a Segway is 275 lbs (130 kg).
The minimum age of a child is around nine years old. An adult must accompany those under 16 years of age.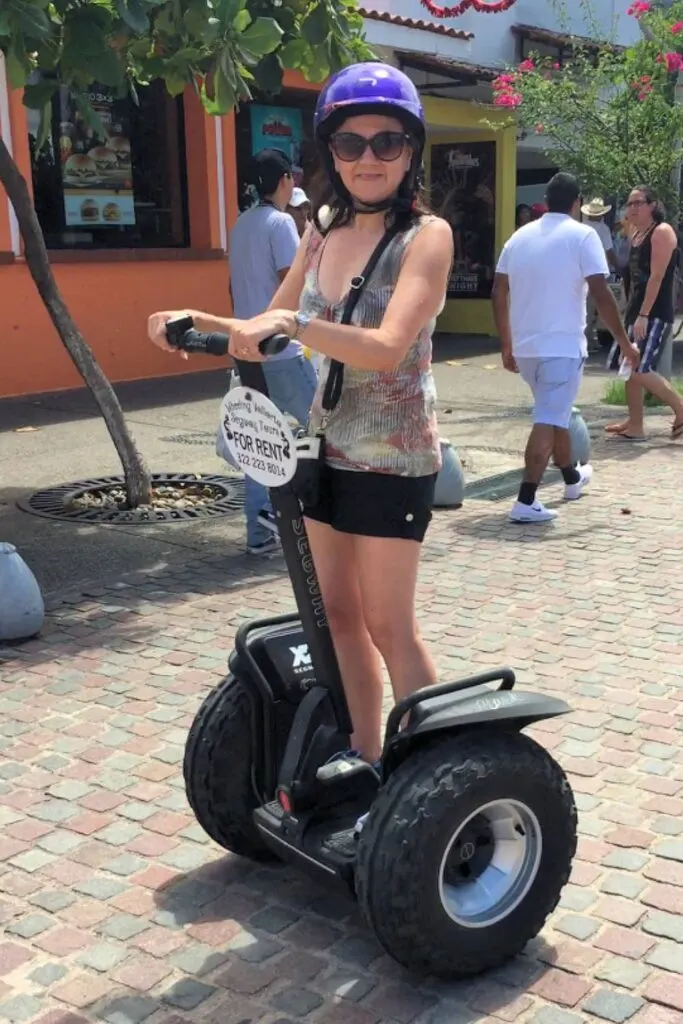 However, the Segway tour is not wheelchair accessible and not recommended for pregnant women or those with heart, back, or significant medical conditions.
Segway tours depend on good weather. So rescheduling a tour is sometimes necessary, should it rain.
Segway Tour Selection
The Puerto Vallarta tour company offers three excursions for small groups or families of up to 4 people. Excursions are offered seven days a week from 9 am to 5 pm.
The express one-hour tour allows visitors to ride up and down the Malecon with opportunities to take pictures of the art installments. You'll learn the history of the area while riding at your own pace.
It also includes tequila tasting at the end of the tour. The express tour is perfect for first-timers to Segway riding and feeling a bit nervous about riding one.
The longer two-hour tour also includes the scenic Malecon and other popular Puerto Vallarta attractions like a stop at the Lady of Guadalupe Cathedral.
After a light Mexican lunch and some tequila tasting, it's back to the Malecon to complete the Segway tour.
For a touch of romance, try the 1-1/2-hour sunset tour. This excursion includes a short tour of Puerto Vallarta's Malecon, then onto Playa Olas Altas, where a cold beer and wine will be waiting, along with a blanket on the beach to watch the sunset.
Unlike most other port excursions, a Wheeling Vallarta Segway tour does not require a minimum number of participants.
My husband and I did not pre-book, and we were able to take an excursion as soon as a staff member returned with the previous tour group.
The tour is customizable and changeable to your liking. We could spend more time at places that appealed to us and avoid others.
What To Take On the Segway Excursion
Use sunscreen. It's extremely hot in Mexico
Bottled water
Wear sunglasses and a hat
Money, for tips and to buy souvenirs along the way
Bring a GoPro (to capture your Segway adventure)
Most of all, bring your sense of adventure!
What To Expect On A Segway Tour
We were required to sign a waiver form before taking a tour. Once fitted with a safety helmet, we were introduced to our Segway chariots.
The handlebars were adjusted for our height, and our guide gave us a quick safety briefing and instructions to operate a Segway. Since both hands are required to hold the handlebars, handbags, and other carried items, need to be stored before the tour.
The helmets have a clip to attach a GoPro, leaving your hands free to operate the Segway.
Now, it was time to test our balance skills. As long as I kept my feet evenly on the platform, it was surprisingly easy to ride the two-wheeled machine, and within five minutes, we were zipping around the Malecon with ease. The hardest part of riding a Segway was maneuvering it down slopes.
Jose, our guide, was knowledgeable about the area and talked about all the statues along the Malecon.
During our 1-1/2-hour Segway excursion, we visited the chocolate factory and stopped to taste some tequila. At the south end of the Malecon, we had some free time to ride the Segways up and down ramps.
While we stopped at Oscar's Tequila Distillery for sampling, we were not required to purchase. However, we did come home with a bottle of Passionfruit tequila.
Our guide gave us a quick lesson on how tequila is made and we could see the pinas on the distillery grounds.
It's incredible how much ground I could cover without even driving that fast. Regardless of your age, this activity will delight everyone. Just don't taste too much tequila (as I did), or you might be running over a few toes on the ride back, lol. It's a good thing they installed bike bells on those Segways.
The Voladores "Fliers"
As we rode back along the Malecon, our guide noticed the voladores "fliers" climbing up the pole. So, he stopped allowing us to watch the age-old tradition.
The Dance of the Flier – La Danza del Volador is a ceremony performed by four men hanging upside-down by ropes on a pole.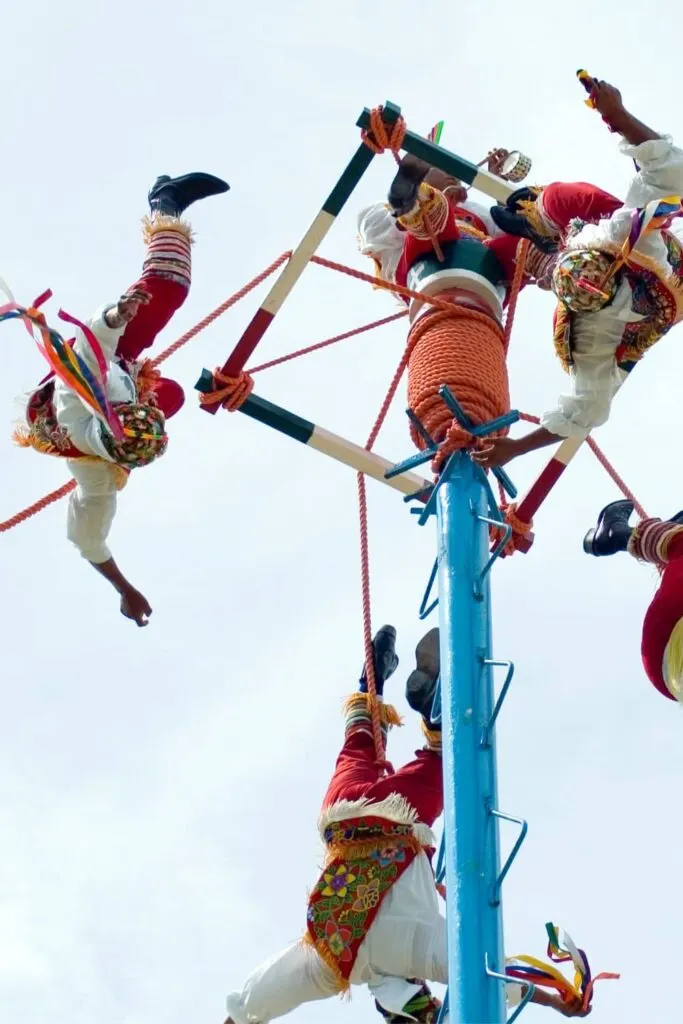 They spun and uncoiled the lines to the sounds of a flute and drum played by a fifth person on the ground. In essence, it was a mesmerizing experience that I was lucky to witness.
Descending the 150-foot pole is slow and graceful, like aerial ballet. It is said that this ceremony is performed each day as a prayer for rain to nourish the grounds.
Today, it's probably performed for tourists as a way of earning tips. It was a tremendous treat to watch this ceremony and ended the Segway ride on a perfect note.
Wheeling Vallarta Segway Tour Conclusion
Our Segway adventure was the highlight of our day and one of the best things to do in Puerto Vallarta. Not only that, but it was also a budget-friendly activity and money well spent.
The Puerto Vallarta Segway tour was a blast that I would definitely do again.
Happy travels ~ Karen