Alaska is a unique and magical place, with majestic snow-capped mountains and picturesque glaciers that will leave you breathless. If Alaska isn't on your bucket list, it should be. The state is big, twice the size of Texas, and Alaskan experiences are one-of-a-kind.
If you've dreamed of taking a dog sledding excursion or hiking on an icefield, Alaska offers this and so much more. While some experiences may give you sticker shock, Alaska may be one of the few places globally to enjoy these encounters.
While most travel to Alaska by cruise ship, others come by air and road. Alaska offers some great hotel stays, and your memorable journey will leave you wanting more. So, grab your wallet and prepare for these Alaska must-do excursions.
Dog Sledding On A Glacier
Location: Juneau, Skagway, Seward | Cost: USD 575.00+
I took a dog sledding excursion with my daughter during my first Alaska cruise. We took an exhilarating helicopter ride out of Juneau to Herbert Glacier. That excursion was an absolute blast and the highlight of our entire vacation.
The tour cost me over USD 500 per person, but I can honestly say it was well worth the money. Not only did we get our own husky team, but we each also took turns mushing the lively dogs around the glacier.
Where else can you travel and go dog sledding in the middle of summer? I'm not talking about dog sledding on a dirt trail in the woods. To experience real dog sledding, you need to fly up onto the top of a glacier and mush a husky dog sled team on snow and ice.
In Alaska, travelers can take a dog sledding excursion in Juneau, Skagway, and Seward during the summer and Anchorage during the winter months.
Limited dog sledding excursions are available and fill up fast. If this is on your bucket list, don't hesitate to book. Due to limited seats on the helicopters, tour operators do not offer discounts.
Remember to dress warmly with layers and bring a camera and sunglasses because the snow is very bright, even on a cloudy day.
Afterward, we spent time with the adorable huskies before our helicopter limousine came back to pick us up. If you can only cross off one item from your Alaska bucket list, this Alaskan experience is sure to please.
Go Whale Watching
Location: Juneau, Icy Strait Point | Cost: USD 175.00+
If you have never seen a whale in the wild, you're in for a treat in Alaska. If you are traveling by cruise ship, passengers can easily spot whales on the way.
Be sure to bring a pair of compact binoculars so you can see them from your balcony stateroom. If you travel to Alaska by air or road, whale watching tours are plentiful in Juneau and Icy Strait Point.
I have taken several Juneau whale-watching excursions and have always seen whales and seals. The large mammals are so plentiful in the nearby waters that most tour operators offer a money-back guarantee if you do not see any whales.
Whales migrate from Hawaii in April. They arrive in Alaska in May just in time for cruise ship season.
The types of whales found in Alaska include gray whales, orca, beluga whales, humpback whales, and blue whales. During an excursion, you are most likely to see humpbacks, but orca can sometimes surprise you on occasion.
Whales are majestic creatures, and their immense size will shock you once they surface next to your small boat. There is a law that boat operators cannot get within 100 yards of the whales. However, once the vessel is idling, it doesn't stop the whales from swimming close to you.
In fact, during my last whale-watching excursion, I was in awe as two adults and a baby humpback swam towards and under my boat. Another Alaska bucket list item checked off for me. How about you? Do you plan to go whale watching in Alaska?
Ride The Yukon Train
Location: Skagway | Cost: USD 134.00+
Experience the breathtaking mountains of the Yukon and marvel at the engineering of wooden trestles on the White Pass & Yukon train. Board the train in Skagway for a spectacular railroad journey in the comfort of a vintage rail car.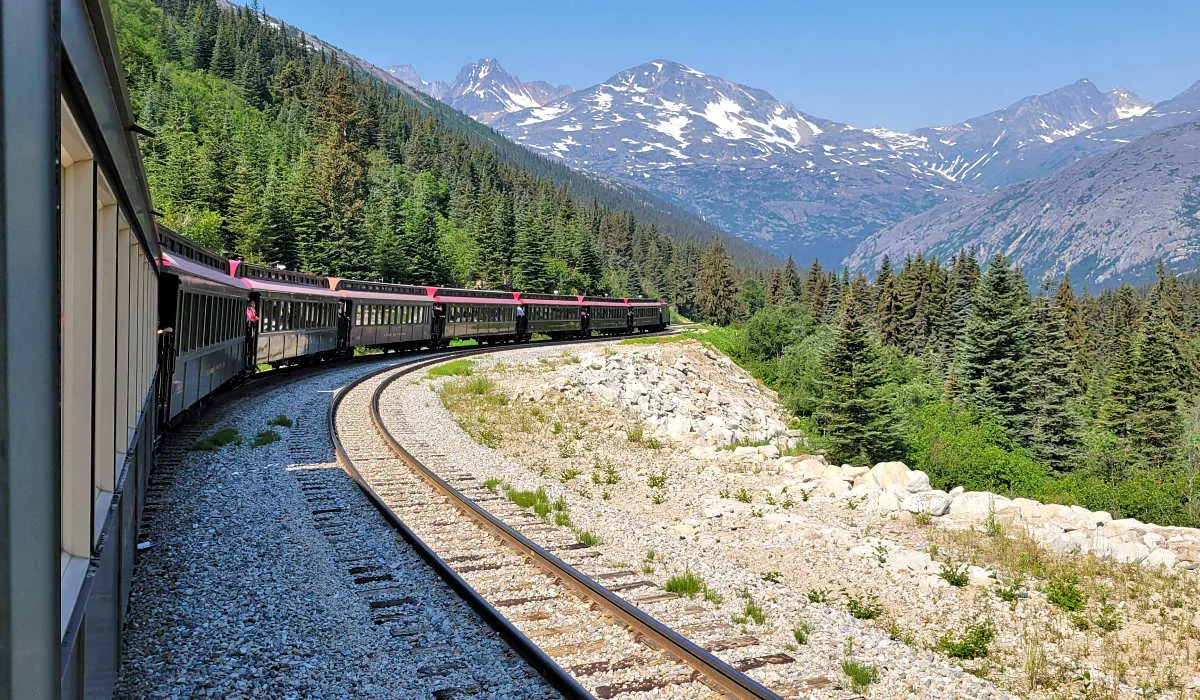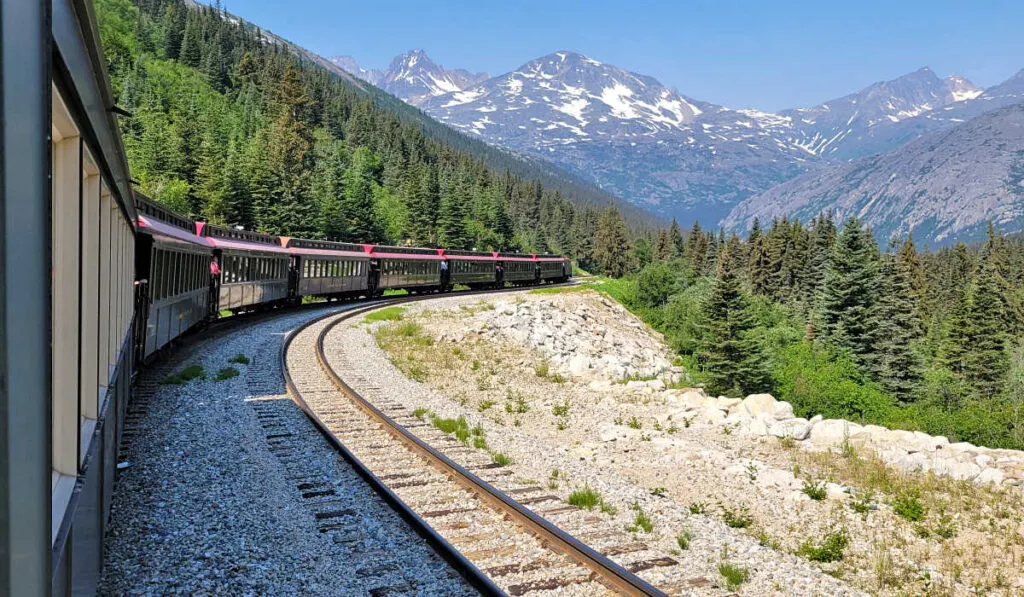 This Alaskan experience is top of everyone's bucket list when visiting Skagway, a gold mining town frozen in time. The excursion takes approximately 2-3/4 to 3 hours on a narrow-gauge railway and climbs into the mountains.
During the journey, passengers enjoy cascading waterfalls, tunnels, snow-capped mountains, and Alaskan wildlife if you're lucky. You can go outside the carriage onto a viewing balcony during the journey to take photos of your train traveling through the majestic mountains.
The wooden trestles are fantastic to see, as is the view of the train as you round the wide curves in the railroad.
This excursion is great for those with mobility issues since you can board the train immediately after disembarking your cruise ship. At USD 150.00 a person, it won't break the bank, and you'll enjoy one of the most scenic train journeys in the world.
Flight Seeing Alaska
Location: Ketchikan, Juneau. Talkeetna | Cost: USD 250.00+
Alaska is immense, and much of it remains remote and inaccessible. So, what better way to experience the beauty of its untouched landscape than by air.
A flightseeing excursion flies over the snow-capped mountains, ancient forests, and endless glistening glaciers. Choose between a floatplane or helicopter excursion, some of which land on glaciers or a lake for a walk-about.
Alaska contains numerous glaciers and provides vital fresh drinking water. While viewing a glacier from land or by cruise ship is magnificent, seeing one by air truly takes your breath away. It makes you realize we are just a tiny blip on this planet.
Whether you choose a Misty Fjords floatplane tour from Ketchikan, a Mount Denali sight-seeing from Talkeetna, or a Taku Lodge Flight and Feast from Juneau, Alaska rarely disappoints.
Visit Denali National Park
Location: Denali National Park | Cost: USD 350.00+
Denali National Park is the epitome of unspoiled wilderness. If you're a wildlife and nature lover and want to experience the best of the outdoors, Denali should be on your bucket list.
The Alaska national park encompasses six million acres of the Alaskan interior highlighted by the 20,310-foot Denali (Mt. McKinley) mountain. This massive peak is the tallest in North America.
Should you be lucky enough to view it, its snow-covered peak will take your breath away. This magnificent preserve has endless forests, awe-inspiring glaciers, tundra, and plenty of wildlife.
The variety of wildlife includes caribou, grizzly bears, black bears, wolves, elk, sheep, and moose. There is only one road in and out of Denali National Park, but travelers with their own vehicles can only drive the first 15 miles.
The road beyond is open to buses and cars that have won the "Road Lottery" or a chance to purchase one of the limited passes. Staying in the park is a must to have the ultimate Alaskan experience. Many wilderness lodges provide picturesque views of the towering peak and surrounding flora.
If you're traveling to Alaska by cruise ship, consider booking a cruise with a land itinerary.
Take A Northern Lights Tour
Location: Anchorage | Cost: USD 500.00+
There are only a few places globally to view the northern lights or aurora borealis, and Alaska is one of them. Although unpredictable, when the northern lights appear, the skies over Alaska dance with shades of red and green.
The aurora borealis is the result of charged particles from the sun hitting the earth's atmosphere. It would help if you were away from city lights, with the optimum months for viewing is September to April. So, if you visit Alaska in the winter months, take a northern lights bucket list tour.
There is no guarantee that the aurora borealis will display its beautiful colors. However, the chase of seeing them can be compared to the paparazzi trying to get the next shot of a superstar. The best chance of viewing the aurora borealis is in Fairbanks and above the Arctic Circle.
If you stay in a hotel in the optimum viewing area, some hotels offer wake-up calls in the middle of the night to see the prenominal dancing lights.
Although this spectacular display is on my bucket list, I have yet to witness its beauty, even after four trips to Alaska. I guess this is a great excuse to travel to America's Last Frontier again. But who's complaining?
This excursion is great for those with mobility issues since you can board the train immediately after disembarking your cruise ship. It's definitely a must-do in Alaska.
Tracy Arm Fjord & Glacier Explorer
Location: Juneau or your cruise ship | Cost: USD 250.00+
The Tracy Arm Fjord and Glacier Explorer allow cruise passengers and Juneau travelers to get up close and personal to the Sawyer Glaciers in Tracy Arm.
The unforgettable journey includes feeling the mist from gushing waterfalls, viewing seals on floating bergy bits, and having a front-row seat to glacier viewing. The smaller boats have interior heated cabins with large windows should the weather not co-operate.
While cruise ships sail through Tracy Arm and Endicott Arm, they cannot get too close due to the amount of ice in the water. On the explorer excursion, the smaller vessel travels closer to the fjord walls and wades through the icebergs to arrive at the glacier's terminus.
This magnificent Alaskan experience heightens the senses during glacial carving. Calving is when chunks of ice break off at the terminus or end of a glacier. First, you'll hear the "thunder," then the cracking as the ice begins to break. These chunks of ice are sometimes HUGE, like bigger than an apartment building!
Early in the season (late May to early June), it's not unusual to witness a harbor seal birth on an iceberg. Overhead, the bald eagles soar, watching for their chance to consume the afterbirth. If you're lucky, your memorable tour may be blessed with mountain goats and whale sightings.
Explore Mendenhall Glacier Ice Caves
Location: Juneau | Cost: USD 359.00+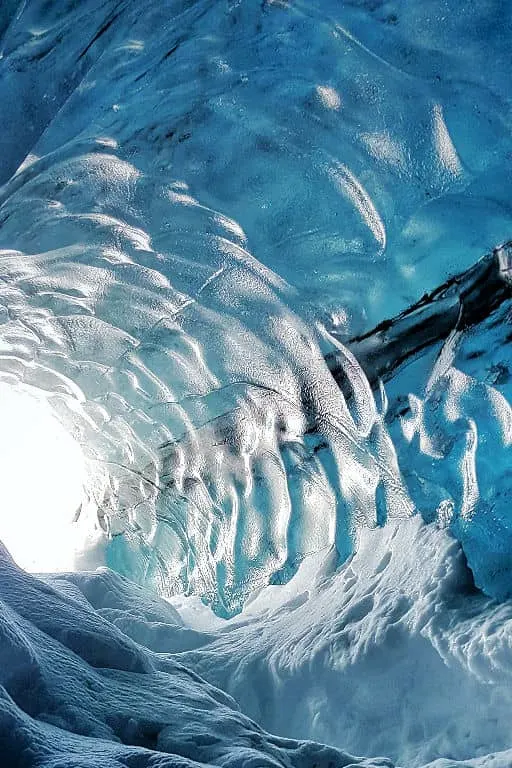 Travelers to Alaska flock to Mendenhall Glacier due to its easy access from Juneau. Visitors to the Mendenhall Glacier Visitor Center can view a waterfall and glacier but don't have access to the ice.
By taking a "Glacier Paddle & Trek," you'll avoid the crowds on land and experience a unique Alaskan adventure. Remember to bring a camera to capture those luminescent blue ice from your canoe.
Once you reach the glacier, you'll spend up to two hours exploring the ice. Your experienced guide will survey the ice and search for ice caves.
It's important to remember that glaciers are dense bodies of ice that are consistently moving. Caves can appear and disappear as quickly as they formed.
Should you find a cave, you'll experience a dream-like adventure like none other.
This "cave of wonders" excursion requires some fitness level as the canoe paddling lasts for three hours. While you'll end your tour exhausted, you'll appreciate you've seen something that most will never see.
Take A Bear Viewing Tour
Location: Various locations | Cost: USD 409.00+
Alaska's grizzlies, brown bears, and Kodiak bears are the largest, most elusive, and dangerous of all the wildlife creatures in Alaska. While I have seen plenty of black bears, my experience of being two feet from a Kodiak bear was enough to scare the living daylights out of me.
Bear viewing excursions are also offered in Icy Strait Point, Juneau, Anchorage, Kodiak Island, Ketchikan, and Katmai National Park. These bear viewing areas are generally located in remote areas and require a plane ride to get there.
The isolated camps are strictly controlled to camouflage your presence, so the bears will continue their daily activities without knowing you are there.
Pack Creek Bear Tours offers an adventure to Chichagof Island or Admi­ral­ty Island. Home to over 1500 Alaskan brown bears, visitors reach the island by a short floatplane ride from Juneau.
Once there, expect to spend a few hours viewing the bears in their natural habitat without them knowing you're there. Juneau is one of the best places for wildlife viewing.
Kat­mai Nation­al Park is another popular place for bear watching, as is Neets Bay. Should you prefer a more cost-effective tour, Ketchikan offers a walking tour to view bears. This three-hour excursion starts at USD 215 per person.
Ride The ZipRider
Location: Icy Strait Point | Cost: USD 160.00
For the adrenaline junkies, you can experience the world's longest zip line ride in Icy Strait Point, Alaska. Known as the ZipRider, riders can race each other on side-by-side lines, reaching speeds of over 60 mph.
Starting high in the treetops, riders travel on one of six 5,330 feet lines and descend 1330 feet as you savor views of Hookah and your cruise ship.
Participants take a 40-minute bus ride to the top of the mountain. Then, walk down a steep trail to the zip line platform. With a 3,2,1 countdown, riders are propelled out of the starting gate and pick up speed during the descent.
The views are spectacular on the one-minute ride. So, take your GoPro strapped to your chest or secure your cellphone in a lanyard. Anything loose will be lost by the force of the wind ripping by.
Other Must-do's In Alaska
While we all have different things on our bucket lists, there is something to appease everyone in Alaska. Whether your Alaskan experiences include wildlife, flying, or something more mellow, they're adventures you'll treasure forever.
If you're lucky enough to enjoy the beauty of Alaska more than once, there are numerous more experiences to enjoy. With my four visits (and two more booked), I'm slowly going through my Alaska must-do and must-see list. Here is a list of other interesting Alaska places and experiences.
Panning for gold – as the Goldrush prospectors did all those years ago.

Hiking the Chilkoot Trail – and walking in the footsteps of the prospectors.

Fishing for salmon

Sampling Alaskan craft beer – or take a brewery tour.

Visiting Mendenhall Glacier.

Snorkel in the Alaskan cold waters.

Canoe next to a glacier.

Take part in a polar bear swim.

Spot bald eagles in the tall trees.

Go glacier trekking.

Sit in a hot tub next to a glacier – Yep, this one I did next to Hubbard Glacier in the freezing icy rainfall.
Happy travel ~ Karen