Each year, families browse brochures and magazines in preparation for planning their vacations, often to somewhere warm. It's a time to relax, de-stress and leave the real world's troubles behind.
Holidays come in many forms, from backpacking in the wilderness, RVing through a continent, or relaxing at an all-inclusive resort. But have you ever considered a cruise vacation?
Some people think a cruise is just for the wealthy. Do you think cruising is expensive? Think again.
The cruise ship industry has been rapidly growing, and what was once considered an adult-only vacation now welcomes families. For instance, Disney Cruises are always booked solid, and it's the preferred line for families with young children.
When budgeting for a cruise vacation, consider what's included in the price. While it's hard to compare a cruise to a land-based vacation, let's look at what is included in cruise ship all inclusion vacations.
What's Included
Food
One of the significant advantages of cruising is your food is included. You can eat at any time of the day or night at no additional cost.
Most cruise lines also offer room service at no extra charge. So, while you think cruising is expensive, it isn't when considering the savings on food.
In addition, you can spend the money you save elsewhere.
There are many food options too, from the informal buffet, pizza parlors, and sit-down meals in the restaurants. Since the cruise industry has become so competitive, cruise lines hire top chefs to create culinary delights that rival five-star land-based restaurants.
While dining at a sit-down restaurant, you can order as many appetizers, entrees, and desserts as you'd like. This allows you to sample things you wouldn't order in a restaurant.
Some ships even have self-serve ice cream bars that include a variety of candy toppings. You could spend your entire vacation on a sugar high!
That may not be such a good idea. While specialty coffees cost an additional fee, most coffee shops have delectable pastries to make your mouth water. These pastries are free of charge.
Pool
Like the resorts on land, cruise ships have swimming pools, hot tubs, and some have water slides. Most have multiple pools, and some ships have covered swimming pools which is terrific when sailing a colder itinerary like Alaska or the Galapagos.
Most cruise ships have adult-only areas with hot tubs. Some spas have indoor hot tubs too.
One of my favorite places on a cruise ship is the steam room. Steam rooms and saunas are available on most cruise ships and are completely FREE of charge.
This is a fantastic place to go on a chilly day in Alaska.
Entertainment
There is no time for boredom on a cruise ship because the entertainment goes on all day and night. During the day, test your skills at a friendly trivia competition, practice your singing voice at karaoke, learn ballroom dancing or take a cooking class.
In the evening, take in a Broadway-caliber production show in the theater and follow that with the comedy club.
The entertainment is geared toward families and adults. I've been on cruise ships with Hasbro's Game Shows, a family favorite.
For the adults, enjoy some laughs at the adult comedy club later in the evening.
If you think cruising is expensive, the nightly Broadway-like shows alone save you hundreds of dollars if you see one in places like Las Vegas. On some nights, the entertainment consists of a magician or an acrobat.
No matter what the entertainment is, everyone is spectacular to watch.
Kids Clubs
Almost all cruise lines have kids' clubs that cater to different age groups. So, while you have an intimate dinner, your children could be at a pizza party sleepover.
The ultimate cruise line for children is, of course, Disney. Children mingle with their favorite cartoon characters and even have breakfast with Mickey.
Movies
Want a date night with a movie and popcorn? No problem.
Most cruise lines have a movie theater, an indoor theater, or a giant outdoor screen over the swimming pool. Movies shown are generally new releases currently showing at land-based movie theaters.
You can't beat watching a concert or film under the stars, curled up under a snuggly blanket with your loved one.
Princess is known for its "Movies under the stars." During the day, feast on delicious cookies and milk while you take in a live sporting event.
At night, enjoy fresh-baked popcorn while you watch a featured film at the poolside amphitheater.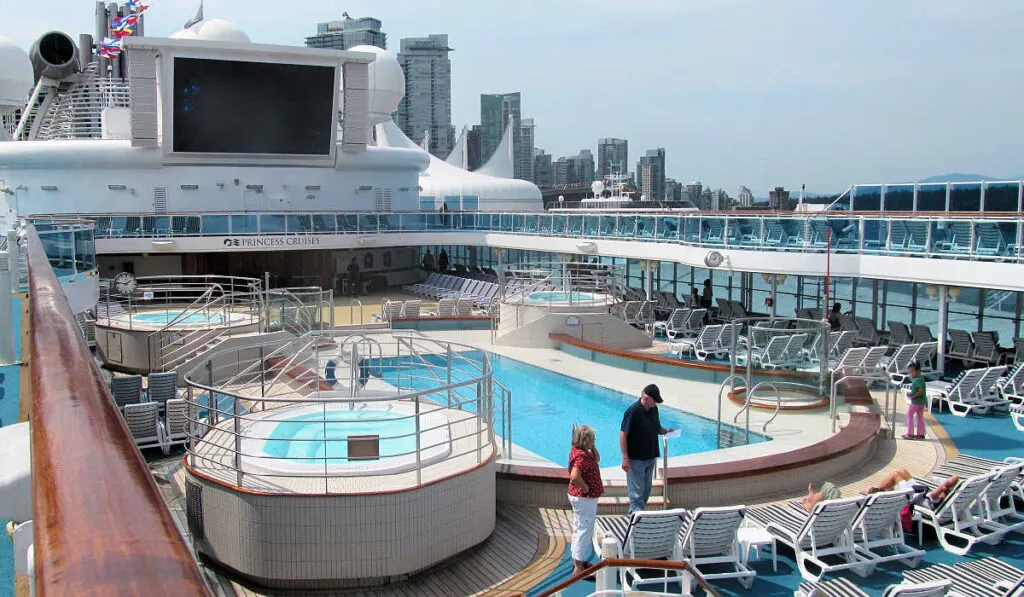 Learn Something New
Looking for something different onboard your cruise ship? Consider taking a class or workshop on a sea day.
Almost all classes are complimentary, available on a first-come, first-served basis, and make for a great sea day activity.
I've taken everything from photography, computer, cooking, watercolor painting, scrapbooking, jewelry making, and ballroom dancing.
While I've attempted ballroom dancing a few times, I still need to improve.
I need to trade one of my two left feet for the right one.
Should you require any supplies for your painting, scrapbooking, and jewelry-making class, these are supplied free of charge.
Gym
If you're a gym rat, you can still meet your weekly goals of working out even on a cruise ship. There's no excuse for gaining a few pounds at the buffet if you have a chance to work it off afterward.
If you're not a gym rat but want daily exercise, most cruise ships have a walking track on one of the upper decks. Some have a jogging track on the lower layer, usually called the main deck.
I can remember walking the lower decks on various ships. They often indicate the distance per lap so you can calculate how many miles you walk daily.
Library
Sometimes, you need a little quiet time. There's no better place than the ship's library. It usually has comfy chairs you can curl up on while reading a borrowed book.
There is no need to bring a heavy book in your suitcase since there is plenty to borrow and read.
Games Room
Need a break from the sun's rays? Then check out the games room.
They usually carry a good selection of board games, card games, and jigsaw puzzles. I am a puzzle fanatic, so you can often find me in the games room working on a puzzle.
Is cruising expensive? While you may think cruising is expensive, it does include many extras that would cost you more on land.
Things That Impact Your Cruise Cost
To ensure you are getting all the information, I want you to be aware of things that will cause your cruise cost to increase. The basic cruise fare is an excellent value as an all-inclusive vacation.
However, your cruise can become costly depending on how you choose to travel!
The type and level of cruise you select will be a HUGE factor that increases your cruise cost. Here are some things to consider when booking your cruise.
Which Cruise Line?
Each cruise line is targeted to a specific type of cruiser. Cruise lines are classified as Budget, Mainstream, Premium, or Luxury.
Suppose you book with Silversea Cruises, Oceania Cruises, or Crystal Cruises. In that case, you are sailing with a luxury cruise line that provides a premium cruise experience.
Your cruise fare will include expenses other cruise ships may charge extra, such as alcoholic drinks or specialty dining.
In contrast, if you book with Carnival Cruise or MSC Cruises, you get a basic cruise with modest services and essential dining. Carnival, MSC, and Costa Cruises are in the budget category.
If you want to book a river cruise with Viking Cruises, you are booking with a premium cruise line. You will have an excellent cruise experience with almost everything in your fare.
Cruising with Disney Cruise Line or Celebrity Cruises, you have chosen a premium cruise with a cost typically higher than mainstream or budget lines. However, when sailing on the Disney Fantasy ship, your children can meet the Disney characters up close!
The mainstream category includes cruise lines such as Princess Cruises, Royal Caribbean International, Holland America, and Norwegian Cruise Line. These large cruise lines offer everything, including world cruises, South America, Caribbean cruises, and much more.
Type of Cabin
Like the size of your home, the size of your cabin will significantly influence the cost of your cruise. The smallest and lowest price are interior cabins without windows.
Up from inside are ocean view cabins that may be slightly larger but have a medium or large window providing an ocean view. The most popular cabins are balconies with more space than the interior or ocean view.
Also, the balcony provides a private deck with lounges and more in-room amenities. The most expensive room on a cruise ship is the suite class.
Suites often have separate bedrooms and include premium dining and other personal services. Of course, suites can be triple or quadruple the cost of an inside room.
Where Are You Cruising?
Some destinations tend to be more expensive than others. For example, a Caribbean cruise is the most popular, with most cruise lines sailing there.
Also, the ports being visited have a lower standard of living, and costs in ports are less. Contrast that with a cruise to Alaska, which has higher prices for port restaurants, excursions, transportation services, etc.
At the extreme of cruise costs are destinations such as Antarctica or Galapagos. These are expedition-class cruises with exclusive cruise ships.
However, other costs, such as dining, alcoholic drinks, and excursions, are typically included in your booking price.
New or Old Ship?
Choosing to sail on a brand new ship making its maiden voyage will come with a premium cost. Many cruisers want the 'bragging rights' to tell their friends about it.
However, the same cabin on the same ship will likely be half the cost a few years later! In contrast, cruising on an older ship that is ten years old will be much less than the new ships.
One of my previous cruises was on the Carnival Miracle, which had its inaugural sailing in 2003. When my husband Brian and I cruised, the ship looked dated and lacked some of the modern amenities.
Fortunately, the Carnival Cruise Line refurbished the Miracle in 2020 after we cruised. I'm sure the ship is updated with a more contemporary cruise experience.
Shore Excursions?
When cruising to exciting destinations, you may pay for a shore excursion in one of the ports. There are many FREE things to do, such as walking around town, hiking, etc.
However, if you want to go whale watching or ziplining, there will be additional charges. One of the premium excursions is dogsledding during an Alaska cruise.
Dogsledding in Juneau from May to August is over USD 600 USD per person. A family of four would spend over USD 2,500 for the excursion.
Any Upgrades To Your Cruise?
One traveler can cruise and at the end of their cruise have minimal extras costs other than mandatory gratuities. Gratuities are usually USD 15-18 per passenger per day of your cruise.
However, another cruiser in the same cabin type but next door can end up with a bill that is USD 100's or even USD 1,000's more. They chose to upgrade their cruise and pay for services beyond the base cruise fare.
Drink packages are a standard cruise upgrade that is highly profitable for cruise lines. Alcoholic drink packages are from USD 60-140 per person per day!
On a 10-day cruise, the additional cost for the drink package could be USD 1,000. Although, for a couple traveling in the same cabin, they would BOTH need to purchase the package according to cruise line policy.
As a result, the additional cost would be USD 2,000 (USD 1,000 each time for two passengers)!
Other popular upgrades include specialty dining or Wi-Fi access. Specialty dining can range from USD 30-65 per person per meal.
Wi-Fi access for your devices can range from USD 15 to USD 40+ per day, depending on how many devices and download speeds. Wi-Fi charges can easily be USD 200-300 extra for a 7-day cruise.
Note that all these costs are optional and will only be charged if you choose them.
Final Thoughts
My husband Brian and I think cruising is one of the best values for a vacation. We do NOT believe cruising is expensive, but we track our expenses closely when cruising.
Also, we drink minimally on cruises, so we would not have an additional USD 2,000 charge for a premium drink package at the end of the cruise. Similarly, we use a low-cost roaming plan with our mobile phone provider rather than pay for Wi-Fi on the ship.
Be sure to look for online deals. We cruised last year and paid about USD 1,500 for Brian and me, but the couple next to us paid USD 7,000 for almost the same cabin and services!
The bottom line, while basic cruising is not expensive, the cost can increase substantially depending on how you choose to cruise. In the end, it's your choice how your cruise!
Happy cruising ~ Karen